Glazed in a homemade Yakitori Sauce, these Japanese Grilled Chicken and Scallion Skewers are hard to resist! You'll love this simple Yakitori recipe with an easy savory-sweet sauce that you can make ahead. It's great for grilling outdoors or under the broiler.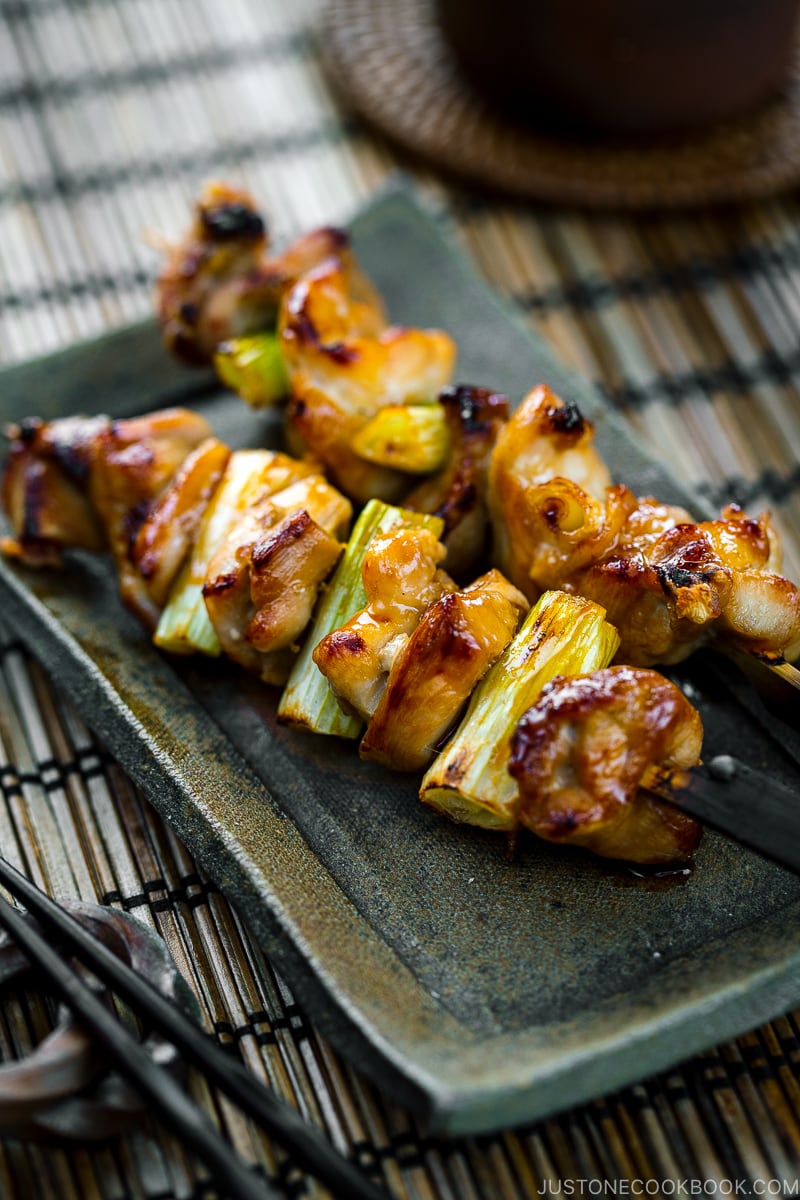 When it comes to chicken on a stick, the Japanese have their own best version known as Yakitori (焼き鳥). The name directly translates to "grilled chicken," but yakitori represents much more than that—it embodies the essence of good times and joyful hours in Japan.
These chicken skewers are a beloved classic dish often found in izakaya, which are Japanese-style pubs offering a combination of chilled beer, delectable bites, and lively conversations. They are the hallmark offering at specialty restaurants exclusively dedicated to serving Yakitori.
The great news is that making delicious Yakitori at home is easily within anyone's reach. Allow me to guide you through the process!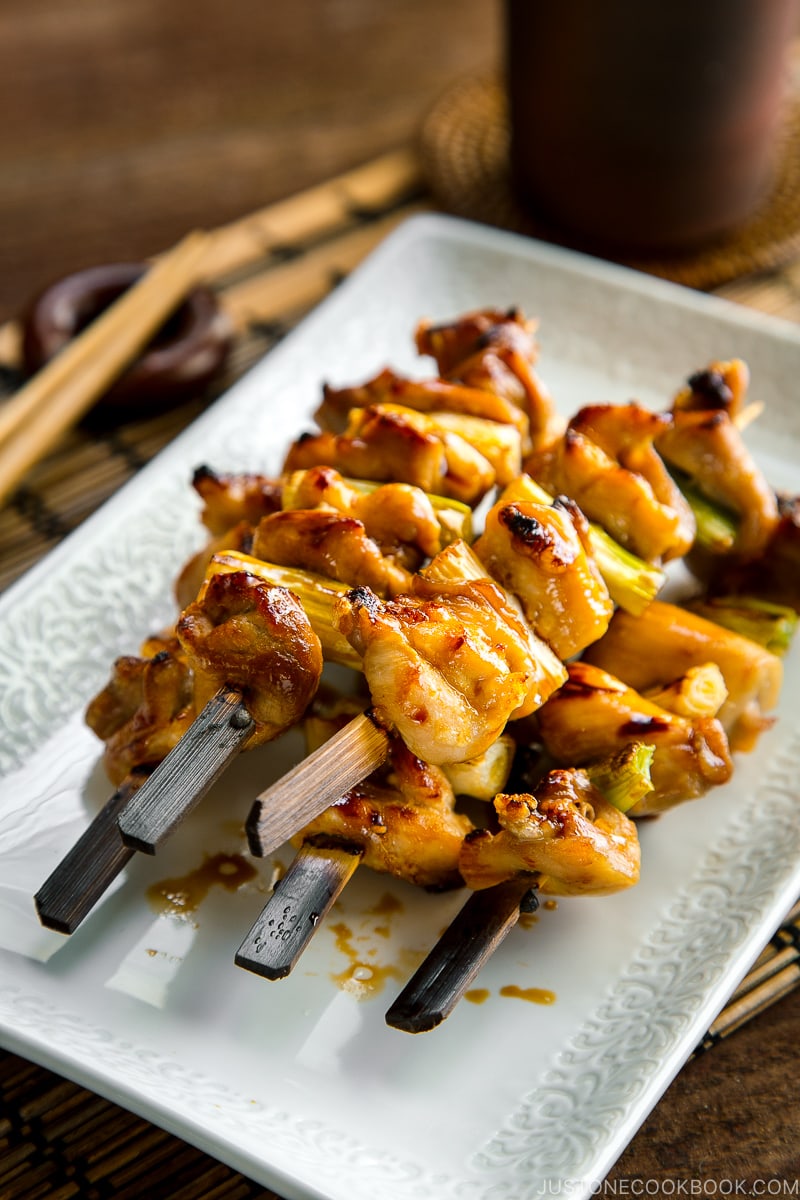 Yakitori in Japan
Just like sushi and tempura, Yakitori in Japan is a serious business. At specialty restaurants, the chefs would go as far as sourcing special breeds of chicken from specific regions known for their unique texture and flavors. Various methods of butchering, skewering, and grilling are applied. And the patrons get to choose from an astonishing selection – from breasts, thighs, cartilage, wings, skins, tenderloin, livers to gizzards.
Here are the examples you'd get on the menu:
Chicken Thigh (momo, もも)
Chicken Breast (mune, むね)
Chicken Thigh & Scallion (negima, ねぎま)
Chicken Tender (sasami, ささみ)
Chicken Skin (kawa, 皮)
Chicken Wings (tebasaki, 手羽先)
Chicken Tail (bonjiri, ぼんじり)
Chicken Cartilage (nankotsu, 軟骨)
Chicken Heart (hatsu, ハツ)
Chicken Liver (rebā, レバー)
Chicken Gizzard (sunagimo, 砂肝)
Here, I'm sharing one of the most popular yakitori dishes called Negima Yakitori – chicken thigh and scallion skewer. This is a super easy recipe you'll love!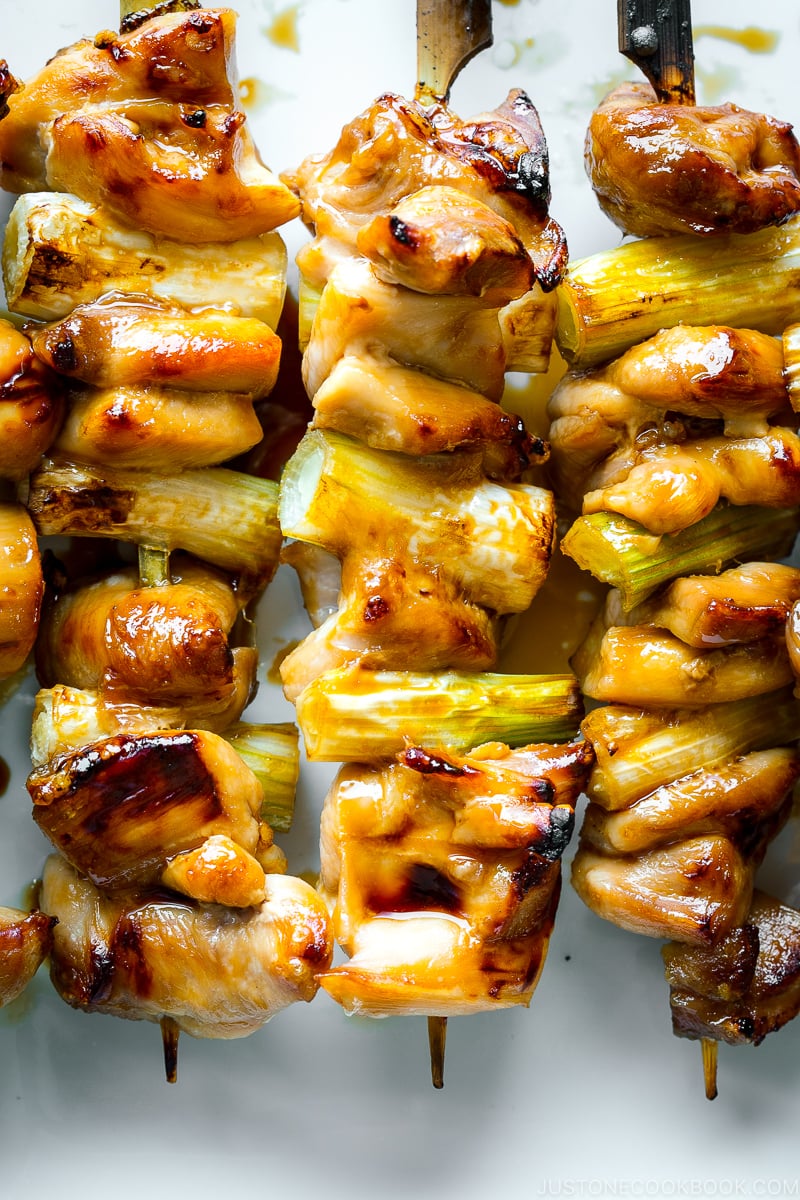 3 Quick Tips for Making Delicious Yakitori
Use boneless, skinless chicken thighs. They stay juicy and more flavorful compared to breasts.
Soak the bamboo skewers in water for 30 minutes before threading the ingredients.
Alternate the chicken with big pieces of scallion on skewers, and make sure they are tightly snugged to each other.
The Seasonings (Shio or Tare)
Most yakitori joints will only offer two simple flavorings: salt (shio) or yakitori sauce ("tare" is pronounced [ta-reh]).
Tare is made of soy sauce, mirin, sake, and sugar. I tested several sauces over the years and we like this version best. It has a good balance between sweet and salty. You can add ginger and other ingredients for the sauce, but in this case, a minimalist is a great approach.
For the purest taste of grilled chicken, you can go without the sauce and simply sprinkle salt before grilling. It's really amazing how the meat can transform into something so delicious with simple treatments.
Bamboo Skewers for Yakitori
For yakitori, the skewers are usually made from bamboo. We call the typical skewers "teppogushi" (literally means "gun skewer" from its shape). The tapered skewers have a flat tab on one end which makes them easier to turn or hold. They also won't roll on the grill and allow the chef to grill one side at a time.
You can buy them at Japanese supermarkets or Amazon (regular bamboo skewers will also work).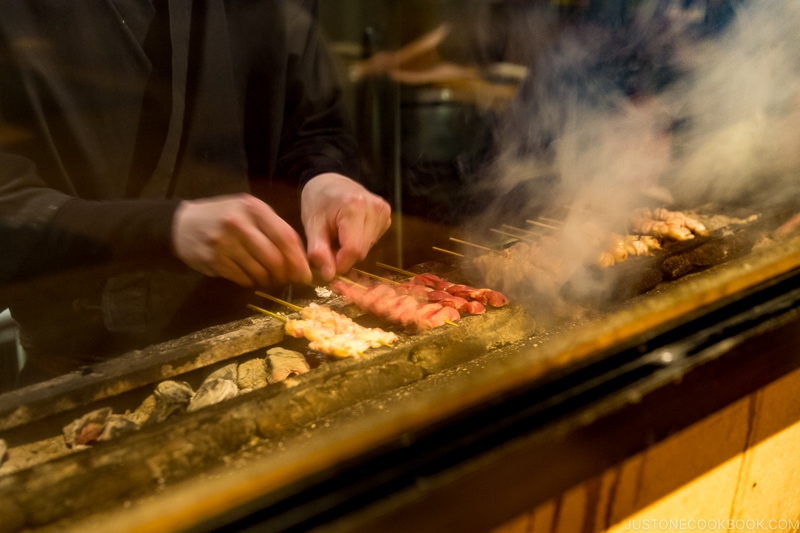 Easy Oven Broil Method
While you may not be able to create the atmosphere of yakitori joints, you won't go wrong with this easy oven broil method that I share here.
Start by making the tare sauce, then thread the chicken and scallions into skewers. When ready to grill, set the broiler on high at 500ºF, and let the oven does the job. Within 15 minutes, you'd be rewarded with some nicely char-grilled results for the chicken. The recipe works great for the outdoor grill, too.
Itadakimasu!
I love that we can easily recreate this izakaya favorite without any fuss. They are great as a main dish or as an appetizer or as a snack for movie night. There is really nothing not to love about these delicious chicken on the sticks.
Wish to learn more about Japanese cooking? Sign up for our free newsletter to receive cooking tips & recipe updates! And stay in touch with me on Facebook, Pinterest, YouTube, and Instagram.
Yakitori (Chicken Skewers) with Homemade Yakitori Sauce
Glazed in a homemade Yakitori Sauce, these Japanese Grilled Chicken and Scallion Skewers are hard to resist! You'll love this simple Yakitori recipe with an easy savory-sweet sauce that you can make ahead. It's great for grilling outdoors or under the broiler.
Video
Servings:
10
Yakitori Skewers
Ingredients
For the Yakitori Sauce ("Tare"):
For the Chicken Skewers
9

green onions/scallions

1

lb

boneless, skinless chicken thighs

(at room temperature)
Japanese Ingredient Substitution:
If you want substitutes for Japanese condiments and ingredients, click
here
.
Instructions
Gather all the ingredients.

Soak about

10

to

12

5-inch bamboo skewers in water for 30 minutes.
To Make the Yakitori Sauce (Tare)
In a small saucepan, add

½ cup soy sauce

,

½ cup mirin

,

¼ cup sake

,

¼ cup water

,

2 tsp brown sugar

, and the green part of

1

of the

9 green onions/scallions

. Bring it to a boil over high heat. Once boiling, reduce the heat to low and simmer, uncovered, until the sauce reduces to one-third of its original volume. It will take about 30 minutes. Let it cool to room temperature before using. The sauce will thicken with a glossy shine as it cools. Tip: You can make the sauce ahead of time. To store, remove the green onion from the sauce and pour into a mason jar. Keep in the refrigerator for up to 2–3 months.

Reserve one-third of the sauce in a small bowl for final basting, just before serving. To prevent cross-contamination, use this reserved sauce with a clean brush only after the chicken is fully cooked.
To Prepare/Assemble the Yakitori
Cut the white and light green parts of the remaining green onions/scallions into 1-inch (2.5-cm) pieces.

Cut

1 lb boneless, skinless chicken thighs

into 1-inch (2.5-cm) squares.

On a flat work surface, fold each slice of chicken in half, insert a bamboo skewer into the chicken at a 45-degree angle, and press down on the skewer to pierce the meat through the center.

Next, add a piece of scallion perpendicular to the skewer. Continue to alternate chicken slices with pieces of scallion, ending with a piece of chicken. Each 5-inch skewer will hold about 4 chicken slices and 3 scallion pieces.
To Grill/Broil the Yakitori
Grease the grate of the broiler/wire rack (or oven-safe cooling rack) with

neutral oil

to keep the chicken from sticking to the grate. Place the skewers on top.

Set the broiler to High and wait until the heating elements are hot. Then, place the skewers under the broiler. Broil for 6 minutes.

After 6 minutes, brush the meat on both sides with the Yakitori Sauce. Continue to broil for 3–4 minutes to caramelize the sauce.
To Serve
Remove the skewers to a serving plate. With a clean brush, baste the top of the chicken skewers with the reserved sauce. Serve and enjoy! Tip: If you accidentally cross-contaminate the reserved sauce (by dipping the same brush you used on the uncooked chicken during cooking), you will have to boil the sauce again.
To Store
You can keep the leftovers in an airtight container and store in the refrigerator for up to 3 days or in the freezer for up to a month. 
Nutrition
Nutrition Facts
Yakitori (Chicken Skewers) with Homemade Yakitori Sauce
Amount per Serving
% Daily Value*
* Percent Daily Values are based on a 2000 calorie diet.
©JustOneCookbook.com Content and photographs are copyright protected. Sharing of this recipe is both encouraged and appreciated. Copying and/or pasting full recipes to any website or social media is strictly prohibited. Please view my photo use policy
here
.
Editor's Note: This post was originally published on Apr 13, 2014. The post has been updated and republished in July 2020.