Chicken Fried Rice is a popular Western-style rice dish cooked with sweet and tangy ketchup-based sauce. This classic dish brings a nostalgic vibe to many Japanese reminiscing about their childhood memories.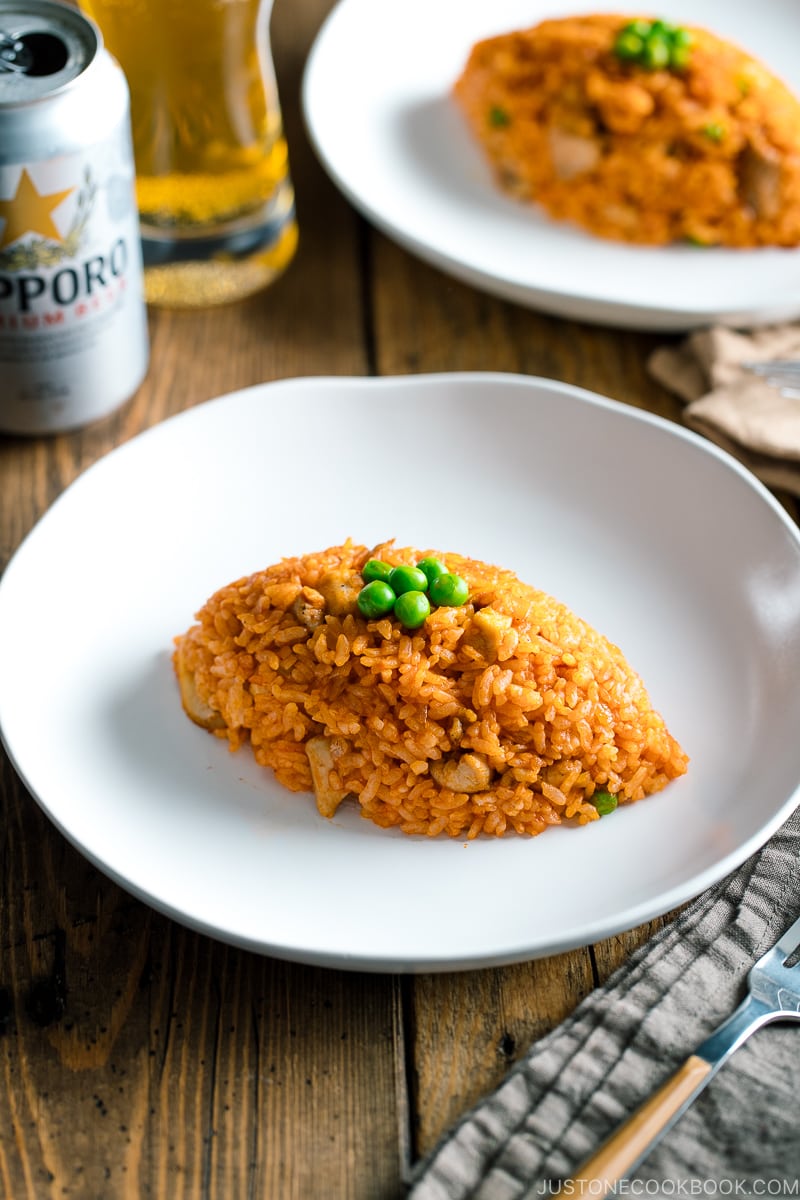 What in the world is this red-colored rice that is shaped like a football? Funny as it may seem, it's actually one of the classic Yoshoku (western-influenced dishes) in Japan called Chicken Rice (チキンライス).
You may have seen it on the popular Netflix® show – Midnight Diner: Tokyo Stories (Season 2, Episode 1 "Chicken Fried Rice"). Today I'll show you how to make this beloved Japanese rice dish at home. The recipe is super fast and easy, and you'll love it as your back-pocket emergency meal.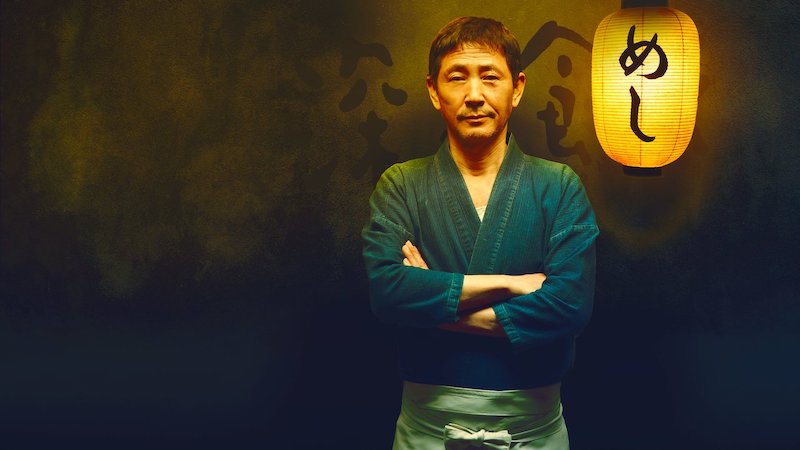 What is Chicken (Fried) Rice?
In Japan, this particular dish is called 'Chicken Rice'. Since Midnight Diner subtitled it as Chicken Fried Rice, I'd just use both names interchangeably. It sort of resembles fried rice but we don't consider this as the typical Chinese-style fried rice. It's neither your Hainanese-style chicken rice. Let's just say that it is rather one of a kind.
To make Chicken Fried Rice, you first sauté chopped onions in a frying pan until translucent, then add chicken followed by mushrooms. Once the ingredients are cooked, add steamed rice and season the fried rice with ketchup or tomato-based sauce.
What Restaurants Serve Chicken Rice?
For most Japanese people, it's a dish that we often eat growing up. If you go to a family restaurant in Japan (such as Gusto, Saizeriya, etc.), you will see kids' meal (Okosama Lunch お子様ランチ) featuring a mountain of red-color Chicken Rice with a world flag on top. If you order this dish at the Yoshoku restaurant, they would serve it in the shape of a chrysanthemum or melon, typically with green peas decorated on top. Just like how I presented here.
The Evolution of Chicken Rice
Chicken Rice has been around in Japan since the Taisho era (1912 – 1926). However, the original ingredients were a bit different; chopped carrots were used instead of ketchup so the rice wasn't red. Then ketchup was introduced to Japan by the Americans, and ketchup-flavored Chicken Rice became a popular dish at Yoshoku restaurants and at home, most likely around the same time as when Napolitan (ketchup spaghetti) became popular.
Ketchup Rice vs. Chicken Rice
You might have heard of "Ketchup Rice" (ケチャップライス) in Japan. So, what is the difference between ketchup rice and chicken rice? Well, they are essentially the same, except for the use of protein. If you use ham, bacon, sausage, or other meat like pork, it is called ketchup rice instead of chicken rice. I know, Japanese with the names:)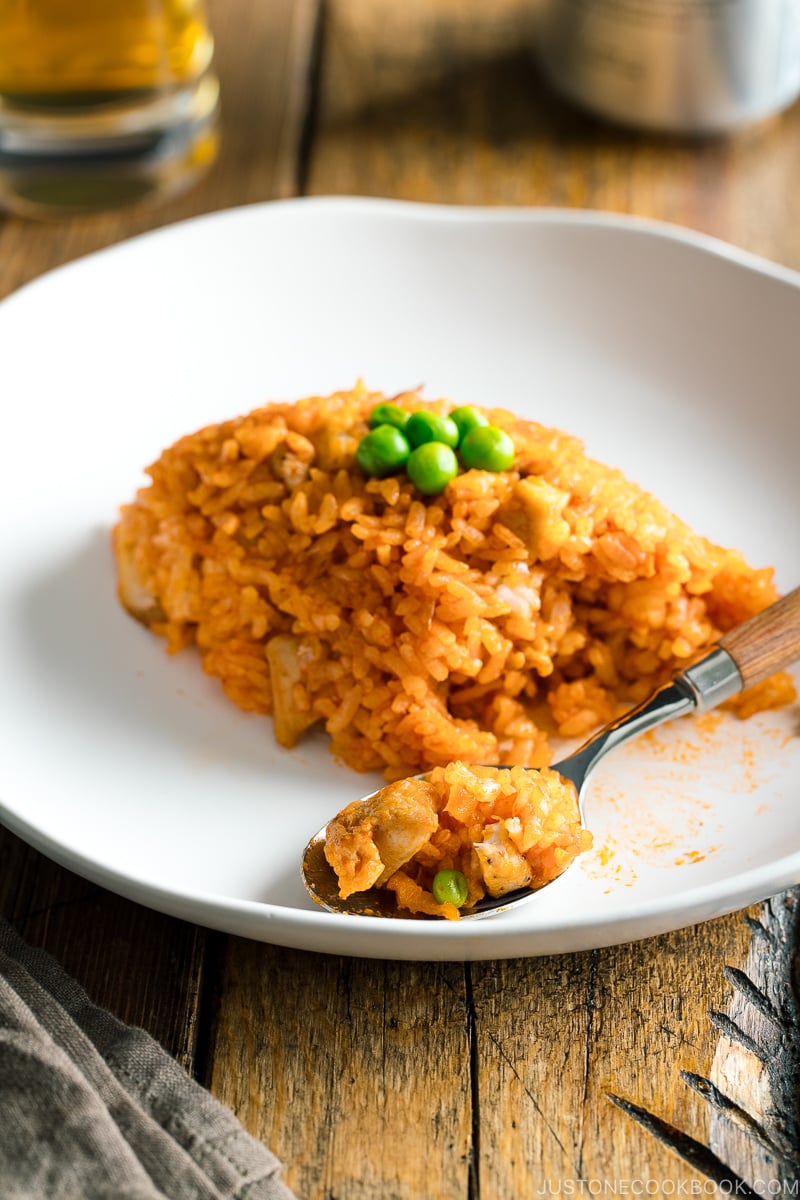 Why You Should Try Making Chicken Fried Rice
Easy & accessible pantry ingredients – most ingredients can be found in your refrigerator. Easy college meal!
It's ridiculously quick to make (with rice being cooked ahead of time) – You can whip it up in 20 minutes. No excuses for lack of time.
One-pan / one-plate meal – You can literally eat directly off the frying pan to speed up the cleanup process.
If you think ketchup seasoning is not sophisticated enough – Yeah, I get that, but it delivers excellent flavors to the rice that you should never underestimate.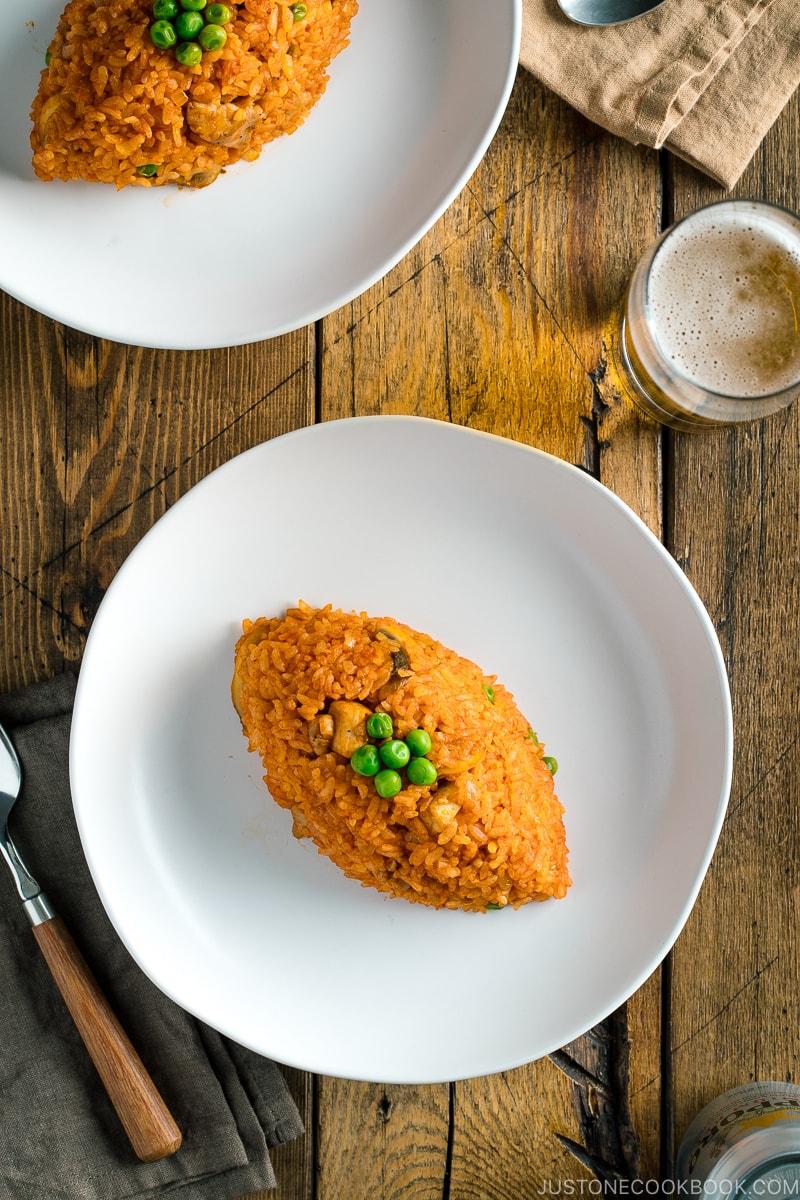 Make Next Level Chicken Fried Rice
If you're up for something greater, then you sure need to try Omurice – another popular western-influenced Japanese dish.
Like a deliciously precious parcel, the chicken fried rice is bundled with a thin golden omelette. When you cut open the soft pillowy omelette layer to enjoy with the tomato-seasoned fried rice, each bite hits the perfect note. Creamy egg with tangy savory rice – it's a match made in heaven! I don't know why more Japanese restaurants don't serve this dish in the US!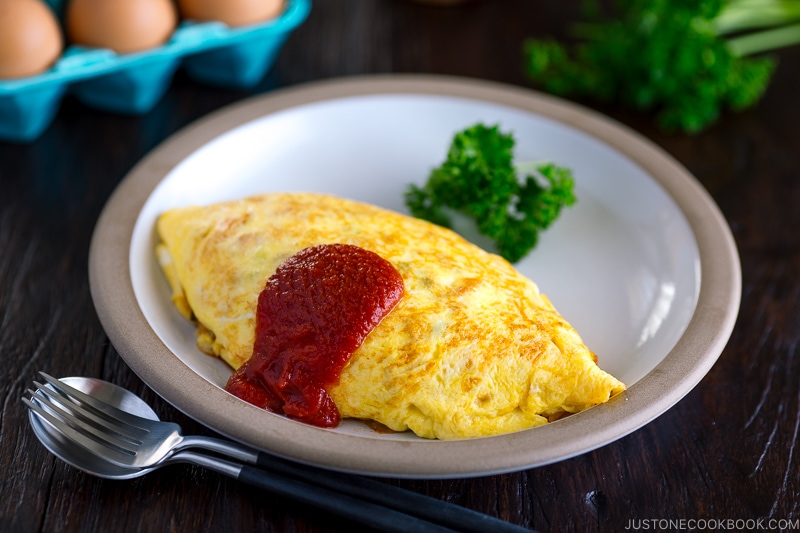 Omurice – Midnight Diner: Tokyo Stories (Season 1, Episode 4)
Thank you to all of you who reached out regarding the Season 2 Midnight Diner recipes! For those of you who are interested in Midnight Diner Season 1 recipes, you can click on this link to check them out.
Lastly, a fun fact to share! Midnight Diner is not located on a real street in Tokyo, the entire diner and street are shot in an indoor studio.
Wish to learn more about Japanese cooking? Sign up for our free newsletter to receive cooking tips & recipe updates! And stay in touch with me on Facebook, Pinterest, YouTube, and Instagram.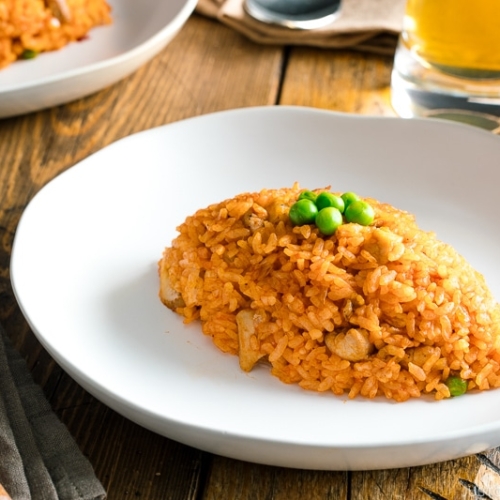 Chicken Fried Rice
Chicken Fried Rice is a popular Western-style rice dish cooked with sweet and tangy ketchup-based sauce. This classic dish brings a nostalgic vibe to many Japanese reminiscing about their childhood memories.
Ingredients
6

oz

chicken thigh

2

Tbsp

green peas

3

mushrooms

¼

onion

(

2.3

oz,

65

g)

1

Tbsp

unsalted butter

2

cups

cooked Japanese short-grain rice

(

2

big rice bowls; cooled; day-old rice, preferably; use Japanese rice for the right stickiness)

⅛

tsp

freshly ground black pepper
For the Tomato Sauce
3

Tbsp

ketchup

3

Tbsp

tomato paste

2

Tbsp

water
Japanese Ingredient Substitution:
If you want substitutes for Japanese condiments and ingredients, click
here
.
Instructions
Gather all the ingredients. For the steamed rice, please note that ¾ cup (150 g, 1 rice cooker cup) of uncooked Japanese short-grain rice yields 2¼ US cups (330 g) of cooked white rice. See how to cook short-grain rice with a rice cooker, pot over the stove, Instant Pot, or donabe.
To Make the Tomato Sauce
In a small saucepan, add

3 Tbsp ketchup

,

3 Tbsp tomato paste

, and

2 Tbsp water

.

Mix well to combine. If the sauce is too thick, add more water.
To Prepare the Ingredients
Cut

6 oz chicken thigh

into small pieces, roughly ½-inch (1.3-cm) cubes.

Sprinkle

⅛ tsp freshly ground black pepper

and

⅛ tsp Diamond Crystal kosher salt

.

Cut off the end of

3 mushrooms

and slice them thinly.
To Make the Fried Rice
Heat

1 Tbsp unsalted butter

in a large frying pan over medium heat and add the chopped onion.

Sauté the onion until tender, then add the chicken.

Cook until no longer pink. Then, add the sliced mushrooms.

Add the tomato sauce and combine well with the ingredients.

Add

2 cups cooked Japanese short-grain rice

and combine with the sauce until it is well coated.

Add

2 Tbsp green peas

and give a final toss.
To Serve and Store
If you have an omurice mold, fill the mold with the fried rice, pressing down with a spatula without making the rice mushy.

Flip onto the plate and release the mold.

Put 6 green peas on top (to replicate the Chicken Fried Rice shown in Netflix® Midnight Diner). Enjoy!
To Store
Store the leftovers in an airtight container and store in the refrigerator for up to 2 days.
Nutrition
Nutrition Facts
Chicken Fried Rice
Amount per Serving
% Daily Value*
* Percent Daily Values are based on a 2000 calorie diet.
©JustOneCookbook.com Content and photographs are copyright protected. Sharing of this recipe is both encouraged and appreciated. Copying and/or pasting full recipes to any website or social media is strictly prohibited. Please view my photo use policy
here
.