Bathed in an icy shiro dashi soup broth, this Cold Somen Noodles with Sudachi Lime is a refreshing treat on a hot summer day. The light colored broth brings out the vibrant hues of the citrus slices for a cooling and beautiful presentation. You could use regular limes for this recipe too!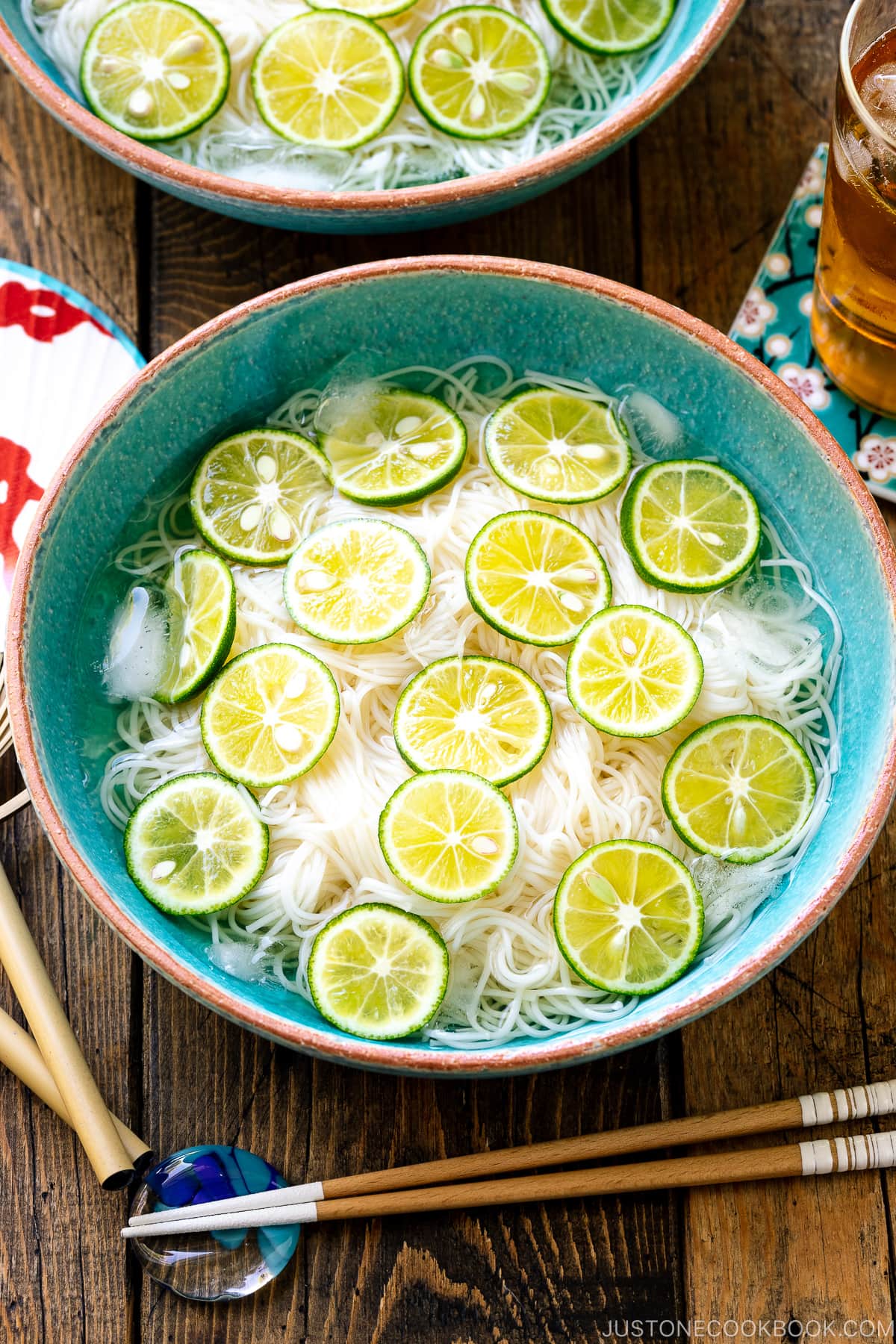 Several years ago, I was gifted a small grafted sudachi tree by a friend. The bright green tree finally gave a bunch of sudachi fruits for the first time this year.
It was incredibly exciting to harvest the citrus fruits and make today's recipe, Cold Somen Noodles with Sudachi Lime. I've had a cold udon noodle dish with sudachi at a popular noodle shop, Tsurutontan (つるとんたん), in Japan many years ago. The broth was savory yet bursting with fresh fruity tartness, which was sublime to enjoy with soothing strands of noodle. Since then, it's been my dream to recreate this refreshing dish at home.
As San Francisco summer happens to be in September and we'll have more fruits ready to be picked, this is the perfect time to live off this cold somen noodle all month long.
What is Sudachi?
Closely resembling a lime, sudachi (スダチ or 酢橘) is a small, round green citrus fruit of Japanese origin. Although the fruit is about the size of a golf ball, sudachi has a much higher juice content and a sour refreshing taste. Since sudachi is a muted variety of yuzu—another popular citrus fruit, we use this fruit for flavoring and garnishing in cooking.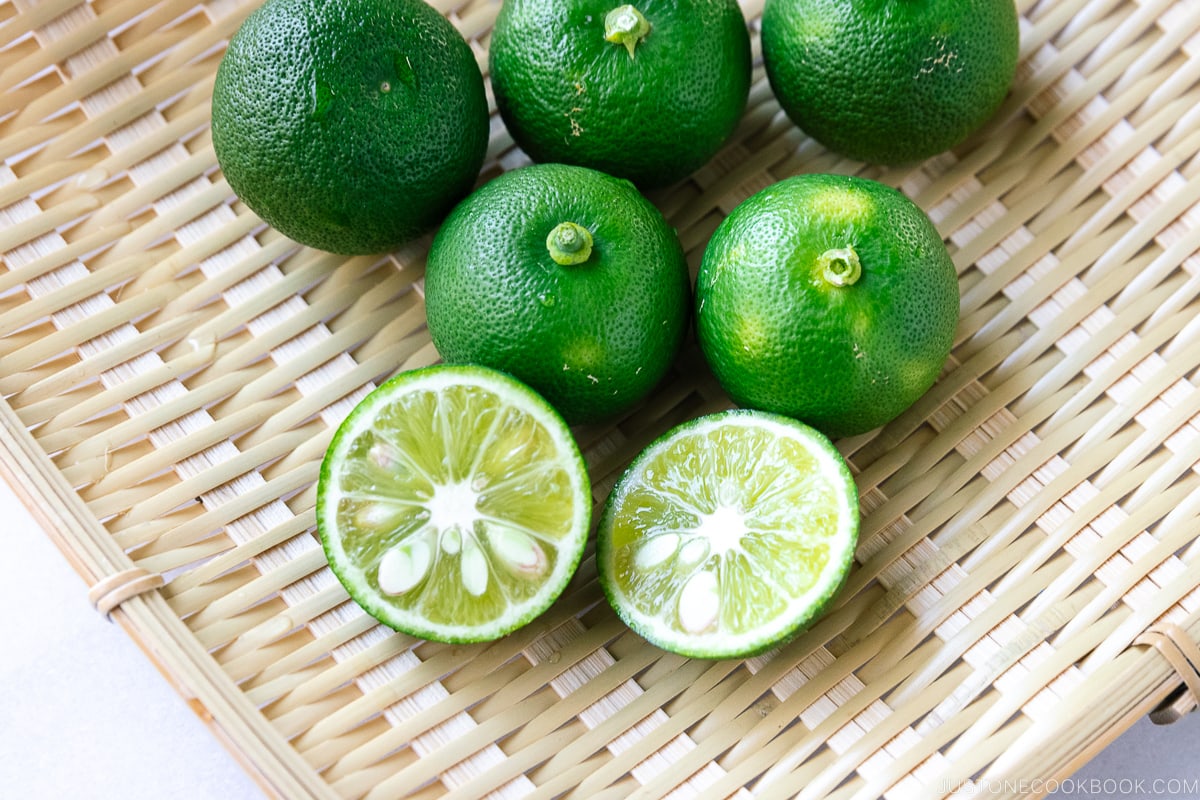 Most sudachi fruits come from Tokushima prefecture in Japan. You may find halved sudachi next to grilled sanma (pacific saury) or thinly sliced sudachi over chilled somen/udon noodles when you're traveling in Japan.
Substitution for Sudachi
As sudachi is still rare here in the US or outside of Japan, you would be interested to see if limes can be a good substitute. I made the exact same recipe with lime and sudachi and did a side-by-side comparison.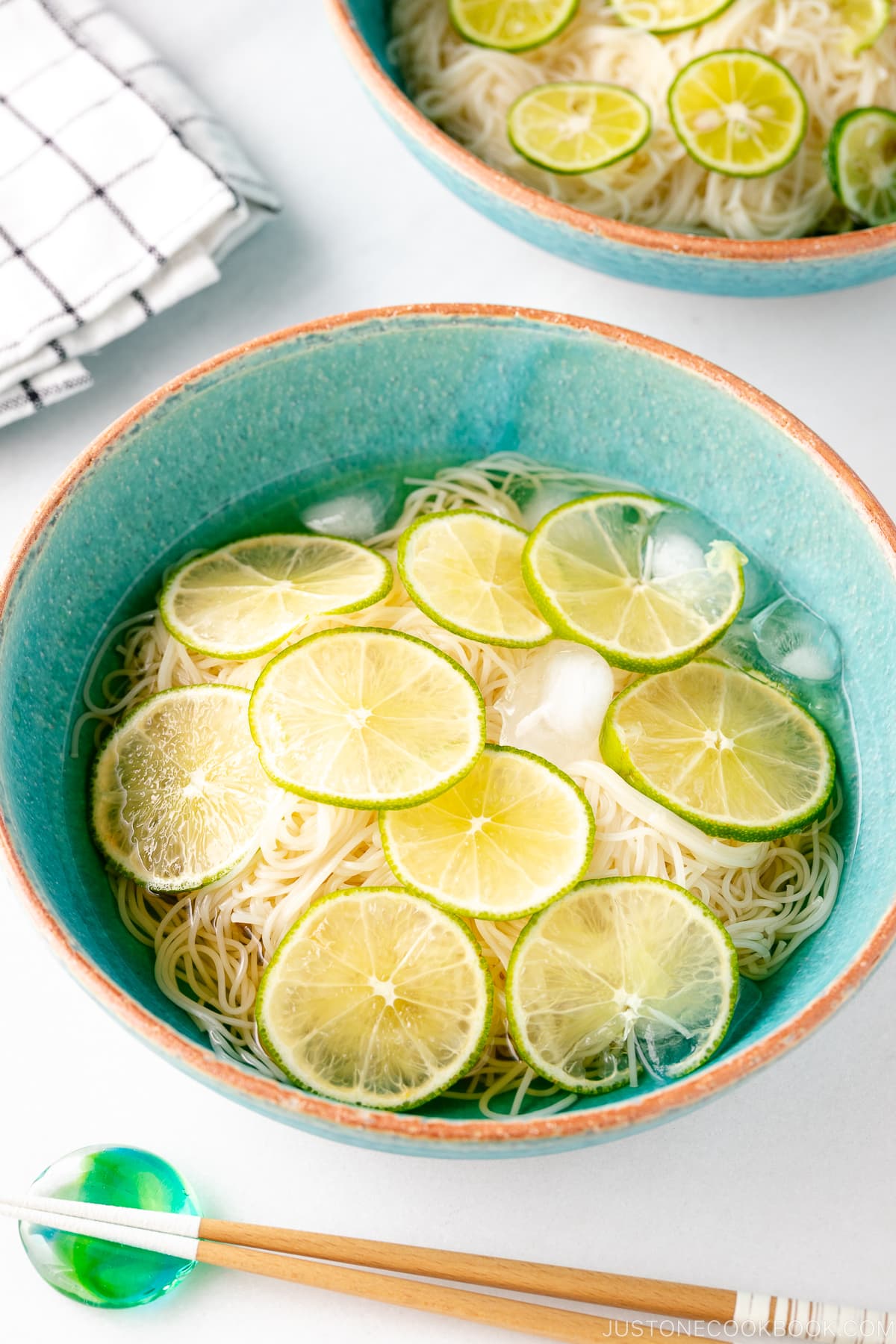 The good news is the flavors for sudachi and lime are quite similar and both pair well with this recipe. So a big yes, I would highly recommend using regular limes if you can't find sudachi.
Creating Light-Color Noodle Soup with Shiro Dashi
The noodle soup broth is typically made with mentsuyu (or tsuyu)—the noodle soup base—that is often concentrated. We use this noodle soup base to make both hot and cold udon, soba, and somen noodle dishes.
For my recipe, I opted shiro dashi, instead of typical mentsuyu, in order to create a lighter-color soup broth that helps spotlight the vibrant lime green of sudachi.
What's Shiro Dashi?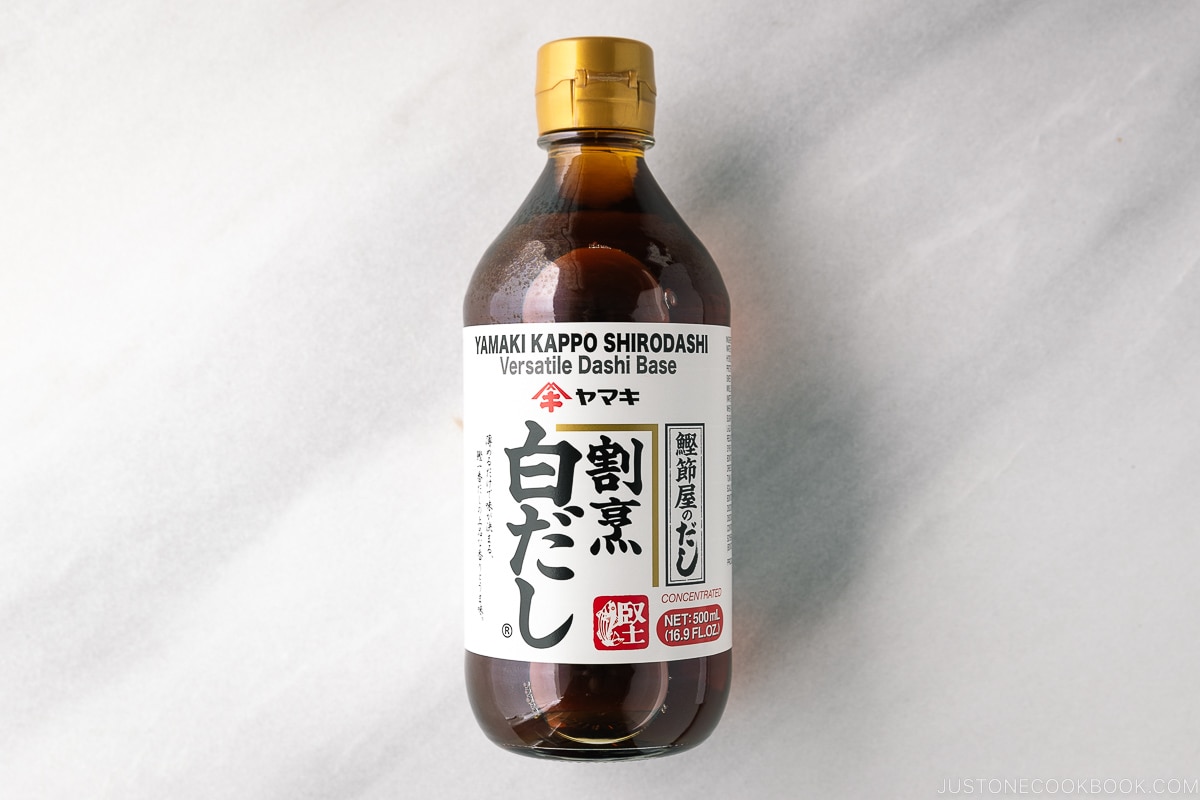 Shiro Dashi (白だし) is a seasoned Japanese soup base, made with dashi, light-colored soy sauce, mirin, and sometimes additional condiments like sake, salt, or sugar. You can buy a convenient bottle of shiro dashi at Japanese grocery stores or on Amazon (below).
Or, you can make Homemade Shiro Dashi using my recipe below.
The Difference Between Mentsuyu and Shiro Dashi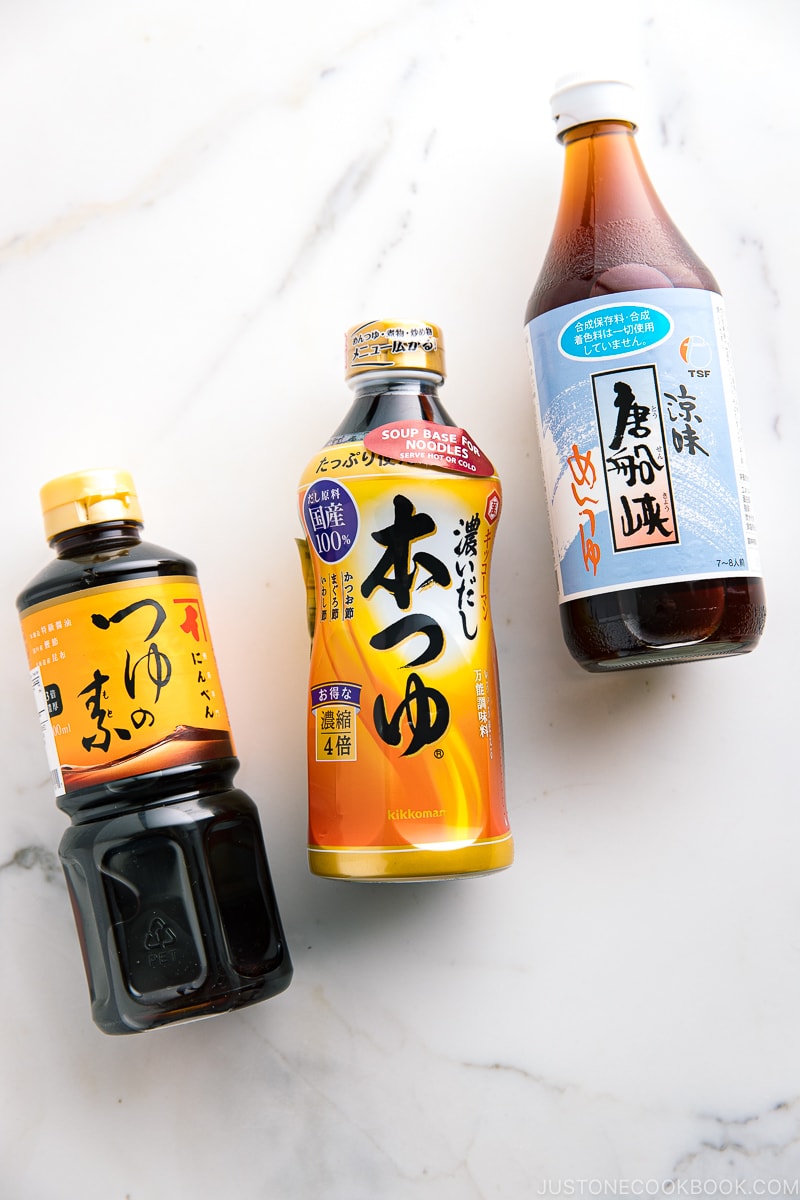 Both mentsuyu and shiro dashi are pretty much the same, except that shiro dashi uses light-colored soy sauce called usukuchi shoyu (薄口醤油) or white soy sauce called shiro shoyu (白醤油).
We use shiro dashi when we want to retain or highlight the original color of the food. The soup base is a much preferred choice for dishes such as Chawanmushi, Tamagoyaki, Oyakodon, Udon Noodle Soup, Clear Soup, and more!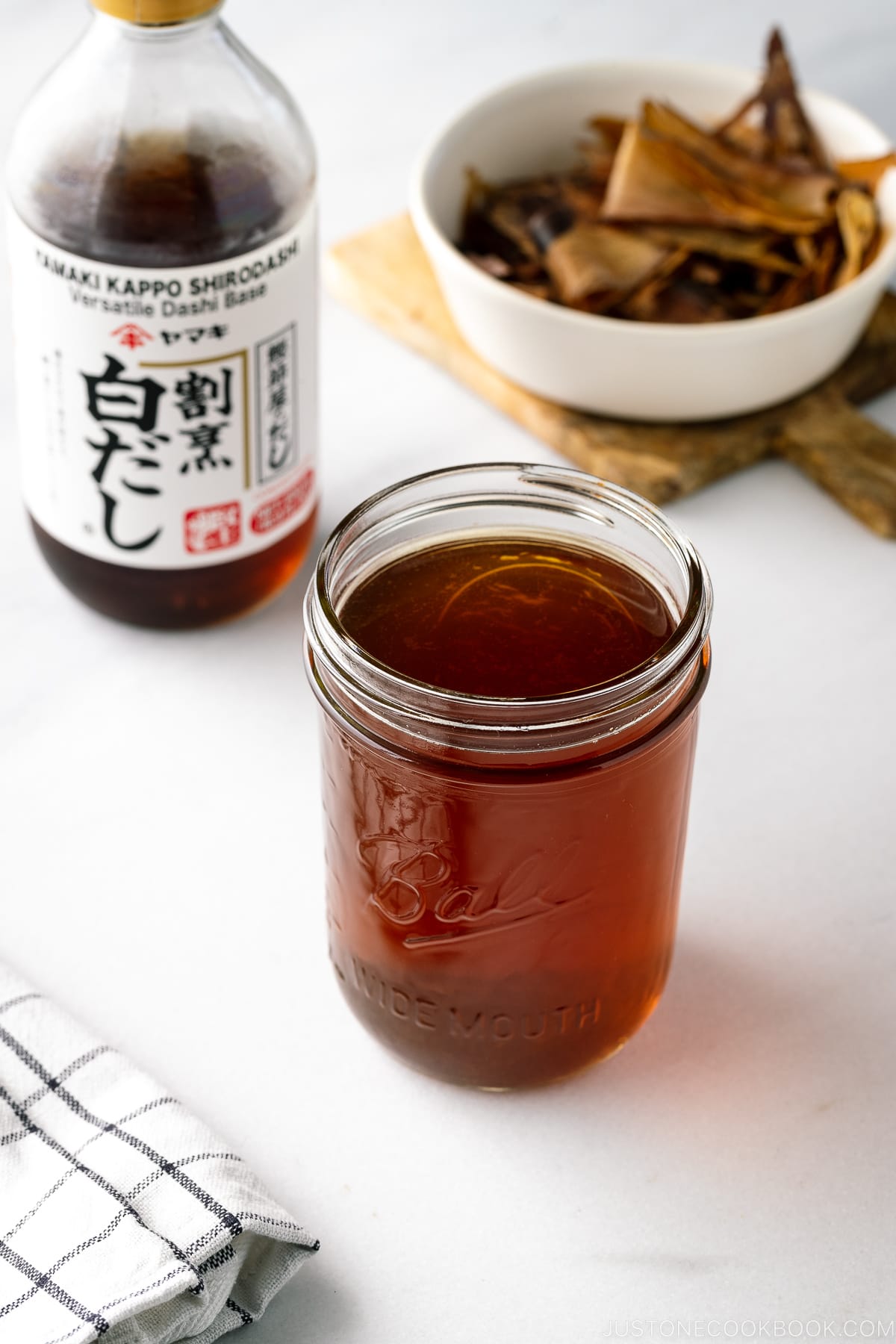 How to Make Homemade Shiro Dashi
I highly recommend making your own Homemade Shiro Dashi at home! Store-bought shiro dashi is convenient but it tends to have preservatives and other ingredients we don't need.
The homemade version is very delicious and simple.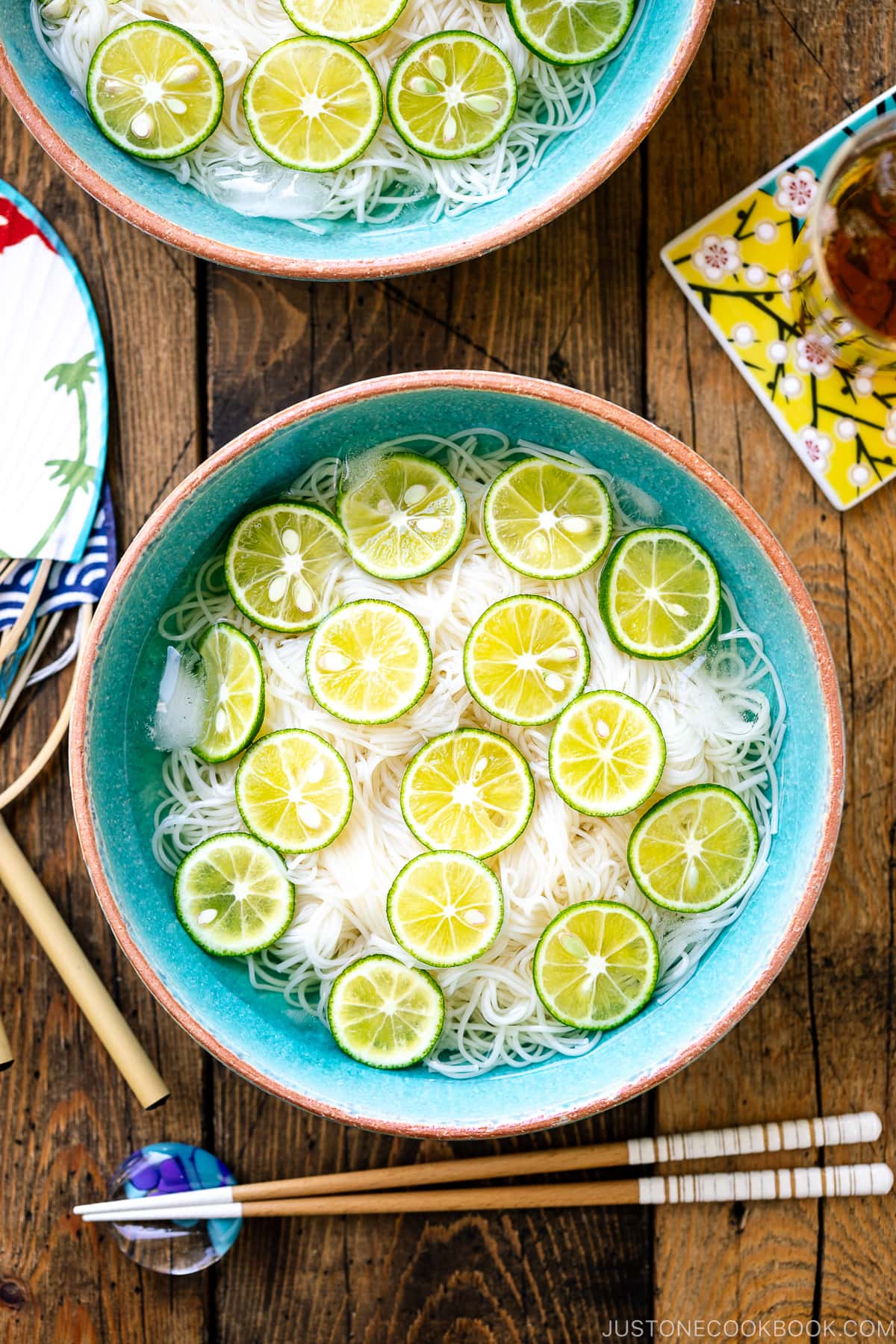 How to Make Sudachi Cold Somen Noodles
Ingredients You'll Need
Dried somen noodles (or udon noodles)
Shiro dashi – store-bought or homemade (kombu, katsuobushi, light-colored soy sauce, mirin, and salt)
Sudachi (or lime)
Overview: Cooking Steps
Make homemade shiro dashi (or use a store-bought bottle of shiro dashi).
Boil the dried somen noodles, drain, and rinse under cold water.
Cut sudachi into thin slices. Assemble the noodles, shiro dashi, and sliced sudachi.
Somen Noodle Cooking Tips
Remove wrappings from the bundles of somen. My favorite somen noodles (Ibonoito brand) require cooking for just 1½ minutes. It's super fast! Therefore, all the noodles should go into the boiling water at the same time.
Don't overcook the somen noodles. The noodles are best when they are springy and have an elastic texture. The remaining heat will continue to cook the noodles, so it's ok to slightly undercook and let them cool as soon as possible.
Rinse the noodles well under cold running water. Using your hands, gently knead the noodles while rinsing them under cold running water. This helps to remove the excess oil from the noodles (the oil was used to make super thin noodles).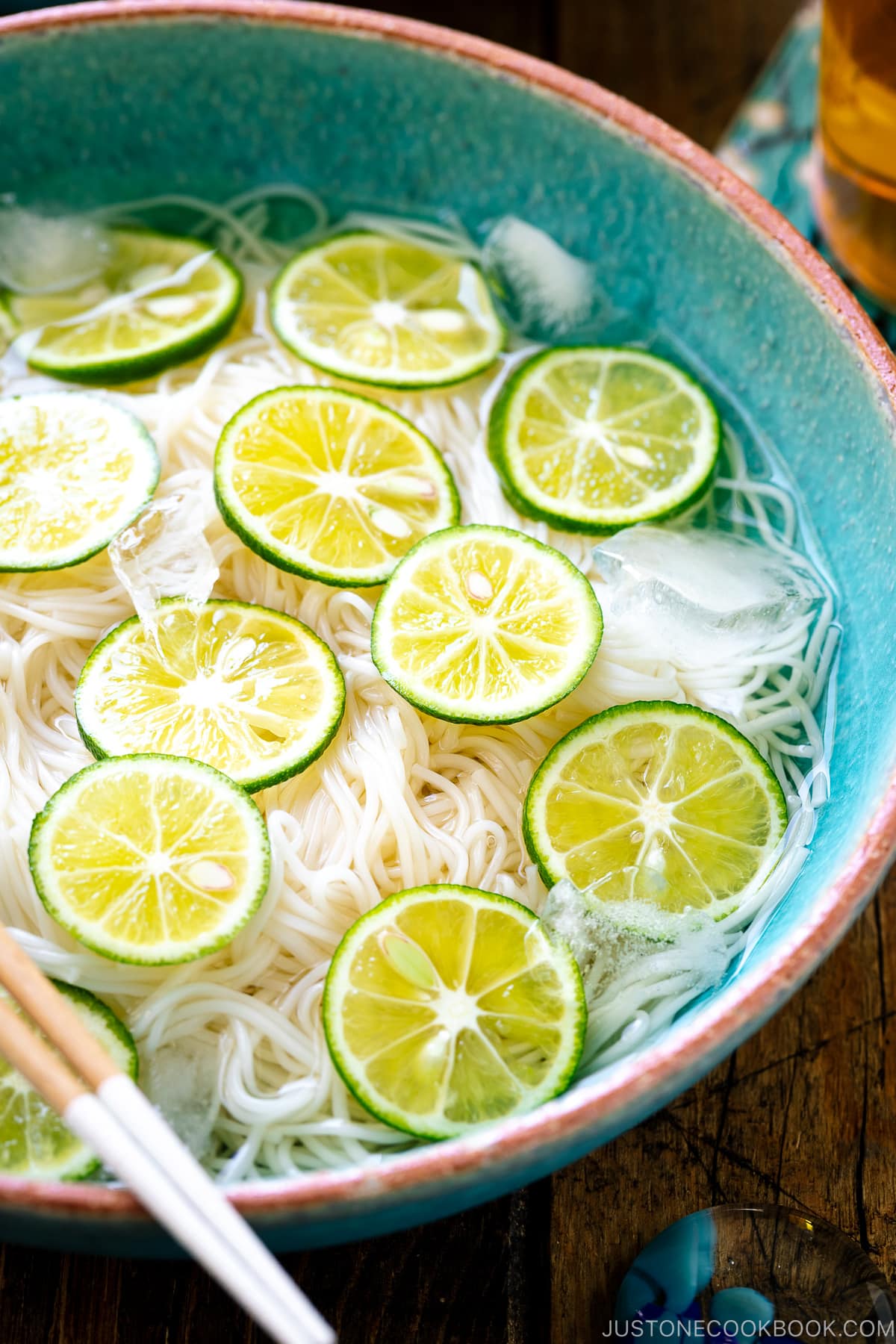 What to Serve with Sudachi Cold Somen Noodles
Tableware from Musubi Kiln
I've partnered with a great ceramic online shop from Japan called Musubi Kiln. You will get 10% off with a coupon code JUSTONECOOKBOOK for your purchase. In this post, I've used: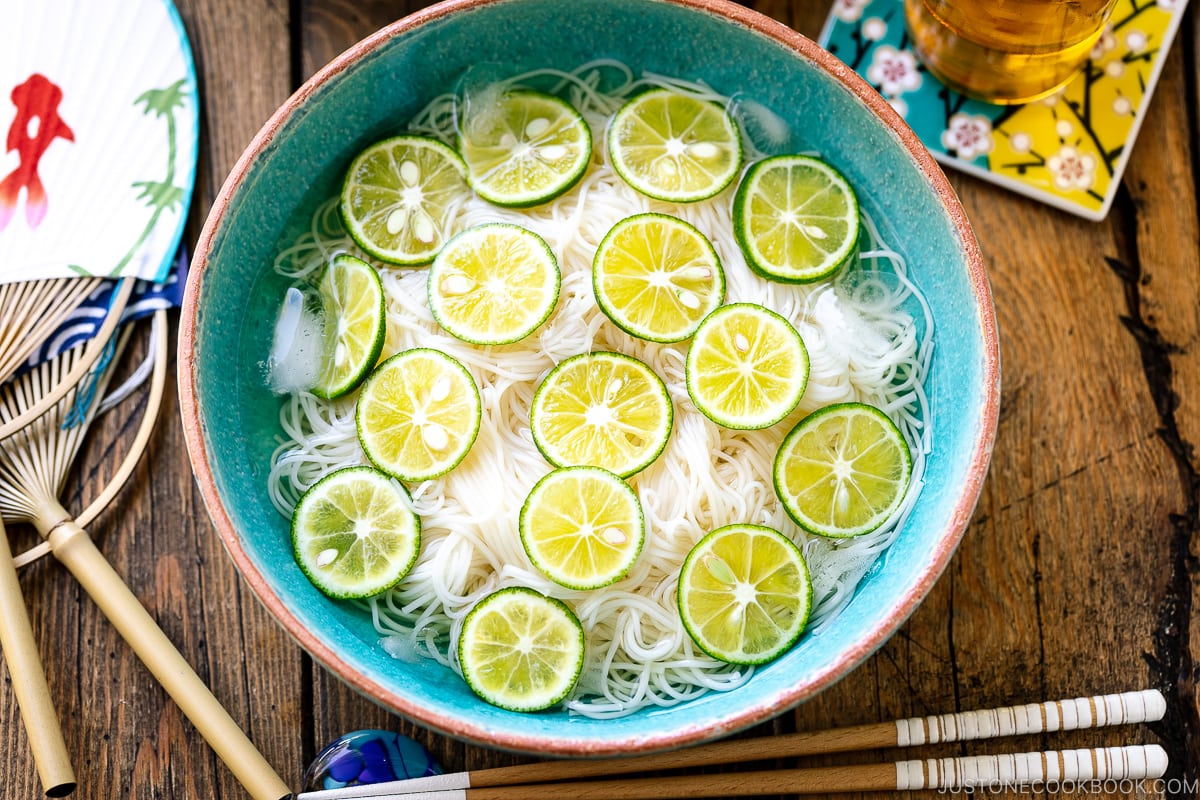 Wish to learn more about Japanese cooking? Sign up for our free newsletter to receive cooking tips & recipe updates! And stay in touch with me on Facebook, Pinterest, YouTube, and Instagram.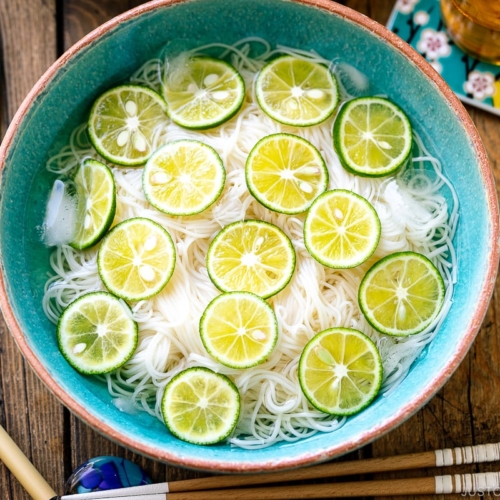 Cold Somen Noodles with Sudachi Lime
Bathed in an icy shiro dashi soup broth, this Cold Somen Noodles with Sudachi Lime is a refreshing treat on a hot summer day. The light color of this savory and tart broth brings out the vibrant green and yellow hues of the citrus slices for a cooling and beautiful presentation.
Japanese Ingredient Substitution:
If you want substitutes for Japanese condiments and ingredients, click
here
.
Instructions
Gather all the ingredients. If using homemade shiro dashi instead of store bought, you will need to prepare ice cubes instead of the iced water shown in the image. In addition, you can prepare several more ice cubes to add to the serving bowls if you prefer your noodles extra chilled (optional).

Thinly slice all but

1

of the

5–6 sudachi

(or

2–3

limes) and set aside for garnish. Cut the

1

remaining sudachi in half widthwise and reserve for juicing.
To Prepare the Ice-Cold Soup Broth (
1⅔

cups,

400

ml)
If you're using homemade shiro dashi, combine

1¼

cups (

300

ml) homemade shiro dashi and

1

cup (

3.5

oz,

100

g) ice cubes (NOT iced water). Tip: My homemade shiro dashi is not as concentrated as the store-bought type.

If using store-bought shiro dashi, combine

⅓

cup (

80

ml) concentrated shiro dashi and

1⅓ cups iced water

(

320

ml), including several ice cubes. Tip: Each brand of shiro dashi has different saltiness, so please adjust to your liking. Once you have added either ice cubes or iced water to your shiro dashi base, squeeze the sudachi (or lime) halves and add the juice to your prepared shiro dashi broth. Mix it all together.
To Cook the Somen Noodles
Bring a large pot of water to a boil. (You do not need to add salt to the water.) Meanwhile, remove all the wrappings from

4 bundles dried somen noodles

, as all the noodles should go into the boiling water at the same time. Tip: Somen noodles cook very fast, so it's important to work quickly. When the water is boiling, add the somen all at once, spreading the noodles around the pot in a circular motion to separate each strand (I use a motion similar to opening a Japanese folding fan).

Cook in the boiling water, stirring occasionally with chopsticks, for 1 to 1½ minutes or according to the package instructions. If it looks like the water may boil over, add a small amount of cold water to the pot. When the noodles are done, drain them in a colander. Tip: I slightly undercook my noodles to keep their springy texture.

Rinse the somen under cold running water. Once the noodles are cool enough to handle, rinse them with your hands as if you are washing your clothes. Knead and massage the noodles to get rid of the excess oil.
To Assemble and Serve
Serve the cold somen noodles in individual bowls and add several ice cubes (optional) to the bowls. Add enough soup broth to the bowls to reach halfway up the noodles. Depending on the size and shape of your bowls, you may need to make more broth.

Garnish on top with the thinly sliced sudachi and serve immediately.
To Store
You can keep the leftovers in an airtight container and store in the refrigerator for up to 2 days. If the noodles stick to each other under refrigeration, run them under cold water to loosen them up before serving. Ideally, you should boil the noodles right before serving so they won't lose their perfectly springy texture.
Nutrition
Nutrition Facts
Cold Somen Noodles with Sudachi Lime
Amount per Serving
% Daily Value*
* Percent Daily Values are based on a 2000 calorie diet.
©JustOneCookbook.com Content and photographs are copyright protected. Sharing of this recipe is both encouraged and appreciated. Copying and/or pasting full recipes to any website or social media is strictly prohibited. Please view my photo use policy
here
.