Cold somen noodles served with shabu shabu pork, cucumber slices, and a savory dipping sauce! This is the most refreshing noodle recipe that your whole family will love. Perfect for a light lunch or dinner in the summer.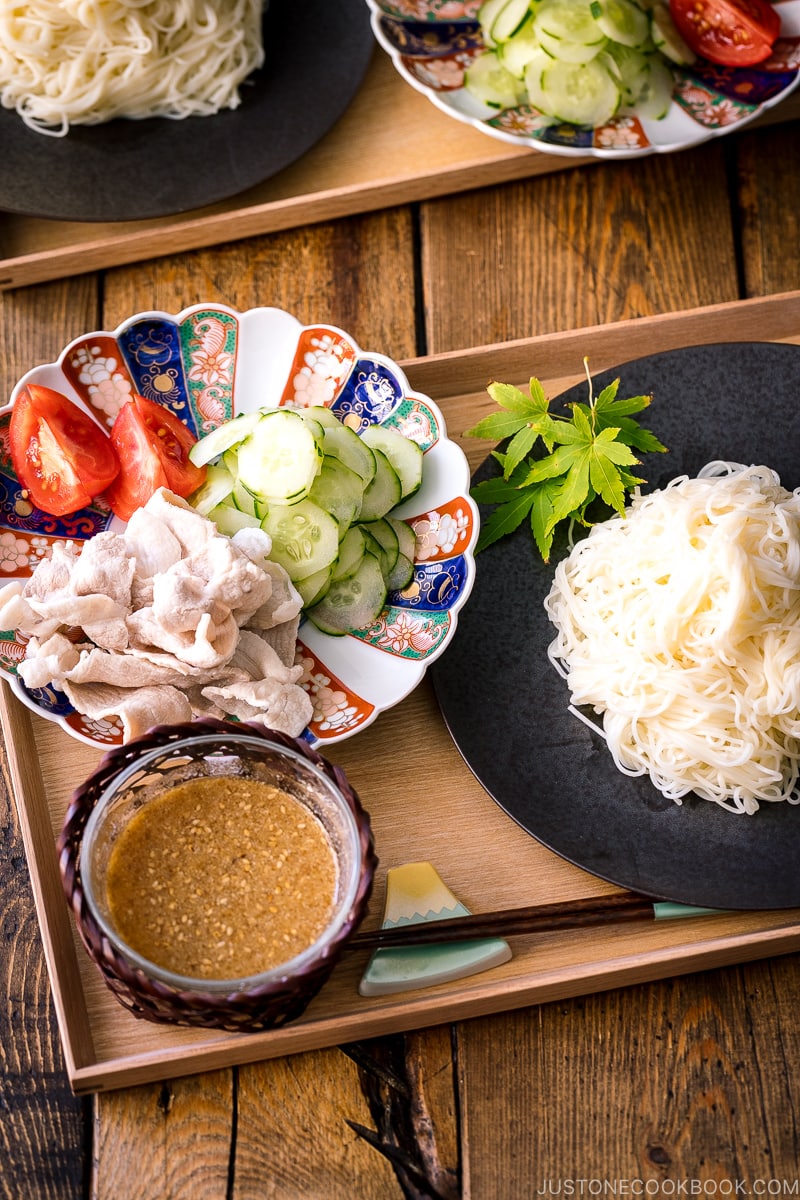 There's one dish we eat on repeat during the summer months is cold somen noodles. Just like spaghetti, somen noodles are incredibly versatile and it goes well with almost any ingredients and sauce.
Today, I've prepared Pork Shabu Shabu and Cold Somen Noodles with Sesame Miso Sauce (豚しゃぶ冷やしそうめん味噌胡麻だれ). A bit lengthy recipe name, but it's basically chilled noodles served with meat and vegetables. On the side is a flavorful sauce for you to dip the noodles and toppings in. This dish is so simple to make, it may just become your go-to summer recipe as well!
3 Things to Prepare
I'll break down this recipe into 3 important components below.
Somen noodles
Pork shabu shabu
Sesame miso dipping sauce
Let's take a look one by one!
1. Somen Noodles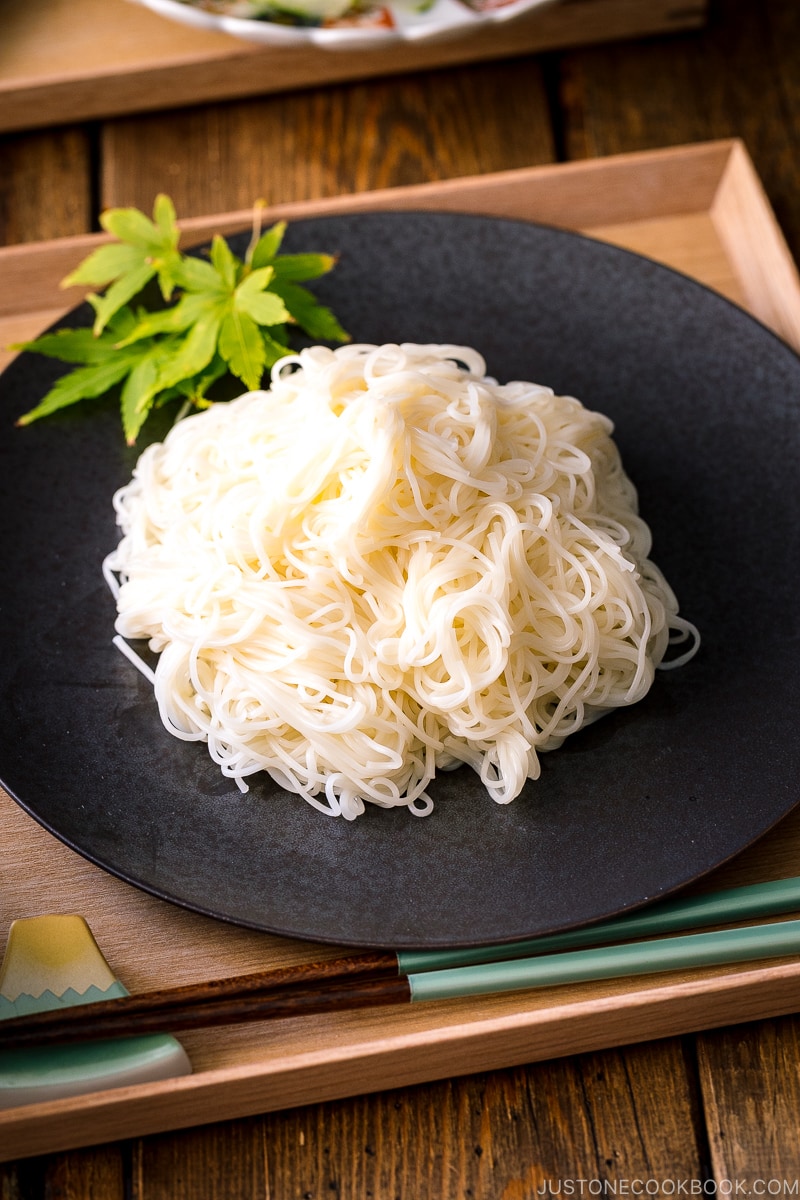 Made of wheat flour and come with super thin strips, sōmen (素麺,そうめん) are the quintessential Japanese summer noodle. They are commonly served in cold preparations, and the most notable dish in Japan is nagashi sōmen – in which servings of cold somen noodles flow down a bamboo pole in front of diners. You would that catch the noodles with chopsticks and enjoy with tsuyu dipping sauce.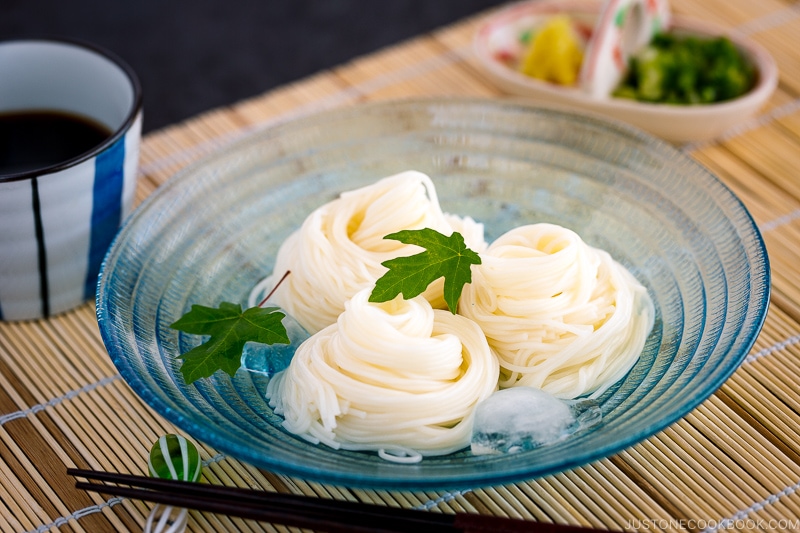 It would be fun to serve somen in the bamboo pole in our own backyard, but we'll keep things really simple. Because that's what somen is about. They cook so quickly (in 2 minutes!), and the light, springy texture is a welcoming respite on a hot day.
My Favorite Somen Brand
There are many somen noodle brands available, but the one I grew up eating is called Ibonoito (揖保乃糸).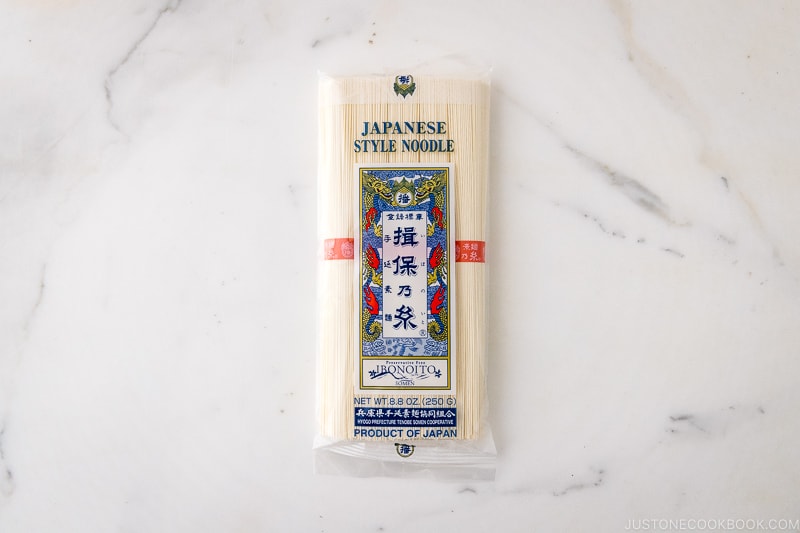 You can purchase this brand in Japanese grocery stores (the Ibonoito is a major brand, so you should be able to find it in big Japanese markets) or Amazon or this website.
2. Pork Shabu Shabu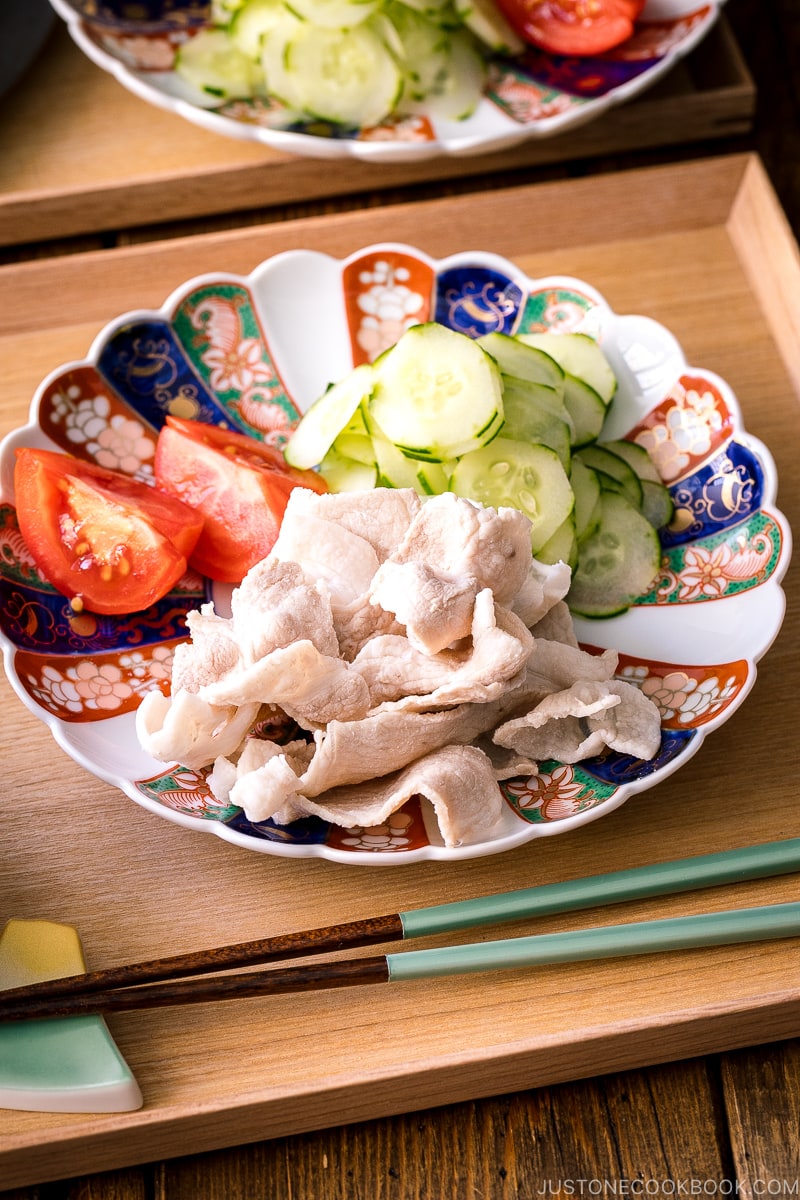 You've probably heard of the popular Japanese hot pot dish called Shabu Shabu. Thinly sliced beef or pork are cooked in kombu dashi broth along with a myriad of vegetables and mushrooms.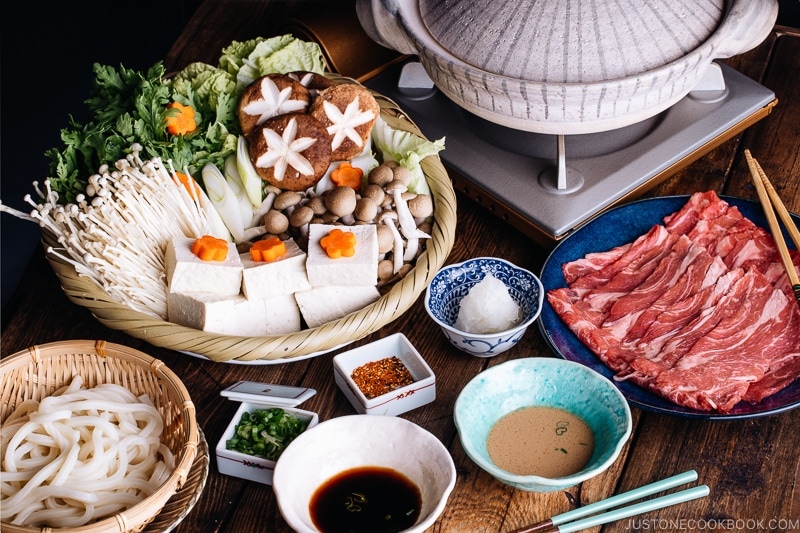 For this recipe, I used thinly sliced pork. The flavor is more subtle and it is a good pick for the hot summer when you don't have much appetite.
The thinly-sliced meat is cooked in boiling water super fast, like in a few seconds! You just need to add sake to the water to mask the smell of the pork before dunking the meat in the ice bath to chill.
3. Delicious Sesame Miso Sauce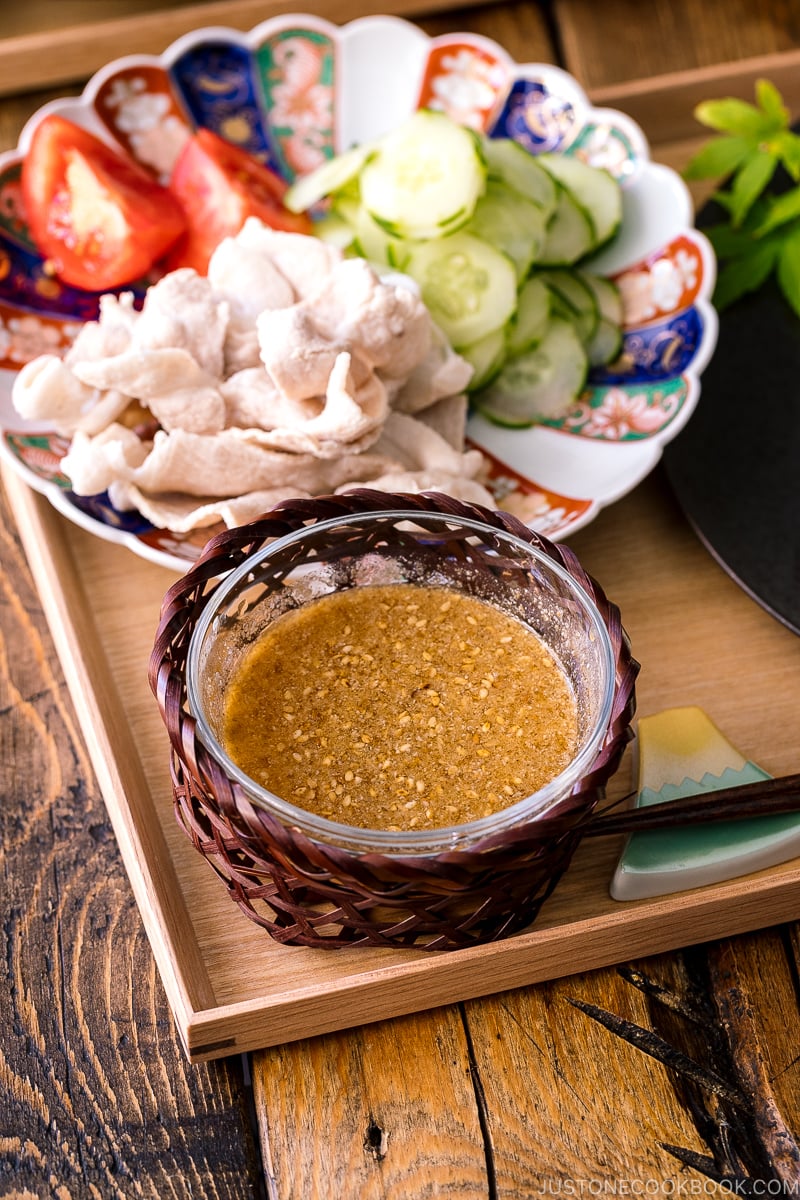 Typically, somen noodles are dipped into Tsuyu (つゆ) or sometimes called Mentsuyu (麺つゆ). It's a dashi and soy sauce-based noodle soup base to make hot noodle soup or noodle dipping sauce.
For this recipe, I wanted to make it a bit more savory so I've added my favorite Barley Miso from Hikari Miso and a spoonful of ground sesame seeds to lend more character.
My Favorite Barley Miso from Hikari Miso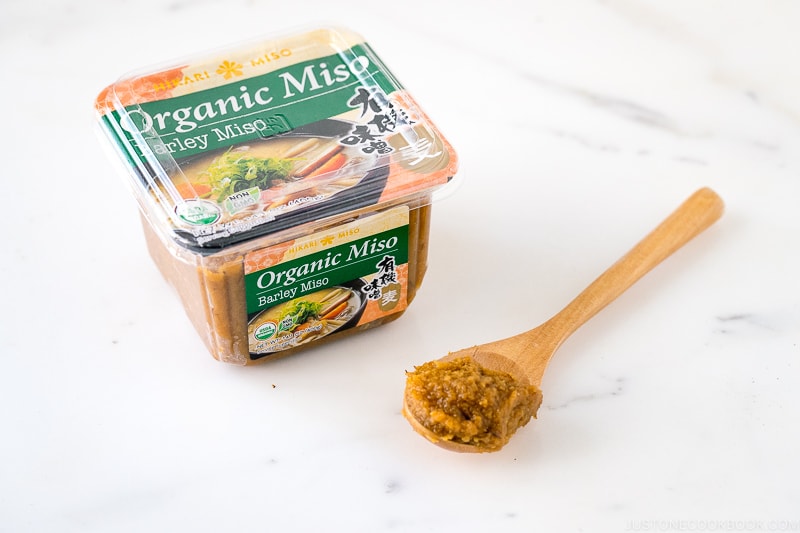 This organic barley miso (mugi miso) from Hikari Miso has a sweet note with a unique aroma of barley koji. This miso is made by adding barley koji, instead of rice koji, into soybeans!
You can get this barley miso at Japanese/Asian grocery stores or online, but in case you can't find one, use your favorite miso to make the dipping sauce. In fact, it's nice to change up the miso so you don't get bored with the same flavor!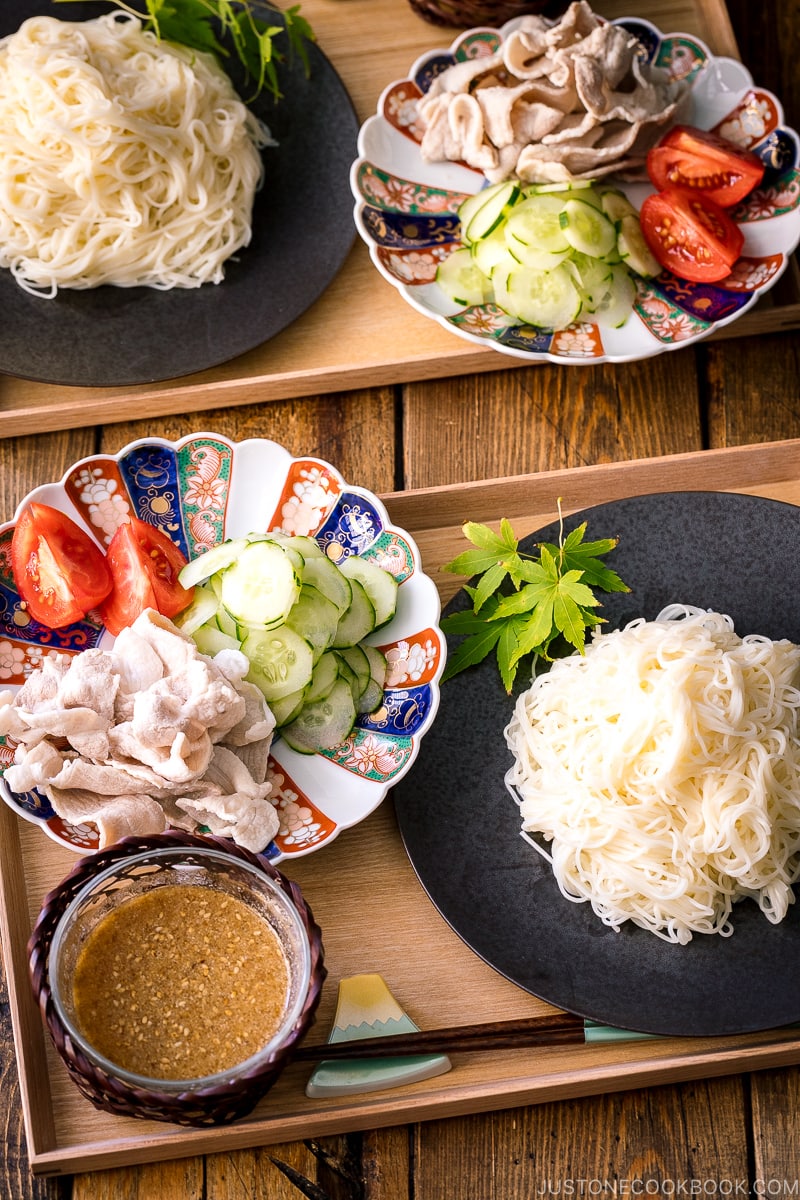 Helpful Tips Before Making the Dish
Somen Noodles
Always use a big pot of water to cook the noodles.
Remove all the wrapping of the noodles. Somen noodles cook fast, only in 1.5 to 2 minutes! Therefore, you need to act fast. The noodles should be added to the boiling water at the same time!
After draining water, wash the noodles as if you are washing clothes by kneading or gently massaging. This is the proper way! Somen noodles uses oil to achieve its thinness, so we need to make sure to remove the oil.
Pork Shabu Shabu
Use thinly sliced pork loin from Japanese/Korean/Chinese market. If you live in Peninsula (SF Bay Area), I recommend thinly sliced meats (and sashimi-grade fish) from Suruki Market in San Mateo. Amazing tender meat!
Add sake in boiling water to remove any unpleasant smell from pork.
Don't overcook. As soon as it's no longer pink, it's done, just in a few seconds!
Dipping Sauce
Grind the sesame seeds in Japanese pestle and mortar for the best texture. If you don't have one (I highly recommend getting one!), you can use a coffee/spice grinder or a rolling pin.
Each brand of mentsuyu (noodle soup base) has different concentration level. More about that in this post.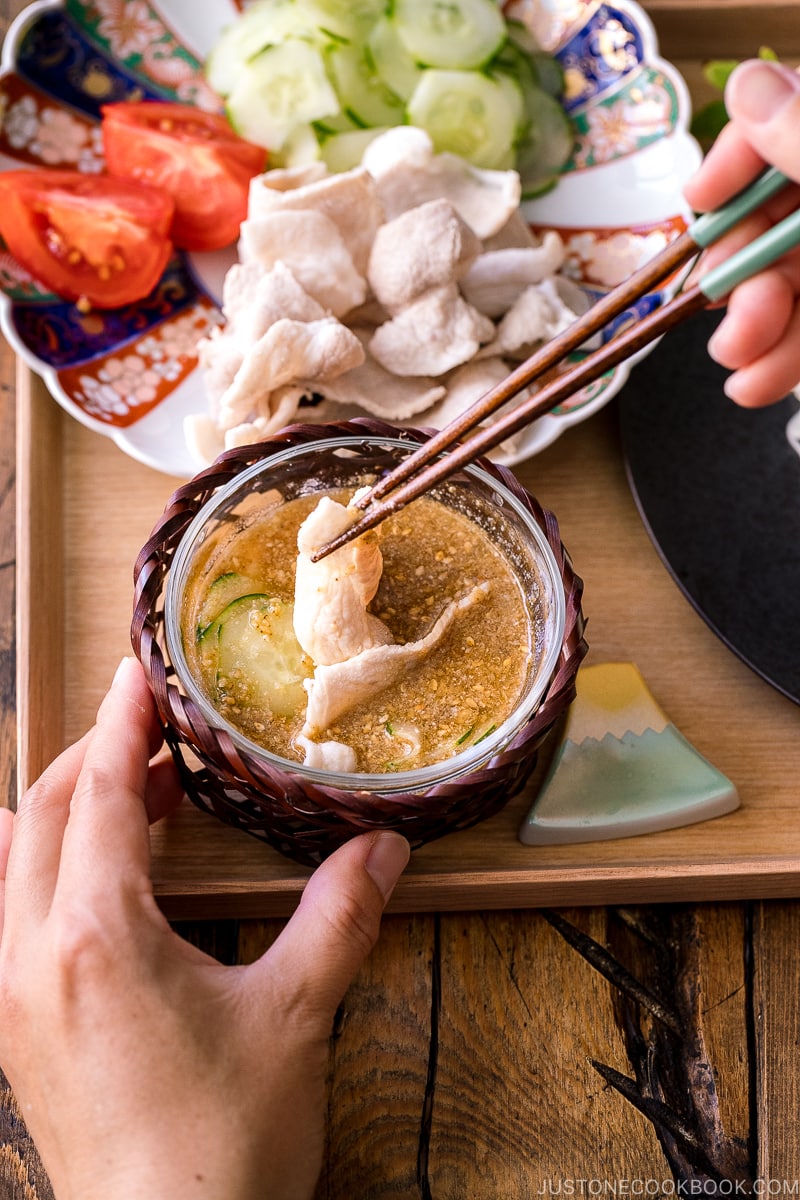 How to Eat Somen Noodles
Just in case you've never had this dish… here's a quick guide on how to eat the somen noodles.
Add the pork and cucumber slices in the dipping sauce.
Pick up small amount of noodles and dip in the sauce.
Enjoy the noodles, pork, cucumber together. And repeat!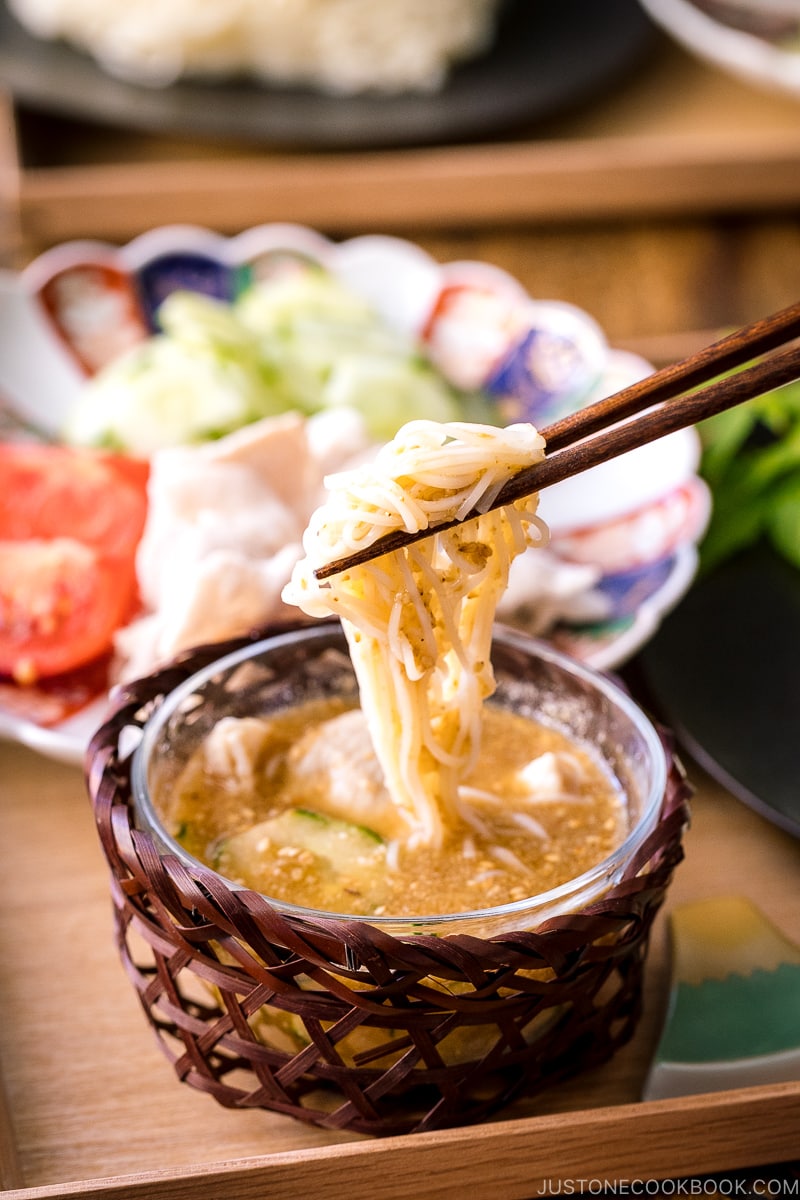 Ceramics from Musubi Kiln
I've partnered with a great ceramic online shop from Japan called Musubi Kiln. You will get 10% off with a coupon code JUSTONECOOKBOOK for your purchase. In this post, I've used: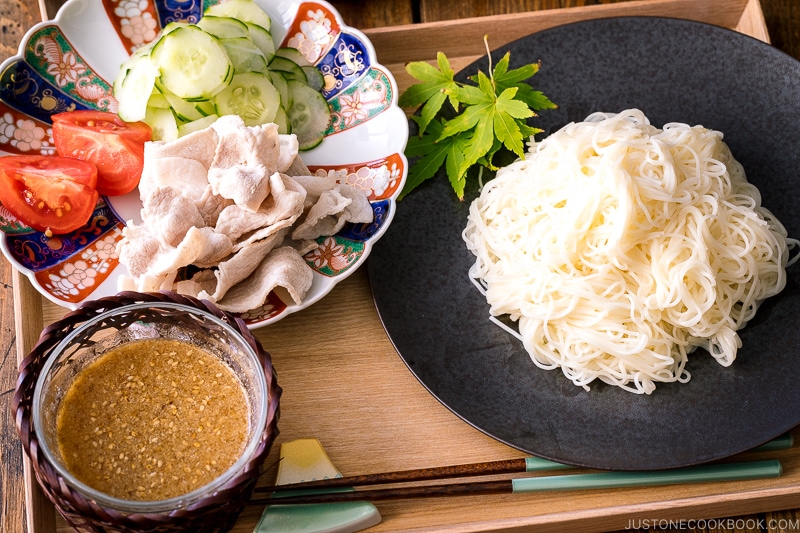 Sign up for the free newsletter delivered to your inbox and stay in touch with me on Facebook, Pinterest, YouTube, and Instagram for all the latest updates.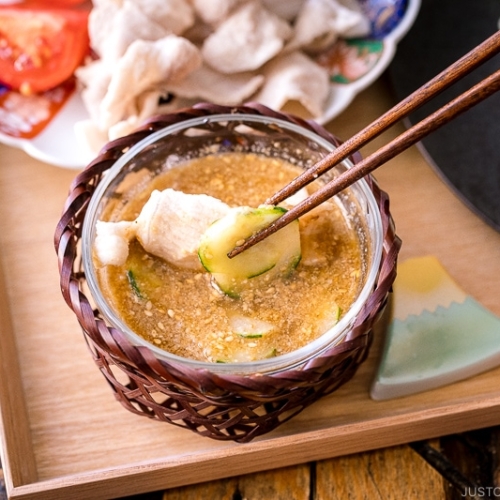 Pork Shabu Shabu and Cold Somen Noodles with Sesame Miso Sauce
Cold somen noodles served with shabu shabu pork, cucumber slices, and a savory dipping sauce! This is the most refreshing noodle recipe that your whole family will love. Perfect for a light lunch or dinner in the summer.
Ingredients
For the Sesame Miso Sauce
Japanese Ingredient Substitution:
If you want substitutes for Japanese condiments and ingredients, click
here
.
Instructions
Gather all the ingredients. Freeze the thinly sliced pork for 10 minutes (so it's easy to cut).
To Make the Sesame Miso Sauce
Grate the ginger (I use a ceramic grater) and measure

1 tsp ginger

(grated, with juice).

Grind

1 Tbsp toasted white sesame seeds

in Japanese pestle and mortar.

In a small bowl, add

1 tsp sugar

and

1 Tbsp miso

and whisk well to combine.

Add

1 Tbsp rice vinegar (unseasoned)

and

½ tsp roasted sesame oil

and mix.

Add the ground sesame seeds, grated ginger, and

¼ cup mentsuyu (concentrated noodle soup base)

.

Add

½–¾ cup water

and whisk all together. Chill the sauce in the refrigerator until ready to serve.
To Prepare the Ingredients
Peel the skin of

1 Japanese or Persian cucumber

in a striped pattern. Cut the cucumber into thin slices.

Cut

1 tomato

into wedges.
To Cook the Pork Shabu Shabu
Cut the half-frozen

6 oz thinly sliced pork loin

into smaller pieces; I cut the meat into thirds. Bring a medium pot of water to a boil. Once boiling, add 1 Tbsp sake.

Cook the thinly sliced pork in

3

batches until no longer pink. Make sure each slice is separated (especially if you freeze for 10 minutes) and do not overcook as the pork will get tough.

Once the pork is cooked, remove it from the pot and put it in an ice bath to chill. When the pork is chilled, transfer to individual serving plates along with the cucumber slices and tomatoes.
To Cook the Somen Noodles
Bring a large pot of water to a boil. Remove all the wrappings from

7 oz dried somen noodles

first as all the somen should go into the boiling water at the same time.

Cook the somen noodles for 1½–2 minutes (my favorite Ibonoito brand requires 1½ minutes). Mix the noodles occasionally, making sure they are not stuck on the bottom or the sides of the pot.

Drain the noodles into a sieve and run cold water over them.

Once noodles are cold enough to handle, wash them with your hands as if you are washing your clothes. Knead and massage the noodles to get rid of the oil. When you finish, drain well.
To Serve
Serve the noodles on individual plates and put the sauce in small individual dipping bowls or cups.

Dip the pork shabu shabu, cucumber, and noodles in the sauce to enjoy!
To Store
You can keep the leftovers in an airtight container and store in the refrigerator for 2–3 days. However, I do not recommend keeping the noodles as they stick to each other. Make a fresh batch of noodles before you eat. You can use leftover (stuck) noodles in miso soup or make a salad with it (dressing will loosen the noodles).
Nutrition
Nutrition Facts
Pork Shabu Shabu and Cold Somen Noodles with Sesame Miso Sauce
Amount per Serving
% Daily Value*
* Percent Daily Values are based on a 2000 calorie diet.
©JustOneCookbook.com Content and photographs are copyright protected. Sharing of this recipe is both encouraged and appreciated. Copying and/or pasting full recipes to any website or social media is strictly prohibited. Please view my photo use policy
here
.