A classic Chinese-influenced food in Japan, Tenshinhan is made of tender crab omelette served over dome-shaped steamed rice, and blanketed in a thick sweet and sour sauce. It's also a quick comfort food to make at home. You'll love this easy recipe (variations included)!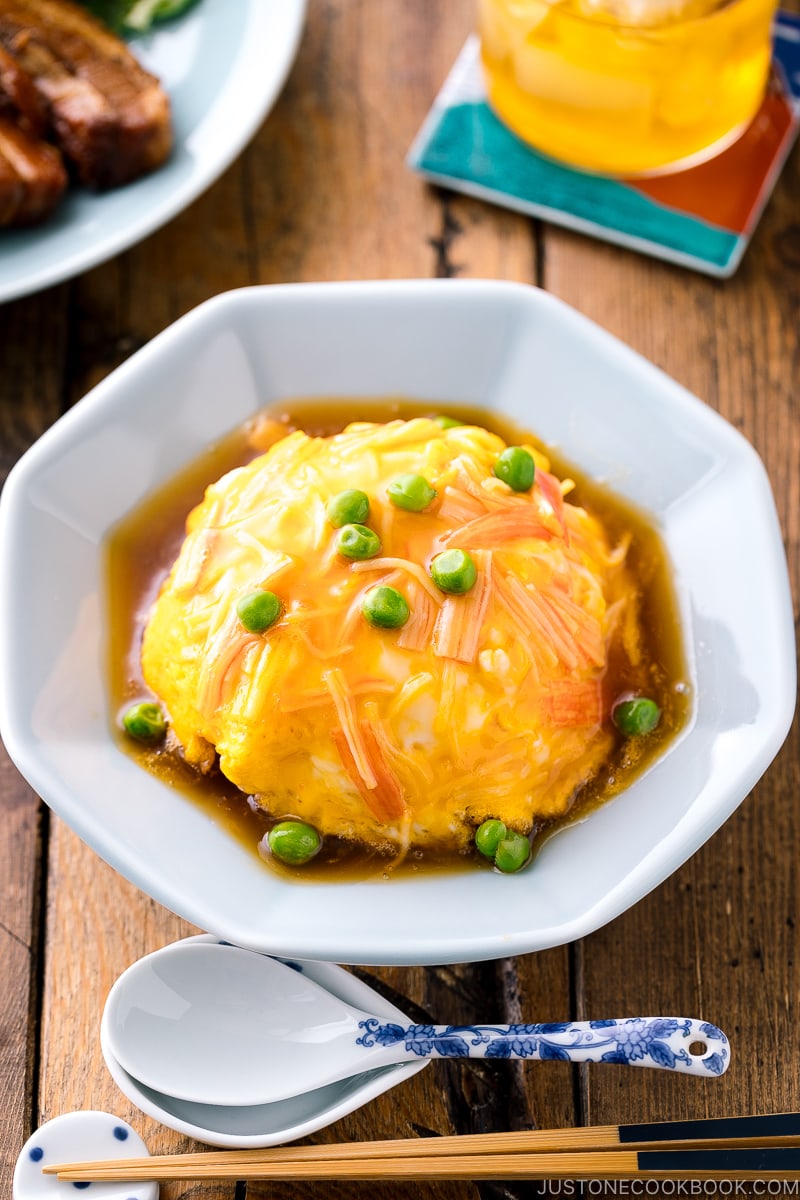 Wish to add some flair to your weeknight meal routine? Let's make Tenshinhan (天津飯), a Chinese-influenced Japanese dish that is super satisfying and yet quick to make. Here we have crab omelette over steamed rice and smothered in a sweet and sour sauce.
The velvety texture of the umami-rich sauce pairs with tender omelette and sweet crab meat, it's delicious in every bite. Luxurious as it may sound, tenshinhan takes only 15 minutes to make. Count this your back-pocket recipe!
What is Tenshinhan?
Tenshinhan (天津飯) is a Chinese-inspired dish consists of omelette with crab (real crab meat or imitation crab) served over a bed of steamed rice and smothered in a sweet-savory sauce.
The name Tenshin is the Japanese reading of Tianjin, a city in China. It would seem that the name of the dish has to do with the use of the rice grown in Tianjin by the Japanese restaurants in the Shōwa period. The dish is sometimes called Tenshin-don (天津丼) or Kanitama-don (かに玉丼)—"don (丼)" is short for donburi (rice bowl dish).
You'll notice that tenshinhan shares similar preparation as egg foo young (芙蓉蛋), a classic Chinese omelette dish filled with vegetables and meat and covered in a rich brown gravy. However, despite its Chinese influence, tenshinhan is uniquely Japanese as it originates in Japan. It has been a popular item on the menu at Chinese restaurants in Japan that serve chuka ryori (中華料理), Japanese-Chinese foods, for a half-century.
Did You Know There Is Another Tenshinhan?
When you google "tenshinhan," you will immediately see a manga character from Dragon Ball that shows up in the search results. I used to watch the show growing up. According to the author, the manga character, Tenshinhan, is indeed named after this crab omelette dish.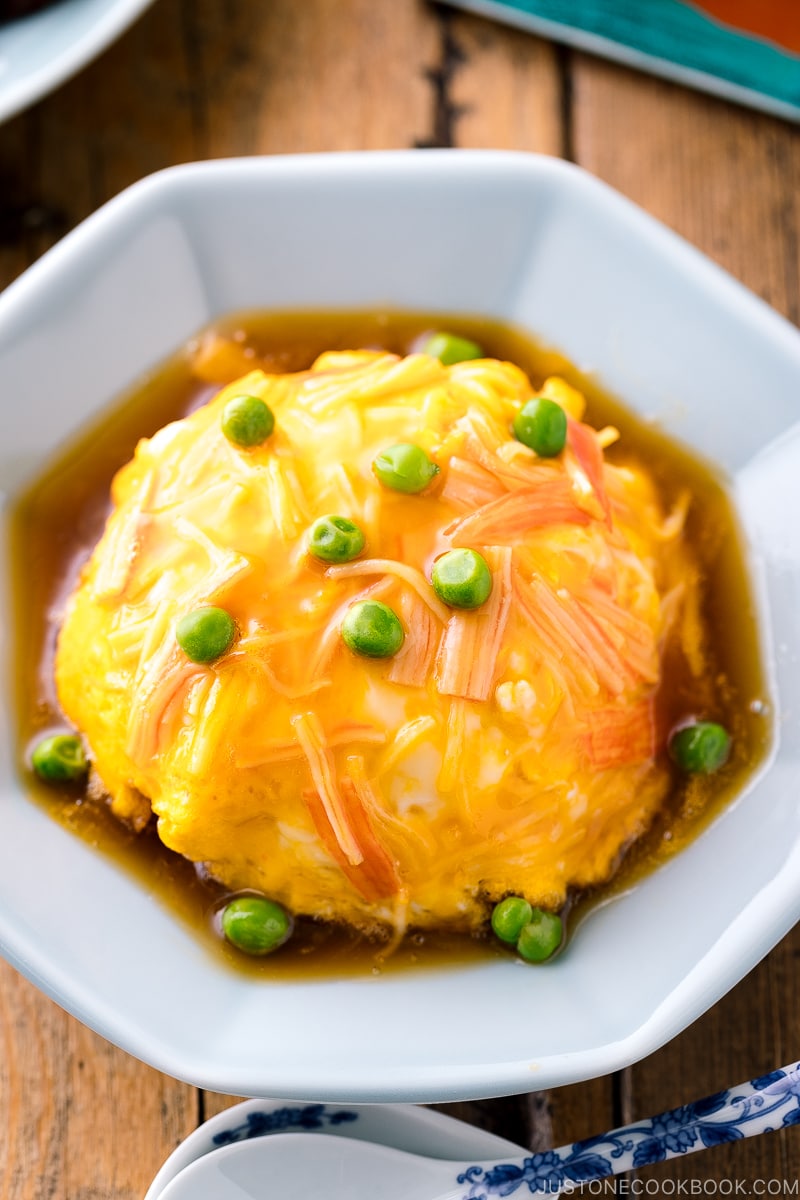 Why You Should Try This Recipe
Major comfort food. There is something about rice, eggs, and glossy savory sauce that hits just right. It's the kind of food that brings me back to Japan.
Quick and easy to make. I've been making the recipe on repeat since I re-discovered the dish. The preparation is simple and you can put it together in 15 minutes.
Pantry-friendly ingredients. I usually keep imitation crab, green peas, and steamed rice in the freezer and I always have eggs in the refrigerator. The rest are the usual suspects from the pantry. Here we go, we already have the ingredients ready!
How to Make Tenshinhan
Ingredients You'll Need
Crabmeat: Real or imitation crab; I'm allergic to crab so I have to use imitation crab. Japanese imitation crab sticks shred easily and has a nice red color. See variations below if you don't eat crab.
Eggs
Steamed rice
Green peas
Sweet and sour sauce: Chicken stock, soy sauce, sugar, sake, vinegar, potato starch
Oil and sesame oil
Overview: Quick Steps
In a saucepan, combine the ingredients for the sweet and sour sauce.
Mix and bring the sauce mixture to a simmer. Once the sauce has thickened, set it aside.
Prepare egg mixture with crabmeat and season it with salt.
Cook the omelette in a frying pan and serve it over steamed rice.
Pour the sweet and sour sauce over the omelette and garnish it with green peas.
5 Tips to Cook Perfect Soft Omelette
Tip #1: Make one omelette at a time.
Tenshinhan is usually served individually like a donburi (rice bowl) style. Because the omelette is done cooking when the texture is just set and soft, it will be impossible to divide the omelette at this stage.
The omelette made with one large egg covers the heap of steamed rice inverted from the regular Japanese rice bowl perfectly.
Tip #2: Use a smaller frying pan.
The ideal presentation of this dish is to enfold the dome-shaped steamed rice with the omelette completely. You may need to practice at least one time so you can adjust the amount of rice and egg to achieve the perfect look.
I use this 8.5-inch cast iron wok (use JOC10 to get 10% off) and it's a good size to cook a one-egg mixture.
Tip #3: Don't be shy about oil.
It's important to use just enough oil so that when you pour the egg mixture, it floats on top of the oil. If you don't use enough oil, the egg mixture either sticks to the pan and becomes a normal scramble egg instead of a fluffy egg.
Tip #4: Poke the omelette and allow uncooked egg to cook.
As you cook the omelette, poke the egg mixture with chopsticks or silicone spatula so the cooked egg will get pushed to the side allowing the uncooked mixture to fill the open space in the pan.
The key is how quickly you distribute the uncooked egg mixture to the hot pan surface. This way the entire omelette surface can be done cooking at the same time. The worst-case scenario is one part of the omelette is fully cooked and another part is runny or totally uncooked.
Tip #5: Do not flip the omelette!
Stop cooking the omelette as soon as the egg is just set, and no longer runny.
Why don't we flip the omelette? For the best looking tenshinhan, the egg on the top side should be bright yellow compared to the bottom side that's been browned from direct heat on the pan.
Slide the omelette over the bowl-shaped rice. The omelette should cover the steamed rice completely. If the omelette is not pliable enough to cover the rice, you probably overcooked it.
It's ok if the egg is slightly undercooked. You will pour a piping-hot sauce over the omelette so the egg will be cooked just right—super tender and fluffy!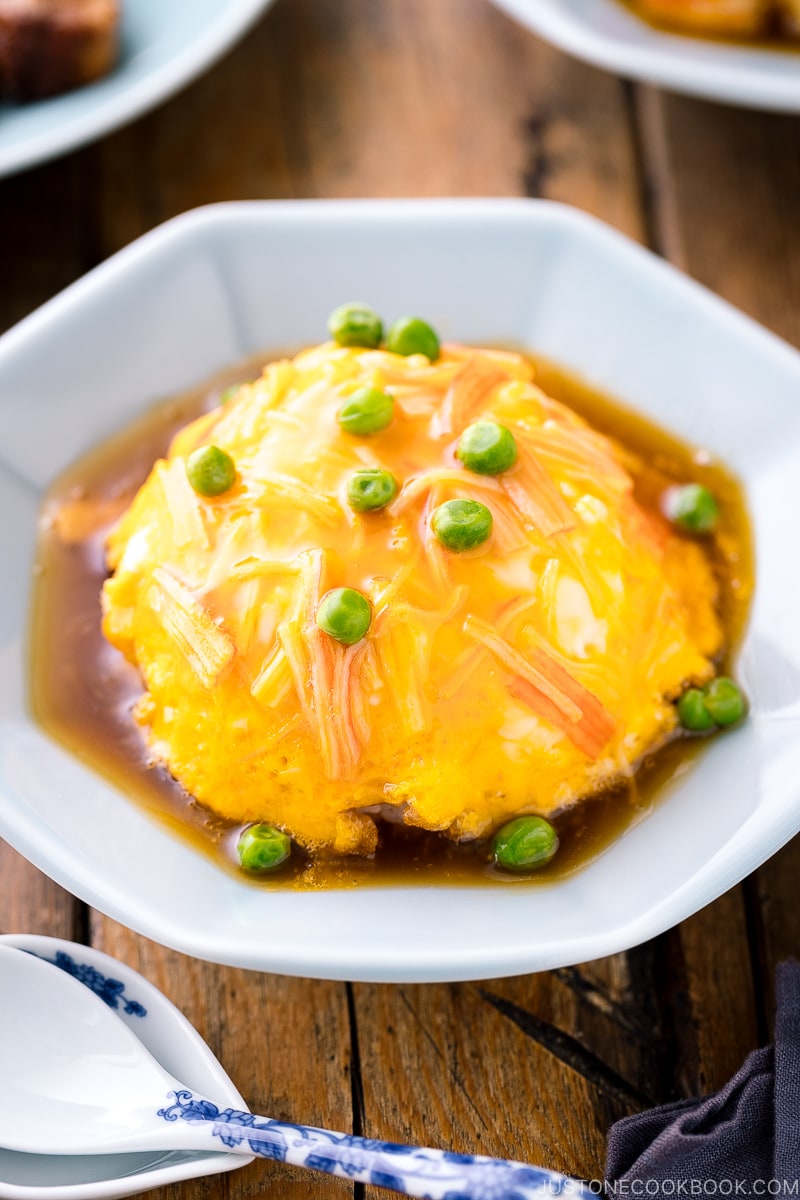 All About the Sweet and Sour Sauce (Amazu-an)
Chinese-influenced food in Japan (aka chuka ryori) often features amazu-an (甘酢あん) or sometimes called chuka-an (中華あん) or simply An (あん). The sweet and vinegary sauce goes with many chuka ryori dishes!
Amazu-an is typically made with 3 ingredients: soy sauce, sugar, and vinegar. Instead of cornstarch used in Chinese dishes, we use potato starch to achieve a thick, gravy-like consistency. Depending on the recipe, the sauce is diluted with chicken stock/broth, like this recipe.
Variations and Options
I made this tenshinhan recipe very simple so that you can always cook the dish when you are short on time or low on ingredients.
If you want to make it more nutritious and savory, here are other ingredients that are commonly used for variations of tenshinhan.
Other proteins: Add cooked chicken, shrimp, and pork to the egg mixture. Don't put too much of it though. It will break the omelette.
Dried shiitake mushrooms (save the soaking liquid (= Shiitake Dashi) and use it as a part of the sauce)
Enoki mushrooms
Shimeji mushrooms
Julienned ginger
Thinly sliced negi (long green onion)
Julienned carrot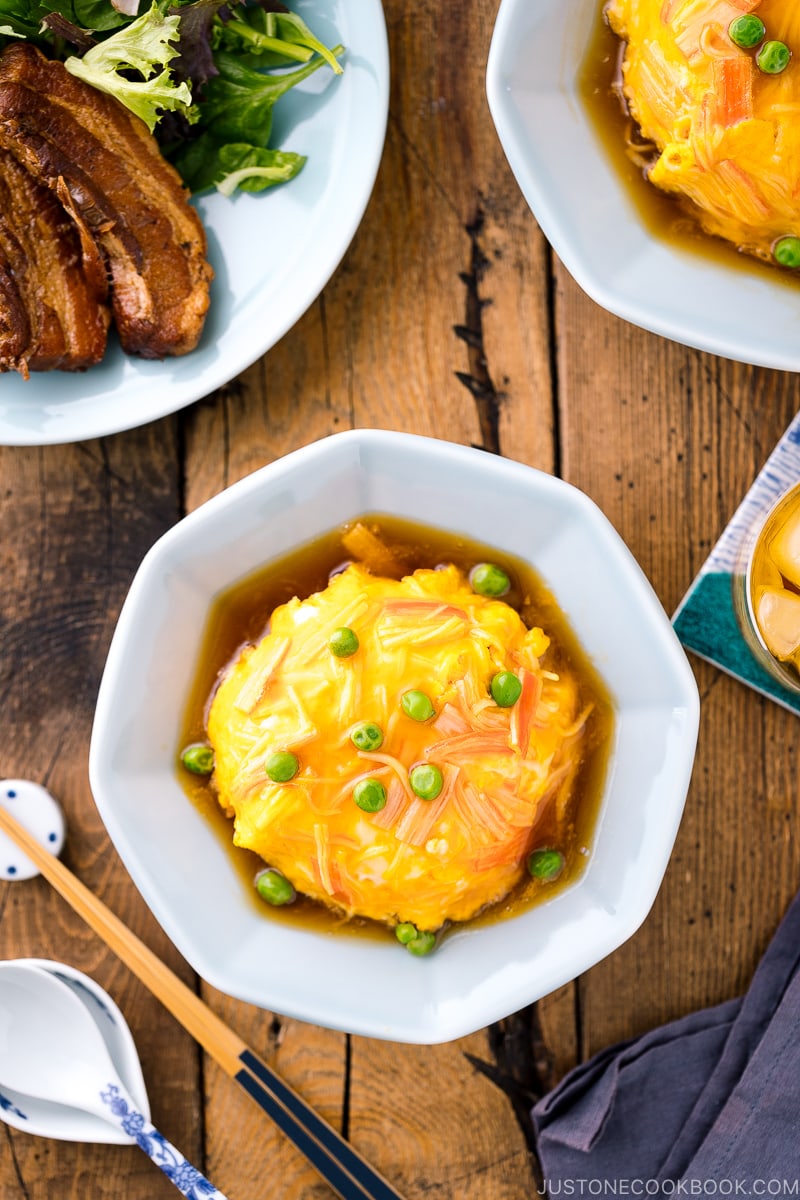 Other Chinese-Influenced Japanese Food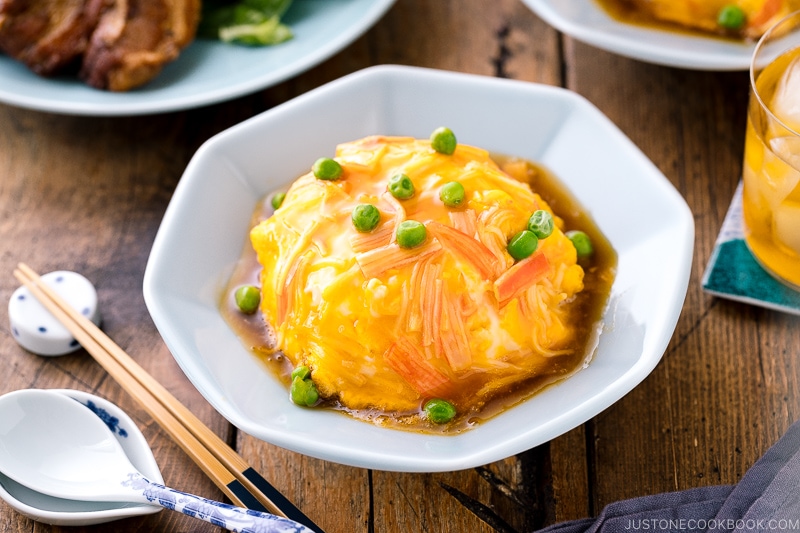 Wish to learn more about Japanese cooking? Sign up for our free newsletter to receive cooking tips & recipe updates! And stay in touch with me on Facebook, Pinterest, YouTube, and Instagram.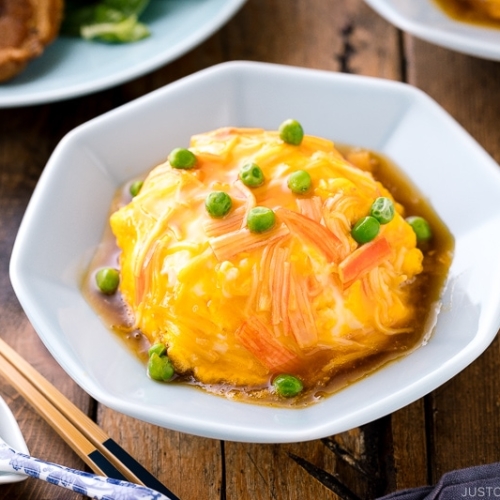 Tenshinhan (Crab Omelette Over Rice)
A classic Chinese-influenced food in Japan, Tenshinhan is a tender crab omelette served over dome-shaped steamed rice and blanketed in a thick sweet and sour sauce. It's also a quick comfort food to make at home. You'll love this easy recipe!
Video
Ingredients
For the Sweet and Sour Sauce
½

cup

chicken stock/broth

1

Tbsp

soy sauce

2–3

tsp

sugar

(my family likes our Tenshinhan a bit on the sweeter side for a more comforting and nostalgic taste, but you may use the lesser amount of sugar, if you wish; do not completely omit it as you need to counterbalance the soy sauce and vinegar)

1

tsp

sake

1½

tsp

potato starch or cornstarch
For Serving
2

servings

cooked Japanese short-grain rice

1

Tbsp

frozen green peas

(cook according to the package instructions)
Japanese Ingredient Substitution:
If you want substitutes for Japanese condiments and ingredients, click
here
.
Instructions
Gather all the ingredients.
To Make the Sweet and Sour Sauce
In a saucepan, combine all the ingredients for the sauce:

½ cup chicken stock/broth

,

1 Tbsp soy sauce

,

2–3 tsp sugar

,

1 tsp rice vinegar (unseasoned)

,

1 tsp sake

, and

1½ tsp potato starch or cornstarch

. Mix it all together.

Place the saucepan on the stove and turn on the heat to medium. Once the sauce is boiling, lower the heat and let it simmer until thickened. The consistency should be similar to maple syrup.
To Make One Omelette
Cut

2 sticks real or imitation crabmeat

into pieces 1 inch (2.5 cm) wide. You can decide if you'd like to cut the crabmeat into smaller pieces. My family prefers them to be bite-sized pieces rather than long pieces.

In a small bowl, beat 1 large egg. Shred the pieces from 1 stick of crabmeat with your fingers and add it to the egg mixture.

Season the egg mixture with ⅛ tsp Diamond Crystal kosher salt.

You can prepare the other bowl of the egg mixture so you can cook the second batch immediately after the first batch. To prepare the individual serving plates, fill a regular rice bowl with 1 serving cooked Japanese short-grain rice. Gently press it down so you can get a nice, clean dome shape. Invert the bowl onto an individual plate to make a mound of steamed rice. Repeat for the second plate.

Heat a frying pan over medium heat. Once it's hot, add 1 Tbsp neutral oil and evenly coat the pan.

When the oil is hot, add the egg mixture. It will immediately float over the oil. Now, poke the egg mixture with your chopsticks or a silicone spatula to create holes. The uncooked egg mixture will fill in the holes. Tip: If the egg didn't float, either you didn't have enough oil or your oil wasn't hot enough.

When there is no more uncooked egg mixture, stop poking (which could cause a tear or hole). When the surface of the omelette is just set, drizzle ½ tsp roasted sesame oil around the edges.

Transfer the omelette to the mound of steamed rice and cover it with the egg. Pour one portion of the piping hot sweet and sour sauce over the omelet. Garnish the omelette with ½ Tbsp green peas.

Repeat this process for the second batch.
To Store
You can keep the leftovers in an airtight container and store them in the refrigerator for 2 days or 2 weeks in the freezer. I recommend keeping the sauce separately.
Nutrition
Nutrition Facts
Tenshinhan (Crab Omelette Over Rice)
Amount per Serving
% Daily Value*
* Percent Daily Values are based on a 2000 calorie diet.
©JustOneCookbook.com Content and photographs are copyright protected. Sharing of this recipe is both encouraged and appreciated. Copying and/or pasting full recipes to any website or social media is strictly prohibited. Please view my photo use policy
here
.