Ramen. Beer. Snow festivals. Sapporo is well known for many things, but it is first and foremost a culinary wonder. Want to know what to eat in Sapporo? We'll cover the classic dishes and favorite foods every visitor should try when visiting Hokkaido's capital city.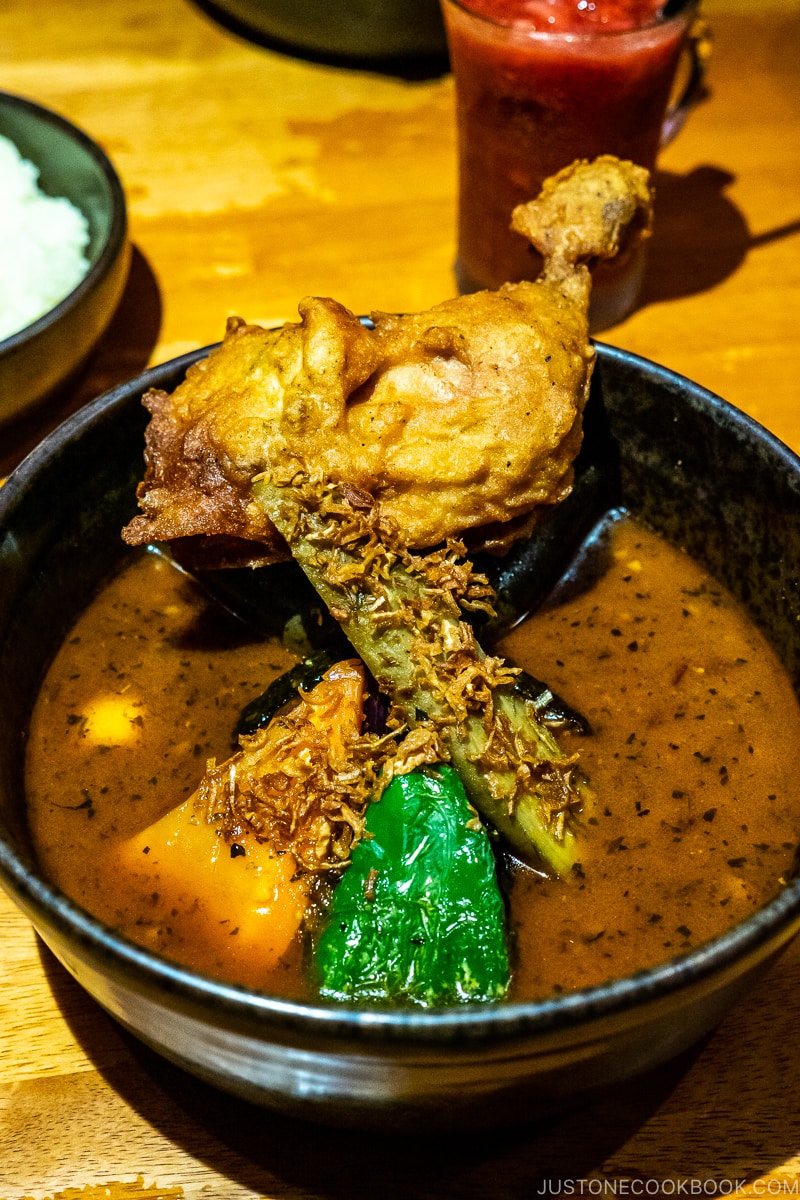 There are many reasons to visit Sapporo 札幌 – therapeutic hot springs, stunning sceneries, the coveted annual snow festival, under-the-radar shopping, and general good times. However, the number one reason to visit Sapporo is its fabulous food. We'll show you what to eat in Sapporo and some of the iconic foods it's known for.
Jingisukan "Genghis Khan"
Jingisukan is one of the most renowned food Sapporo is known for, which originated from the words Genghis Khan. What is it you might ask? Jingisukan is grilled lamb! It is a unique dish as lamb is not a popular meat in most parts of Japan.
During each of our visits to Hokkaido, we've tried different types of jingisukan and they were all delicious in their own rights. It was not until our last trip, we had the best jingisukan at Daruma that outdid the rest of its competitors.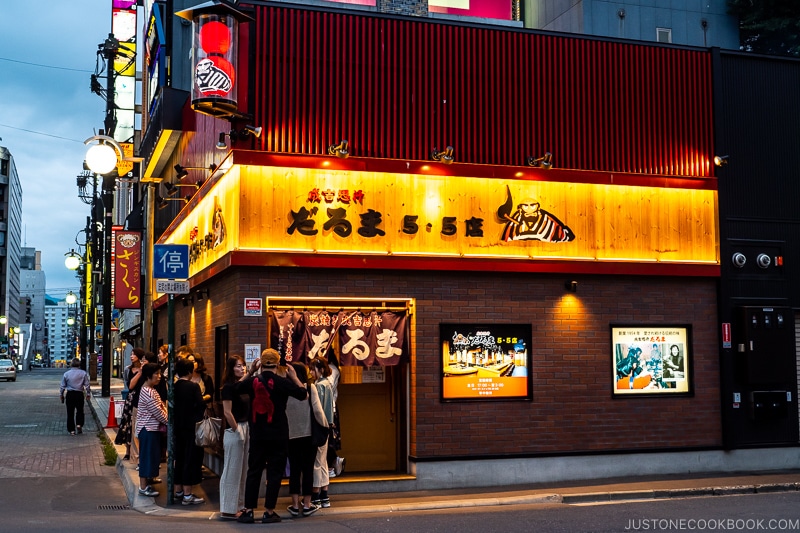 Daruma has four stores within a four-block radius and when we arrived for dinner we understood why. Despite showing up right when they opened for dinner, all the restaurants were already full and a line formed outside of them.
The menu at Daruma is very simple. You get 3 meat choices (all lamb) and the rest are either drinks or accompaniments like kimchi and nori.
The three meat choices are standard jingisukan cut, fillet cut, and premium cut. We tried all three and each was incredibly tender, but our favorite was the fillet as it didn't have as much tendon or fat attached.
How to cook Jingisukan
The first step is to place a piece of fat on the convex grill until the juices start flowing down the side of the cast iron grill. Then place veggies around the bottom of the grill and start cooking the lamb pieces on top.
Dip the meat in the provided sauce (it was amazing!) and enjoy with rice and condiments. The meat has absolutely no gamey taste and imparts a wonderful sweetness.
Our two kids are not fans of lambs but they couldn't stop eating and even ordered several refills.
We've tried jingisukan at several other restaurants in Sapporo. Many popular tourist destinations offer them and while they're good, they're nothing close to Daruma's quality and taste. Does it worth putting up with the long wait to eat at one of the best jingisukan restaurants in Sapporo? YES. We highly recommend it.
Sapporo Seafood
Another must-try food in Sapporo is its bountiful and reasonably priced seafood. There are endless choices of restaurants to try seafood but for those on a budget (or with younger kids), we recommend trying them at kaiten sushi aka conveyor belt sushi.
The conveyor belt sushi restaurants in Sapporo feature super fresh local and seasonal fish at surprisingly low prices.
Our favorite conveyor belt sushi restaurant is Toriton and they have many locations throughout the city. Our second recommendation would be Toppi. It's not quite as good but still very tasty. At both restaurant chains, most of the sushi are 300 yen or less for 2 pieces!
These informal, fast-food style restaurants may not be the most classy way to enjoy sushi, but you can try many of Hokkaido's famed seafood and seasonal produce including uni, crab, and yubari melon at a great bargain. The menu are offered in multiple languages (Japanese, Korean, Chinese, and English) so any non-native speakers can order your favorite sushi with ease. The boisterous and casual atmosphere add a whole level of fun to the experience too!
Hokkaido Ramen
The third food to try in Hokkaido is also its most famous and that's miso ramen! Head over to Ganso Ramen Yokocho (Original Ramen Alley) and try a bowl at the many shops in the alley.
There's nothing quite like slurping a bowl of freshly made ramen with rich miso broth, tasty chashu and sweet corn on top, especially when it's cold outside.
Besides the ramen alley, there are plenty of sought-after ramen restaurants throughout the city. We've tried the popular Ramen Shingen and were awestruck by both the broth and the super tender stewed pork!
Keep in mind many of the ramen shops are very small so avoid going with a big party. It'll be difficult for everyone to fit.
Sapporo Soup Curry
Most people have heard of Japanese Curry and the familiar curry boxes in Asian grocery stores. Sapporo's soup curry is completely different. We got to taste it at a popular soup curry restaurant called Picante.
Soup curry is watery compared to Japanese curry and the spice profile is more similar to Indian and Thai curry.
At Picante, guests first pick a soup choice like chicken leg, lamb, beef tendon, or a vegetarian option like maitake mushroom. The second step is selecting types of shallow fried vegetables, followed by spice level and then any additional topping in the end.
The curry took a while to cook but it was well worth the wait. The soup was so flavorful and laden with aromatic spices. Along with tasty protein and crispy fried root vegetables, the bowl of curry is indeed memorable and we look forward to eating it again! We can't wait to try other soup curry restaurants when we get back to Sapporo.
Sapporo Sweets
Lastly, similar to Tokyo and other large cities in Japan, Sapporo offers all types of sweets. What makes the sweets stand out is the ones that made with fresh quality, local dairy. Famed for its dairy products, some of Sapporo's fabulous desserts include baked cheese tarts, ice cream, and parfait!
There are many parfait restaurants in Sapporo and we made a stop at Parfait, coffee, liquor, Sato (yes, that's the restaurant's name).
As the name indicated, besides parfait the restaurant has a fanciful drinks menu in addition to its dessert creations.
We tried several of the signature parfaits including sea salt and caramel, and beans and ume. They were seriously to-die for.
We ended the meal with heavenly nama chocolate and super satisfied.
What To Eat In Sapporo
It would be impossible to cover all the fabulous food in Sapporo and this guide is only meant to get you some ideas. We hope you enjoy. If you have been to Sapporo and sampled some of its best food that are not mentioned here, please share with us in the comments below!