Print Recipe
Jump To Recipe
A while back I won Family Spice Blog's giveaway and received Frieda's Produce's potatoes, pearl onions, a cookbook, and a bag (Thank you Laura!). I have never purchased pearl onions before so I was really excited to try these onions.
Around the same time I received the giveaway package in the mail, I was thinking about making this roasted potato and corn chowder featured on Mom de Cuisine so it was perfect timing to try out using the ingredients I had received. I've prepared corn chowder many times before but I've never roasted potatoes before adding in the soup. It turned out to be a brilliant idea and as a potato lover myself, i did enjoy this soup a lot. My son who loves corn soup had 3 bowls in one night.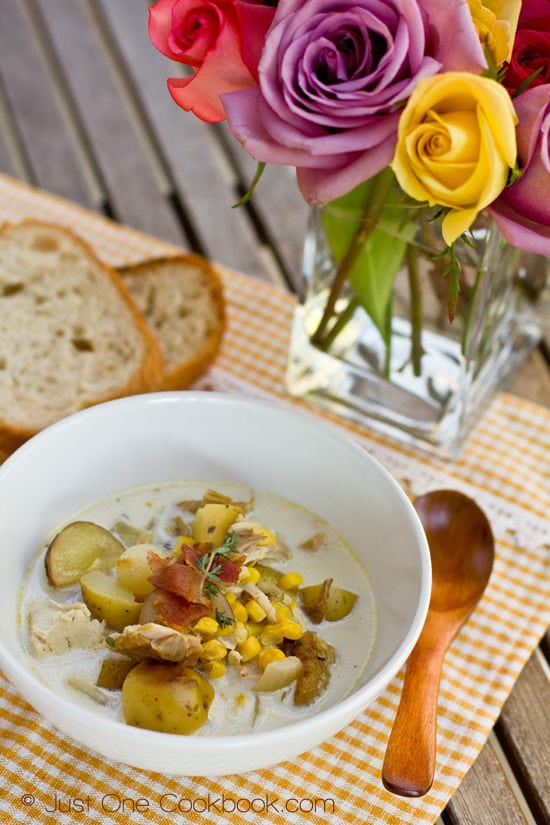 It was so delicious that I've already cooked this soup twice. The only changes I made from the original recipe was that I purposely bought rotisserie chicken the previous night and use the leftover meat to cook this soup the following day. I also added fresh thyme in the soup and that's pretty much it. It's getting really chilly these days and this is definitely a nice soup to keep yourself warm.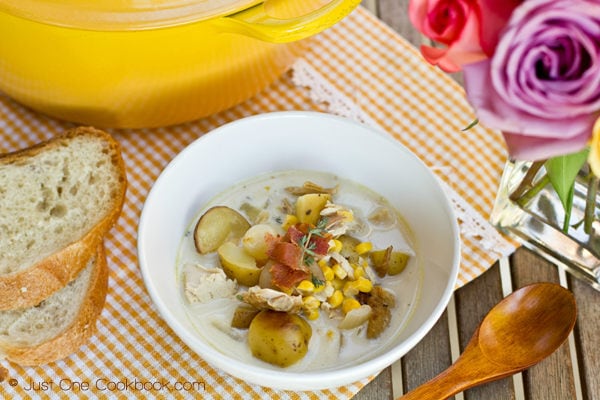 Don't want to miss a recipe? Sign up for the FREE Just One Cookbook newsletter delivered to your inbox! And stay in touch on Facebook, Google+, Pinterest, and Instagram for all the latest updates. Thank you so much for reading, and till next time!
Chicken & Corn Chowder with Roasted Potato
Ingredients
1 lb baby red potatoes cut into ½ inch cubes
1 large onion, diced (I used pearl onions)
2-3 tablespoons olive oil
½ tsp. salt
Freshly ground black pepper
4 slices bacon (optional for garnish)
2 Quarts (1900ml) chicken stock
3 cups cooked, shredded chicken (I used Rotisserie chicken)
1 can cream style corn
1 can whole sweet corn
1 cup heavy cream
1 Tbsp. fresh thyme (plus some for garnish)
1 tsp. salt, plus more, to taste
Freshly ground black pepper
Instructions
Preheat the oven to 375F (C). In a large bowl, toss potatoes, onions, olive oil, salt, and pepper together. Place the mixture on a baking sheet and roast until the skewer goes in side smoothly and the potato skin is crispy, about 30-45 minutes. Remove from the oven and set aside.

While the potatoes are roasting, fry the bacon until crisp. Drain the extra oil on paper towels. After the bacon has cooled, chop into small pieces.
In a large pot, bring chicken stock to a boil. Add the potatoes, chicken, both cans of corn, and thyme to the broth. Bring it to a boil again and once boiling, skim the scrum and fat from the soup. This is the important key to have nice refined soup, so don't skip this process. Lower the heat to medium low and simmer for 5 minutes. Keep skimming during this time.

Add heavy cream, salt, and pepper to taste, and cook until heated through, about 3 minutes. Serve into bowls and top with bacon and fresh thyme as garnish.

*****
Now on a separate note, I'd like to invite all of you to the Bento Contest hosted by Cooking Gallery. I'm honored to be one of the judges for this event and I'm really excited to be part of it. Do you make good bento (lunch box) for your family? Do your children need lunch for their school? I hope you will take this challenge and join us with the contest. I grew up eating my mom's bento and my son will start having lunch from next year, so I need all the great ideas from you guys! Please click HERE to check more details and prizes you could possibly win! This is not just for the food bloggers, it's open for EVERYONE! Good luck!
I'll see you next Monday and be sure to come back to find the winners! Happy Thanksgiving to you and your family!