Print Recipe
Jump To Recipe
Here's the drink you'll be sipping all summer long: Iced Green Tea Latte. Read on to learn how you can make this smooth and creamy matcha latte in just a few minutes.
I love matcha and one of my favorite drinks that I enjoy in the morning is Iced Green Tea Latte, or Iced Matcha Latte (アイス抹茶ラテ).
Watch How To Make Iced Green Tea Latte アイス抹茶ラテの作り方
Delicious and creamy iced green tea latte is perfect to enjoy on warm days, the best part is you can easily make this drink at home in just a few minutes.
What is Matcha?
In case you are new to matcha, matcha (抹茶) is stone-ground delicate green tea powder made from shade-grown tea leaves.
Although matcha has been around for over 800 years in Japan, its popularity has recently increased globally due to its beautiful visual appeal, health benefits, and distinct flavor.  These days many people enjoy green tea drinks, including Green Tea Latte (my recipe here) and Green Tea Crème Frappuccino, both which were first introduced in Starbucks back in 2007.
Matcha also received even more attention when research found out matcha contains lots of antioxidants.  Antioxidants are the magical nutrients and enzymes responsible for giving us younger-looking skin, boosting memory, increasing energy level, burning fat, and preventing a number of life-threatening diseases like cancer.

Frequently Asked Questions about Matcha
As I have many matcha recipes, I often receive the following questions about matcha.
1. Are Matcha and Green Tea same thing?  What's the difference?
When you hear the term "Matcha" and "Green Tea", you might think the terms can be used interchangeably.
The truth is:
Matcha (抹茶) and green tea (we call Sencha* 煎茶) are different and BOTH are categorized as "Green Tea" (Ryokucha* 緑茶).
* Sencha is the regular green tea often served in Japanese restaurants.
* Ryokucha includes different types of Japanese green tea such as sencha, gyokuryo, hojicha, genmaicha, and matcha.
How are matcha and green tea (sencha) different?  The tea leaf itself, cultivation, processing, nutrients, and taste are all very different.  For more info on the topic, please check out the links below.
If you're curious more about matcha in particular, watch this 5-minute matcha episode on Japanlogy.
Can I grind loose green tea leaves to make green tea powder?
After you read my answer to the previous question, you probably know the answer is no.  Even if you grind the leaves, the powder won't become "matcha" because the tea leaves are grown and processed differently.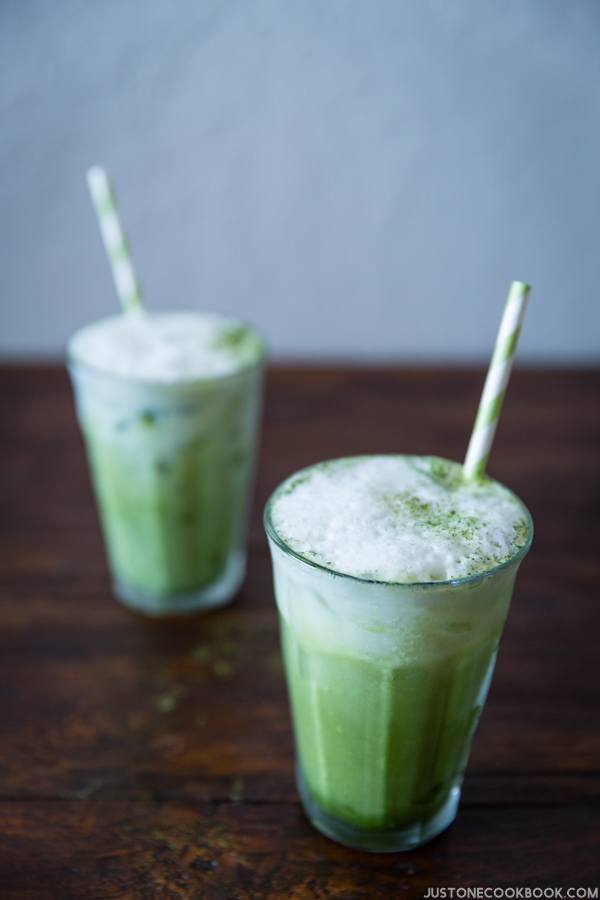 Where can I find matcha for

Iced Green Tea Latte

?
The biggest challenge for Matcha could be finding it locally where you live.  The good news is there are online shops that sell and ship green tea powder internationally, so hopefully you'll be able to find some.  If you know your favorite shop carries excellent green tea powder, please leave a comment below and share with other readers.
If you live in the US, try Japanese grocery stores such as Mitsuwa, Marukai, and Nijiya.  They sell one of the common matcha brand called Maeda-en (It's about $8 for culinary grade).
How do you know if it's good matcha or bad matcha?
Here are several tips to help you to distinguish good vs. bad matcha when you shop.
Origin: Although matcha is also produced outside of Japan, it is generally accepted that higher quality matcha comes from Japan, especially from Nishio (西尾) in Aichi and Uji (宇治) in Kyoto (source).
Color: High quality matcha has a really vibrant green color because tea leaves are shade-grown and they are forced to overproduce chlorophyll, which gives matcha its nice bright green color.  Some of my readers asked me why their matcha is yellowish or brownish color.  It's probably due to improper shading or because tea leaves came from lower stalk of the plant which didn't produce as much chlorophyll.
Price: Unfortunately, there is no "cheap" high quality matcha.  Generally speaking, a 1 oz (30 g) tin of ceremonial-grade matcha ranges between $20-30 while the culinary-grade matcha ranges between $10-15.
Also, make sure the matcha you're purchasing does NOT include sugar in as part of the ingredients!
Let's Make Homemade Iced Green Tea Latte
If you love iced green tea latte, there's a good chance you're buying yours from Starbucks.  But have you ever thought of making it at home?  It's way cheaper to make it at home then paying $3+ for the drink.  The best part?  It's easy!!
See, if you put the drink in a Starbucks' cup, it's just like one you get from the store. 😉
Don't want to miss a recipe? Sign up for the FREE Just One Cookbook newsletter delivered to your inbox! And stay in touch on Facebook,Google+, Pinterest, and Instagram for all the latest updates. Thank you so much for reading, and till next time!
Iced Green Tea Latte
Ingredients
2

Tbsp

hot water

(175F / 80C)

1

cup

milk

(1 cup = 240 ml) (I use 2% fat)

ice cubes

1-2

Tbsp

simple syrup

(recipe follows)
Simple Syrup (sugar to water ratio = 1 : 1)
¼

cup

granulated sugar

(¼ cup = 60 ml or 4 Tbsp)

¼

cup

water

(¼ cup = 60 ml or 4 Tbsp)
Instructions
Gather all the ingredients.
Simple Syrup
In a small saucepan, combine ¼ cup sugar and ¼ cup water and bring to a boil. Once boiling, lower the heat and let the sugar dissolve completely, about 3 minutes.


Let it cool completely and transfer to an airtight jar (or glass and cover with plastic). Simple syrup will last up to 1 month in the refrigerator.

Ice Green Tea Latte
Add 2 tsp. matcha in a small bowl. Optionally You can sift matcha to remove any lumps. Then add 2 Tbsp. of hot water (175F / 80C). Whisk briskly until there is no lump (important to avoid lumps in the latte). You can use a

small flat whisk

, a frother, or

chasen

(the bamboo whisk used for Japanese tea ceremony).

If you add sweetener, you can add 1-2 Tbsp. of Simple Syrup now or later (in my video I add in the serving glass). Mix well to combine.


Pour the matcha into the glass filled with ice cubes.


Using a frother, make a froth until foamy, about 1.5 to 2 times the original volume of milk (1 cup milk will look like 1½ to 2 cups milk). If you don't have a frother, you could add milk in a big jar and shake vigorously to make it foamy.


Pour the milk into the glass while saving the foam with a big spoon. Scoop the foam and place it on top of the drink.


Sprinkle matcha powder on top of the foam. Enjoy immediately.

Recipe Notes
Equipment you will need:
Recipe by Namiko Chen of Just One Cookbook. All images and content on this site are copyright protected. Please do not use my images without my permission. If you'd like to share this recipe on your site, please re-write the recipe in your own words and link to this post as the original source. Thank you.