Crispy deep-fried tofu served in a flavorful umami sauce, Agedashi Tofu is a popular appetizer you can find at izakaya and Japanese restaurants. It requires deep-frying, but the process is easier than you think. Skip the bonito flakes to make it vegan-friendly!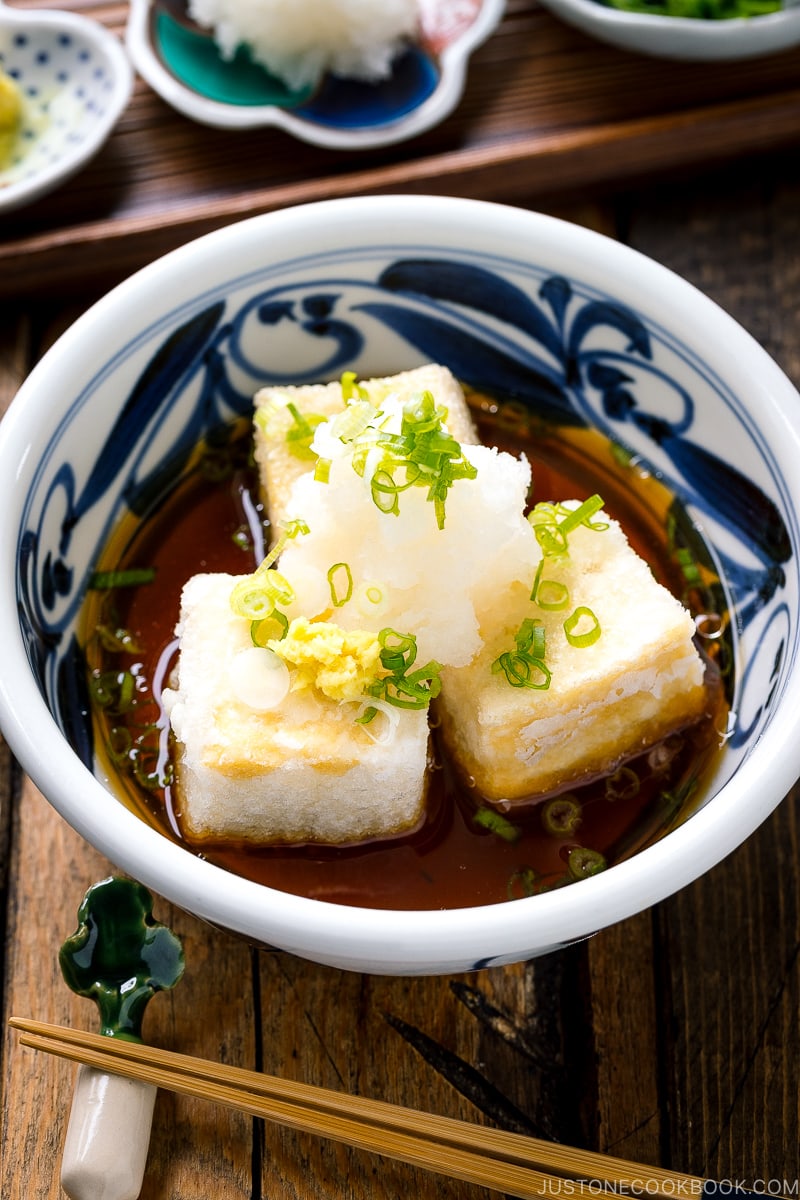 What is your favorite appetizer when you dine at a Japanese restaurant? Many JOC readers told me that they love ordering Agedashi Tofu (揚げ出し豆腐). Served in a sweet-savory broth, these lightly fried crispy tofu have an airy crunch and melt-in-your-mouth texture. So good that you wish you could eat the entire bowl yourself!
Agedashi tofu is actually not difficult to make if you don't mind frying. I'll show you a foolproof method on how to make this popular Japanese appetizer at home!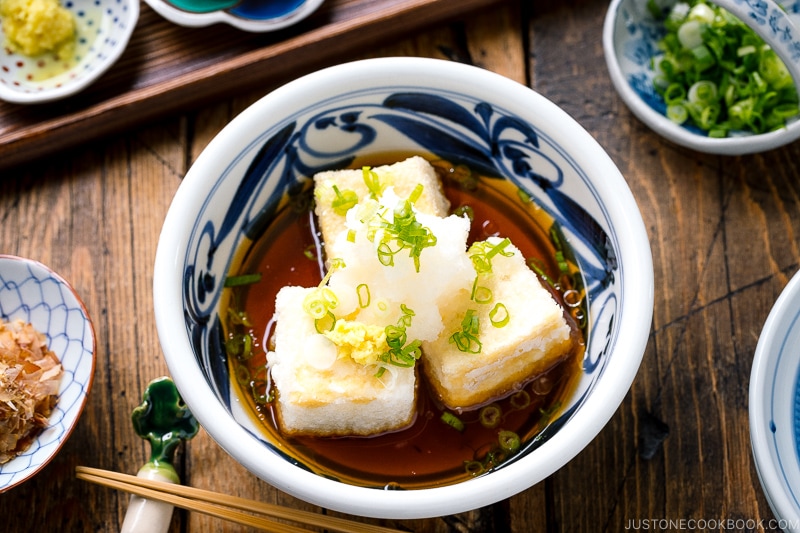 What is Agedashi Tofu?
Agedashi tofu, or what we call agedashi dofu (揚げ出し豆腐) in Japan, is made of soft or medium-firm tofu coated with potato starch and deep-fried so that the outer shell is crispy and the inside is smooth and custardy.
Right before serving, a warm tsuyu (sauce) is poured over the tofu to render an irresistibly umami flavor with a touch of sweetness. It is then garnished with a variety of toppings such as grated daikon, katsuobushi (bonito flakes), scallion, and grated ginger. For a spicy kick, you can sprinkle it with a light dusting of shichimi togarashi.
Served piping hot, agedashi tofu is arguably one of the most amazing tofu dishes one can ever have!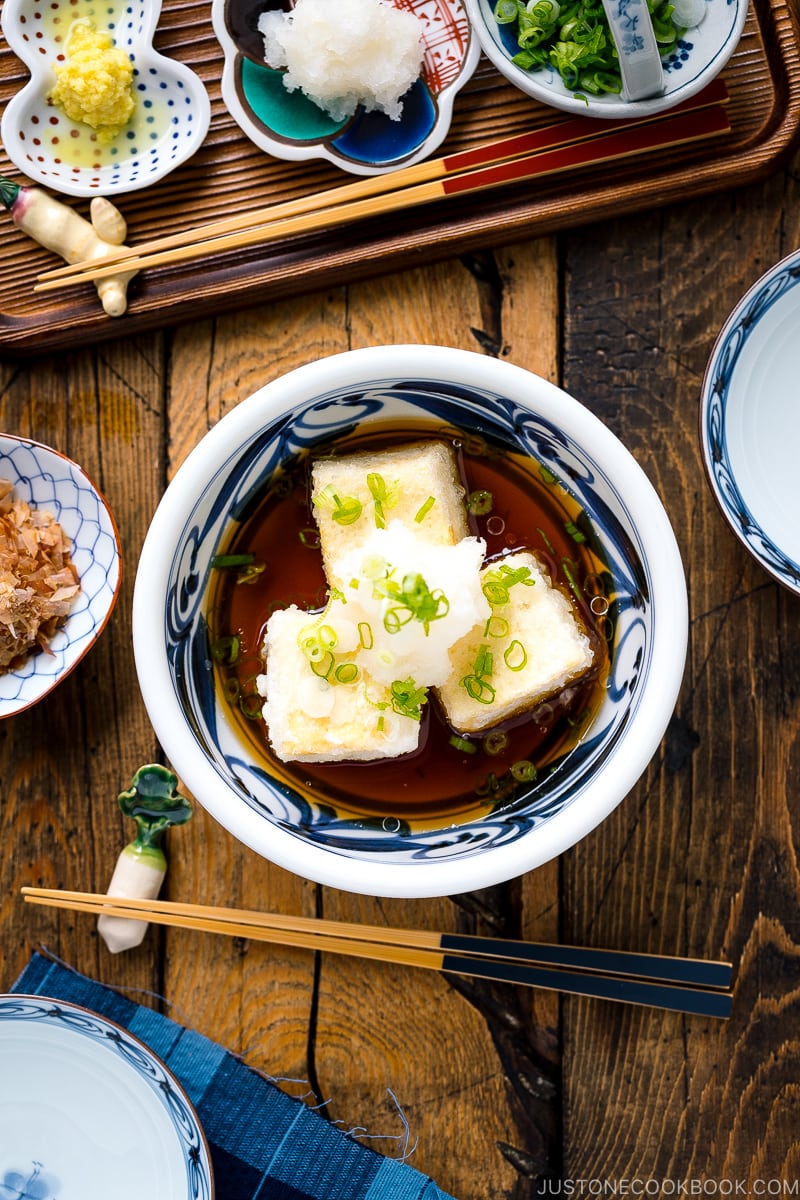 How to Make Agedashi Tofu
Ingredients You'll Need
Medium-firm tofu (momen dofu) or soft tofu (kinugoshi dofu) – If you're new to making this dish, start with medium-firm tofu as it's easier to handle.
Potato starch – Please try getting potato starch instead of cornstarch (read more below).
Cooking oil for deep-frying or shallow-frying.
Tsuyu sauce: dashi (or use vegan-friendly kombu dashi), mirin, and soy sauce.
Garnish: daikon radish, green onion, ginger, and katsuobushi (dried bonito flakes).
Overview: Cooking Steps
Drain the tofu for 15 minutes. Don't drain too long if you want the soft velvety texture on the inside.
Meanwhile, make tsuyu sauce by combining dashi, mirin, and soy sauce.
Cut the tofu block into 6 pieces (roughly 1.5-2 inch cubes) and coat them with potato starch.
Deep fry the tofu for 2 minutes until lightly browned and drain the excess oil.
Serve the tofu in a bowl and pour the tsuyu sauce. Garnish the tofu with grated daikon, chopped green onion, grated ginger, and bonito flakes.
Know the Differences: Potato Starch vs. Cornstarch
In Japan, agedashi tofu is always made with potato starch or katakuriko (片栗粉).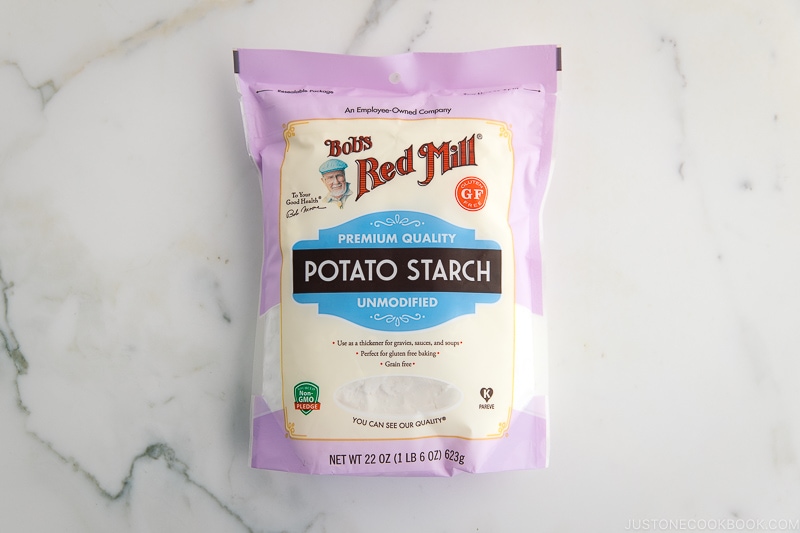 I've tried making agedashi tofu with cornstarch before and you definitely can use cornstarch. However, the texture is slightly different and a JOC reader once said it was very difficult to deep fry the tofu coated with cornstarch. Since cornstarch particles are much finer than potato starch, the coating just disappears as soon as the tofu is added to the deep-frying oil.
Another bonus is when we use potato starch to thicken the sauce, the color of the sauce doesn't get altered by the potato starch as opposed to cornstarch that tends to leave its whitish crumbs.
So… it's up to you. I buy potato starch from Bob's Red Mill or a Japanese brand of potato starch from Japanese/Asian grocery stores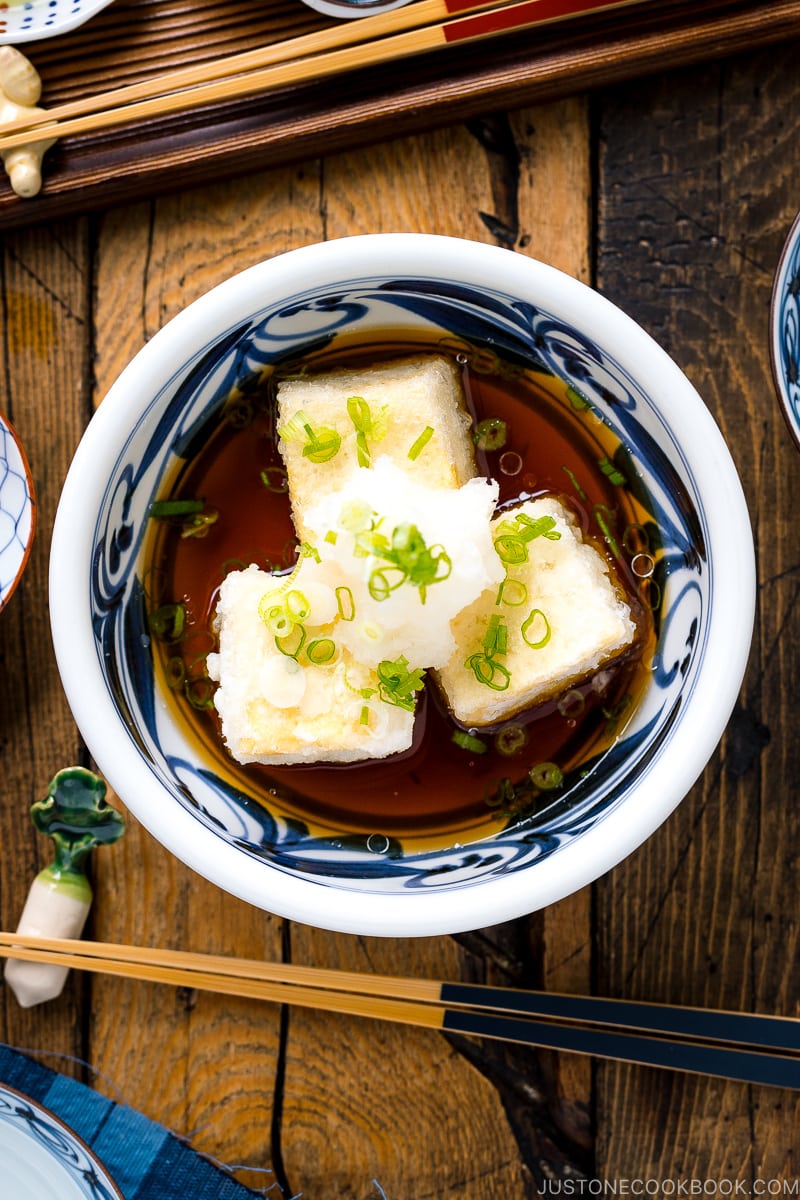 5 Important Cooking Tips
Drain medium-firm tofu for 15 minutes, not too long, if you want a tender, soft tofu texture on the inside.
Use potato starch if you really want to achieve the best texture.
Coat the tofu with potato starch right before deep-frying. Don't let it sit after you apply potato starch as the moisture coming out from the tofu will make the coating soggy and the crust may come off.
Deep-fry at a lower temperature, about 320-340ºF (160-170ºC) degrees. Tofu contains a lot of moisture; therefore; it's not recommended to deep-fry at high temperatures.
Deep-fry in batches, so the tofu pieces don't stick to each other.
Topping Choices for Agedashi Tofu
You can pick your favorites from the list below. Either prepare all of them or make it a fun topping bar.
Grated daikon
Chopped green onions/scallions
Grated ginger
Shredded nori seaweed (kizami nori)
Shichimi Togarashi (Japanese seven spice)
Deep-fried lotus root chips
Deep-fried shishito peppers
Deep-fried eggplant (similar cooking method as this recipe)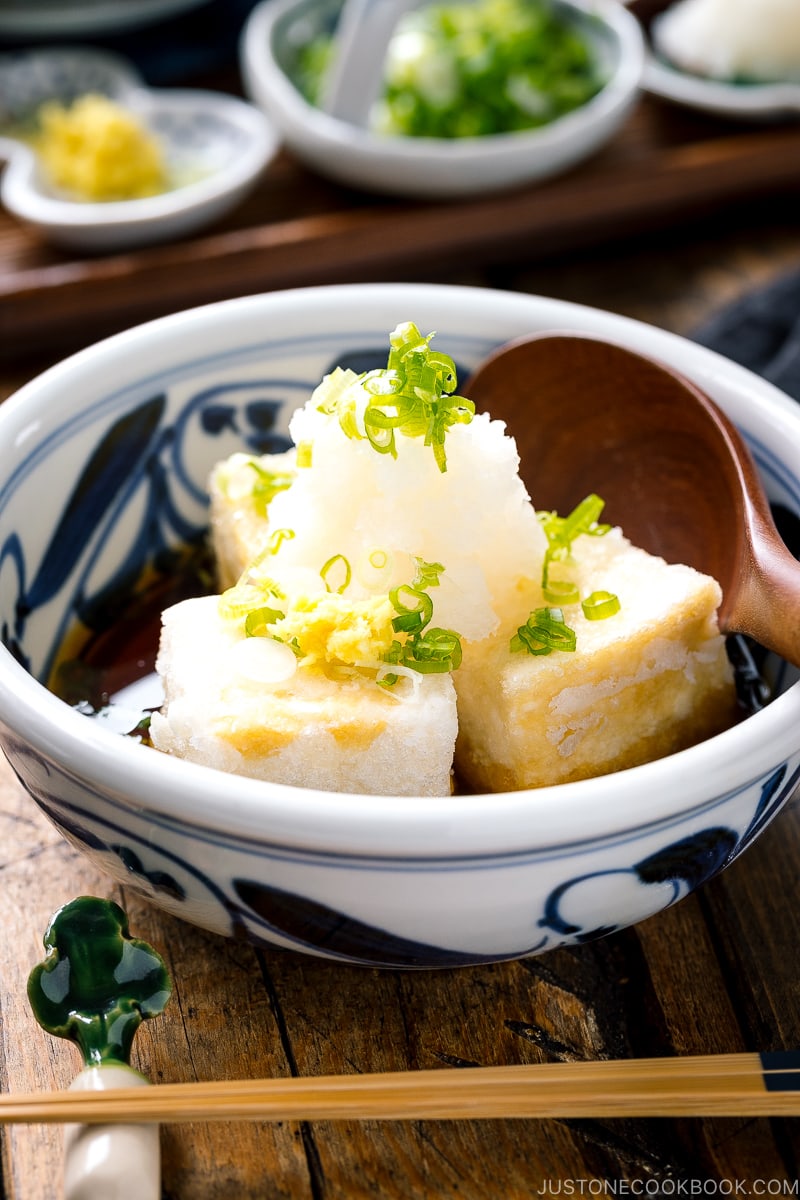 How to Make It Vegan
You can easily make it vegan:
If you enjoy making my agedashi tofu recipe at home, give us a rating or leave a comment to share your experience below!
More Popular Tofu Recipes on JOC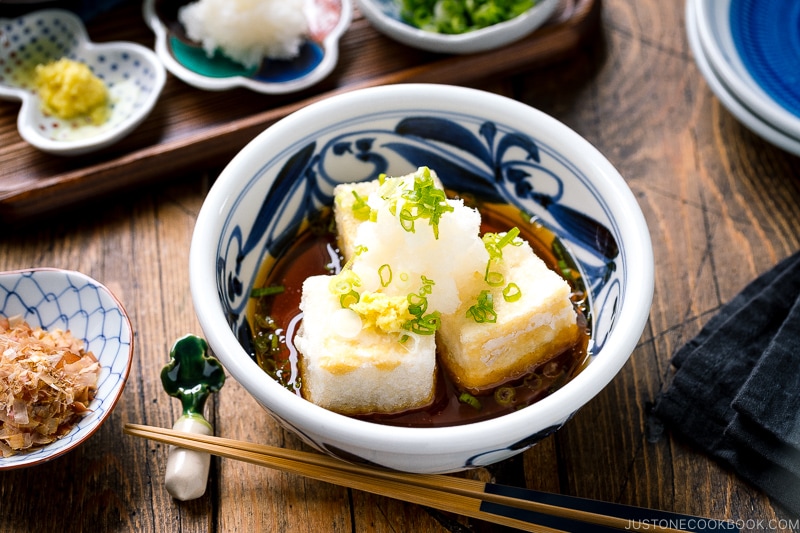 Wish to learn more about Japanese cooking? Sign up for our free newsletter to receive cooking tips & recipe updates! And stay in touch with me on Facebook, Pinterest, YouTube, and Instagram.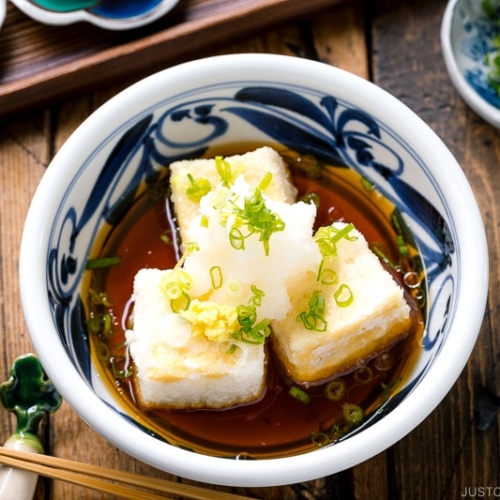 Agedashi Tofu
Crispy deep-fried tofu served in a flavorful umami sauce, Agedashi Tofu is a popular appetizer you can find at izakaya and Japanese restaurants. It requires deep-frying, but the process is easier than you think. Skip the bonito flakes to make it vegan-friendly!
Video
Ingredients
Japanese Ingredient Substitution:
If you want substitutes for Japanese condiments and ingredients, click
here
.
Instructions
Gather all the ingredients. If this is your first time making this dish, use medium-firm tofu instead of the soft silken variety since it's easier to cook without breaking. If you prefer a silky texture, give silken tofu a try once you're more comfortable making Agedashi Tofu.

Place

1 block medium-firm tofu (momen dofu)

on a tray or plate. Wrap the tofu in 2–3 layers of paper towels and place another tray on top. Set a heavy object on top to press the tofu. Drain the water out of the tofu for 15 minutes.
To Prepare the Toppings
Cut

2 green onions/scallions

into thin slices. Set aside.

Gently squeeze most of the water out of the grated daikon, keeping some moisture. Set aside.

Peel and grate the ginger. You will have roughly

1 tsp ginger

(grated, with juice). Set aside.
To Make the Sauce ("Tsuyu")
Add

1 cup dashi (Japanese soup stock)

,

2 Tbsp soy sauce

, and

2 Tbsp mirin

to a small saucepan.

Bring to a simmer. Then, turn off the heat, cover with a lid, and set aside.
To Deep-Fry
Heat

2 cups neutral oil

to 320–340ºF (160–170ºC) degrees in a deep fryer or medium pot. Make sure there's about 1 inch, 2.5 cm of oil in the pot. Remove the paper towels from the tofu.

Cut the

1

tofu block into

6

pieces.

Coat the tofu pieces with

4 Tbsp potato starch or cornstarch

, dusting off any excess.

When the oil is hot, add the tofu pieces in batches. Here, I add 3 pieces at a time. Be careful not to overcrowd the pan or the oil temperature will drop. Deep-fry, turning once, until they are light brown and crispy.

Remove the fried tofu pieces from the oil and place them on a wire rack or a plate lined with paper towels to drain the excess oil. Continue to deep-fry the remaining tofu pieces. Then, place the fried tofu in individual serving bowls.
To Serve
To serve the Agedashi Tofu, gently pour in the sauce at the edge of each bowl without wetting the top of the fried tofu. Top with some grated daikon, grated ginger, and green onion slices. For optional garnishes, sprinkle with

1 package katsuobushi (dried bonito flakes)

and

shichimi togarashi (Japanese seven spice)

.
To Store
You can keep the leftover sauce and fried tofu separately in airtight containers and store in the refrigerator for 3 days.
Nutrition
Nutrition Facts
Agedashi Tofu
Amount per Serving
% Daily Value*
* Percent Daily Values are based on a 2000 calorie diet.
©JustOneCookbook.com Content and photographs are copyright protected. Sharing of this recipe is both encouraged and appreciated. Copying and/or pasting full recipes to any website or social media is strictly prohibited. Please view my photo use policy
here
.
Editor's Note: This post was originally published on June 13, 2011. A video and updated images were added on April 30, 2014. The post has been updated with new images and content on June 28, 2022.