Packed with ham flower, fruits, crab salad, egg, and broccoli, this colorful Chicken meatball bento will get your kids to enjoy their lunches without fail. Read on to learn more on how to pack bento boxes.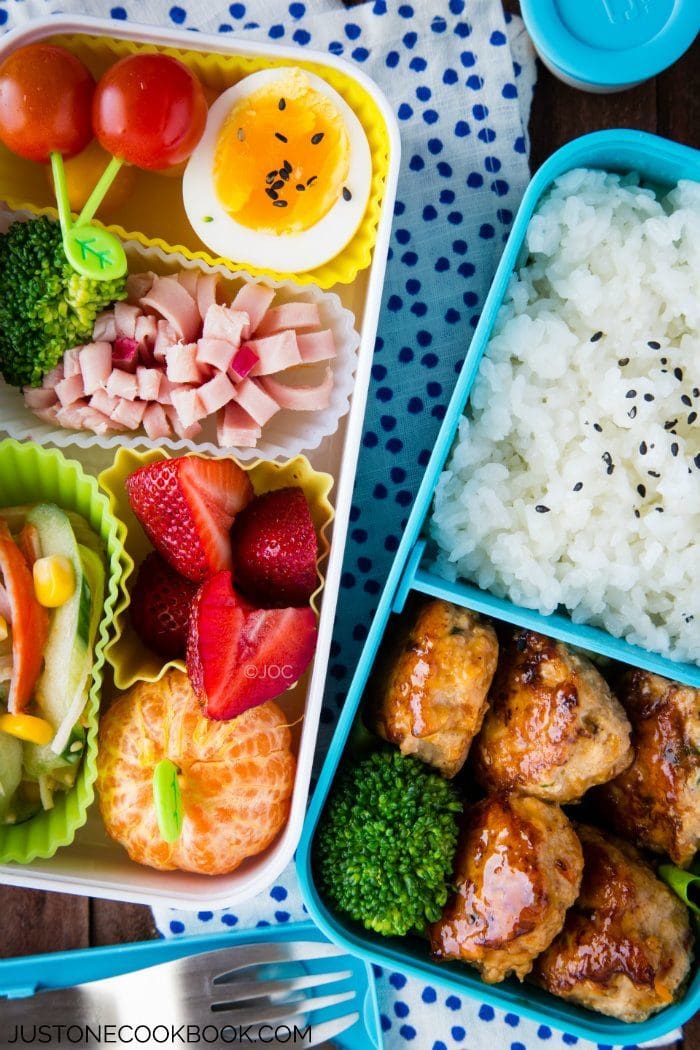 Lunch doesn't end when the school year does.  For many of us, even when the school year is over we are still packing lunch for summer camps, daycare, and work.  To kick off the summer break, I want to introduce my recent favorite lunch box and a menu my children enjoyed throughout this past school year.
First, I want to share this cute and stylish bento box from monbento
.  This high-quality designer bento boxes is actually not Japanese, but designed and made in France!  I am typically not very into bento boxes but this futuristic double-decker bento box with matching sauce containers and cutlery set definitely caught my attention.

Very modern, clean, sleek, and practical!  I just adore the design.  What I like about monbento
is that the bento box is very well thought out and uses high quality materials.  This is one of the best bento boxes that I own, and I know I'll be using this bento box happily for many years.
I choose this light blue/white color combination because I wanted it to be neutral color and anyone in my family can use it, but there are about 10 colors to choose from Amazon!
Monbento also offer square bento box, stylish bowl for noodles maybe, cool chopsticks, well-designed cutlery, sauce cups, molds, bags and other cool bento accessories!
Now that you got your bento box covered, what do you put in the lunch box?  If you are new to bento making, I highly recommend you to read this post and watch this video to get a quick tutorial on how to make bento.  I offer some useful tricks and tips on how to pack bento.  You can make great looking bento using previous night's leftovers; you just need to follow some basic and simple steps.
The number one food my children enjoyed having in their lunch box this past school year was Teriyaki Chicken Meatballs (豆腐ハンバーグ).  Remember the fluffy meatballs with tofu as a secret ingredient?  Yeah that one.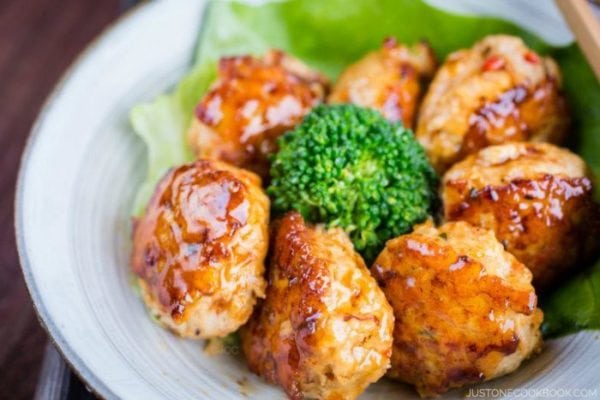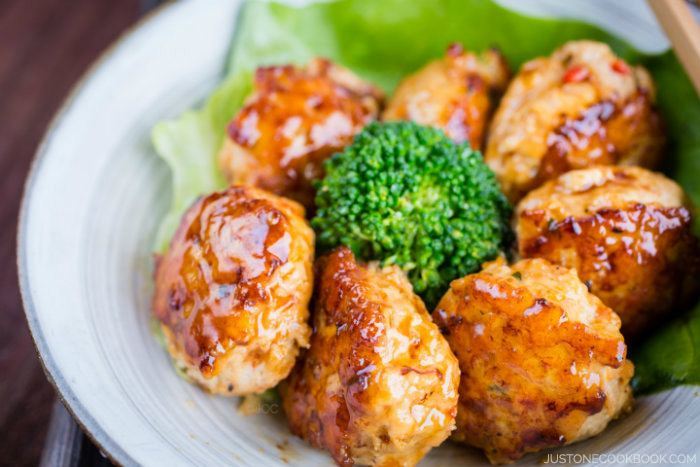 You can pack anything you like of course.  Just remember the 3 rules of thumb for bento packing.  Divide the meal proportionally, keep in mind the colors, and pack tightly!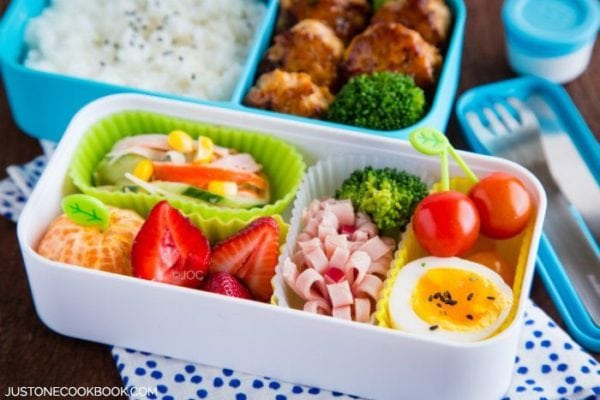 How to Pack Bento Boxes
So what's in this bento?
Carbohydrate:
Protein:
Teriyaki Chicken Meatballs

(leftover – heated)

Ham flower

(made in the morning)

Boiled egg

(made previous night)
Veggies:
Crab

Salad

(leftover)

Steamed broccoli

(parboiled previous night)

Cherry tomatoes

(washed in the morning)
Fruits:
Mandarin orange

 (peeled in the morning)

Strawberries

(washed in the morning)
See?  Simply keep your focus on colors and good proportion and the result will be super yummy.  When kids are at camp or daycare during the day, they want lunches that look appetizing and nutritious which will fuel them for their activity-filled day.  For more bento ideas, visit my Bento Recipe Index.
Don't want to miss a recipe?  Sign up for the FREE Just One Cookbook newsletter delivered to your inbox!  And stay in touch on Facebook, Google+, Pinterest, and Instagram for all the latest updates.  Thank you so much for reading, and till next time!
Chicken Meatball Bento
Ingredients
cooked Japanese short grain rice

Teriyaki Chicken Meatballs

(leftover)

Japanese Crab Salad

(leftover)

soft/hard-boiled egg

(made previous night)

broccoli

(steamed, parboiled previous night)

Cherry tomatoes

Strawberries

Mandarin orange
Instructions
Pack steamed rice in ½ of bento box and let it cool.

Reheat Teriyaki Chicken Meatballs in a frying pan till heated through. Transfer them to a small plate and let them cool.

When rice and meatballs are cool, pack all the food into the bento box.

Cool down completely before closing the bento box.
Recipe Notes
Please read FOOD SAFETY TIPS.
To buy this bento box, click here.
Recipe by Namiko Chen of Just One Cookbook. All images and content on this site are copyright protected. Please do not use my images without my permission. If you'd like to share this recipe on your site, please re-write the recipe and link to this post as the original source. Thank you.
If you are new to packing lunches and interested in making bento-style lunch, check out my short video below on How To Make Bento.