Inspired by a Netflix TV drama series "Midnight Diner: Tokyo Stories" (season 2), I followed the Master's way to make his Curry Ramen. It is a quick and satisfying meal when you have instant ramen and leftover curry!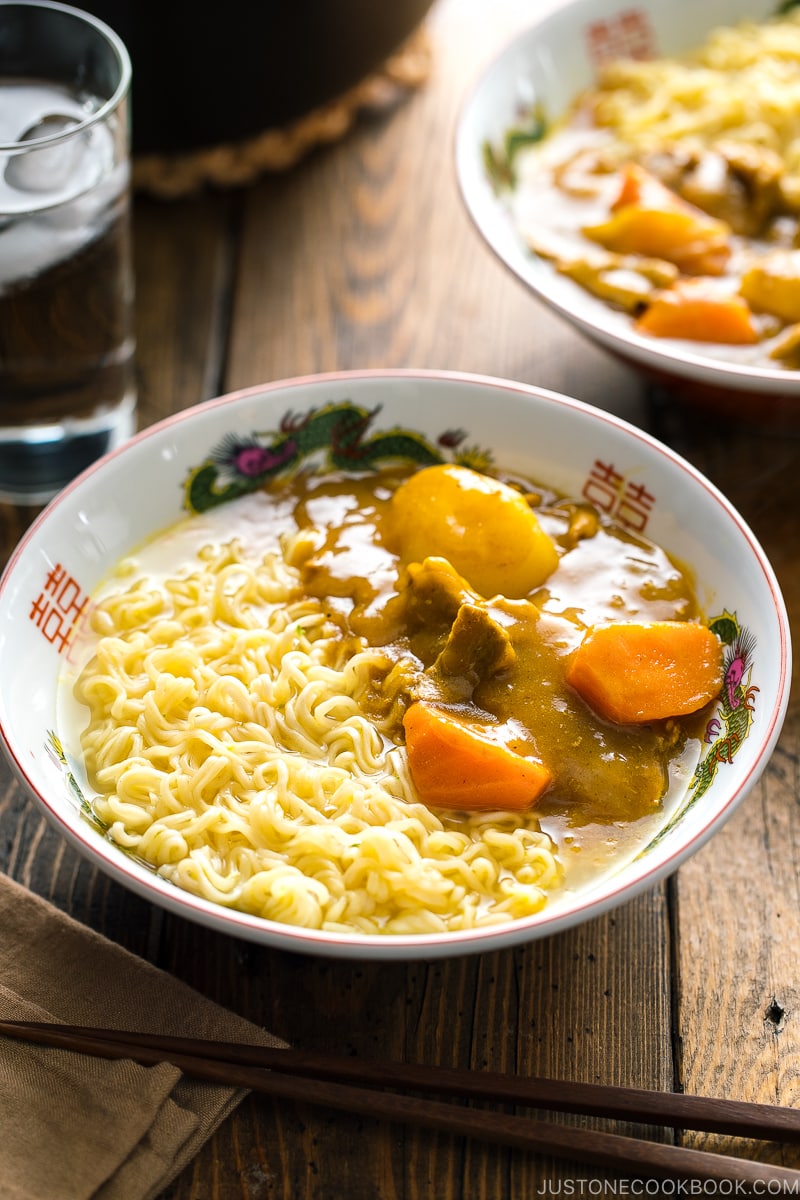 I've been sharing recipes for dishes that were featured in Netflix® Midnight Diner: Tokyo Stories (Here's Season 1) and I'm close to finishing Season 2. If I have to pick one dish that I was reluctant to try, this Curry Ramen (カレーラーメン) has to be it.
What is Curry Ramen?
You don't really see "Curry Ramen" as a regular menu at most ramen shops in Japan; however, it does exist. Because having curry AND instant ramen in a combo, it is considered rather Otokomeshi (男飯) or Men's Meal, which implies all the dishes that men like to cook and eat. Do I hear some chuckles right now?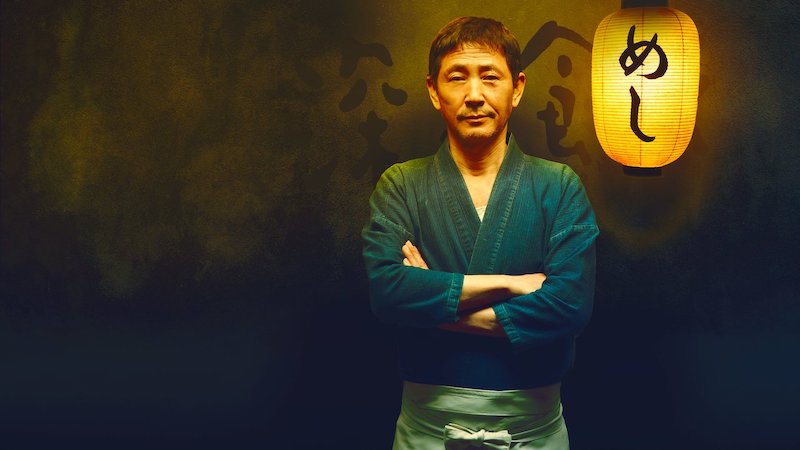 You can find a version of Curry Ramen featured on the popular Netflix® show – Midnight Diner: Tokyo Stories (Season 2, Episode 8).
As silly or snobbish as it sounds, I wasn't sure if I wanted to make a recipe for this. The truth is: I haven't had instant ramen for eons! Then I remember my college days. I also remember seeing big families stocking up on boxes of instant ramen from the store. The brick noodle in the package does have its place in feeding people. It's survival food, or perhaps emergency food. And I know it's also comfort food to some.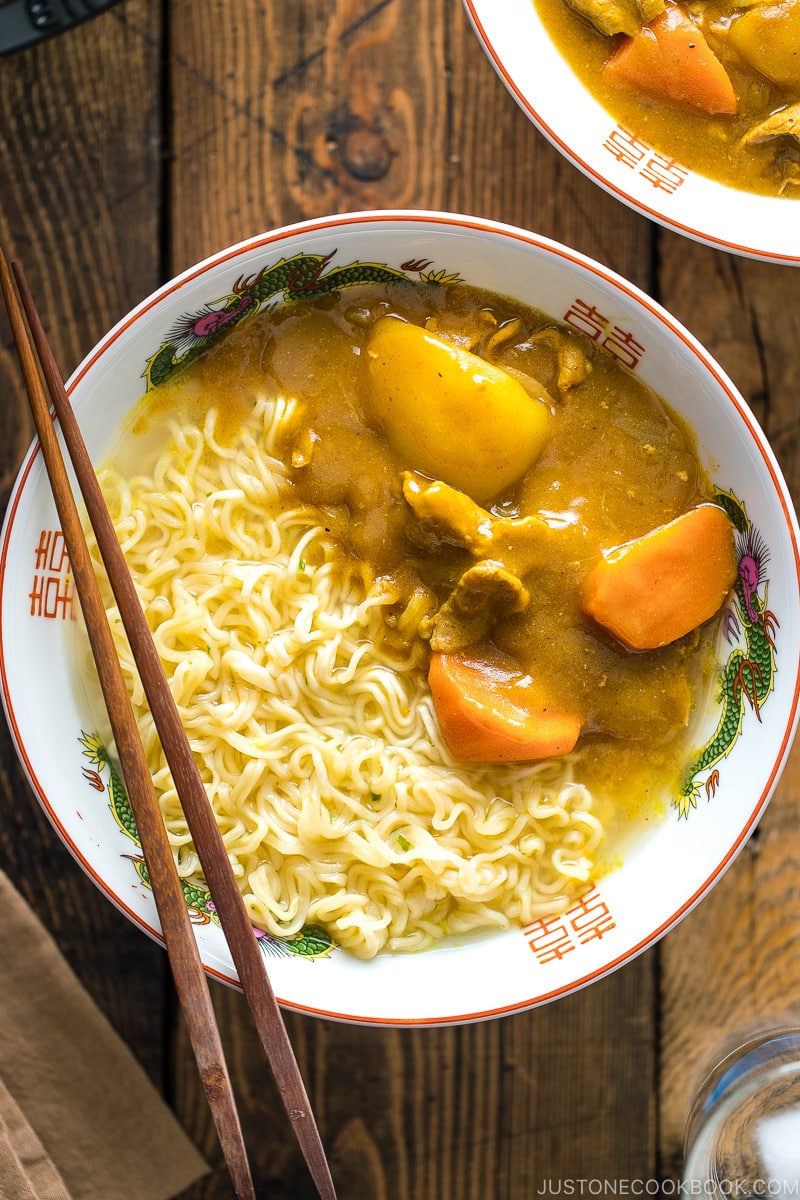 How to Make Curry Ramen
The Curry Ramen that I'm sharing is my interpretation from the show. I basically followed the method presented by the Master. You'll need two things:
Instant Dried Noodles
Leftover/Freshly-Made Japanese Curry
Let's get into the details.
1. Instant Dried Noodles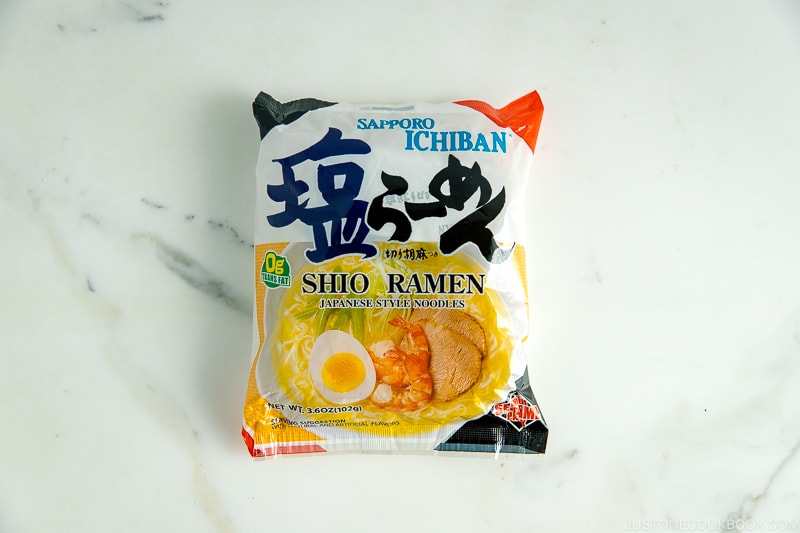 I believe the show used Shio Ramen (Salt-Flavored Ramen). The best Shio Ramen brand that we can get here is Sapporo Ichiban.
You can use other brands of instant noodles, but I recommend choosing a simple flavor that can complement with curry. We'll be using the seasoning that comes with the package.
2. Leftover/Freshly-Made Japanese Curry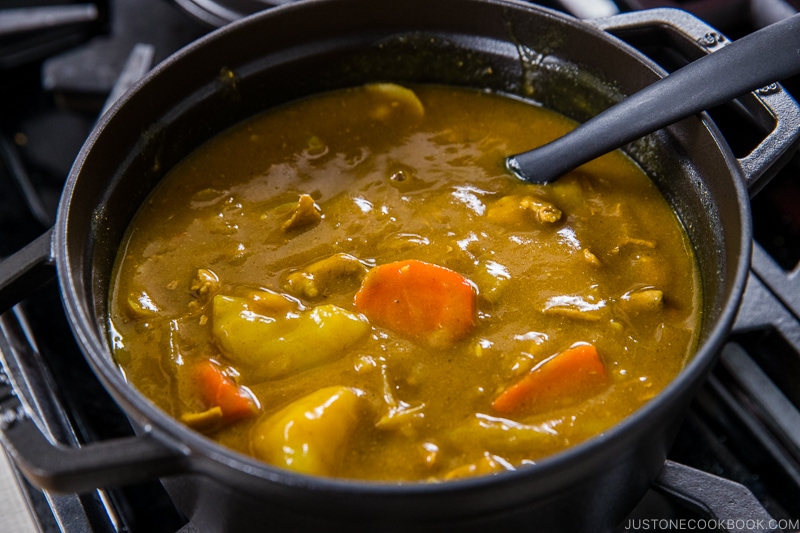 Now, this is the part you'll transform the instant ramen – the best homemade Japanese curry!
With a rich and flavorful homemade curry, your supposedly instant ramen can easily rival some of the ramen soup from the restaurants. What I did was to make the curry for the previous dinner and save a portion of leftovers to serve with the ramen noodles. It's really as easy as that!
Add-On Torokeru Cheese – Yay or Nay?
In the drama, one of the diner's guests, a young girl, asked Master for an add-on topping, which was Torokeru Cheese (とろけるチーズ) or "Melting" Cheese. Torokeru Cheese is a type of Japanese processed cheese that melts easily over hot food.
Since I can't get the Torokeru Cheese from my Japanese grocery store, I let myself off the hook this time. But either way, I don't have the desire to top the noodle with the cheese. Go ahead and try if you want to volumize.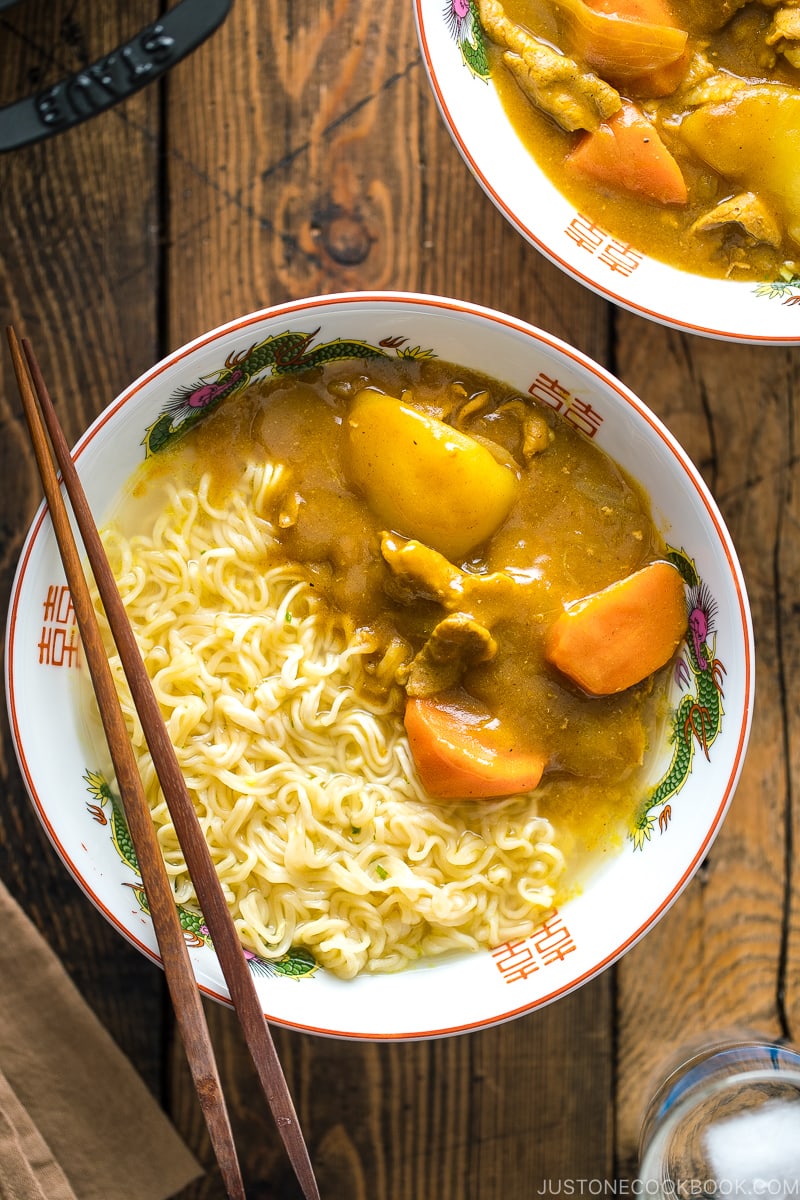 A Few Tips for Making Curry Ramen
Loosen up the curry – If you're using leftover curry, it would get thicken overnight. Add a bit of water to loosen up. It's easier to eat with the ramen.
Use the package seasoning for the soup – The Japanese curry is used as a 'topping' in this recipe, so we'll be using the convenient packet seasoning as the soup base. This gives the noodles some liquid and flavors to mix in with the curry. I understand if you decided to ditch the seasoning altogether but do add in some light-flavored broth to give the noodles a lift. Feel free to customize!
Eat immediately! – These ramen noodles absorb the soup fast, so be ready to eat right away once it's cooked.
Already have some instant ramen in your pantry? I hope you have fun trying this recipe out! Or make the Curry Ramen when you're going to watch the Episode on your Netflix Night.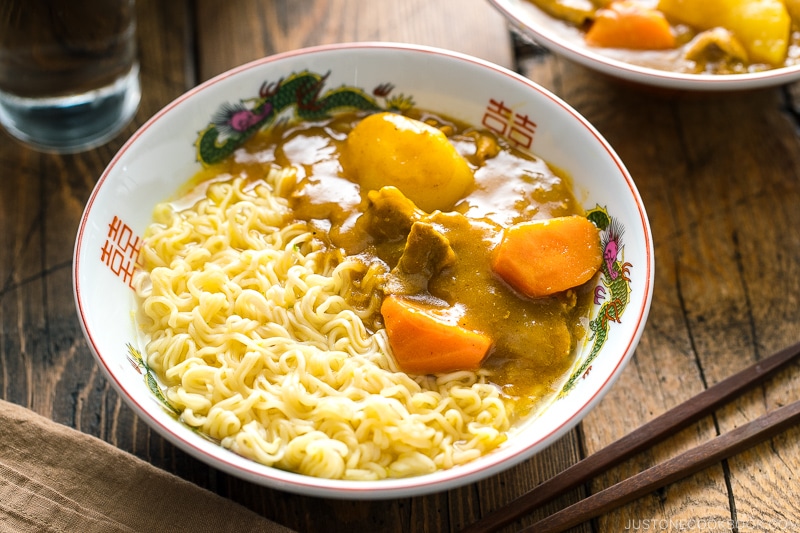 Wish to learn more about Japanese cooking? Sign up for our free newsletter to receive cooking tips & recipe updates! And stay in touch with me on Facebook, Pinterest, YouTube, and Instagram.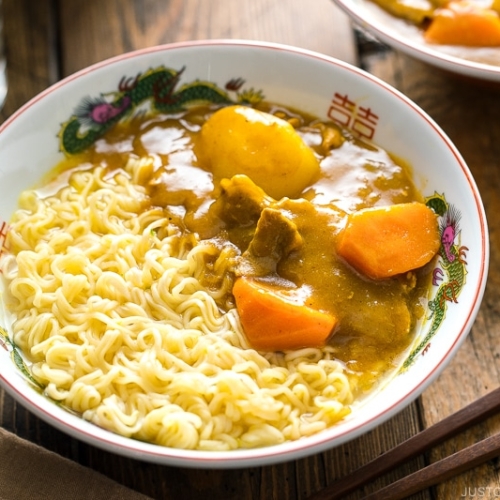 Curry Ramen from Netflix Midnight Diner: Tokyo Stories
Inspired by a Netflix TV drama series "Midnight Diner: Tokyo Stories" (season 2), I followed the Master's way to make his Curry Ramen.
Ingredients
1

package

instant ramen noodles

(I recommend Sapporo Ichiban brand Shio Ramen—salt flavored)

the leftover Japanese curry of your choice

(I use my Japanese Chicken Curry)
Japanese Ingredient Substitution:
If you want substitutes for Japanese condiments and ingredients, click
here
.
Instructions
Reheat

1

serving of

the leftover Japanese curry of your choice

. Add

¼–½

cup water to loosen up the curry.

Cook

1 package instant ramen noodles

according to the package instructions. I usually add the seasoning before touching the noodles.

When the dried noodles look moisten, gently loosen up the noodles with chopsticks. Once the timer is up, serve the ramen noodles in a ramen bowl (or a large bowl).

Serve the hot curry over the noodles. In the "Midnight Diner: Tokyo Stories" drama, the curry was served over one-third of the noodles. Enjoy immediately!
Nutrition
Nutrition Facts
Curry Ramen from Netflix Midnight Diner: Tokyo Stories
Amount per Serving
% Daily Value*
* Percent Daily Values are based on a 2000 calorie diet.
©JustOneCookbook.com Content and photographs are copyright protected. Sharing of this recipe is both encouraged and appreciated. Copying and/or pasting full recipes to any website or social media is strictly prohibited. Please view my photo use policy
here
.
Popular Ramen Recipes on Just One Cookbook