Join us on Fukuoka Travel Guide as we visit the nearby historical Dazaifu Tenmangu, check out the ruins of Fukuoka Castle, and enjoy delicious tonkotsu ramen and foods from yatai (street food stalls).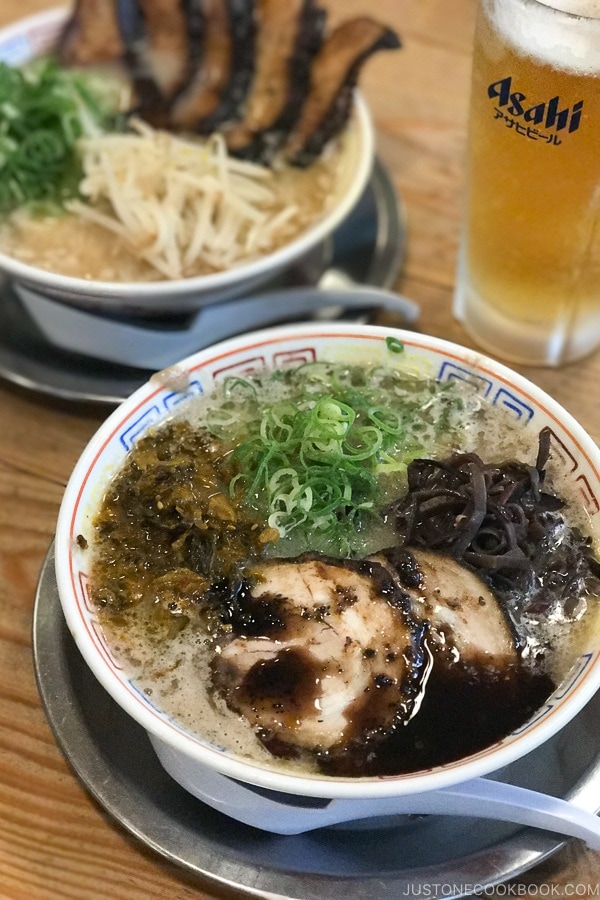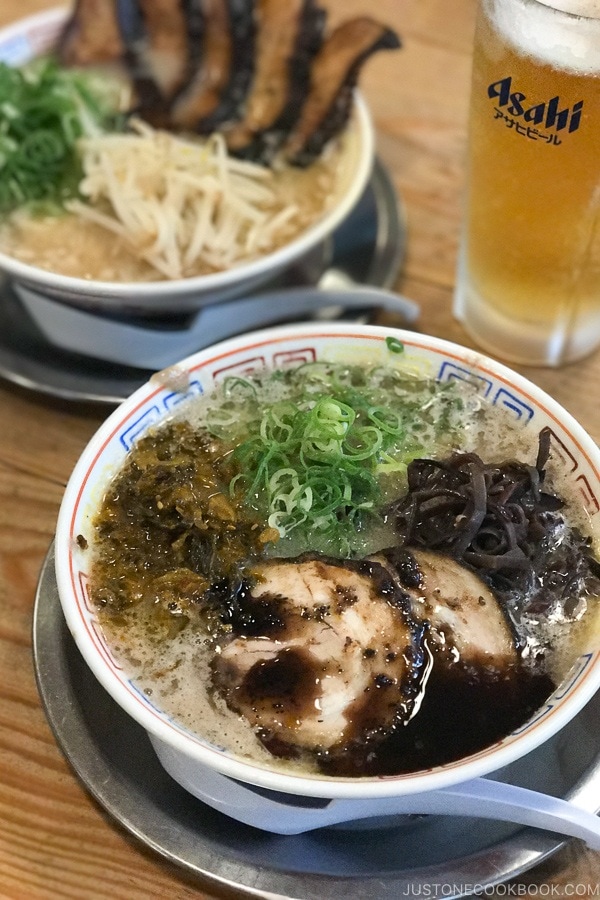 Our family took a trip to southern Japan last year and had an amazing time. Even though it's still Japan, the food, the scenery, and the culture are very different from large cities like Tokyo, Kyoto, or Osaka.
We've been sharing a travel guide for each location we visited once a week. If you missed our posts for Hiroshima, Miyajima, Beppu, Yufuin, Kurokawa Onsen, and Kumamoto here are the links. For each location below that we visited, we are also sharing a local recipe the same week.
Hiroshima (広島) – recipe Grilled Oysters
Miyajima/Itsukushima (宮島/厳島) – recipe Baked Japanese Fried Oysters
Beppu (別府) – recipe Chicken Tempura (Tori-ten)
Kumamoto (熊本市) – recipe Karashi Renkon
Fukuoka (福岡市)
As this is our last week for Kyushu Travel Post, I want to thank you for spending the time to read our travel experiences and join us on our trips exploring Japan. Ready to tour Fukuoka with us? Let's go!
Traveling from Kumamoto to Fukuoka – Fukuoka Travel Guide
Compared to our previous long bus ride, going to Fukuoka from Kumamoto was a breeze. It's just a 40 min ride on the Kyushu Shinkansen. The seats inside the Shinkansen train were super plush and the interior was beautifully accented with wood. Instead of 5 across a row, Kyushu Shinkansen had only 4 seats so they were really comfortable.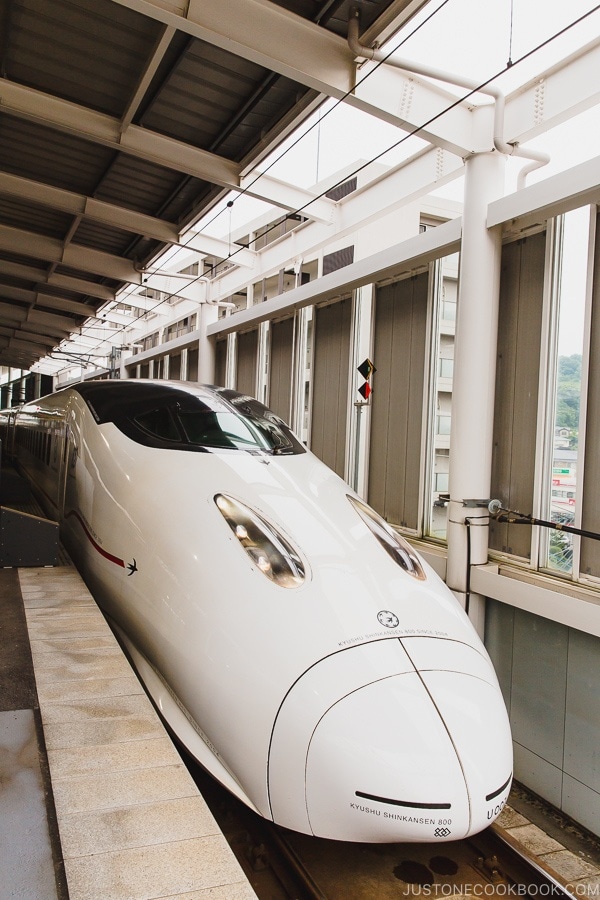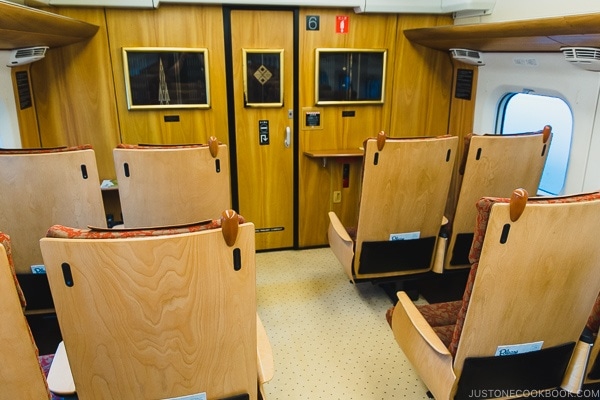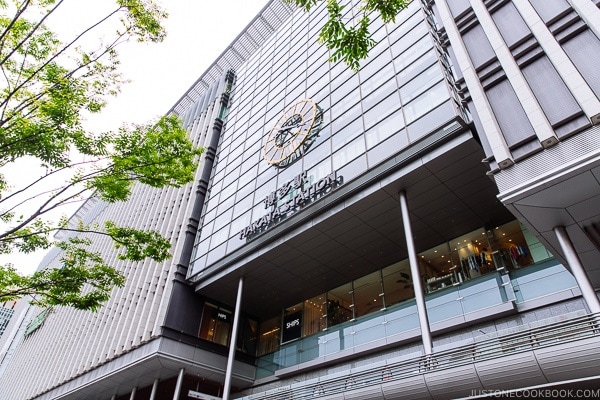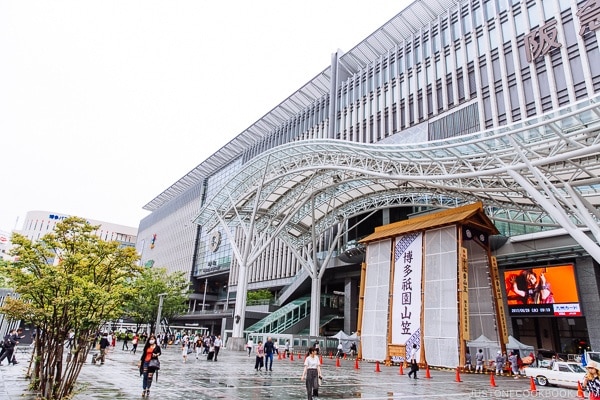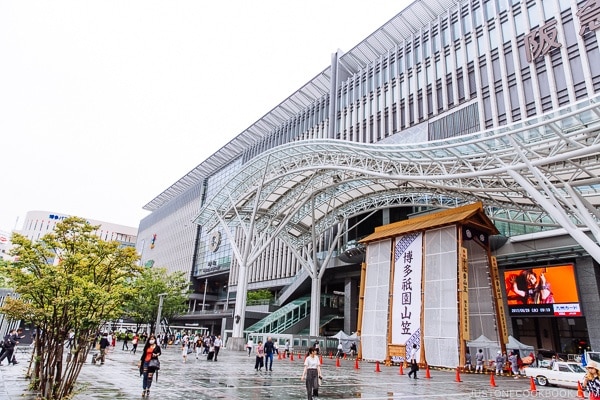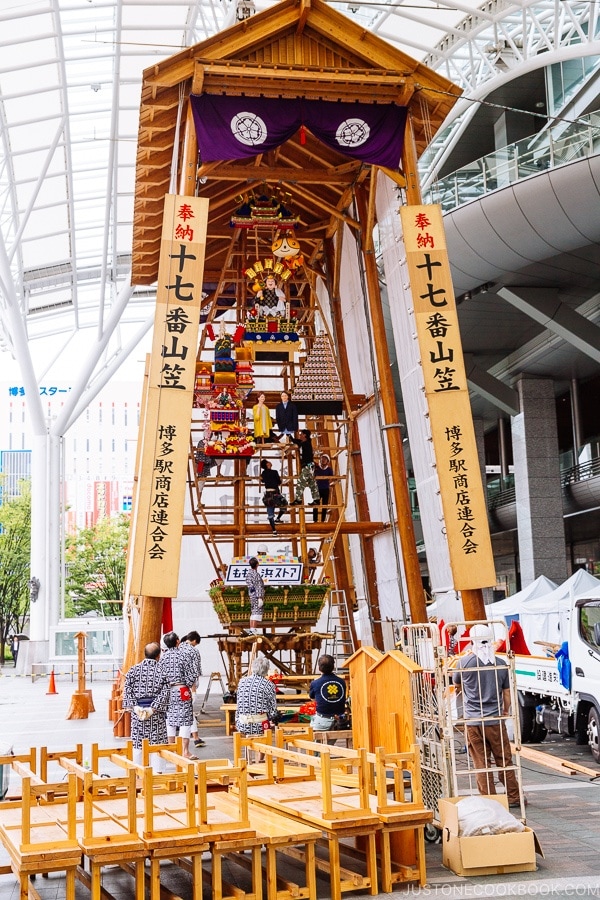 Fukuoka vs. Hakata
Before our visit, it was a bit confusing trying to figure out what is Fukuoka (福岡) and Hakata (博多). For example, the main Shinkansen station in the area is called Hakata Station and not Fukuoka Station. The popular tonkotsu (pork bone broth) ramen is referred to as Hakata Ramen instead of Fukuoka Ramen. So what is the difference between Fukuoka and Hakata?
The answer is quite simply, Hakata is actually a ward within Fukuoka City. They used to be separate cities and merged in 1889. Though not as well known internationally, Fukuoka is actually the 6th largest city in Japan with 1.5 million residents.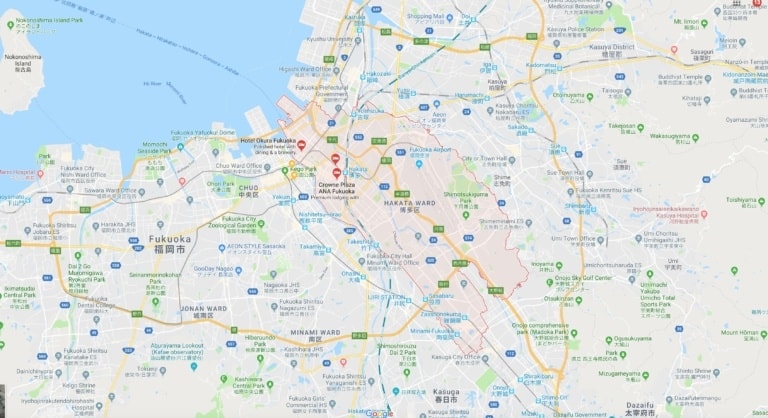 We actually had a full itinerary in Fukuoka. We took a bus to nearby historical Dazaifu Tenmangu and Kyushu National Museum. Took in the beautiful views of the city from the ruins of Fukuoka Castle and Hakata Port Tower. Finally, we had 2 dinners. Can't visit Hakata without eating rich tasty tonkotsu ramen and grabbing small bites at a yatai food stall.
Before we get started with Fukuoka Travel Guide, let's go fill up our belly first. When we arrived at the Hakata Station around lunchtime, we were hungry so we decided to eat sushi! We eat sushi/sashimi quite often but my children had never tried Omakase (chef's choice) at a sushi counter before. Since they requested sushi, we decided to let them experience what's it's like to eat sushi at the counter.
Yamanaka やま中
Yamanaka Sushi is right in Hakata Station on the 9th floor. In case you're not familiar Omakase, it's chef's choice sushi where the sushi chef serves you his selection of sushi. You can let the chef know if there are any particular seafood you don't like or allergic to, or what you really like. They'll make accommodations to make your experience pleasurable.
The lunch Omakase was 5,000 yen which was roughly $45 USD. It was one of the best sushi meals we had in Japan and the chef was so kind to us. We enjoy Omakase because not only you get to eat the fabulous sushi, but you also get to see the sushi chef's expert skills craft them right in front of you.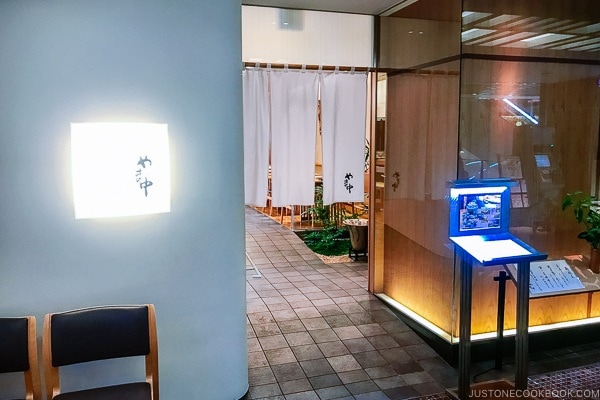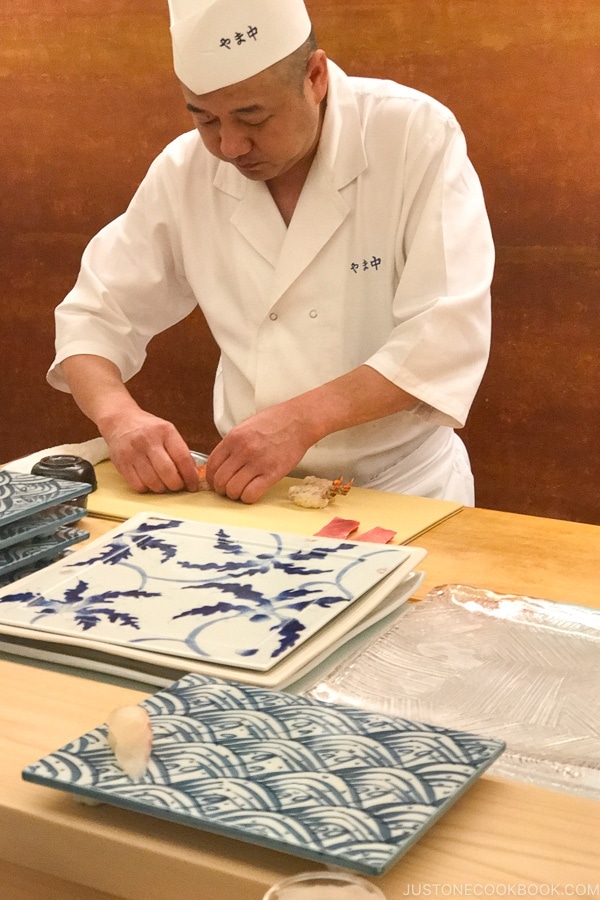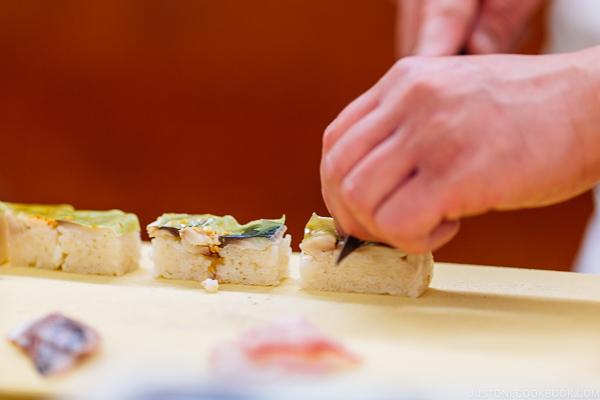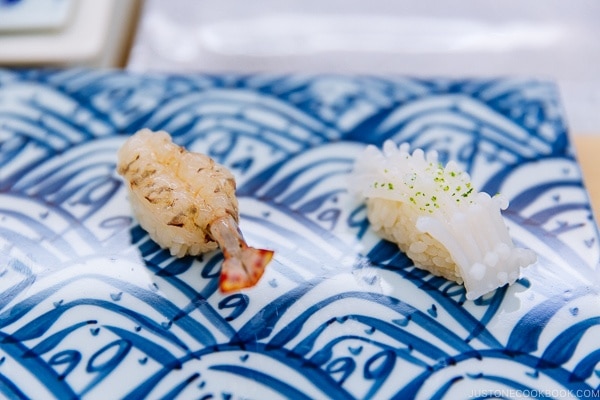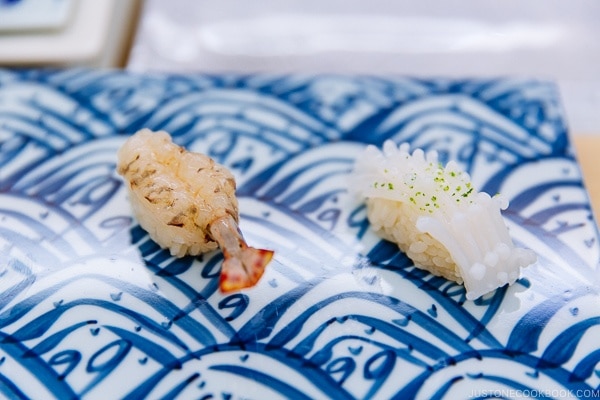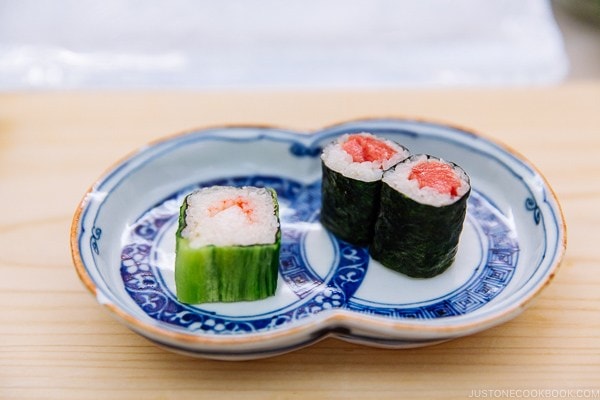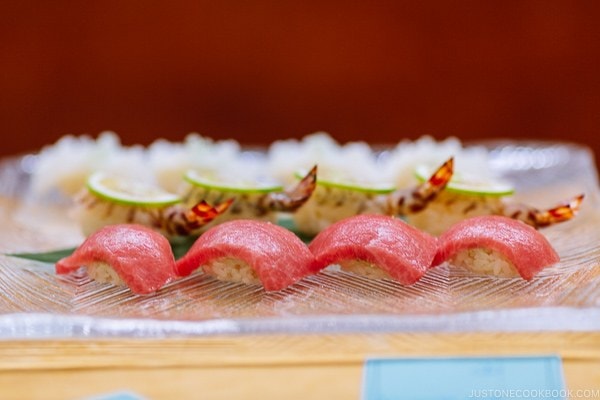 Our children loved the omakase experience and know now what's it's really like to enjoy sushi beyond their favorite rolls and nigiri.
Ready for the tour? We'll go to all the tourist spots first, then end the night with ramen and yatai. Remember how I said our hotel is getting smaller, don't miss it at the end.
Fukuoka Travel Guide – Places to Visit
During our stay in Fukuoka (2 days 1 night), we visited Dazaifu Tenmangu, Kyushu National Museum, Fukuoka Castle, and Hakata Port Tower. If you're interested in learning more about each location, please click on the travel guide images below. There are more places to visit in Fukuoka but public transportation is not as convenient as Tokyo or Osaka so it's more challenging to get around. We tried to visit places that we could walk to without too much trouble.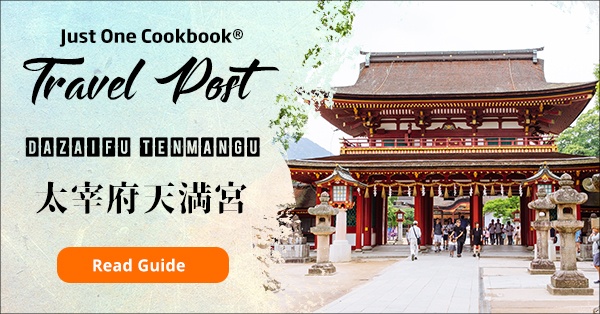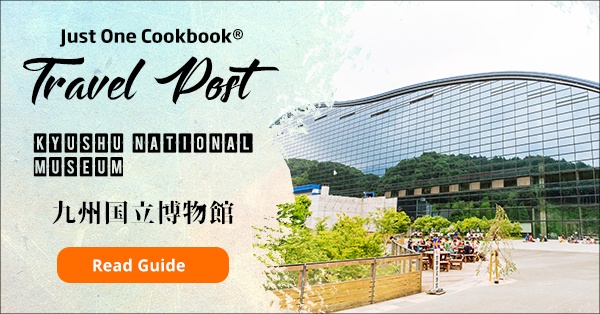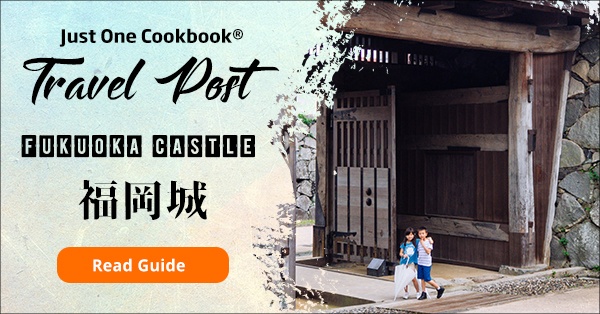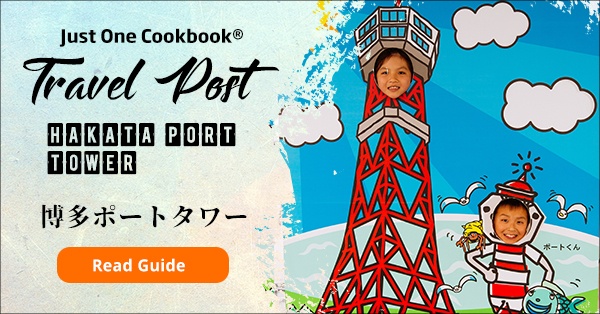 After walking around and touring the city, it's time to fill up our stomach with delicious ramen.
Daruma Ramen 博多だるま
Since we were in Hakata, we had to eat tonkotsu ramen. Based on the search on Tabelog, there are a number of popular ramen shops with good review and we decided to eat the one closest to our hotel as we plan to eat at a yatai stand later.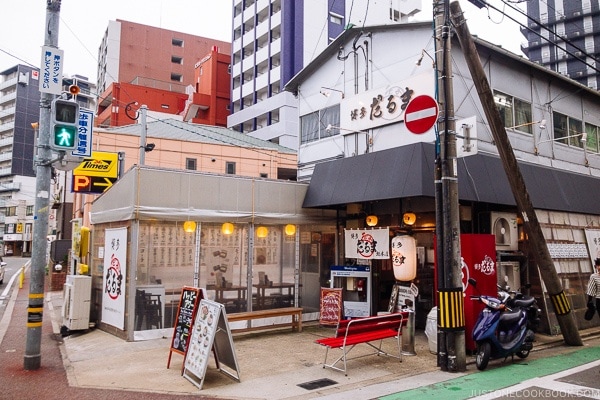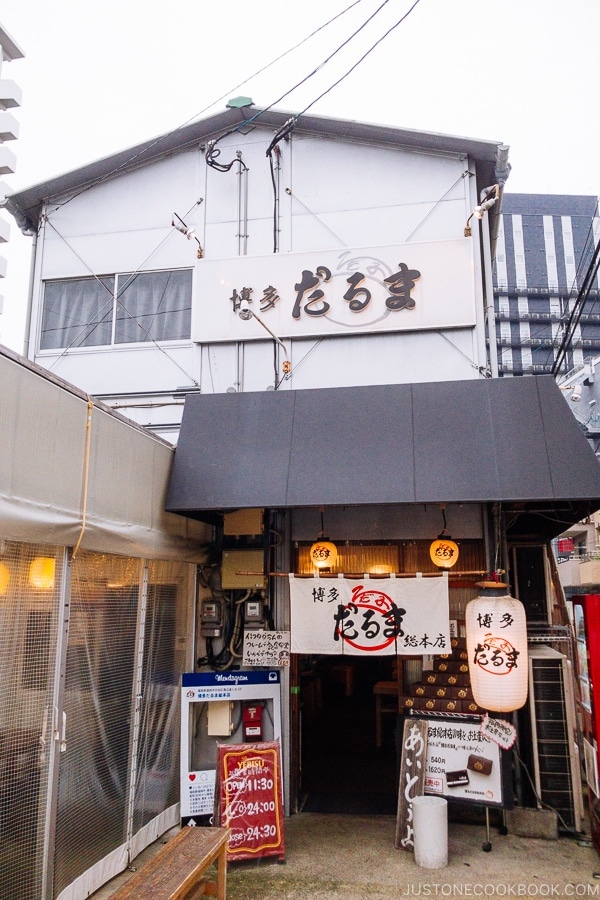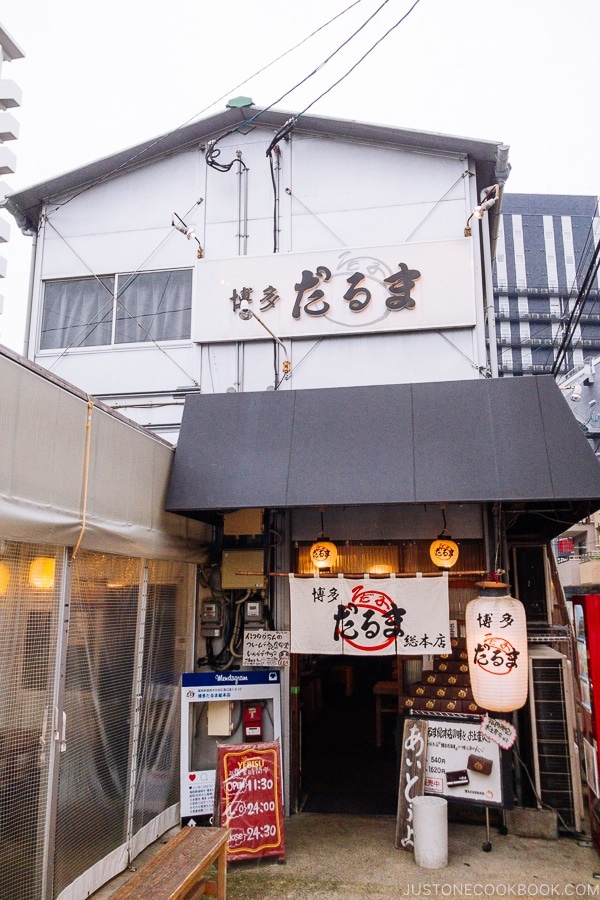 When we arrived around 5:30, we were the only ones in the restaurant. It was great as popular ramen restaurant around where we live always has a line. As we sit down, one of the walls had autographs by Japanese celebrities. We must be in the right place.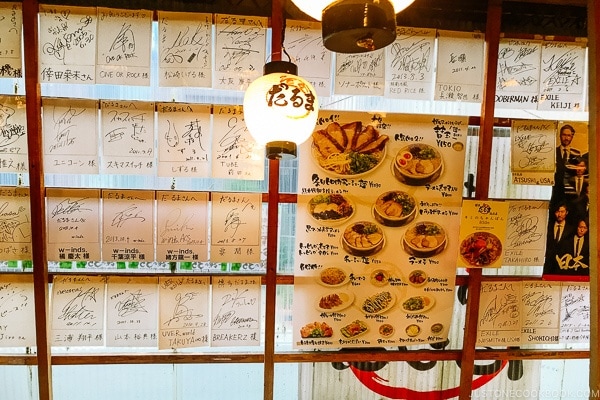 The menu is fairly simple, 6 types of ramen with simple appetizers. You can add eggs, make the soup spicy, add extra noodles for additional fees. Besides food, alcoholic beverages are available including shochu, sake, highball, beer, etc.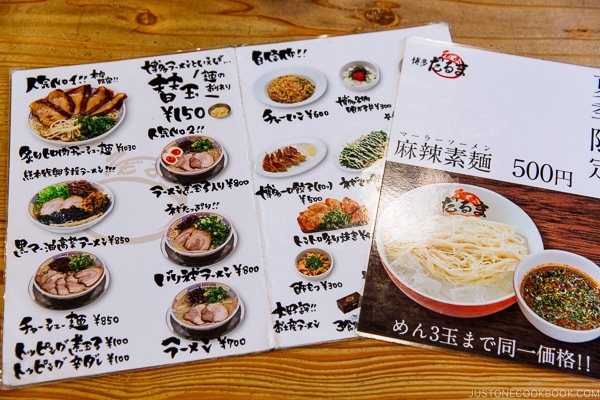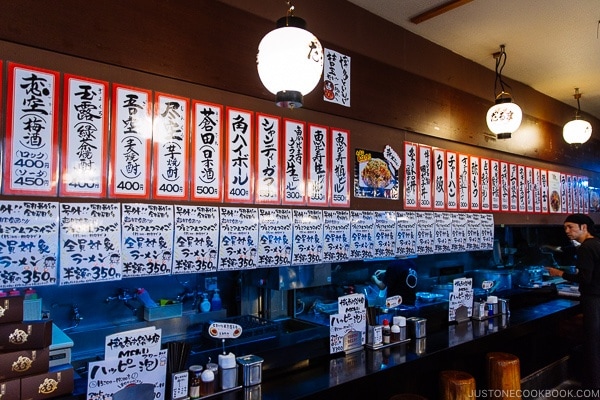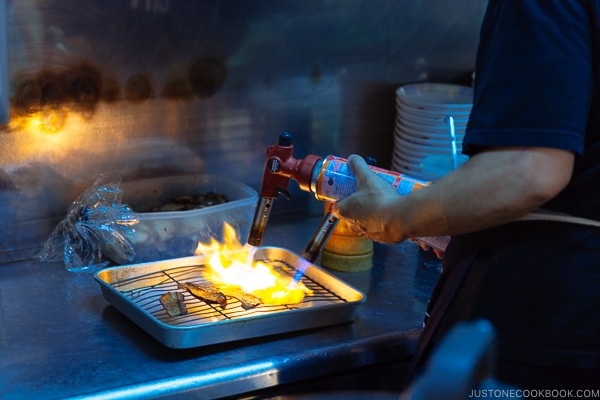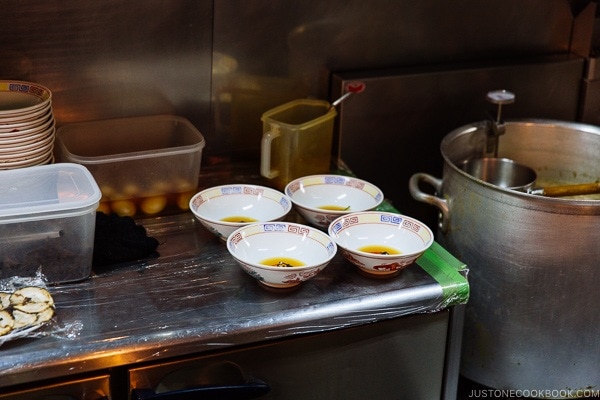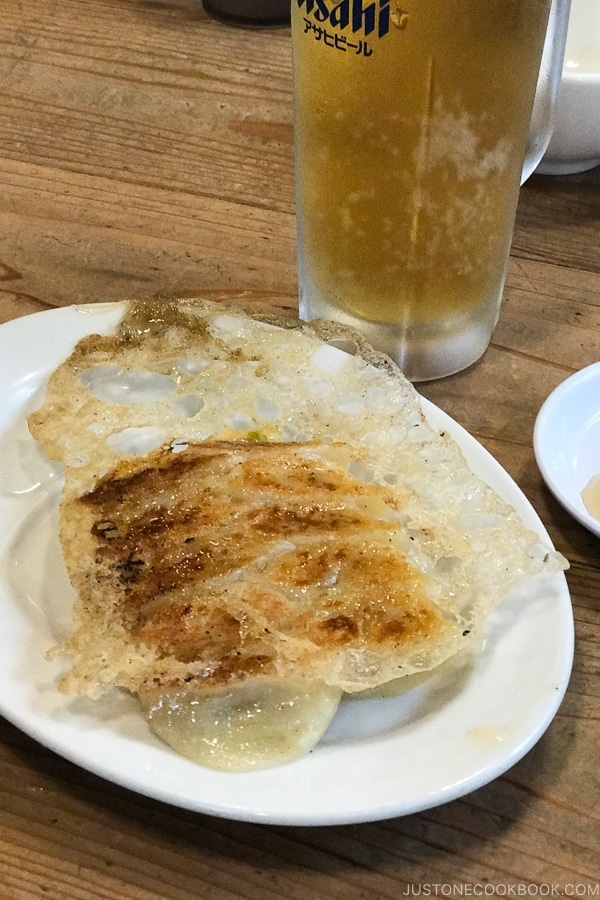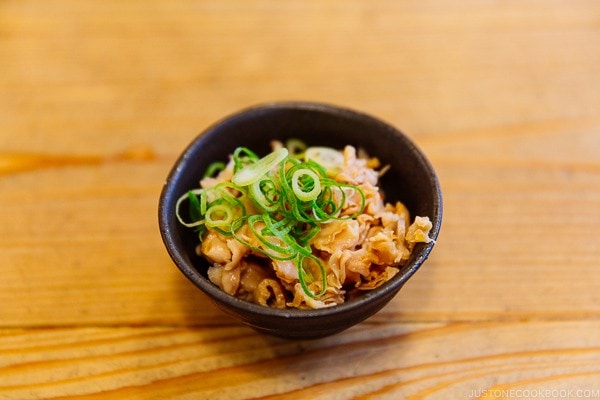 The ramen was really good, the flavor was well balanced and surprisingly the soup stock wasn't too heavy like the ones we have here in the SF Bay Area. The noodles were cooked perfectly and we quickly devoured our bowls.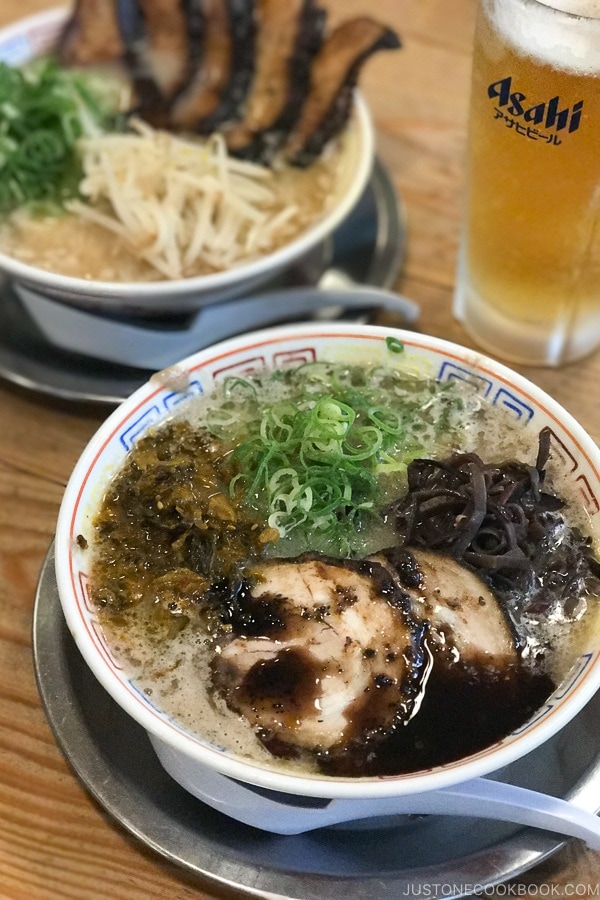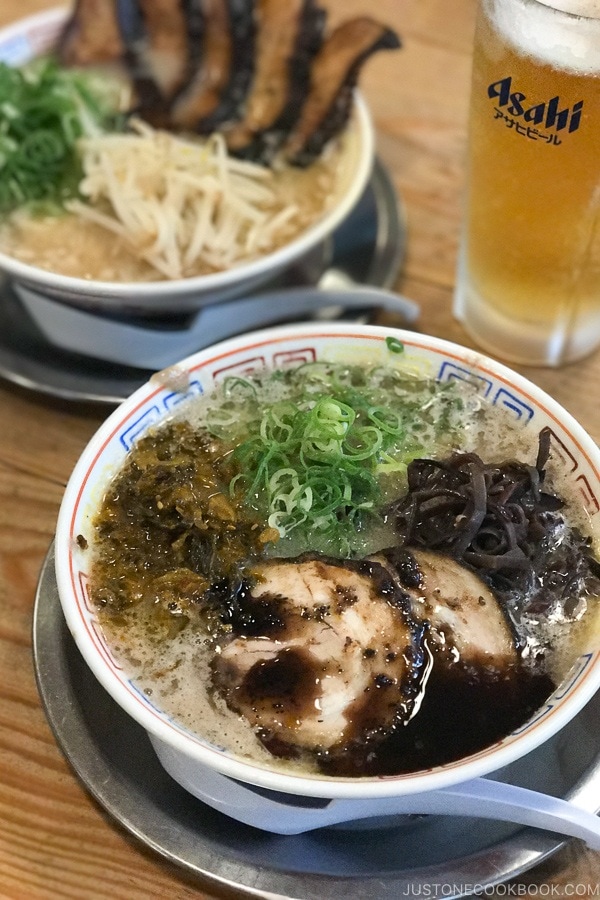 You can buy ramen packages with their soup stock as gift or souvenirs. Daruma and the popular Hide Chan Ramen are actually the same owners. There are 2 Hide Chan ramen restaurants in New York if you can't make it all the way to Hakata.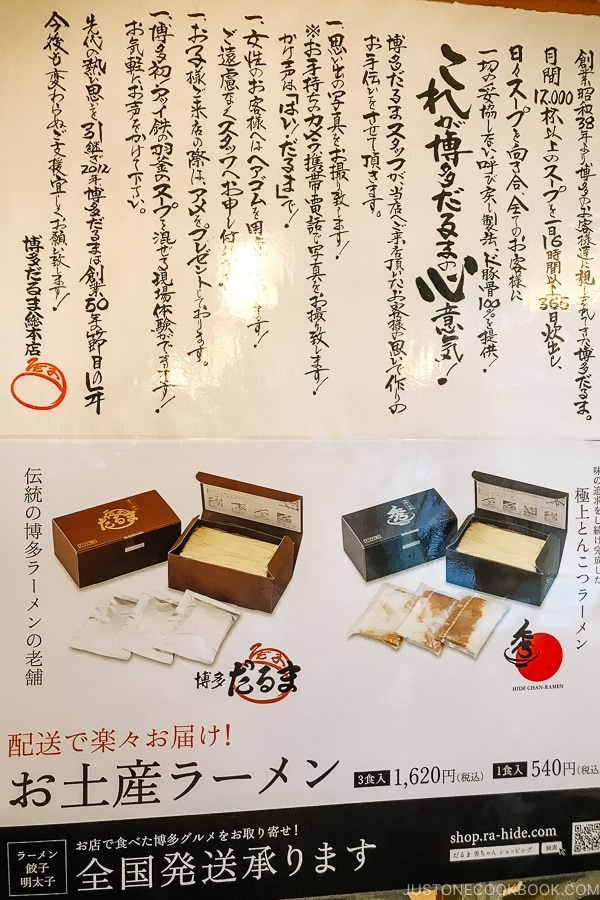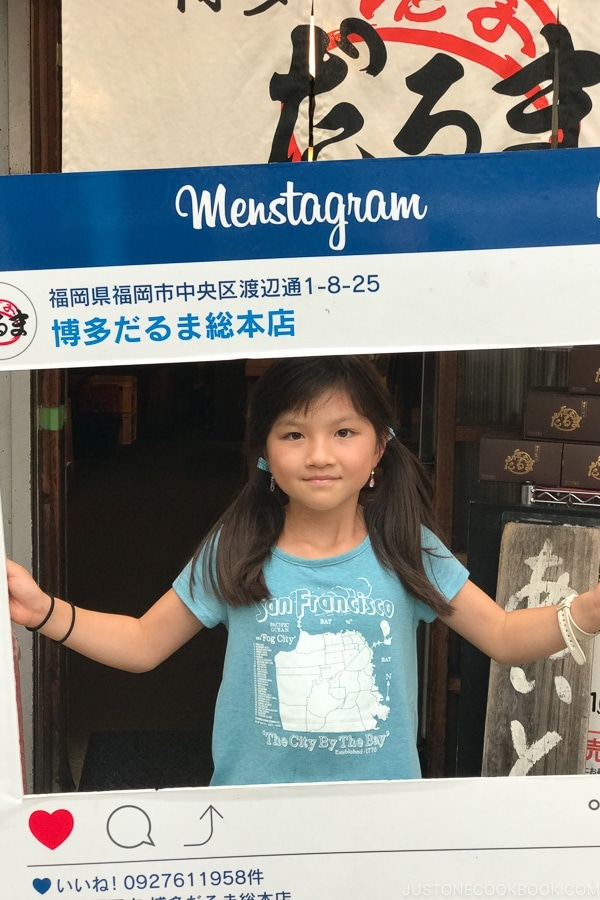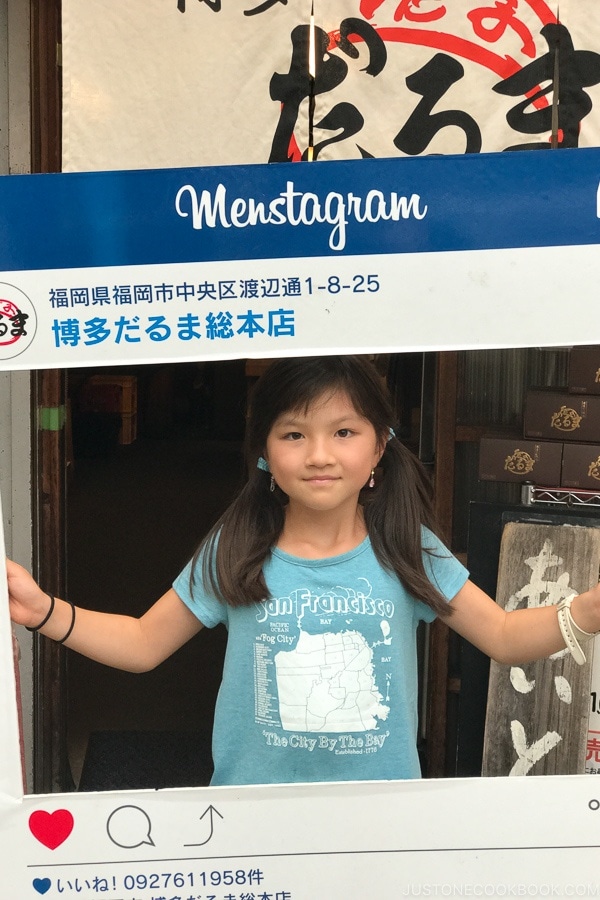 Fukuoka Yatai 屋台 – Fukuoka Travel Guide
One of the most well-known characteristics of Fukuoka is yatai. Which are food stalls that serve various bar food. There are over 150 yatai in the city spread out all over. The best-known cluster is on the southwest side of Nakasu Island. However, we wanted to save our stomach for ramen so we ended up at one near our hotel.
Yatai are typically open from 6 pm to 2 am, or whenever the food is sold out. The typical food served are yakitori, ramen, oden, and other bar/izakaya food.
The one we ate at was called Nao-chan Yatai, and it was a one-man show. The yatai owner preps, cooks, serves drink, and entertains customers with stories.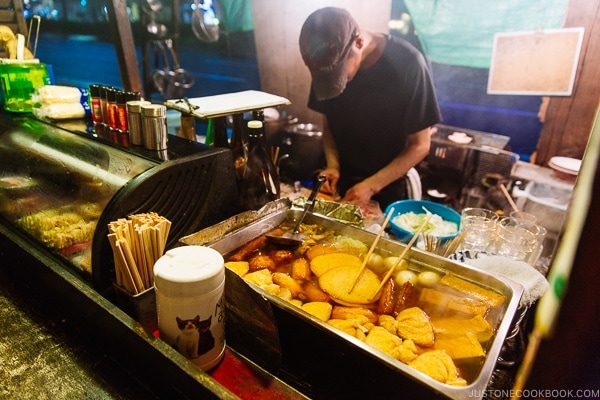 The food was, in all honest, very average. However it was very cool sitting at a food stall with our family in the pouring rain, and enjoying this experience which we'll cherish forever.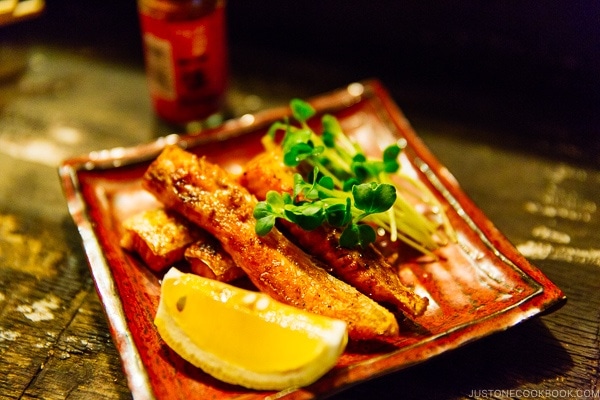 Hotel CASVI Tenjin
Our hotel in Fukuoka is a business hotel, targeting budget traveler. The room as you can see below fits 4 futons, and pretty much nothing else. The room and bathroom were both very clean so that's really all we expected. What's great about the hotel is it is centrally located and you can walk to many popular locations in Fukuoka and it's nearby Tenjinminami Station.
Thank you for traveling to Kyushu with us and we hope you enjoyed reading our Fukuoka Travel Guide. We hope you had fun and we know some JOC readers already followed our travel itinerary and sending us amazing pictures from their trip. Our travel series will continue with our visit to Okinawa. Do you have anywhere in Japan you want to us to write a travel guide for? Leave a comment below, and as always, thank you for reading.