The complete guide on how to pack Osechi Ryori in 3-tier boxes (jubako). With step-by-step pictures and helpful tips, you can easily prepare beautiful boxes of Osechi Ryori with confidence!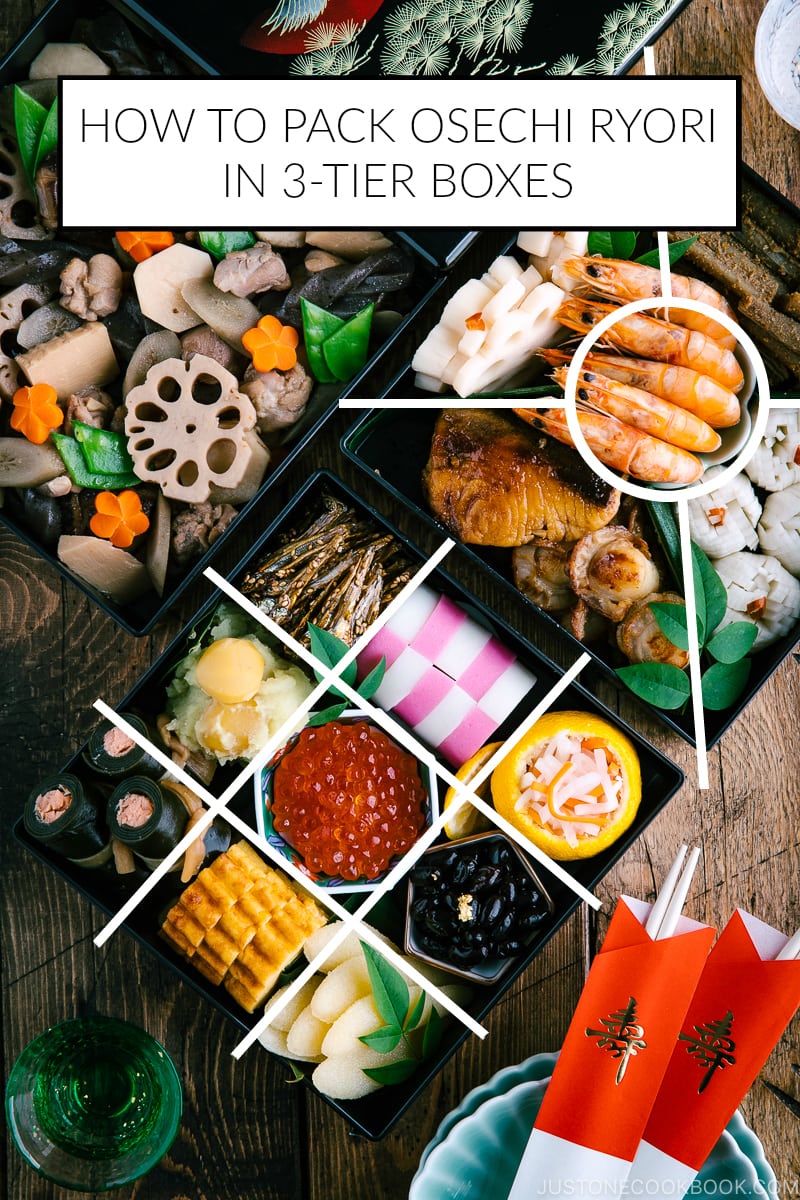 Osechi Ryori, the traditional Japanese New Year food, is often served in two-to-three-tiered lacquered boxes called Jubako (重箱). It is presented in such a special manner as the food is an offering to the Year God. In this post, I will show you how to pack all the dishes you make for New Year's Day.
To pack Osechi Ryori, there are a few traditional rules that we have to follow. I will also share some helpful tips that you can use immediately to make a difference in the final presentation. Now let's begin!
Watch How to Pack Osechi Ryori in 3-Tier Boxes
The complete guide on how to pack Osechi Ryori in 3-tier boxes (jubako). With step-by-step pictures and helpful tips, you can easily prepare beautiful boxes of Osechi Ryori with confidence!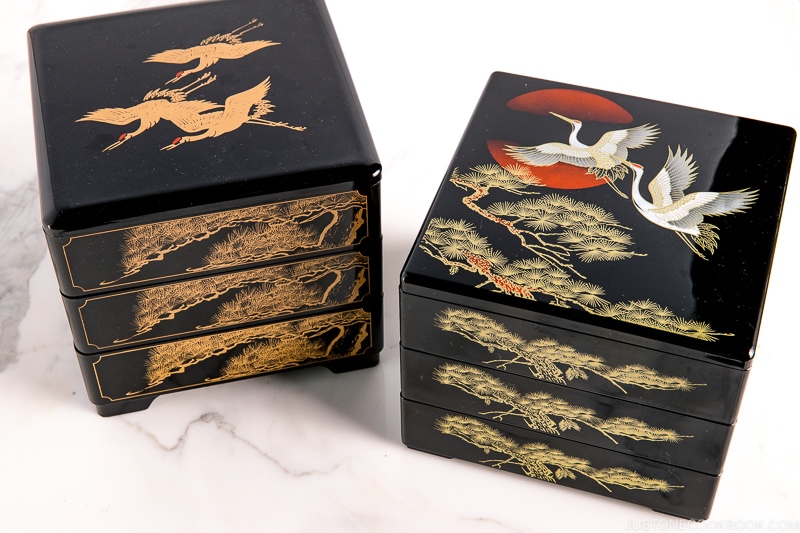 Rules to Remember
Specific items in 3-tier boxes – These days, Osechi is typically served in 3 layers: The first top box contains small appetizers to go with drinks, then the second box contains grilled dishes and vinegared dishes, and the third box contains simmered dishes. This is not a strict rule and it can be done differently depending on the regions. Osechi Ryori can also be in just one or two-tier boxes or can be served on a platter.
Pack only cold or room temperature dishes – You can't serve hot food in lacquered jubako; therefore, all the dishes are enjoyed at room temperature, just like bento box!
Serve in odd number – Odd number is auspicious. If the dish contains countable food, such as Datemaki (Sweet Rolled Omelette), add 3, 5, 7, or 9 pieces. You can put additional food outside the box on a platter, etc. Some people add a garnish on top when they have an even number count of food. (For example, 4 pieces of datemaki and a leaf on top).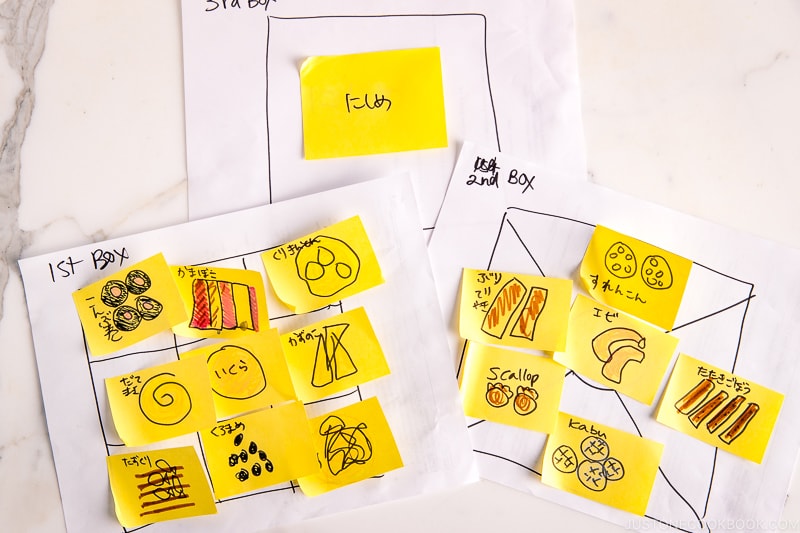 Helpful Packing Tips
Use sticky notes – Label what dish goes into each compartment of Osechi boxes.
Coordinate color and shape – Don't put the same/similar color next to each other, like Datemaki (sweet rolled omelette) and Kuri Kinton (both yellow/gold). Also, balance out the shape and texture of the dishes.
Use small bowls to compartmentalize – Loose ingredients such as Kuromame (sweet black soybeans) and Ikura (salmon roe) should be in smaller containers before packing into the box.
Use food with a rigid structure as a compartment wall – Try to utilize food with a rigid structure, like kamaboko fish cake and Datemaki, as a wall next to loose, soft, flexible food.
Remove the liquid before packing – You don't want to mix the flavor of two dishes, so make sure to remove any cooking liquids before packing.
Utilize colors – For example, green is a favorite color to add a touch of festivity, elegance, and freshness to your Osechi.
Nami's 3 Important Props
When I think about what makes it easy when I pack my Osechi, I found these three items necessary and very helpful. You don't have to have the exact same thing, but rather focus on the reason and find a similar item.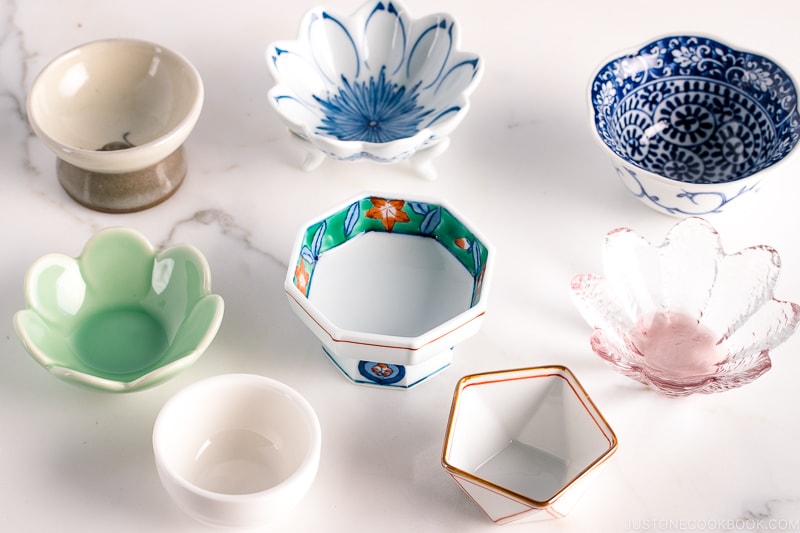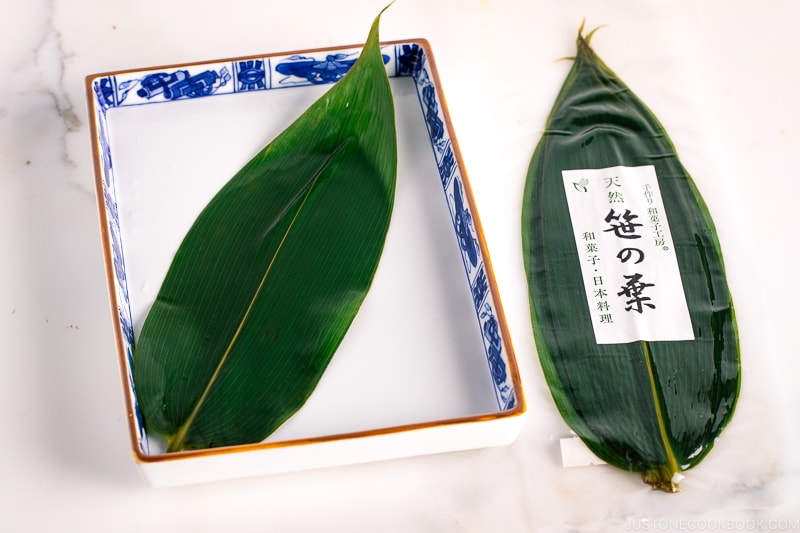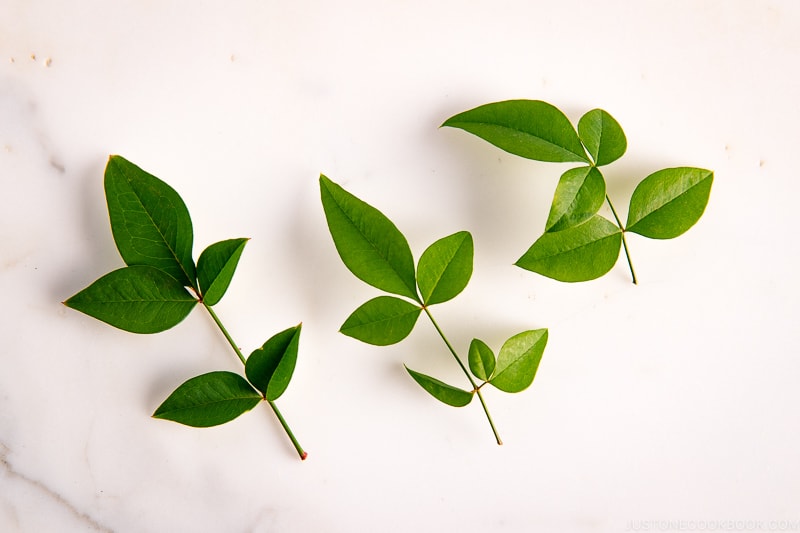 A Step-by-Step Guide on How to Pack Osechi
Box 1 (Ichinoju 一の重)
The first box is the "face" of Osechi Ryori, with all the colorful and beautiful small dishes. Most of the dishes are enjoyed with drinks (Otoso and sake), similar to appetizers or Hors d'oeuvres. I used the Kanto-style Ichimatsu (市松 checkerboard) design with 9 square compartments to pack dishes.
Ikura (Salmon Roe) いくら
Decorative Fish Cakes (Kamaboko) 市松かまぼこ
Sweet Rolled Omelette (Datemaki) 伊達巻
Salmon Kombu Roll (Kobumaki) 鮭の昆布巻き
Candied Chestnut and Sweet Potatoes (Kuri Kinton) 栗きんとん
Candied Sardines (Tazukuri) 田作り
Daikon & Carrot Salad (Namasu) 紅白なます
Sweet Black Soybeans (Kuromame) 黒豆
Herring Roe (Kazunoko) 数の子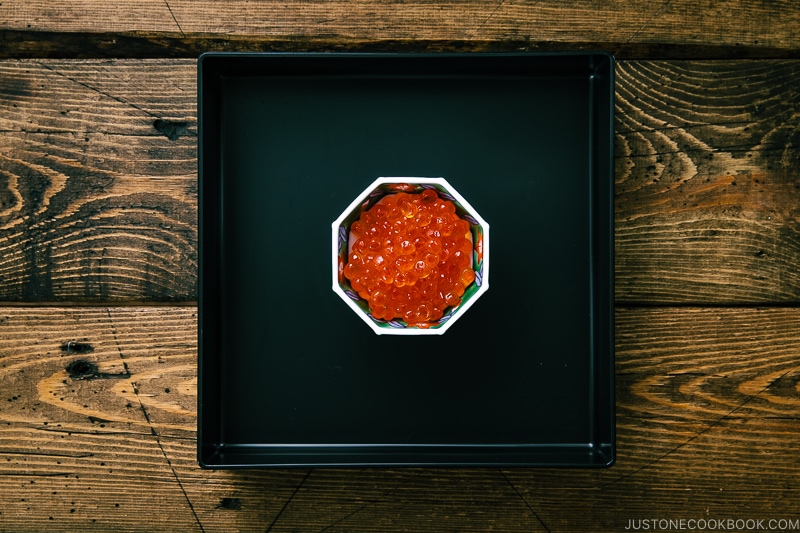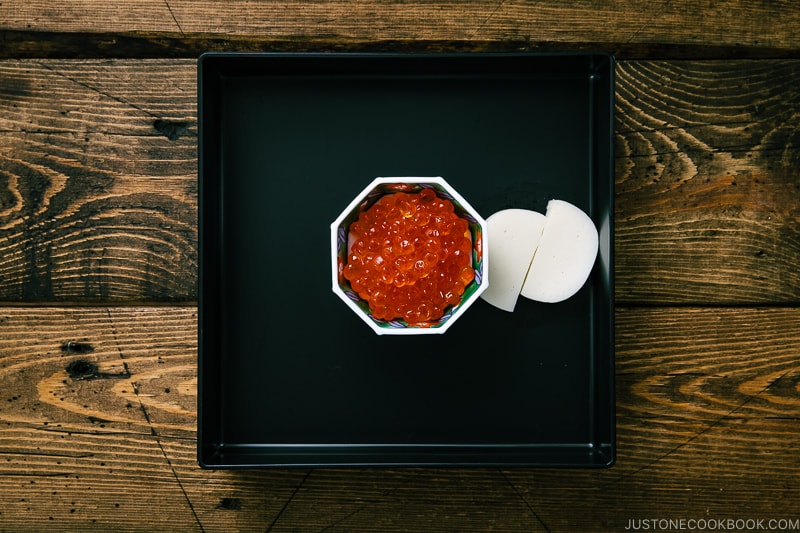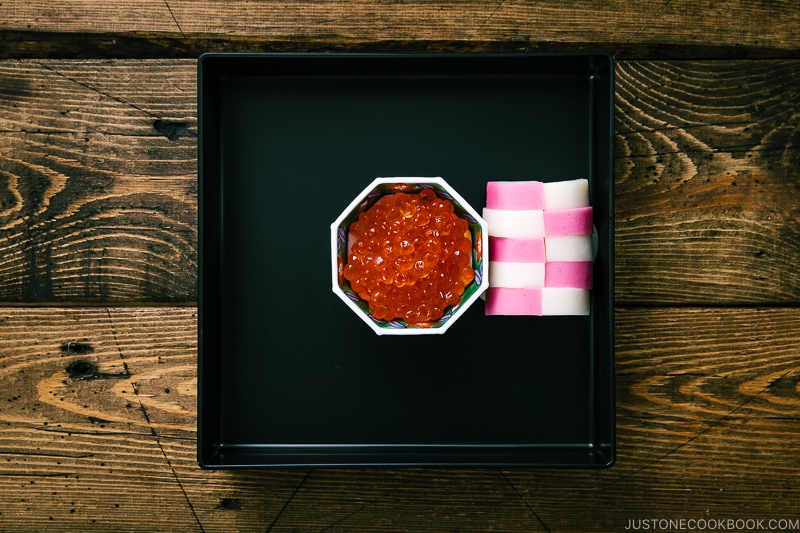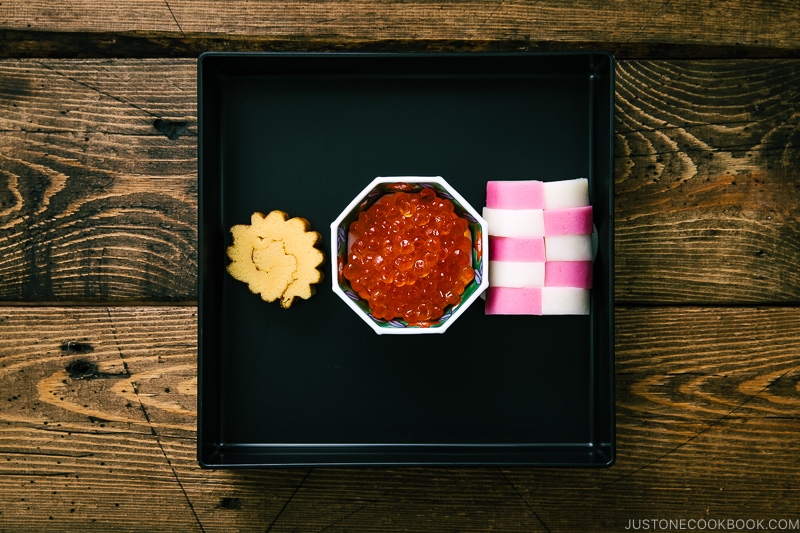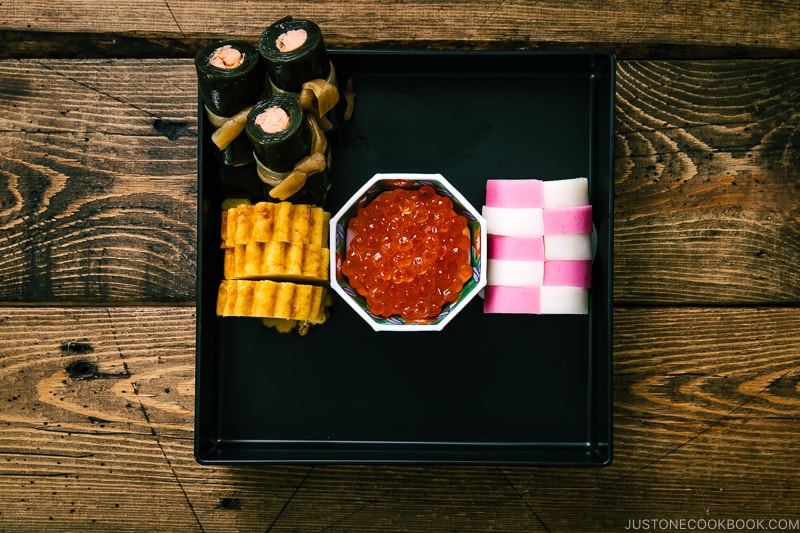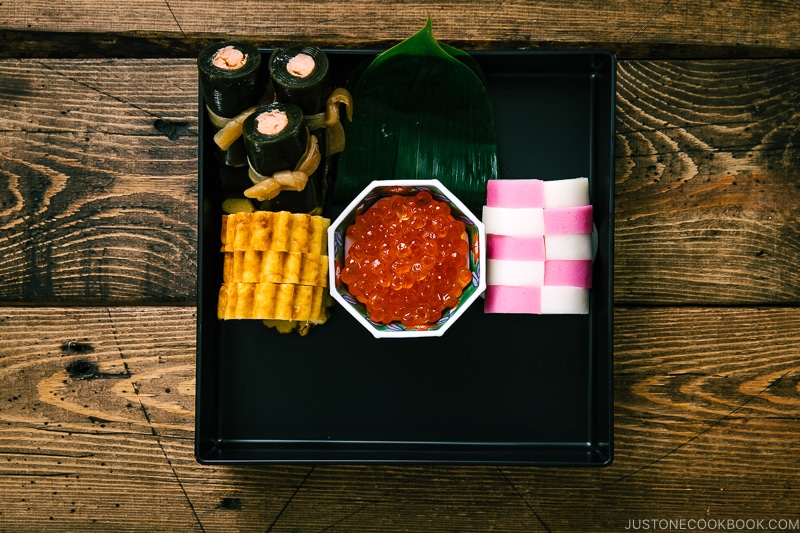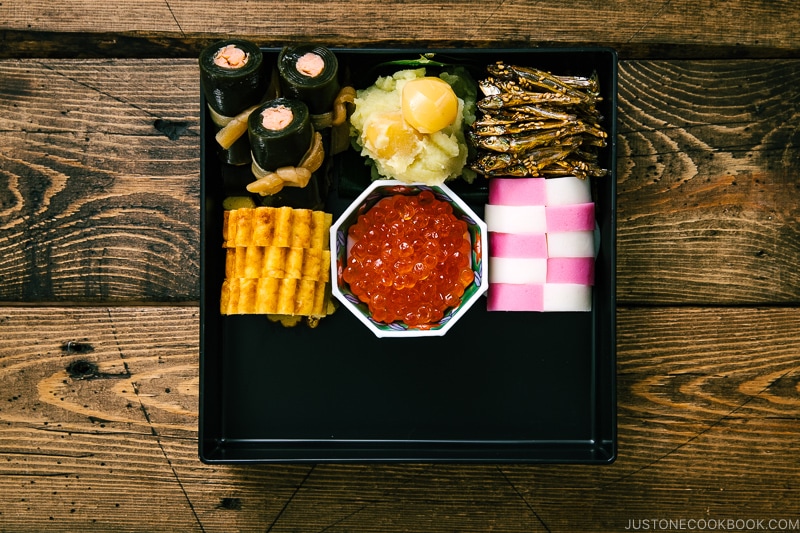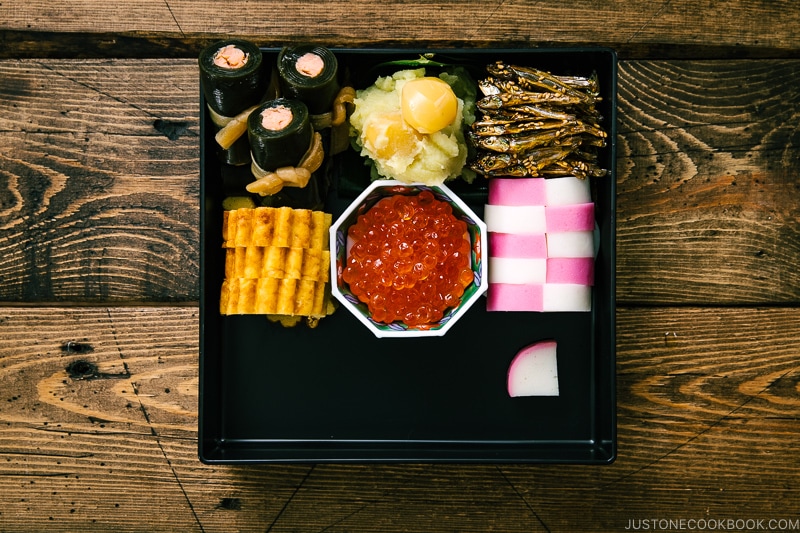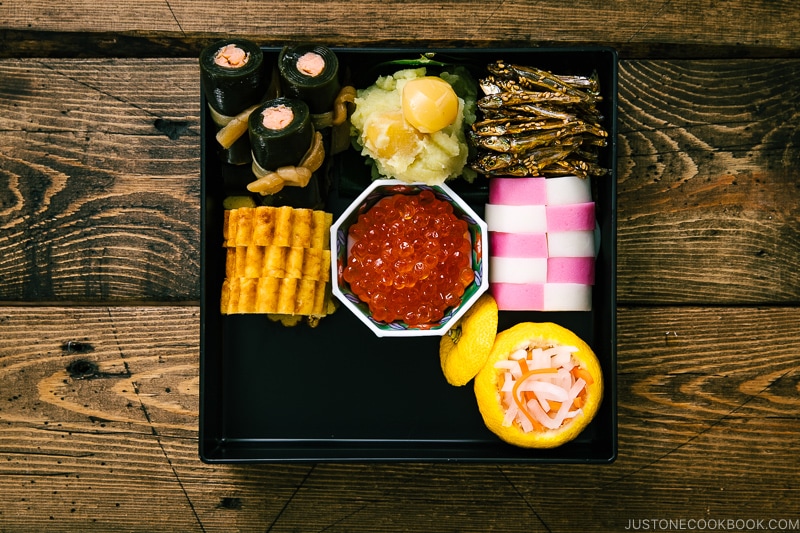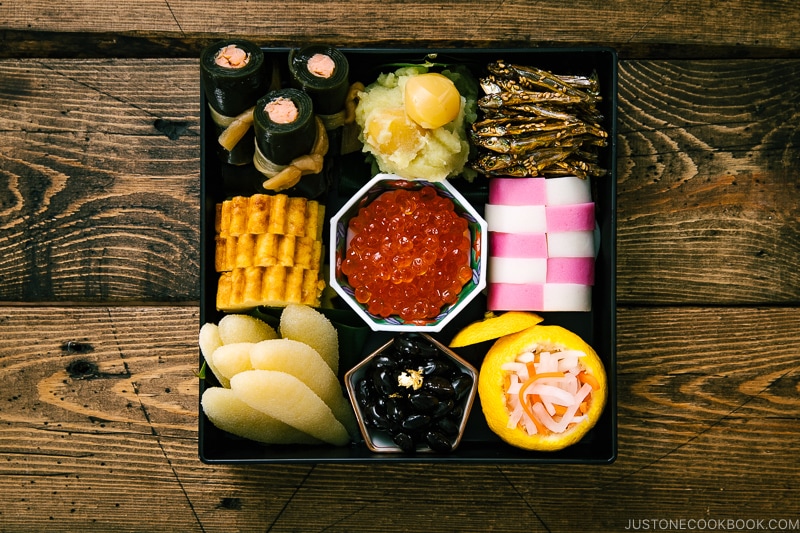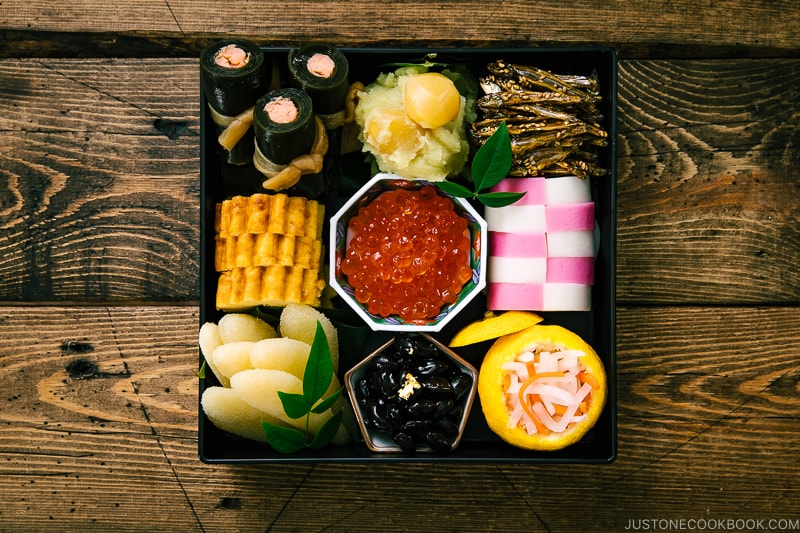 ---
Box 2 (Ninoju 二の重)
The second box includes grilled dishes (main dishes) and vinegared dishes. I used the Suehiro (末広) design spreading out like an open fan from the center, which creates 5 compartments. For a center dish, you can put Namasu (Daikon and Carrot Salad) in a yuzu cup to replace the shrimp.
Simmered Shrimp (Ebi no Umani) えびのうま煮
Yellowtail Teriyaki (Buri no Teriyaki) ぶりの照り焼き
Butter Shoyu Scallops (Hotate no Butter Shoyu Yaki) 帆立のバター醤油焼き
Pickled Chrysanthemum Turnip (Kikka Kabu) 菊花かぶ
Pickled Lotus Root (Su Renkon) 酢れんこん
Pounded Burdock Root with Sesame Sauce (Tataki Gobo) たたきごぼう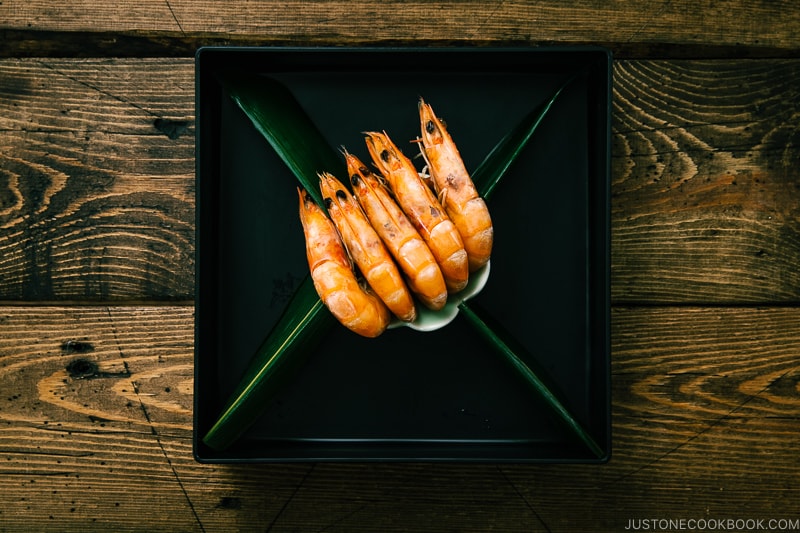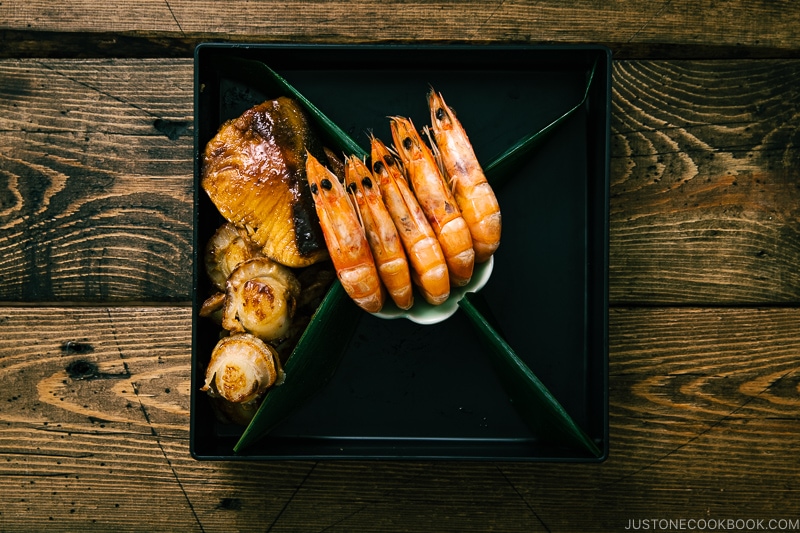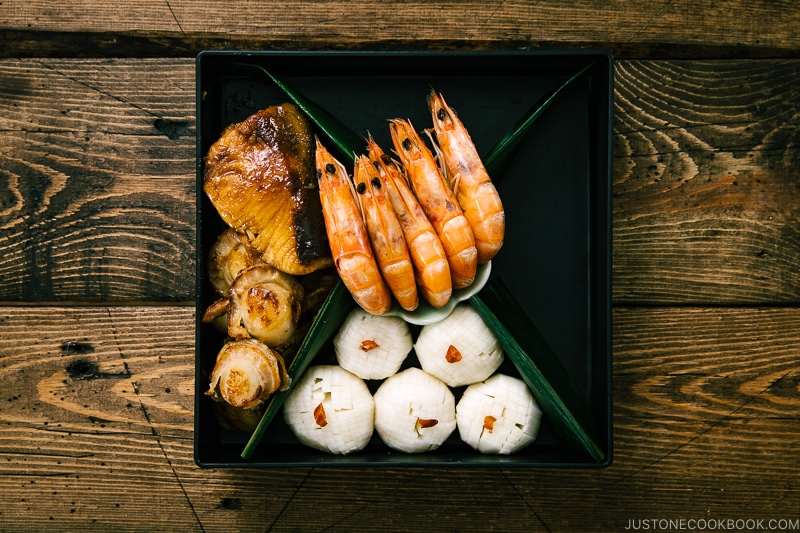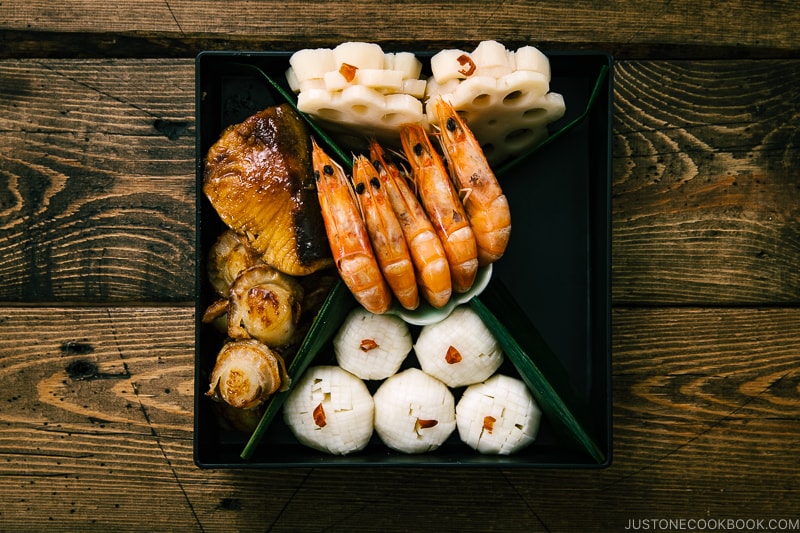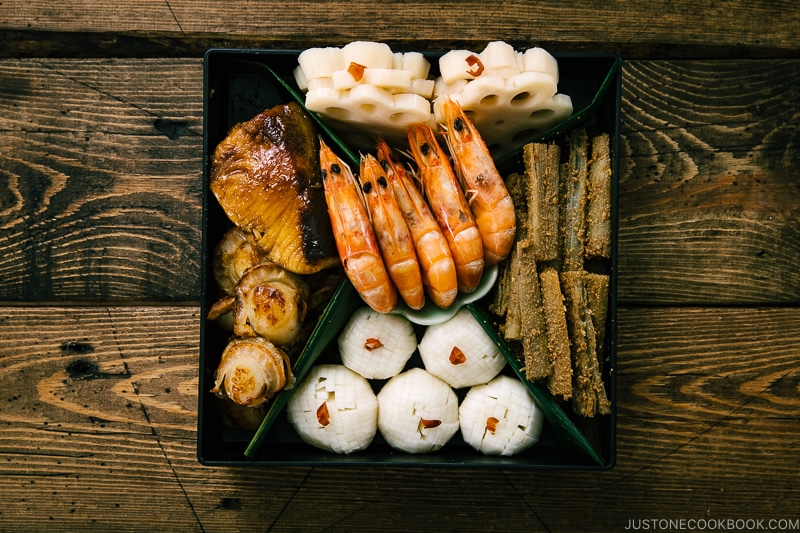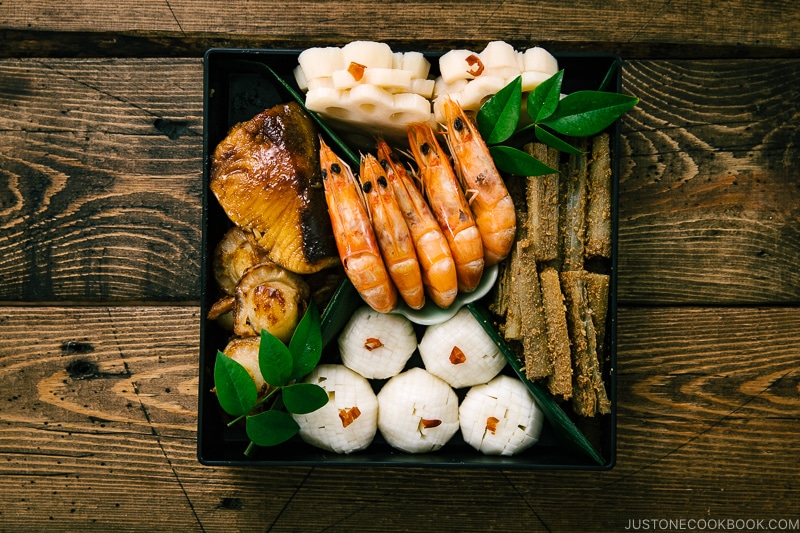 ---
Box 3 (Sannoju 三の重)
The third box contains simmered dishes.
Simmered Chicken and Vegetables (Chikuzenni) 筑前煮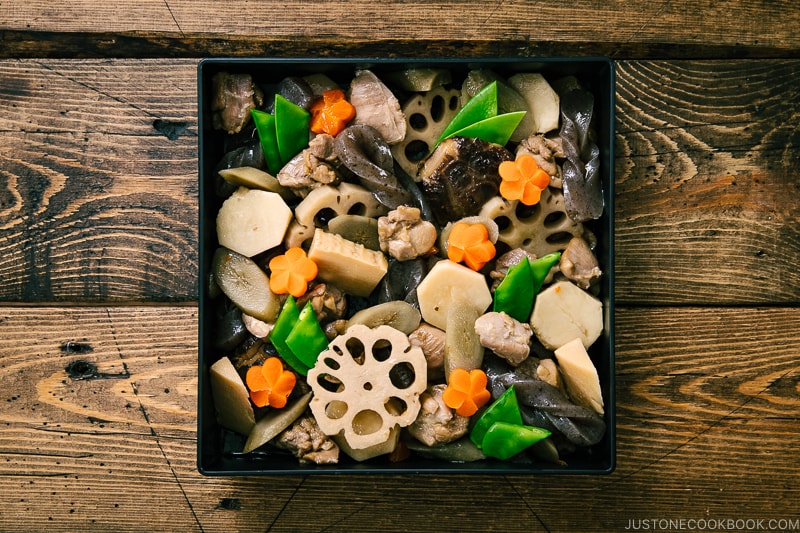 How to Enjoy Osechi Ryori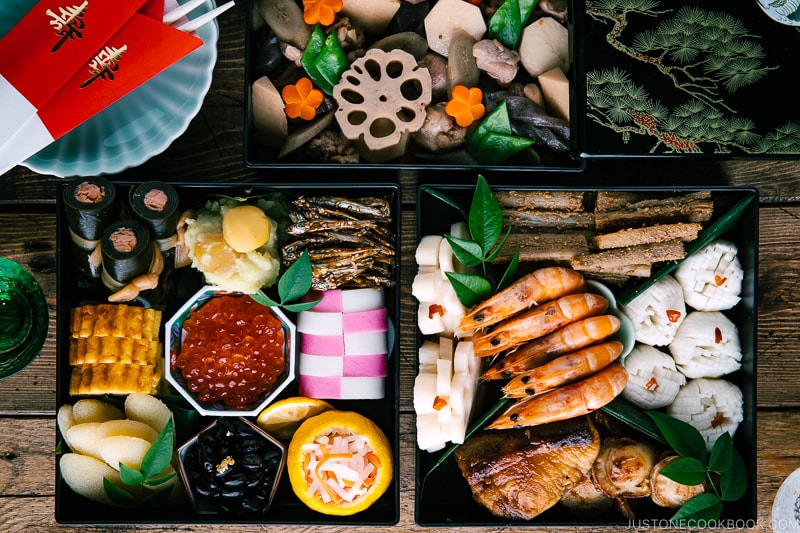 When everyone gathers and ready to partake the most important meal of the year, lay out each individual tier of Osechi box at the center of the table. Some families may serve other dishes such as grilled red snapper and roast beef to accompany Osechi dishes. Ozoni (Japanese New Year Mochi Soup) will also be served alongside the meal.
To enjoy Osechi Ryori, we use these celebratory chopsticks called Iwaibashi (祝い箸). These special chopsticks are pointed and narrower on both ends. They are wrapped in decorative red and white envelopes with a letter Kotobuki (寿; long life, congratulations, happy event) on the outside.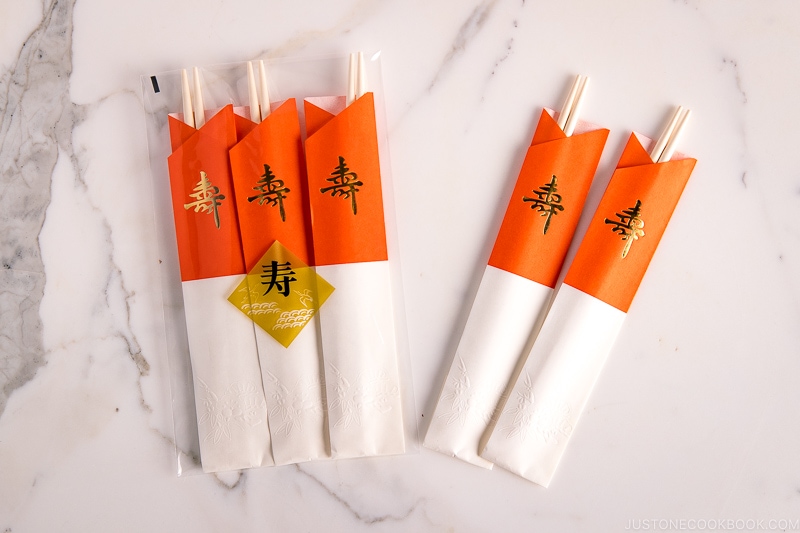 The chopsticks are already separated because it's bad luck to "split or break" during an auspicious time. They are made of the willow trees as they are hard to break.
Osechi Ryori is an offering to the Year God and it is also considered as a meal to share with the Year God using these special chopsticks. One side of the chopsticks is used by a human (you) and the other side is used by the Year God to enjoy the meal together.
So when you use these chopsticks, don't flip your chopsticks to the "clean side" to take food from a serving dish to your own bowl. It is considered rude because you are using the Year God's side of the chopsticks. At a formal gathering, there are special serving chopsticks called Toribashi 取り箸 which you can use for transferring food from the serving dishes.
Traditionally, Iwaibashi is offered to a household Shinto altar (神棚) on the New Year's Eve. After you finish using the chopsticks on New Year's Day, you wash ("cleanse") them yourselves and re-use till the 7th (Matsunouchi, 松の内).

I hope this guide to Osechi Ryori Packing was helpful and inspirational. Good luck!
More Helpful Guides for Japanese New Year