Print Recipe
Jump To Recipe
Crispy on the outside and juicy on the inside, this Baked Tonkatsu recipe is a total game changer. All you need is the right techniques and tips to achieve the perfection. Serve with tonkatsu sauce, you can now enjoy this popular dish at home.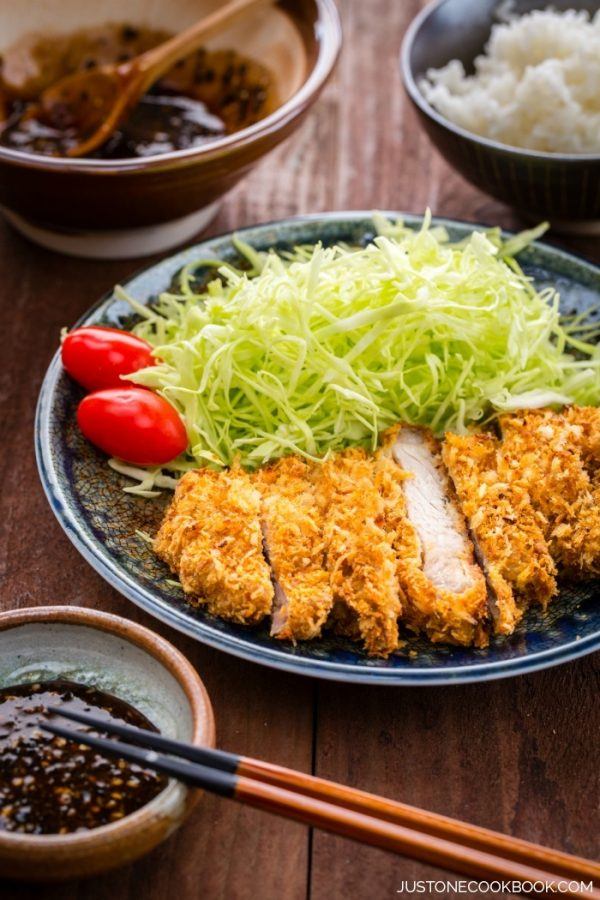 Tonkatsu (とんかつ) or Japanese pork cutlet is a delicious and popular dish yet it's not common to make at home.  Most people prefer not to deep fry food at home because it can be dangerous and creates oily smell in the kitchen, and who likes to clean up messy splatter all over the stove top after deep frying?  So today I'm going to show you how you can make baked tonkatsu that's juicy on the inside and crispy on the outside!
Watch How to Make Baked Tonkatsu 揚げないとんかつの作り方
Tender and juicy pork loin wrapped in crispy golden panko crust, serve with tonkatsu sauce and freshly ground sesame seeds.
Important Tips for Oven-Baked Tonkatsu
Pre-cook panko for crispy texture
One of the most important features of delicious tonkatsu is to the crispy panko texture when you bite into it.  Just like how I prepared Crispy Baked Chicken Katsu recipe and Crispy Salmon recipe, the key for panko to stay crispy and golden brown is to pre-cook panko before breading the pork.  That way you won't need to spray or pour a lot of oil on panko in order for it to turn golden brown in the oven.  And the pork loin could be overcooked and tough to chew while you wait for the panko to turn golden brown.
Thickness of pork loin
Another important tip for oven-baked tonkatsu is that you can't use thick pieces of pork loin.  It will take too long for the pork to cook through so keep in mind that the thickness of pork should be no more than 1/2 inch (1.2 cm).  And remember to use good quality meat and pound it so that the pork loin will be nice and tender after it's being cooked.  When the food is as simple as this, quality of the ingredient speaks itself.
Lastly, I added black and white sesame seeds into tonkatsu sauce but it's optional (Can't find tonkatsu sauce? Here's my homemade recipe!).  Japanese tonkatsu restaurants often have bowls of mortar and wooden pestles on the table for you to grind sesame seeds while you wait for the tonkatsu to arrive.  You may wonder why you have to grind your own sesame seeds.  Well, this is part of enjoyment eating tonkatsu.  Sesame seeds emit very nice aroma and flavor when you freshly grind them.  The nutty flavor of sesame seeds goes very well with tonkatsu sauce.
If you prefer regular deep-fried Tonkatsu recipe, click here!  I actually don't mind deep frying, but for healthier alternative, this baked tonkatsu is AWESOME!
Don't want to miss a recipe? Sign up for the FREE Just One Cookbook newsletter delivered to your inbox! And stay in touch on Facebook, Google+, Pinterest, and Instagram for all the latest updates. Thank you so much for reading, and till next time!
Baked Tonkatsu
Ingredients
1

Tbsp

extra virgin olive oil

2

½"-thick lean boneless pork loin chops

(2 pieces = ½ lb or 227 g, ½" = 1.2 cm)

1

tsp

Kosher salt

Freshly ground black pepper

2

Tbsp

all-purpose flour

1

large egg

Tonkatsu Sauce

(See Notes for homemade recipe)
Instructions
Gather all the ingredients.

Adjust an oven rack to the middle position and preheat the oven to 400F (200C). Line a rimmed baking sheet with parchment paper.

Combine the panko and oil in a frying pan and toast over medium heat until golden brown. Transfer panko into a shallow dish and allow to cool.


Get rid of the extra fat and make a couple of slits on the connective tissue between the meat and fat. The reason why you do this is that red meat and fat have different elasticity, and when they are cooked they will shrink and expand at different rates. This will allow Tonkatsu to stay nice and flat and prevent Tonkatsu from curling up.


Pound the meat with a meat pounder, or if you don't have one then just use the back of knife to pound. Mold the extended meat back into original shape with your hands.


Sprinkle salt and freshly ground black pepper.


Dredge each pork piece in the flour to coat completely and pat off the excess flour. Then dip into the beaten egg and finally coat with the toasted panko. Press on the panko flakes to make sure they adhere to the pork.


Place the pork on the prepared baking sheet or even better if you have an oven-safe wire rack (as air goes through on the bottom so panko won't get crushed). Bake until the pork is no longer pink inside, about 20 minutes.


Cut Tonkatsu into 1 inch pieces (so you can eat with chopsticks) by pressing the knife directly down instead of moving back and forth. This way the panko will not come off. Transfer to a plate and serve immediately.


To make special sesame tonkatsu sauce, grind black and white sesame seeds in a mortor and add tonkatsu sauce. Mix all together.

Recipe Notes
Tonkatsu Sauce: Homemade recipe, click here.
Recipe by Namiko Chen of Just One Cookbook. All images and content on this site are copyright protected. Please do not use my images without my permission. If you'd like to share this recipe on your site, please re-write the recipe and link to this post as the original source. Thank you.