Print Recipe
Jump To Recipe
Japanese panko breaded and baked chicken cutlet served with homemade ponzu and grated daikon. This Baked Chicken Katsu recipe is 100% gluten free. A delicious treat for those who love this classic Japanese dish but can't take gluten.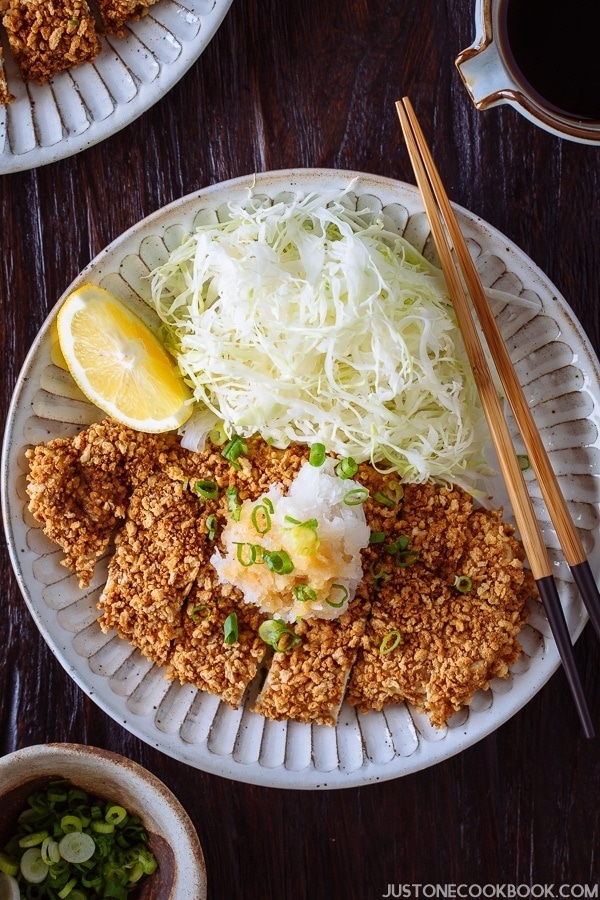 When I started to share more gluten-free Japanese recipes for my readers who can't take gluten, many of them expressed how much they missed eating Tonkatsu and Chicken Katsu because they can't consume panko made of wheat.
Today I'm really excited to share this Gluten Free Baked Chicken Katsu recipe for those of you who are gluten intolerant and for those of you who eat meals with them.  This easy and delicious recipe is a win win situation for both parties.
Watch How To Make Gluten Free Baked Chicken Katsu
Japanese panko breaded and baked chicken cutlet served with homemade ponzu and grated daikon. This Baked Chicken Katsu recipe is 100% gluten free. Perfect for those who love this classic Japanese dish but can't take gluten.
Your New Best Friend – Gluten Free Panko for Chicken Katsu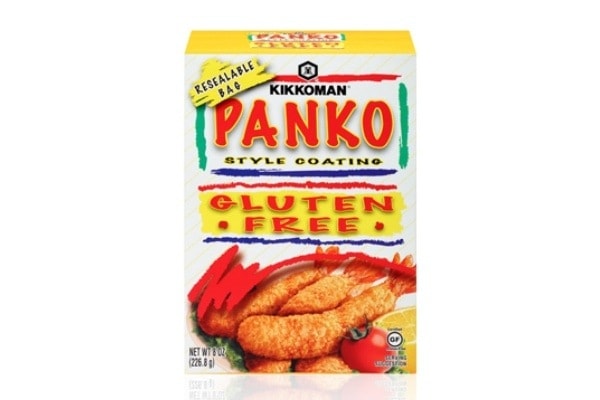 For many of you who enjoy classic Japanese fried foods that are breaded with crunchy panko, I know how disappointing it can be if you are gluten-intolerant. The regular panko is made from bread without crust, which means you have to give up many tempting fried foods completely.
When I found out Kikkoman came out with Gluten-Free Panko that is made with rice flour, I thought it was such a brilliant invention! You can now enjoy the same crunchy texture without wheat (and soy, egg, and nuts). The good news is gluten-free panko is lighter and crispier, which makes it a perfect coating to make Japanese katsu. No more envy eyes when someone sitting right next to you bite into one of those crunchy pieces.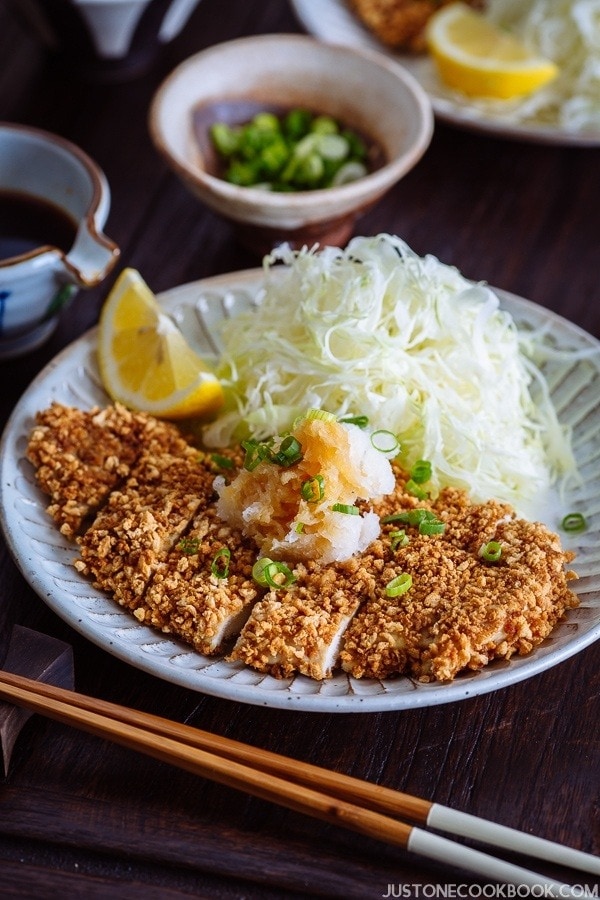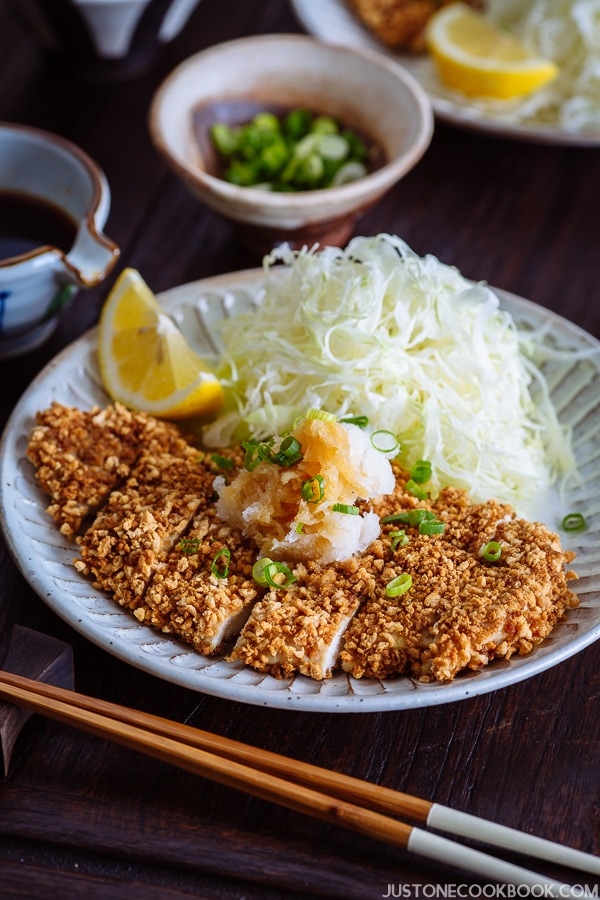 Enjoy Chicken Katsu with Ponzu
With the gluten free panko, the preparation is the same as my regular baked chicken katsu recipe. You want to first toast the panko until nicely brown before you dredge the chicken pieces all over and bake. Once the chicken come out of the oven piping hot, you can see how crispy, crunchy and golden the crust look. No grease, no fuss, these are 'fried food' at its best!
The only difference with today's recipe is I served the chicken katsu with the light, citrus-y ponzu sauce, instead of tontaksu sauce. If you have never tried Japanese deep fried cutlet (pork or chicken) with ponzu, you will have to give it a try! In Japan, a lot of Tonkatsu specialized restaurants offer options of both Tonkatsu sauce and Ponzu sauce. You are served with ponzu and grated daikon to enjoy with the deep fried katsu.  It's lighter and refreshing and it makes the whole deep-fried food so much easier to digest.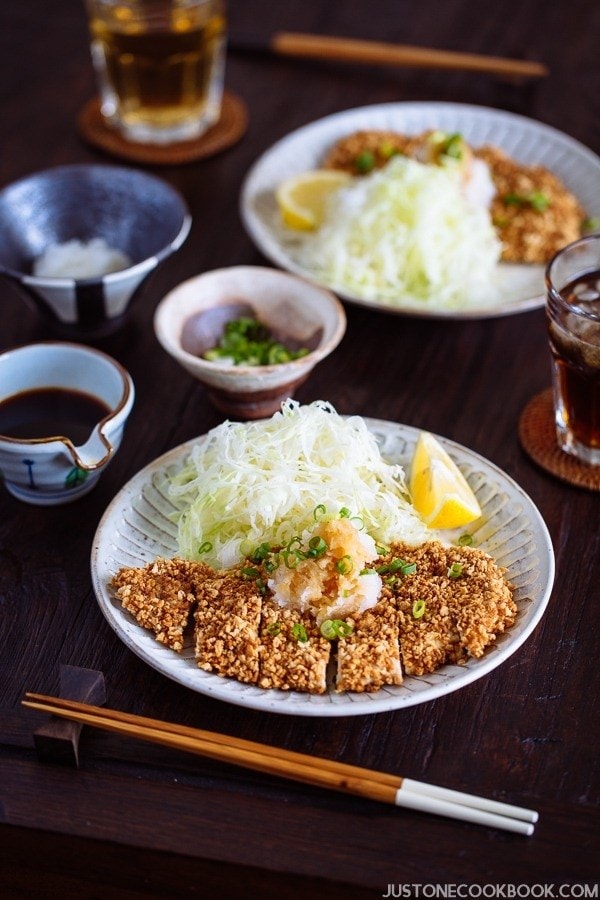 Make Homemade Ponzu Sauce with Gluten Free Soy Sauce
The best thing about making homemade ponzu is that it's SUPER easy to make.  The taste is on the light side with an intermix of sweet, tart and savory. Soy sauce is traditionally brewed from water, wheat, soybeans and salt; however, with gluten free soy sauce, your ponzu will be totally gluten free!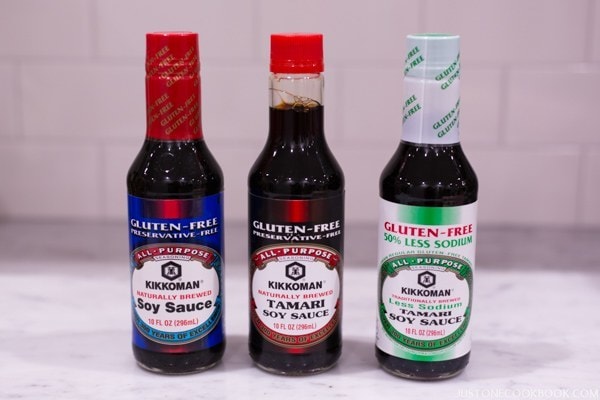 All you need is gluten free soy sauce, hon-mirin (true mirin), citrus of your choice (read more in the recipe), katsuobushi (dried bonito flakes), and kombu.  That's it!  It's best for the ingredients to release the flavors so you want to make the ponzu sauce at least one day in advance.
I've been partnering with Kikkoman to create delicious gluten-free Japanese recipes with their gluten-free soy sauce so that gluten-intolerant JOC readers can enjoy Japanese foods without worrying about wheat.
Whether you're gluten-free or not, everyone can enjoy this crispy and crunchy panko coated baked chicken katsu.  Serve with a wedge of lemon and a pile of shredded cabbage. I hope you enjoy the recipe with your family and friends!
Don't want to miss a recipe?  Sign up for the FREE Just One Cookbook newsletterdelivered to your inbox! And stay in touch on Facebook, Google+, Pinterest, and Instagram for all the latest updates.
Gluten Free Baked Chicken Katsu
Ingredients
1

cup

gluten free panko

(1 cup = 60 g)

1

Tbsp

extra virgin olive oil

1

boneless skinless chicken breast

(1 piece = 11 oz or 314 g)

¼

tsp

kosher salt

freshly ground black pepper

2

Tbsp

rice flour

1

large egg

1

green onion/scallion

3

inch

daikon radish

(3" = 7.6 cm)

ponzu

(Recipe below)
Homemade Gluten Free Ponzu Sauce
Instructions
Gather all the ingredients.
To Make Ponzu (1-2 days in advance)
In a liquid measuring cup, zest the lemon so you can have about ¼ tsp lemon peel. Then squeeze the lemon (and orange) till you get 4 Tbsp (1/4 cup). I use 3 Tbsp lemon juice and 1 Tbsp fresh orange juice.

In a mason jar, add the soy sauce, mirin, and lemon juice with the zest.

Add katsuobushi (dried bonito flakes) and kombu, and close the lid and shake it to combine. Refrigerate for a day or two before you make the chicken katsu. If you make a big batch, you can save it for a long time as long as you keep it properly in the refrigerator.
To Make Chicken Katsu
Adjust the oven rack to the middle position and preheat the oven to 400 ºF (200 ºC) degrees.

Combine the panko and oil in a frying pan.

Toast the panko over medium heat until golden brown. Try not to touch too much as panko can break into powders. Transfer the toasted panko into a shallow dish and allow to cool.

Butterfly and cut the chicken breast in half. I also separate out the chicken tender. Pound the chicken to equal thickness with the back of knife.

Sprinkle kosher salt and freshly ground black pepper on both sides of the chicken.

Dredge each chicken piece in the rice flour to coat completely and pat off the excess rice flour.

Then dip into the beaten egg and finally coat with the toasted panko. Press on the panko flakes to make sure they adhere to the pork.

Place the chicken on the prepared baking sheet lined with parchment paper or even better if you have an oven-safe wire rack (as air goes through on the bottom so panko doesn't get crushed). Bake at 400 ºF (200 ºC) until the chicken is cooked through, about 25-30 minutes.

Remove the chicken katsu from the oven and cut into 1 inch pieces so you can eat with chopsticks.
To Serve
Peel and grate daikon. Gently squeeze the water out and set aside.

Cut the green onions into small pieces.

Serve the grated daikon and green onion on top of the chicken katsu (or on the side if you prefer) and pour the ponzu sauce to enjoy!
Recipe Notes
Citrus Juice: You can use 4 Tbsp freshly squeezed lemon juice, or combine with other citrus, such as orange or grapefruits.  I like the combination of 3 Tbsp lemon juice and 1 Tbsp freshly squeezed orange juice.
Recipe by Namiko Chen of Just One Cookbook. All images and content on this site are copyright protected. Please do not use my images without my permission. If you'd like to share this recipe on your site, please re-write the recipe in your own words and link to this post as the original source. Thank you.
Full Disclosure: This post was sponsored by Kikkoman USA.  Thoughts and opinions stated are my own.