Print Recipe
Jump To Recipe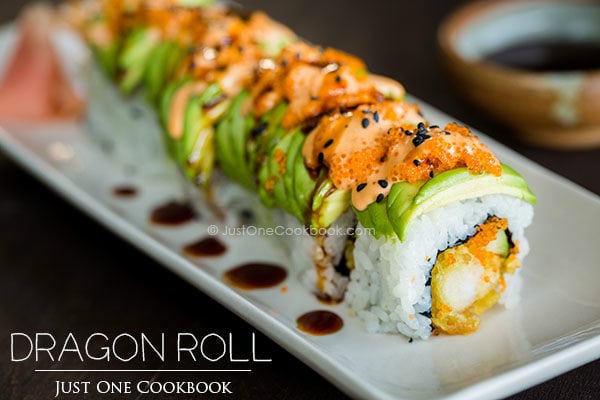 Some people asked what is my favorite sushi roll, and the answer is Dragon Roll (my favorite nigiri sushi is salmon).  I really love the crunchy texture of shrimp tempura in dragon roll.  Today I am going to share how to make the dragon roll at home!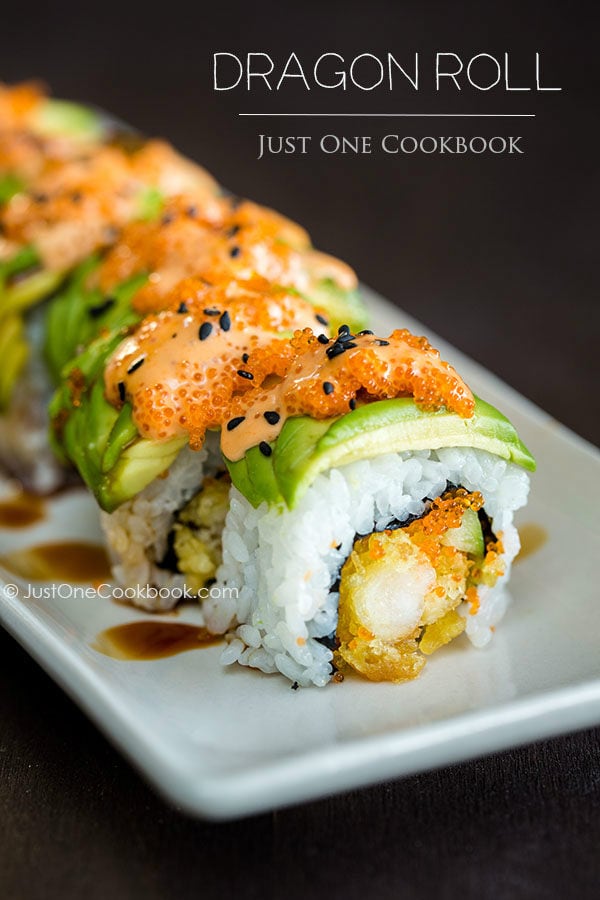 The main ingredient for Dragon Roll includes shrimp tempura AND/OR unagi.  The one I like just has shrimp tempura in it, but it's really up to you how you want to make it.  When I first came to the US, I was surprised the many non-traditional rolls offered in Japanese restaurants, such as Philadelphia roll with cream cheese and salmon.  However I've grown to enjoy many of the rolls and even make them at home sometimes.
To cut down on prep time, I used pre-cooked frozen shrimp tempura from Trader Joe's.  If you like to make it from scratch, you can follow my Shrimp Tempura recipe.  You will need extra time to prepare shrimp tempura, but homemade tempura is always the best.
I hope I've inspired you to start making sushi rolls at home.  It's fun to prepare and eat sushi with your friends and family.  If you are still not comfortable making your own sushi roll, remember there is an option of Temaki Sushi (Hand Roll) which is much easier version of sushi roll.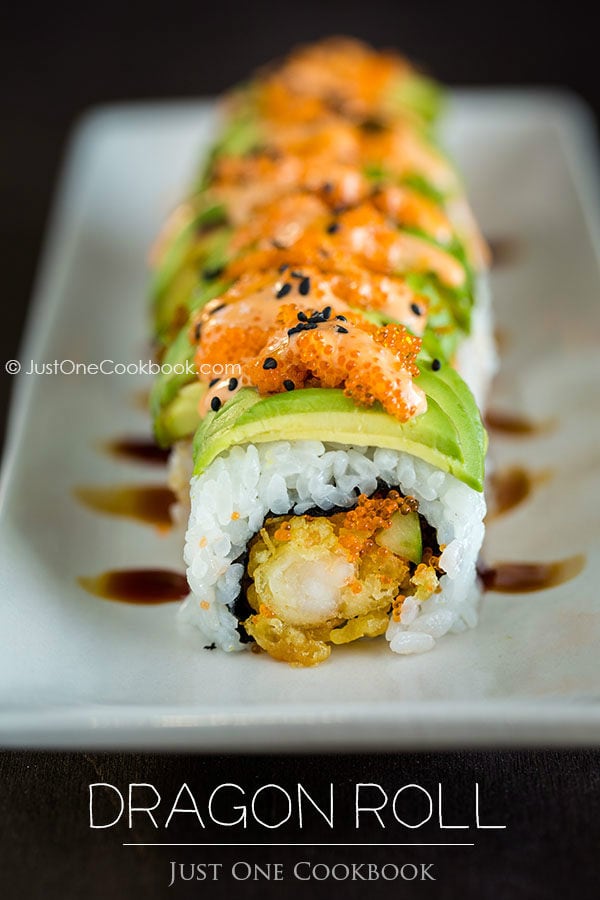 I will spend this summer in Japan.  Follow my instagram "justonecookbook" to see what I'm up to in Japan!  I'm hoping to update you with some bits and pieces from my trip whenever I get a chance.
Other Sushi Recipes:
Don't want to miss a recipe? Sign up for the FREE Just One Cookbook newsletter delivered to your inbox! And stay in touch on Facebook, Google+, Pinterest, and Instagram for all the latest updates. Thank you so much for reading, and till next time!
Dragon Roll
Ingredients
About 6 cups prepared sushi rice
1 Japanese cucumber
4 avocados
½ lemon
4 nori sheets, cut in half crosswise
16 shrimp tempura* (See the recipe here)
⅛ cup (20oz) Tobiko
Unagi (eel) - optional
For toppings
Vinegar water for dipping hands (Tezu)
¼ cup water
2 tsp. rice vinegar
Things you will need
Bamboo sushi mat
Plastic wrap

Instructions
Cut cucumber lengthwise into thin strips. Discard the core (seeds).

Cut the avocado in half lengthwise around the seed and twist the two halves until they separate. Hack the knife edge into the pit. Hold the skin of the avocado with the other hand and twist in counter directions. The pit will come out smoothly.

Remove the skin and slice the avocado widthwise with the tip of knife.

Gently press the avocado slices with your fingers and then keep pressing gently and evenly with the side of knife until the length of avocado is about the length of sushi roll (length of nori seaweed). Squeeze lemon over the avocado to prevent from changing color.

Wrap the bamboo mat with plastic wrap and place half of the nori sheet, shiny side down. Dip your hands in tezu (vinegar water) and spread the rice over the nori sheet.

Turn it over and put the shrimp tempura, cucumber strips, and tobiko at the bottom end of the nori sheet. If you like to put unagi, place inside here as well.

From the bottom end, start rolling nori sheet over the filling tightly and firmly with bamboo mat until the bottom end reaches the nori sheet. Lift the bamboo mat and roll over.

Place the bamboo mat over the roll and tightly squeeze the roll.

Using the side of knife, place the avocado on top of the roll.

Place plastic wrap over the roll and then put bamboo mat over. Tightly squeeze the roll until the avocado slices wrap around the sushi. Be gentle so you won't break the avocado slices.

Cut the roll into 8 pieces with knife. Clean knife with wet towel after each cut. Remove the plastic wrap on top of the sushi and transfer to a serving plate.

Put tobiko on top and drizzle spicy mayo and unagi sauce. Sprinkle black sesame seeds if you like. Enjoy!
Notes
Sushi rice is "vinegared" rice, specially used for sushi, not the regular steamed rice.


If you are new to making sushi roll, cut off ⅓ of nori sheet and use ⅔ sheet of nori instead of half (Note: you will need more sushi rice).
Recipe by Namiko Chen of Just One Cookbook. All images and content on this site are copyright protected. Please do not use my images without my permission. If you'd like to share this recipe on your site, please re-write the recipe in your own words and link to this post as the original source. Thank you.