Print Recipe
Jump To Recipe
Okonomiyaki (お好み焼き) is a Japanese pancake made of batter mixed with shredded cabbage and a variety of ingredients. After okonomiyaki is cooked, it is t is topped with okonomi sauce, Japanese mayonnaise, katsuobushi, and aonori. Okonomiyaki originated from the Osaka and Hiroshima areas (West) of Japan.
Okonomi means "what you like" and yaki means "grilled." Regardless of the region and style, the main ingredients is always cabbage. The rest is up to you: you can make okonomiyaki with "what you like." It is also sometimes referred in English as "Japanese Pizza". My recipe below is for making simple okonomiyaki, and you can definitely make your own okonomiyaki recipe by adding other ingredients like shrimp, noodles, eggs, etc. In fact, my mom used to put many other kinds of vegetables (carrots and onions etc) when she made it at home. I was surprised to learn that a typical ononomiyaki at okonomiyaki restaurants only includes cabbage!
Okonomiyaki restaurants have tables that teppan (Japanese iron griddle) is built-in. The server brings out the raw ingredients and offers to cook okonomiyaki for you. If you already know how to cook, you can do on your own. Whenever I visit Osaka, one of my must eat food is to make a quick stop at okonomiyaki restaurants.
At home, we usually use a Japanese electric griddle to make several medium-size okonomiyaki at one time. It's fun to make with family and friends.
This particular recipe is from my friend Hiroko who's originally from Hiroshima. She cooked this delicious okonomiyaki two years ago when she visited us from Los Angeles and we were really impressed and asked her for the recipe. I hope you enjoy this recipe as much as we do!
If you prefer Hiroshima-style Okonomiyaki, click here.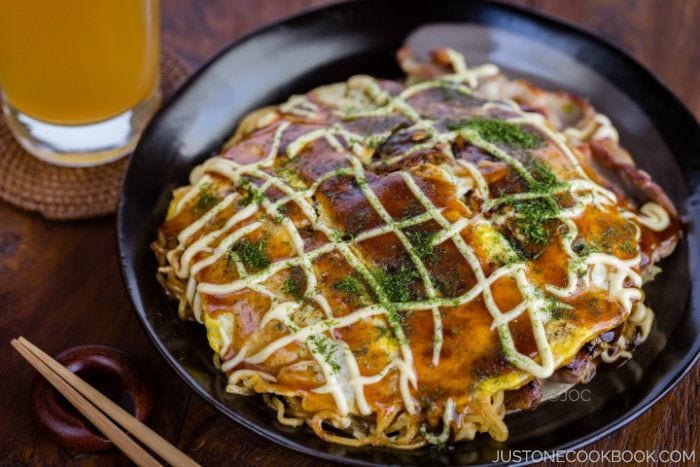 Don't want to miss a recipe? Sign up for the FREE Just One Cookbook newsletter delivered to your inbox! And stay in touch on Facebook, Google+, Pinterest, and Instagram for all the latest updates. Thank you so much for reading, and till next time!

Okonomiyaki
Ingredients
8 cups cabbage (about a whole large cabbage), finely diced
1 cup squid (optional), chopped into small piece
Oil
½ lb sliced pork belly or other ingredients, cut into 3 inch pieces
Okonomiyaki Batter
1 cup (120 g) all-purpose flour
¼ tsp. salt
¼ tsp. sugar
¼ tsp. baking powder
2-3 inch Nagaimo/Yamaimo, grated
¾ cup (180 ml) dashi, or ¾ cup water with 1 tsp. Hondashi powder
4 large eggs
Toppings
Instructions
In a large bowl, combine flour, salt, sugar, and baking powder.

Grate Nagaimo in the bowl and add Dashi-Jiru.

Whisk well and keep in the fridge for at least 1 hour.

Meanwhile, remove the core of the cabbage and finely dice the cabbage (finer the better).

Take out the batter from the fridge and prepare the rest of ingredients on the kitchen counter.

In the bowl, add eggs, Tenkasu, and Pickled Ginger, and mix well. Then add squid and mix again.

Stir in the cabbage.

In a non-stick frying pan heat oil on medium to medium high heat. Scoop one ladle of batter and place on the pan. Do not flatten the mixture because it will easily break when you turn it over.

Place 2-3 sliced pork belly on top of Okonomiyaki and cook covered for 5 minutes.

When the bottom side is nicely browned, turn it over and cook covered for another 5 minutes.

Turn over one more time and cook uncovered for 2 minutes. Transfer to a plate.

Apply Okonomi Sauce and Japanese mayonnaise, and sprinkle katsuobushi. You can also put dried green seaweed, green onions and pickled red ginger on top for garnish.

If you have a Japanese griddle (We call it "Hot Plate") with a lid, you can cook several Okonomiyaki at once!

Notes
Okonomiyaki freezes well. Once it cools down (no toppings or sauce), wrap each okonomiyaki in aluminum foil and put it in a Ziploc bag. When you want to eat it, defrost first and put it in a toaster oven to warm it up. It's a great quick lunch option!
Recipe by Namiko Chen of Just One Cookbook. All images and content on this site are copyright protected. Please do not use my images without my permission. If you'd like to share this recipe on your site, please re-write the recipe and link to this post as the original source. Thank you.
Editor's Note:
Pictures are updated in March 2014.