Print Recipe
Jump To Recipe
Enjoyed chilled or at room temperature, this Soba Noodle Salad tossed in a honey-soy dressing is exactly what you need for a quick, light meal.
Have you tried soba noodles before?  Today I made an easy and refreshing Soba Salad that you can make in less than 20 minutes!
Watch How To Make Soba Salad 蕎麦サラダの作り方
What is Soba Noodles?
In case you haven't heard of soba noodles before, they are a type of Japanese noodles made of buckwheat.  In Japan, we have different kinds of soba noodles depends the percentage of buckwheat used in making the noodles.
Ju-wari Soba (十割そば) is made of 100% buckwheat flour (hence it's gluten free). It has dry and rough texture so the noodles are easily broken compared to Hachi-wari Soba. Ju-wari soba has strong buckwheat aroma and flavor, and it is hard to make because of its dry and crumbly texture.
Hachi-wari Soba (八割そば) is made from 80% buckwheat flour and 20% wheat flour. Hachi-wari means 80% in Japanese. The noodle is much smoother and it has al dente texture. Unlike Ju-wari Soba, it's easy to swallow and chew. However, the buckwheat aroma is less than Ju-wari.
It's hard to say which soba is tastier and more delicious, it really up to personal preferences.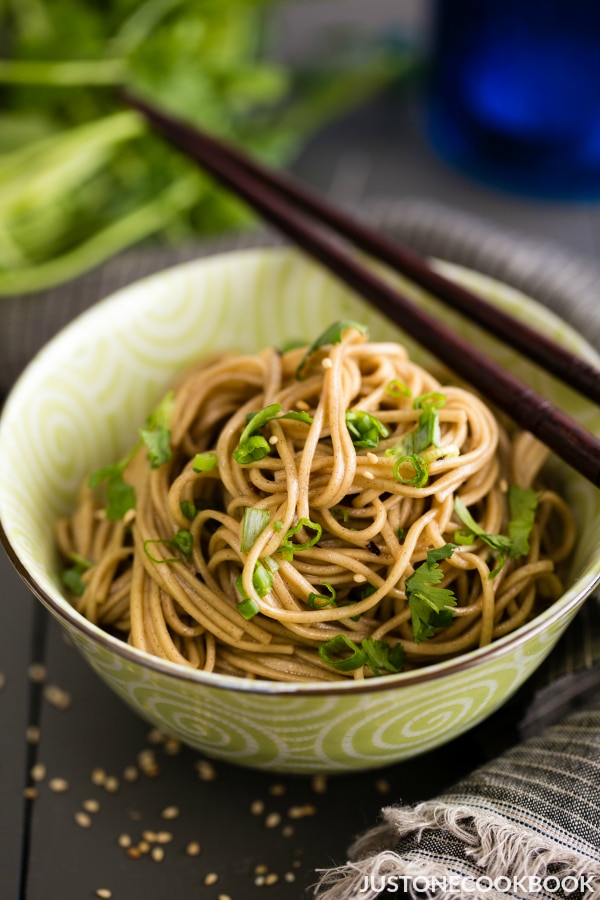 Popular Soba Salad
This recipe was originally published in May 2013 and it's been one of the most popular recipes on Just One Cookbook.  This dish was inspired by my friend Tuyen's Asian style spaghetti salad.  Whenever she serves her spaghetti salad at parties, and it's always a huge hit among our friends.  I adapted her recipe by using less oil and substituted spaghetti noodles with soba noodles.
Feel free to customize this recipe based on your preference.  Add more crushed chili pepper if you like it really spicy.  You can also add thin strips of cucumbers and carrots to make it into a main dish instead of a side dish.
Few Tips for Soba Salad
Soba cooks much faster than spaghetti noodles so this salad can be completed in a very short time.  You can prepare the dressing ahead of time but I don't recommend to toss everything together until you are ready to serve, or else soba noodles will absorb the dressing and become soggy.
By the way, if you or your children don't eat spicy food at all, you can omit the crushed red peppers.  My husband who loves spicy food says he doesn't taste the spice (what!?), so please adjust the spice level to your liking.
I hope you will enjoy making this Soba Salad recipe!  If you try it, don't forget to share your picture on Instagram, Facebook, or Twitter with #JustOneCookbook.  Thank you so much for reading, and till next time!
Don't want to miss a recipe? Sign up for the FREE Just One Cookbook newsletter delivered to your inbox! And stay in touch with me on Facebook, Google+, Pinterest, and Instagram for all the latest updates.
Soba Salad
Ingredients
For Dressing
1

Tbsp

neutral flavor oil (vegetable, canola, etc)

3

Tbsp

sesame oil

1/2

tsp

crushed red peppers (red pepper flakes)

3

Tbsp

honey

3

Tbsp

soy sauce
Instructions
Gather all the ingredients.

To make the dressing, combine 1 Tbsp. vegetable oil, 3 Tbsp. sesame oil, and ½ tsp. crushed red peppers in a small saucepan.


Whisk all together and infuse the oil over medium heat for 3 minutes. Alternatively, you can put these ingredients in a small microwave-safe bowl and microwave for 3 minutes. Set aside to let it cool a bit; be careful while handling as it'll get very hot.


Add 3 Tbsp. honey and 3 Tbsp. soy sauce to the oil mixture.


Whisk all together until honey is completely dissolved.


Bring water to a boil (You do not need to salt the water for cooking soba.). Cook the soba noodles according to the package instructions, but make sure they are al dente. Drain into a colander and rinse the soba noodles under cold running water. This step is important to remove the start from the soba noodles. Drain well and transfer to a large bowl.


Thinly slice the green onions and chop cilantro into small pieces.


Combine the soba noodles, dressing, green onion, cilantro, and sesame seeds in the bowl.


Toss everything together. Transfer to a serving bowl or plate. Serve chilled or at room temperature.

Recipe Notes
Recipe by Namiko Chen of Just One Cookbook. All images and content on this site are copyright protected. Please do not use my images without my permission. If you'd like to share this recipe on your site, please re-write the recipe in your own words and link to this post as the original source. Thank you.
Editor's Note: This post was originally published on May 13, 2013.  It is updated with new content, new video and new step-by-step pictures.