Coated with a sticky, sweet, and savory ginger sauce, this Ginger Pork Rolls with Eggplant recipe makes the tastiest weeknight meal for the family.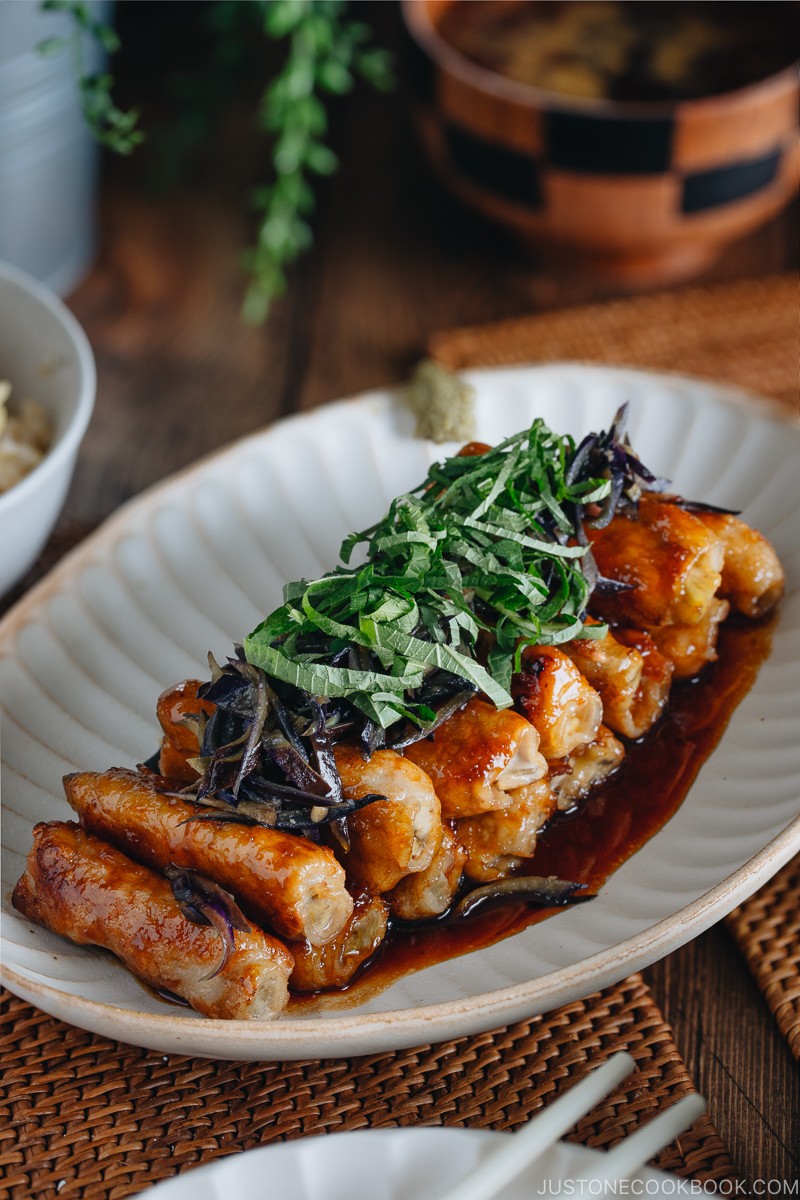 One of the delicious combinations of food I enjoy is pork, eggplant, shiso leaves, and ginger-based sweet soy sauce. Today's recipe – Ginger Pork Rolls with Eggplant (茄子の肉巻き生姜焼き) is in every way the marriage of all these ingredients. As a result, you get a homey and tasty dish that goes amazingly with rice.
Why You'll Love This Recipe
This pork roll recipe is very simple and easy to make, and I especially love that it is super bento-friendly. The kids get vegetables and meat together, and with a delicious savory sauce that even at room temperature, the pork rolls are still delicious by lunchtime.
You will be surprised by how fast it can be put together and the complexity of the flavors it offers!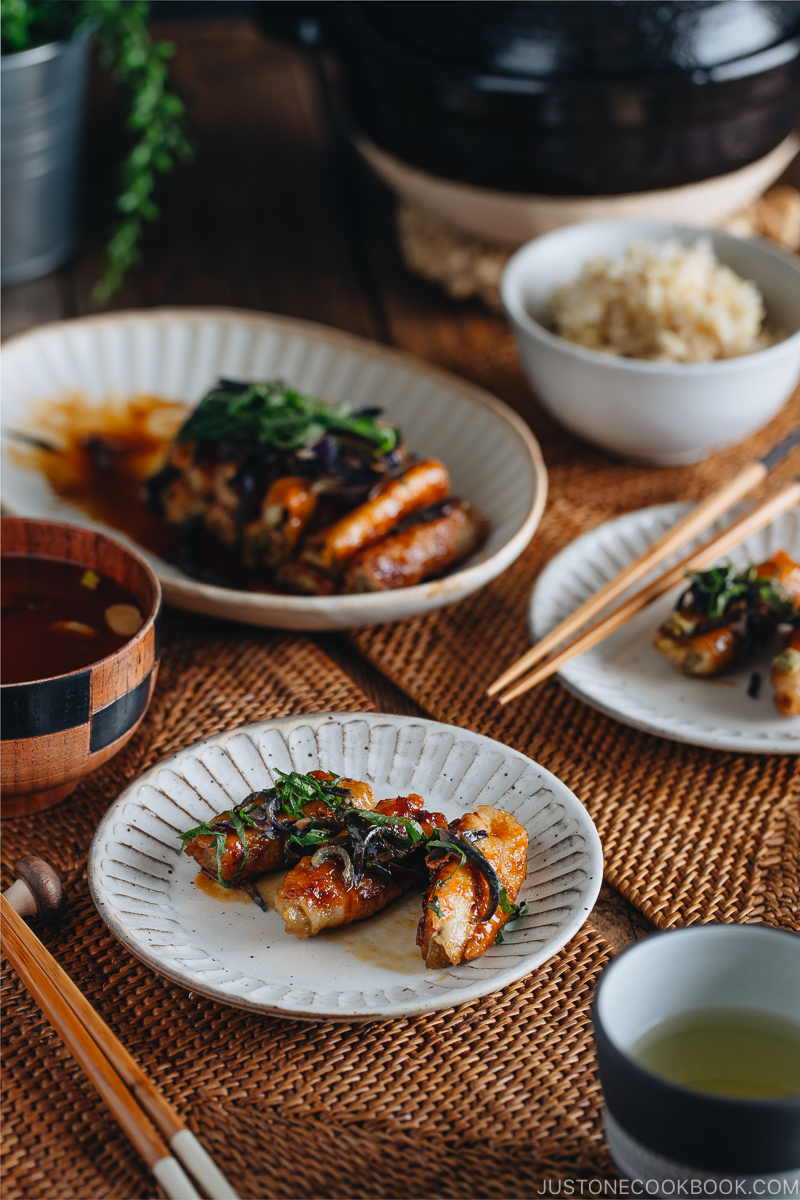 Use Thinly Sliced Meat
Many of you have asked me what Japanese people eat at home that we don't eat at restaurants. Well, pork or beef rolls like today's recipe is definitely one of the examples of food we eat at home. An honest-to-goodness kind of food that our grandmothers and mothers cook for the family.
Japanese don't typically consume a lot of meat, so it's not common to cook a whole chicken or a big block of pork or beef. Instead, we eat a whole range of foods, rice or noodles for carbs, plenty of vegetables and soy-based foods like tofu, seafood, and a small amount of meat in a meal.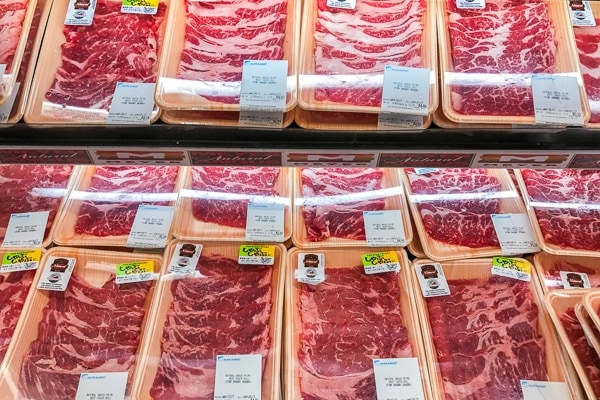 When you go to Japanese markets, you will see pre-sliced pork and beef that are as thin as paper. We call this cut of meat "Usugiri Niku"(薄切り肉), thinly cut meat.
These thinly sliced meats can be from different parts of the meat. For example at the Japanese grocery store I visit, they carry pork belly slices, super thin pork loin slices (for Shabu Shabu), and semi-thin pork loin slices (for Sukiyaki). Same goes with the beef cut. In Japan, there are more categories for thinly sliced meat.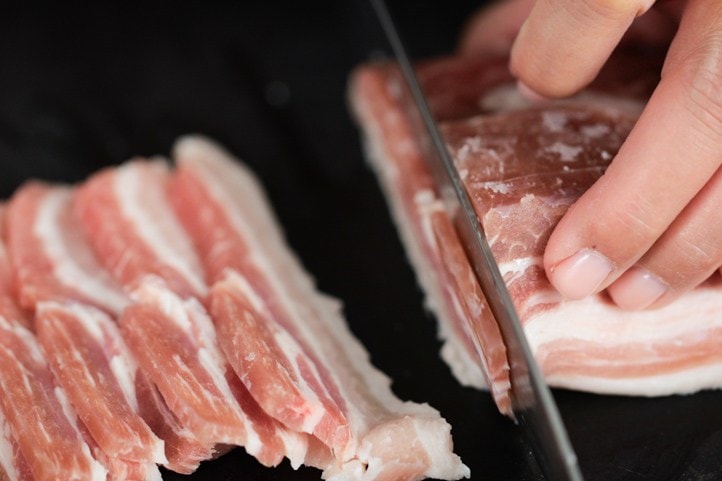 If you can't find thinly sliced meat locally, here's the tutorial on How to Slice Meat Thinly (with video).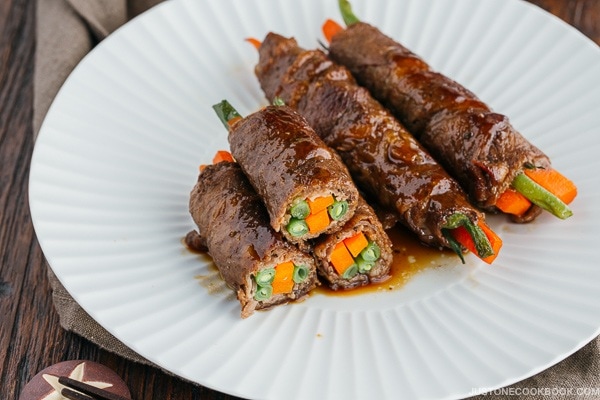 On Just One Cookbook, you'll find different meat roll recipes using thinly sliced pork/beef: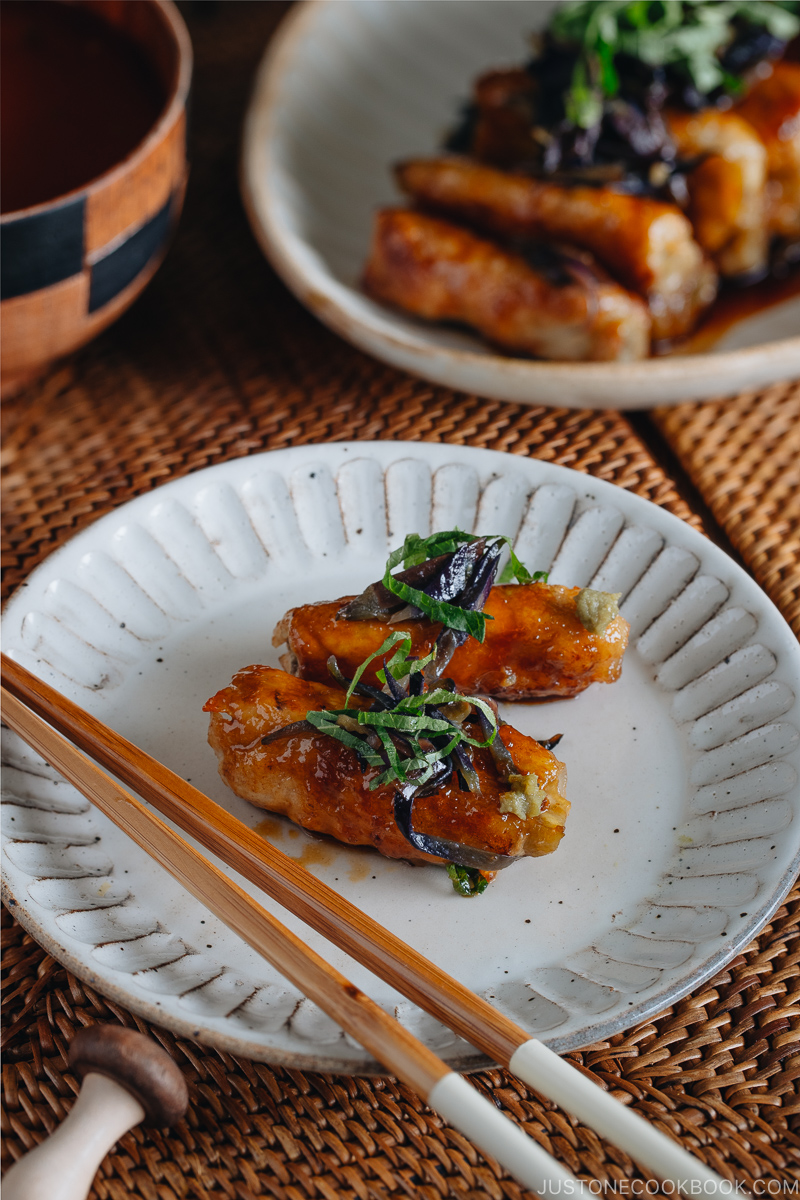 What is Shiso?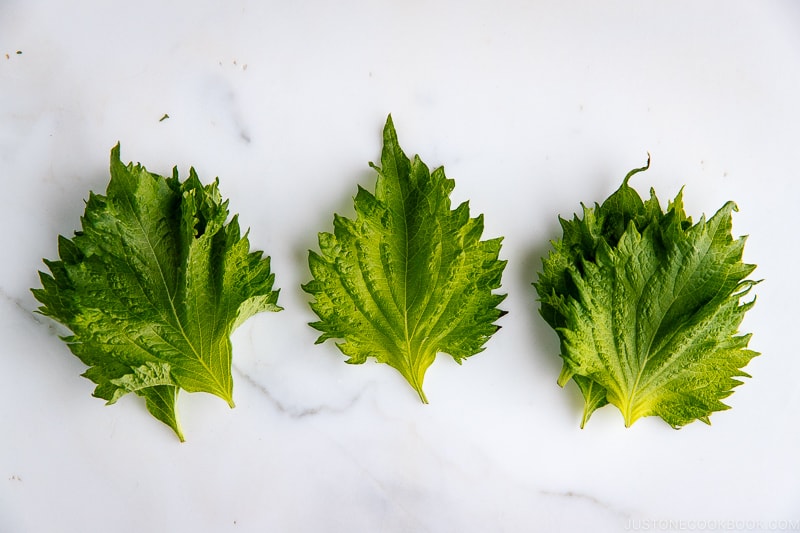 Shiso (perilla leaves) is my favorite Japanese herb that I often use to add extra zing and to elevate the presentation of a dish. It is an optional ingredient, but it's worth getting if you live near a Japanese grocery store or lucky enough to have access from your farmers market.
This herb is also super easy to grow with low maintenance, and many Just One Cookbook readers have started growing their own shiso plants from seeds (you can purchase from Kitazawa Seed online).
You can also substitute with mint and Thai basil, but they don't taste similar to shiso. So enjoy it as a variation of this dish!
What is Yuzu Kosho?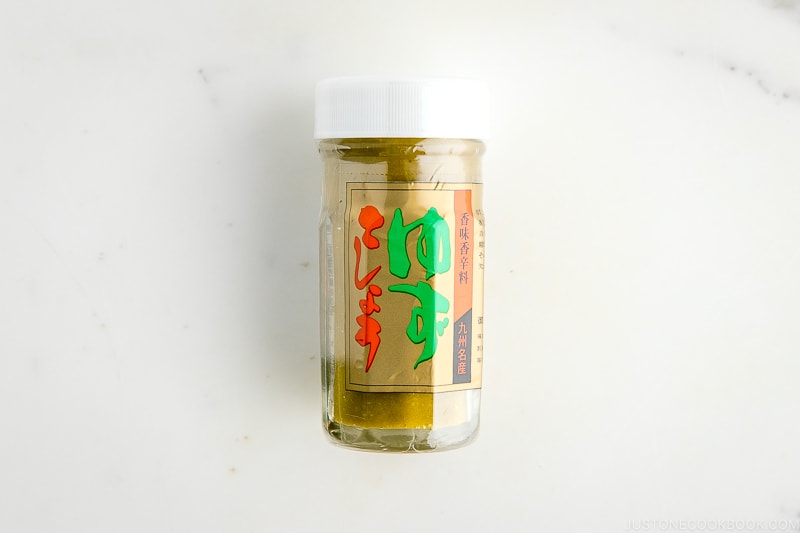 Came from Kyushu area, yuzu kosho is a little spicy but packed with umami flavor. It's made of red chili pepper fermented with salt and yuzu zest and has the ability to enrich any bland dish. Just a tiny dab of yuzu kosho goes a long way.
I like serving Ginger Pork Rolls with Eggplant with a small drop of yuzu kosho on the serving plate. Feel free to skip it, but you can find yuzu kosho on Amazon if you're curious to try. If you appreciate flavors, you'd be happy that you have one in your pantry. It's truly a magical condiment.
And when you make these Ginger Pork Rolls with Eggplant for your family, do cook up more rice as everyone will be going for seconds! It's everything we all love about home-cooked food.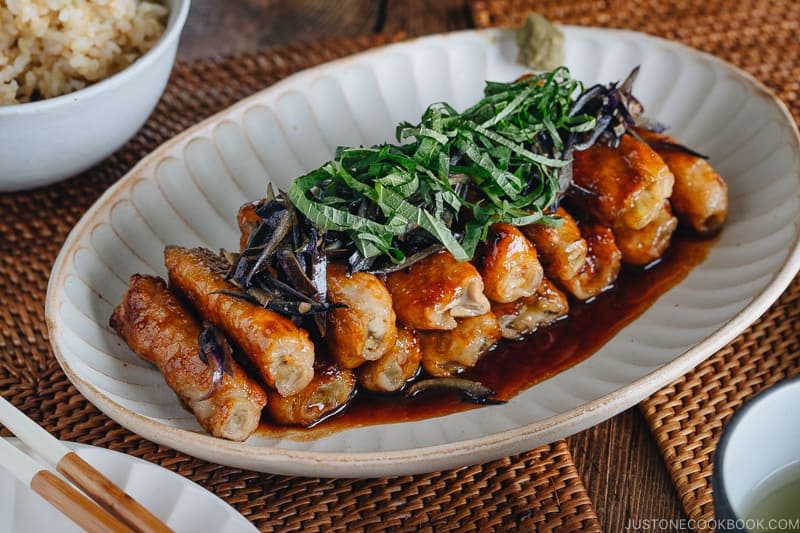 Wish to learn more about Japanese cooking? Sign up for our free newsletter to receive cooking tips & recipe updates! And stay in touch with me on Facebook, Pinterest, YouTube, and Instagram.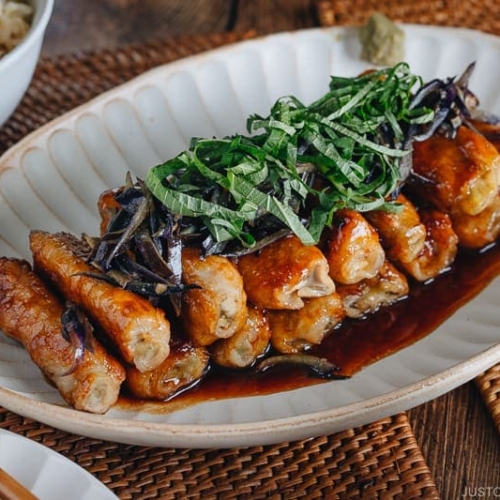 Ginger Pork Rolls with Eggplant
Perfectly juicy and savory Ginger Pork Rolls with Eggplant! This is something that you won't find on menus at your local Japanese restaurants, but the combination of pork, eggplant, and shiso leaf is simply amazing.
Servings:
2
(as main, 3 as side dish)
Ingredients
Japanese Ingredient Substitution:
If you want substitutes for Japanese condiments and ingredients, click
here
.
Instructions
Gather all the ingredients.

Grate the ginger and measure

½ tsp ginger

(grated, with juice).

In a small bowl, combine all the ingredients for the sauce:

2 Tbsp soy sauce

,

2 Tbsp mirin

,

1 Tbsp sake

,

1 tsp sugar

, and the grated ginger.

Peel

2 Japanese eggplants

with a peeler and soak the peeled skin in water.

Cut the eggplant into 2-inch (5-cm) pieces widthwise, and cut each piece in half.

Then, cut each piece into 4 sticks and soak in water for 10 minutes to remove the bitterness and prevent from changing the color.

Now cut the eggplant skin into julienne strips and continue to soak in water.

Remove any moisture on the eggplant with a paper towel.

Wrap 2 eggplant sticks with a thin slice of pork. Continue with the rest of the

½ lb thinly sliced pork loin

.

Sprinkle half of

2 Tbsp potato starch or cornstarch

on the pork rolls and spread over the meat. Then, flip over and spread the remaining potato starch or cornstarch. Remove any excess starch.

In a large nonstick frying pan, heat

1 Tbsp toasted sesame oil

on medium heat. Add the pork rolls.

Cook them until all sides are golden browned.

Cover the pan with a lid and cook on medium-low heat, until the eggplant is tender, roughly 2–3 minutes.

Add the sauce to the pan.


Coat the pork rolls well by rotating them and spooning the sauce over.

Serve the pork rolls on a plate and pour the sauce on top.

In the same pan (without washing), add the eggplant skin and

½ tsp miso

. 

Mix well together and cook on medium-low heat until tender, about 2–3 minutes. Put the skins on top of the eggplant. 

Roll up

4 shiso leaves (perilla/ooba)

and cut into chiffonade strips.

Garnish the pork rolls with shiso leaves. If you like it spicy, serve with a dab of

yuzu kosho (Japanese citrus chili paste)

. You can put a tiny bit of it on the pork roll and enjoy!
Nutrition
Nutrition Facts
Ginger Pork Rolls with Eggplant
Amount per Serving
% Daily Value*
* Percent Daily Values are based on a 2000 calorie diet.
©JustOneCookbook.com Content and photographs are copyright protected. Sharing of this recipe is both encouraged and appreciated. Copying and/or pasting full recipes to any website or social media is strictly prohibited. Please view my photo use policy
here
.
Editor's Note: This post was originally published on February 21, 2011. New images and step by step images have been added to the post in May 2019.