Hoba Miso is a regional dish in Hida Takayama area of Japan. In this recipe, I'll show you how to re-create this beautiful dish at home.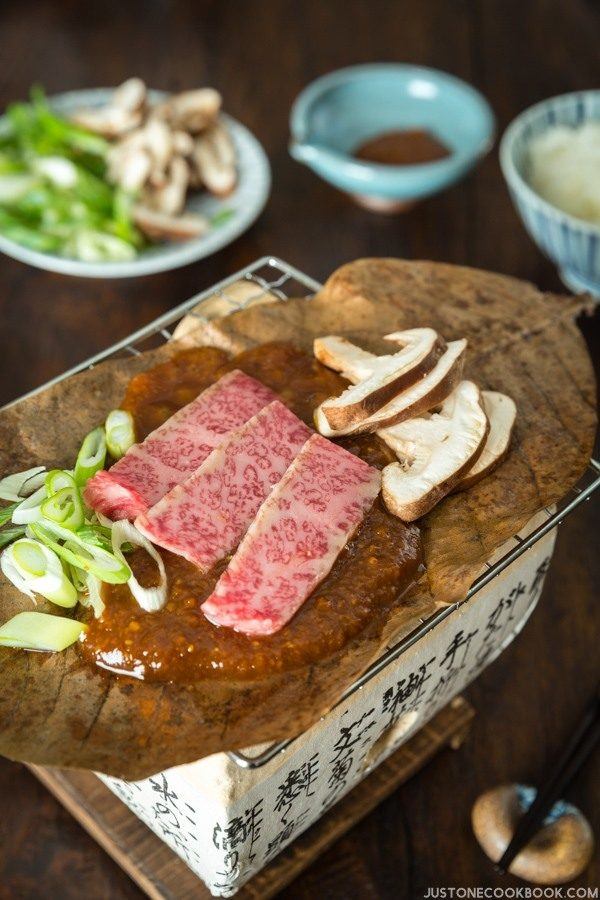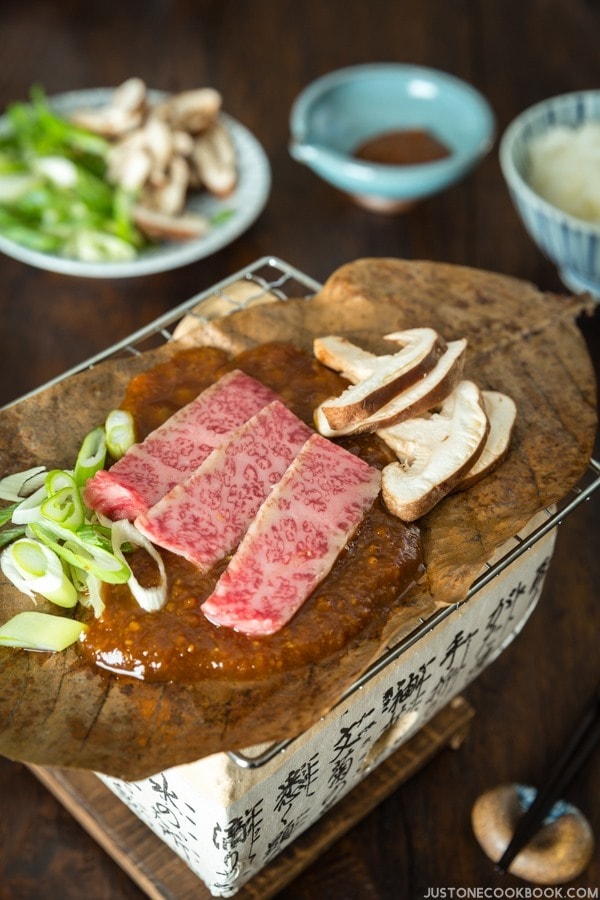 When we were in Toyama and Takayama this past summer, one of the dishes that I truly fell in love was Hoba Miso (朴葉味噌). This is a local food from Hida region in Gifu prefecture.
"Hoba" means a magnolia leaf in Japanese and the dried hoba leaf is soaked then used to cook the sweet miso mixture over fire. This is such a humble dish, yet it tastes so amazing I remembered the experience as if I just ate it yesterday.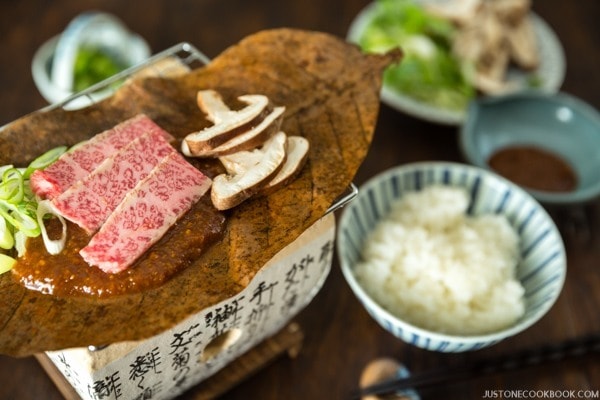 How To Enjoy Hoba Miso
The lady who served our meal at the ryokan explained that the locals in area have been enjoying Hoba Miso for many years.
In the Hida region, the winter months are harsh and snowy. Back then, there weren't many crop and food available during the winter months and the poor farmers would eat hoba miso as "okazu" (a side dish to accompany rice) as there were not much food available.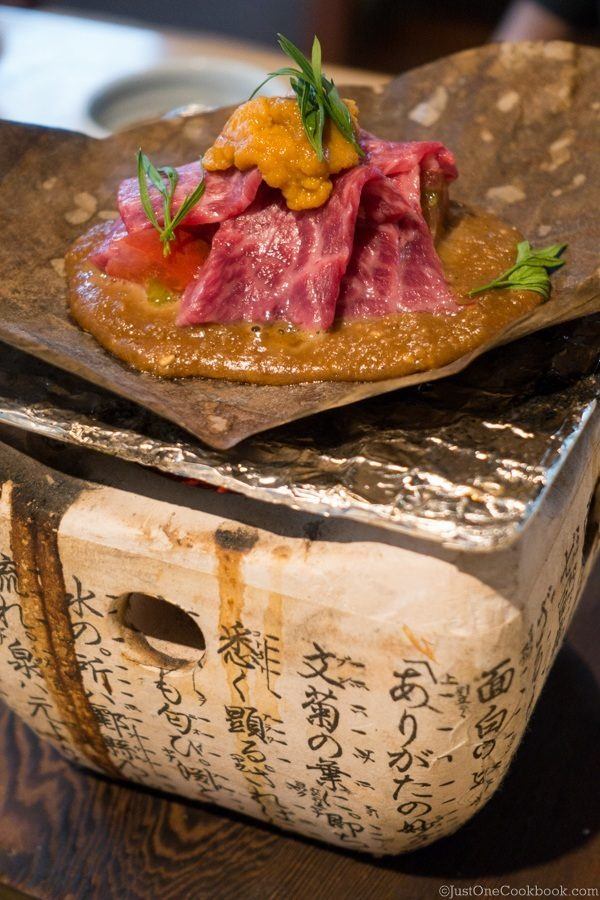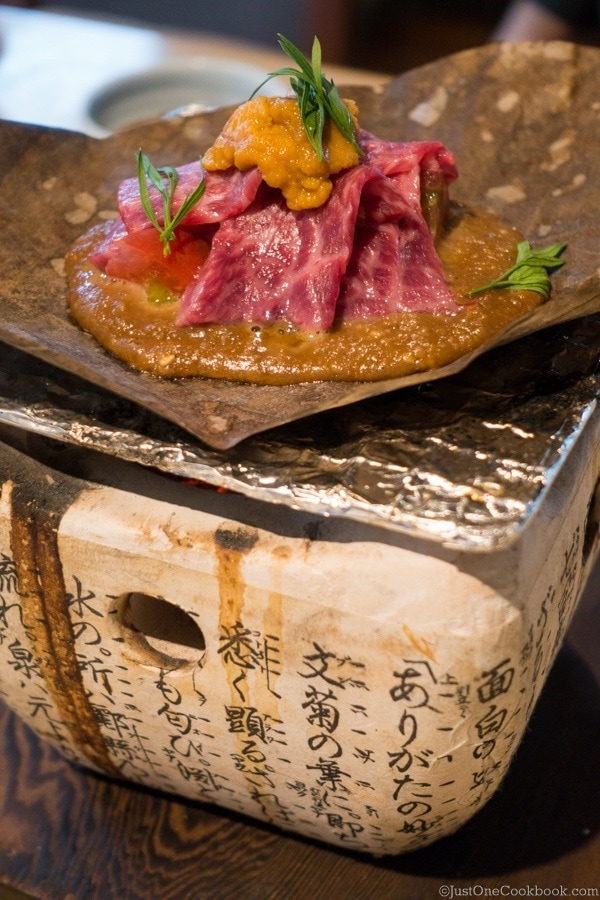 Fast forward to the present time, it's kind of ironic that ryokans and restaurants now serve hoba miso with well-marbled and prized local Hida Beef (飛騨牛) as a signature dish for the region.
Hoba miso does not have to be cooked with beef or vegetables and can be enjoyed just by itself. When we were in Takayama, our breakfast course included plain hoba miso. It was cooked over hoba leaf without any other ingredients besides scallions.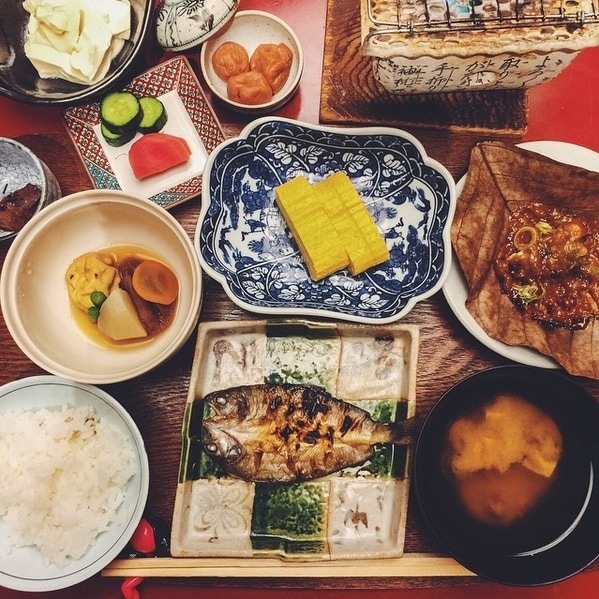 The miso would be heated until it bubbles around the edge. With chopsticks, scoop small amount of miso and enjoy it together with steamed rice.
To bring back the memory of this dish we had in Takayama, we looked for Hida Beef here in the US but it wasn't available. We decided to substitute with Miyazaki Beef from Japan, which should be as good as the Hida Beef we had in Takayama.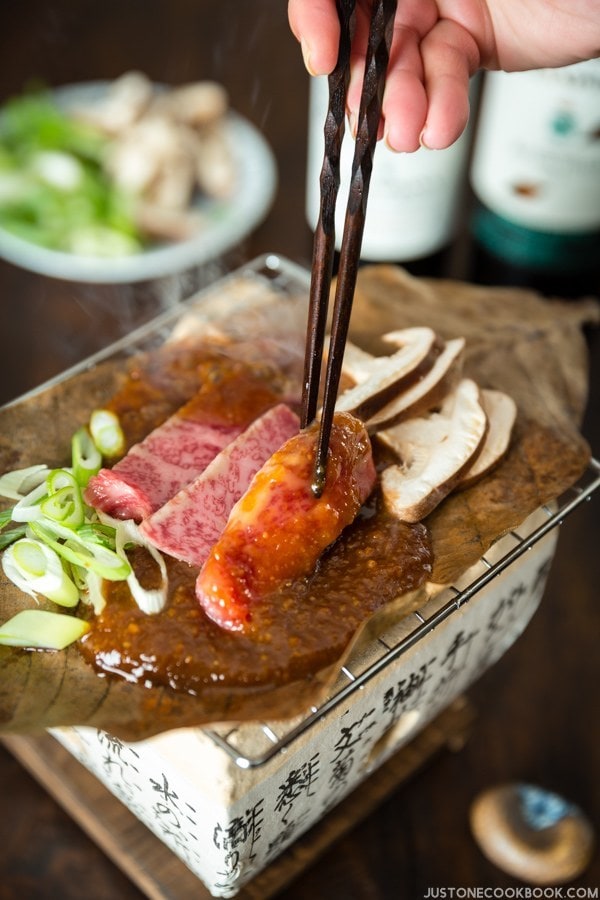 How To Prepare 
Hoba Miso
I understand that this recipe is almost impossible to re-create without dried hoba leaves, but I still want to introduce you to this regional Japanese recipe.
You can actually make the recipe without hoba leaves, however it will lack the fragrance and flavor infused from cooking on the leaf. In place of hoba leaf, you can use a sheet of aluminum foil instead. If you have hoba leaf but don't have a shichirin, just use a frying pan. I have tried this method and it works great.
Simply put all the ingredients together for miso, place them on a hoba leaf or aluminum foil, and cook it over a heat element. Very simple. You can add beef, chicken, tofu, or any other protein you like, and/or vegetables and mushrooms.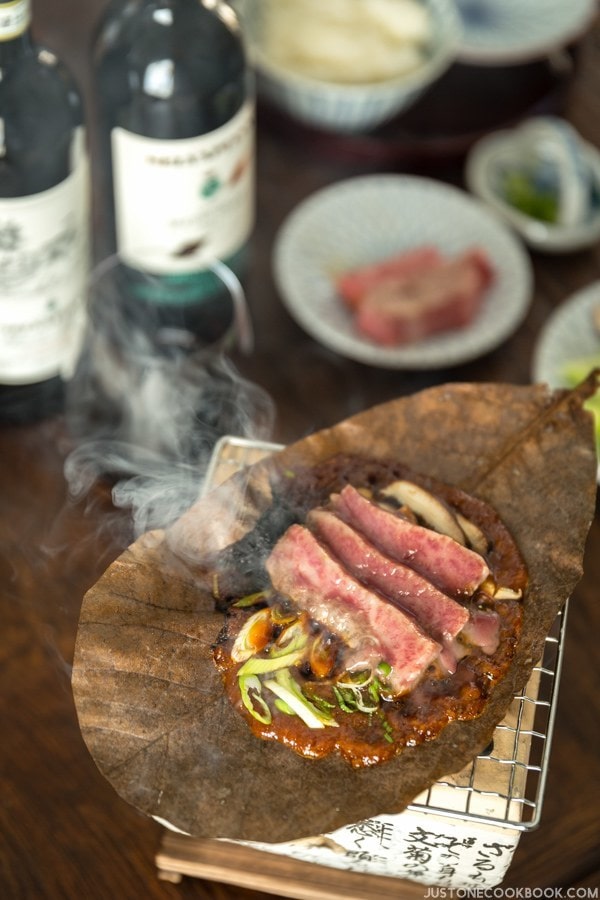 Hoba Miso with Pairing with Wine
For this delicate amazing dish, we tried it with two wines from Fattoria Selvapiana, the 2012 Chianti Rufina DOCG and 2010 Chianti Rufina Riserva "Bucerchiale" DOCG. Selvapiana is a family owned producer with over 180 years of history and currently run by the 5th generation of the family.
Both wines were delicious but very different; the Bucerchiale is their flagship wine and oh my, it was delicious! As you sniff the wine, you can already taste the strong flavor of the mature grape through the smell. Yet as you take a first sip, expecting a strong taste instead it is light, very soft and gentle and creamy on the tongue. The flavors are berries and a slight hint of spaces, with a dry finish and not overly sweet. Exceptionally elegant.
The 2012 Chianti Rufina DOCG is tastes much younger and is more fun, definitely not as refined. The initial taste is crisp and clean, with a rush of berries and a dry flavorful earthy finish. I don't know Chianti wine as well but both of these wines are fabulous and the friends I shared them with agree as well.
Both wines are significantly less sweet than California wines, and they are great for chatting with friends or with a meal. While eating the Hoba Miso beef, the wine refreshed the palate and balanced the fat really well. I highly recommend these wines for a party or with a meal.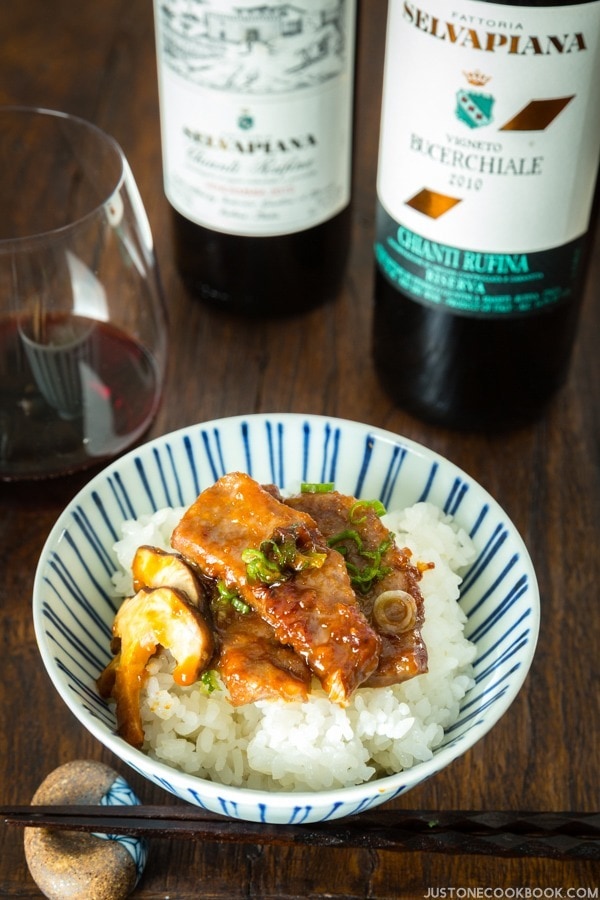 If you enjoy making this dish from Hida region in Japan! If you try it, don't forget to share your picture on Instagram, Facebook, or Twitter with #JustOneCookbook. Thank you so much for reading, and till next time!
Don't want to miss a recipe? Sign up for the FREE Just One Cookbook newsletter delivered to your inbox! And stay in touch on Facebook, Google+, Pinterest, and Instagram for all the latest updates.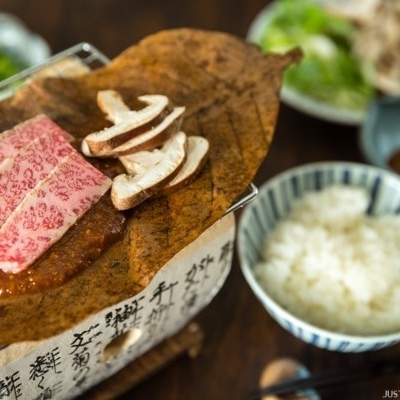 Hoba Miso with Beef
Hoba Miso is a regional dish in Hida Takayama area of Japan. In this recipe, I'll show you how to re-create this beautiful dish at home.
Japanese Ingredient Substitution:
If you want substitutes for Japanese condiments and ingredients, click
here
.
Instructions
Gather all the ingredients.

Soak the hoba leaves in the water for at least 20 minutes. This prevents the leaf from burning when you cook the leaf over open flame.


Meanwhile, combine miso, mirin, and sugar in a small bowl and mix well.


Slice the beef into ½ inch (1.3 cm) thickness. If you're using well-marbled wagyu from Japan, I recommend slicing the beef when it's still slightly frozen. Otherwise, if the beef was at room temperature, the fat easily melts when you touch it with your finger and it's become very hard to cut.


Cut the shiitake mushrooms, the negi, and green onion/scallion.

Light the portable fuel (I used Sterno brand). If you don't use a shichirin to cook, you can use a non-stick frying pan to cook instead. There is no need to oil the frying pan, simply place the leaf on top.


When the leaves have soaked for 20 min, gently dry with paper towel and spread the miso mixture on the leaves where you will be placing the ingredients.


Place the negi (scallions), shiitake mushrooms, and steak on the miso.

Cook the beef over an open flame or on medium-high heat until you see the miso starts to bubble around the edge. When the beef is cooked on the bottom side, flip and cook the other side.

As miso gets burn easily, it's NOT recommended to re-use the leftover miso or the same leaf. Instead, use the leftover miso as a condiment and enjoy it with steamed rice.
To Store
You can keep the leftovers in an airtight container and store in the refrigerator for 2 days.
Nutrition
Nutrition Facts
Hoba Miso with Beef
Amount per Serving
% Daily Value*
* Percent Daily Values are based on a 2000 calorie diet.
©JustOneCookbook.com Content and photographs are copyright protected. Sharing of this recipe is both encouraged and appreciated. Copying and/or pasting full recipes to any website or social media is strictly prohibited. Please view my photo use policy
here
.
Please note: We received no compensation for the wine review. We received the 2012 Chianti Rufina DOCG and 2010 Chianti Rufina Riserva "Bucerchiale" DOCG from Jarvis Communications free of charge to use in exchange for an honest review.