Meal prep Homemade Instant Miso Soup ahead of time and take it to your office or school! It takes less than 10 minutes to prepare, and you can enjoy miso soup instantly at any time.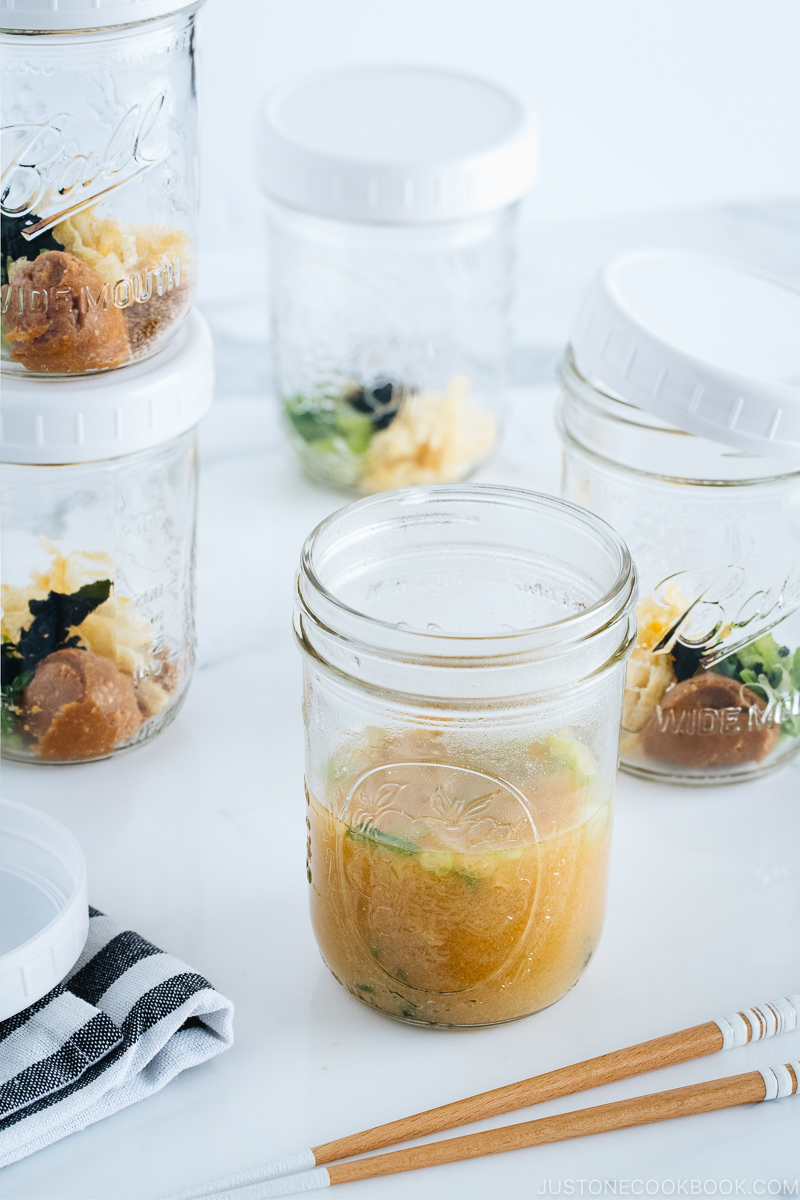 For many Japanese, a bowl of delicious miso soup is a daily necessity for the soul. Today I want to introduce Homemade Instant Miso Soup (即席味噌汁) for those who love miso soup.
Traditional Way of Making Miso Soup
You most likely have cooked miso soup before, but just in case you haven't, the process is pretty simple:
Make dashi (Japanese soup stock). I have a detailed dashi guide, explaining different types of dashi and how to make them. Unlike chicken or beef stock, Japanese dashi is SUPER easy to make and takes just 15-20 min total from scratch.
Add ingredients of your choice such as tofu, wakame seaweed, etc.
Add miso.
That's it. And here are some of popular miso soup recipes on Just One Cookbook.
But what if you don't have 20 minutes to make homemade dashi? How about the time you wish to drink miso soup outside of the home at the office or school? And what if you want to drink miso soup right now? Enter Instant Miso Soup.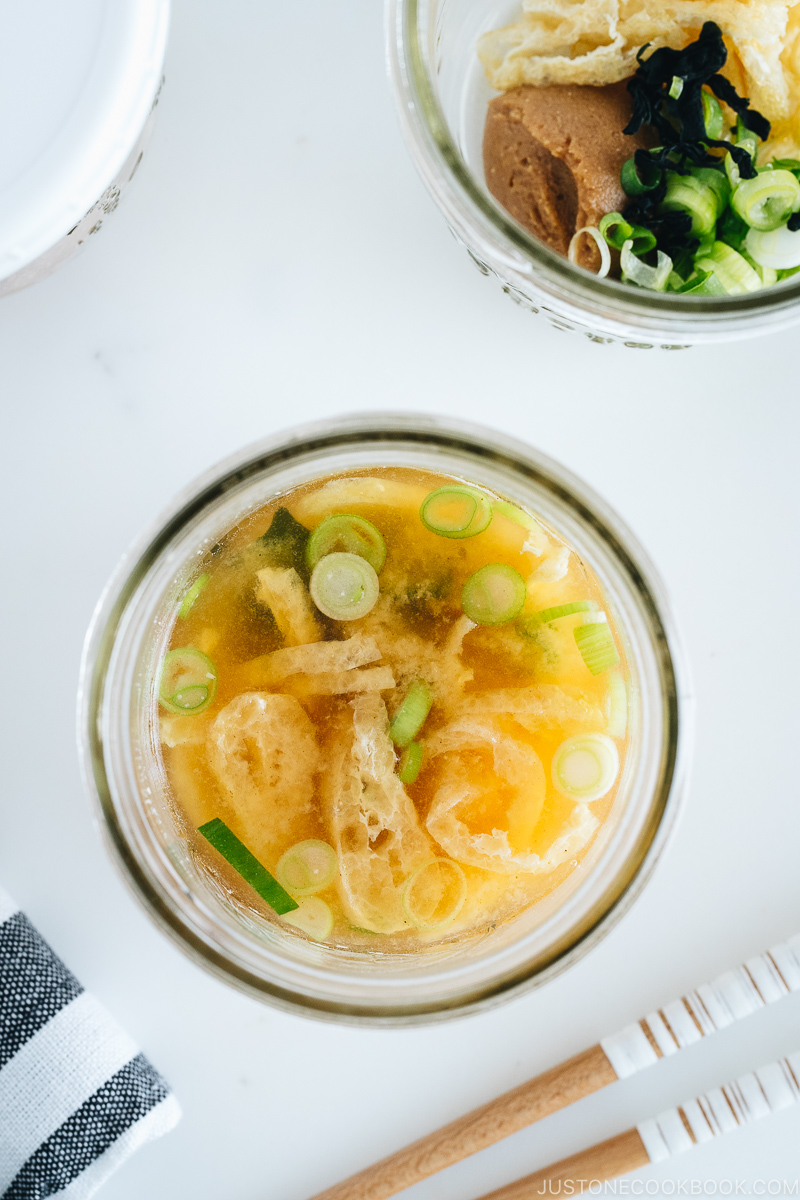 Make Instant Miso Soup at Home
My Instant Miso Soup is the solution for those of you who are too busy and always on the go but still crave the warm comforting soup to soothe the soul.
Let's go over 4 things you need for making Homemade Instant Miso Soup.
1. Containers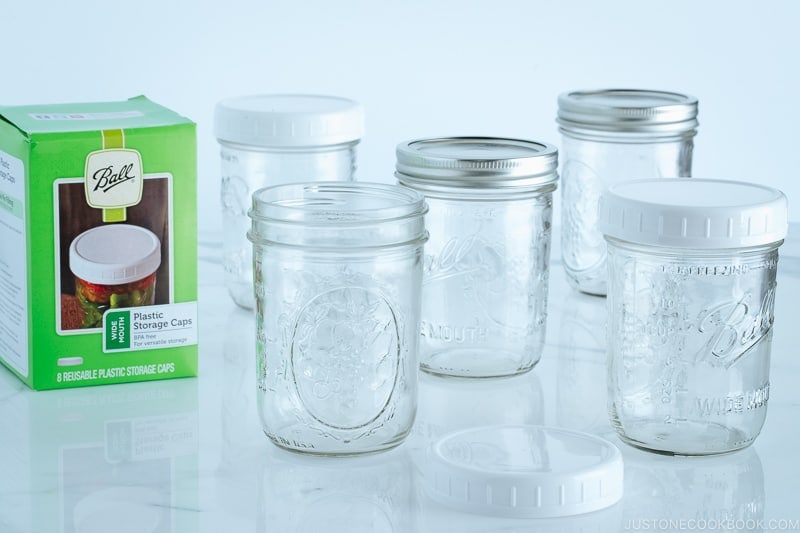 When I was looking for an efficient way to make individual miso soup packages, I figured that mason jars would work the best to serve as the portable single-serving container. It's convenient and environmentally friendly.
I chose a 1-pint (2 cups/473 ml) mason jar as the Instant Miso Soup container because you will have plenty of space on top to hold the jar safely when hot water fills up to half of the jar. It also provides extra room if you want to add more ingredients.
To cap the jars, you can purchase these plastic caps for easy storage and cleanup.
2. Dashi – Japanese Soup Stock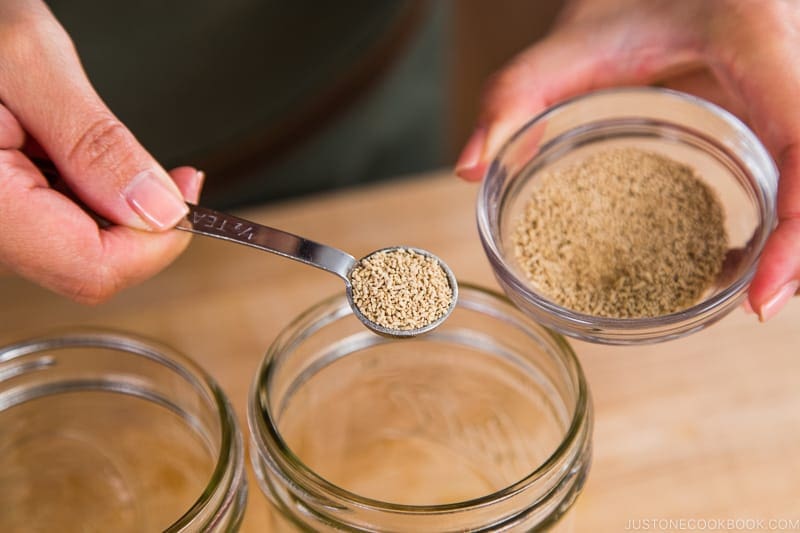 It's not a true miso soup unless you use dashi. And please do not consider substituting with vegetable or chicken stock. If you are vegetarian/vegan, your dashi option is Kombu Dashi.
Realistically, to make dashi instantly, we have two choices.
Use dashi powder (buy at Japanese grocery stores or on Amazon). You can find kombu dashi powder as well. One thing to note, I always use additive-free or msg-free dashi powder. If you are sensitive to MSG please check the dashi powder ingredients before purchasing.
Use miso that already includes dashi (see next).
3. Miso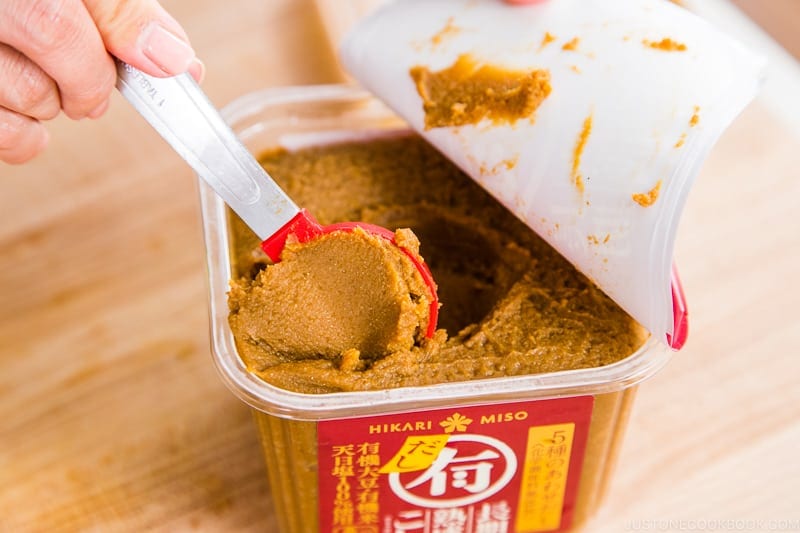 The great thing about miso is that you can consume it straight out of the tub/package. It's quite salty by itself, but you don't need to cook it.
For homemade instant miso soup, using miso that already contains dashi, such as "Maru-Yu" Dashi Iri Yuki Miso (Organic) from Hikari Miso above, becomes extremely handy.
If you can't find miso with dashi in it, simply use your favorite kind of miso and add dashi powder that I mentioned.
I've been partnering with Hikari Miso® monthly to share various miso recipes on Just One Cookbook. Personally, I've been using their miso for over a decade (I discovered the brand after I got married), and it's been fun trying out varieties of their amazing miso. Depending on the availability at your grocery store, there are all different types of miso from Hikari Miso (Learn about types of miso here).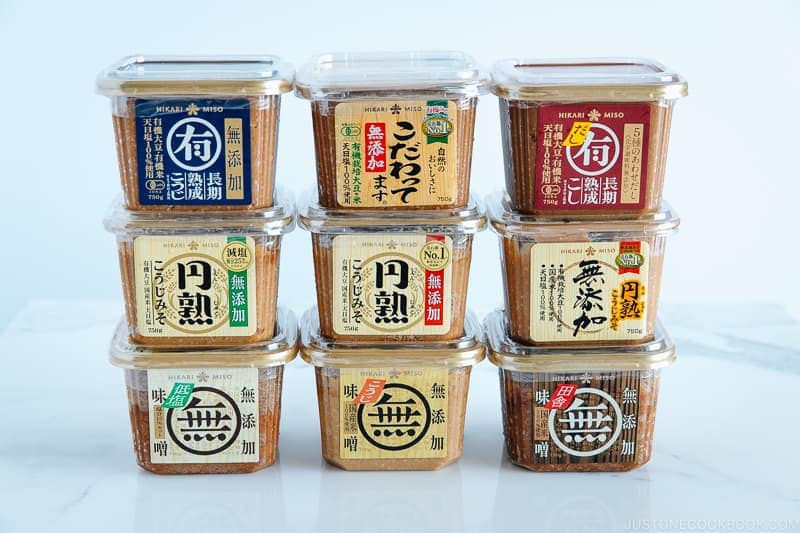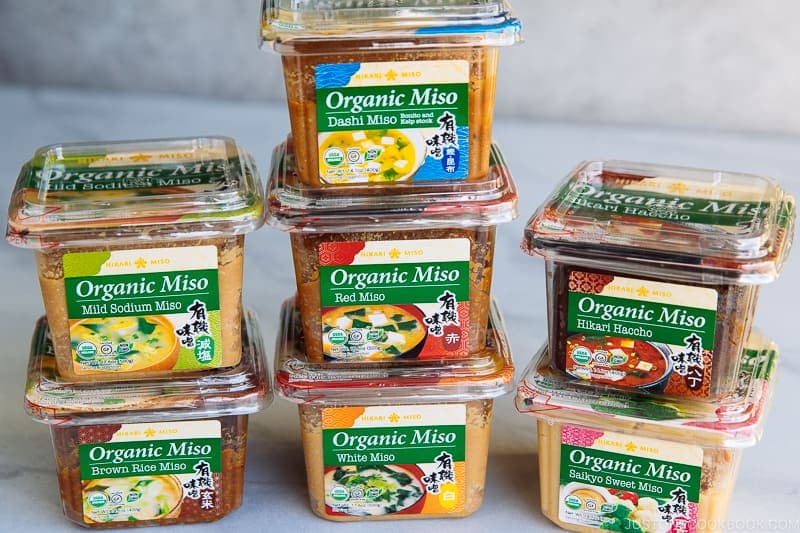 Miso-to-Water Ratio in Miso Soup
If you have used different brands and types of miso in the past, you know each miso tastes pretty different. As I explained in my Homemade Miso recipe/post, the amount of salt used for each miso varies. Hence, you have to adjust the amount of miso depending on the brand/type of miso and your own preference.
In Japan, the general rule of thumb for miso to water ratio is 1 Tbsp miso to 200 ml water. The typical size of the miso soup bowl contains about 200 ml liquid. When you buy a new tub of miso, taste a tiny bit and see how the new miso taste compared to the previous one.
And finally, the last thing you need for Homemade Instant Miso Soup…
4. Miso Soup Ingredients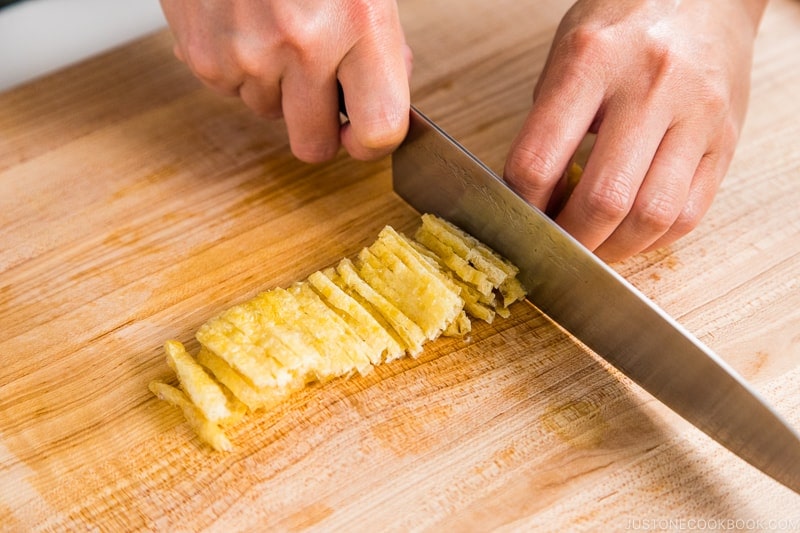 For today's recipe, my focus was to store the Instant Miso Soup in the refrigerator as long as possible, at least enough to last the whole week. Therefore, keeping the ingredients dry was the most important factor. My miso soup ingredients include:
Aburaage (deep-fried tofu pouch)
Green onion/scallion
Dried wakame seaweed
I chose relatively dry/drier ingredients so that ingredients won't go bad in the refrigerator. The goal is to make Homemade Instant Miso Soup accessible, and ideally, you don't have to prepare them too frequently.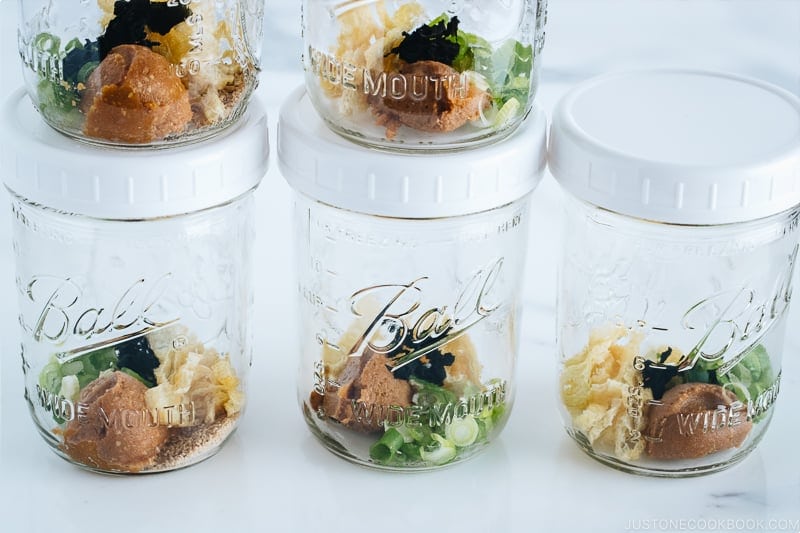 However, if you plan to consume your Homemade Instant Miso Soup in 1-2 days, you can add:
Tofu
Blanched greens (spinach, snap peas, bok choy, edamame, etc)
Mushrooms
Or any raw ingredients that go well with miso soup
What's your favorite miso soup ingredients?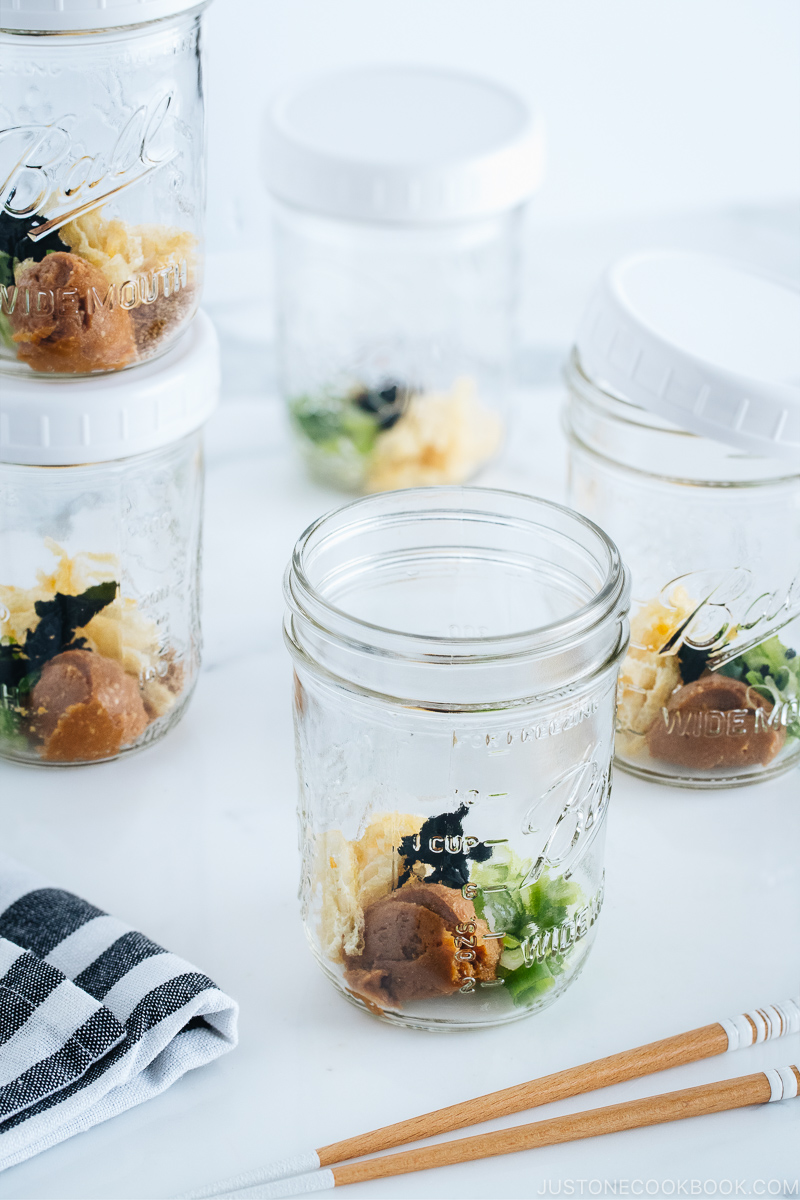 Store-bought vs. Homemade Instant Miso Soup
Lastly, I also want to mention that you can purchase Instant Miso Soup packages at Japanese and Asian grocery stores. I've tried different brands in the past (my lazy cooking days in college) but I can truly say I like the ones from Hikari Miso most (Amazon sells this less-salt one). Their miso is really good, maybe that's why.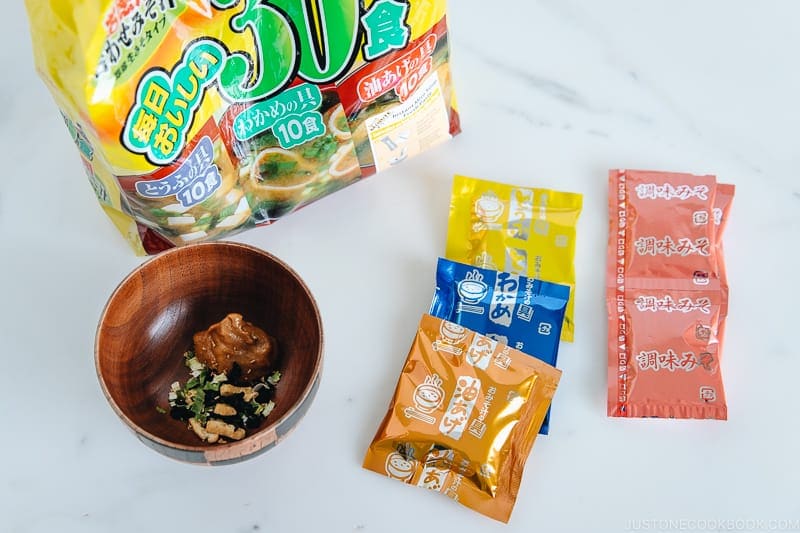 In any case, I still recommend making your own homemade instant miso soup. The main advantage of homemade soup is that it's MSG/additive-free, you can use your favorite miso, and it's totally customizable!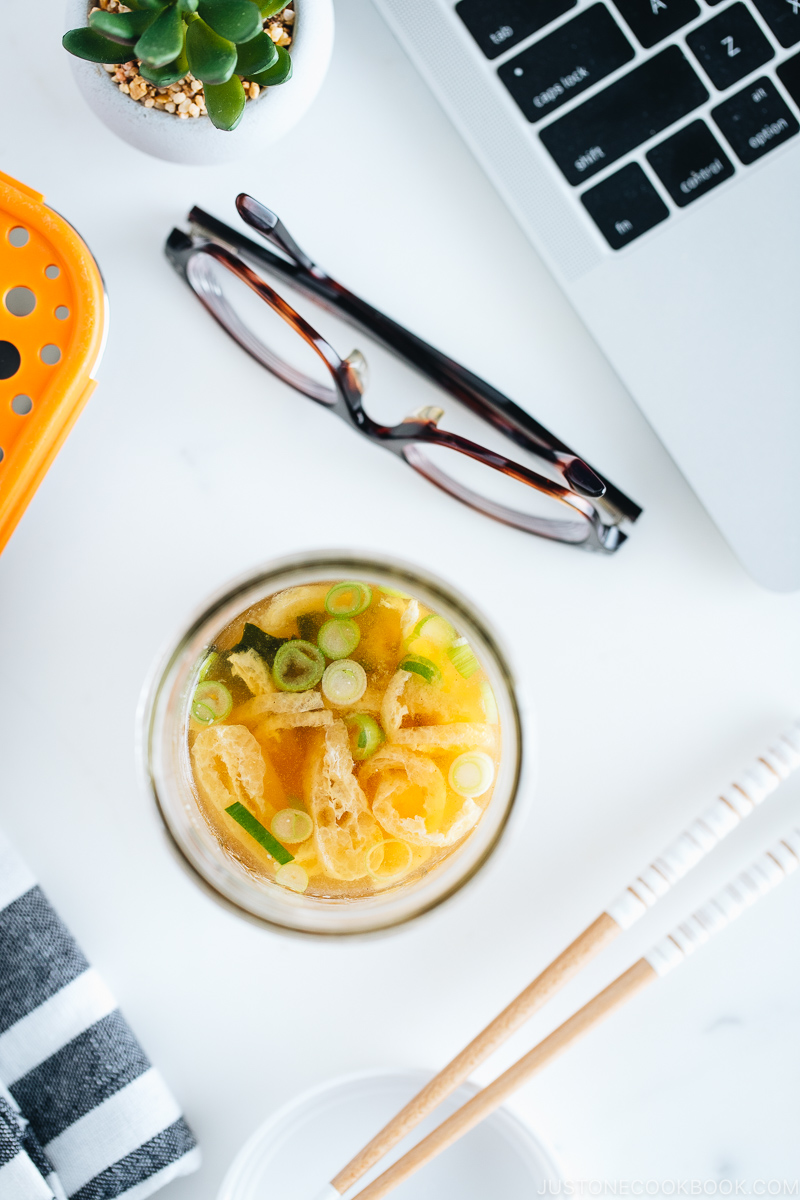 Homemade Instant Miso Soup On-the-Go
Take your homemade instant miso soup to your work or school. All you need is hot water. My kids grab them and make their own instant miso soup for breakfast (my babies have grown up!).
As I work from home, I usually take one for a mid-morning snack (after drinking Japanese Iced Coffee Mr. JOC makes every morning) to avoid snacking. Miso soup is so comforting and I hope you enjoy Homemade Instant Miso Soup any time of the day!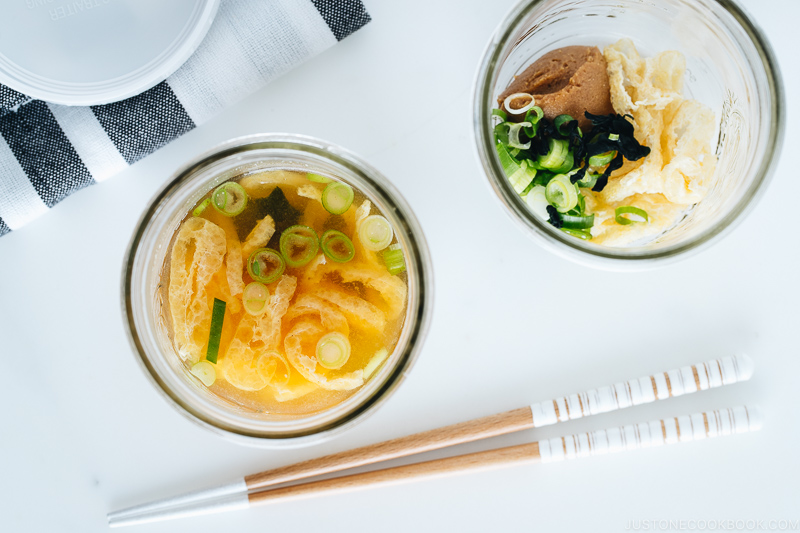 Wish to learn more about Japanese cooking? Sign up for our free newsletter to receive cooking tips & recipe updates! And stay in touch with me on Facebook, Pinterest, YouTube, and Instagram.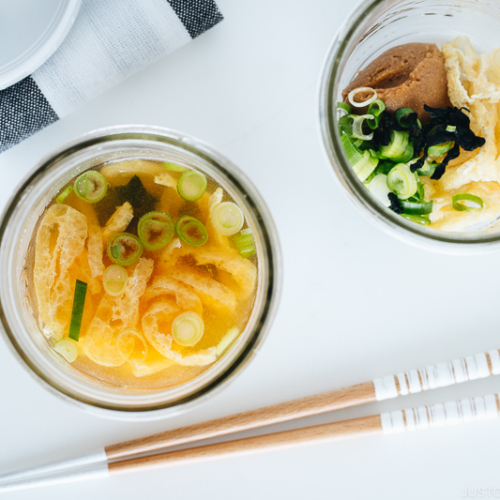 Homemade Instant Miso Soup
Meal prep Homemade Instant Miso Soup ahead of time and take it to your office or school! It takes less than 10 minutes to prepare, and you can enjoy miso soup instantly any time of the day!
Servings:
5
Instant Miso Soup Jars
Ingredients
For the Instant Soup Ingredients
To Make the Miso Soup
200

ml

boiling water

(per serving)
Japanese Ingredient Substitution:
If you want substitutes for Japanese condiments and ingredients, click
here
.
Instructions
Gather all the ingredients. If you use miso which contains dashi in it, skip the dashi powder. If your miso doesn't contain dashi, then you will need to prepare the dashi powder. The one I use in this recipe is MSG-free/additive-free. You can purchase a similar one on Amazon or Japanese grocery stores.

Boil roughly

2

cups (

460

ml) water and pour over both sides of

1 aburaage (deep-fried tofu pouch)

. The hot water help remove some of the oil from the production process. Once it's cool to the touch, squeeze tightly or pat dry with a paper towel.

Cut in half lengthwise and cut into thin strips widthwise.

Cut

2 green onions/scallions

in half and cut into thin rounds. Pat dry the chopped green onions with a paper towel to remove excess moisture.
To Assemble
Prepare

5

mason jars and caps.

If you are using miso without dashi: Scoop 1 Tbsp miso and add to each jar. Then add ½ tsp dashi powder to each jar.

If you are using miso with dashi: Scoop 1 Tbsp miso and add to each jar.

Divide the aburaage strips and green onion and add to the

5

jars.

Add ½ tsp dried wakame seaweed to each jar. Close the lid.

Store in the refrigerator for up to 6 days. If you make them on a Sunday, consume by Friday.

Pack in the insulated lunch box and you're ready to go! I usually drink one of these in mid-morning as a snack.
To Enjoy Instant Miso Soup
Pour boiling water to the 200 ml mark on the jar and mix well to let it dissolve into the broth. It's the same amount of liquid as Japanese miso soup bowls. Enjoy!
Nutrition
Nutrition Facts
Homemade Instant Miso Soup
Amount per Serving
% Daily Value*
* Percent Daily Values are based on a 2000 calorie diet.
©JustOneCookbook.com Content and photographs are copyright protected. Sharing of this recipe is both encouraged and appreciated. Copying and/or pasting full recipes to any website or social media is strictly prohibited. Please view my photo use policy
here
.