What is an Instant Pot? Learn the differences between instant pot vs. slow cooker & pressure cooker and how to cook delicious recipes with it.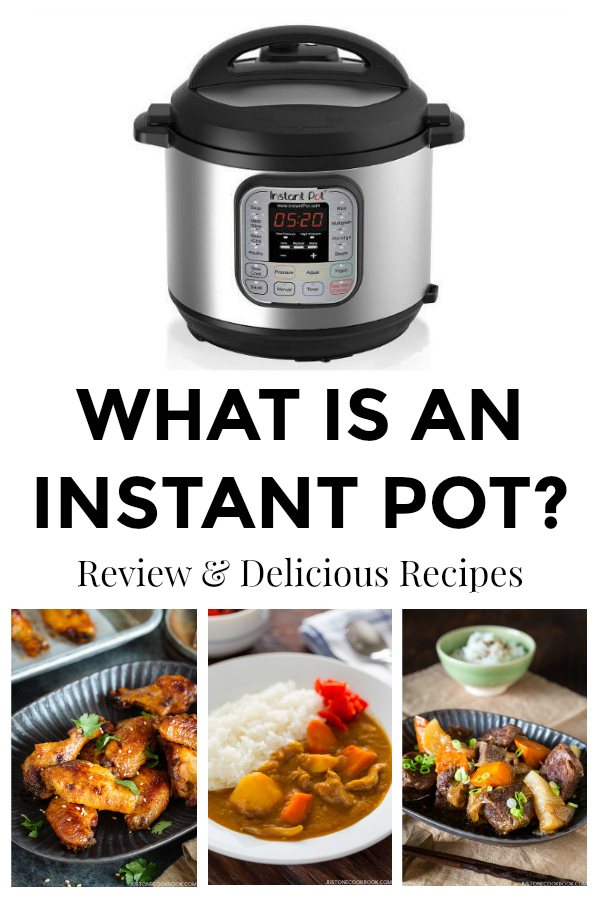 If there's one kitchen gadget that I cannot stop raving about ever since it came into our lives, it would be the Instant Pot (and this is NOT a sponsored post). But, just in case you're not familiar, today's post will give you an overview & a roundup of delicious recipes you can cook with this amazing appliance.
What is an Instant Pot?
It is an intelligent, 7-in-1 Multi-Functional Cooker. It does the job of an electric pressure cooker, slow cooker, rice cooker, steamer, yogurt maker, sauté/browning pan, and warming pot.
You can purchase the one I use (and the most popular one), Instant Pot DUO60 7-in-1 Multi-Functional Pressure Cooker, 6Qt/1000W on Amazon. They also have newer models DUO Plus 60 9-in-1 (6 Qt) and DUO Ultra 10-in-1 (6 Qt).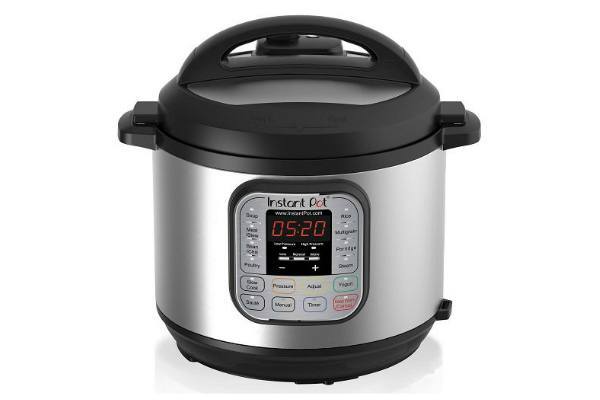 Instant Pot vs. Conventional Pressure Cooker
Both offer very similar functionalities. The main difference is the Instant Pot uses programmable electronic control which is missing in the conventional pressure cookers. That is why Instant Pot is also known as the electric pressure cooker, allowing it to produce more consistent cooking results.
Instant pot also comes with an integrated heating unit, making it more energy efficient and safer. A conventional pressure cooker, however, uses a separate heat source (either a gas stove or an electric range).
Instant Pot vs. Slow Cooker
The slow cooker cooks in a low temperature, while an Instant Pot (pressure cooker function) cooks at a higher temperature, which means it cooks food 70% faster. Who doesn't like that?! If you're short on time, you can make a meal faster with the Instant Pot. You can come home, spend a few minutes prepping the ingredients, toss them into the pot and dinner is done within 30 minutes or so.
What makes the Instant Pot stand out though is it is both a slow cooker and pressure cooker, so you don't have to get separate gadgets for different preparations.
Frequently Asked Question – Cooking Rice with Instant Pot?
I often get asked if I've used the Instant Pot for cooking rice and how to cook rice with Instant Pot.
My answer is I only use my Instant Pot for cooking main dishes, so I prepare my rice separately in my favorite Zojirushi rice cooker. Also a reader did mention that the rice gets stick to the inner pot of Instant Pot. If you wish to give it a try, I'd love to hear your experience. Do you cook Japanese short grain rice (which is stickier than other white rice)?
3 Main Reasons I Love about the Instant Pot:
1. Huge time saver.
With its multiple built-in cooking modes (including sautéing), I can now brown the meats and ingredients directly inside the pot without using my stove and a separate pot. That means fewer dishes to clean!
2. Delayed Electric Timer.
I can set it, walk out of the door and not worry about it.
3. Easy to Clean.
The cooking bowl is made with stainless steel, so I can just throw the pot and other small parts into the dishwasher and wash the lid by hand.
Now that you've learned more about the Instant Pot, I hope you'd have fun cooking up the delicious recipes that I share below.
17 Favorite Instant Pot Recipes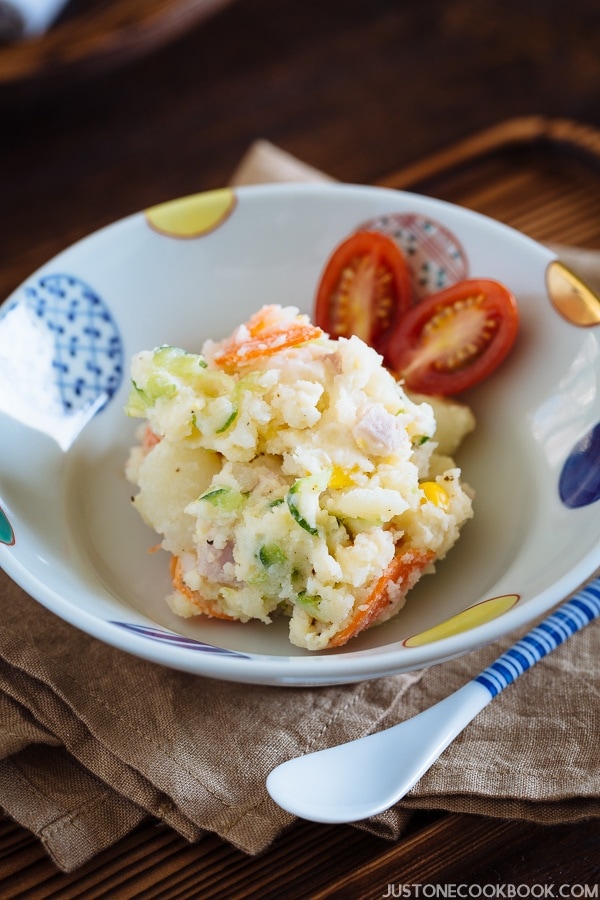 If your family loves potato dishes, you want to give this delicious Pressure Cooker Potato Salad a try. With the Instant Pot, there's no waiting for the potatoes to get boiled since they will be ready in 5 minutes!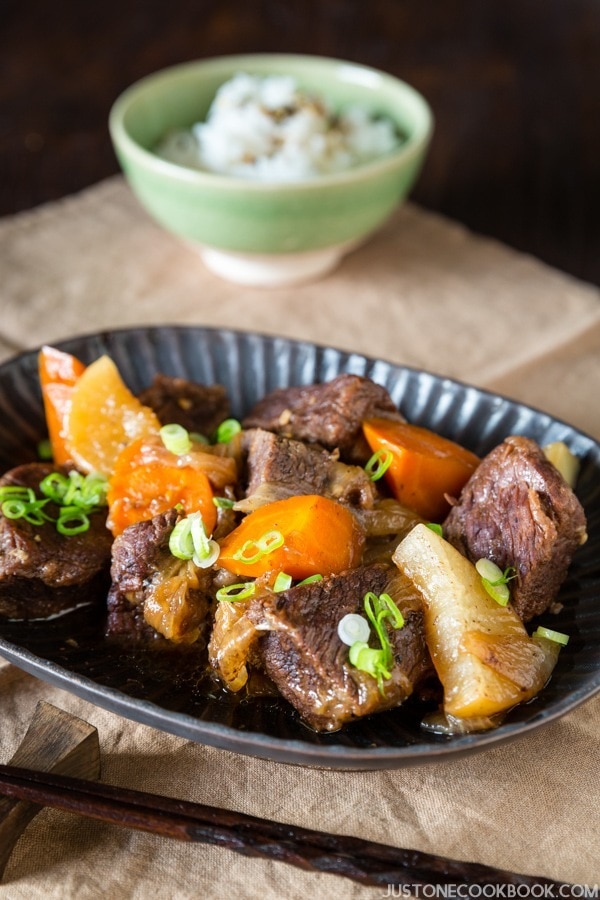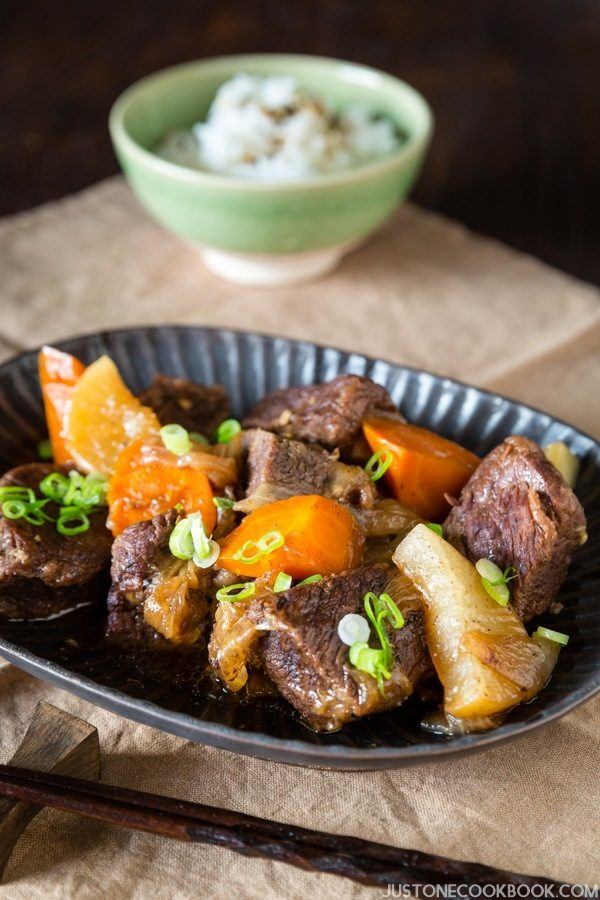 Boneless short ribs are cooked with daikon and carrots in a savory sauce until moist and tender. A beautiful dinner gets done in 30 mins!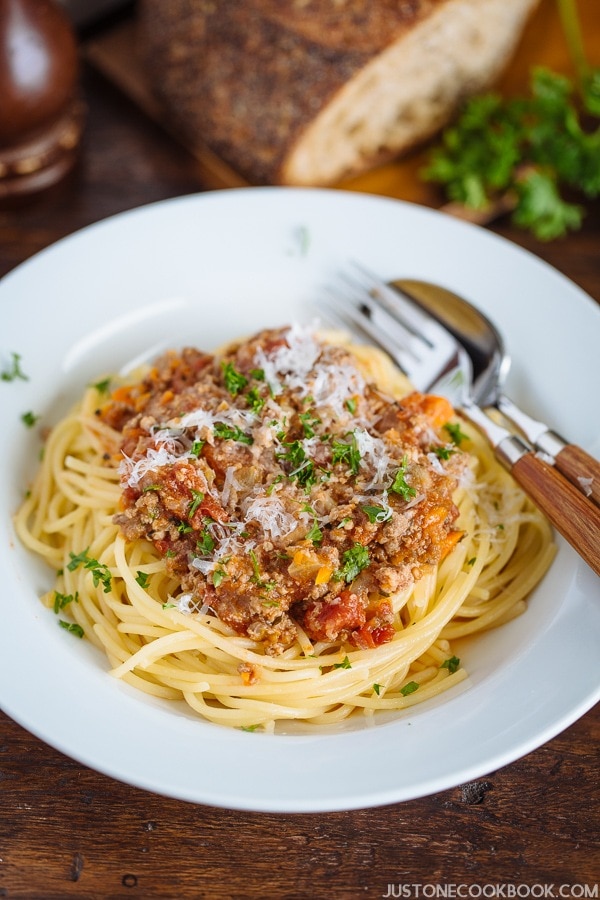 Just because you don't have time, you don't have to give up on homemade bolognese sauce all together. With the instant pot, you can easily whip up this family-favorite while achieving full depth of flavor for the sauce anytime. It's a sure win!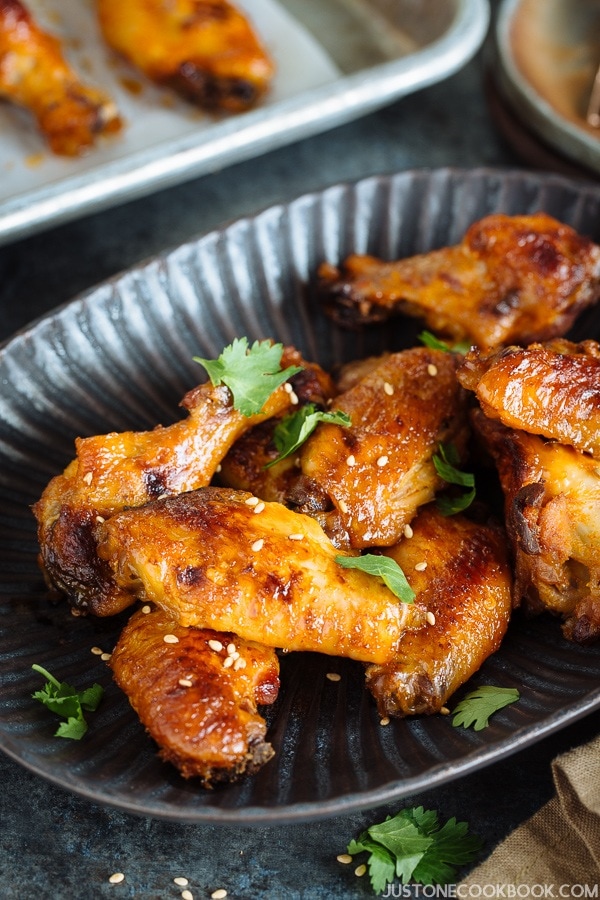 With only five ingredients and minimal prep work, these Sriracha Chili Chicken Wings are perfect as party appetizers and easy weeknight meals. After 2 hours of slow cooking in my Instant Pot, the meat is tender and almost falling off the bones. You can serve as it is, or for crispy texture, pop them into the oven for a quick broil.
Nikujaga (肉じゃが) is a classic Japanese home cook dish, featuring sliced meat, vegetables & potatoes simmered in dashi soup. Cutting the meat into smaller chunks helps to cook all the ingredients evenly in the electric pressure cooker.
If you love the mild and thick Japanese Curry, then you'll love this quick and easy electric pressure cooker recipe. It cooks the curry in just 15 min and tastes fabulous.
Easy and extremely versatile, this Instant Pot Asian Pulled Pork is going to be your hero meal on a busy week. You get irresistibly tender meat that can be stretched out for a week with very minimal work. Enjoy the pulled pork in your sandwich, rice bowl, or tacos!
Cooked in a savory soy sauce broth with daikon, these Slow Cooker Chicken Wings give you plenty of hands-off time but surprisingly moist and tender meat.
A once-a-time-consuming dish like pork belly can now be prepared in a much faster time with an instant pot. The best part is you don't have to constantly monitor the cooking temperature and liquid to get the pork super tender. Enjoy the Pressure Cooker Pork Belly with a steaming bowl of rice!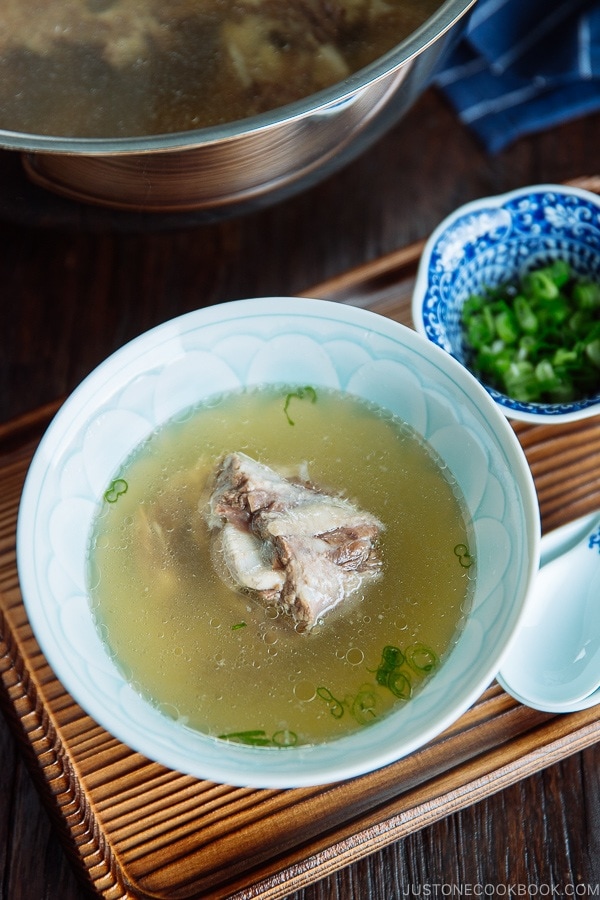 Richly flavored and packed with nutrients, Pressure Cooker Oxtail Broth is a perfect beef stock for many Japanese soup recipes. Use the broth for your Japanese Udon, Japanese Curry, and Japanese Fish Cake Stew (Oden). You can also enjoy the broth as it is for a warm pick-me-up. Did I say it's high in collagen which is great for the skin?
Cooking oxtails take a long time, but not anymore! With a pressure cooker, you can make this hearty Oxtail Soup in a much shorter time!
If you love curry, it's time to try Japanese Seafood Curry packed with amazing flavors from the shrimp, squid, scallops, spices, and kombu dashi.

Enjoy this tender, juicy Pressure Cooker Steamed Pork by using Instant Pot pressure-steaming method. Once the meat is cooked, slice into thin slices and drizzle with a savory garlic soy sauce or ginger miso sauce. So delicious with rice and a side of vegetables.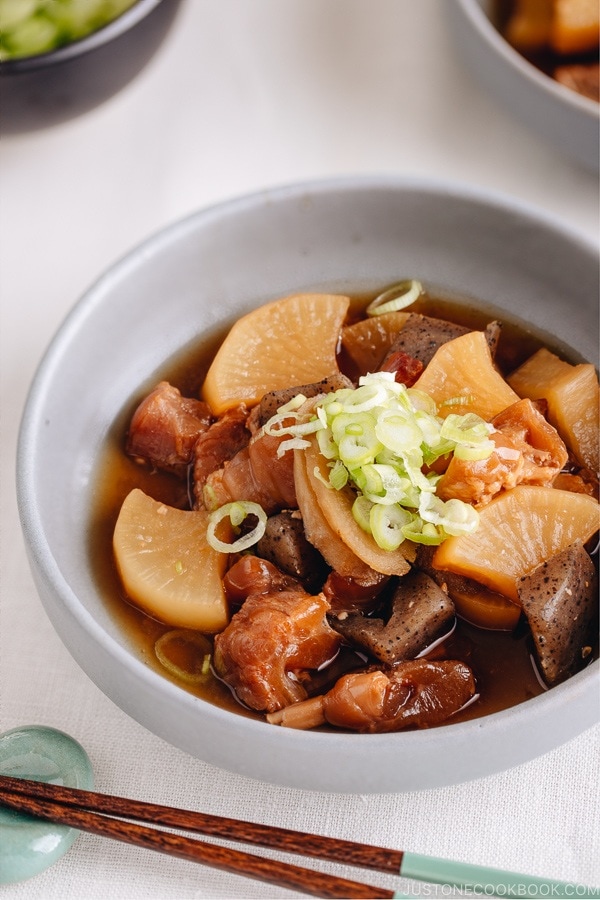 Pressure cooked in savory Japanese seasonings, this Japanese Beef Tendon Stew (Gyusuji Nikomi) is incredibly flavorful and literally melts in your mouth.
Pressure Cooked in Instant Pot, this Kabocha Flan with caramel sauce has a silky smooth texture and rich custard flavor with a hint of sweet kabocha.
This is a fancier version of Oden – Japanese fish cake stew – with a richer, heartier broth made from a combination of oxtail and dashi. Once you make this very flavorful Oxtail Oden recipe, it's hard to go back to the simple version anymore!
Anko (red bean paste) is a popular filling in many favorite Japanese sweets & desserts. All you need is azuki beans, sugar, and salt, and use the 'Bean/ Chili' function' to prepare this sweet bean paste in an instant pot.

I hope you have fun using your Instant Pot and enjoy making these pressure cooker & slow-cooker recipes!
Don't want to miss a recipe? Sign up for the FREE Just One Cookbook newsletter delivered to your inbox! And stay in touch with me on Facebook, Pinterest, and Instagram for all the latest updates.
Editor's Note: This post was originally published on February 12, 2017.