From the sacred Seifa-Utaki to the underwater observatory at Busena Marine Park, there are many things to do in Okinawa during your visit.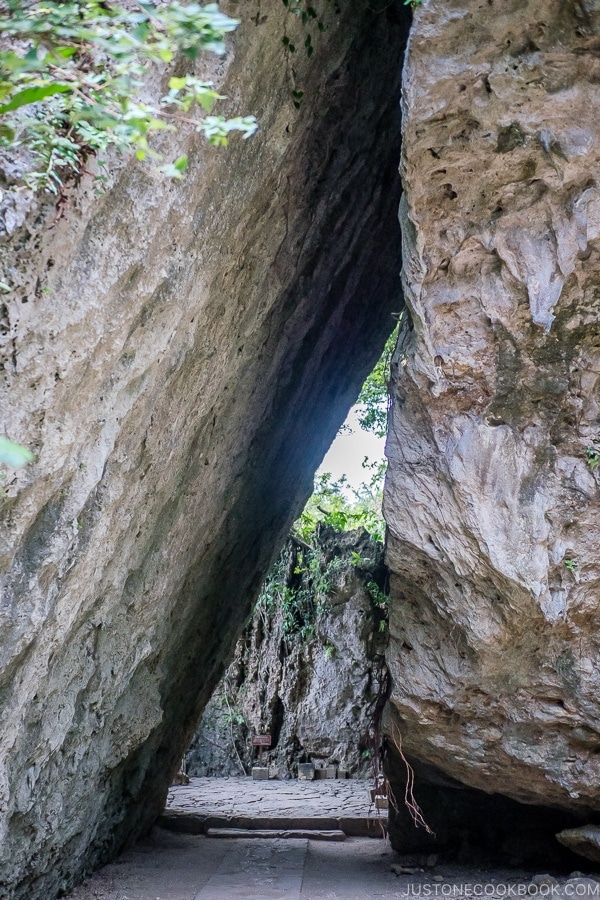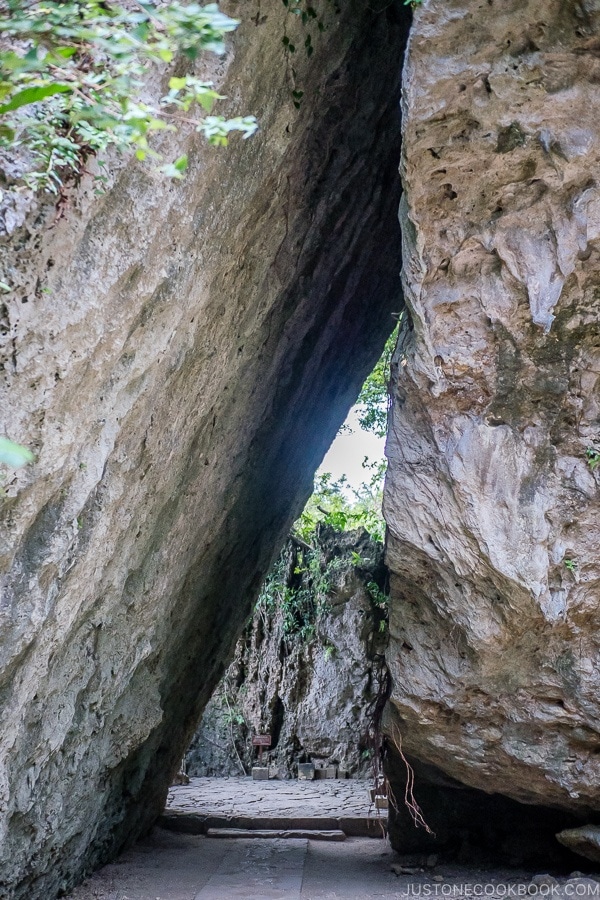 Our family took a trip to Okinawa – the most southern islands of Japan last December. Since it was winter time, we didn't get to enjoy the famed beautiful sandy beaches but there are so many things to do in Okinawa. From visiting the caves at Okinawa World to seeing the giant whale sharks at Okinawa Churaumi Aquarium, we got to experience the many personalities of Okinawa and of course, ate all different types of Okinawan food.
Nami will be sharing Okinawan recipes on the blog as I shared our travel experience in Okinawa. Hopefully, our travel tips will come in handy when you are ready to visit this island paradise.
For this travel series, we'll share the following posts:
Watch Journey to Okinawa (沖縄) Travel Highlights
Last December, our family traveled to Okinawa (沖縄) the most southern island of Japan and had an amazing time.
Things to Do in Okinawa
We were originally planning on sharing 4 travel posts on Okinawa; however, as Nami and I were going through the photos we wanted to share, we decided to expand it to one more post as there are too much to share.
For today's post, we'll visit from beautiful UNESCO World Heritage sites to underwater observatory. Are you ready for a whirlwind tour of things to do in Okinawa? Let's go!
Sefa-Utaki (sacred site) – UNESCO World Heritage site
Shikinaen 識名園
Busena Marine Park ブセナ海中公園
Orion Happy Park オリオンハッピーパーク
Okinawa Prefectural Peace Memorial Park 平和祈念公園
Himeyuri Peace Museum ひめゆり平和祈念資料館
Kokusai Dori 国際通り
Yomitan Pottery Village やちむんの里
Seifa-Utaki 斎場御嶽
Seifa-Utaki is located on the lower east coast of Okinawa and about 45 min by car from Naha City. We visited Seifa-Utaki after we explored the caves at Okinawa World as it's only 20 min away.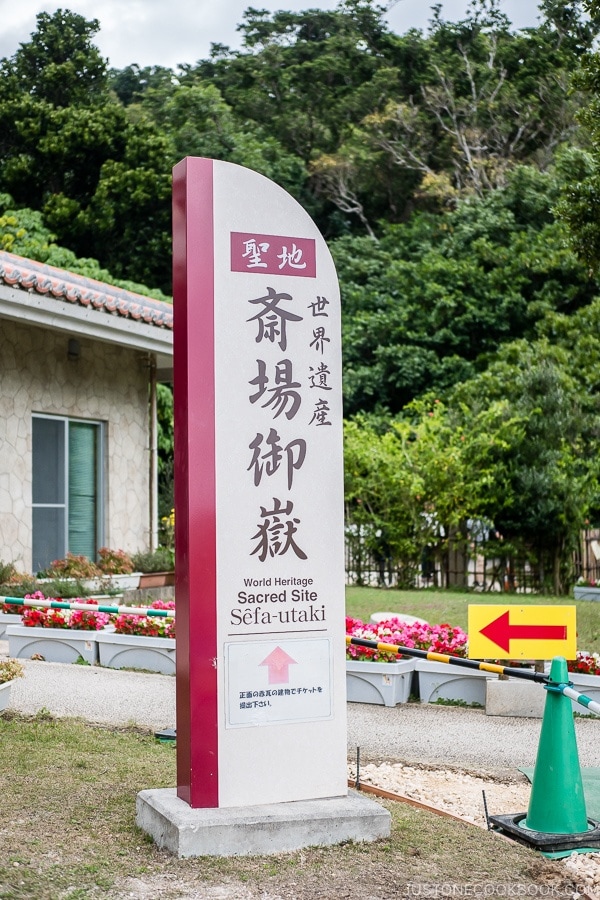 Seifa-Utaki is recognized as a World Heritage site and considered the most sacred site by the Ryukyu Kingdom throughout their history. This is the location where Amamikyu, goddess of creation, came to earth to give birth and populate the islands with her people. Within Seifa-Utaki, there are six sanctuaries for worship.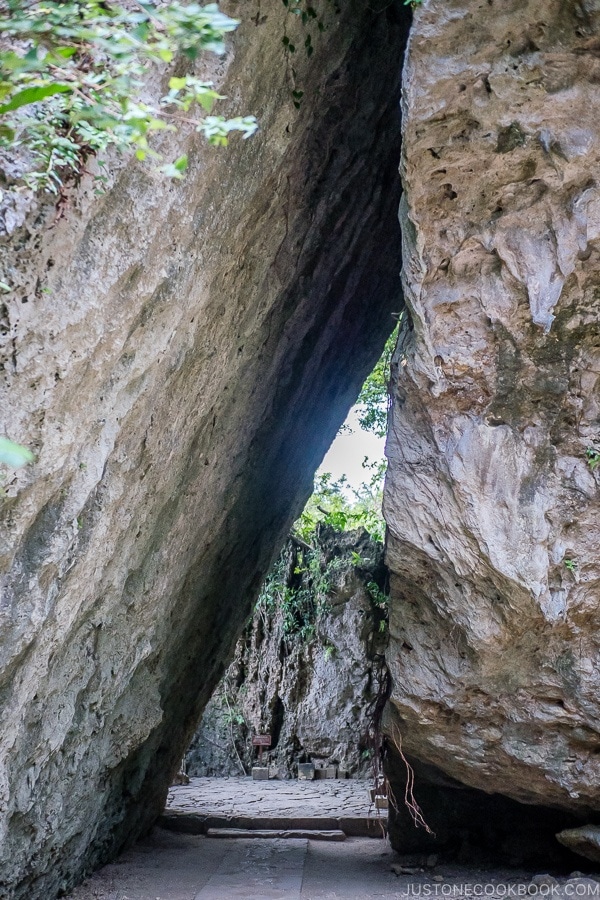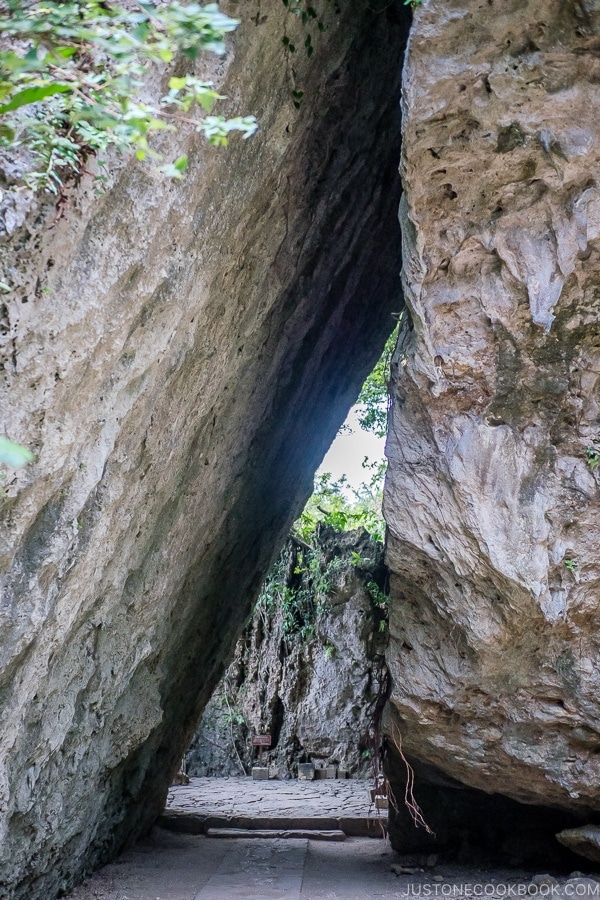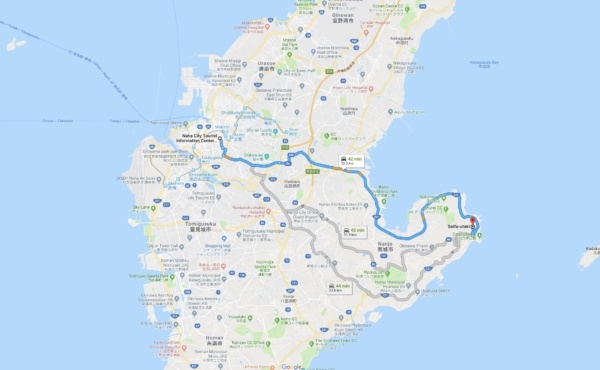 Shikinaen 識名園
Shikinaen was the second largest royal palace after Shuri Castle. Completely destroyed during WWII, it's been beautifully restored and recognized as a UNESCO World Heritage site.
Busena Marine Park ブセナ海中公園
During our visit to Okinawa, we didn't get to spend on the beach since it was winter, but we did get to experience firsthand its gorgeous clear blue ocean. We rode the glass bottom boat at Busena Marine Park and stepped into the underwater observatory to observe the abundant ocean life that surrounds the island.

Busena Marine Park is connected to Busena Terrace Hotel and they actually share the parking lot. You could walk to the boat dock from the parking lot or take the free shuttle. It's about a 15 min walk or 5 min shuttle ride.


On the day we visited, it was around 3 pm and the waves were quite high and choppy. In fact, they had to shut down the rides shortly after ours was complete. If you plan on visiting, check their website for the weather and wave conditions. During the boat ride, the operator drops fish food from the front of the boat so the fish would swim nearby (we recommend to find seats toward the front). You could easily see the bottom of the clear ocean through the glass.

Besides the fish, we did a quite a lot of sea snakes as well which was unusual. Yikes!

Right near the boat ride was the underwater observatory. Visitors get to go inside an underground to observe the ocean life nearby. The tower is located 550 feet (170 meters) away from the shore.





Orion Happy Park オリオンハッピーパーク
Besides Okinawa awamori (泡盛) and habu snake liquor, another famous Okinawa drink is the Orion Beer. Orion was founded in 1957 in Okinawa and differentiates itself as American-style beer. It's one of my favorite Japanese beer as it's light and has a uniquely refreshing flavor profile compared to Asahi, Sapporo, or Kirin.

As you know, we love visiting food factories (Read Kikkoman Factory Tour) and help our children learn how things are made, we visited Orion Happy Park. The tour takes visitors through its beer production facility, and introduce the ingredients and beer that go into making its beer.



All the Orion beer in the world are brewed at this single plant.


At the end of the tour, visitors are given a drink for free. If you're a driver, you're identified at the beginning of the tour and you will not be allowed to consume an alcoholic beverage. There are soft drinks available for children and drivers.


Orion Happy Park is located towards the northern part of the island, we stopped by after visiting Busena Marine Park.
Okinawa Prefectural Peace Memorial Park 平和祈念公園
Okinawa Prefectural Peace Memorial Park was built to memorialize those who sacrificed their lives in WWII and promote everlasting world peace. The park consists of the Okinawa Prefectural Peace Memorial Museum, The Okinawa Peace Hall, and The Cornerstone of Peace Monuments.
The location of the museum is where the Battle of Okinawa came to the end. You can see remanent unexploded bombs still in the ground today.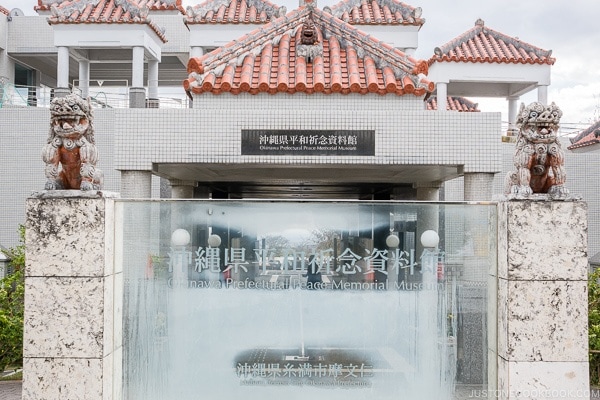 The bloodiest battles fought during WWII was on Okinawa. The battles impacted the island particularly hard because of its large civilian population compared to battles on other islands that were uninhibited. The number of civilian death was almost 30% of the Okinawa population and outnumber the military casualties. During the "Typhoon of Steel" battle which lasted for 90 days, the total civilian and military casualties were over 240,000.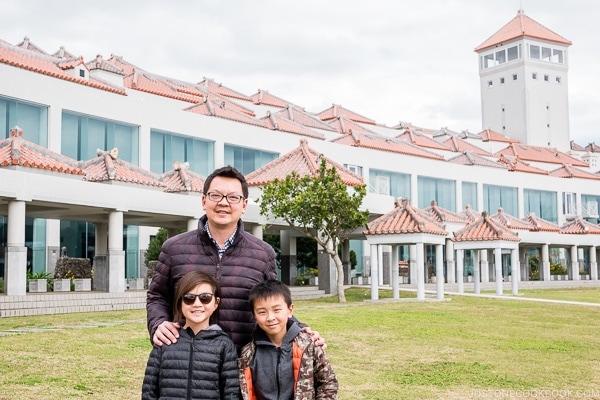 Looking at the beautiful ocean and scenery that surrounds the park today, it's difficult to imagine the intense fighting that happened in the very same place during the war.
Within the Peace Memorial Park, there was a children's playground where our family spent a bit of time to relax and enjoy the park.
Himeyuri Peace Museum ひめゆり平和祈念資料館
Another museum related to WWII that we visited was Himeyuri Peace Museum. It was dedicated to the 240 teachers and female students who performed their duties as nurses and helped the Japanese soldiers who were wounded during the war. 227 out of the 240 lost their lives during the war over a short 3 months.



During the visit, we walked through the museum to see the exhibitions and watched a short movie on Himeyuri girls and what they went through during the war. It was heartbreaking to see what these high school girls went through and how most of them perished due to unreasonable military orders.
There is a full-scale cave diorama inside the museum so visitors can understand the difficult conditions these high school girls had to endure.

Kokusai Dori 国際通り
If you have time at night and looking for things to do in Okinawa, one of the busiest streets in Naha City is Kokusai Dori (International Street). The road is full of shops ranging from local souvenirs and snacks, restaurants, and also the entrances to the famed First Makishi Public Market. Take some time to browse the shops and take in the Okinawa nightlife.




Yomitan Pottery Village やちむんの里
Our last stop for things to do in Okinawa is Yomitan Pottery Village. Okinawa is well known for its long history of Tsuboya pottery. The Yomitan Pottery Village was formed in the 1970s when potters were forced to move from Naha City (Tsuboya District 壺屋) due to the smoke from their kiln. Today over 40 artists work on their craft and showcase their products at Yomitan Pottery Village.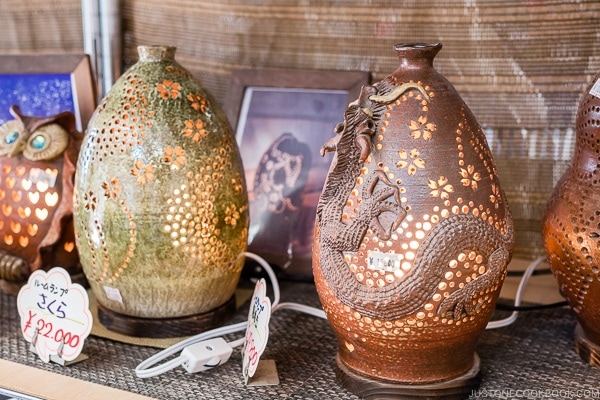 Yomitan Pottery Village is not far from Ryukyu Mura so if you have some time, make a quick stop and check out the beautiful Okinawan style ceramics. If you don't have time to make it out to Yomitan Pottery Village, head over to Tsuboya Odori in downtown and check out the ceramic shops and Naha Municipal Tsuboya Pottery Museum.
We hope you've enjoyed our quick guide to things to do in Okinawa. Before we went to Okinawa, we were aware of the famed aquarium, beautiful blue water, and rich culture. What we didn't weren't aware of was the devastation the island and its people went through during WWII and their strong pledge towards world peace. The memorials were great for us to teach our children why we should all work together for a peaceful world and make it a better place for all citizens.
Recommended Places to Visit in Okinawa from JOC Readers
Okinawan Prefectural Museum of Art 
For the next and final post, we'll share the unique Okinawan dishes we ate and other travel tips. If are interested in our other travel posts, you can view them here.