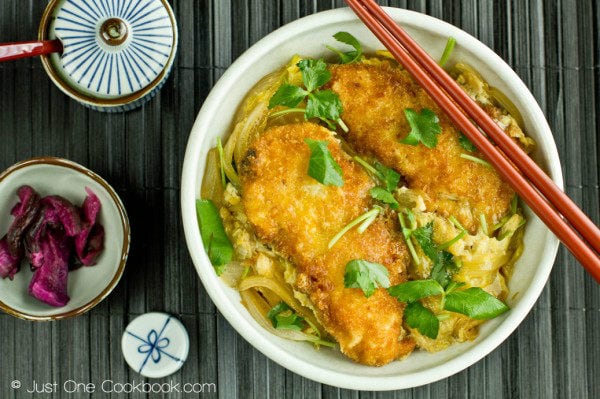 Today's recipe Chicken Katsu Don might "look" time consuming but it's actually not.  It's perfect for a busy day.  I usually serve this dish with a bowl of miso soup and a small salad.  It's a pretty balanced meal that is quite fulfilling because of donburi (rice bowl) style.
You can make Tonkatsu instead of Chicken Katsu.  My mom always make Chicken Katsu with chicken tenders so that's how I make it, but you can use chicken breasts or thighs.  If you use chicken breasts, make sure to cut each piece thin so it will cook faster (Here's the basic cutting technique to cut breast thin).  Even though you don't like deep frying, shallow deep frying is less scary and the easiest way to deep fry.
However, if you want to avoid deep frying, try my Crispy Baked Chicken (揚げないチキンカツ) recipe!
Chicken Katsu Don
Ingredients
200g (7oz or 4) chicken tenders
Salt
Freshly ground black pepper
¼ cup all purpose flour
3 egg (1 for chicken katsu, 2 for donburi)
1 cup Panko
Oil for deep frying
½ onion
2 serving rice
Mitsuba (Japanese wild parsley)
Ichimi togarashi (Japanese chili powder)
Seasonings
Instructions
Dust salt and pepper on chicken tenders and dredge in the flour, the beaten egg (1 egg) and the panko.

Heat ½ inch of oil in a frying pan and deep fry at 350F (180C) until golden brown. Take out the chicken and drain extra oil on paper towel.

Slice onion and make dashi stock.

In a frying pan, bring Seasonings and onion to a boil. Lower the heat to medium and cook onion until wilted.

Put chicken katsu in it and turn the heat up to medium high heat. Pour and distribute beaten egg (2 eggs) evenly.

When egg is half cooked, add mitsuba and turn off the heat. Serve rice in a Donburi bowl and put Chicken and egg mixture on top. Serve with Ichimi togarashi (chili pepper) on the side.