Jump To Recipe
Back-to-school lunch ideas: Here's 15 healthy bento box ideas and inspirations. Also includes food safety, decoration tips and all you need to know about bento making!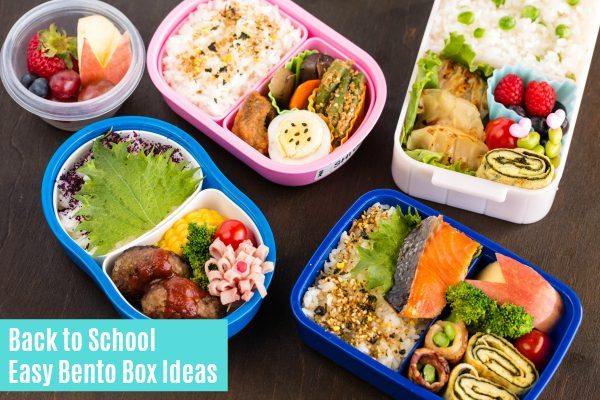 School is now back in session. If you are a parent like me, you know how packing lunches for your children can be a daily challenge. That's why bento boxes are the best solution for school lunches (and work lunches). In Japan, bento boxes are packed with care and love to accompany the little ones to school everyday.
With the various smart compartments, bento boxes allow you to pack a healthy, perfectly portioned, exciting and wholesome meals. Bento making is almost like an art form itself.  For the crafty parents and kids, you get to enjoy the creative process of putting lunches together. When lunch boxes are presented creatively, you know you never have to worry about untouched foods when the children come home.
The best thing about bento? You can repurpose weekend preps and dinner leftovers throughout the week. Since bento boxes are reusable and eco-friendly, you can eliminate the use of anything plastic too.
Here I've rounded up 15 bento box ideas and inspirations for packing healthy school lunches that could also work at the office. For beginners, there are many helpful guides in this roundup on how to pack healthy lunch, food safety, decoration tips and more. Let's get started!
15 Back to School Easy Bento Box Ideas & Recipes
New to making Bento? Here are some helpful tips and tools on how to make healthy and colorful bento for you get started.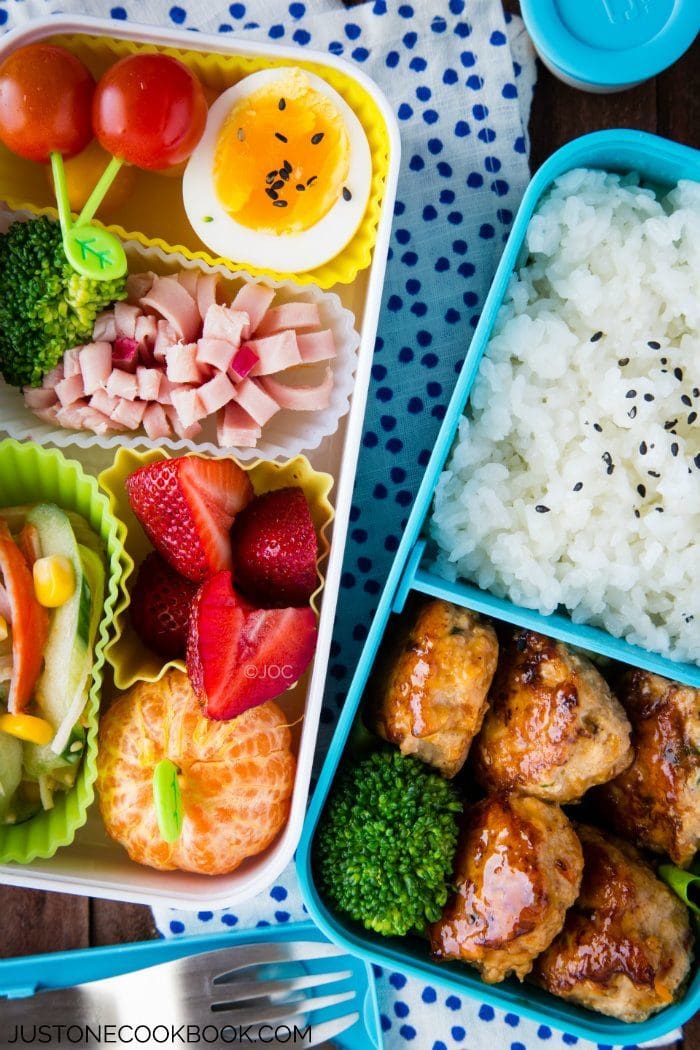 Delicious and tender teriyaki chicken meatballs packed along with steamed rice, ham flower, fruits, crab salad, egg, and broccoli in a stylish bento box. This is a sure win for school lunch!
Beautiful bento tastes twice as good. The bright colors and artistic composition of this Sanshoku Bento will make the lunchtime the best of your child's school day.
Have a busy week ahead? This simple and delicious egg salad sandwich bento can be ready in minutes! Just cook up some hard-boiled eggs over the weekend for quick assembly.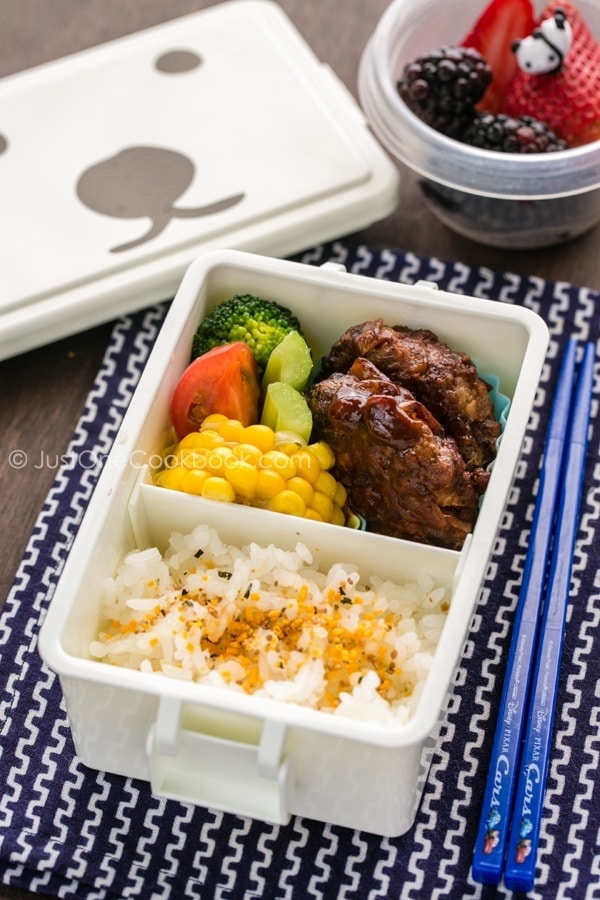 Want a meatier option for lunch? For active or older kids, this Japanese hamburger (hambagu) steak bento with broccoli, tomato, celery, and corn will keep them going.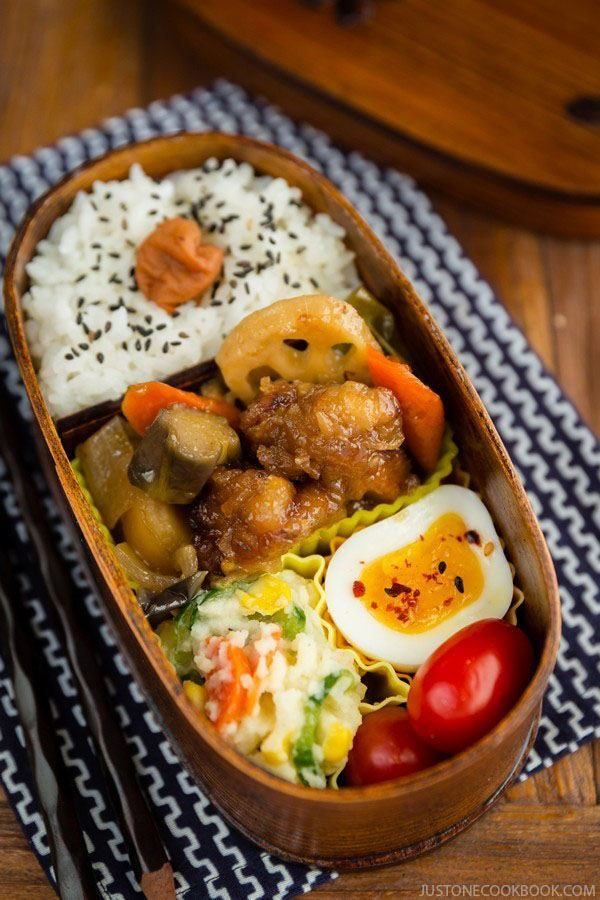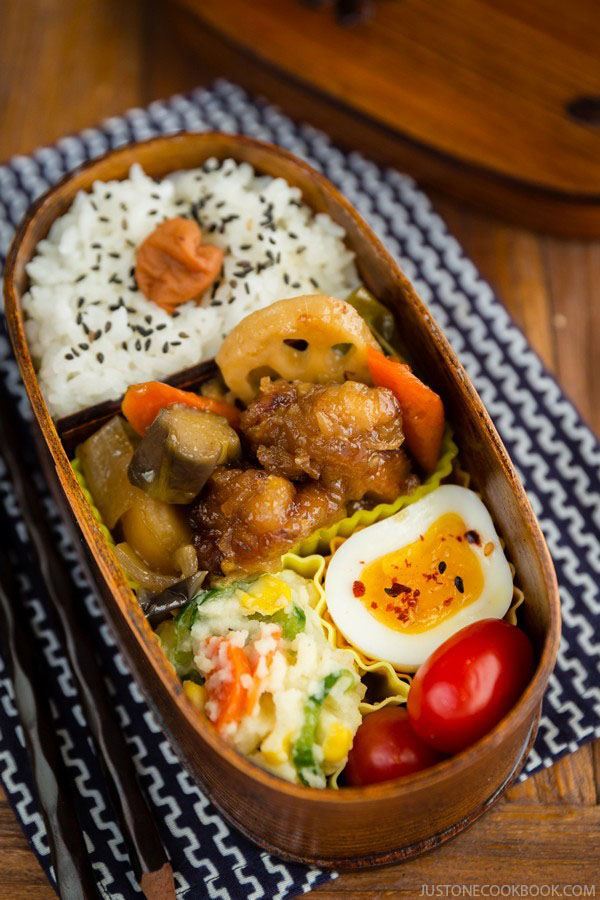 Looking for a bento lunch idea that is both kid and adult friendly? Packed along with steamed rice, ramen egg & Japanese potato salad on the side, this Sweet and Sour Chicken Bento makes the best of dinner leftover and turn lunch into one satisfying meal.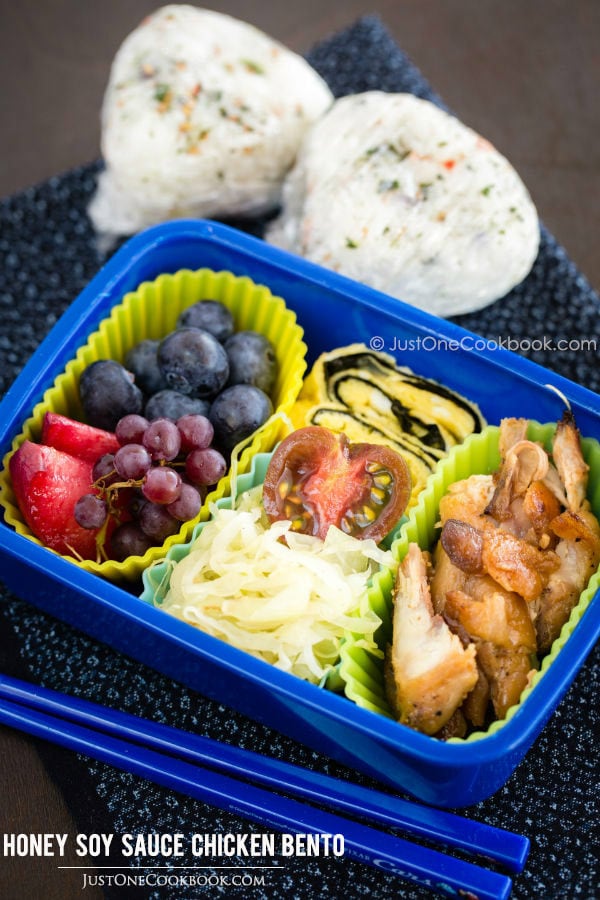 Sweet and flavorful chicken drummettes bento with sautéed cabbage, Tamagoyaki, tomatoes, and fresh fruits. Enjoy with onigiri for a better-than-take-out lunch.
Japanese bite-size fried chicken with tamagoyaki (rolled omelette), broccoli, tomato, sautéed spinach, and onigiri rice balls all packed in a classy bento. This Karaage Bento is literally a box filled with your child's favorite foods.
Tired of sandwiches? Filling and nutritious, Origini Bento is a great snack choice for after-school activities. These Japanese rice balls are portable and they make lunch on-the-go a cinch.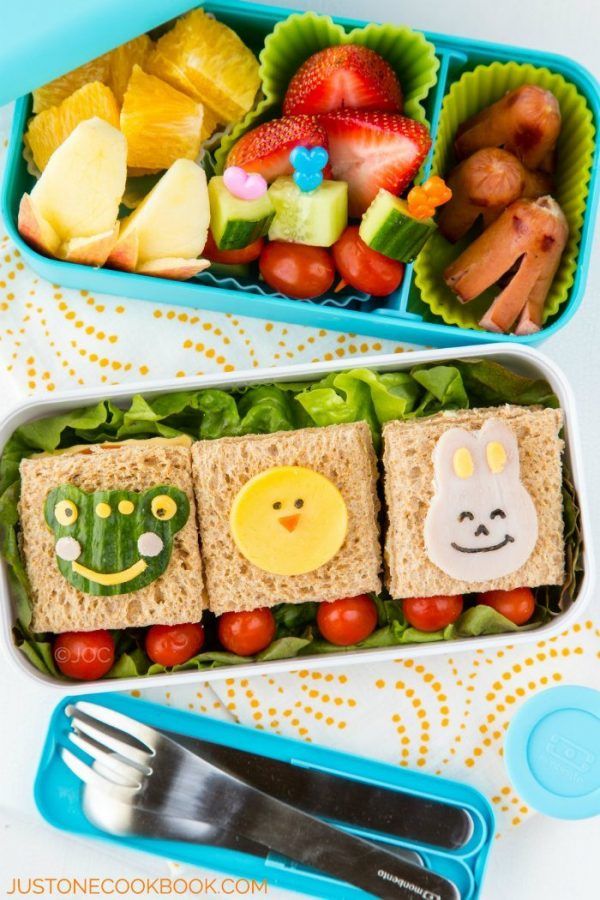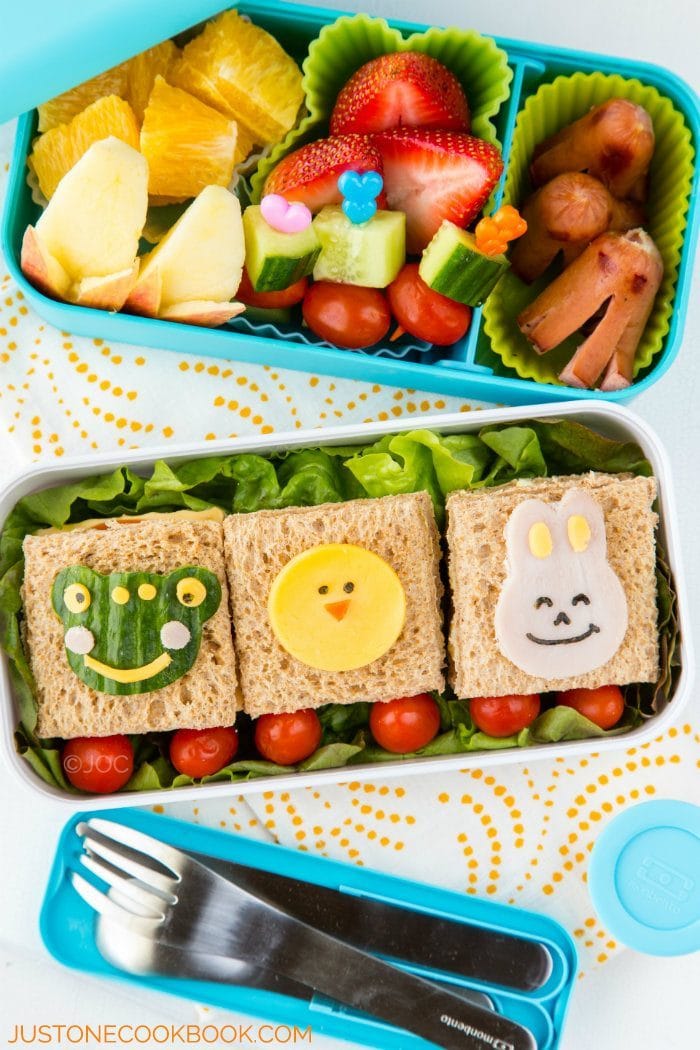 Little kids can never say no to cute animal sandwich bento. You can expect their eyes light up when they see their favorite animal characters in the lunch box. Keep the ingredients simple. Choices like cheese, ham, eggs, fruits and cut vegetables are always popular. Better still, have them pack the bento together for some bonding and craft time. They will enjoy the creativity and the food that is made together with love.
This Hawaiian inspired Piggy Spam Musubi Bento is flat out adorable and super fun to eat. Don't forget to throw in colorful vegetables and tropical fruits to the lunch box.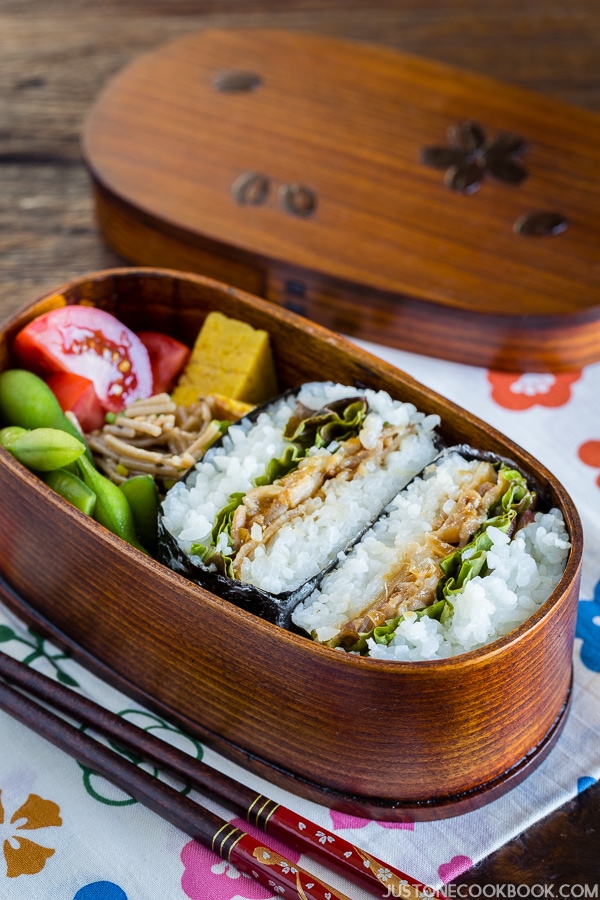 For grown-up kids and adults, try this Ginger Pork Onigirazu Bento. Savory sweet pork slices with a hint of ginger wrapped between layers of rice and nori, it makes a hearty and delicious meal at school or at work.
This bento video tutorial gives you plenty of helpful tips and tools on how to make healthy and colorful Bento Boxes.
The secret to a beautiful and wholesome bento is to add side dishes with various colors. Learn how to decorate the school lunch box with these quick and easy bento side dishes.
There are a few important tips to properly pack your bento. Follow these simple tips for food safety.

More Delicious Bento Box Ideas
I hope you have fun packing bento for your children. If you are looking for more bento boxes recipes, click here to get inspiration! The key to packing bento is to switch up protein, grains, vegetables, fruits or healthy snacks, I promise your kid's school lunch will never be boring again. Thank you so much for reading and till next time!
Don't want to miss a recipe? Sign up for the FREE Just One Cookbook newsletter delivered to your inbox! And stay in touch with me on Facebook, Google+, Pinterest, and Instagram for all the latest updates.