Crispy panko on the outside and delicious black forest ham on the inside, Ham Katsu is the simplest cutlet you can make with easy-to-get ingredients. Inspired by the Japanese drama – Midnight Diner.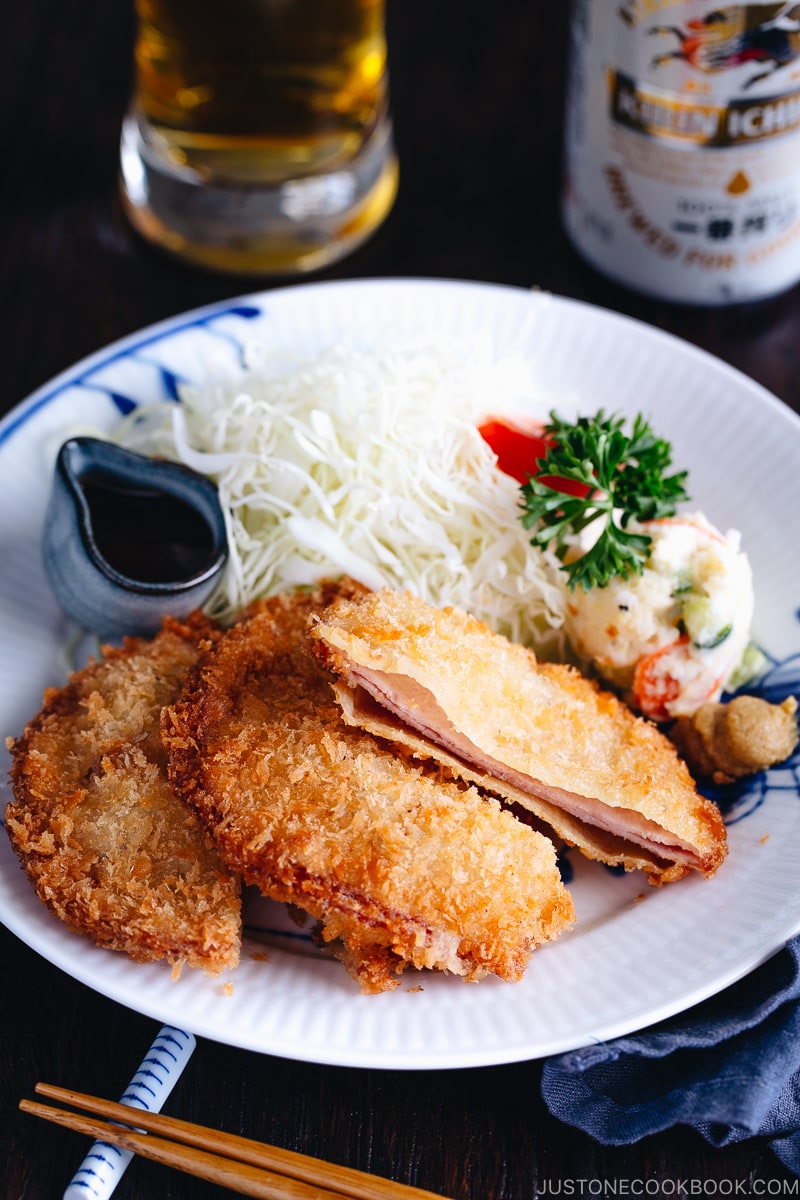 Have you tasted an amazing dish that is made out of a super simple ingredient, like slices of ham found in the corner of your refrigerator? Enter Ham Katsu (ハムカツ).
What is Ham Katsu?
It's a deep-fried cutlet made with slices of ham that are coated with flour, egg, and Japanese panko, and deep-fried till golden color. It's such a humble dish, yet there's something downright satisfactory about biting through the crisp layer of golden-brown breading and salty-savory ham.
If you are a fan of Tonkatsu and Chicken Katsu, you have to give this Ham Katsu a try. Whether you serve it as a main meal or as an appetizer with a glass of cold beer, I know that this will be your next favorite dish.
This Ham Katsu recipe is featured on the popular Japanese TV drama called "Shinya Shokudo (深夜食堂)" or "Midnight Diner: Tokyo Stories" on Netflix.
Midnight Diner features dishes that are more representative of Japanese home-cooked recipes that you might not have seen in your local Japanese restaurants. "Hamu Katsu" episode is Season 1, Episode 9 on Netflix.
When I saw the master made Ham Katsu with just slices of ham, I knew I had to head over to the kitchen and make it. My mother makes Ham Katsu, but her version, the one I grew up eating, is more complicated and time-consuming. Hers came with Japanese Potato Salad between slices of ham. It's really delicious, but it requires more effort and time since you need to prepare the potato salad first (unless you have leftover).
Midnight Diner's Ham Katsu is much simpler and easier to make than my mother's, yet my family LOOOOOVED it. Since then I've been buying hams for this dish, then I use the leftover to make ham and eggs or Japanese Potato Salad.
I love that I can whip up a dinner in less than 30 minutes. My children love this dish in their lunch box too, and they love Onigiriazu with Ham Katsu.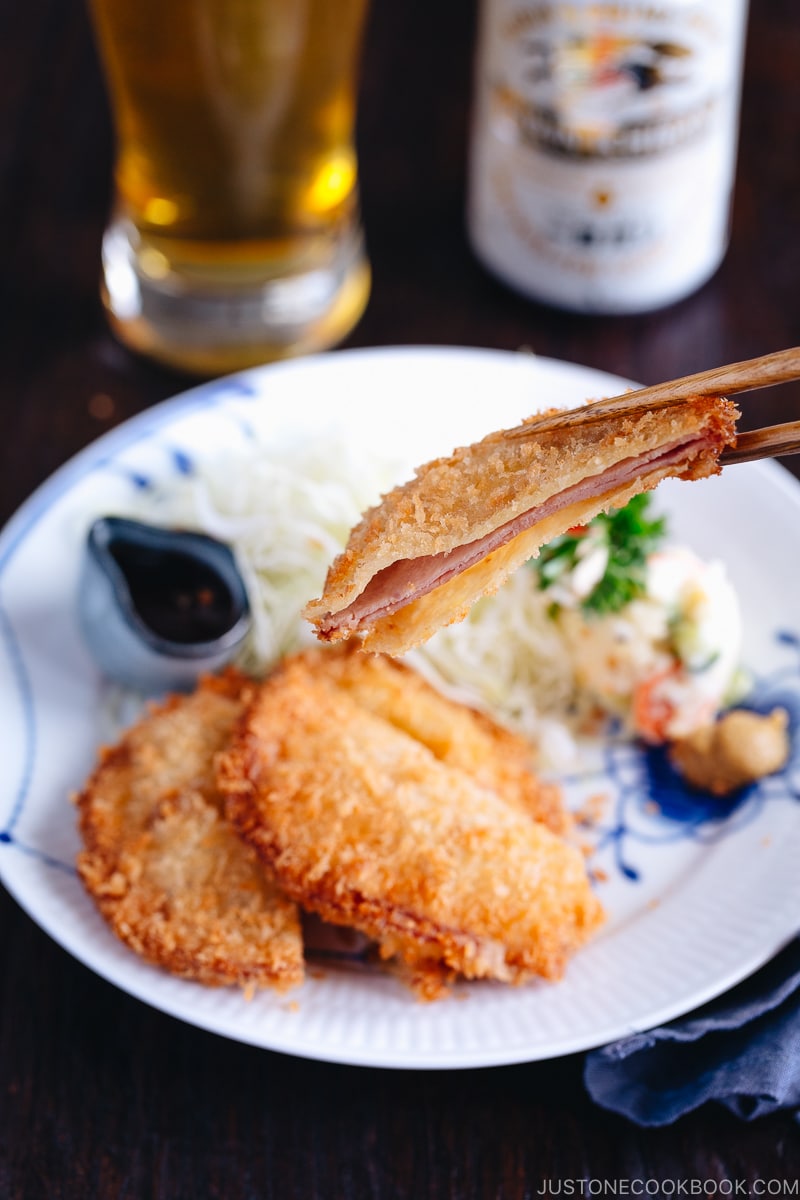 3 Tips to Make Delicious Ham Katsu
1. Use thinly sliced hams
I have tried both thick and thin slices of ham. I thought Mr. JOC would like thick slice cut of the ham for this dish, but surprisingly, stacking up two thin slices (each slice is about 2 mm or 0.08 inch) of ham work much better to achieve the overall crispiness. And it's more economical too.
2. Fluff up panko 
I've used this trick in my Tonkatsu recipe with excellent result. By spraying panko with water, it revives the panko and creates this fluffy texture. Yes, it's an additional step with an additional tool, but if you're particular about crispiness of panko, I know you'd be happy with this extra step. 😉
3. Must deep fry (shallow fry is okay!)
I know some of you are wondering if you can make this dish like my Baked Tonkatsu, Baked Chicken Katsu, or Baked Korokke. Trust me, I did try. But the result is not as good as the deep-fried version.
The good news is you can "shallow" fry the kastu with one inch of oil in your frying pan instead of deep-frying. You also don't need to worry if the ham is cooked through or not as it is ready to eat. The frying allows the panko to cook through until crunchy and golden.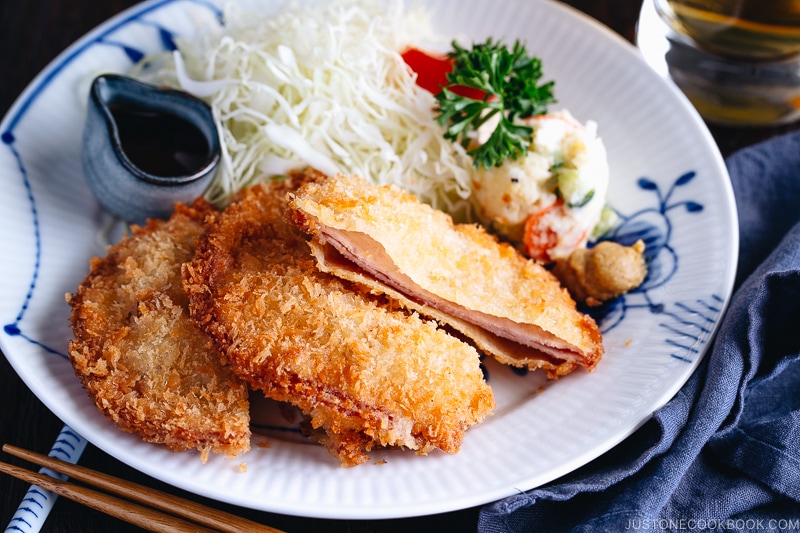 Serve these extra crispy ham katsu with a nest of shredded raw cabbage, a side of salad, Japanese mustard, and a sweet fruity Tonkatsu sauce. Steamed rice is optional. I hope this will be your next favorite weeknight dish!
Japanese Ingredient Substitution: If you want to look for substitutes for Japanese condiments and ingredients, click here.
Wish to learn more about Japanese cooking? Sign up for our free newsletter to receive cooking tips & recipe updates! And stay in touch with me on Facebook, Pinterest, YouTube, and Instagram.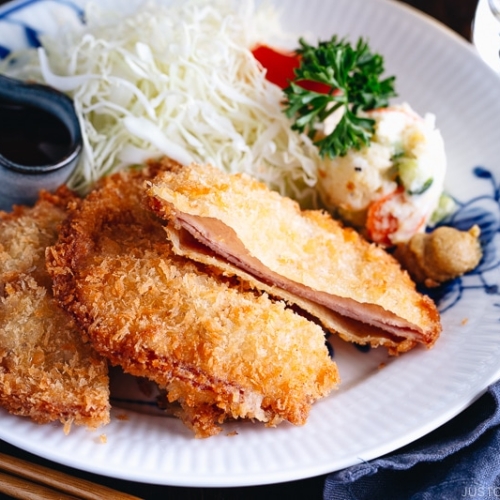 Ham Katsu
Crispy panko on the outside and delicious black forest ham on the inside, Ham Katsu is the simplest cutlet you can make with easy-to-get ingredients. Inspired by the Japanese drama – Midnight Diner.
Japanese Ingredient Substitution:
If you want substitutes for Japanese condiments and ingredients, click
here
.
Instructions
Gather all the ingredients.

Stack two slices of ham and season with freshly ground black pepper.

This is an optional step. To increase the fluffy and crispy texture of panko, spray some water on panko and fluff it up with hands.

Dip the ham into the flour, then shake off the excess. Next, run the ham through the egg to coat it on both sides.

Finally, lay the ham in the panko, turn it over and gently press it into the breading to coat. When you deep fry, panko will become fluffy again so don't worry about pressing it.

Add the oil in a heavy-bottom pot and heat the oil to 340ºF (170ºC). You will at least need 1 inch of oil. You can check the temperature by inserting wooden chopsticks. When small bubbles appear around the chopsticks, the oil is ready. Or throw a piece of panko into the oil. If the panko immediately comes right back to the surface, oil is ready. Read more on How To Deep Fry Food.

Gently drop the panko-coated ham in the oil and deep fry for 1 minute on the bottom side. Try to maintain the oil temperature by adjusting the heat. If you're new to deep frying, a deep-fry thermometer is helpful.

Once the bottom side is a nice golden brown, flip and cook for about 45 seconds on the other side. Drain the excess oil and remove from the pot.

Transfer to the wire rack or plate lined with a paper towel. Before you start the next batch, always pick up the crumbs in the oil (they will darken the oil)

Once they are cool enough to handle, cut them in half, and serve immediately. Just like the drama Midnight Diner: Tokyo Stories, I served Ham Katsu with shredded cabbage, tomato wedges, and Japanese potato salad, garnished with parsley, and put a small amount of Japanese karashi mustard on the plate.
Nutrition
Nutrition Facts
Ham Katsu
Amount per Serving
% Daily Value*
* Percent Daily Values are based on a 2000 calorie diet.
©JustOneCookbook.com Content and photographs are copyright protected. Sharing of this recipe is both encouraged and appreciated. Copying and/or pasting full recipes to any website or social media is strictly prohibited. Please view my photo use policy
here
.