Slathered in sweet & savory miso glaze, Miso Dengaku with tofu, eggplant, daikon, or konnyaku has been enjoyed in Japan since 1500s.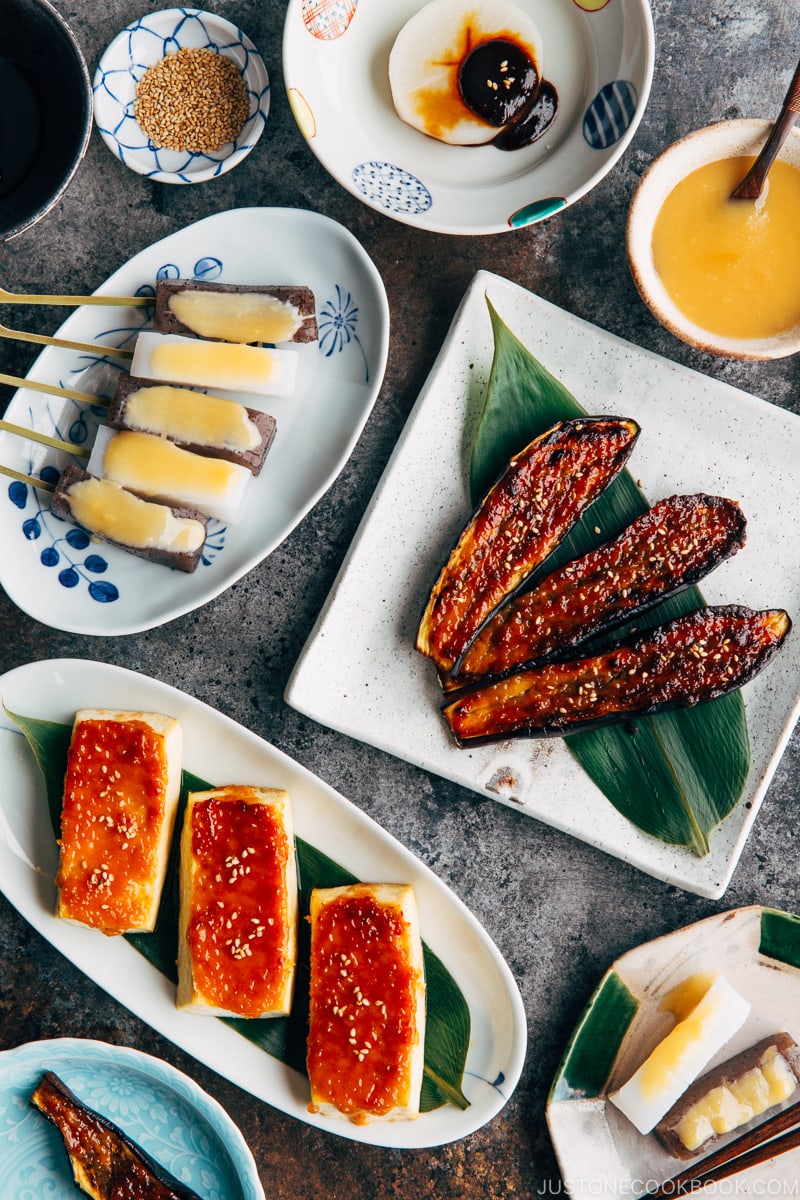 Miso, or Japanese soybean paste, is a condiment that's frequently used in Japan. If your miso is ignored and pushed to the back of your fridge, it's time to take it out and try this easy miso recipe!
Miso is a very versatile ingredient, and you can use it for soup (miso soup), a marinade base for your protein (fish/meat), or hearty dressing! Today we'll use miso to make a sauce, and this dish is called Miso Dengaku (味噌田楽).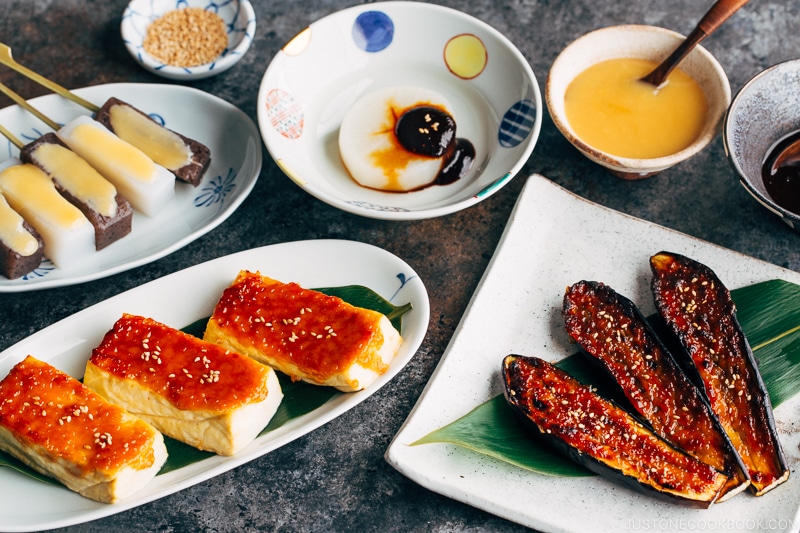 What is Miso Dengaku?
Simply put, Miso Dengaku (味噌田楽) is a miso glazed dish, and popular ingredients for this recipe include tofu, eggplant, daikon, and konnyaku. Most of the ingredients are all vegetarian/vegan, but sometimes white fish is used for miso dengaku, and it's called Gyoden (魚田) or Fish Dengaku.
Tofu and eggplant are usually skewered and grilled (over charcoal, in the frying pan, or the oven), but konnyaku and daikon are boiled before a thick coating of sweet miso is slathered on top.
Miso Dengaku has been around since 1500's. The name dengaku comes from dengaku boshi (田楽法師), a stilt dancer who performed for the god of rice field during rice planting. Since the skewered tofu resembles dengaku boshi, the dish started to be called Miso Dengaku.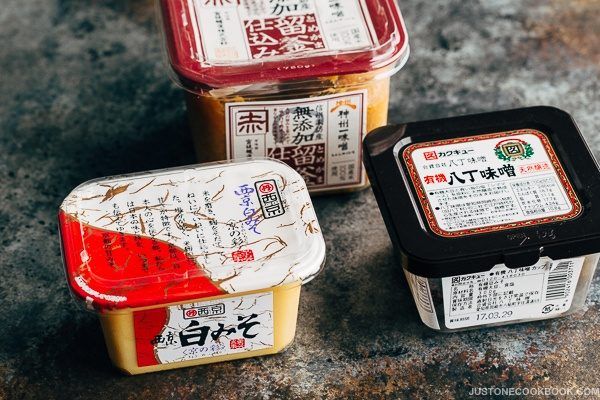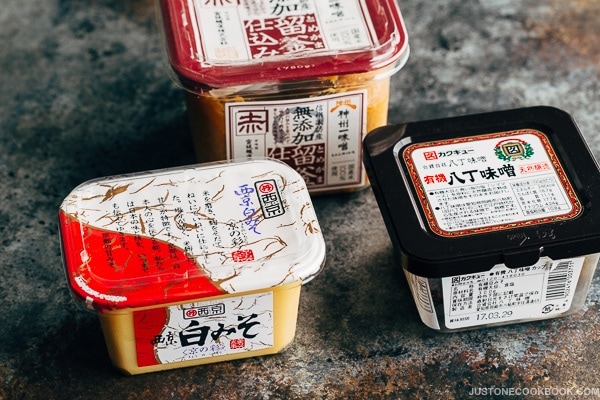 The Miso Glaze – Dengaku Miso
This miso sauce is called dengaku miso (田楽味噌) and it's sweet but it's also savory. For aromatics, the miso sauce can include sesame seeds, yuzu zest, shiso leaves, or kinome leaves (a Japanese herb from the Japanese Prickly Ash "aka Szechuan Peppercorn" tree.) sprinkle on top of the miso glaze.
Each region uses slightly different types of miso. Red miso, especially dark, pungent hatcho miso (from Nagoya region) is most commonly used for Miso Dengaku. However, white miso, saikyo miso (a type of white miso used in Kyoto) or any type of miso can be used for this dish.
As miso is very flavorful and more on salty side, we balance out the strong salty flavor with sugar and mirin. An equal amount of miso and sugar are mixed together, but I think that's a bit too sweet for those who never had this dish. Therefore, I reduced the amount of sugar, but still sweeten the sauce with mirin and sake. If you look at the ingredient list, the amount of sugar might put you off, but give this authentic flavor a try. Remember miso has very bold and salty taste, so you'll need to balance it out with sweetness. Alternatively, you can start with half of sugar/mirin and taste the dengaku miso before you gradually increase the amount of sugar/mirin.
If you feel the miso flavor is too strong (especially hatcho miso), you can add dashi to dilute a bit (in Japan egg yolk is also used, but I don't recommend consuming raw egg here).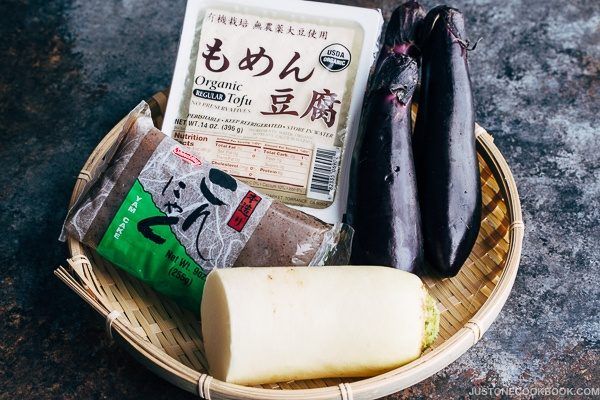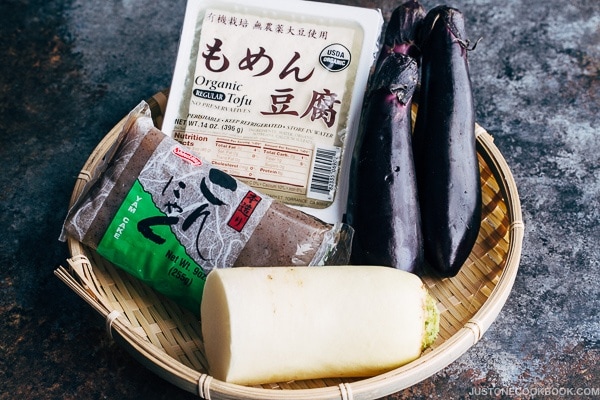 4 Ways Enjoy Miso Dengaku
1. Tofu Dengaku 豆腐の田楽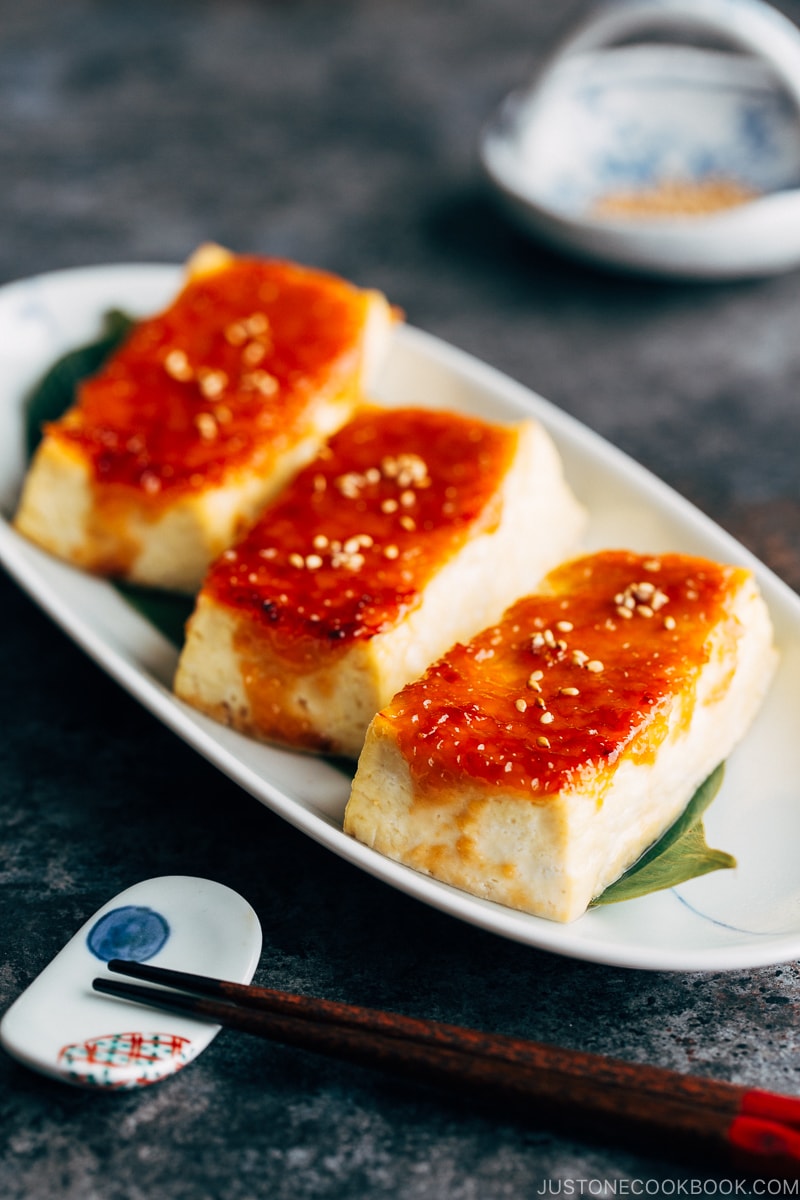 Tofu might often taste bland (especially if you get supermarket-quality tofu), but with Dengaku Miso slathered on top of tofu, this dish is a total game changer for those who get bored eating simple tofu! Make this dish as a main dish and serve with soba noodles. It'll be one of your new favorite Meatless Monday dish!
2. Nasu Dengaku ナスの田楽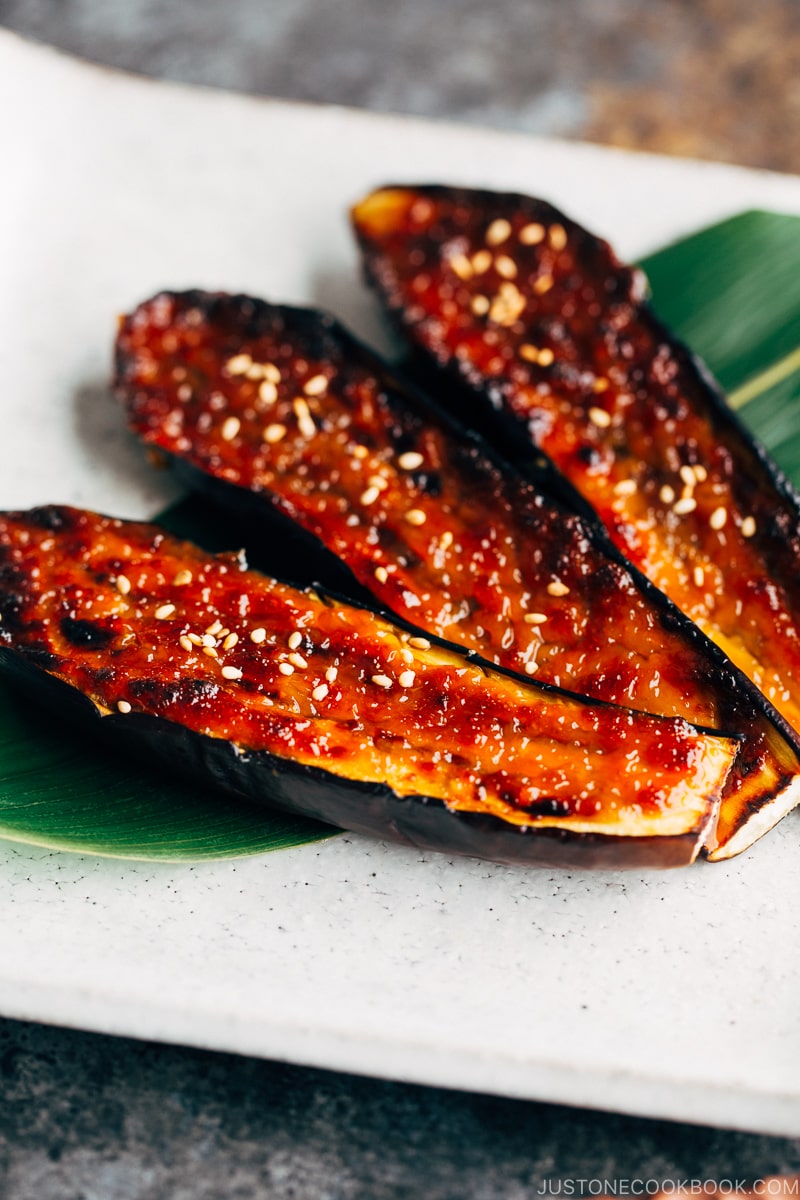 Among the four Miso Dengaku dishes I share today, this is my favorite. Sweet miso glaze caramelized under the oven, the tender eggplant and flavorful miso is a match in heaven! When eggplants are cooked, they absorb and trap all the delicious flavors!
3. Furofuki Daikon Dengaku ふろふき大根の田楽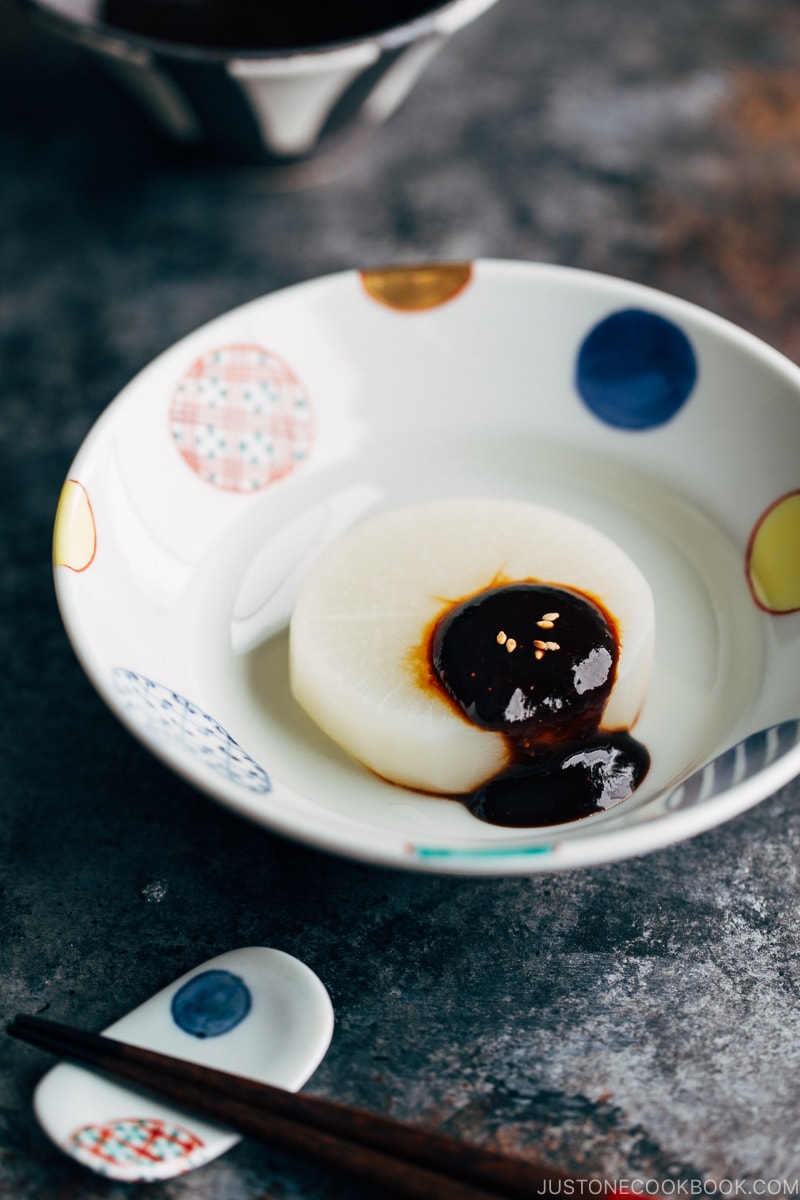 Piping-hot daikon radish slathered in fragrant and flavorful miso sauce, this Japanese comfort dish is a perfect dish on a cold winter night. You see daikon radish all year around, but the juicy and sweet daikon is in season during the winter months (November to February). Grab a daikon from Japanese or Asian grocery store and enjoy this winter vegetable with nice big dollop of sweet and savory miso sauce.
4. Konnyaku Dengaku こんにゃくの田楽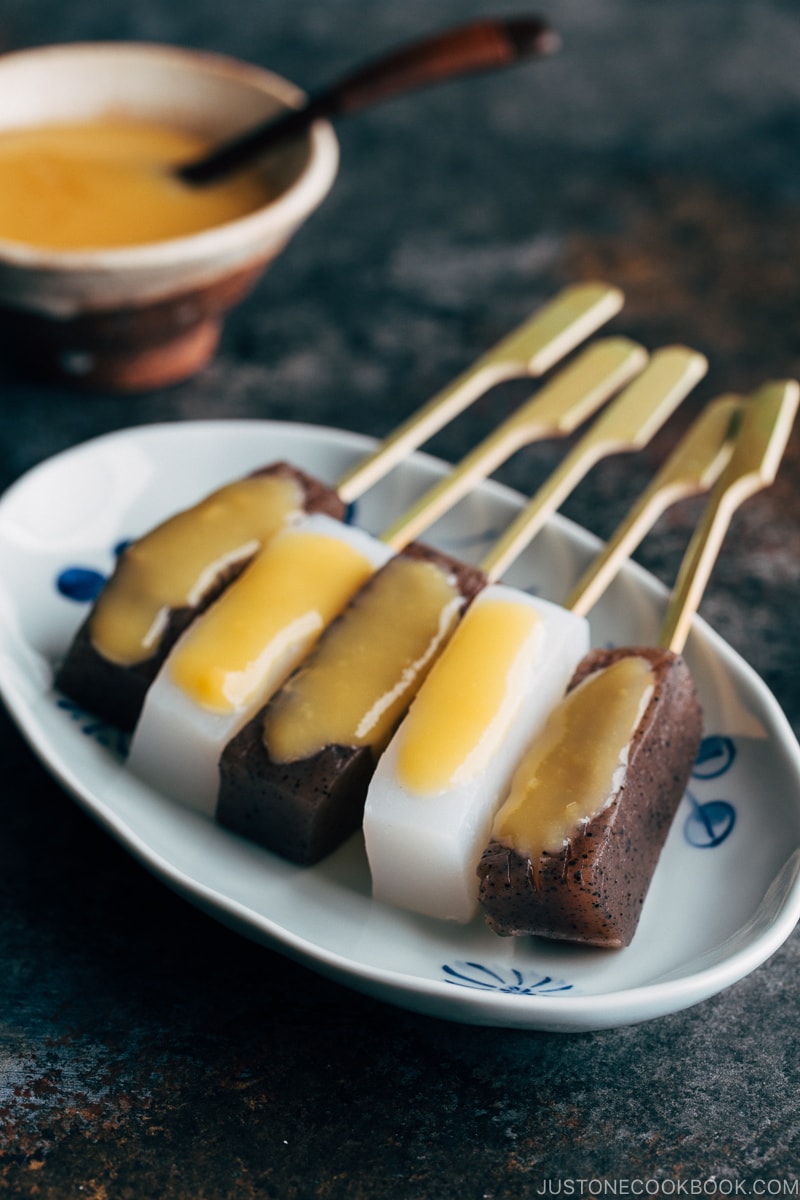 Konnyaku is a low-calorie and high-in-fiber ingredient made from yam powder. It's prized for its unique texture which can be described as a firm, chewy jelly- (JELL-O-) like texture. It doesn't sound appetizing as savory food. Well, maybe not until your first bite.
Combined with a mouth-watering sweet and savory miso glaze, konnyaku brings wonderful texture and flavors to enjoy.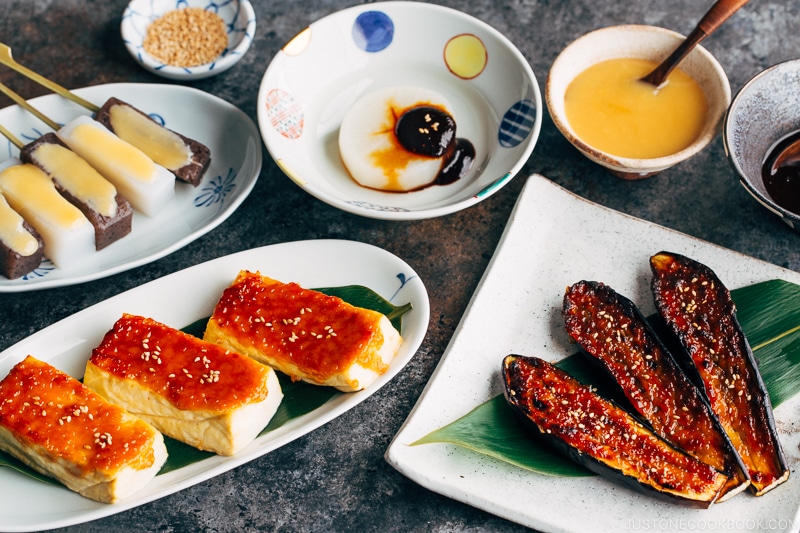 Wish to learn more about Japanese cooking? Sign up for our free newsletter to receive cooking tips & recipe updates! And stay in touch with me on Facebook, Pinterest, YouTube, and Instagram.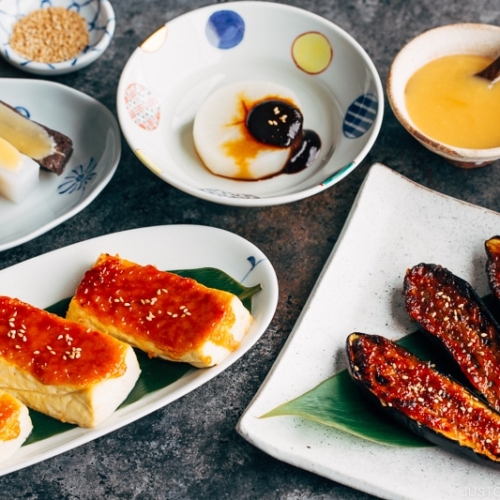 Miso Dengaku (Tofu, Eggplant, Daikon & Konnyaku)
Slathered in sweet & savory miso glaze, Miso Dengaku with tofu, eggplant, daikon, or konnyaku has been enjoyed in Japan since 1500's.
Ingredients
Japanese Ingredient Substitution:
If you want substitutes for Japanese condiments and ingredients, click
here
.
Instructions
Gather all the ingredients.
Miso Dengaku Sauce
Combine

2 Tbsp sake

,

2 Tbsp mirin

,

4 Tbsp miso

, and

2 Tbsp sugar

in a saucepan. Mix well to combine and then bring to a gentle simmer over the lowest heat. Stir constantly and cook for 2–3 minutes. Make sure the miso doesn't burn. When the miso has thickened, it's ready to use. To Store: You can put the miso in the airtight container and store the refrigerator for up to 3–4 weeks.

Use the miso glaze to slather on the foods you prepare below.
★ Tofu & Eggplant Dengaku
Preheat the oven to 400ºF (200ºC). For a convection oven, reduce the cooking temperature by 25ºF (15ºC). Wrap

1 medium-firm tofu (momen dofu)

with 2 sheets of paper towel and press the tofu between two plates for 30 minutes. Alternatively, you can microwave paper towel-wrapped tofu for 60–90 seconds to dehydrate. Once the tofu is dehydrated, cut it into small bite-size (any shape is ok), and the thickness should be about ¾ inch (1.5 cm).

Cut

3 Japanese or Chinese eggplants

in half lengthwise and score the cut surface in a crisscross pattern. This will help the eggplant absorb more flavor. Immediately soak in water to prevent the eggplants from changing color and to remove the bitter taste. Drain and dry with a paper towel.

Place the tofu and eggplants (skin side down) on a rimmed baking sheet lined with parchment paper or a silicone baking sheet. With a brush, apply

1 Tbsp neutral oil

on top and bottom of tofu and eggplants. Bake at 400ºF (200ºC) for 30 minutes, or until the eggplant is tender. Remove the baking sheet from the oven. Adjust the oven rack 6 inches from the heating element and preheat the broiler for 3 minutes. Meanwhile, carefully spoon some of the Miso Dengaku Sauce onto your tofu and eggplants and spread evenly. Broil for 3–4 minutes, or until the top has a nice char and caramelization. Transfer to a serving platter, sprinkle with

1 tsp toasted white sesame seeds

, and serve immediately.
★ Daikon Dengaku
Peel

3 inches daikon radish

and cut it into ¾-inch (1.5- to 2-cm) rounds (or you can cut into a half-moon shape if the daikon is very big). Make a crisscross incision on one side in the center (just one side—this will be the bottom side when serving), which helps absorb the seasonings. We call this technique kakushi bocho.

Place the daikon in the pan and cover with water. Ideally, instead of water, you want to use the rice-soaked water (the first white water that you throw away while washing rice). It'll help the daikon keep its pretty white color. Now, bring to a boil over high heat. Once boiling, cook on low heat for 20 minutes.

Drain the rice-soaked water and put the daikon back in the pot. Cover the daikon with more water, add

1 piece kombu (dried kelp)

, and bring to a boil. Right before boiling, remove and discard the kombu. Lower the heat to simmer and cook daikon for another 20 minutes, or until a skewer pierces through smoothly. Turn off the heat and transfer to a serving dish. Pour a generous amount of Dengaku Miso and sprinkle

½ tsp toasted white sesame seeds

on top. Serve warm.
★ Konnyaku Dengaku
Cut

2 blocks konnyaku (konjac)

into bite-size pieces and gently score each piece with a crisscross pattern on the top.

Bring water in a medium saucepan to a boil and cook the konnyaku for 3 minutes. Drain and allow to cool a little bit, then insert a bamboo skewer in each piece. Slather a generous amount of Dengaku Miso on top and serve immediately.
To Store
You can keep the leftovers in an airtight container and store in the refrigerator for up to 3 days.
Nutrition
Nutrition Facts
Miso Dengaku (Tofu, Eggplant, Daikon & Konnyaku)
Amount per Serving
% Daily Value*
* Percent Daily Values are based on a 2000 calorie diet.
©JustOneCookbook.com Content and photographs are copyright protected. Sharing of this recipe is both encouraged and appreciated. Copying and/or pasting full recipes to any website or social media is strictly prohibited. Please view my photo use policy
here
.