Join Nami in a Q&A session as she celebrates her 6 year blog anniversary answering questions from fans!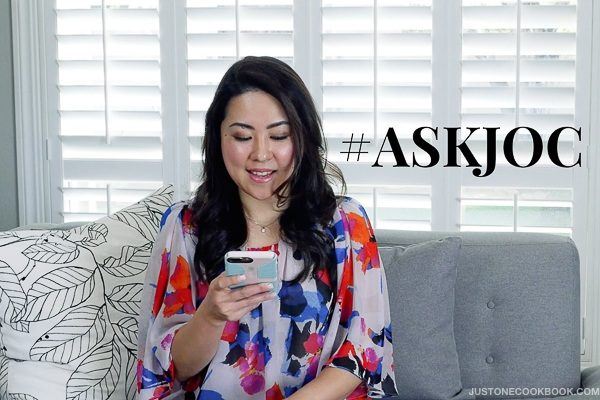 Thank you for sending me your questions via email and on social media. I hope you get to know me a little more. 🙂
WATCH #askJOC – First Q&A

Additional Questions not Covered in the Video
As I couldn't answer all the questions in the video, I responded to the rest of questions on this blog post. It's my first Q&A, and I didn't want to leave anyone's question out. 😉
About Blogging/JOC
Q: What were your feelings when you created JOC and when people praise your recipes? – Afaq Ashraf (FB)
I was excited and driven to add my recipes to the site, as I didn't have to collect paper recipe and cards for my recipes anymore. I finally had a place where I could store my recipes for my family.
I feel really happy and honored whenever my readers tell me that they enjoyed my recipes. I am so glad and honored the readers have trust in my recipes and my taste. Everyone's positive feedback keeps me going!
Q: How long it takes for your blog to get approved by google ads? – @mrsjohnchan (IG)
It was less than one week. That's what Mr. JOC just said but it's been 5.5 years since we first tested Adsense so our memory is a bit foggy.
Q: What was your first recipe you put on this website? – John (Email)
It was Unagi Chazuke, published on January 3rd, 2011. It was after the Japanese New Year feast, so we were craving for something simple and light.
Q: How did the blog start out when it went live on the web? What were the challenges and rewards during the first 3 years of JOC? How do you get paid by blogging and how do you get sponsors from the companies? – @leodoehl (IG)
I had only few readers when I started blogging, myself and my friends who were interested in my recipes. The most challenging part was learning about blogging, especially everything behind the scene. We didn't know what platform to choose and which hosting company to go with. It took several trial and errors to get it correct over the course of several years. The rewards include meeting new blogger friends around the world and learning authentic recipes from them. My income mostly comes from advertisement on the blog and special corporate evangelist projects, and occasionally sponsorship. A lot of companies started to reach out to me when I have more readers and I always choose whom I want to work with.
Q: I think you should have an app for your recipes. Are you going to make one? – @bowsnblingsI (IG)
I wish! When I cook at home, I go to my own site and follow my own recipes to make sure they work every time. So I agree that a JOC app would be nice. Mr. JOC looked into this once, it's easy to create an app. However, to build an app that's easy to use, intuitive, beautiful, and how I envision it would take a lot of effort…so maybe not at this time. Anyone know good app developer they can refer to me??
Q: What's a typical day for you? How do you juggle family and blogging? Are you self-disciplined? – Christina (Email)
My typical morning starts with preparing kids' breakfast and bento and dropping them off at school. As soon as I come home, I work out using FitnessBlender. I test recipes, edit pictures, write blog posts, and respond to emails until I pick up my kids. Then we have the hectic evening schedule with homework, activities, and dinner. When the kids are finally in bed, Mr. JOC and I continue to work. It's not easy to juggle both family and work, but after hiring my team, I could focus on more important tasks for my business. I'm pretty self-disciplined but very easily distracted with little ones around…
Q: If you are looking to add more people to your team, and what would entail? – Jennifer (Email)
I'm not hiring at the moment. However, it would be nice to hire a photo shooting/food styling assistant, and someone who could help me with my blog's features and backend.
Q: What do you sacrifice to do JOC? – @wen_thing (IG)
Our time with the kids on weekends. We film almost every weekend, both Saturday and Sunday. Since we need natural light (daylight) for our photoshooting, a big chunk of weekends go into JOC production. Our kids are very supportive about it, but we always feel guilty about it. As soon as we finish working, we spend time together as family.

About Cooking
Q: If you weren't blogging Japanese recipes, what other cuisine would you cover? – C.K. Lee (FB)
Whether I blog or not, I mostly cook Japanese food at home and my family prefers to eat Japanese food. But I do cook non-Japanese food occasionally, like pasta, salad, soup, meat dish and so on.
Q: What is the best dish you've ever cooked? – @brneyedgirl03 (IG)
Very tough question! The best dish that "I" think, right? Hmm.. maybe not yet. 🙂 . My family's favorite is probably Mapo Tofu.
Q: What are your favorite non Japanese foods? – @anj00lee (IG)
I have a lot… too many favorites. Each cuisine has some food that I really love, and they are equally my favorites and simply not comparable… Really. 😉 . I do have a weakness for pasta.
Q: What first Japanese foods would you recommend for 8 month old infant? – @ysy86 (IG)
The "first" Japanese food for my kids was rice porridge, then puree of a single ingredient, then combination of ingredients. Finally softer and bland version of our regular food. I used to scoop out small portion from our dinner BEFORE seasoning ours, and mash it or cook further to soften. For example, if Nikujaga was on our menu, I'd take out some portion before seasoning adult's portion, cooked a bit longer and then seasoned lightly. If Miso Soup, I scooped the top layer of soup where there is not much salty miso taste. In Japan it's common to "portion out" baby/toddler's food from adult food instead of making ANOTHER dish just for the baby/kid.
Q: What types of cuisine do you want to explore? – @beaudrillard (IG)
Sorry it's not cuisine, but as a way to improve my blog, I really want to learn more about regional Japanese food. I received quite a lot of requests about regional foods in Japan, and I want to explore more so I can talk about it and share the recipes here on my blog.
Q: Do you prepare bento daily for your children? – @declairelegenou (IG)
Yes, I do. I sometimes wish I don't have to so that I can sleep a bit more. I looked forward to lunch time and my mom's bento when I was in school. I hope to give the same feelings and experience for my children.
Q: How to use seaweed from the ocean in salads and soups and casseroles? – @sarahshouseoftrousers (IG)
For soups and salads, we use the type of seaweed called wakame. We do not use seaweed in casseroles. I have some salad recipes using wakame here: Cucumber & Wakame Salad (basic), Cucumber & Wakame Salad (with Sesame), Cucumber & Crab Salad, Octopus Salad, Salad with Japanese Dressing, and Tofu Salad.
Q: What is the strangest recipe/thing that you have ever cooked? Did it also turn out to be tasty? – @pensnpapereh (IG)
Chicken gizzard, Mr. JOC's request. It was quite good after boiling for 40 min and seasoned simply with salt and pepper. I only tried one piece. LOL.
Q: Why do you like cooking? – @roroba.origami (IG)
I like cooking because I get to see my family's smile when they eat my food and they really enjoy the food I make. I think that's a strong drive in me. I cook so that my family can enjoy the food and the happy moments together.
Q: Would you ever do a in person cooking class? – @yamgirl373 (IG), Christine Lum (Email)
Thank you for your interest! I received same requests from other local readers too. Realistically, I don't have the capacity. Blogging and making videos already take a huge chunk of my time, and I would like to keep my family time.
Q: What does a typical week look like for your family dinners? What are your family's top five favorite dishes that you make? – Amy (Email)
For Monday through Friday, I mostly cook Japanese foods. For Saturday and Sunday, we usually have to eat out for lunch and dinner as we spend most of the day filming. My family's top 5 favorite dishes are Hambagu, Japanese Curry, Tonkatsu, Korokke, and Miso Salmon.
Q: How do you prepare raw octopus? There aren't any Asian stores where I live, but my grocery store does sell raw (not boiled) octopus. How do I cook it so that I can make the recipes in your website? – I. Rueda (Email)
I don't have the recipe for it, but I found this YouTube video that might be helpful? It's important to massage with salt before boiling. 🙂
Q: Could you please consider making ohagi? – @d0r1n3 (IG)
Sure! I added to my list. 🙂
Q: I loved your matcha madeleines recipe. How do I convert it to regular madeleines? – @bekah_lee (IG)
It's really easy! Swap to the following ingredients. 1 Tbsp. matcha –> 1 Tbsp. lemon zest. 1 Tbsp milk –> 1 Tbsp. lemon juice. Then add 1 tsp. vanilla extract which is not in matcha version. My kids love both versions. 🙂

About Eating & Traveling
Q: If you could eat anywhere in the world, where would that be? – @tutti_dolci (check out her blog!) (IG)
I want to go to France and Italy, and I've been saying that all my life. Hopefully one day… 🙂  I'm going to London this April and I'm so excited as it's my first time in Europe!
Q: What country do you want visit? – @nettytar (IG)
So hard to pick one! I just can't… As I've never been to Europe, I'd be happy to be in one of European countries. I'm also interested in visiting Asian countries like Korea, Vietnam, Malaysia, Singapore…thinking all their delicious food I enjoy all the time. I'm visiting Thailand again to visit my brother this summer, so that's exciting. I'm hoping to tag along with Mr. JOC when he goes on business trip to Chile and Australia. For our family's dream trip, we want to go to Africa and enjoy the safari.
Q: Do you have a favourite snack that you will make for your kids on schooling days? – @kelvinloon (IG)
Besides occasional banana bread and banana muffins, I don't have time to make homemade snack anymore. It might be strange, but one of their favorite snack is Onigiri.
Q: What're your favorite Taiwanese dish and Spanish dish? Why? – @receta_asiatica (IG)
My absolute favorite Taiwanese dish is all the breakfast dishes! The vegetable steamed buns, egg omelette, steamed dumplings, breakfast sandwiches, milk tea… When I'm in Taiwan, I go to sleep every night looking forward to breakfast. For Spanish dish, I love Jamon (influenced by Mr. JOC) and grilled octopus.
Q: What do Japanese typically eat for breakfast? – @happyberry13 (IG)
Two types of "Japanese" breakfasts. Japanese style (Washoku) and Western style (Yoshoku). I just looked up which one is more popular in Japan, and it turned out it's about same. The western one is slightly more popular as it's easier to prepare in the morning.
Typical Japanese style breakfast includes steamed rice, miso soup, grilled fish, tamagoyaki, small sides, pickles, natto, etc.
I grew up eating western style breakfast everyday as that's what my mom prepared. Her typical breakfast included delicious bread from bakeries (she's fanatical about good bread), eggs, hams or sausages, yogurt, and a mountain of salad. I think it's a Japanese thing to eat salad from breakfast (do westerners eat salad for breakfast?).
Q: What you do, eat and where you visit, while in Taiwan? – Doug (Email)
When we're in Taiwan, we visit Mr. JOC's family members and go for a short trip (within Taiwan) with his mom. Day to day, we just hang out in shopping mall (because it's too hot outside), take the kids to some sightseeing spots, and try out different foods. We always try to squeeze in a hot spring trip and Ding Tai Fung.
Q: What is your favorite Japanese snack or candy that you can buy at a store? – Amy (Email)
My all-time favorite snacks for a road trip or Shinkansen ride: Toppo, Meiji's Almond Chocolate, Chipster (salt), Bourbon Rumando… I can buy these snacks at my local Japanese grocery stores, but I try not to eat snacks (I'm already overweight…).
Q: When will you go back to Japan again? – @Simon08 (twitter)
We visit Japan every summer and spend most of the kids' summer break there with my family.
Q: What's your favorite sweets or dessert? – @djnominome (twitter)
When I was in teens and 20's, it was all about chocolate. Ever since late 30's, I'm really into citrusy desserts. I also love crusty or crispy dessert more than soft dessert. I always love Japanese sweets with red bean paste and matcha.
Q: When are you visiting Houston! – @smileyjeno (check out her page!) (IG)
I hope I can visit Houston (and you) soon! xoxo

Other Questions
Q: Do you have any allergies or intolerance? – @sui.tuyen (IG)
I'm lactose intolerant (getting worse as I age) and developed allergic reactions to crab, mango (one incident), and occasionally tomato/eggplant (my tongue gets weird).
Q: Where is the best wagyu restaurant here in the Bay Area? – @deedeette417 (IG)
We sometimes splurge and make wagyu steak at home. You can buy real wagyu from Japan (Miyazaki Beef) at Pape Meat or Debragga online. Mr. JOC does such an amazing job preparing the steak.
But since you said "restaurant"… I remember the wagyu prepared at Keiko à Nob Hill was really unique, as it was served with citrus yuzu-soy foam. I believe Alexander's and other steakhouse also sell real Wagyu, but it's really overpriced compared to Japan. I just try to enjoy as much as I can when I am back home (same goes for sushi).
Q: What is the best way to learn Japanese? – @sakura_pandas (IG)
Considering how poor my English level is, I am probably not the best person to give an advice on learning language. 😉
But this is what I still practice – I try to listen to English more. When I'm cooking alone, I listen to podcast or news in English. I also watch movies and dramas to learn new phrases. I'm hoping that one day new words and phrases I learned come out naturally after hearing them so many times.
Q: How do you like our rainy weather? – Doug (Email)
It's okay! We need water, and nature needs water. When it's raining and too dark, it's a bit tricky to take pictures of food in my living room…. but I have to learn to cope with it. 🙂

That's it! Thanks so much for reading all the way. You're so sweet. xo 🙂
Don't want to miss a recipe? Sign up for the FREE Just One Cookbook newsletter delivered to your inbox! And stay in touch with me on Facebook, Google+, Pinterest, and Instagram for all the latest updates.