Chirashi Sushi is a traditional style of Japanese sushi commonly served on happy occasions and at parties. This bright and festive dish is made of sushi rice with a variety of vegetables mixed in, and cooked ingredients scattered on the top. This is the made-from-scratch method but I also have a quick and easy version on the blog.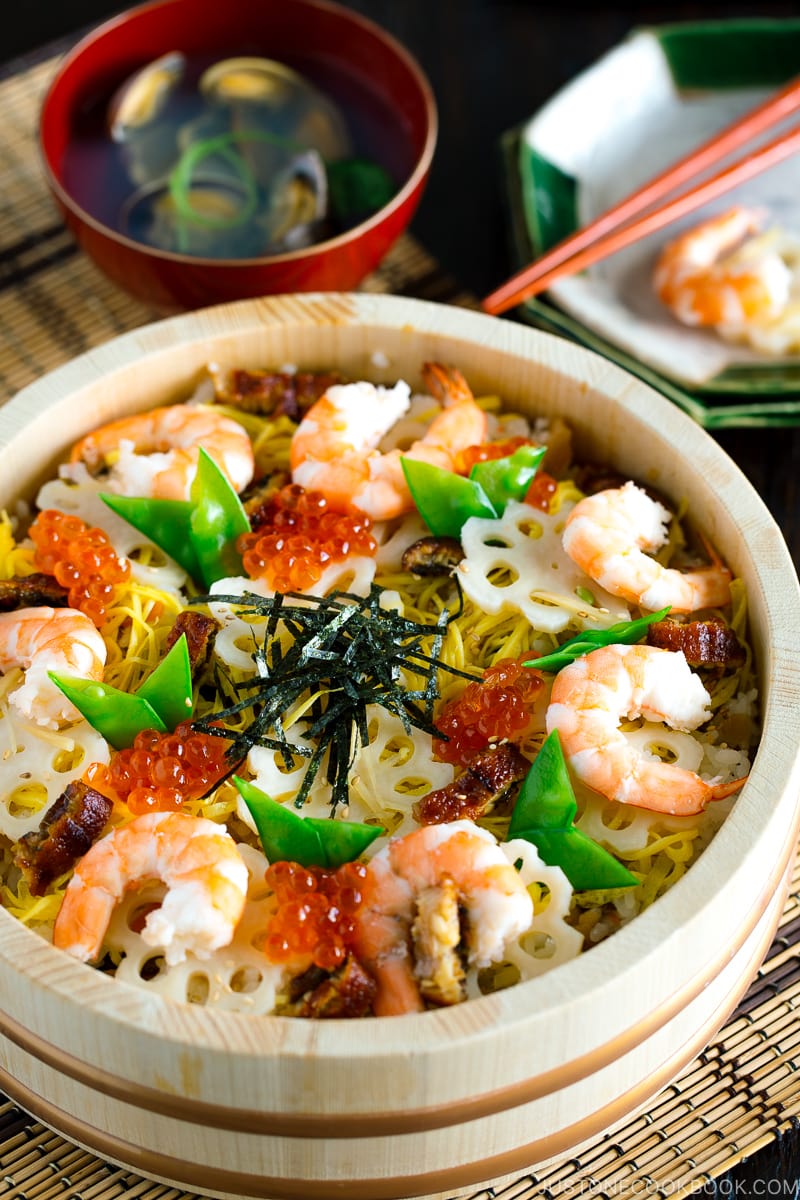 In Japan, we have a few dedicated dishes that are strongly tied to special occasions or celebratory events, and one of them is the brightly colored Chirashi Sushi (ちらし寿司).
What is Chirashi Sushi
The word chirashi means "scattered" (散らし), so chirashi sushi literally means 'scattered sushi'. It is a traditional style of sushi said to have inspired the modern-day sashimi bowl.
The most distinctive feature of chirashi sushi is its presentation. Unlike the individually hand pressed (or rolled then sliced), single bite-size pieces of sushi, chirashi serves the rice in a large rice tub or a lacquer box and top it with a variety of raw fish and vegetable garnishes.
There are generally 2 types of chirashi sushi you can find in Japan:
Type 1: Sashimi Over Sushi Rice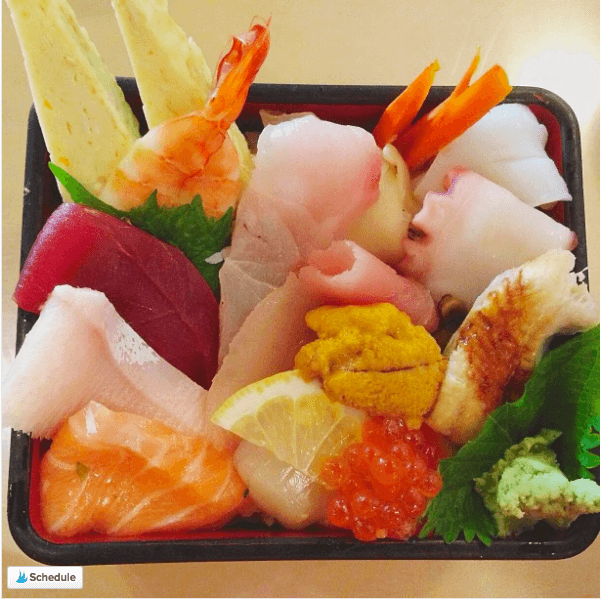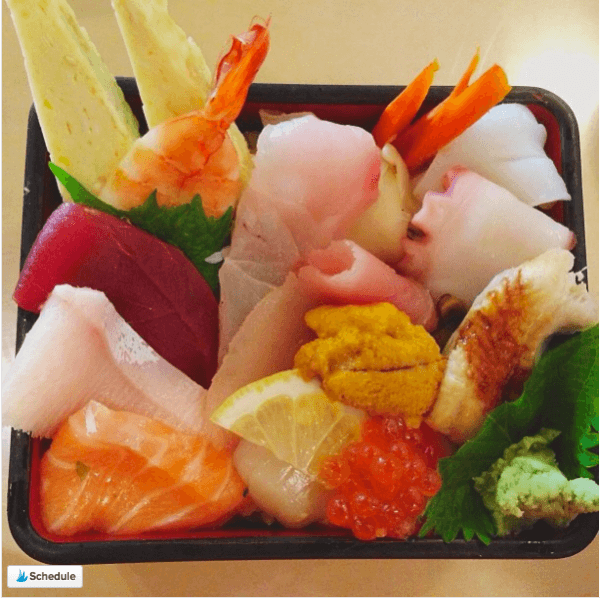 Chirashi sushi (chirashi don) with sashimi — @justonecookbook on Instagram
I believe this chirashi sushi (also known as chirashi don) is what most people are familiar with. When you order chirashi sushi at Japanese restaurants, you'll get a lacquer box of assorted sashimi nicely plated over the sushi rice.
Around the early 1900s, sushi chefs in Edo (current Tokyo area) started to serve assorted sashimi (raw seafood) on top of sushi rice and called it chirashi sushi.
However, when you go outside of the Tokyo area, this is called Edomae* chirashi sushi (江戸前ちらし寿司) or kaisen chirashi sushi (海鮮ちらし寿司) to differentiate the mainstream chirashi sushi, which I'll talk about next. * Edomae or Edo-style means old Tokyo style.
* On a side note, when sashimi is placed over regular steamed rice, not vinegared sushi rice, it's called kaisen don (海鮮丼). You can get these sashimi bowls at non-sushi restaurants. I also have a recipe for Sashimi Bowl. Sushi restaurants make only sushi rice so they only offer sashimi over vinegared sushi rice. Now you know the difference between kaisen don and kaisen chirashi sushi — it's all in the rice.)
Type 2: Chirashi Sushi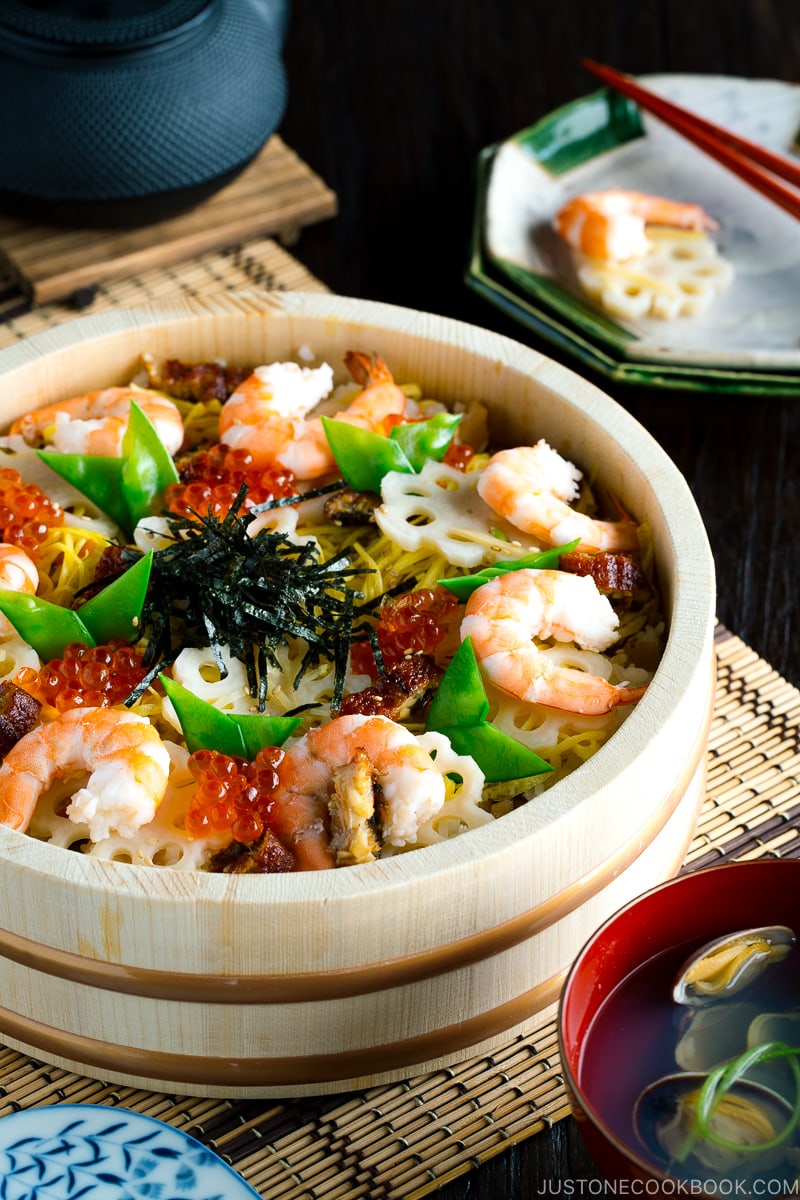 This festive and visually stunning chirashi sushi is the one that we often serve at happy or celebratory events, such as Hinamatsuri (Girls' Day) in March and Kodomo no hi (Children's Day) in May.
The rice is served in a large wooden platter called hangiri and the ingredients are mixed in and topped on the sushi rice. It's often vegetarian, and if it is not, it usually contains only cooked seafood like unagi and shrimp rather than raw fish.
Regional Differences
Depending on the regions, chirashi sushi is also called gomoku sushi (五目寿司), gomoku chirashi (五目ちらし), or barazushi (ばら寿司). The alternate naming conveys the regional nuances and helps distinguish the dish from the other chirashi (Type 1 above).
My mom is originally from Osaka before she moved to Tokyo, so she always calls this type of sushi bara sushi, which is commonly used in the Osaka area.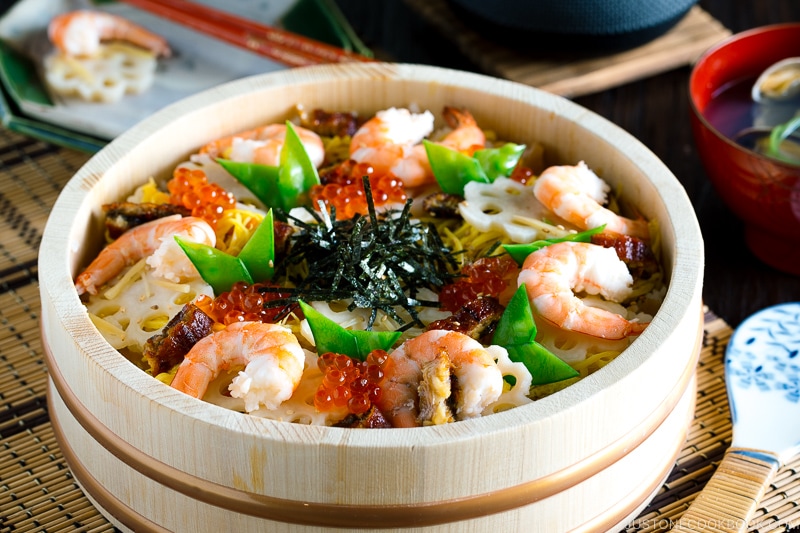 Ingredients & Topping Choices for

Chirashi Sushi
Every family has their own versions of chirashi sushi, and today I'll show you how you can make it your own too!
In my recipe, I included some traditional ingredients which can be hard to find if you don't live near a Japanese grocery store. However, you have the flexibility to simplify and modify! Feel free to leave out any ingredients you can't find.
Here are my suggestions for ingredients and toppings that go well with chirashi sushi:
Ingredients (to mix in with the sushi rice):
Dried shiitake mushrooms
Carrots
Gobo (burdock root) — can also be found at Whole Foods or local co-ops.
Bamboo shoot (blanched)
Inari age (seasoned deep-fried tofu pouch)
Koyadofu (seasoned dehydrated tofu)
Toppings:
Avocado (sliced or cubed)
Snow peas
Green beans (blanched)
Egg crepe
Shrimp
Crab (real or imitation)
Kinome (木の芽 (山椒)) – I look for it locally but no luck…
Octopus (boiled)
Sakura denbu (seasoned ground codfish) – pink color adds a nice touch for Girl's Day celebration!
Tobiko (flying fish roe)
Make Chirashi Sushi for Hinamatsuri & Potluck!
Traditionally, Chirashi Sushi is eaten on Hinamatsuri (雛祭り) or Doll's Festival on March 3 every year. You can read more about this Japanese custom in this post.
Chirashi Sushi is a very easy type of sushi and does not involve any raw fish. It's a perfect dish for big family gatherings and potluck parties!
You can purchase the sushi mixing bowl called hangiri (or sushi oke) on Amazon. My hangiri below is 10″ (26 cm) which is great for a family of four.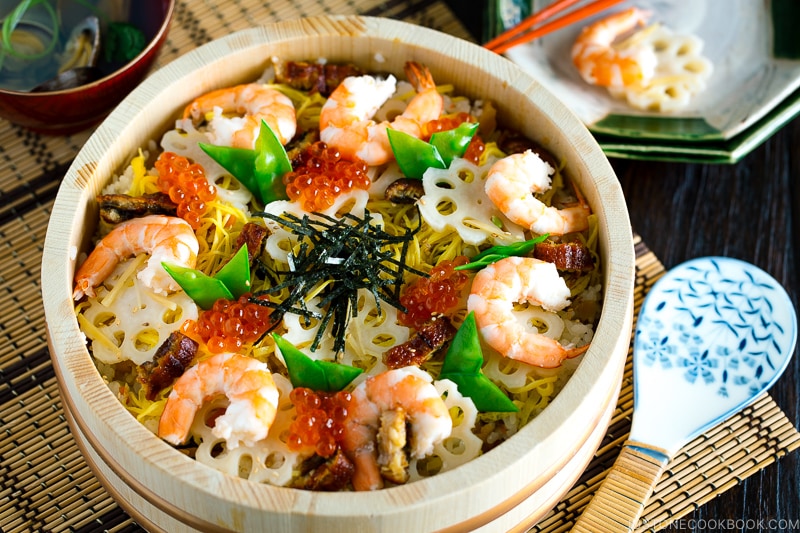 Quick & Easy Chirashi Sushi Recipes
1. Simplified Chirashi Sushi using packaged seasoning mix — this is one of the easiest sushi recipes you can make at home!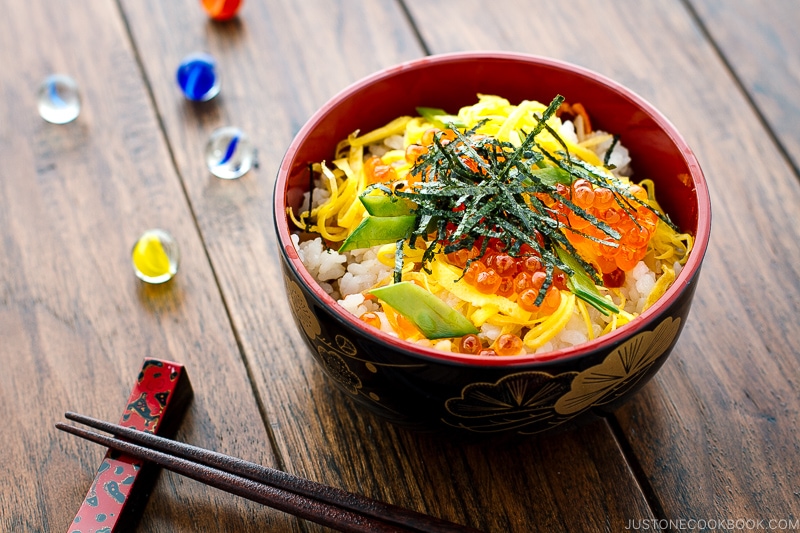 2. Chirashi Sushi Cake – This is a modern take on chirashi sushi and very popular at weddings.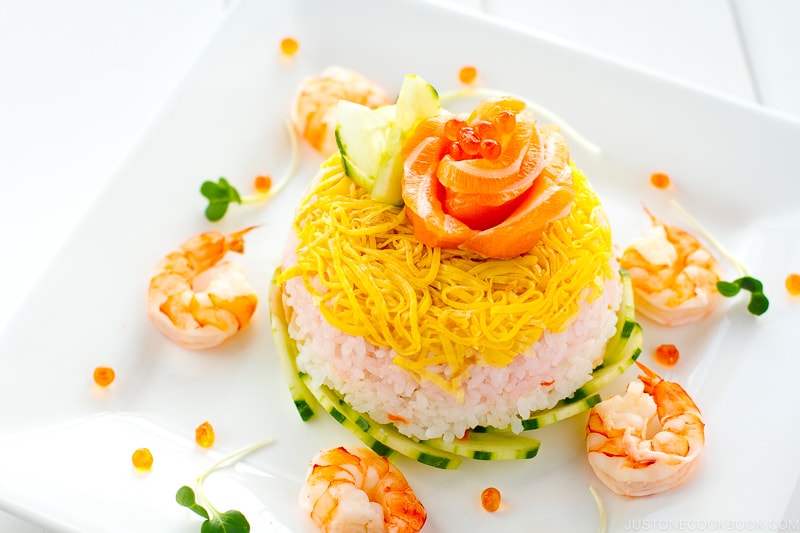 Japanese Ingredient Substitution: If you want to look for substitutes for Japanese condiments and ingredients, click here.
Wish to learn more about Japanese cooking? Sign up for our free newsletter to receive cooking tips & recipe updates! And stay in touch with me on Facebook, Pinterest, YouTube, and Instagram.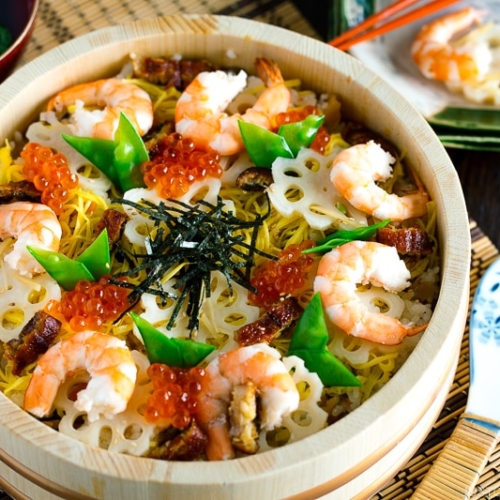 Chirashi Sushi
Chirashi Sushi is a traditional style of Japanese sushi commonly served on happy occasions and at parties. This bright and festive dish is made of sushi rice with a variety of vegetables mixed in, and cooked ingredients scattered on the top.
Ingredients
For Pickled Lotus Root & Ginger
2

inches

lotus root (renkon)

1

knob

ginger

(1", 2.5 cm)

⅓

cup

sugar

½

tsp

kosher salt (Diamond Crystal; use half for table salt)
For Chirashi Sushi Mix
½

cup

water

(for soaking dried shiitake mushrooms)

0.8

oz

dried kanpyo (gourd strips)

1

tsp

kosher salt (Diamond Crystal; use half for table salt)

(for rubbing kanpyo)

½

carrot

¼

cup

sake

(4 Tbsp)

3

Tbsp

mirin

1

Tbsp

sugar

2

Tbsp

soy sauce
For Egg Crepe (Kinshi Tamago)
3

large eggs (50 g each w/o shell)

1

Tbsp

sugar

(optional)

1

Tbsp

dashi (Japanese soup stock; click to learn more)

(or sake or water)

¼

tsp

kosher salt (Diamond Crystal; use half for table salt)

½

Tbsp

neutral-flavored oil (vegetable, rice bran, canola, etc.)
For Snow Peas
6

snow peas

⅛

tsp

kosher salt (Diamond Crystal; use half for table salt)
For Sushi Rice
3

rice cooker cups

uncooked Japanese short-grain rice

(180 ml x 3 = 540 ml; 3 gō 合, 450 g; 3 rice cooker cups yield roughly 5-6 servings (5 ¼ US cups or 990 g))

540

ml

water

1

piece

kombu (dried kelp)

(2", 5 cm)

3

Tbsp

sugar

1 ½

tsp

kosher salt (Diamond Crystal; use half for table salt)
For Shrimp
8-10

large shrimp

1

Tbsp

sake

⅛

tsp

kosher salt (Diamond Crystal; use half for table salt)
Japanese Ingredient Substitution:
If you want substitutes for Japanese condiments and ingredients, click
here
.
Instructions
To Make Pickled Lotus Root & Ginger
Gather all the ingredients.

Combine rice vinegar, sugar, and kosher salt in a small saucepan. Bring it to a boil and let the sugar dissolved completely. Set aside to cool.

Peel and cut the ginger into julienne strips (thinner the better). Peel the lotus root and cut out the edge to make a flower shape (Read my Hana Renkon tutorial).

Slice the lotus root into ⅛ inch (3 mm) and soak in vinegar water (add 1 tsp rice vinegar to the water) for 5 minutes to prevent it from turning brown.

Boil water in a small saucepan and blanch the ginger and lotus root for 3 minutes. Drain well and transfer them to the vinegar mixture to marinate. You can make this ahead and keep it up to 1 week in the refrigerator. 
To Make Chirashi Sushi Mix
Gather all the ingredients.

Soak dried shiitake mushrooms with ½ cup water until they are hydrated and tender. Then squeeze the mushrooms and reserve the liquid (this is called shiitake dashi) in the bowl. Cut off and discard the stem.

Slice the shiitake mushrooms. Strain the reserved shiitake dashi to remove impurities. Save this shiitake dashi until you're ready to use in Step 8.

Make a criss-cross incision at one end of the gobo. This criss-cross incision will help you shave the gobo like a pencil. Shave into small thin pieces as you rotate the gobo. Soak the cut pieces in water so they won't turn brown. Change the water 1-2 times. Drain right before you start cooking in Step 8.

In a small saucepan, bring water to boil. Quickly rinse the kanpyo in running water and drain. Rub kanpyo with 1 tsp salt. Rinse and drain well.

When the water is boiling cook kanpyo for 3 minutes. Transfer to iced water to stop cooking process and squeeze water out.

Cut kanpyo into small pieces and cut the carrot into julienne strips.

Add shiitake mushrooms, gobo, and kanpyo in the pot (keep the carrot aside for now). Add dashi, reserved shiitake dashi (the liquid from hydrating dried shiitake), sake, mirin, sugar, and soy sauce, and bring to simmer on medium heat.

Skim the foam and scum on the surface as much as you can, decrease the heat to simmer, and cover with Otoshibuta (drop lid). This lid ensures that ingredients are submerged under the liquid and flavorful cooking liquid circulates well. You can make one with aluminum foil easily and here's the tutorial.

Add the carrot while there is still liquid in the pot but toward the end of cooking so that you don't overcook carrot and get mushy. Continue to cook with Otoshibuta until the liquid is almost gone. The whole cooking process is about 20-25 minutes depending on the heat.  Transfer the Chirashi Sushi Mix to a plate to cool completely.  If you end up with some cooking liquid, you can save a little bit so you can season the rice later.  You can make this ahead and keep it in the refrigerator for up to 3-4 days.
To Make Egg Crepes
Gather all the ingredients.

Whisk the eggs and add the rest of the ingredients into the bowl. Whisk to combine and strain the egg mixture to get a silky texture.

Heat the large non-stick frying pan and grease the pan with a paper towel dipped in vegetable oil. Make sure to wipe off the excess oil. When the pan is hot, pour the egg mixture just enough to cover the bottom of the entire fry pan.

Tilt the pan to fill the frying pan with the egg mixture and cover with the lid. Remove from the heat and place the pan on a cold towel to cool the pan so the egg won't become brown. Once the egg crepe is cooked through, transfer to a wire rack and let cool completely. Continue this process until all the egg mixture is gone.

Roll up the egg crepes and cut thinly into julienned strips. Loosen them up and set aside.  You can make this ahead and keep it in the refrigerator for up to 2-3 days or in the freezer for up to a month.
To Prepare Snow Peas
Remove the tough strings along the edges of snow peas. Bring water to boil in a small saucepan. Add pinch of salt and blanch them for 2 minutes. Drain and cut diagonally in half or thirds.
To Make Sushi Rice
Gather all the ingredients.

Rinse the rice, soak for 30 minutes, and drain (read the tutorial). Put the rice in a rice cooker bowl and add the water to the "sushi" water level (a bit less than regular). Place kombu on top and start cooking. If you don't have a rice cooker, follow this tutorial. Combine the sushi vinegar ingredients in a bowl and mix them together. You can microwave or heat the mixture in a saucepan over the stove to dissolve the sugar completely and remove the strong vinegar taste/smell. 
To Prepare Unagi
Unagi is typically already cooked/broiled when you purchase it. All you need to do is reheat in the oven. Set your oven to broil high (550ºF/290ºC) and preheat for 3 minutes. Line the baking sheet with aluminum foil. Spray a bit of oil on the aluminum foil and place the unagi on top. Put the baking sheet in the middle rack of your oven and broil for 5-7 minutes (no need to flip). Once it's cool to touch, you can cut it into ¼ inch (0.6 mm) pieces. Set aside.
To Prepare Shrimp
Using a skewer, devein shrimp without removing the shell (see the tutorial). We peel the shell after cooking to retain the flavor of the shrimp. Boil water in a medium saucepan. Once boiling, add sake and shrimp and simmer until pink, about 2-3 minutes. Remove the shell and set aside.  
To Assemble Chirashi Sushi
Start this step when all the steps above are completed. Discard the kombu from sushi rice and transfer to Hangiri (Sushi Oke) (or a baking sheet lined with parchment paper). If you use hangiri, quickly run water so rice doesn't stick. Pour sushi vinegar over the rice paddle to evenly distribute sushi vinegar over rice. With the rice paddle, slice the rice at a 45 degree angle to separate the rice instead of mixing. At the same time you need to use a fan to cool rice so the rice will shine and doesn't get mushy.

Once the sushi rice is cooled, squeeze the Chirashi Sushi Mix to remove excess liquid (otherwise rice gets too soggy) and combine with sushi rice. You can always add a few tablespoons of the reserved liquid to season the rice if you like (I don't usually do it). 

Gather all the toppings you've prepared.

First, spread the shredded egg crepe. Decorate the chirashi sushi as you like. I usually start with lotus root, shrimp, unagi, snow peas, ikura, sesame seeds, and nori in the center. Enjoy!
To Store
You can keep the leftovers in an airtight container and store in the refrigerator for 3 days and in the freezer for a month.
Nutrition
Calories:
791
kcal
·
Carbohydrates:
124
g
·
Protein:
34
g
·
Fat:
14
g
·
Saturated Fat:
4
g
·
Polyunsaturated Fat:
2
g
·
Monounsaturated Fat:
6
g
·
Trans Fat:
1
g
·
Cholesterol:
304
mg
·
Sodium:
905
mg
·
Potassium:
898
mg
·
Fiber:
10
g
·
Sugar:
15
g
·
Vitamin A:
3607
IU
·
Vitamin C:
37
mg
·
Calcium:
172
mg
·
Iron:
7
mg
©JustOneCookbook.com Content and photographs are copyright protected. Sharing of this recipe is both encouraged and appreciated. Copying and/or pasting full recipes to any website or social media is strictly prohibited. Please view my photo use policy
here
.