From simple salads, and quick pickles, to weeknight stir-fry, here are 10 easy Japanese cucumber recipes to keep on hand for the summer months and beyond.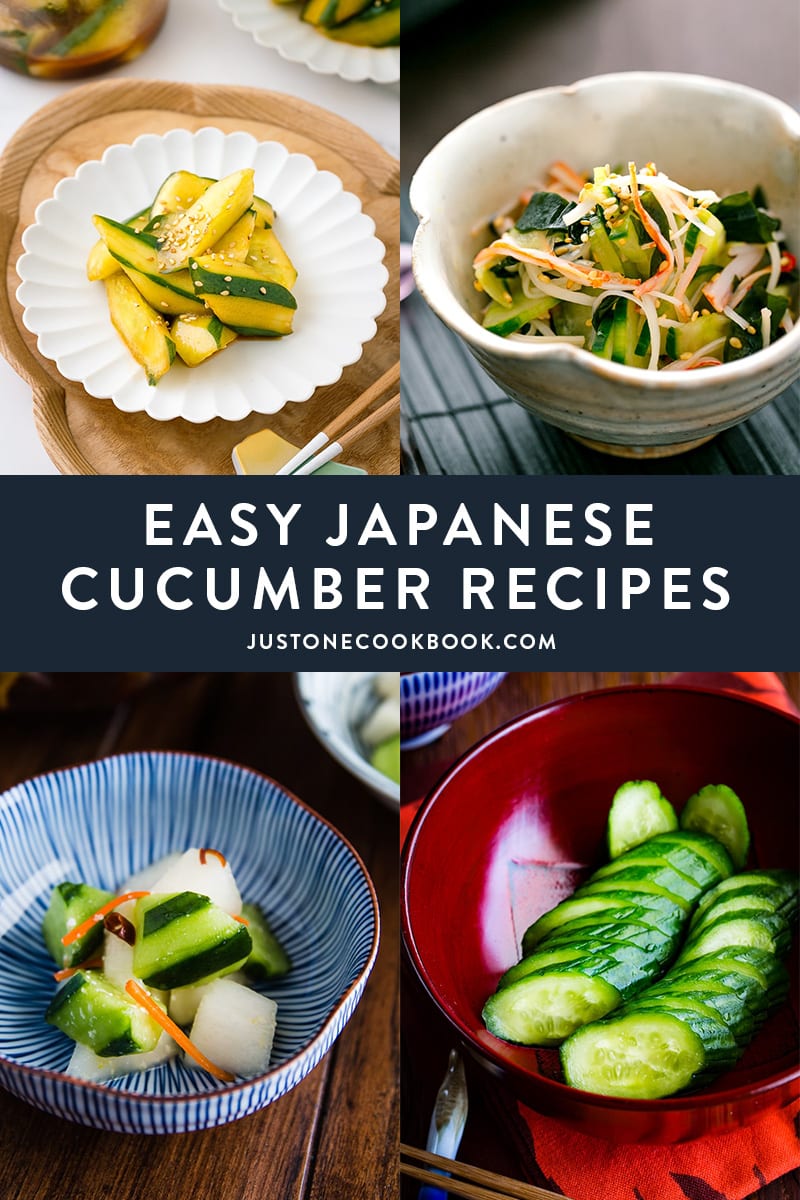 Cool, crunchy and refreshing, cucumbers are the summer star that is extremely good on their own. But sometimes you may find them overtaking the garden or the fridge space. Luckily there is no shortage of ways to enjoy cucumbers besides eating them raw. We've rounded our best Japanese cucumber recipes that are tasty and delightfully easy to make.
What Are Japanese cucumbers (or kyuri in Japanese)?
They are a variety of cucumbers native to Japan and China.
They are known for their bright forest green skin with long and slender bodies.
They do not contain any developed seeds and they are never bitter.
The taste is bright, sweet with melon-like flavor, and the texture is crisp, crunchy, succulent, and tender-firm.
In the US, you can find Japanese cucumbers at Japanese/Asian grocery stores or at farmers' markets. The best substitutes are Persian or English cucumbers.
Best ways to enjoy Japanese cucumbers: eat them raw as a snack, in juice, pickling, as the main or supporting ingredient in sushi and salads, or as an accompaniment to noodle dishes.
10 Easy Japanese Cucumber Recipes You'll Love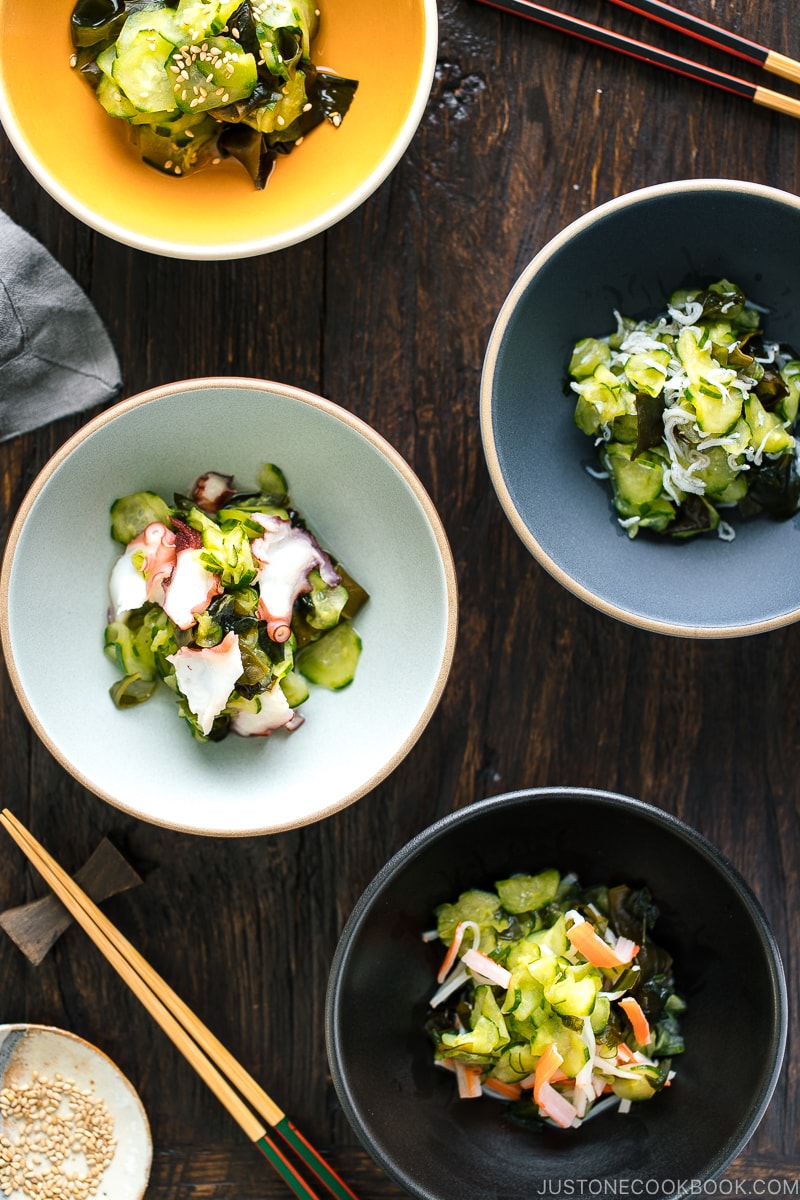 Japanese Cucumber Salad (Sunomono) 4 Ways – The classic Japanese side dishes are most often comprised of cucumbers and rice vinegar, but you can prepare them in a great variety. Here, I'll show you how to make sunomono 4 ways with different add-ins: wakame, crab, octopus, and baby anchovies. They are delicious with grilled meat or fish—no matter how you make it.
Japanese Cucumber Salad with Crab – Wakame seaweed, imitation crab meat, and toasted sesame seeds tossed in a sweet and tangy dressing, this Japanese cucumber salad recipe goes with any Japanese or Asian-style potlucks and BBQs.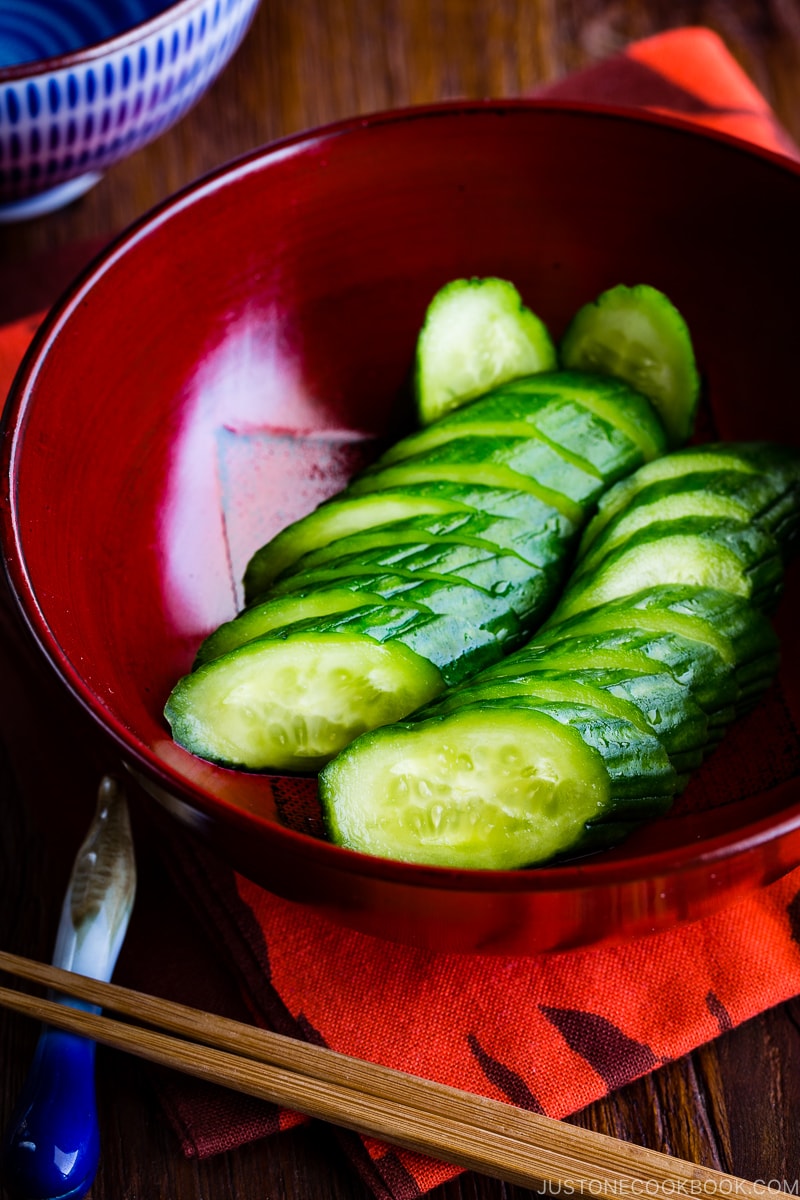 Japanese Pickled Cucumbers – Cucumber, salt, sugar, and Japanese hot mustard (optional) are all you need for this recipe. It couldn't be any easier!
Daikon and Cucumber Salad with Shio Koji – Shio koji is a magical Japanese seasoning made of malted rice, salt, and water that can do wonders in enhancing flavors. As a result, this simple salad gets a major flavor boost. You can use sea salt instead of shio koji, but I highly recommend looking it up.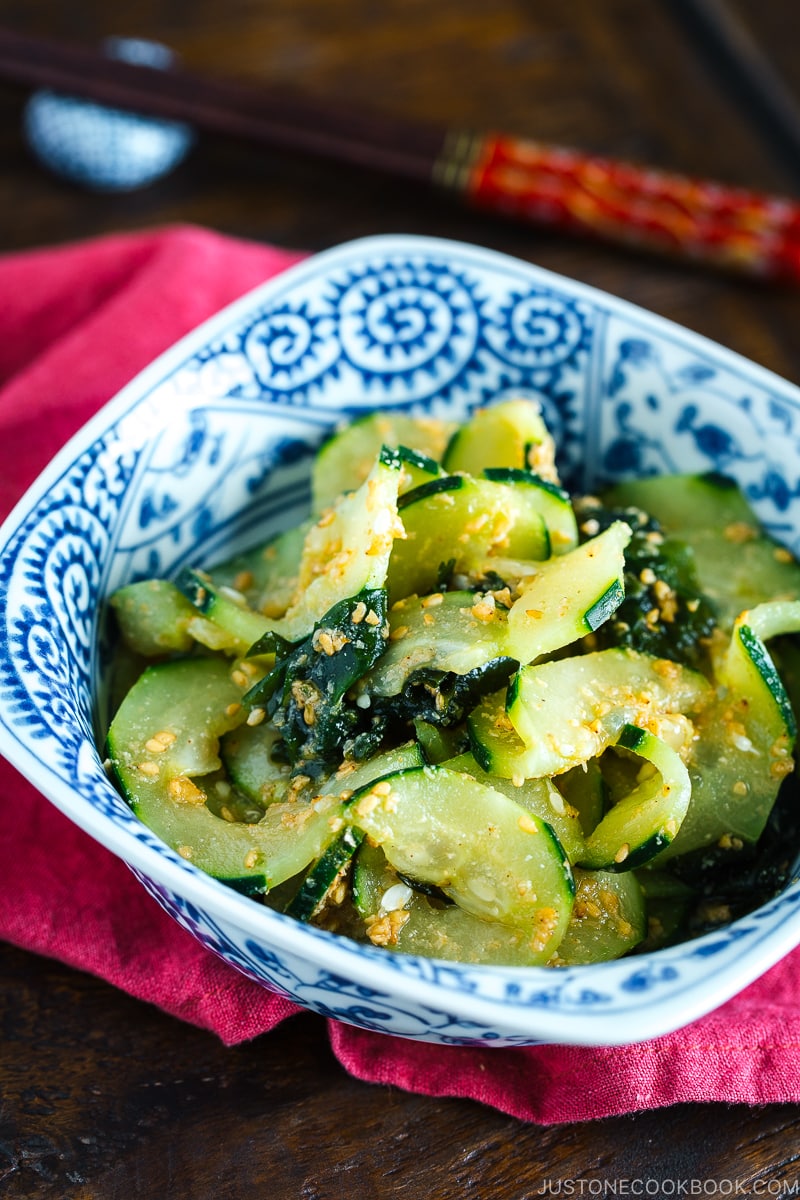 Cucumber Salad with Sesame Soy Vinaigrette – Cucumbers' mild flavor and cooling texture are fabulous in a nutty sesame vinaigrette. I used a spiralizer to create a fun texture for the salad, but you can just cut the cucumbers into thin slices and leave the green stripes for color. A light and summery salad is done in 15 minutes.
Spicy Japanese Pickled Cucumbers – Marinated in soy sauce and Japanese chili oil, these pickled cucumbers are so full of flavor. Sprinkle with toasted sesame seeds for a nutty crunch.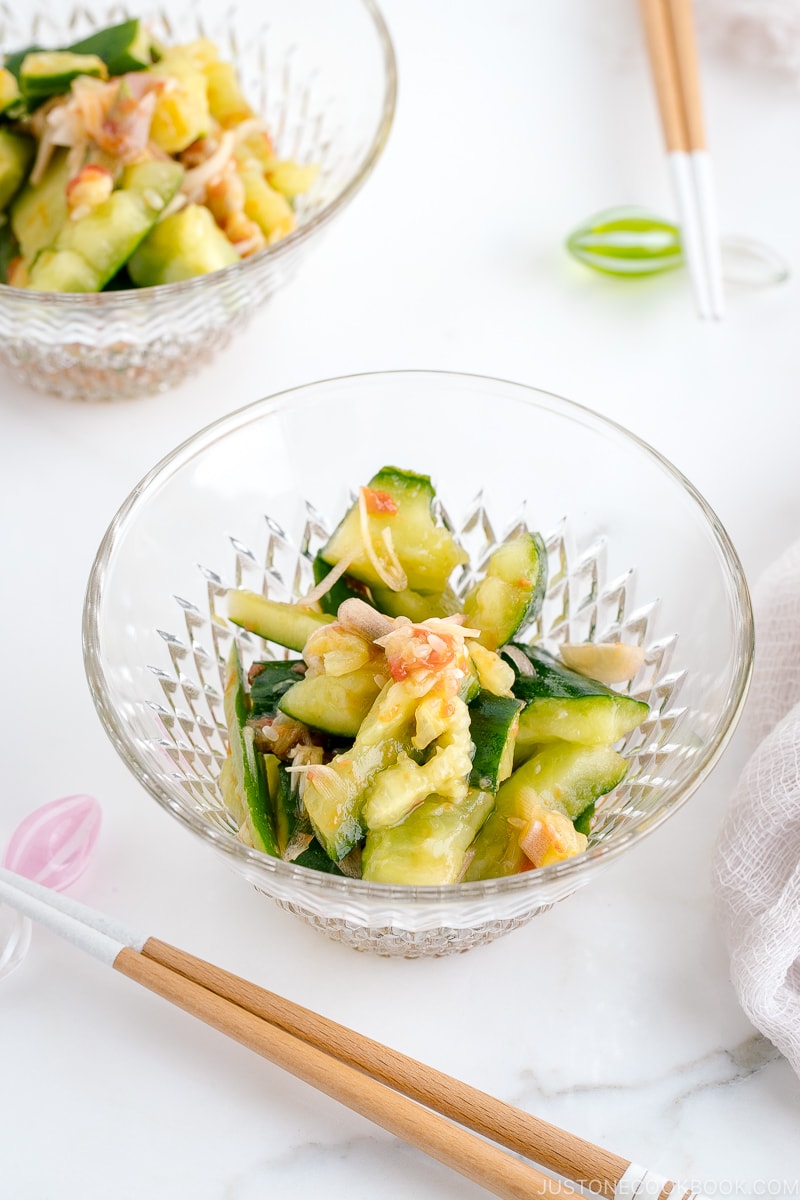 Smashed Cucumber Salad with Ume Dressing – This Smashed Cucumber Salad with Ume Dressing is a perfect dish to re-energize the body and mind. It has all the bright flavor and is packed with healthy and cleansing properties. I couldn't love it more!
Pickled Cucumbers and Myoga – With fresh cucumber, salt, kombu, and 5 minutes of prep time, you can make these amazing Pickled Cucumbers and Myoga in just a few hours.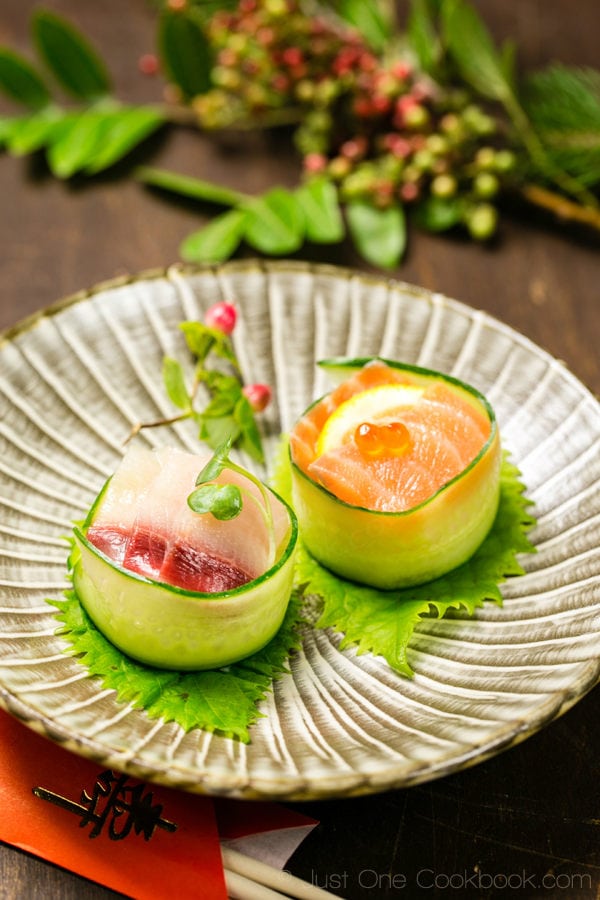 Cucumber Wrapped Sushi – Easy and fun cucumber-wrapped sushi topped with ikura (salmon roe), hamachi (yellowtail), tuna, and amaebi (sweet shrimp). Served as an appetizer for your holiday party or any get-together!
Cucumber and Chicken Marinated in Chili Oil – Have you tried making cucumber into a lean-protein meal? This recipe features easy steamed chicken mixed with cucumber and dressed in a chili oil marinade. The combo is hearty, punchy, and flavorful enough to serve as a main dish. For a homey summer dinner, serve it with rice and a bowl of miso soup!
---
For More Inspiring Summer Recipes:
Wish to learn more about Japanese cooking? Sign up for our free newsletter to receive cooking tips & recipe updates! And stay in touch with me on Facebook, Pinterest, YouTube, and Instagram.