Get ready for the most refreshing cold noodle recipes that you want to make all summer long. From Zaru soba to dipping ramen to Hiyashi Chuka, these Japanese-style cold noodles are going to be your new summertime favorites!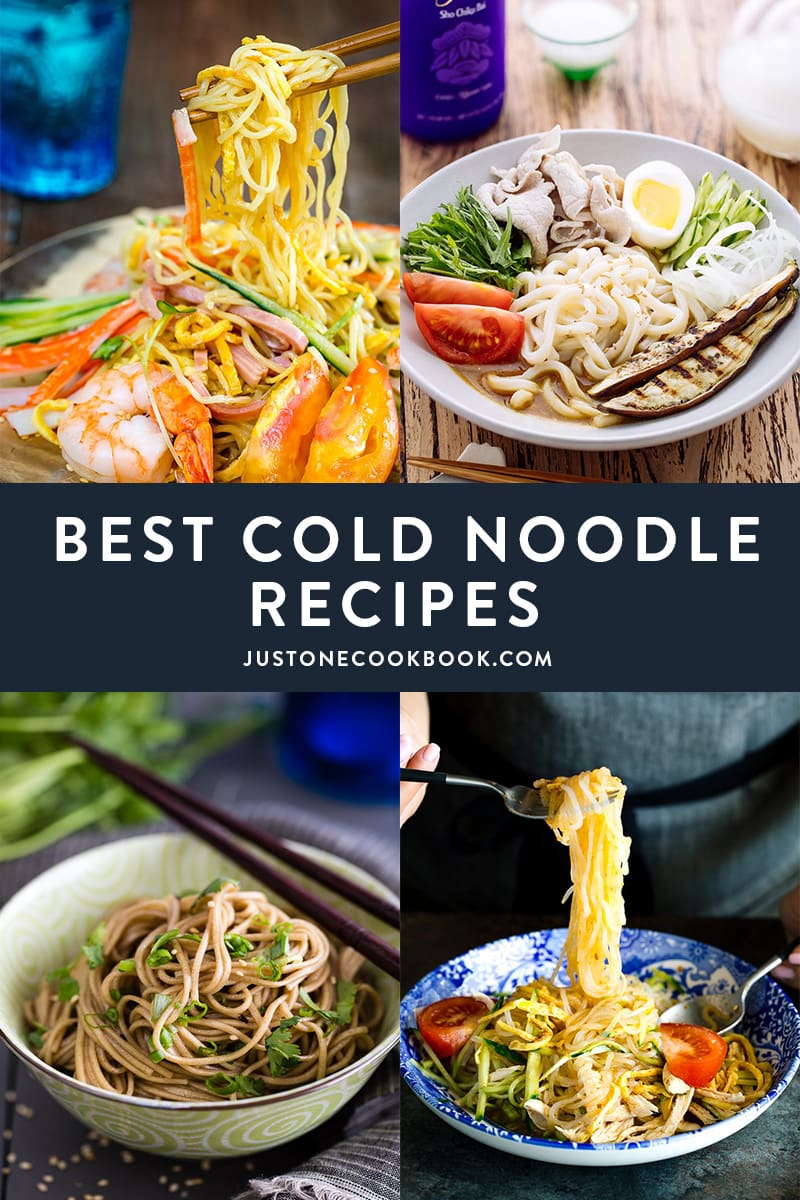 Sandwiches, BBQs, and salads are the typical summertime staples, but we at Just One Cookbook are avid fans of bright cold noodles when the temperatures rise. Think soba, ramen, udon, somen, and more. These noodles can be served cold (or at room temperature) in a colorful salad form or with a savory dipping sauce or in a flavorful curry broth.
What you'll love most about cold noodles?
They can be put together so quickly! Go ahead and boil a whole package of the noodles and keep it in the fridge so it's ready to serve with crisp veggies, grilled meat (or grilled mushrooms, tofu, or eggplants), and a quick dressing or sauce.
The noodles pair well with any summer produce and offer plenty of room for customization.
Keep it light or bulk it up as you fancy.
Each of the recipes is perfectly summery and ready to be slurped away! Here, let us present the best cold noodle recipes of summer.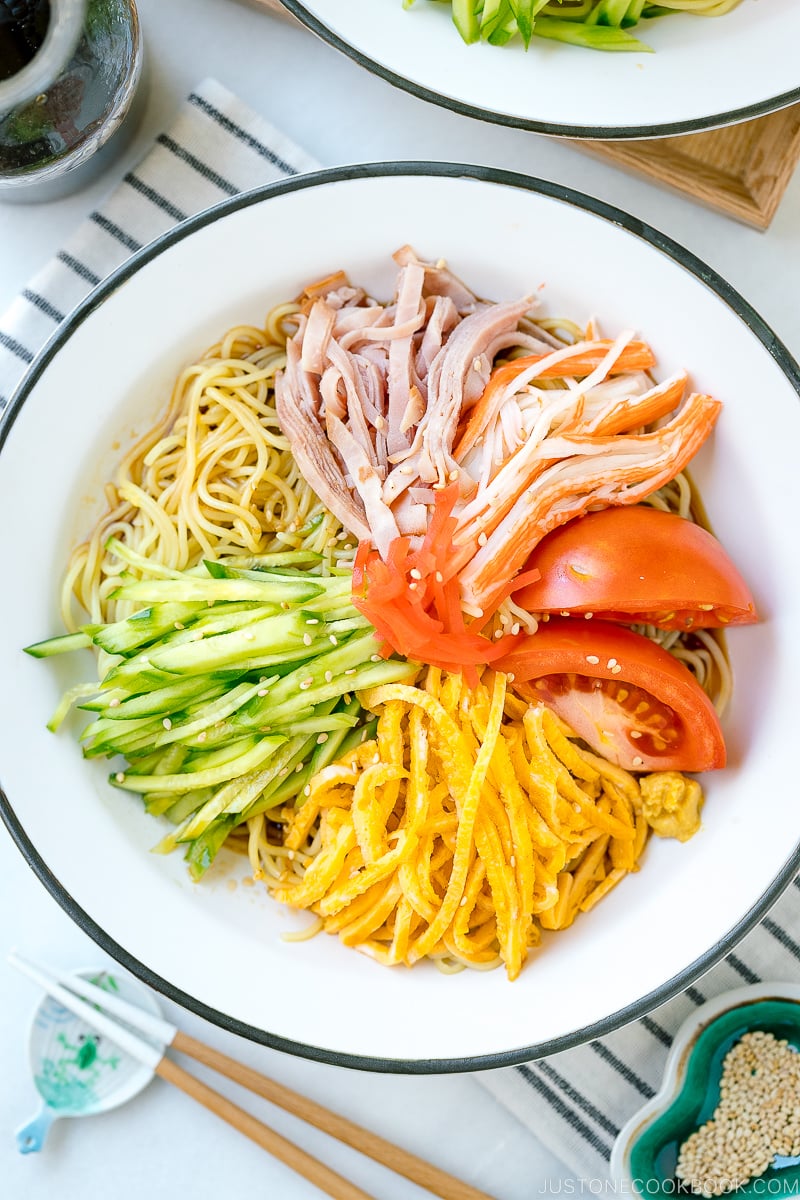 Hiyashi Chuka (Cold Ramen) – It's easy to give ramen a big nod any time of the year. But come summertime, you need to experience this popular Japanese cold ramen called Hiyashi Chuka! Topped with bright and colorful toppings, it has all the flavors and textures you'd enjoy on a hot day. Best of all: You can customize the ingredients easily. For a vegetarian version, just use your favorite veggies and leftover grilled tofu!
"I made it this evening and the entire family loved it, even my toddler. I served it with the hot mustard which made it all the more satisfying. Absolutely delicious on this hot Southern California day." — Wendy
Hiyashi Chuka (Cold Ramen) with Sesame Miso Sauce – Instead of soy sauce-based dressing, this version of Hiyashi Chuka is soaked in a sesame miso sauce. Thanks to the umami-rich miso and tangy rice vinegar, the sauce itself is light yet it delivers a dynamic punch of flavor.
"This was so easy and SO GOOD. Perfect for a hot summer's meal. The dressing is to die for. And I got some chicken broth for other recipes! This is going to be made by me like every week." — Mitchell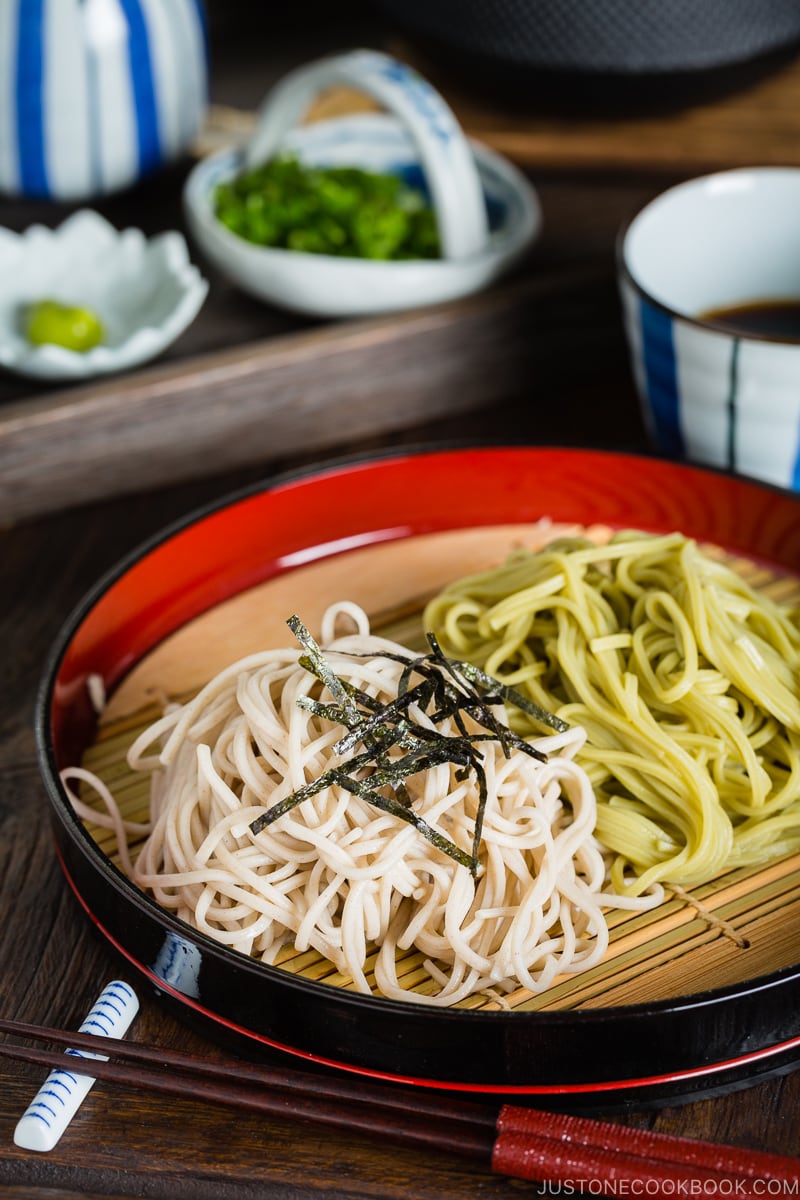 Zaru Soba (Cold Soba Noodles) – 10-minute is all you need to whip up this classic Japanese cold noodle dish. We also love heating up some store-bought frozen tempura to serve alongside with the chilled buckwheat noodles. Grab some cold beer or iced green tea, you'd have the perfect and literally fuss-free summer meal to enjoy on the patio.
"I used to buy pre-made dipping sauce from the supermarket for my Zaru Soba. No more. Your recipe is SO much better. I just made a batch and it will go into regular rotation during warmer months." — Julie
Oroshi Soba – You'll need only a handful of basic Japanese pantry items to put this easy yet healthy cold noodle dish. I recommend using quality soba noodles for a minimal recipe like this. To make it vegetarian or vegan, just omit the katsuobushi topping, and swap the Katsuo Dashi with Kombu Dashi.
"This is undeniably the most amazing thing I have ever cooked in my life. Thank you Nami! I'm going to make this all the time!" — Shelli
Tsukemen (Dipping Ramen Noodles) – Dipping ramen noodles are one of the most beloved styles of ramen in Japan, especially during the hot months. Here, you have cold ramen served alongside a flavorful bowl of hot soup. The contrast between cold noodles and hot broth is literally the best of both worlds.
"This is delicious. My partner and I have made this twice in 1 week. It is so good and reminds us of the time we lived in Tokyo." — Nikki
Black Sesame Dan Dan Noodles – This is a Japanese take on the famous Sichuan Dan Dan Noodles. Here, we have black sesame flavored broth, savory meat sauce, chewy noodles, chili oil, and garlic chips that go into one bowl of an unforgettable meal. Yes, you can serve the noodles in 2 ways: cold or hot. To enjoy it cold, chill the soup in advance.
"Been wanting to make this for a while now and with the summer picking up, I finally made the cold version – SO GOOD!! Thank you for noting that the soup could be made in advance, that helped a ton in cutting down the prep work." — JB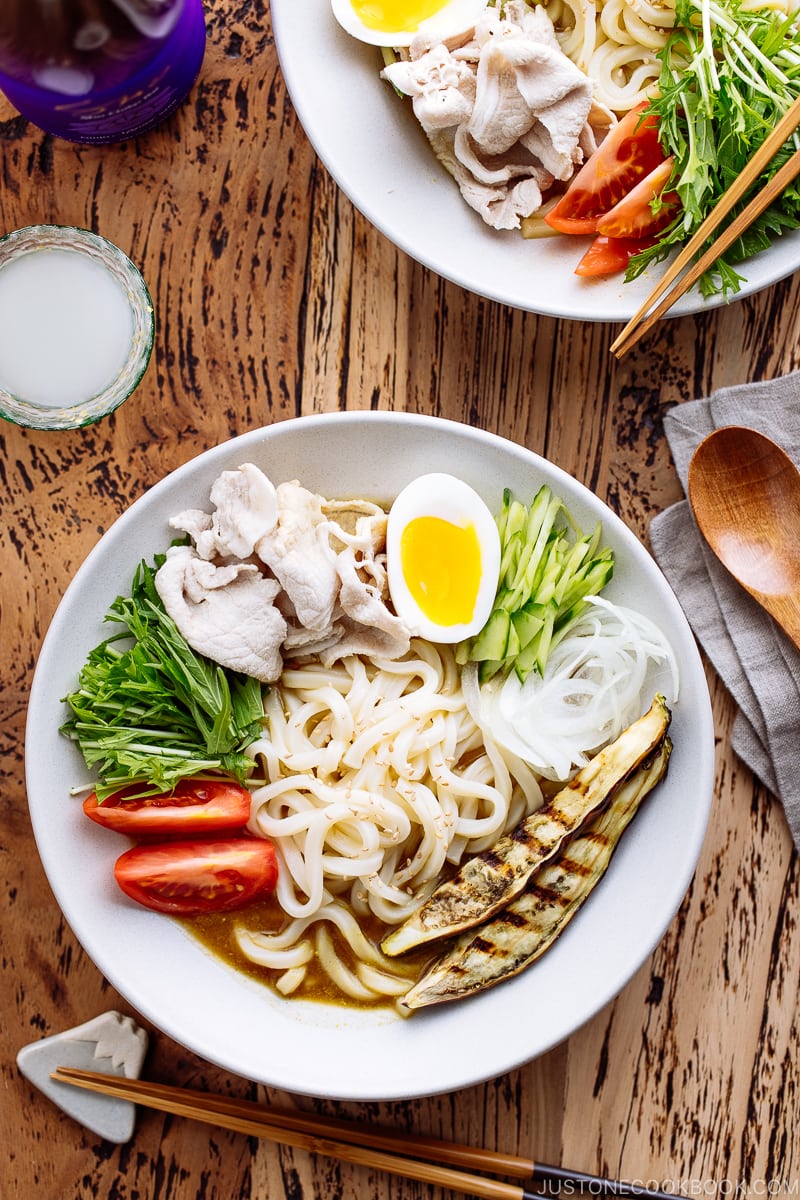 Cold Curry Udon – Chilled udon noodles soaked in curry soup, topped with sliced pork, boiled egg, sliced onion, cucumber strips, fresh greens, tomatoes, and grilled eggplants. Need we say more?
"I made this curry with your roux recipe and fresh tomato and cucumber from the garden. I didn't expect the fresh produce would taste so nice in curry." — Kristi
Cold Tanuki Udon – Delicious and oh-so-satisfying, the chilled udon noodle is drizzled in umami-rich mentsuyu and topped with cucumber, tomatoes, wakame seaweed, and a soft-boiled egg. You can easily modify the toppings and make them vegan or vegetarian-friendly.
"Just tried making it! Super yummy!!" — Karen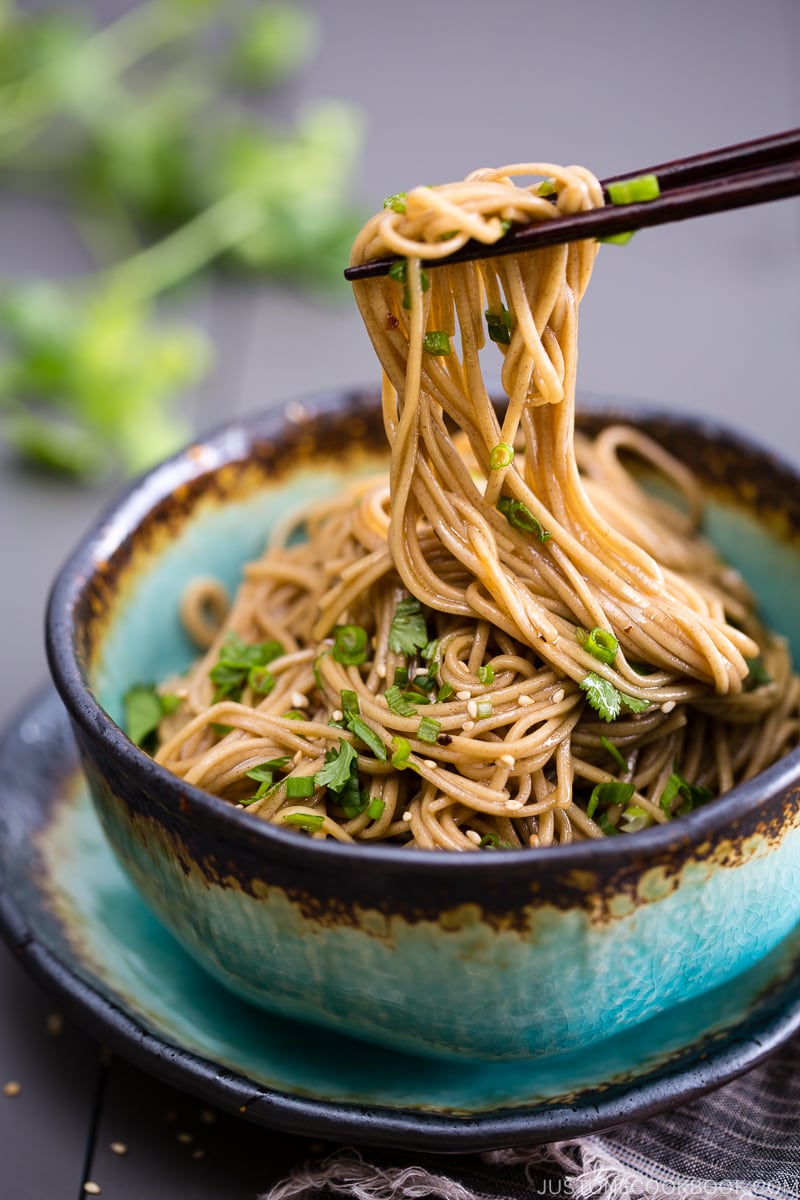 Soba Noodle Salad – Earthy Japanese soba noodles tossed in a honey-soy dressing with a touch of sesame oil and garnished with fresh herbs. It cannot get any easier! This is our kind of quick and light meal. Feel free to throw in proteins and veggies for a more substantial meal.
"Thank you for sharing this recipe. It's delicious and so fast to make! I add edamame and like you suggest cucumber. So good." — Selina
Cold Somen Noodles – Somen is a summer staple for the Japanese. These thin and springy noodles are light, refreshing, and take less than 3 minutes to cook. The noodles itself is the star of the show, so you'll need just a simple tsuyu dipping sauce to enjoy.
"Thank you for sharing another great recipe! It was the first time I made somen and it did not disappoint! Very tasty, and a great change from cold soba which we make on a regular basis." — Taline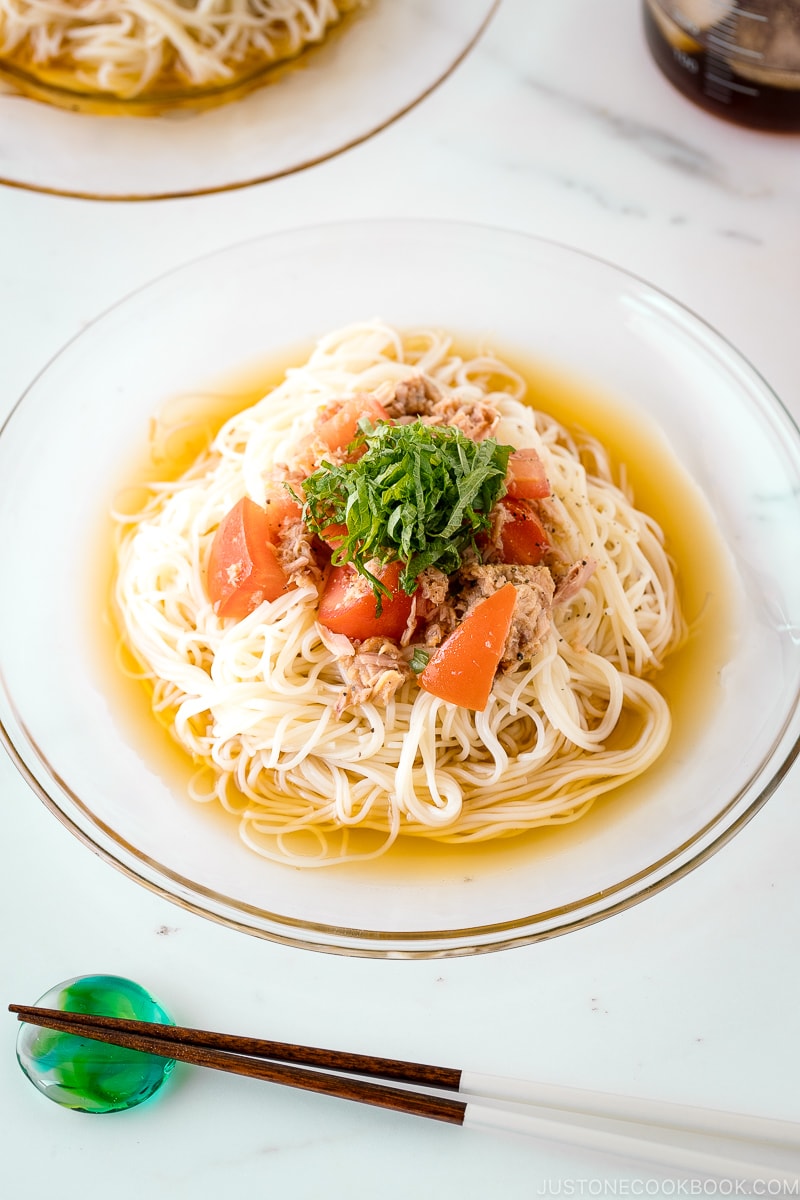 Cold Tuna and Tomato Somen – This cold tuna and tomato somen dish look and taste like the epitome of summer cooking.
"Wonderful, simple, and quick recipe. I used campari tomatoes for more tomato flavor and it turned out excellent!" — Brenda
Pork Shabu Shabu and Cold Somen with Sesame Miso Sauce – Cold somen noodles served with Shabu Shabu pork, cucumber slices, and a savory dipping sauce! This is the most refreshing noodle recipe that your whole family will love. Perfect for a light lunch or dinner in the summer.
"This was absolutely delicious! Thank you" — Carrie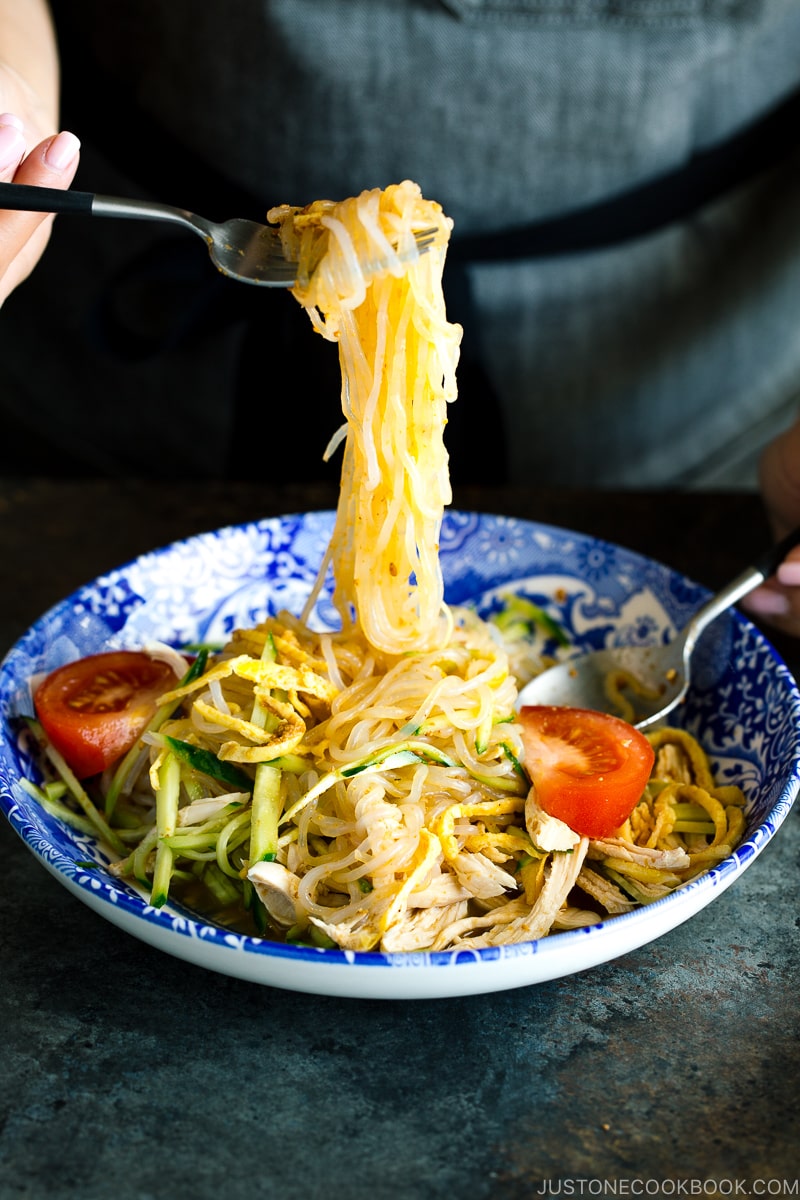 Honey Sesame Shirataki Noodles – If you're looking for a low-carb and gluten-free cold noodle dish, you'll need these honey sesame shirataki noodles in your back pocket! Prep the noodles ahead by cooking them according to the package instructions and draining them well under cold water. When ready to eat, assemble the noodles with veggies and protein. It's flavorful, colorful, and has an amazing texture. What's not to love?!
"This was the best!!! I can't wait for warmer weather to enjoy this more! I added random vegetables by boiling them and chilling before serving." — Jane
Harusame Salad – Japanese Glass Noodle Salad (Harusame Salad) is light, refreshing, low calorie and so flavorful with a savory and tangy sesame soy vinaigrette.
"I made this for a party and it was great because it was make-ahead. This is like Korean chap chae but easier! I added mushrooms and tomatoes too. So delicious." — Cynthia
---
More Recipes for Summer Dinner Ideas
Wish to learn more about Japanese cooking? Sign up for our free newsletter to receive cooking tips & recipe updates! And stay in touch with me on Facebook, Pinterest, YouTube, and Instagram.