Juicy, moist, and perfectly grilled, these Kurobuta Pork Chops with Miso Sauce are out of this world. The miso sauce is lightly infused with a secret ingredient for a spicy, citrusy kick. When served with steamed rice, you'd get the most flavorful pork chops for dinner. They taste like a little luxury — but simple enough for weeknights! Read tips on how to cook juicy pork chops!
Full Disclosure: This post was sponsored by National Pork Board. The thoughts and opinions stated are my own.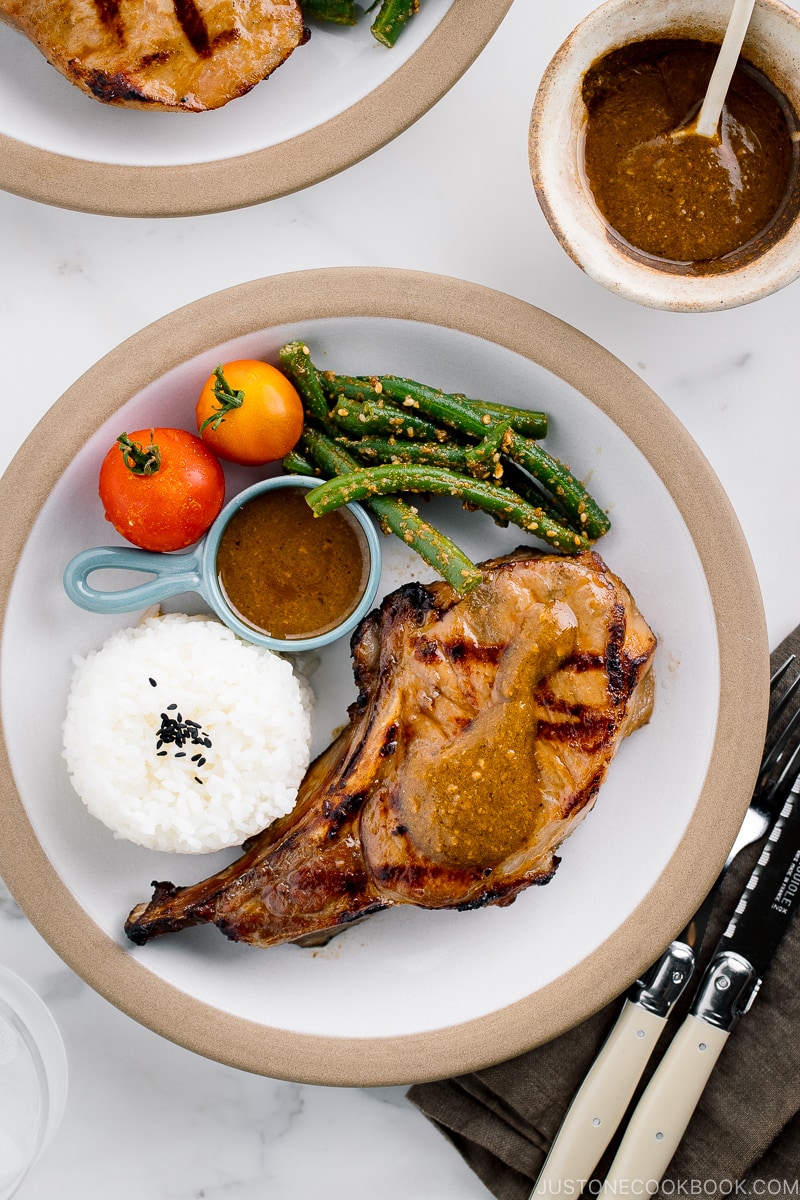 My family loves pork. Not only is it inexpensive and flavorful, but pork is also the jack-of-all-proteins that works in a myriad of dishes. It is a diverse protein giving people the ability to unite through food.
In Japanese cuisine, you can find many classic and favorite recipes – from tonkatsu, tonjiru, chashu, to gyoza – that make the best of this versatile meat. Once in a while, we like to treat ourselves to the decadent kurobuta pork chops, and one of the best ways to enjoy this premium cut is Grilled Kurobuta Pork Chops with Miso Sauce.
What is Kurobuta
Kurobuta translates to the black pig in Japanese. It is a heritage breed that came from Berkshire UK and first imported to Japan in the 19th century. The meat is more marbled, juicy, and flavorful than regular pork.
Many restaurants all over the world now serve kurobuta on their menu but we'll show you how to cook and enjoy this wonderful meat at home.
In addition, while my family and I were unable to travel to Japan this summer (due to current events) I find that I can connect via cooking. Making recipes with Japanese ingredients always transports a small part of me back there and it's quite comforting!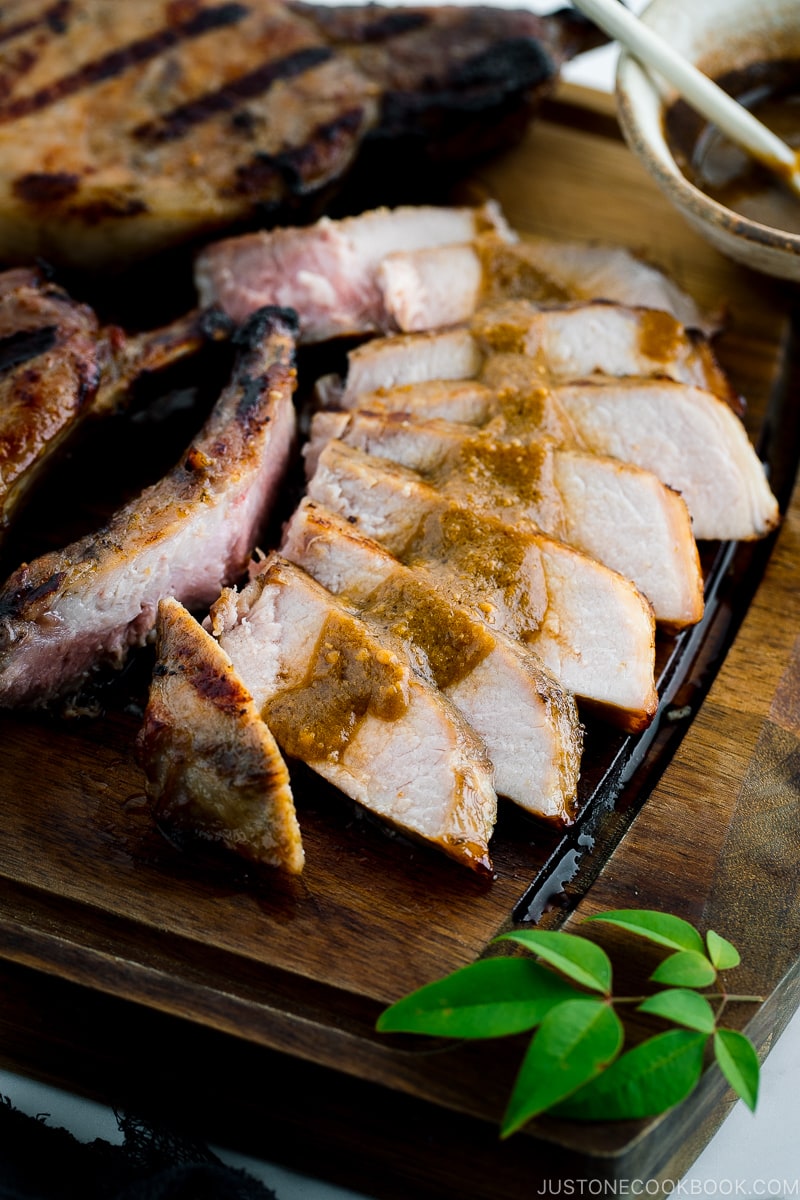 Why You'll Love This Grilled Kurobuta Pork Chops with Miso Sauce
Super easy to make!
Simple pantry ingredients.
Minimal kitchen time (mostly inactive time in the fridge and oven).
Amazing flavors from the pork and sauce!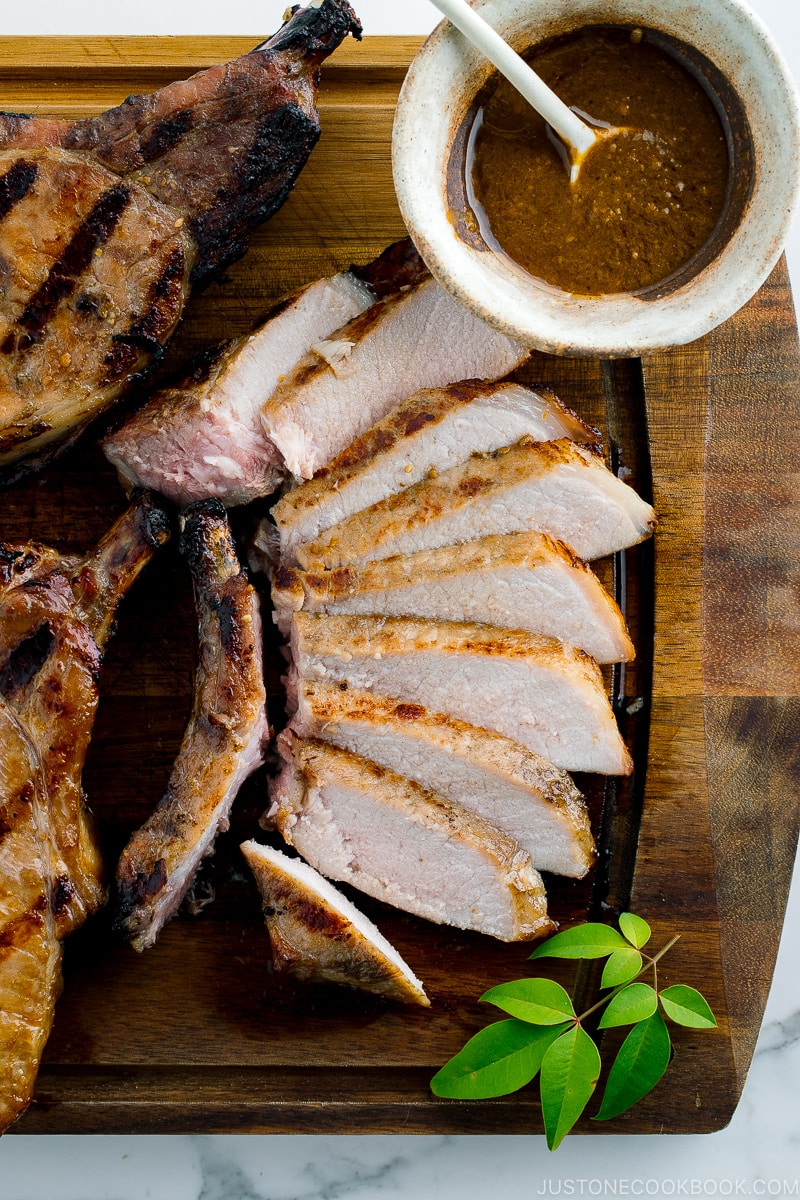 2 Winning Reasons to Use Kurobuta Pork Chops
1. Enjoy restaurant-quality premium pork at home
In recent years, we've seen kurobuta more often on the menu when we dine out at non-Japanese restaurants. Many chefs now prefer kurobuta for its remarkable tenderness and flavor. With the travel and dining restrictions currently in place, you can treat yourself and loved ones at home with this restaurant-quality dish.
2. Juicier than the average pork chop
When it comes to minimally prepped food, it goes without saying that quality ingredients matter. Kurobuta pork is simply juicier than standard pork chops. If you can't find kurobuta locally, talk to your butcher and ask whether they carry Berkshire pork, or get their best recommendations for grilling. There are a variety of bone-in pork chop options that will work for this recipe!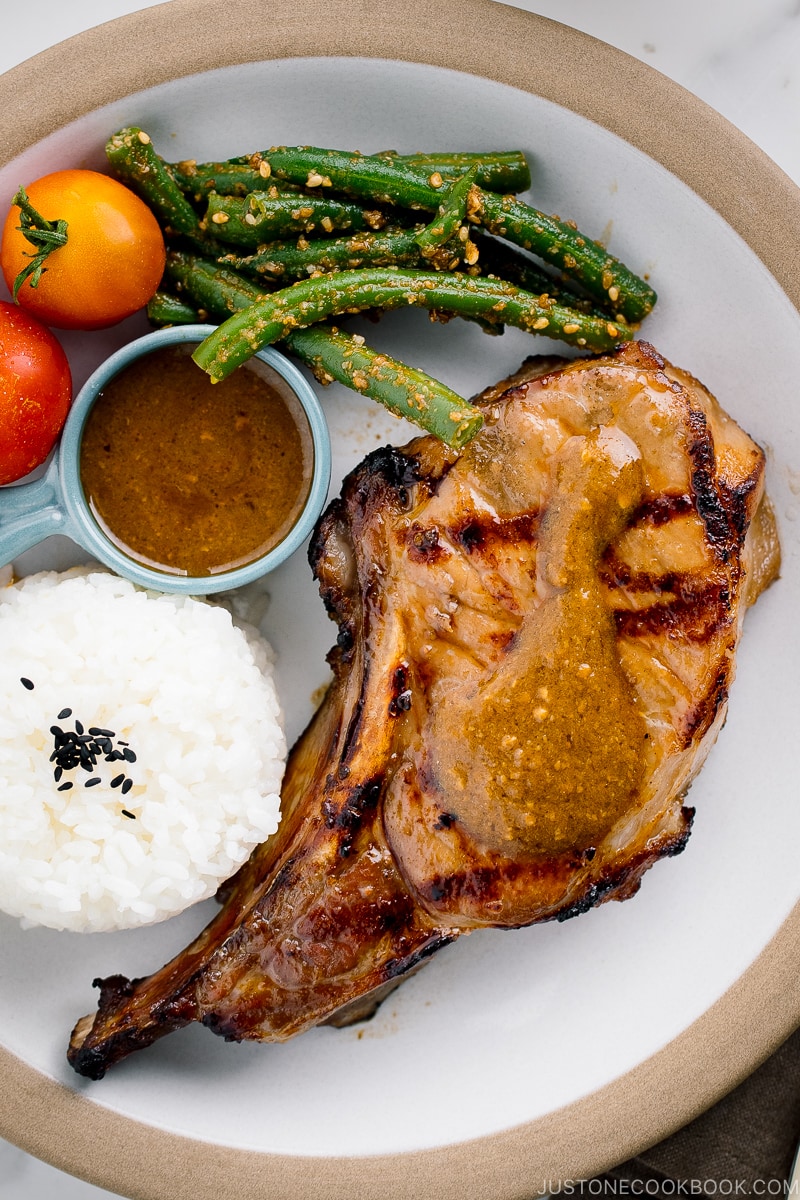 How to Make Juicy Pork Chops
Dry Brine
Have you had pork chops that are dry, chewy, and unpalatable? What if I tell you that there's an effortless way to avoid the blunder? The easy solution is always dry brine your pork chop before grilling. Sprinkle kosher salt on both sides of pork chops and let it sit in the fridge for a day. It'll make a huge difference!
We tested our recipe with dry brined pork chops and also without dry brining. The result was night and day! Whether it's standard pork chops or premium kurobuta, the same technique applies.
Reverse Sear
There are a number of ways to cook pork chops and our preferred method is to reverse sear them. Cook the pork chops at a low temperature until the entire cut has reached 145 ºF (63 ºC). Then quickly sear on high heat to give it a nice crust. This cooking method results in a uniform texture throughout and you don't need to worry about over or undercooking.
We prepared these pork chops in the oven but you can also slow cook them in a smoker or barbeque grill.
You can learn more about reverse sear in this post.
Temperature
The temperature we like to shoot for is 145 ºF (63 ºC) the thickest part of the chopand we use a meat thermometer to measure this. You might have heard that pork must be cooked until juices run clear and the meat is white. This is not true! According to the National Pork Board, with modern pork production practices, commercial retail pork is safe when cooked to an internal temperature of 145 ⁰F, which will be a light blush pink color. These standards are determined by the USDA and FDA Food Code. The most delicious pork is not overcooked!
However, please keep in mind thicker cuts of pork like ribs and shoulders will require a higher internal temperature. Learn more about different kinds of pork cuts here.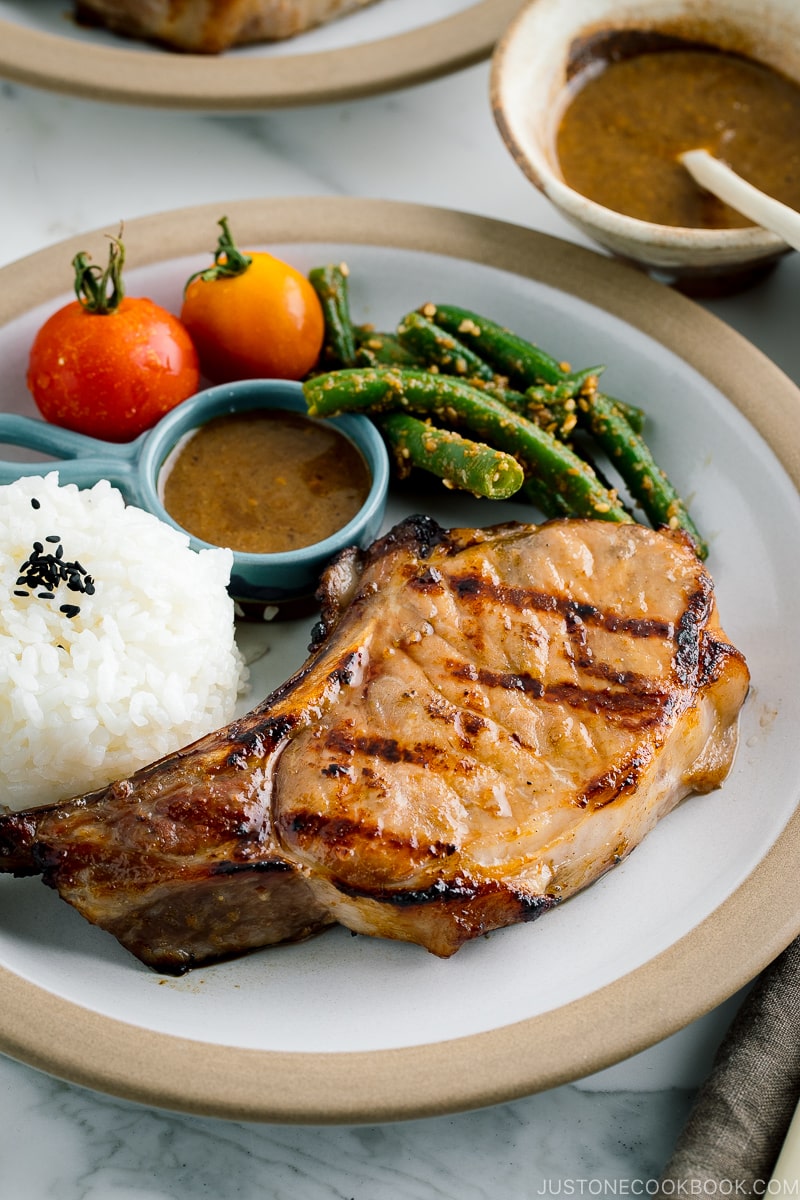 Miso Sauce With A Spicy, Citrusy Kick
Once you have perfectly cooked pork chops, it's time to flavor them. We use a standard Japanese marinade of soy sauce, mirin, and sake as the base sauce. Then enliven up with a couple of spoonful of miso and a touch of yuzu kosho. The resulting pork has just the perfect amount of natural sweetness along with a kick from yuzu kosho.
You might have a favorite way to make pork chops but we highly encourage you to give this miso sauce a try. It's so flavorful and refreshing at the same time. Our daughter who doesn't care for spicy food couldn't get enough of it.
The first taste is just a tiny bit of heat, then you taste the citrus and the umami from the miso sauce. When paired with juicy pork, you get a sensational pork dinner that leaves you excited for days!
What is Yuzu Kosho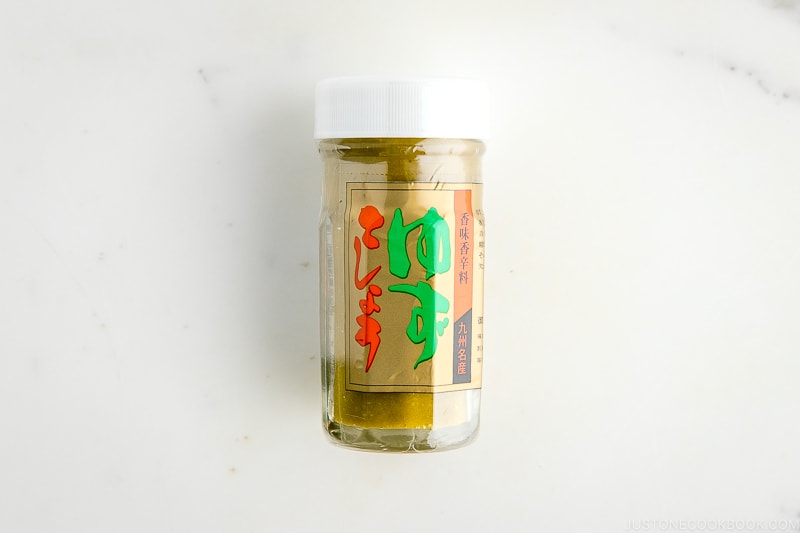 Yuzu kosho is a Japanese condiment made with yuzu peel and chili peppers. It has a unique zesty citrus flavor and a gentle spicy kick that goes harmoniously with many Japanese dishes. Yuzu kosho originated from Kyushu area but is now popular all over Japan.
Our family always has a jar of yuzu kosho in our fridge at all times. We use it with sashimi, miso soup, or whenever we're in the mood for a little spice.
You can purchase this yuzu kosho or other brands on Amazon or find it at most Japanese grocery stores.
If you have been to Kyushu and tried dishes with yuzu kosho and loved them, we hope this pork chop recipe will bring back your happy memories. Every time we drink miso soup with yuzu kosho, we think of our ryokan stays and cave hot springs experience.
What to Serve with This Dish
I'd serve this pork chop with the following sides: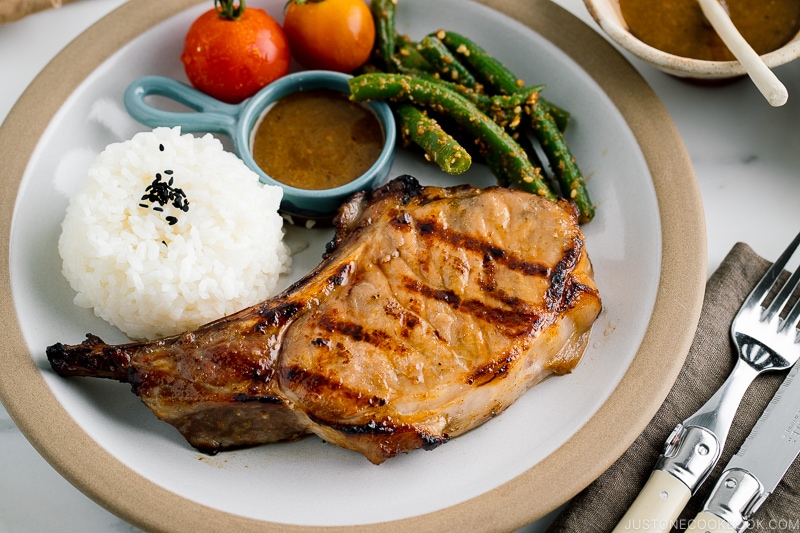 Wish to learn more about Japanese cooking? Sign up for our free newsletter to receive cooking tips & recipe updates! And stay in touch with me on Facebook, Pinterest, YouTube, and Instagram.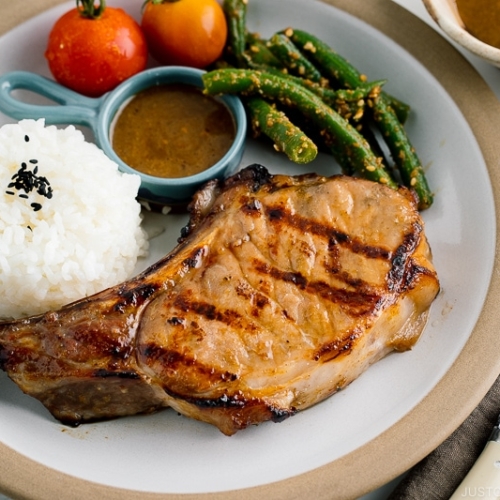 Grilled Kukrobuta Pork Chops with Miso Sauce
Juicy, moist, and perfectly grilled, these Kurobuta Pork Chops with Miso Sauce are out of this world. The miso sauce is lightly infused with a secret ingredient for a spicy, citrusy kick. When served with steamed rice, you'd get the most flavorful pork chops for dinner.
Japanese Ingredient Substitution:
If you want substitutes for Japanese condiments and ingredients, click
here
.
Instructions
1-2 Days Before Serving
Gather all the ingredients.

Evenly sprinkle salt on one side of the pork chops.

Flip and sprinkle evenly on the other side. Cover with cling wrap and let rest for at least 24 hours in the refrigerator.
6 Hours Before Serving
Gather all the ingredients.

In a measuring cup, combine miso, sake, mirin, soy sauce, and sesame oil.

Add yuzu kosho and whisk all together.

Pour the sauce over the pork chops and flip them to coat the other side of the meat.

Cover with cling wrap and store in the refrigerator for 2 hours.

Flip the pork chops to cover the other side with the sauce. Cover again and put in the refrigerator for another 2 hours.

Preheat the oven to 200 ºF (93 ºC). Transfer the pork chops to a baking sheet lined with aluminum foil. My probe is on the left side, so I put the thickest pork chop on the left. Reserve the marinade.

Insert the probe in the center of the thickest pork chop. Keep inserting until it reaches near the bone.

Attach the probe to the oven and bake at 200 ºF (93 ºC) for roughly 1 hour. Set the probe temperature to 145 ºF (63 ºC).

Meanwhile, transfer the remaining marinade to a small pot and bring it to boil on medium heat. Once boiling, reduce the heat and simmer until thickened a bit. Transfer to a small bowl.

When the internal temperature of the pork chop researched to 145 ºF (63 ºC), it's done cooking.

Take out the pork chops to the outdoor grill (or alternately, you can use a cast iron pan to sear). Preheat the grill to 400 ºF (200 ºC).

Sear the meat for 1 minute each side.

Serve immediately along with the reduced sauce. Here on the plate, I serve the pork chops with steamed rice, cherry tomatoes, and Green Bean Gomaae.
To Store
Put the pork chops in an airtight container/bag and store them in the freezer for up to a month. To reheat, put the frozen pork chops in the preheated oven at 350 ºF (150 ºC).
Nutrition
Nutrition Facts
Grilled Kukrobuta Pork Chops with Miso Sauce
Amount per Serving
% Daily Value*
* Percent Daily Values are based on a 2000 calorie diet.
©JustOneCookbook.com Content and photographs are copyright protected. Sharing of this recipe is both encouraged and appreciated. Copying and/or pasting full recipes to any website or social media is strictly prohibited. Please view my photo use policy
here
.