Shibazuke is a popular pickle that originated in Kyoto. These salty and slightly sour pickles have a beautiful natural purple color from purple shiso leaves. Enjoy these pickles with steamed rice or ochazuke.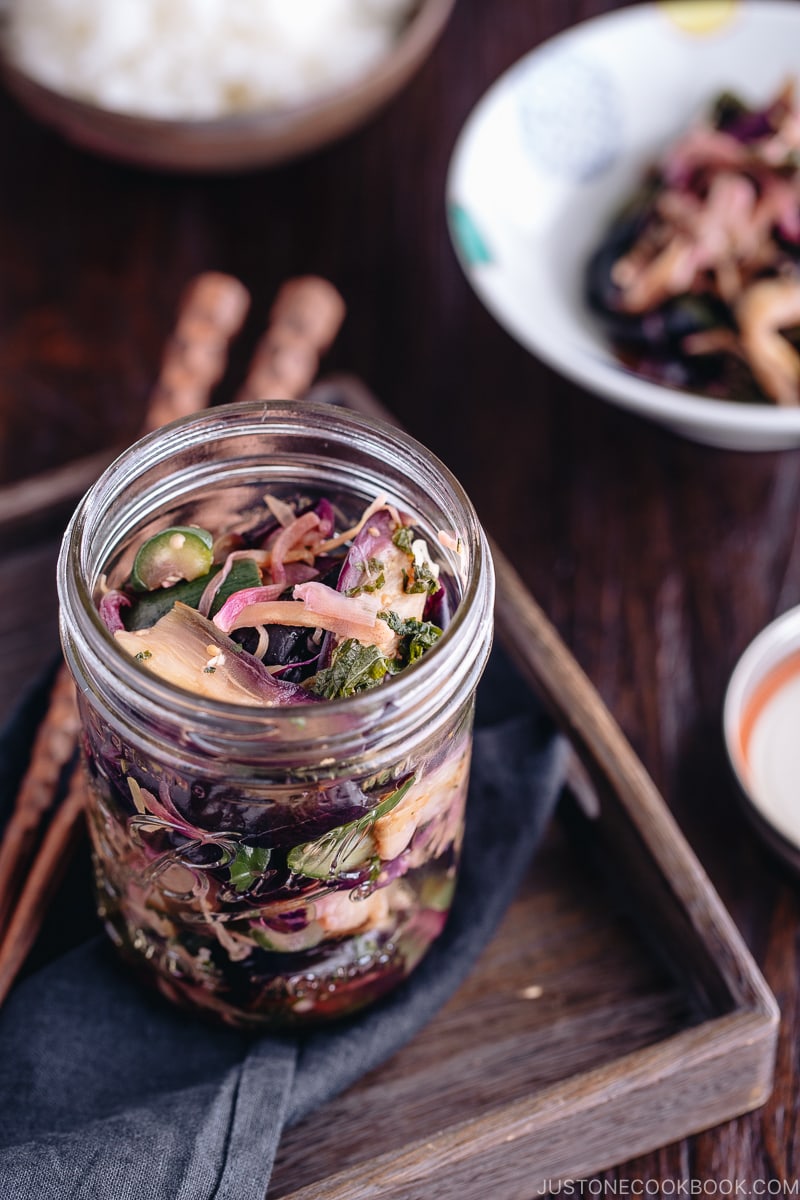 Shibazuke (柴漬け) is probably my favorite type of Japanese pickles. Until I tried making it from scratch, I wasn't exactly sure what was in the pickle. Imagine my surprise when I found out it includes vegetables that I love – eggplant, shiso leaves, and myoga to name a few. The beautiful hues of purple and rosy pink of the vegetable medley truly capture the taste of nature, making this pickle extra special. If you have a thing for pickles, it's hard not to fall in love with shibazuke.
Now before any pickle fans get too excited, I want to give you a heads-up. The ingredients for this recipe may not be easy to find even in your local Japanese grocery stores. I had trouble getting them as well.
However, let me introduce this delicious pickle to you anyway since you might have a chance to taste it when you visit Japan.
What is Shibazuke?
Shibazuke (柴漬け, originally 紫葉漬け) is one of the three main Kyoto pickles (京漬物) besides radish pickle Suguki (すぐき) and thinly-slice radish pickle Senmaizuke (千枚漬け).
This bright purple pickle is made of cucumber, eggplant, purple shiso (aka-jiso), ginger, and myoga, which are pickled in umezu (Japanese plum vinegar). The salty, slightly sour taste of shibazuke comes from salt pickling and lactic acid fermentation.
Although shibazuke is commonly served in Kyoto cuisine, they are enjoyed throughout Japan. This Fujikko's "Shibazuke Tabetai!" TV commercial in 1985 made shibazuke really popular in Japan. Does anyone remember this TV commercial? I do!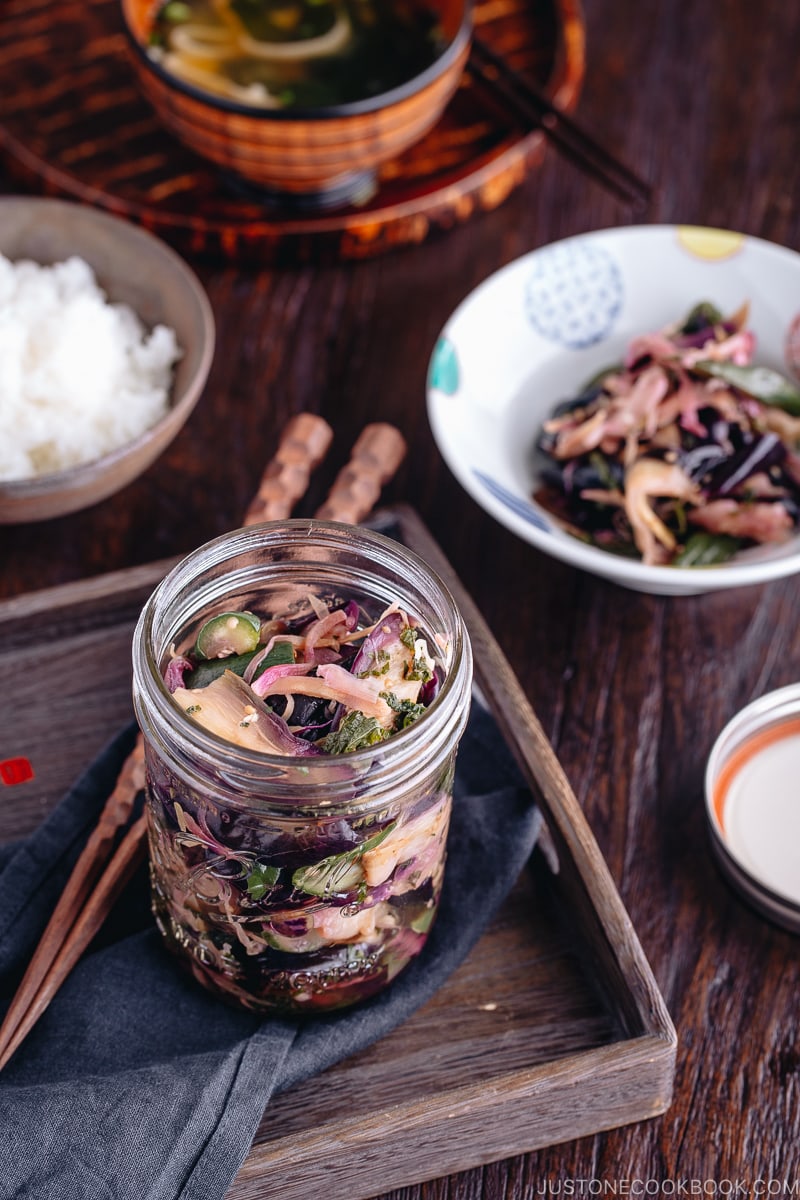 3 Unique Japanese Ingredients for Shibazuke
1. Aka Shiso (purple perilla leaves)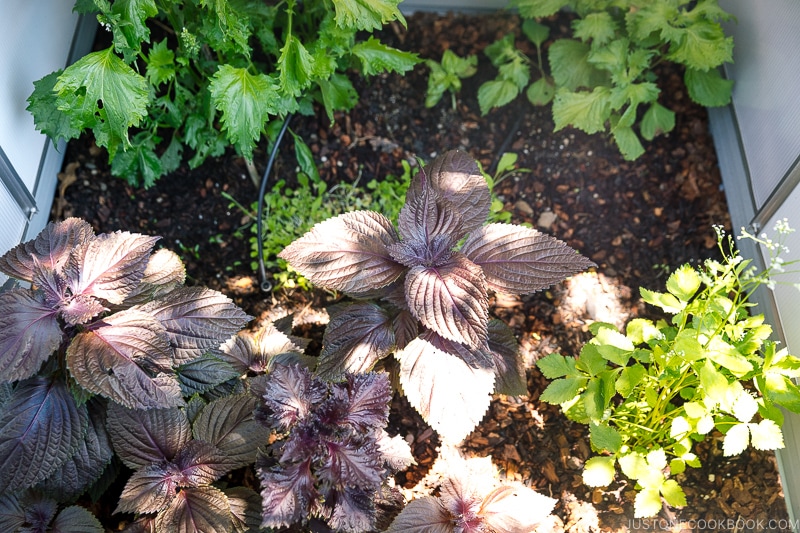 Ohara (大原), a suburb of Kyoto, has a good climate for growing shiso leaves. As Ohara is a basin, there is a drastic temperature difference between day and night, which results in high-quality fragrant shiso leaves. Therefore, Shibazuke made in Ohara uses a generous amount of purple shiso leaves (aka-jiso 赤紫蘇) without adding color additives.
When I was looking for ingredients to make shibazuke back in May in SF Bay Area, I couldn't find purple shiso. Therefore, I had to use green shiso (ao-jiso 青紫蘇) instead. These two shiso leaves are slightly different in flavor but they make the closest substitute.
Purple red shiso is used for natural coloring to make umeboshi (Japanese pickled plum) and shibazuke, but not for eating as a herb. Green shiso leaves are commonly used for garnish, salad, toppings, and cooking as a herb.
If you have access to purple shiso, please see my Notes section in the recipe.
2. Myoga (Japanese ginger)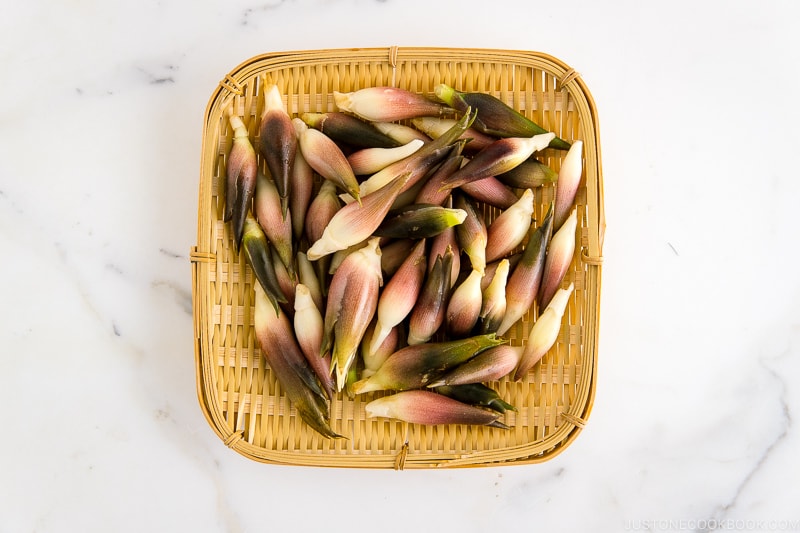 With a unique flavor and texture, this ginger bud is a wonderful aromatic. Myoga's season is summer and it is served as a spice (yakumi 薬味) for cold somen noodles and Hiyayakko (chilled tofu).
I was lucky to find myoga before the summer comes, but one pack of 3 myoga costed me $8! I'm currently in Japan writing this post, and today I saw the exact same package of myoga which came from the same place for only 99 yen (about 90 cents)…
3. Umezu (Ume plum vinegar)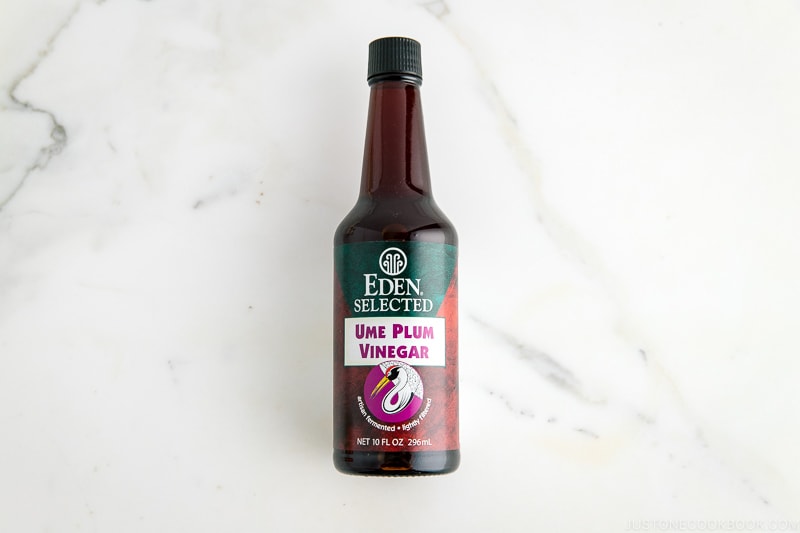 Umezu or Ume Plum Vinegar (赤梅酢) is the pickling brine from making umeboshi plums (Japanese pickled plums) with sea salt and purple shiso, that imparts its ruby red color. It's a tart, salty, festive condiment with beneficial organic acids.
Since I didn't have the purple shiso, I used umezu to make pickles and to add the purple color. This Eden brand has no artificial dyes, preservatives, or chemicals. You can find the umezu in Japanese grocery stores or on Amazon.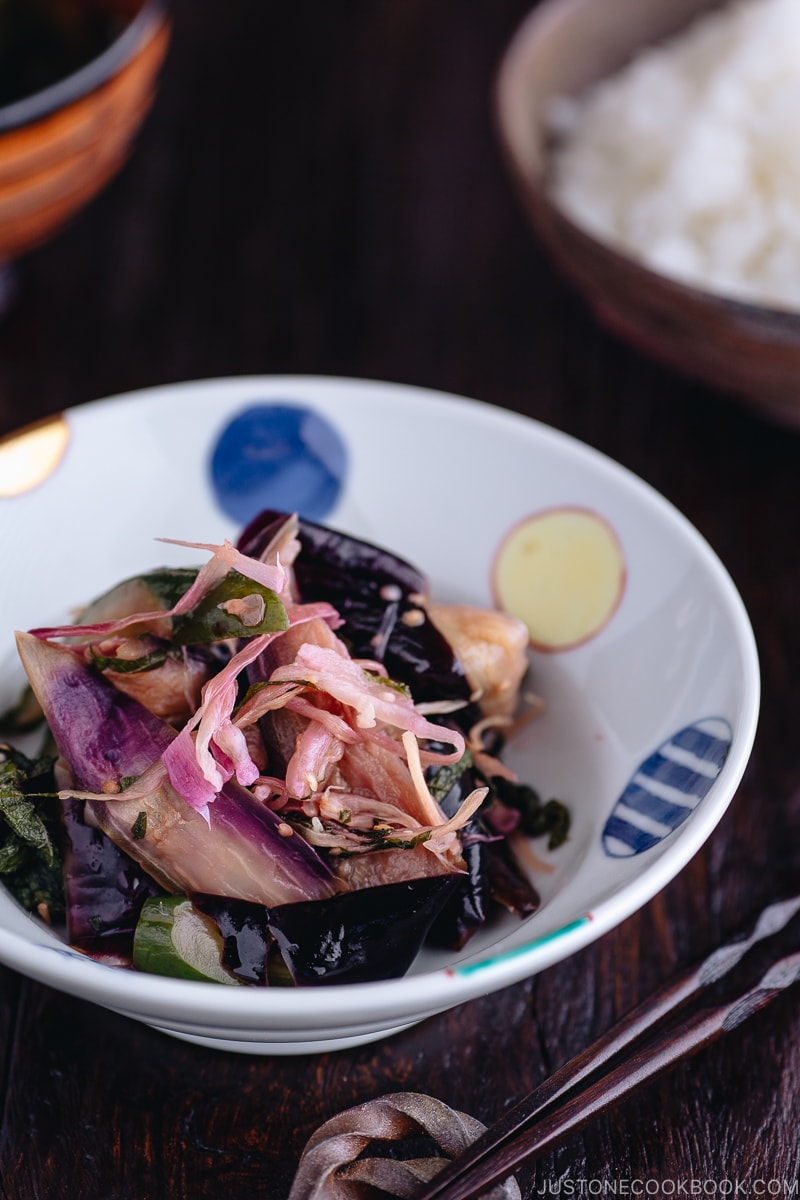 The Shibazuke Recipe
I've followed this Japanese recipe to make "quick" shibazuke. Instead of waiting for 3-7 day fermentation, this method can be done in a day or overnight. However, as another site that followed the same recipe also mentioned, the result was a bit too salty.
So I'd like to suggest: 1) reduce the salt from 2% to 1%, and/or 2) don't leave with salt for half a day. I think 1 hour of pickling might be enough.
I've researched online to see if there is a better ratio or perfect timing for pickling, but other recipes are pretty much the same. So I'll leave it up to you. When I try making it next time, I'll definitely reduce the salt pickling time and test to see if 1-2 hours would work better.
How To Enjoy Shibazuke
The best way to enjoy this pickle is to eat it with delicious steamed rice. I also enjoy eating this pickle with Ochazuke – steamed rice with tea poured over the rice. Shibazuke has a more intense savory flavor than other Japanese pickles. To me, the saltiness and sourness from the pickle add indescribable joy to a humble dish.
Even though my first batch turned out to be a little salty, I still enjoyed this refreshing pickle so much. There are no preservatives or additives. If you are lucky enough to find these unique Japanese ingredients, I hope you get to enjoy making the pickle with fresh summer ingredients.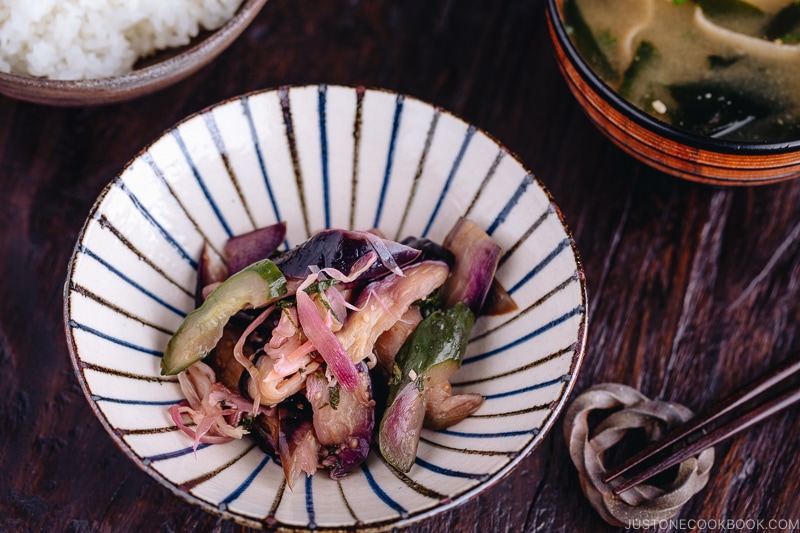 Wish to learn more about Japanese cooking? Sign up for our free newsletter to receive cooking tips & recipe updates! And stay in touch with me on Facebook, Pinterest, YouTube, and Instagram.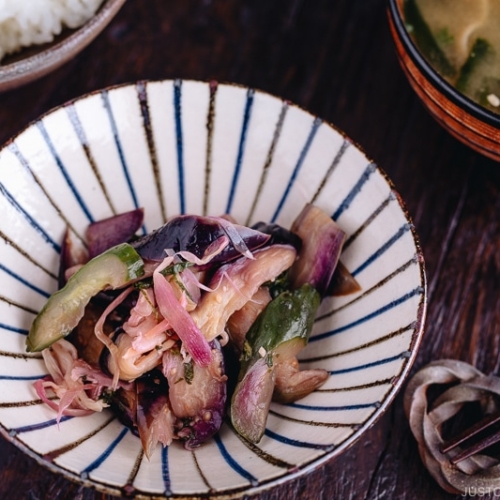 Shibazuke Pickles
Shibazuke is a popular pickle that originated in Kyoto. These salty and slightly sour pickles have a beautiful natural purple color from purple shiso leaves. Enjoy these pickles with steamed rice or ochazuke.
Japanese Ingredient Substitution:
If you want substitutes for Japanese condiments and ingredients, click
here
.
Instructions
Gather all the ingredients. Wash the vegetables and weigh them. My vegetables weigh 573 g. Use salt equivalent to 2% of the vegetables' total weight, which is 11 g for me.

Cut

3 Japanese or Chinese eggplant

in half lengthwise and slice diagonally.

Soak the eggplants in water to prevent them from changing color.

Cut the ends of

2 Japanese or Persian cucumbers

and cut again in half lengthwise.

Remove the seeds with a small spoon and slice diagonally.

Cut

3 myoga ginger

in half lengthwise and julienne.

Peel the skin and julienne

1 inch ginger

.

Combine all the vegetables in a freezer bag and sprinkle with the measured

Diamond Crystal kosher salt

.

Mix all together and knead the vegetables. Press the vegetables with twice the weight of the vegetables (roughly 1 kg). Leave at room temperature for 1 hour.

Tightly squeeze the liquid out from the vegetables (you can first drain the vegetables into the strainer, too, if you'd like) and discard the liquid. Transfer the squeezed vegetables back to the bag.

Cut

20 shiso leaves (perilla/ooba)

into julienne slices.

Add the shiso leaves,

4 Tbsp ume plum vinegar

, and

1 Tbsp mirin

in the bag.

Mix and knead the vegetables.

Remove the air out of the bag and press with a heavy object. Keep in the refrigerator for 2–3 days and you can start eating it. Transfer to an airtight container or mason jar and consume within 2 weeks.
To Store
Keep it refrigerated for 2 weeks.
Notes
Use Red Purple Shiso Leaves instead of Green Shiso Leaves: Prepare 30 red shiso leaves and salt (2% of shiso weight). Divide the salt into 3 portions. Combine the shiso and

⅓

of salt and knead well. Squeeze water out and continue 2 more times. Then add 2 Tbsp mirin and 2 Tbsp rice vinegar. Then transfer that to a bowl with tightly-squeezed vegetables.
Recipe is from this Japanese website.
Nutrition
Nutrition Facts
Shibazuke Pickles
Amount per Serving
% Daily Value*
* Percent Daily Values are based on a 2000 calorie diet.
©JustOneCookbook.com Content and photographs are copyright protected. Sharing of this recipe is both encouraged and appreciated. Copying and/or pasting full recipes to any website or social media is strictly prohibited. Please view my photo use policy
here
.