Tonjiru (also known as butajiru) is a savory pork and vegetable miso soup that you can easily make at home. Packed with B vitamins, fiber, and minerals, this healthy soup is nourishing and soul-fulfilling. You'd love it on a cold-weather day!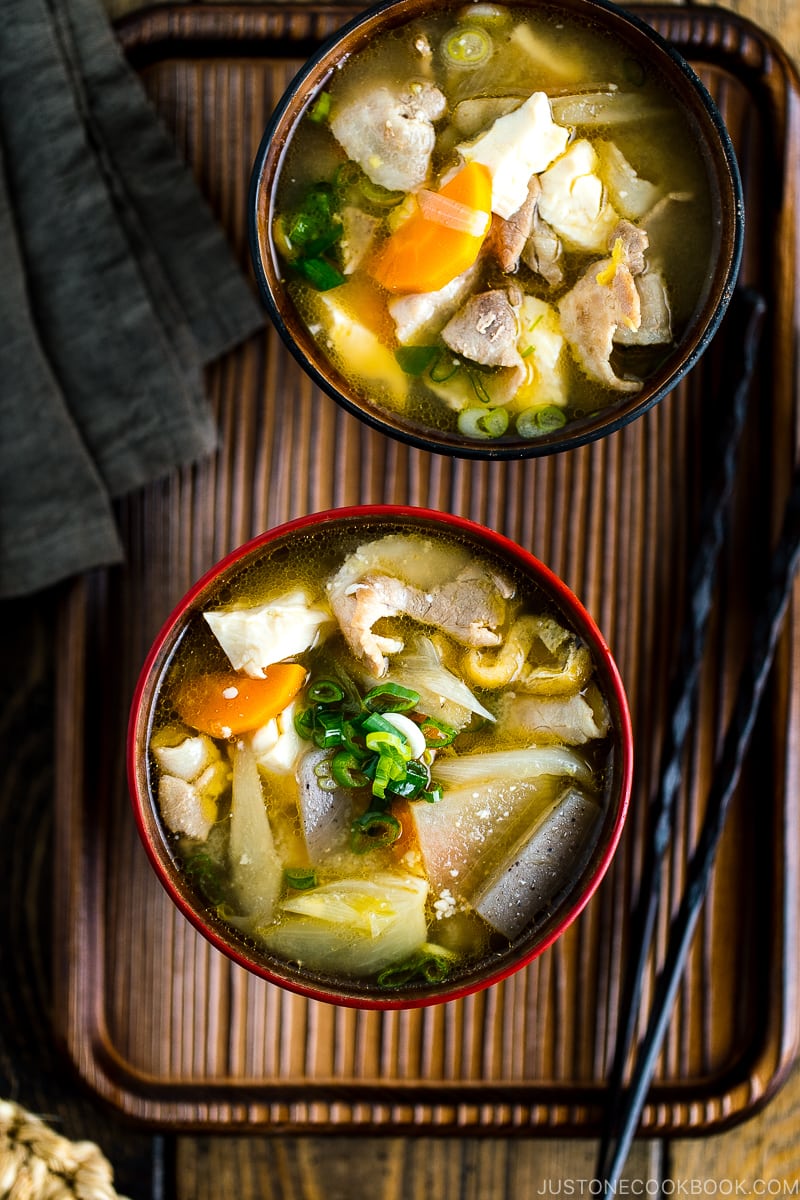 If you ask me what is my favorite miso soup, I would immediately say Tonjiru (豚汁). This Pork and Vegetable Miso Soup is one of the true comfort foods that I crave when I travel. There's nothing more soothing than a simple meal of Onigiri rice balls and Tonjiru.
You might have seen Tonjiru being featured on the popular Japanese TV drama called "Shinya Shokudo (深夜食堂)" or "Midnight Diner: Tokyo Stories" on Netflix. In the opening scene, the main character Master is seen to be making a big pot of hearty soup, where steam is wafting through the kitchen.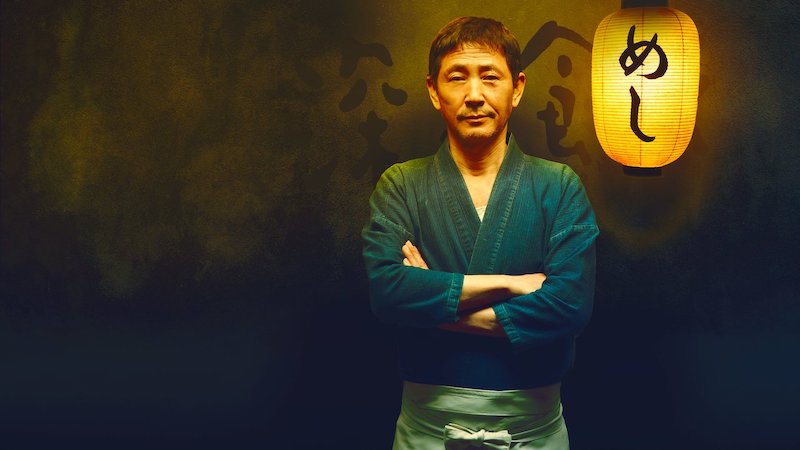 If you find yourself extra hungry after watching all the scrumptious meals prepared by the Master, it's time to create them right in your own kitchen! Each of the dishes is doable and I have the recipes just for you (Season 1 recipes; Season 2 recipes)!
What is Tonjiru?
Tonjiru (豚汁), literally meaning "pork (ton) soup (jiru)", is basically miso soup featuring pork and root vegetables. Some people call it Butajiru (豚汁) too, just another way to read the same kanji character.
It may be a cold-weather staple, but I do enjoy the soup year-round. Not only it's delicious, but the soup also packs in a lot of protein, minerals, fiber, and B vitamins that are great for both body and soul. The kind of comfort food that will warm and restore you. So what's not to love?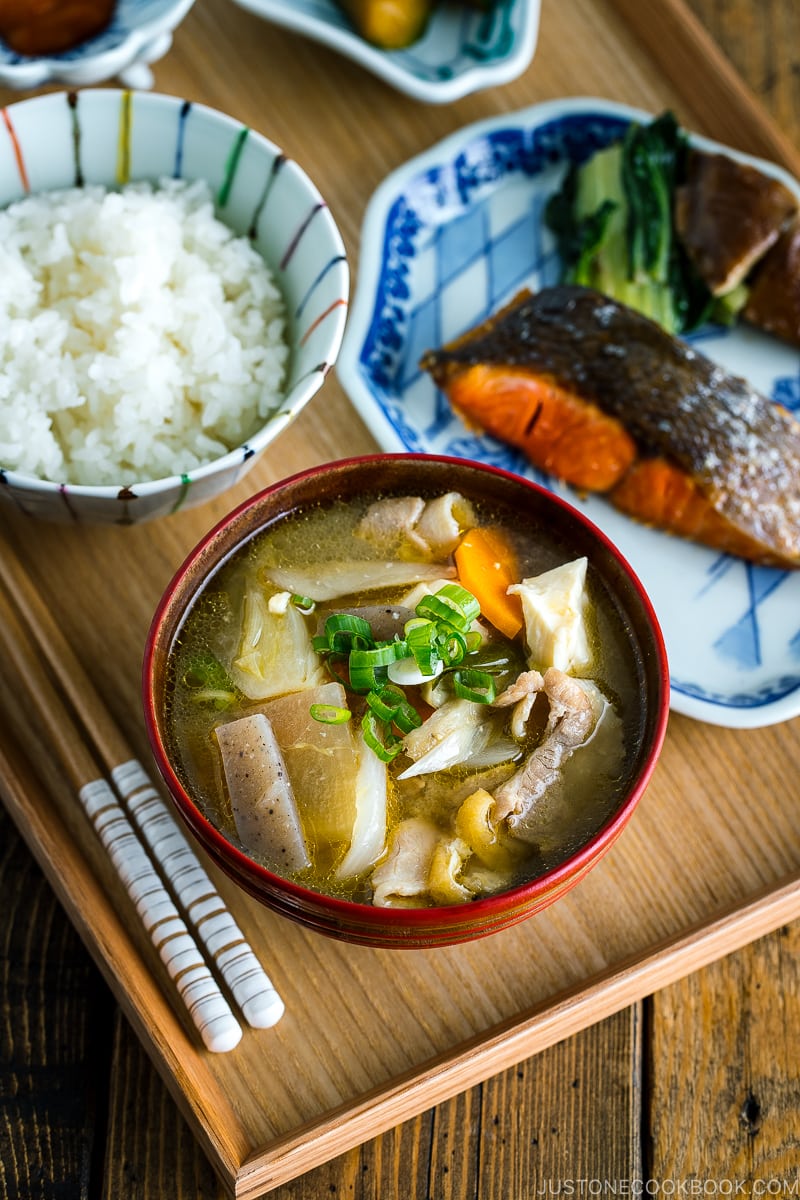 Ingredients You'll Need
The Pork
The most commonly used pork for this soup is pork belly slices. They look like bacon because they are the same cut of meat but uncured. You can buy pork belly slices in Japanese or Korean grocery stores or big blocks of pork belly in Chinese grocery stores (read this tutorial on How to Slice Meat Thinly). Some American grocery stores like the meat sections at Whole Foods may also offer the same cuts if you ask.
The Vegetables
Besides pork, the characteristic of this soup is that it is loaded with hearty root vegetables such as gobo (burdock root), taro, daikon, and carrot. You can cut these vegetables into any shape and size you like. Just make sure to keep all the ingredients the same size so that they take about the same cooking time.
Each household makes slightly different Tonjiru with various ingredients and miso of their choice. Besides what I use in my recipe, I've seen:
Bean sprout
Cabbage/Napa cabbage
Asian chives (Nira)
Potato
Shimeji mushroom
Shiitake mushroom
The Soup Stock
The sauteed pork belly gives the soup a sweet-savory flavor so some people use only water and leave out dashi in their Tonjiru. However, I personally prefer dashi in the soup broth for more umami and depth.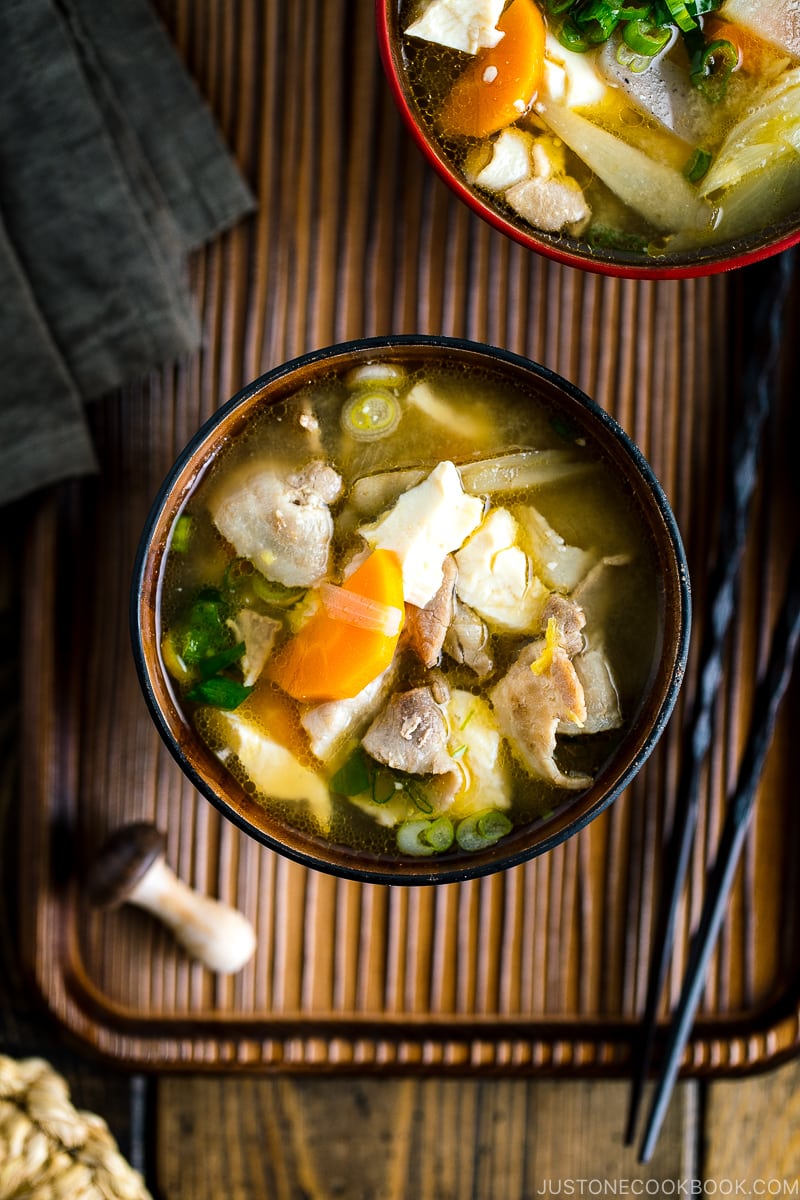 Tips on Making Tonjiru
Use at least 3 root vegetables – I highly recommend NOT skipping gobo, daikon, and carrot. These three vegetables add unique flavors, depth, and sweetness.
Cut vegetables in the same size and similar shape – If you want chunkier texture in your soup, you can cut bigger size but make sure all the ingredients are similar in shape and size for even cooking time.
Stir fry the meat and vegetables before adding soup stock – This helps to bring out flavors from the ingredients and add depth to the soup.
Let the flavor soak in while cooling – If you have time, make this soup ahead of time. While you let the soup cool and wait for the meal, the flavor will improve.
Add miso right before serving – Miso soup is the most fragrant and tasty when it's added right before serving. And do not let the miso soup boil as it loses its wonderful flavor.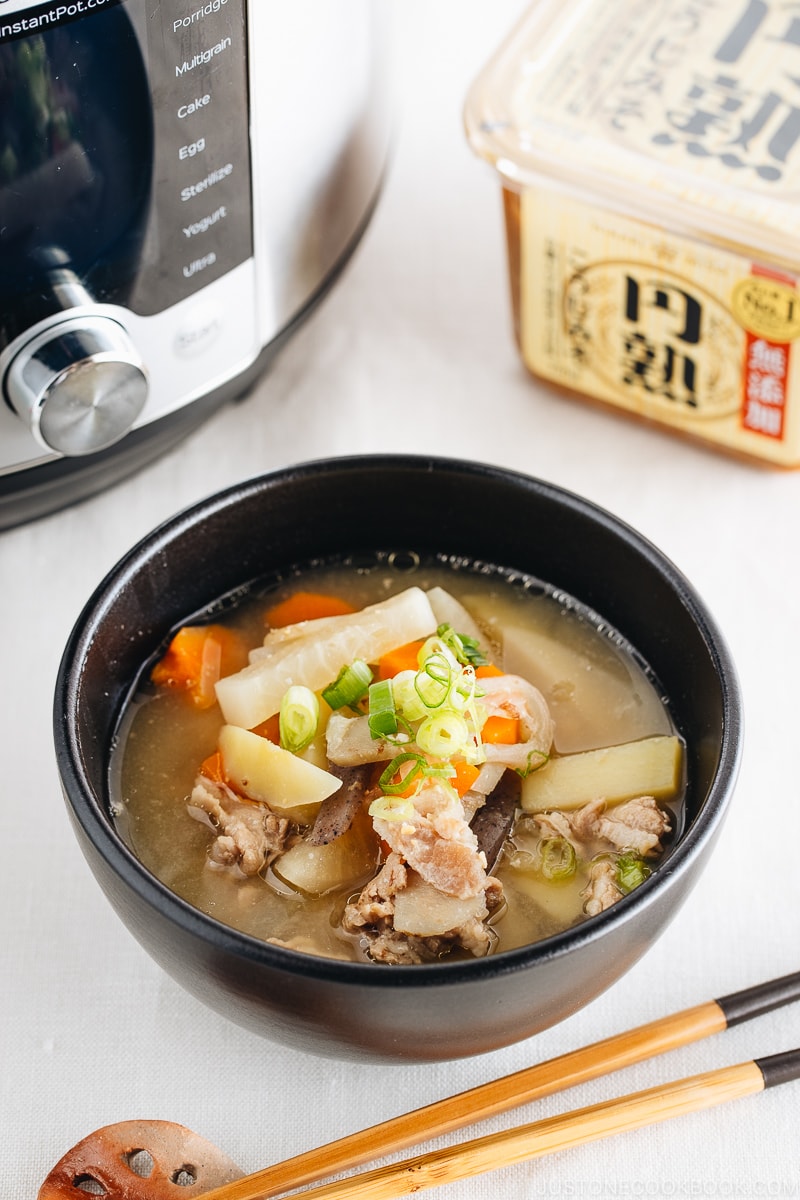 Pressure Cooker (Instant Pot) Tonjiru
No time to keep a close watch on the pot? Try making Tonjiru in your pressure cooker! Here's my recipe using the Instant Pot.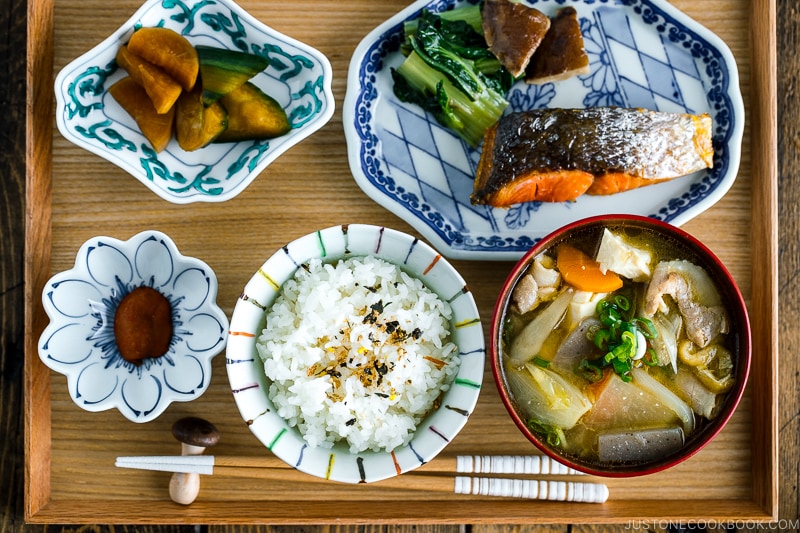 What to Serve with Tonjiru
Nourishing and easily customizable, Tonjiru is unquestionably home cooking of the best kind. You can make a big pot and enjoy it for the next 5 days!
For a simple cozy dinner, I like to serve the soup to accompany the main dish like Japanese Salted Salmon along with steamed rice, pickles, and a few small sides.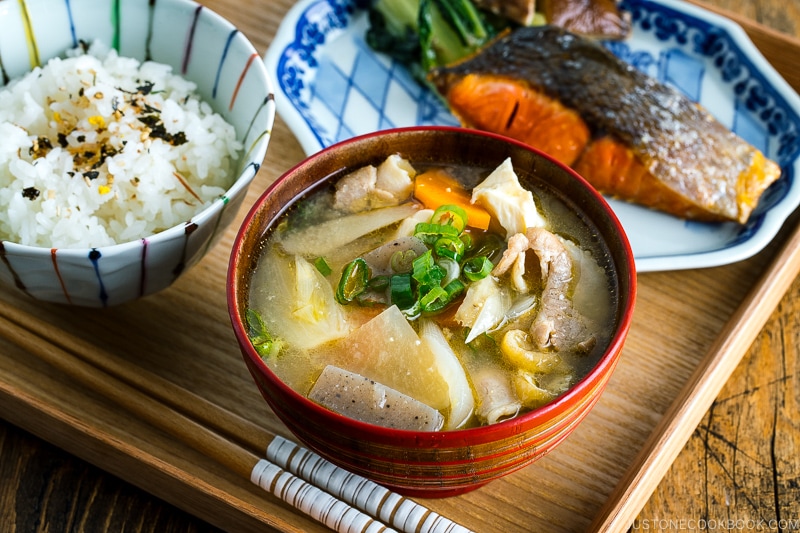 Wish to learn more about Japanese cooking? Sign up for our free newsletter to receive cooking tips & recipe updates! And stay in touch with me on Facebook, Pinterest, YouTube, and Instagram.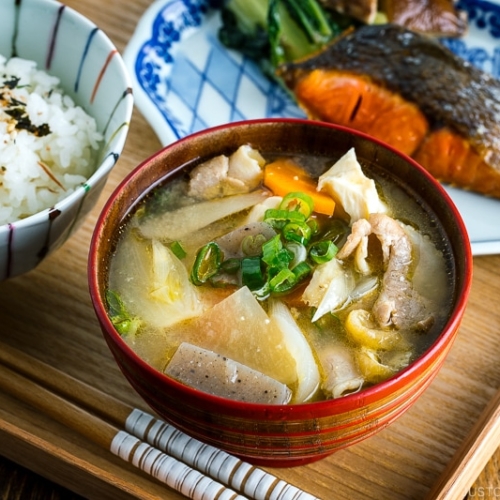 Tonjiru (Pork and Vegetable Miso Soup)
Tonjiru (also known as butajiru) is a savory pork and vegetable miso soup that you can easily make at home. Packed with B vitamins, fiber, and minerals, this healthy soup is nourishing and soul-fulfilling. You'd love it on a cold-weather day!
Video
Servings:
8
(miso soup bowls)
Ingredients
For the Soup Ingredients
9.6

oz

sliced pork belly (use at least 8 oz or 227 g of pork belly for 8 servings; I sometimes use a combination of pork belly and less-fatty pork loin; for vegetarian/vegan, skip the meat and add more tofu, mushrooms, or veggies)

3.5

oz

gobo (burdock root)

(½ length for 8 servings)

8

oz

taro (satoimo)

(3 pieces for 8 servings)

1

onion

(6 oz, 170 g for 8 servings)

8.7

oz

daikon radish

(2 inches, 5 cm for 8 servings)

4.3

oz

carrot

(4 inches, 10 cm for 8 servings)

½

block

konnyaku (konjac)

(4.5 oz, 128 g for 8 servings)

¼

tsp

kosher salt (Diamond Crystal; use half for table salt)

(for cleaning the konnyaku)

1

piece

aburaage (deep-fried tofu pouch)

1

knob

ginger

(grated, 1 tsp for 8 servings)

7

oz

medium-firm tofu (momen dofu)

(½ of one package for 8 servings; you can use silken tofu, if you prefer)
Japanese Ingredient Substitution:
If you want substitutes for Japanese condiments and ingredients, click
here
.
Instructions
It's easier to cut the pork belly if it's slightly frozen, so put it in the freezer for 15 minutes before you cut it. Meanwhile, gather all the ingredients.
To Prepare the Ingredients
Take out the pork from the freezer and cut it into 1-inch (2.5 cm) pieces.

Scrape the gobo skin with the back of your knife. The flavor of the gobo is right underneath the skin; therefore, you only need to scrape off the outer skin. Do not use a peeler.

Make a cross incision on the end of the gobo about 1 inch (2.5 cm) deep. This helps make shaving the gobo easier. Rotate the root as you shave the end of the gobo, like how you would sharpen a pencil with a knife. Soak the shaved gobo in water to prevent discoloration.

Discard the dirty water and rinse the gobo under running water.

Cut off both ends of the taro and peel the sides with the knife (or peeler).

Cut the taro into ⅓-inch (8 mm) slices and soak them in water to remove the sliminess.

Cut the onion in half lengthwise and cut it into thin slices.

Peel the daikon and cut it in half lengthwise.

Cut the daikon halves in half lengthwise again (now they are quartered) and cut into ⅛-inch (3 mm) slices. If your daikon is skinny, cut it into thin half-moon-shaped slices.

Peel and cut the carrot in half lengthwise, and then slice thinly.

Cut the konnyaku into small and thin rectangular pieces.

Sprinkle the salt on the konnyaku and rub it well with your hands. Let it stand for 5 minutes. Tip: The salt releases moisture along with the unwanted odor from the konnyaku.

In the meantime, bring a small saucepan of water to a boil. Once boiling, add the konnyaku.

Cook the konnyaku for 2-3 minutes, drain the water, and set aside. Tip: This helps to remove the unwanted odor.

Slice the negi (long green onion) diagonally.

Remove the excess oil from the aburaage with a piece of paper towel.

Cut the aburaage in half lengthwise and thinly slice it.

Peel and grate the ginger and measure the amount you need (1 tsp for 8 servings).

Cut the green onions into thin small rounds to use as garnish on top of the miso soup. Keep them in a bowl.
To Cook the Tonjiru
Preheat a large pot (I use this Le Creuset Dutch oven) over medium heat. When hot, add the sesame oil.

Add the pork belly and stir-fry with a spatula.

When the pork is no longer pink, add the onion.

Stir-fry the onions. Then, add the daikon and carrot slices.

When the ingredients are coated with oil, add the gobo and taro.

Add the konnyaku, aburaage, negi, and dashi. There should be just enough dashi to cover the ingredients. If not, add more dashi or water.

Stir to mix, cover with a lid, and bring it to boil.

Simmer, covered with the lid, until the root vegetables are tender, about 10-15 minutes.

The Tonjiru is done cooking when a skewer inserted into a tough and thick vegetable pierces through. Turn off the heat. If you are preparing this dish ahead, stop here and let it cool completely before storing the pot in the refrigerator.
To Serve
For the best flavor and aroma, add the miso right before serving, if possible. Add the miso using a strainer. (Tip: Always start adding a little less than the recipe calls for; each brand/type of miso has different saltiness.) If you don't have a strainer, let the miso completely dissolve in the ladle first before releasing it to the soup. Taste the soup. If it's too salty, add dashi or water to dilute.

If the soup needs more seasoning, add more miso (I added 1 Tbsp for 8 servings). When you are done adding the miso, add the grated ginger. Tip: When you add the tofu (always add tofu after the miso as it is delicate), make sure your miso soup has a slightly stronger taste because the moisture from the tofu will dilute the flavor.

Tear the tofu into small pieces and add them. Alternatively, you can cut the tofu into cubes instead of tearing it. Tip: Tearing adds more surface area to the tofu and will help it absorb more miso flavor from the soup.

When you are ready to serve, reheat the miso soup on medium-low heat and keep it at a low simmer. NEVER let the miso soup boil because miso will lose its flavor.

Serve the Tonjiru in miso soup bowls, sprinkle with green onion, and serve immediately.
To Store
Let the Tonjiru cool completely before storing it in the refrigerator. Consume within 5 days.
Nutrition
Calories:
276
kcal
·
Carbohydrates:
13
g
·
Protein:
8
g
·
Fat:
22
g
·
Saturated Fat:
7
g
·
Cholesterol:
24
mg
·
Sodium:
433
mg
·
Potassium:
290
mg
·
Fiber:
3
g
·
Sugar:
4
g
·
Vitamin A:
2589
IU
·
Vitamin C:
11
mg
·
Calcium:
71
mg
·
Iron:
1
mg
©JustOneCookbook.com Content and photographs are copyright protected. Sharing of this recipe is both encouraged and appreciated. Copying and/or pasting full recipes to any website or social media is strictly prohibited. Please view my photo use policy
here
.
Editor's Note: The post was originally published in 2011. The post has been republished with new images and content on July 8, 2020.