Print Recipe
Jump To Recipe
Today's dinner is Japanese version Mapo Tofu. Incredibly flavorful but less spicy than the Sichuan-style Mapo Tofu, this tofu dish makes a lovely one meal dish that even children can enjoy!
Mapo Tofu (麻婆豆腐) is Mr. JOC's favorite dish and it makes it into my dinner dish rotation frequently in our household.
Since it takes less than 30 minutes to prepare, I usually cook this dish when I'm too busy to cook a more elaborate meal.  We usually eat it as a donburi-style meal (rice bowl).  This is a great hearty dish to please everyone in the family.

Watch How To Make Mapo Tofu 麻婆豆腐の作り方
What is Mapo Tofu?
Mapo Tofu is a popular Chinese dish from Sichuan province.  The classic recipe consists of silken tofu, ground pork or beef, fermented broad beans & soybeans (doubanjiang), fermented black beans (douchi), and Sichuan peppercorn to name a few main ingredients.
Tofu is cooked in a spicy and oily, chili- and bean-based sauce, which has a beautiful bright red color from the chili.
While the original Shichuan Mapo Tofu is pretty spicy, the Japanese version is usually mild so even children can enjoy it.
Japanese-Style

Mapo Tofu
In Japan, Mapo Tofu is called Mabo Dofu and it's written either as 麻婆豆腐 or マーボー豆腐 in Japanese.
How did the dish arrive in Japan you might wonder?  It was introduced to Japan in 1970s by Chen Kenmin, a famous Chinese chef in Japan.  Previously I mentioned about this chef in my post here, and Chef Chen brought many popular Chinese recipes to Chinese restaurants in Japan.
Mapo Tofu, Ebi Chili (Chili Prawns エビチリ), and Stir-Fried Pork and Bell Peppers (Chin-jao ro-su 青椒肉絲)  are a few of widely well-known Chinese dishes in Japan thanks to him.
These dishes have been enjoyed in Japanese household for almost half a decade!  In Japanese grocery stores, you can find the convenient ready-to-eat sauce for these popular dishes.  I remember the packages were in my mom's kitchen pantry too!
Chinese Mapo Tofu vs. Japanese Mabo Dofu
There are may versions of this dish even within Japan nd each household cooks it differently.
The common ingredients that you may not find in classic Chinese Mapo Tofu include miso (Japanese fermented soybeans, sometimes rice and barley included), mirin or sugar, and sesame oil.  Soy sauce, oyster sauce, and sake are sometimes added too.
As I mentioned above, Japanese Mabo Dofu doesn't include any chili or peppercorn.  The only "spicy" element comes from doubanjiang, if the type of doubanjiang includes chili (which is called ladoubanjiang).
Quick & Easy Homemade Mapo Tofu
If you never made this dish before, it might sound and look challenging to you.  However, this dish can be prepared very easily with typical Asian/Japanese ingredients.
The key ingredient for Mapo Tofu (or Mabo Dofu) is Fermented Broad Beans & Soybeans called Doubanjiang (豆瓣酱).
If you have tried my Vegetarian Ramen and Miso Ramen recipes, you probably have this in your refrigerator already.  Fermented beans give amazing umami; therefore, please do not substitute.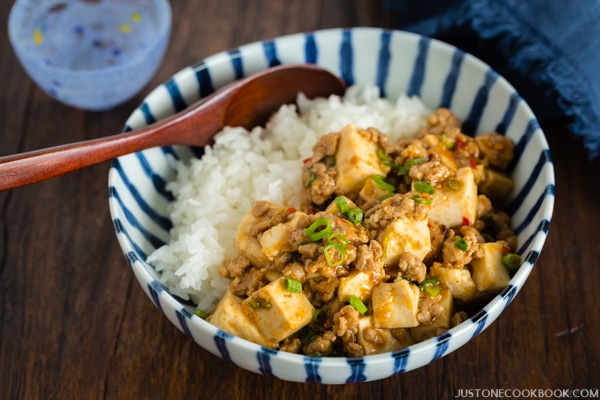 Don't want to miss a recipe? Sign up for the FREE Just One Cookbook newsletter delivered to your inbox! And stay in touch on Facebook, Google+, Pinterest, and Instagram for all the latest updates.
Mapo Tofu (Mabo Dofu)
Ingredients
2

cloves

garlic

1

inch

ginger

(1 inch = 2.5 cm)

2

green onions/scallions

14

oz

silken tofu

(14 oz = 396 g)

1

Tbsp

neutral flavor oil (vegetable, canola, etc)

½

lb

ground pork

(1/2 lb = 227 g) (or any other meat/veggies of your choice)
Instructions
Gather all the ingredients.

Combine all the ingredients for Seasonings (2 ½ Tbsp. Chili Bean Sauce and/or Broad Bean Paste, 2 Tbsp. mirin, 1 Tbsp. miso, 1 Tbsp. oyster sauce, ½ Tbsp. soy sauce, 1 tsp. sesame oil, 1 tsp. corn starch, 4 Tbsp. water) in a bowl and mix well together.


Mince the garlic cloves and ginger finely.


Cut the green onions into small pieces. Drain the tofu and cut into about 1 inch (2.5 cm) cubes.


In a large frying pan, heat vegetable oil on medium heat and saute garlic and ginger. Make sure you don't burn them. Once they are fragrant, add the ground pork and break it up with a spatula or wooden spoon.


When the meat is no longer pink, add the Seasoning mixture and stir thoroughly.


Once the sauce is back to boiling, add the tofu and gently coat the tofu with the sauce. Stir frequently, without mashing up the tofu, until it is heated through. Add the green onions and mix just before taking the pan off the heat. Serve immediately.

Recipe Notes
I use 1 ½ Tbsp. Doubanjiang and 1 Tbsp. Ladoubanjigang

Recipe by Namiko Chen of Just One Cookbook. All images and content on this site are copyright protected. Please do not use my images without my permission. If you'd like to share this recipe on your site, please re-write the recipe and link to this post as the original source. Thank you.
Editor's Note: The post was originally published in January 29, 2011.  The video and new pictures were added to the post in May 2016.  No change for the recipe.