Chirashi Sushi (we call it Chirashizushi in Japan) is a type of sushi.  Although sushi is often misunderstood as just nigiri (a small block of rice topped with a piece of raw fish) or those interestingly named rolls in the US, there are actually many types of sushi in Japan.
Among all types of sushi, Chirashi Sushi is probably the most commonly served sushi in Japanese homes.  It literally means "scattered sushi".  Each region in Japan serves a slightly different version of Chirashi Sushi with different ingredients and toppings.  In Osaka where my mom was originally from, it is also called barazushi or gomoku sushi.  Sushi rice is mixed with unagi and cooked or uncooked vegetables.  On the other hand, Edomae Style Chirashi Sushi (Edomae = Edo-style or old Tokyo style) is most common type of Chirashi Sushi served in Tokyo area and Japanese restaurants in the US, with assorted sashimi and colorful garnishes arranged beautifully on top of the sushi rice in a bowl.
Chirashi Sushi is often cooked to celebrate special occasions, such as festivals and parties.  It is also commonly eaten on March 3rd, when we celebrate an annual festival called The Doll Festival (Hinamatsuri).  Since I have been busy, I quickly made Chirashi Sushi using this convenient Chirashi Sushi Mix which is available in Japanese (and hopefully your Asian) supermarkets.  With cooked Japanese rice, you can enjoy delicious Chirashi Sushi in less than 30 minutes!  It's definitely better than eating fast food, right?
Next Monday I will be guest blogging at one of my favorite blogs.  I will be sharing a very cute way to celebrate Hinamatsuri using this Chirashi Sushi recipe.  So please come back to see my guest post and to find out the winners of my recent giveaway!  Have a great weekend!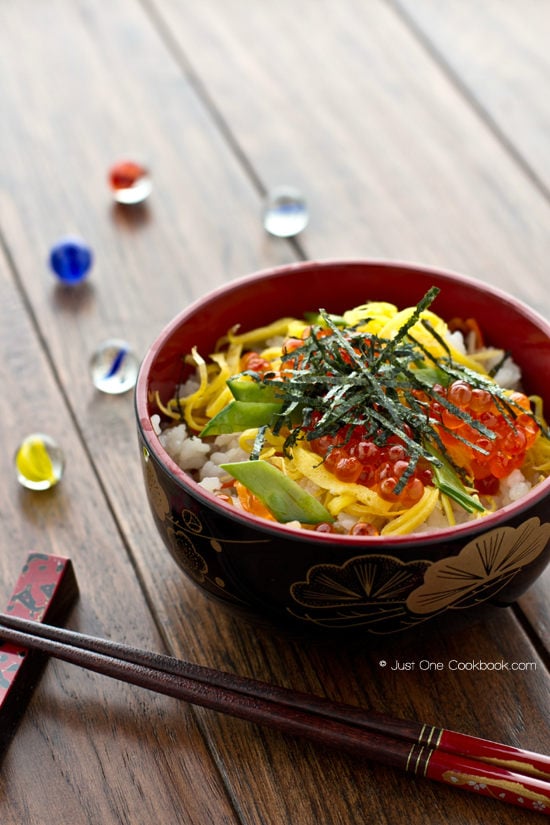 Quick & Easy Chirashi Sushi
Ingredients
2 Japanese rice cups (=360ml) short grain premium Japanese rice
1 packet Chirashi Sushi Mix (I used "Sushi Taro brand")
Ikura (salmon roe)
Handful of blanched snow peas
Kizami Nori (Shredded nori sheet – See Pantry)

Instructions
Place warm cooked rice in a large bowl (I use hangiri, a wooden flat bowl, for sushi). Add one packet of Chirashi Sushi Mix while the rice is hot.

Fold everything together with the rice. Instead of "mixing", you need to slice through rice using a rice paddle to separate the grains.

Serve in a bowl or plate and garnish with Kinshi Tamago, ikura, and snow pea. You can put any topping you like, such as your favorite sashimi.
Place shredded nori sheet on top right before you serve (otherwise it they will wilt quickly).
Enjoy!
You have leftover Chirashi Sushi?  Stuff Chirashi Sushi into inari-age to make Inari Sushi!