Print Recipe
Jump To Recipe
I didn't know seaweed is considered "strange food" until I came to the US.  Japan is surrounded by the ocean and we eat many kinds of seaweed.  For example, nori for sushi and rice balls (onigiri), and wakame for miso soup and salad.  Beside these, there are many other different types of "seaweed" for culinary use.
Even though seaweed is a common ingredient in Japanese cuisine, I was surprised by many requests for Seaweed Salad recipe from JOC readers around the globe.
I was surprised but happy to know now that there are more people who enjoy eating seaweed than I had thought.  And when you asked me for "seaweed salad", it's possible you were looking for this type of seaweed salad below, which is commonly served in Japanese restaurants in the U.S.
It's a little bit spicy but overall quite sweet and crunchy.
However, this particular seaweed salad does NOT actually exist in Japan.  I had asked my friends in Japan to verify just in case because it's been a while since I've moved to the US…
Out of curiosity, I looked up what this salad is made of.  Besides a mixture of seaweed, seaweed stem (kuki wakame) and seaweed sprout (mekabu), there were some ingredients that I had not expected. Artificial dyed agar agar (a type of seaweed-based gelatin) and high fructose corn syrup.
I was hoping that grocery stores would sell the ingredients here in the US but places I visited around my house only sell pre-made seaweed salad.  I asked the workers where they got the ingredients to make this from scratch, and to my surprise they all said they actually purchase the seaweed salad pre-made.
So to make the story short, I couldn't make a copycat version.  But instead, I want to share the traditional style seaweed salad that we eat in Japan.  It's a lot healthier and even more delicious than the seaweed salad from restaurants.
There are many kinds of dressing that would go with seaweed salad such as this homemade Sesame Dressing.  Today I made our favorite Miso Dressing and it's delicious!  Hope you will try this dressing with the seaweed salad or even regular salad.  Enjoy!
* I understand some of you may have a hard time finding this dried seaweed salad mix.  Most Japanese or Asian grocery stores should carry some.  In case you can't find them, wakame seaweed (the kind you see in miso soup) can be substituted and is more widely available.  Soak wakame till tender and drain completely, toss it with cucumber (so it's not just wakame).    
Don't want to miss a recipe? Sign up for the FREE Just One Cookbook newsletter delivered to your inbox! And stay in touch on Facebook, Google+, Pinterest, and Instagram for all the latest updates. Thank you so much for reading, and till next time!
Seaweed Salad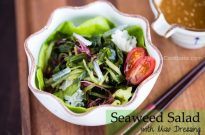 Instructions
Gather all the ingredients.

Soak the dry seaweed salad mix in cold water for 5-8 minutes. Drain the seaweed and squeeze out the excess water. Serve the seaweed in individual bowls or large serving bowl. Chill the salad before serving.


For the dressing, use a mortar and pestle to grind the sesame seeds. This will add nice aroma and texture to the dressing.


Combine Miso Dressing ingredients in a small bowl and whisk together. Put the dressing in a small bowl or dressing bottle. Mix or shake the dressing before pouring to the salad.

Recipe Notes
Recipe by Namiko Chen of Just One Cookbook. All images and content on this site are copyright protected. Please do not use my images without my permission. If you'd like to share this recipe on your site, please re-write the recipe in your own words and link to this post as the original source. Thank you.