Print Recipe
Jump To Recipe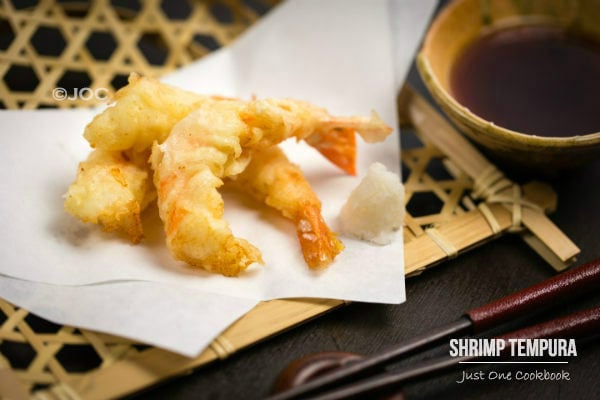 Tempura is one of the most popular type of Japanese food that is widely enjoyed around the world. Among all kinds of tempura, shrimp tempura is probably most common one as you see on menus in Japanese restaurants.
Besides being a standalone dish, shrimp tempura is also served as part of donburi (Tempura Donburi) or soba/udon noodle soup (Tempura soba/udon).

More than a month ago, one of my favorite food bloggers, CG from Cooking Gallery, requested the shrimp tempura recipe.  If you haven't visited her blog, you must check out her cutest bento (lunch box) collections.  CG's bento is always superb and her creations always make me smile…  If you want to spice up your lunch box for your kids, her blog is definitely a great source for inspiration.
If you want your Shrimp Tempura to look like ones from restaurant (extra batter around shrimp), please see video below.
Did you see the person dip his hand in the oil???  Crazy, isn't it?
If you are vegetarian, you might enjoy Vegetable Tempura.
Don't want to miss a recipe? Sign up for the FREE Just One Cookbook newsletter delivered to your inbox! And stay in touch on Facebook, Google+, Pinterest, and Instagram for all the latest updates. Thank you so much for reading, and till next time!
Shrimp Tempura
Ingredients
10 large shrimps
Corn starch for dusting
Oil for deep frying (vegetable oil : sesame oil = 10 : 1)
Tempura Batter (egg + water : flour = 1 : 1)
1 cup (240 ml) egg + water (1 cold large egg (40ml) + 200 ml ice water)
1 cup (240 ml) all purpose flour

Tempura Sauce
Instructions
To make tempura sauce, combine dashi, soy sauce, mirin, and sugar in a small saucepan and bring it to a boil. Then lower the heat and let it simmer until sugar is completely dissolved. Remove from heat and set aside.

To prepare shrimp, read step-by-step instructions with pictures on How To Prepare Shrimp for Shrimp Tempura to make shrimp straight.

In a deep fryer, heat 1½" (3 cm) of the oil to 338-356F (170-180C). You can check the temperature with chopsticks or with a thermometer. When you see small bubbles around chopsticks, it's pretty much ready for deep frying. If you want to read more about deep frying method, please read How To Deep Fry Food.

To make tempura batter, sift the flour into a large bowl.

Add the egg into very cold water.

Whisk the egg mixture vigorously and discard the form on the surface.

As you slowly pour the egg mixture into the flour, mix the batter but do not over mix. It's okay to leave some lumps in batter. Keep the batter cold all the time.

Dust corn starch on top of shrimps.

Coat the shrimp in batter.

Deep fry until golden brown. Do not crowd the fryer with shrimps; leave at least half of oil surface empty. Transfer cooked shrimp tempura to a wired rack or a plate lined with a paper towel to drain excess oil. Between batches, remove the crumbs which will burn and turn the oil darker if left in fryer.

Grate the daikon and squeeze the liquid out. Serve shrimp tempura with warm tempura sauce and grated daikon.

Notes
Make batter right before deep frying to avoid activation of wheat gluten.
When you put too many shrimps, the oil temperature will drop quickly. Make sure to keep the right temperature for frying at all times.
For vegetarian tempura, you can use vegetables such as sweet potato, kabocha squash, lotus root, king oyster mushrooms, etc. Instead of regular dashi, vegetarians can use kombu dashi.
Recipe by Namiko Chen of Just One Cookbook. All images and content on this site are copyright protected. Please do not use my images without my permission. If you'd like to share this recipe on your site, please re-write the recipe in your own words and link to this post as the original source. Thank you.
Editor's Note: Photos and recipe updated in November 2013.