Print Recipe
Jump To Recipe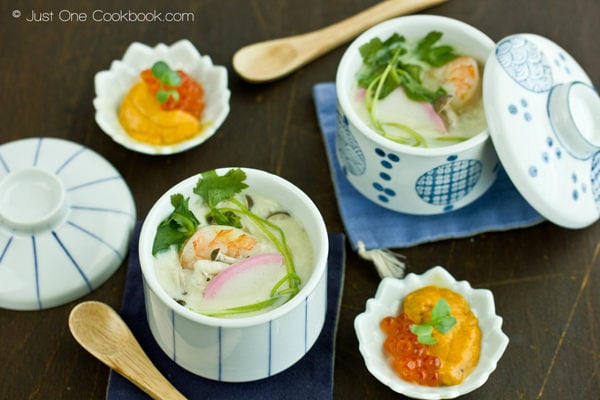 Chawanmushi is a savory egg custard dish which served as an appetizer in Japanese restaurants. It literary means 'steamed in a tea bowl/cup' (Chawan = tea bowl/cup, -Mushi =steamed in something). Typically Chawanmushi includes ginkgo nuts, shiitake mushrooms, fish cake (kamaboko) filled with an egg mixture flavored with dashi stock, soy sauce, and mirin. I often put shrimp in Chawanmushi because it looks pretty when shrimp's orange/red color peeks from top of the egg custard. My signature recipe for this dish includes ikura (salmon roe) and uni (sea urchin) on top of the Chawanmushi. It's our favorite way to eat Chawanmushi and I hope you give it a try!
Today's recipe is being featured on Eat Shrimp's "12 Days of Shrimp" on their facebook page. Several bloggers are sharing their favorite shrimp recipe and talk about their favorite holiday. For me, I shared about the New Year celebration in Japan since it is by far the biggest holiday celebration. I hope you stop by to take a look at my featured article.
Our next post will be this Friday. I'll be taking a vacation in a few days to visit my in-laws in Taiwan with my family. I have asked several bloggers to share their favorite holiday food on Just One Cookbook. I became very good friends with these bloggers when my blog was still very, very young. Even though I have never met them in person and we live very far from each other, I feel like I've known them for years because we talk to each other everyday about food and our lives. Like asking a good friend to house sit when you go on vacation, I asked them to be my "blog sitters". Please come back this Friday for our first guest. They've prepared wonderful holiday recipes (savory dishes and desserts!) for Just One Cookbook readers and trust me, they look really delicious! I interviewed each of them so you get to know a little bit more about them and their blogs.
While I'm in Taiwan, I am planning to share some pictures of local Taiwanese food on my facebook fan page so be sure to follow me if you want pictures of exotic dishes! I wish you have a wonderful holiday season with your family and friends!
Don't want to miss a recipe? Sign up for the FREE Just One Cookbook newsletter delivered to your inbox! And stay in touch on Facebook, Google+, Pinterest, and Instagram for all the latest updates. Thank you so much for reading, and till next time!
Chawanmushi with Shrimp
Ingredients
Note: you can add any seasonal ingredients
Seasonings
Toppings (optional)
2 pieces of uni (sea urchin)
2 Tbsp. ikura (salmon roe)

Instructions
In a small bowl, combine dried shiitake and water. Let it soak for 15 minutes. When shiitake becomes soft, cut each into quarters. Keep the water.

Put the water from Step 1 into a measuring cup, and then fill with dashi stock until you have ½ cup of liquid.
Cut chicken into small cubes so that they will be cooked fast. Peel and devein shrimp if necessary. Marinate chicken and shrimp in sake for 15 minutes (sake will get rid of fishy/meaty taste and smell).
Whisk the egg in a medium bowl. Add Seasonings and dashi stock mixture from Step 2.

Then strain the mixture through a sieve into another bowl.

Start boiling water. The amount of water should cover ½ of chawanmushi cup. When boiling, reduce the heat to the lowest heat.
Divide all the ingredients into 2 cups. I start with chicken, shiitake, ginkgo nuts, and shimeji. Then put kamaboko, shrimp, and mitsuba on top (the colorful ingredients should be near the top of cup).

Gently pour the egg mixture into the cups to avoid creating bubbles. Instead of covering the ingredients completely with egg, leave some exposed so it will look nicer when cooked. Put the lid on (or cover with aluminum foil tightly if you don't have chawanmushi cup).

Place gently inside the hot water (it should NOT be "boiling") and cover the pot's lid. Cook for 25-30 minutes on the lowest heat. If you are not adding shrimp and/or chicken, the cooking time should only be 15-20 minutes. Insert a skewer in the center of the cup to check if the egg is done.

Serve warm with uni and ikura on the side (optional). Place them on top right before you eat.
Notes
Recipe by Namiko Chen of Just One Cookbook. All images and content on this site are copyright protected. Please do not use my images without my permission. If you'd like to share this recipe on your site, please re-write the recipe in your own words and link to this post as the original source. Thank you.