Print Recipe
Jump To Recipe
Are you ready for a satisfying bowl of deliciousness? Try this delicious Tuna and Salmon Poke Bowl recipe at home!
Poke restaurants have been popping up everywhere in Northern California (and I heard even more in SoCal) and many of my friends are passionate about poke bowl.  I thought I could share with my friends and JOC readers how easily we can prepare this light and delicious dish at home!
And if you're gluten intolerant, this dish can be easily made gluten-free by just switching regular soy sauce to gluten free soy sauce!
Watch How To Make Poke Bowl ポケボウルの作り方
What's Poke?
Poké (pronounced POKE-AY, not POKE-EE) is chunks of raw fish marinated in soy sauce and sesame oil, tossed with sesame seeds and seaweed.  However, it can mean anything chunked as poke comes from the verb "to section, slice, or cut" in the Hawaiian language.  Popular seafood used for poke includes ahi (yellowfin tuna), he'e (octopus, tako) and aku (skipjack tuna, katsuo), and salmon.
There are many different variations with the sauce/seasoning you can use, so feel free to experiment and find your favorite.  My family loves the rice vinegar in the seasoning but you can simply mix just soy sauce and sesame oil, which are the basic components of the sauce.  We like how the rice vinegar makes the dish light and refreshing, a bit like salad dressing.
One Dish Meal – Poke Bowl!
Poke is often served as an appetizer like salad, but you can make it into a great meal by putting poke on top of steamed rice, like Japanese rice bowl Donburi.  If you prefer a lighter version, you could serve poke over kale salad or leafy green salad instead of steamed rice.
On a hot summer day when you're too lazy to cook, this is definitely a great dish to prepare because it does not require cooking over the stove or in the oven.  And sashimi being served cold, it's just the perfect refreshing meal to cool you down.  Not too heavy but packed with protein, poke bowl has quite a bit of nutrients.  The sesame oil used in the poke seasoning is known to improve your appetite (at least we say so in Japan), and makes it taste just better on warm days.
DIY Poke Bowl Party
Considering how popular poke is nowadays, it's a fun event to invite friends over for DIY (Do It Yourself) Poke Bowl Party!  It's super easy and quick to prepare for a large crowd.
All you need to do is to chop up some fresh sashimi-grade fish (I order from my own store – Fish for Sushi.com), and prepare some colorful and refreshing vegetables and side dishes for toppings.
For "raw" fish, only consume fish you know that has been frozen properly for sashimi use.  Do not use raw fish even though it "looks" fresh (Read more)!
Poke Bowl Topping Ideas
Avocado – Rich texture of avocado resembles fatty tuna and adds a creamy texture.
Cucumbers – Slices or cubed cucumbers adds juiciness and refreshing crunchy texture to the poke bowl.
Edamame –  Adds nice substance to the dish and great source of protein.
Green onions – Gives some little spice to the dish.
Masago – Creates a different texture when eating and who can resist the tiny eggs.
Seaweed salad – If you can purchase premade seaweed salad, it adds new flavors to the poke bowl.
Seaweed – Shredded nori or julienned seaweed provides crispy texture to the poke bowl.
Sesame seeds – Additional flavors and textures of sesame seeds, not to mention it beautifies the dish.
Furikake (rice seasonings) – Adds extra umami flavors and textures from sesame seeds or nori.
Pickled sushi ginger (recipe) – Refreshing and spicy flavors.
Wasabi – If you're into wasabi, I highly recommend it with fresh sashimi!
Sriracha sauce – The sauce gives the bowl a spicy kick!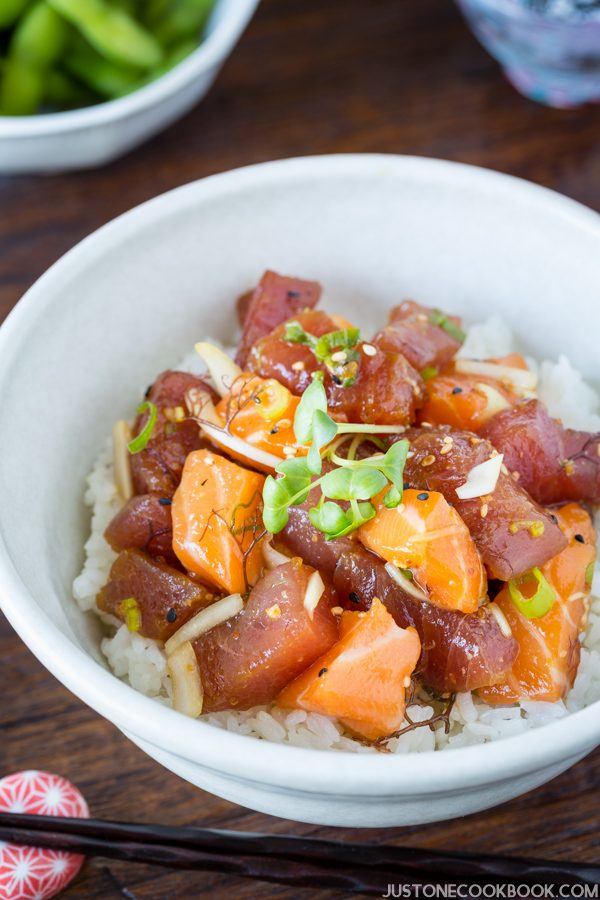 Hawaiian Ingredients – Limu & Kukui Nut
For today's recipe, I added limu, a type of seaweed, and grated kukui nut (candlenut).  These are often included in authentic poke recipes.  However, depending on where you live, these ingredients can be hard to find.  In that case, you can save your time and energy trying to track them down and just skip them.  It's nice to have for extra flavors and textures, but definitely not a deal breaker if you can't find them.
If you live in Peninsula (SF Bay Area), Takahashi Market in San Mateo sells limu and kukui nut in the deli section of the supermarket. 🙂
Gluten-Free Soy Sauce for Poke Bowl
This Poke Bowl can be easily converted to a gluten free dish if you use gluten-free soy sauce.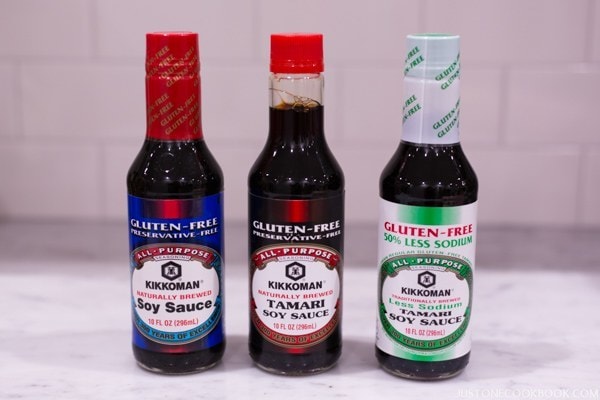 Kikkoman offers 3 varieties of gluten-free soy sauce and for this recipe, I used the gluten-free soy sauce on the left which tastes just like regular soy sauce.  If you want to know more about this product, click here.  If you're not gluten intolerant, you can use regular Japanese soy sauce to make the poke seasonings.  Remember Chinese and Korean soy sauce taste different so please use Japanese soy sauce only.
If you're gluten intolerant, please check out my Gluten Free Recipes for additional recipe ideas.
Don't want to miss a recipe? Sign up for the FREE Just One Cookbook newsletter delivered to your inbox! And stay in touch with me on Facebook, Google+, Pinterest, and Instagram for all the latest updates.
Poke Bowl
Ingredients
½

lb

sashimi-grade tuna

(1/2 lb = 227 g)

½

lb

sashimi-grade salmon

(1/2 lb = 227 g)

Handful

limu (a type of seaweed)

(optional)

2

green onions/scallions

¼

onion

(preferably Maui onion)

1

tsp

kukui nut

(optional)

2-3

bowl

cooked Japanese short grain rice
Instructions
Gather all the ingredients.

Cut sashimi-grade salmon and tuna into bite size pieces. I recommend cutting into slightly "bigger" bite size for the better texture and taste.


Cut limu into smaller pieces, about ½" (1 cm) pieces. Thinly slice the green onions.


Thinly slice the onion and then cut into ¾ inch (2 cm) length.

Put the salmon and tuna in a large bowl and sprinkle ¼ tsp. sea salt. Then add the onion, green onion, limu, and kukui nut.


Add ⅓ cup (80 ml) gluten-free or regular soy sauce and 2 Tbsp. sesame oil.


Add 1 Tbsp. rice vinegar. Sprinkle 1 Tbsp. toasted white and black sesame seeds.


Serve steamed rice in a large donburi bowl or plate. Let it cool down a little bit then pile poke on top. Add toppings as you like and enjoy immediately.

Recipe Notes
Additional Toppings Ideas:
Avocado (diced or thinly sliced)
Edamame
Cucumber (diced or thinly sliced)
Masago (fish eggs)
Seaweed salad
Shredded nori seaweed
Furikake
Pickled sushi ginger
Wasabi

Recipe by Namiko Chen of Just One Cookbook. All images and content on this site are copyright protected. Please do not use my images without my permission. If you'd like to share this recipe on your site, please re-write the recipe in your own words and link to this post as the original source. Thank you.
Full Disclosure: This post was sponsored by Kikkoman USA.  Thoughts and opinions stated are my own.