From Chinese almond cookies, whole steamed fish, dumplings to chashu fried rice, these Lunar New Year recipes are auspicious to grace your holiday menu. May these lucky dishes usher in happiness and good fortune for you this new year!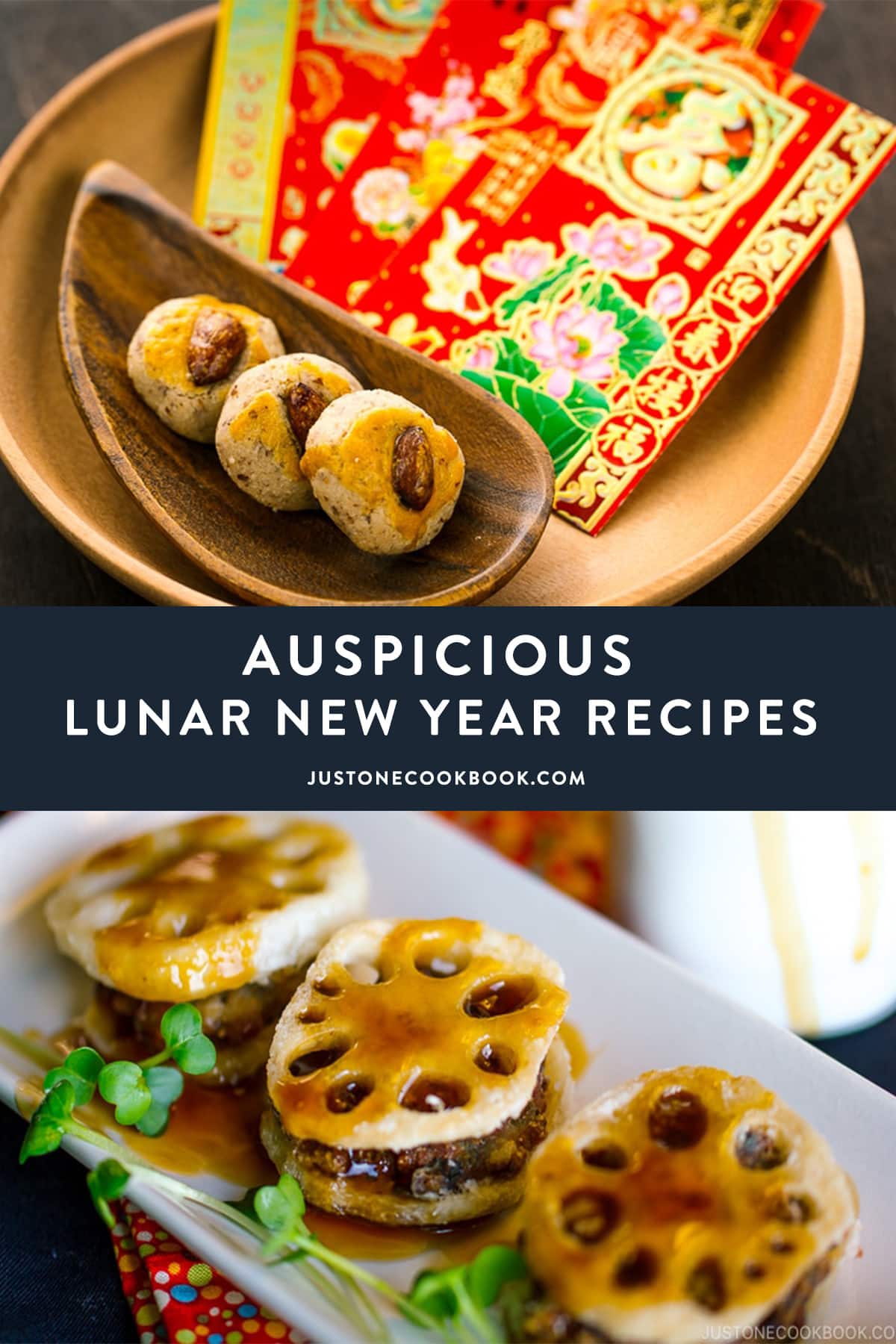 As I've just wrapped up with the Japanese New Year celebration, I'm being reminded that Lunar New Year (or Spring Festival 春節) is just around the corner!
What is Lunar New Year?
Originating in China, Lunar New Year is one of the most important celebrations of the year among East and Southeast Asian cultures, including Chinese, Korean, Vietnamese, Singapore, and Malaysian communities. The New Year celebration was traditionally celebrated for 15 days. Today, depending on the country, festivities often take place for about one to two weeks
🧧 In 2023, Lunar New Year begins on January 22 and it's the Year of the Rabbit. 🐰
China's Lunar New Year is known as the Spring Festival or Chūnjié in Mandarin, while Koreans call it Seollal and Vietnamese refer to it as Tết. It marks a time for a fresh start and new beginnings, and feasting with family and friends is at the heart of the long holiday.
Chinese Lunar New Year Recipes for An Auspicious New Year
Do you know two JOC team members are of Chinese heritage? Yes, that includes my husband who is Taiwanese-American and Reese who is Malaysian Chinese. They talk about how they celebrate the holiday back home, and I can't help but feel the spirit of the festivity.
The Chinese Lunar New Year is a festive time for Chinese people all over the world. Our kids absolutely love the celebration as there are colorful lion dances, fireworks, dazzling dragons, red envelopes (hong bao) with lucky money, and a whole lot of good food!
Over the years, I've shared recipes of Chinese origin and I thought we would round up a collection of Chinese Lunar New Year recipes for those of you who celebrate or wish to throw a big feast at home. You'll also find some popular Japanese recipes that would make a delicious addition to your Lunar New Year table.
新年快乐 (Xin Nian Kuai Le)! Happy New Year!
恭喜發財 (Gong Xi Fa Cai)! We wish you good wealth in the lunar new year.
Chinese Almond Cookies are simple, crisp, buttery, and full of almond flavor. It's a classic treat for the Chinese New Year! All you need is simply combine all the ingredients in a bowl, roll into small balls, and bake in the oven for 15 minutes. These cookies are so good with a cup of tea or coffee.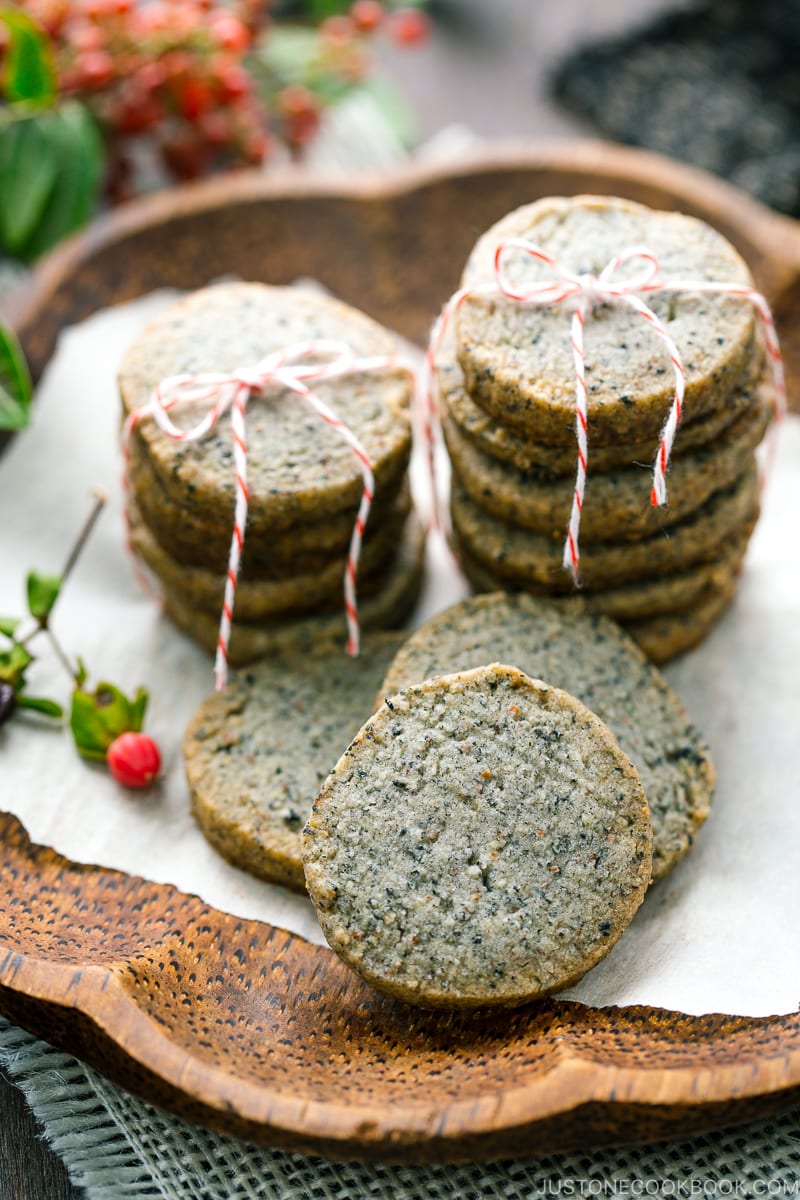 Do you know black sesame seeds are one of the ingredients used in traditional Chinese medicine? They are known to help build the spirit ('shen'神)! For an energetic new year, make these delicious black sesame cookies! They have a perfect combination of nutty and sweet, which is delightful with tea.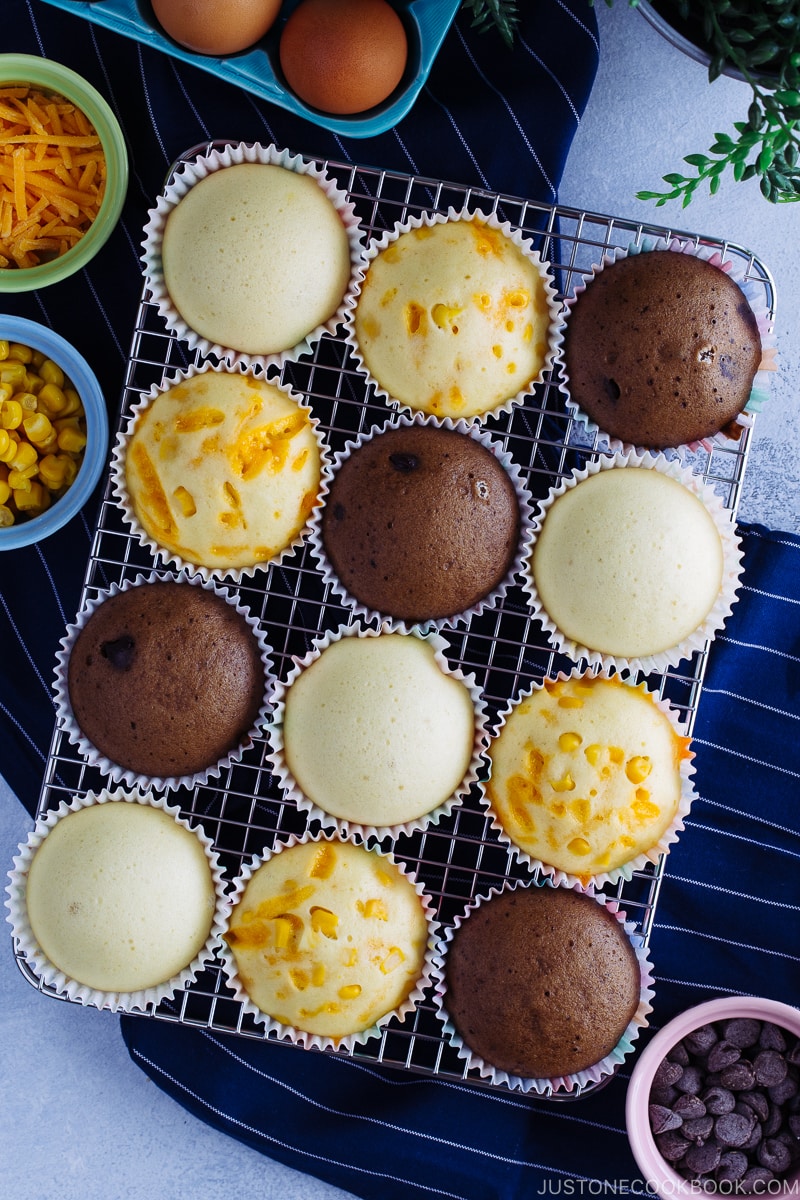 For a contemporary & healthy touch to the sweet treats, you're going to love these soft, light and spongy steamed cake. They are lovely as a Lunar new year breakfast or snack. You can choose savory or sweet ingredients. One of our Chinese readers has tried the recipe with red bean paste, which sounds amazing.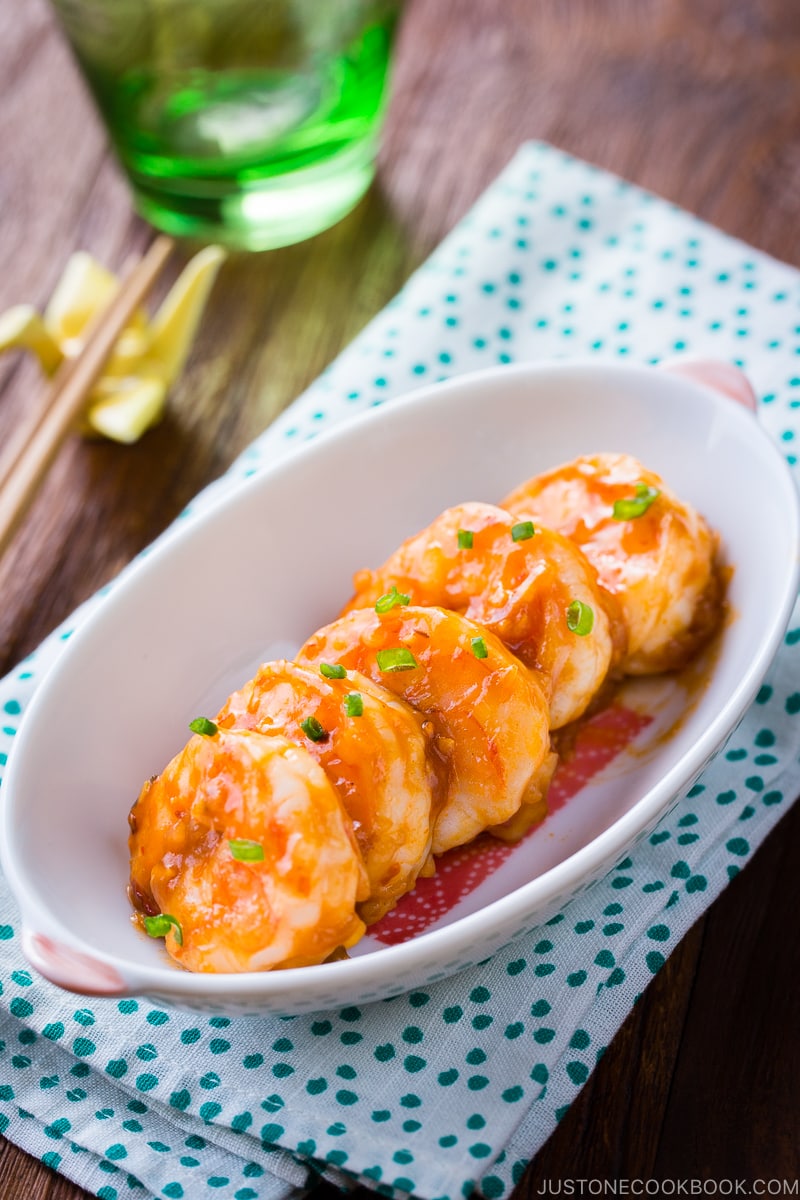 Inspired by Szechuan-style Kan Shao Shrimp (乾焼蝦仁), this sizzling hot plate of Spicy Shrimp Stir Fry (Ebi Chili) promises you lots of laughter (siu har har 笑哈哈) and a happy belly! My recipe is less spicy than the original dish, so it's suited for children and adults who prefer milder heat.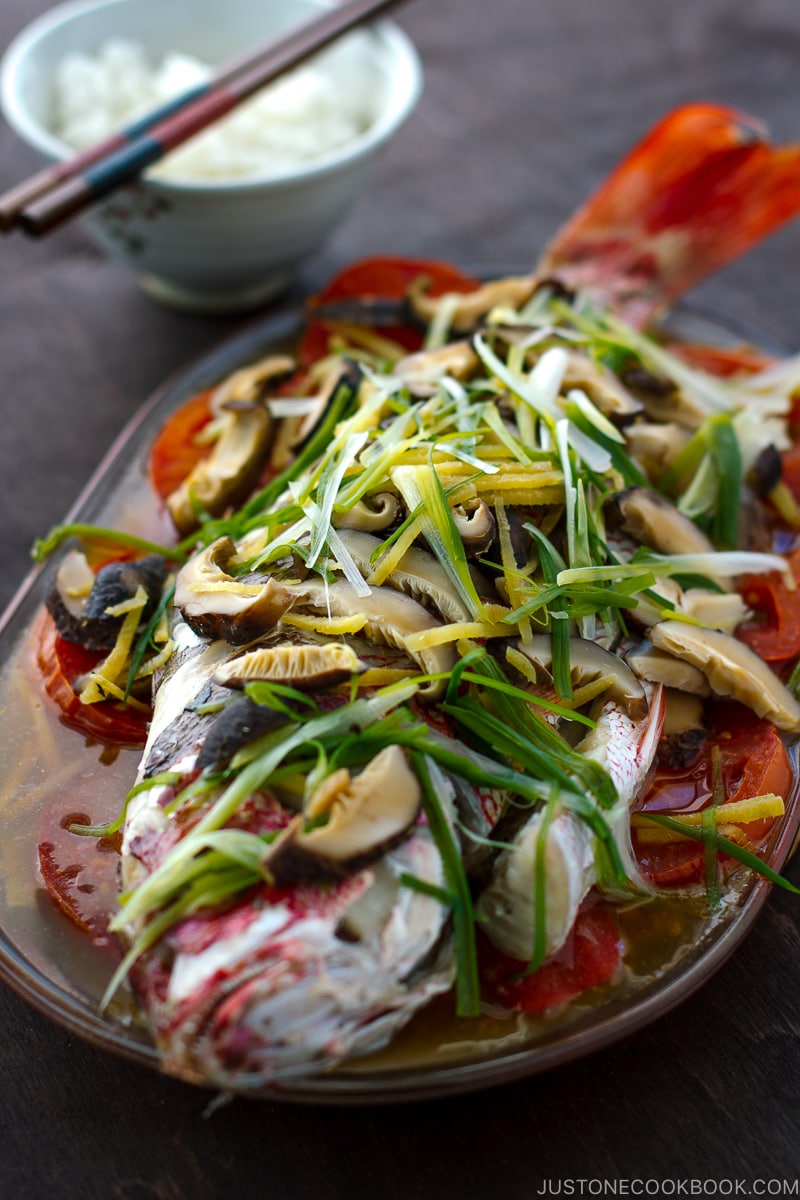 A whole fish is a staple for Chinese New Year celebrations as it symbolizes prosperity for the new year. This Cantonese-style steamed fish is flavored with soy sauce and covered in shiitake mushroom and green onion.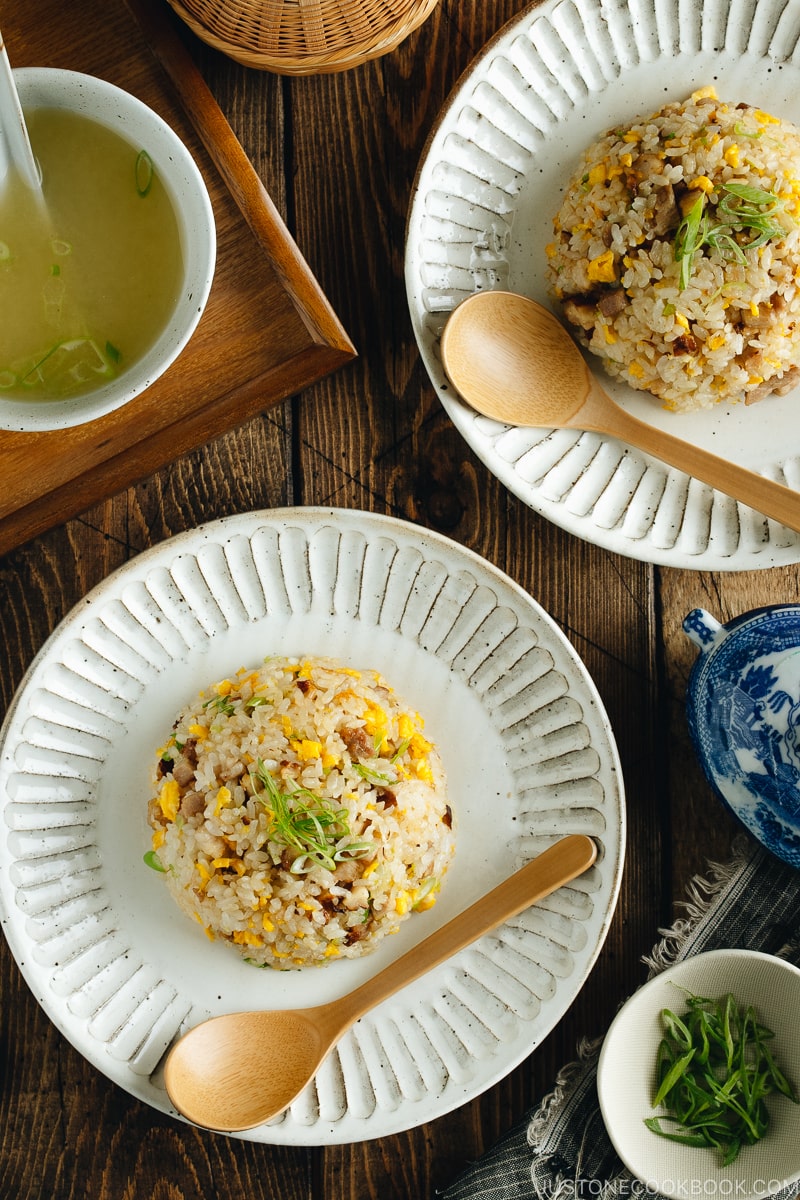 Fried rice is served toward the end of a meal or together with the rest of the dishes as a filler for anyone who might still be hungry. This Chashu Fried Rice with savory pork belly and fluffy egg is luxurious enough for the celebration. If you're making homemade char siu (BBQ pork) at home, save up some leftovers for this recipe!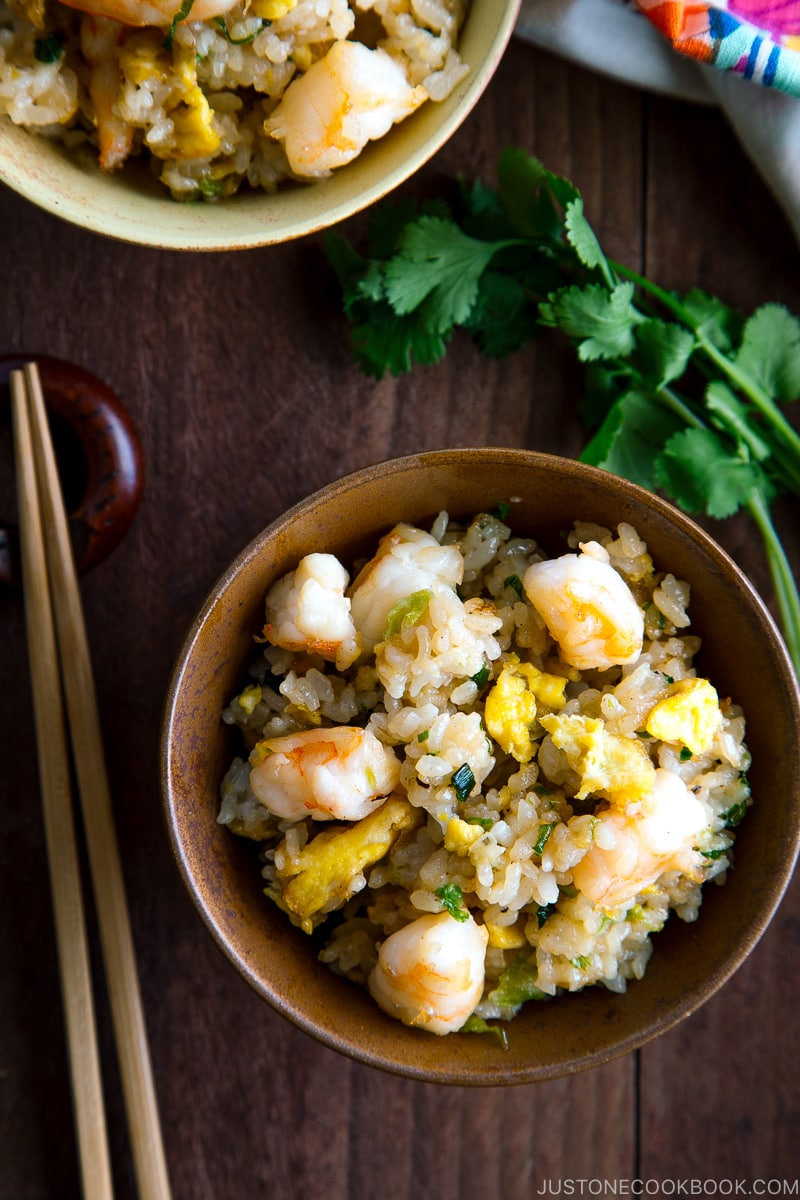 Shrimps are synonymous with laughter in Cantonese. This wok-charred Shrimp Fried Rice is about to bring you lots of joy (happy and full belly).
Steamed pork buns are a classic Chinese breakfast or dim sum brunch item. My recipe includes ground pork, shiitake mushroom, cabbage, and scallion. It has received many rave reviews, so I hope you give it a try. You'd be surprised how easy to make your own steamed buns at home.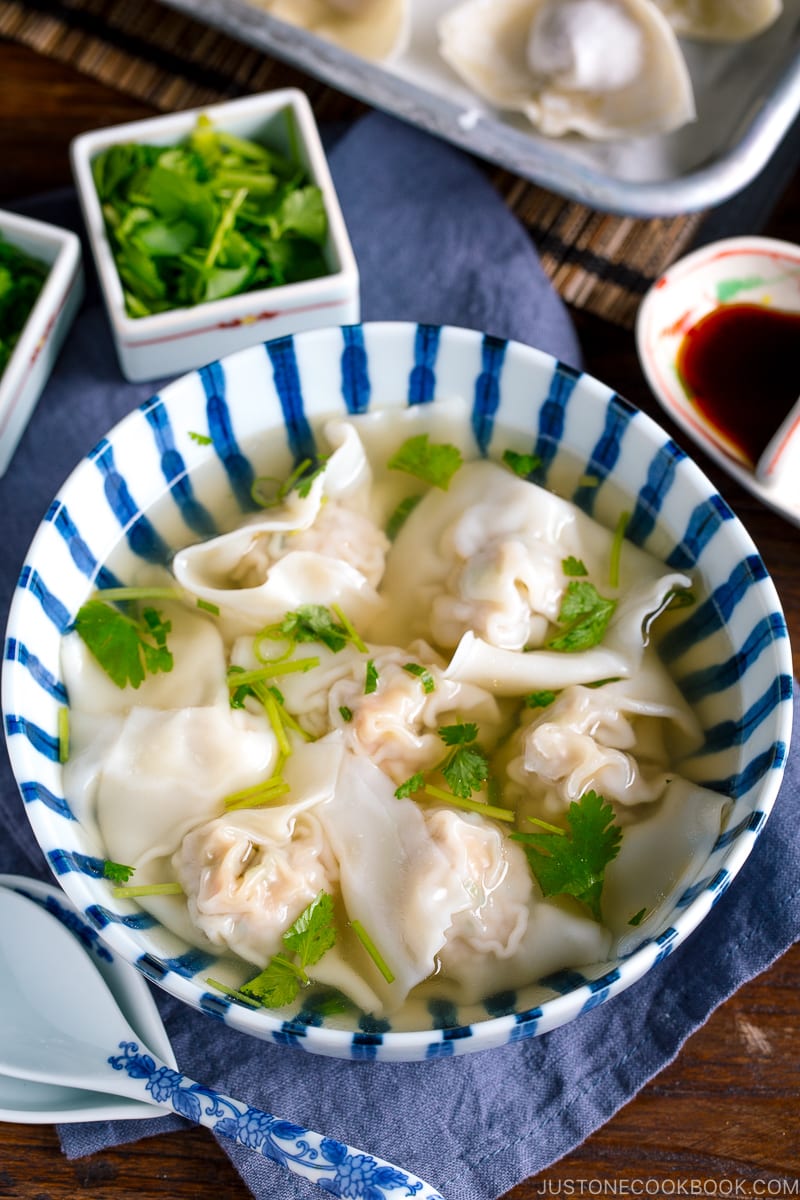 It's just not Chinese New Year without the most symbolic food – jiaozi or dumplings. Shaped like Chinese gold ingots or money bags, wonton dumplings are eaten to bring you good fortune. I always use both shrimp and pork in my wonton as the combo yields sweeter flavor and better texture. Enjoy them in a brothy soup for a heart-warming new year.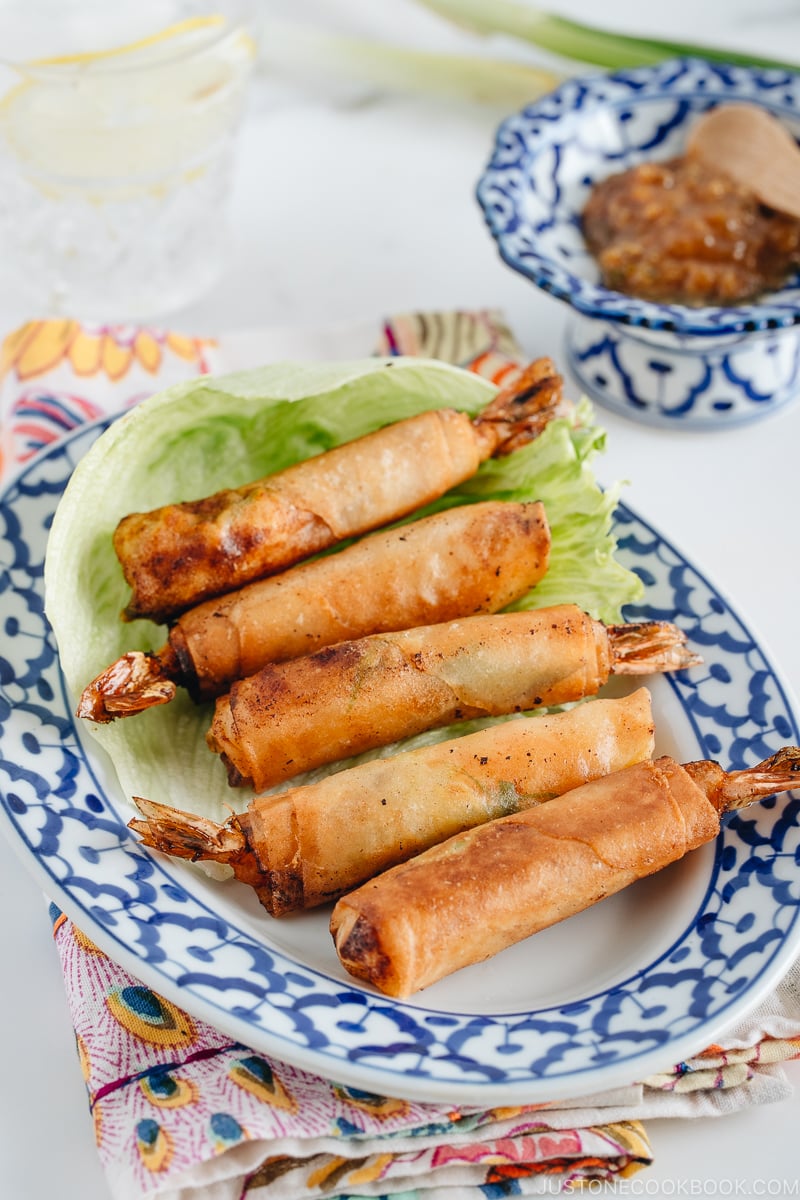 Deep-fried to golden brown deliciousness, these Shrimp Egg Rolls are a great appetizer to start your Chinese New Year meal. I served mine with a miso dipping sauce, but feel free to serve the egg rolls with sweet chili sauce or garlic soy sauce. The unique technique of straightening the shrimp makes the job easier without having to chop any ingredients. They are so good and addictive that you must make them at home!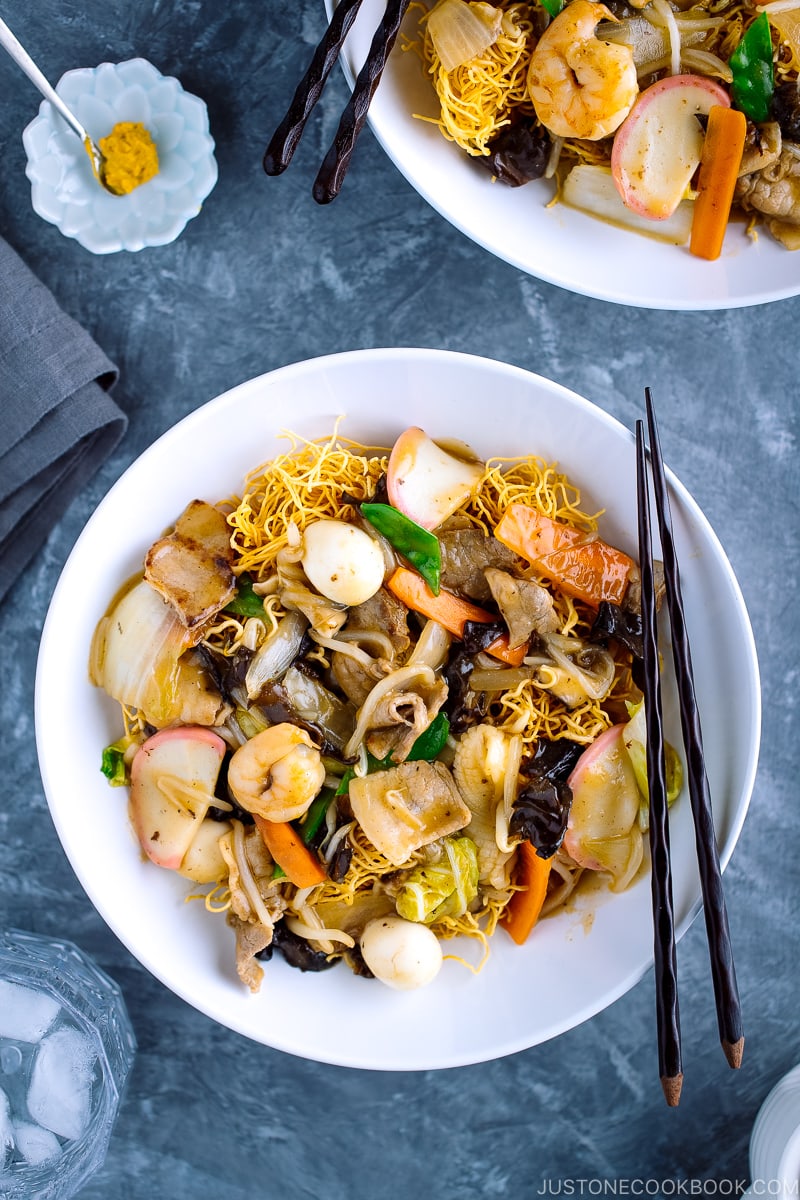 For good luck, we must eat noodles in the new year. This Crispy Noodles with Seafood 海鮮炒麵 features stir-fried seafood, pork, kamaboko fish cake, cabbage, bean sprouts, and other colorful vegetables, atop a bed of pan-fried egg noodles.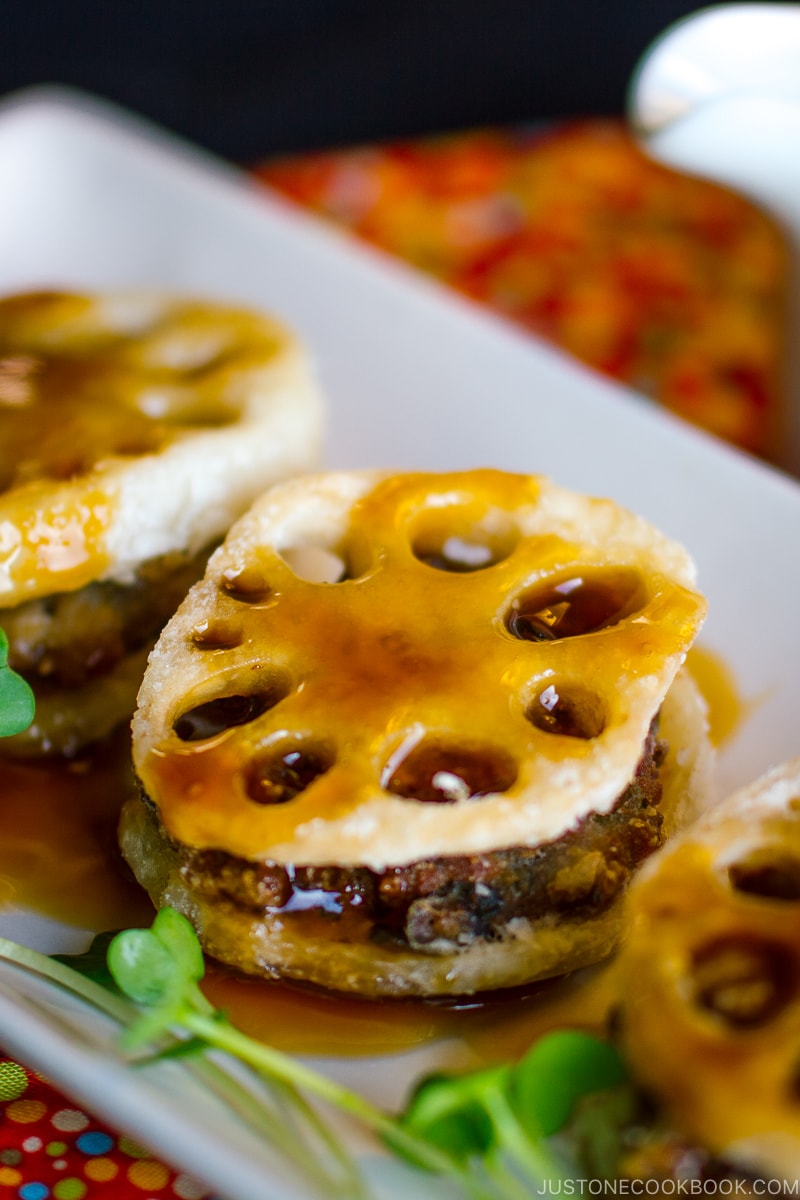 Delicious pork & shiitake mushroom mixture sandwiched between lotus root and deep-fried until crunchy. This is my family's favorite way of eating lotus root! Lotus root symbolizes abundance and the unique holes represent an open mind to new ideas, which is what we need for the new year.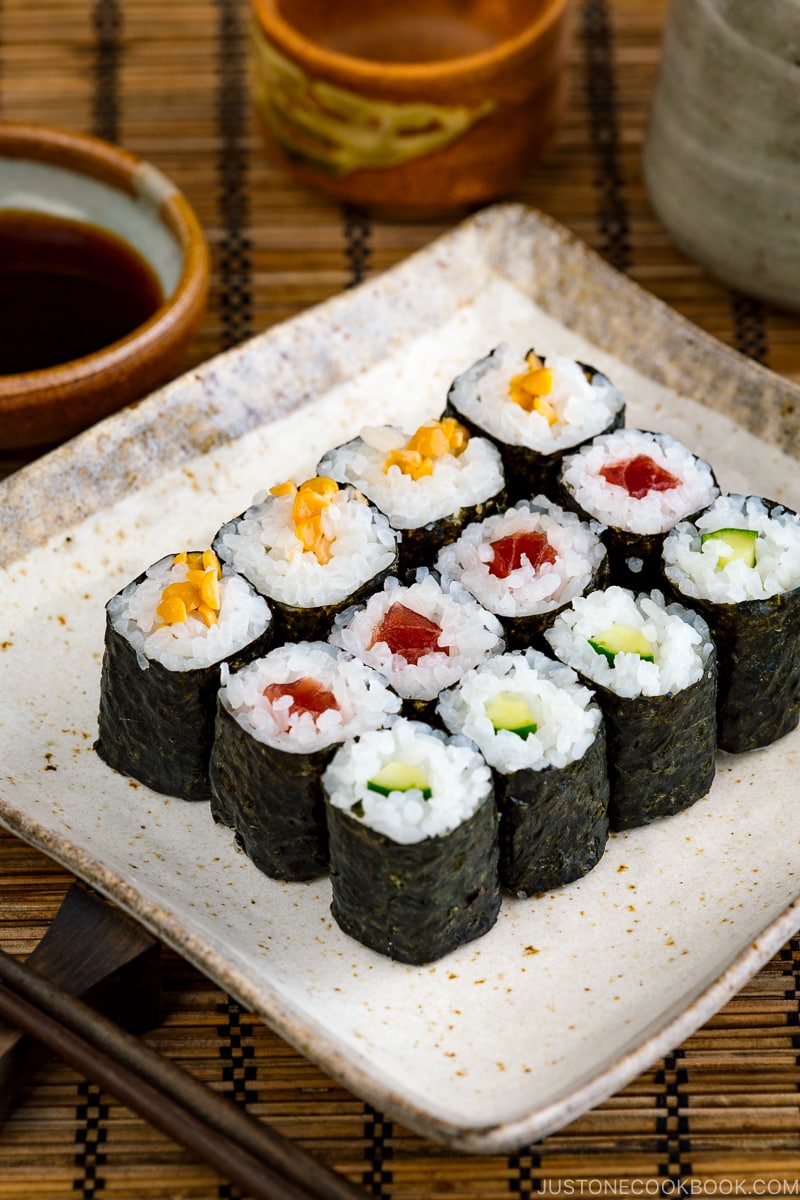 I was told that sushi is very popular for Chinese New Year potlucks among the Southeast Asian Chinese in Malaysia and Singapore. Known for their multicultural communities, you can often see new and modern menus being adopted for the new year celebration. You can easily make sushi rolls with my step-by-step recipe for your party too.
Another favorite Chinese dim sum brunch item, shumai or steamed pork dumplings are much easier to make than you think! It's worth getting a bamboo steamer or wide steamer basket so you could enjoy the freshest tasting shumai at home.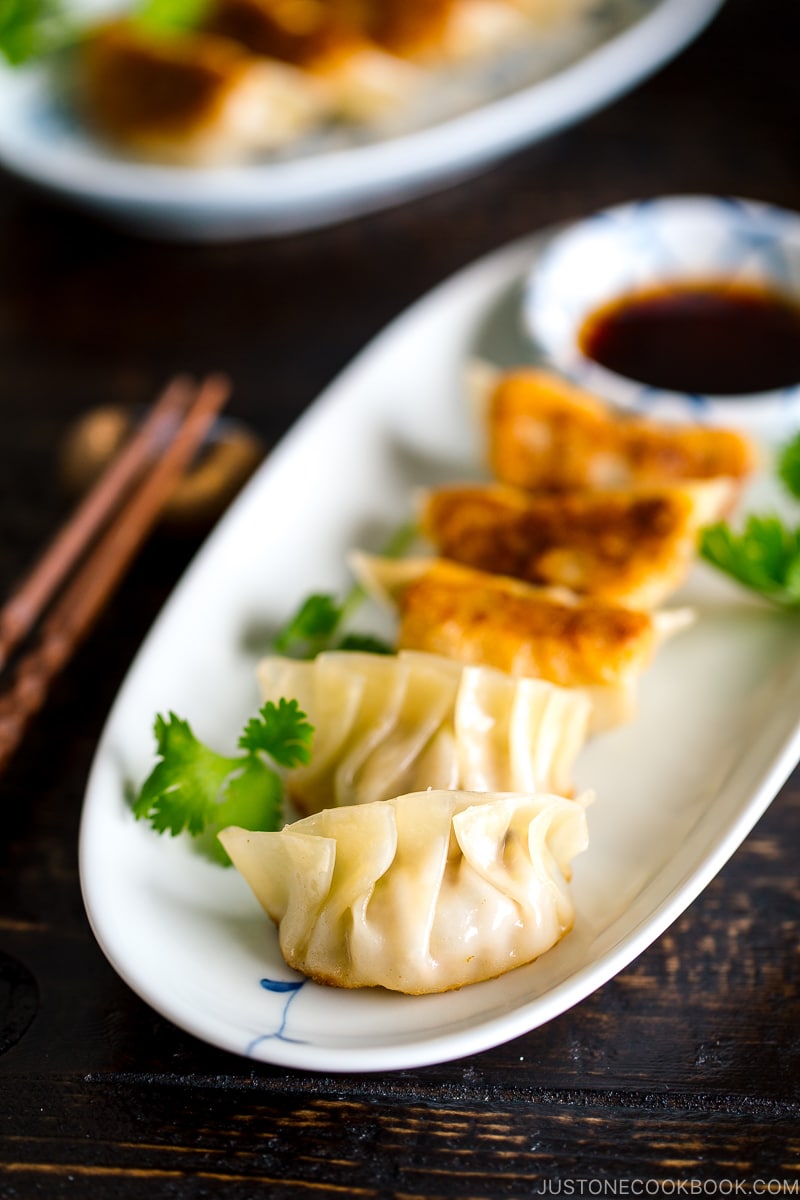 Dumplings are a must-have for Lunar New Year, and these pan-fried dumplings make a popular choice for the modern menu too.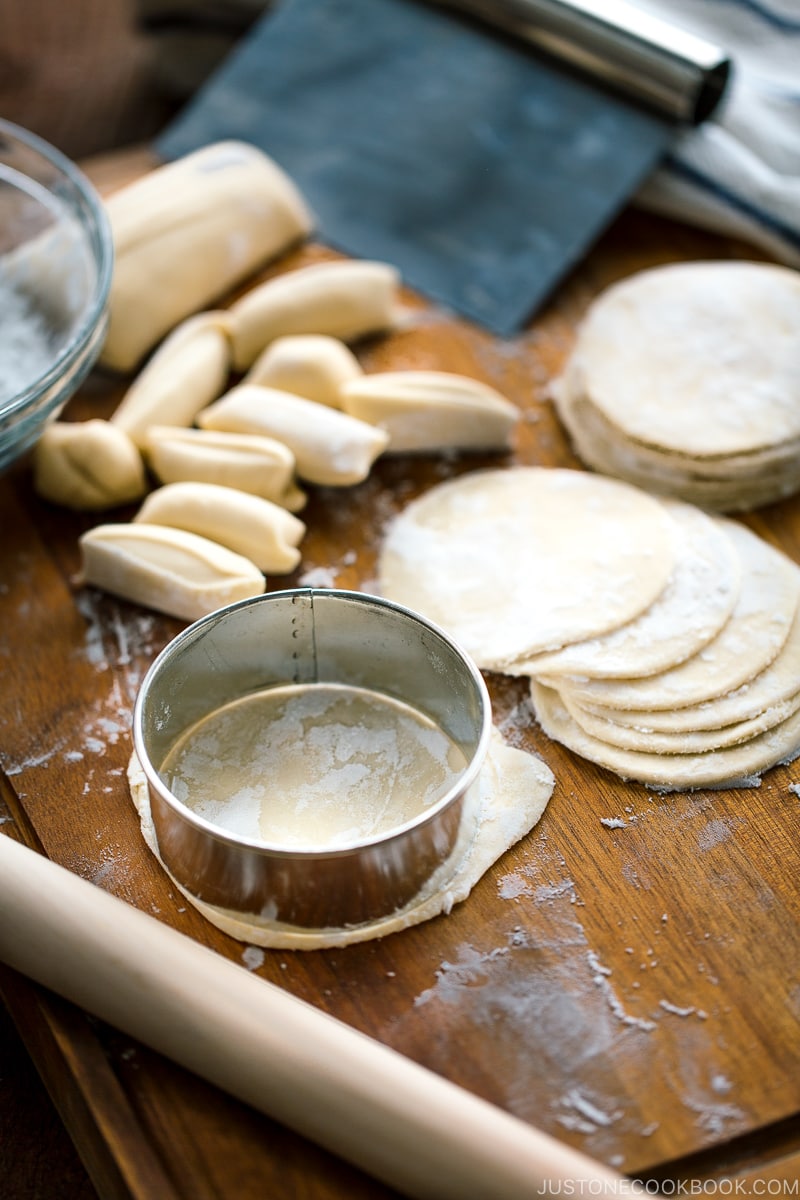 If you attempt to make your own dumpling wrappers at home this year, give my gyoza wrappers recipe a try. It yields thinner wrappers than Chinese potsticker wrappers, so your dumplings cook faster and crispier. This also makes a fun activity to involve the kids.
I hope you have plenty of good eats this Chinese New Year! Gan Bei 干杯 Cheers!
---
Looking for More New Year & Party Recipes?