Print Recipe
Jump To Recipe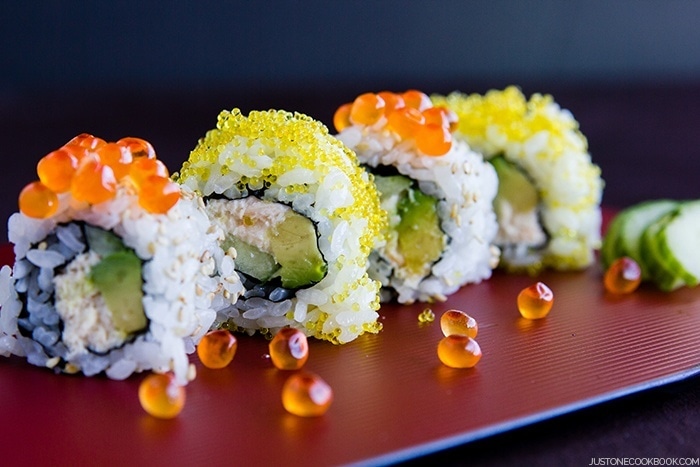 What was your first sushi roll when you tried it for the first time? For many of you, it might be California Roll (カリフォルニアロール) as it is probably by far the most popular styles of sushi in the U.S.  Today I'll show you how easy you can make California Roll at home.
What is California Roll?
First thing first, let's talk about what is a California Roll.  California Roll is a kind of sushi roll (we call makizushi in Japanese) containing crab meat (real or imitation), avocado, and cucumber.
Usually it is an "inside-out" roll (we call uramaki), which means that sushi rice is shown on the outside of the roll, and nori is on the inside.  The roll is sprinkled with toasted white sesame seeds for nice crunchy texture, but sometimes subsituted with tobiko or masago for the prettier look.
Quick History on

California Roll
Did you know California Roll or many creative-name sushi rolls are not from Japan?
When Japanese people (from Japan) say "sushi", it usually implies nigiri sushi (a slice of sashimi-grade raw fish on top of rice pillow). In fact, when it comes to for sushi roll (makizushi), we only have a few choices such as Futomaki and Hosomaki. It's quite different from sushi roll menus in the United States!
So who invented California Roll? Based on my research, that's chef Hidekazu Tojo who moved from Japan to Canada in 70s.
In Vancouver, he learned that most Western people didn't eat raw fish and didn't like seaweed as well.  Therefore, he substituted avocado for toro (fatty tuna) as it has the similar texture and hid nori seaweed by using uramaki technique, so nori is not visible from the outside. That's the how California Roll turned into a popular menu item!
5 Key Ingredients for California Roll
Unlike nigiri sushi or other kinds of sushi rolls, California Roll does not include any raw fish. Therefore, you can make this sushi roll fairly easily at home. All you need is perfectly ripen avocados, cucumber, and crab meat.
Crab Meat: I'm unfortunately allergic to crab, so I use imitation crab.
Avocado: Find those perfectly ripen avocados!
Japanese Cucumbers: For sushi making, we use thin and long Japanese cucumbers. They have little and less seeds in the center compared to regular cucumber.
If you can't find Japanese cucumbers locally, you can use Persian cucumbers or English cucumbers (but remove the seeds in the middle).
Japanese Mayonnaise: I always season the crab meat with Japanese mayonnaise first.  Japanese mayonnaise is the key for this roll, so please try your best to find it (you can easily purchase it on Amazon).  If you want know more about Japanese mayonnaise and make it yourself at home with American mayonnaise, read the post here.
Sesame Seeds: If you have a few extra minutes, toast the sesame seeds in a non-greased frying pan until one or two sesame seeds pop.  It adds wonderful nutty flavors and aroma.  For me personally, I like to add toasted white sesame seeds in the crab meat mixture, since I use fish eggs (tobiko/masago) for decorating the sushi rice.
How To Roll Sushi Roll
Many people are intimidated by the sushi rolling part. Relax and take it one step at a time following my recipe and tips.  It's not difficult and you should be able to make decent sushi rolls with just a bit of practice. Maybe your first roll may not look pretty, but practice will make it easier!
Here's the video of how to make Dragon Roll, you can see how to make inside-out rolls (uramaki).
I hope you enjoy making this California Roll recipe!  If you try it, don't forget to share your picture on Instagram, Facebook, or Twitter with #JustOneCookbook.  Thank you so much for reading, and till next time!
Don't want to miss a recipe? Sign up for the FREE Just One Cookbook newsletter delivered to your inbox! And stay in touch on Facebook, Google+, Pinterest, and Instagram for all the latest updates. Thank you so much for reading, and till next time!
California Roll
Ingredients
Toppings
Ikura (salmon roe)
Tobiko (flying fish roe)

You will need:
Bamboo mat, covered with plastic wrap
Tezu (vinegared hand-dipping water): ¼ cup water + 2 tsp. rice vinegar
Instructions
PREPARE INGREDIENTS:
Crab meat: combine the crab meat with Japanese mayonnaise and mix together.

Cucumber: Peel and remove seeds. Cut into thin long strips, same length as the nori sheet.

Avocado: Peel, pit, and cut into ¼" (0.5 cm) thick slices (See How To Cut Avocado). Squeeze the lemon juice over the avocado to prevent browning.

Nori: Cut off ⅓ and use ⅔ sheet of nori.

Prepare the bamboo mat, covered with plastic wrap and Tezu (vinegared hand-dipping water).

ROLL SUSHI
Lay a nori sheet, shiny side down, on the bamboo mat. Wet your fingers in tezu and spread 1 cup of the rice evenly onto nori sheet.

Sprinkle the rice with sesame seeds or tobiko.

Turn the nori sheet over so that the rice is facing down. LIne the edge of nori sheet at the bottom of the bamboo mat. Place the cucumber, crab meat, and avocado at the bottom of the nori sheet.

Grab the bottom edge of the mat while keeping the fillings in place with your fingers, roll it into a tight cylinder, tucking the fillings in firmly.

Lift the edge of the bamboo mat slightly and roll it forward while keeping gentle pressure on the mat.

With a very sharp knife, cut each roll in half and then cut each half into 3 pieces. Remember to clean the knife with a damp cloth after every few cuts.

You can use the left over ⅓ of nori sheet to make Ikura Sushi. Cut the nori sheet into half lengthwise. Make small balls with sushi rice and wrap it with nori sheet. Place ikura on top.

Notes
Cover the sushi rice and the completed rolls with a damp cloth at all times to prevent from drying.
Recipe by Namiko Chen of Just One Cookbook. All images and content on this site are copyright protected. Please do not use my images without my permission. If you'd like to share this recipe on your site, please re-write the recipe and link to this post as the original source. Thank you.