Print Recipe
Jump To Recipe
This Vegetarian Ramen recipe is going to rock your world! Learn the secret of creating a super rich & creamy broth without any meat bones. 
Wait!!!  Even if you're not vegetarian, please don't leave yet.  My big ramen fan, Mr. JOC, didn't even realize this is vegetarian ramen when he tasted the soup!  The ramen broth is so rich, creamy, and full of flavors it might trick people thinking it's Tonkotsu broth!
Now if you're vegetarian or vegan (minus the egg topping), you are in for a treat today!
Watch How To Make Vegetarian Ramen ベジタリアンラーメンの作り方
Spicy and rich vegetarian ramen recipe made with soy milk and vegetarian dashi. This ramen broth is super rich and milky, and it just might trick you thinking it's Tonkotsu broth!
Vegetarian Ramen with Soy Milk
Recently I was challenged to use a Silk's plant-based beverage to create delicious meat- and daily-free versions of my favorite fall recipes.  I immediately knew that I wanted to try and use soy milk to make my all-time fall/winter favorite dish, ramen.
I'm not sure if you've are aware, but there is a ramen called Soy Milk Ramen (豆乳ラーメン) in Japan (check out Mamezen in Kyoto).  It's the combination of soy milk and ramen.  I know it sounds suspicious, isn't it?
Hopefully by the end of this post, I could convince ALL OF YOU, whether if you're vegetarian/vegan or not, to try this rich and creamy delicious Soy Milk Ramen.  And the best part is it only takes less than 20 minutes!
Vegetarian Ramen Broth
The soy milk ramen in Japan is not necessarily vegetarian or vegan friendly.  Just like regular Tonkotsu, Shoyu, or Miso ramen, the broth can be made with pork bone- (Tonkotsu 豚骨), or chicken carcass- (Torigara 鶏ガラ).  To make the soup even more complex, most of the ramen soup usually contain seafood based stock using bonito flakes (Katsuobushi 鰹節) and kelp (kombu 昆布).
So how do we get rich and tasty vegetarian ramen broth without pork or chicken bone in it?
Dashi – Umami Packed Broth
To make this dish vegetarian and vegan-friendly, we'll be making dashi with dried shiitake mushroom and kombu.  Both are packed with umami substance and they are inevitable in this recipe so please DO NOT SUBSTITUTE if you want to make a bowl of authentic ramen broth.
If you're not vegetarian/vegan, you can substitute Awase Dashi (regular dashi) instead of Kombu & Shiitake Dashi.
The 2 Key Ingredients for Flavorful Ramen Soup
Other key ingredients that we need in order to make this quick ramen soup are miso and fermented broad bean paste.  These two condiments enhance the flavors of the soup and adds complexity.  The combination of these ingredients bring out so much flavors and they're simply powerful.  Again, NO SUBSTITUTE, please.
1. Miso
The big tub on the left is (my favorite brand of) miso (味噌), Japanese fermented soybean paste.  There are different kinds of miso available, but if you are not sure which one to pick, get Awase miso (combination of red + white miso) or Koji miso.  They work great for almost all recipes that call for miso.  More about miso on this page.
2. Fermented Broad Bean Paste
The two jars on the right are fermented broad bean paste (豆瓣酱); spicy, Chili Bean Sauce/Paste (La Dobanjiang 辛豆瓣酱) on the left, and non-spicy, Fermented Broad Bean Paste (Dobanjiang, 豆瓣酱) on the right.
When you go to Asian grocery stores, it might be difficult to pick a jar out of the many kinds and brands of Chinese condiments.  The Chinese names for this sauce is always the same, 豆瓣酱 for non-spicy, and 辣豆瓣酱 for spicy.  However, English names might have "Sauce" on one jar and "Paste" on the other, or "Bean Paste" on one jar and "Broad Bean Paste" on the other.
When you get confused, check the ingredients on the label.  The first two ingredients should be "fermented broad bean paste" and "soybean".   If you want to make NON-SPICY ramen, make sure to pick the jar that doesn't contain chili (and usually you can tell from the color of the paste).  And it is NOT Black Bean Sauce even though the names might seem similar.
Where To Find Ramen Noodles
In my local Japanese grocery stores, they sell packages of fresh ramen noodles (with soup packages included, but I don't use them).  Sun Noodles make great noodles if you can find them locally.
If you don't have an access to fresh ramen noodles, you can purchase this dried "Chuka Men" (Chinese style noodles) by HIME at Japanese or Asian grocery stores (Amazon used to carry this item but not at this time).
For gluten-free noodles, click here.
Ramen Toppings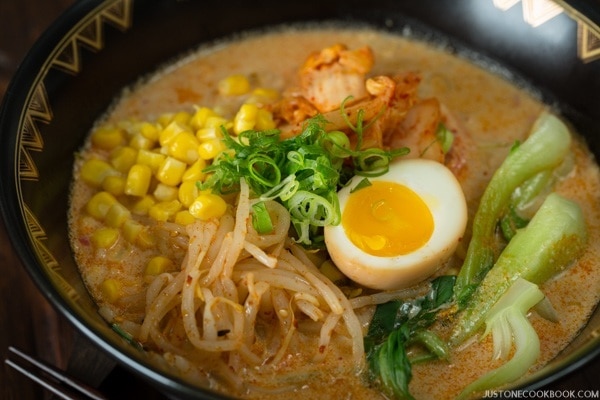 If you want to stick with the traditional ramen toppings, I recommend, scallions (green onions), corn, ramen egg (not for vegan), seaweed (nori), wood-ear mushrooms, bamboo shoots, and bean sprouts (I used my Spicy Bean Sprout Salad today).
However, enjoy your ramen with things you already have in the fridge or whatever your preferences are.  Put homemade vegetarian kimchi, bok choy, spinach, deep fried tofu… Find the ingredients that compliment the ramen broth and ramen noodle texture.
If You're Not Vegetarian/Vegan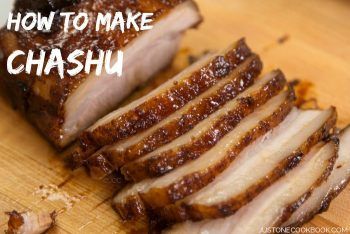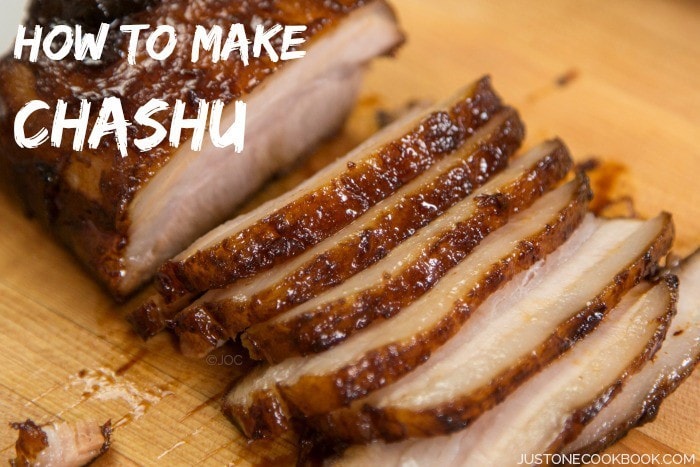 If you are not vegetarian/vegan, you can add 1/8 lb (57 g) minced pork per recipe (serves 1) between Step 6 and Step 7.  You can also check out my Chashu recipe.
I hope you enjoy making Vegetarian Ramen!  If you try it, don't forget to share your picture on Instagram, Facebook, or Twitter with #JustOneCookbook.  Thank you so much for reading, and till next time!
Don't want to miss a recipe? Sign up for the FREE Just One Cookbook newsletter delivered to your inbox! And stay in touch on Facebook, Google+, Pinterest, and Instagram for all the latest updates.
GIVEAWAY TIME!
Need a nice Butcher Block like John Boos or Cheese Serving Board for the holidays?
Today I'm partnering with CuttingBoard.com to give away one (1) Hinoki Sushi Board Tray and one (1) Medium Hinoki Cutting Board!  This giveaway contest is open to US Residents ONLY.  Enter to win HERE!
Up until Thanksgiving (11/27/15), you will receive a complimentary copy of my e-Cookbook for any purchases over $75 on CuttingBoard.com.  And shipping is free over $75!  When you check out, please use JUSTONE as coupon code (please read details here).
Vegetarian Ramen - Spicy Soy Milk Ramen
Instructions
Gather all the ingredients.

For 2 servings, simply double the amount of ingredients.

Soak the kombu and dried shiitake mushrooms in ¾ cup water for at least 30 minutes. Transfer the liquid into a small saucepan, including kombu and shiitake mushrooms. Slowly bring the liquid to boil over low heat. This will help enhance the dashi flavors.


Right before the liquid turns into a full boil, remove the kombu and shiitake mushroom. If you don't remove the kombu from the liquid before full boil, the dashi will be become slimy.


Grind sesame seeds until they are crushed (I use Japanese "suribachi").


Press 2 cloves of garlic and mince ½ inch ginger.


Separate green and white parts of scallion, and then cut into thin rounds.


Add 2 tsp. sesame oil into the small saucepan. Add garlic, ginger, and white part of scallion and cook over medium low heat until fragrant.


Add 2 tsp. Spicy Bean Paste and 2 tsp. miso in the saucepan. Stir constantly so that they don't burn.


Add 1 Tbsp. sake. This will help you release the bits of the sauce attached to the bottom of the saucepan with a wooden spatula.


Add the sesame seeds and soy sauce.


Slowly add 1 cup soymilk. Stir the soup the soup constantly and make sure to dissolve Spicy Bean Paste and miso before you finish adding the soymilk. Add ½ cup kombu & shiitake dashi next.


Add dash of white peppers and salt to taste.


Once the soup and all the toppings are prepared, cook the fresh or dried ramen noodles in boiling water. Cook the noodles according to the package instructions. Make sure to loosen the noodles before adding to the water. Stir the noodles so that they don't stick to each other.


Once the noodles are done cooking, drain the noodles very well and transfer to a ramen bowl. Pour the hot ramen soup into the bowl.


Place the toppings of your choice on ramen and enjoy!

Recipe Notes
Ramen noodles: For GF ramen noodles, click here.
If you want to make more than one serving, simply multiply the quantities of ingredients by the number of servings you wish to make.

Recipe by Namiko Chen of Just One Cookbook. All images and content on this site are copyright protected. Please do not use my images without my permission. If you'd like to share this recipe on your site, please re-write the recipe in your own words and link to this post as the original source. Thank you.
Full Disclosure: This is a sponsored conversation written by me on behalf of Silk. The opinions and text are all mine.
This cool dragon Ramen Bowl is from Akazuki Japanese Shop.