Salmon Hot Pot, known as Ishikari Nabe, is a beloved regional dish from Hokkaido, Japan. In this recipe, salmon, potatoes, corn, daikon radish, onion, and cabbage are cooked in a savory miso-based broth and topped with butter for a rich and creamy finish. It's the perfect winter meal that can be prepped in 30 minutes!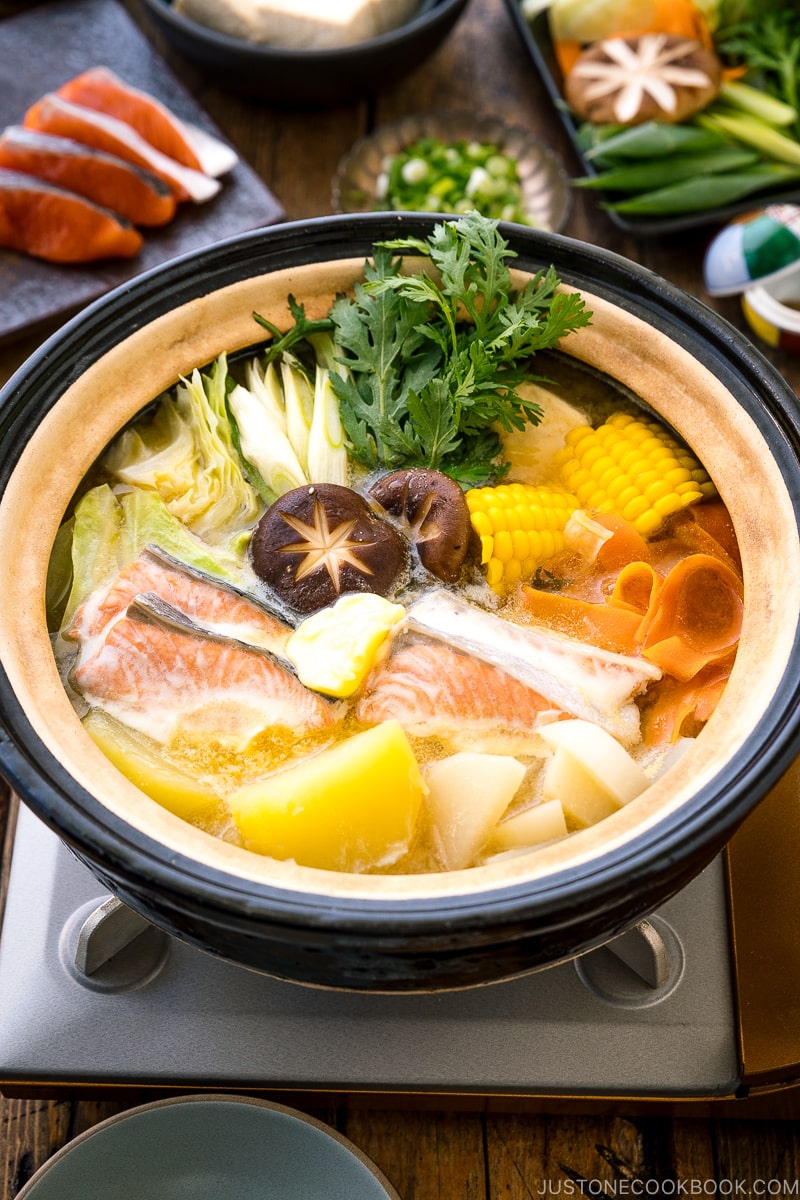 Hot pot weather is here in the Northern Hemisphere! Today, I want to introduce you to a popular regional hot pot dish that highlights fresh seafood and in-season vegetables. Known as Ishikari Nabe (石狩鍋), this Salmon Hot Pot is a must-try comfort food from Hokkaido, Japan.
The dish features some unusual ingredients that are not seen in a typical hot pot. Can you guess? Let's take a look!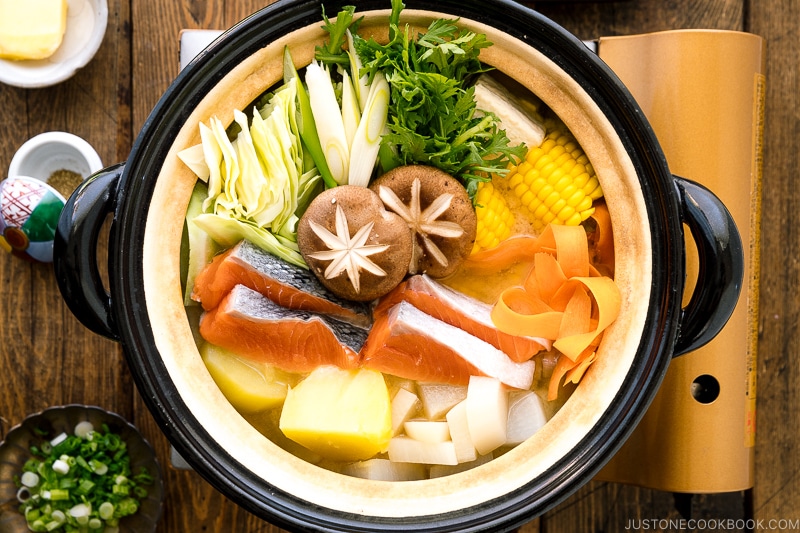 Ishikari Nabe – Hokkaido's Regional Hot Pot
Ishikari nabe (石狩鍋) is a hot pot meal native to Hokkaido and it utilizes local ingredients like fresh salmon (sometimes trout), onion, potatoes, daikon, cabbage, and corn. The soup stock is made from locally cultivated kombu and seasoned with miso.
A hot pot specialty restaurant called Kindaitei (金大亭) in Ishikari City created this hot pot in the Meiji era. It was a meal for the fishermen who caught fresh salmon in Ishikari River (sounds similar to the popular seafood stew Cioppino made for fishermen in San Francisco!).
The restaurant cooked chopped-up salmon in a white miso-based soup and added local potatoes, onion, and cabbage. They are considered Western vegetables and definitely not your typical hot pot ingredients!
In Hokkaido, Ishikari nabe is served in many restaurants and also at home. Everyone cooks it slightly differently so the flavor and ingredients vary, but all Ishikari nabe is always cooked with salmon or trout and vegetables in a miso-based broth.
Is This Similar to Sanpeijiru?
For those who are familiar with Hokkaido cuisine, you might have already heard of sanpeijiru (三平汁).
Sanpeijiru is more like a soup made with raw salted salmon (instead of raw salmon in Ishikari nabe), potatoes, and daikon. The soup stock is made with salmon scraps (bones, belly, head, etc.) and seasoned with just salt. No addition of miso in sanpeijiru.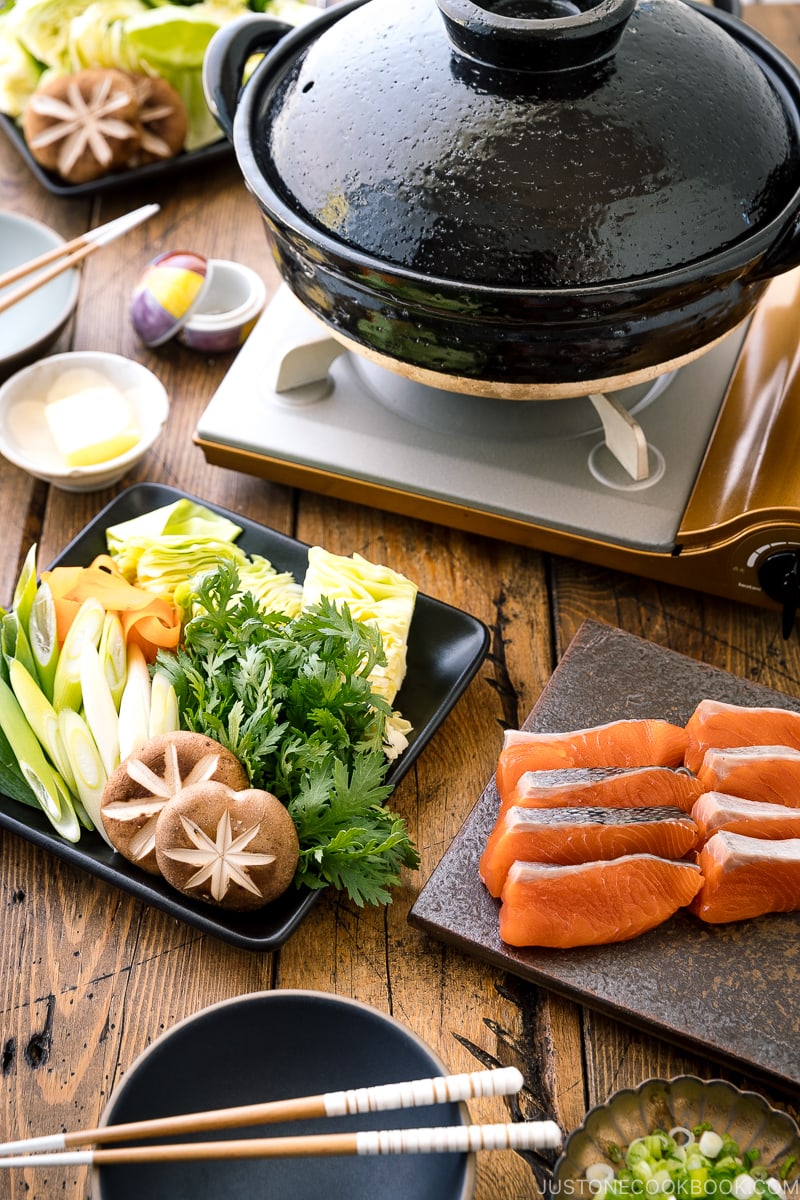 How to Make Hokkaido Salmon Hot Pot
Ingredients You'll Need
Salmon
Potatoes
Onion
Daikon radish
Corn
Carrot
Cabbage
Chrysanthemum leaves
Negi (long green onion)
Shiitake Mushrooms
Tofu
The Broth – kombu dashi
The Miso Sauce– miso, mirin, sake, and soy sauce.
Another unique ingredient added to the hot pot is butter! Hokkaido is well-known for its delicious and high-quality dairy products. You would add a thick pat of butter on top of the hot pot after the ingredients are cooked. The butter melts away quickly, giving the broth a rich, creamy, and mildly sweet flavor.
The sansho pepper powder (山椒) is typically served at the table for sprinkling over individual serving. This strong fragrance and flavor are known to mask the fishy smell.
Some variations of Ishikari nabe include sake lees (sake kasu) and milk in the hot pot.
Which Miso Is Best for Salmon Hot Pot
For this Ishikari Nabe recipe, I used Organic White Miso from Hikari Miso. I consider the miso my all-rounded condiment as its mellow flavor goes well with almost all recipes, from miso soup to grilled fish to salad dressing.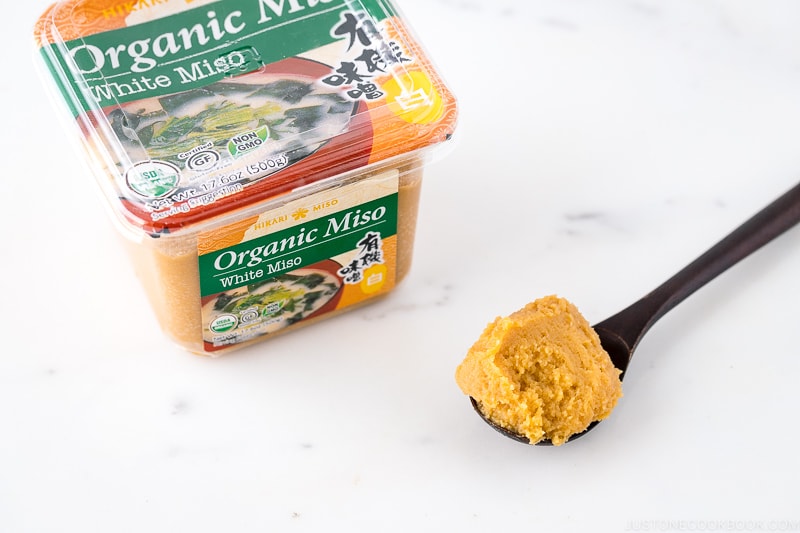 Luckily, according to our readers living in different parts of the world, this miso is widely available in many local Japanese or Asian grocery stores. If not, Amazon also carries this miso.
If you already have a tub of miso in your refrigerator, you can use it too. The flavor profile will be slightly different as each miso type has different saltiness and flavors. However, I would avoid using hatcho miso or saikyo miso as they have a unique taste and may not work well in this hot pot.
Overview: Cooking Steps
Cut all the ingredients and make the miso sauce.
Cook hard vegetables in kombu dashi for 10-15 minutes.
Season the broth with miso-based sauce.
Bring the donabe to the table along with the platters of ingredients.
Cook salmon and the rest of vegetables for 10 minutes and enjoy!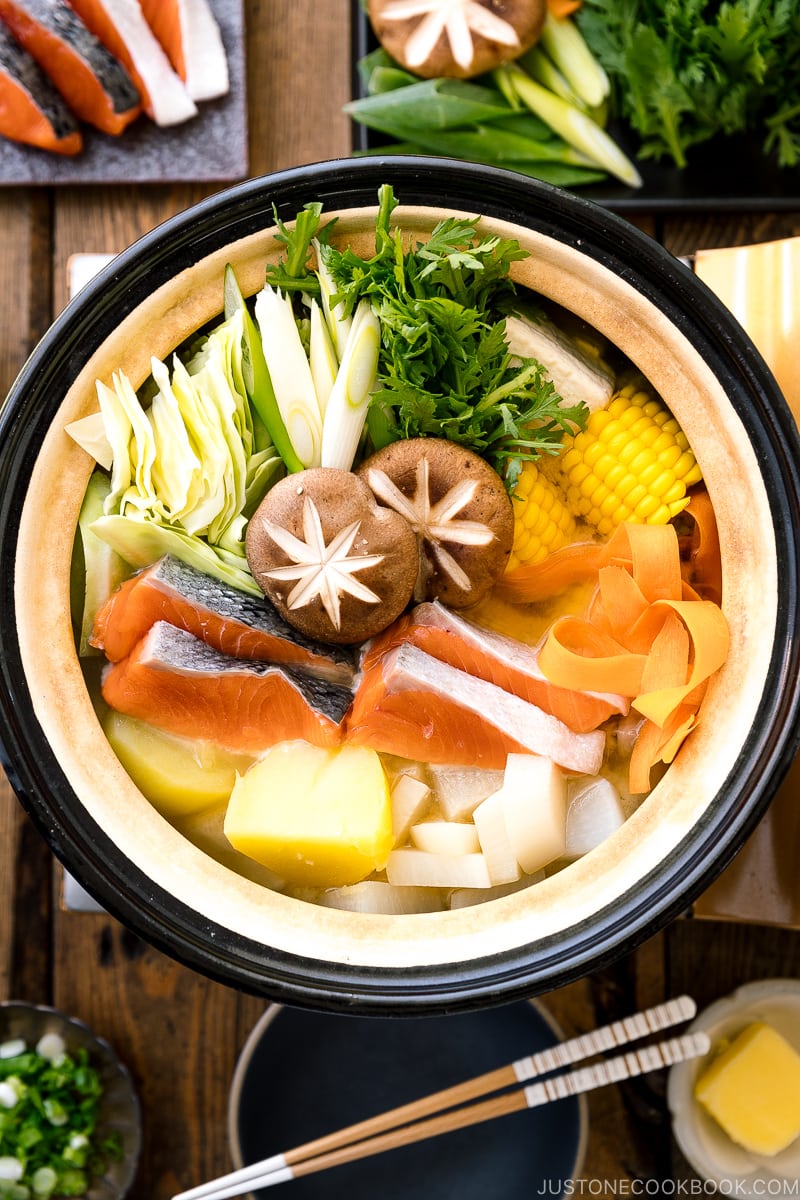 How to Enjoy Salmon Hot Pot – Cooking in 2 Stages
Cooking in the Kitchen
We normally cook all ingredients in the hot pot over the portable stove on the dining table. For Salmon Hot Pot, however, I recommend pre-cooking any root vegetables first for 10-15 minutes before bringing the pot to the table.
Root vegetables such as potatoes, onion, and daikon take some time to cook, so give them a head start.
Cooking at the Table
After you finish cooking the hard vegetables, set up the portable stove at the table and bring the pot over. Prepared ingredients should be on a large platter or smaller plates and placed around the hot pot. You also need to bring out communal cooking utensils (ladle, fine-mesh skimmer, long cooking chopsticks, etc.) and individual bowls.
When everyone is at the table, add the rest of the ingredients to the pot and cook for 10 minutes, or until each ingredient is cooked through. While waiting, people can enjoy small side dishes along with drinks.
Typically, there are more ingredients than they can fit in the pot, so add them to the pot in stages as you eat in. There are no official "hot pot rules," but it is courteous to take out and divide all the cooked food before adding raw or uncooked ingredients to the same pot. It is also considered a kind gesture to pick up some food from the pot and serve it to the person sitting near you.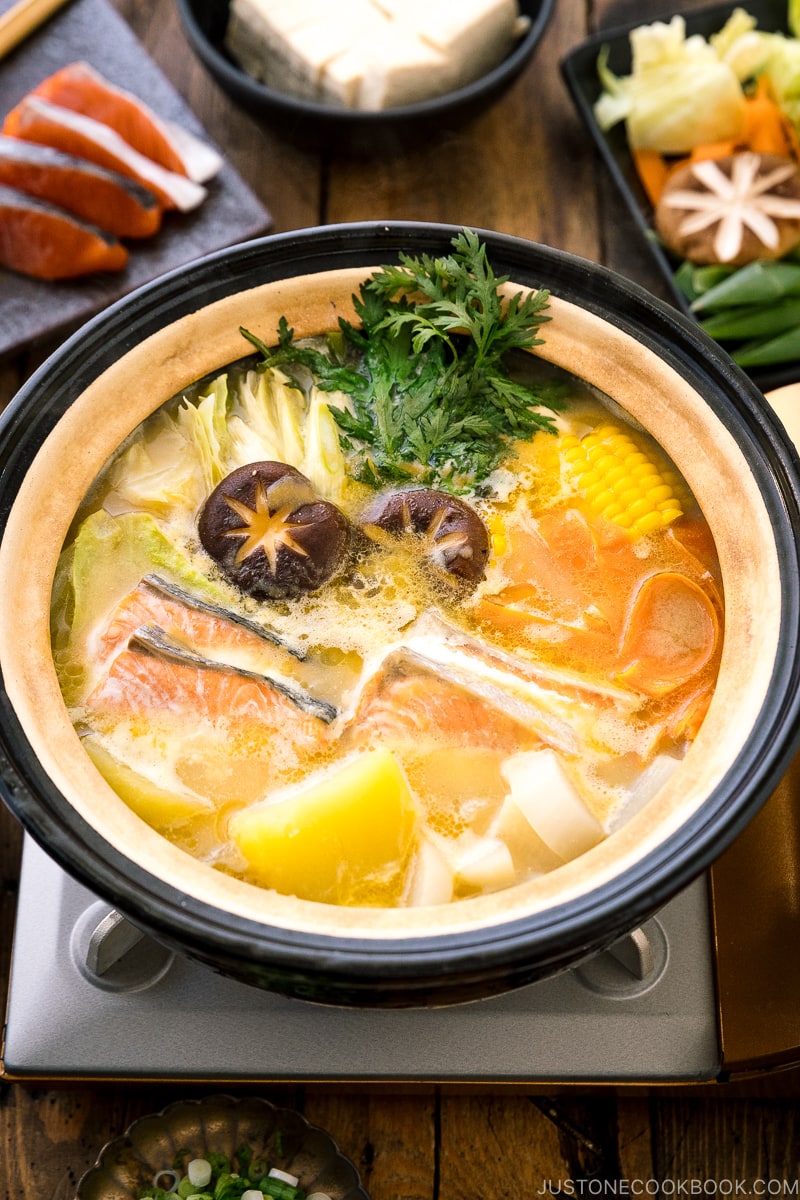 A Few Tips on Cooking Hokkaido Salmon Hot Pot
First, make a smooth miso sauce in a separate bowl instead of dissolving it directly into the soup broth. This eliminates any chunks of miso paste.
Remove kombu right before boiling. Kombu releases bitterness and sliminess when you leave it in the broth. If you want more flavor, I recommend cold-brewing kombu dashi. Then slowly heat up to extract more flavor. The used kombu can be repurposed to make Simmered Kombu or Homemade Furikake (rice seasoning).
Skim the foam and scum on the surface of the broth for a cleaner, sophisticated taste.
Add more miso sauce as ingredients continue to release moisture and dilute the soup flavor.
Lastly, when the soup is running low, add water (or kombu dashi). Adjust the broth by adding more miso.
More Hot Pot Recipes You'll Enjoy
Tableware from Musubi Kiln
I've partnered with a great ceramic online shop from Japan called Musubi Kiln. You will get 10% off with a coupon code JUSTONECOOKBOOK for your purchase. In this post, I've used: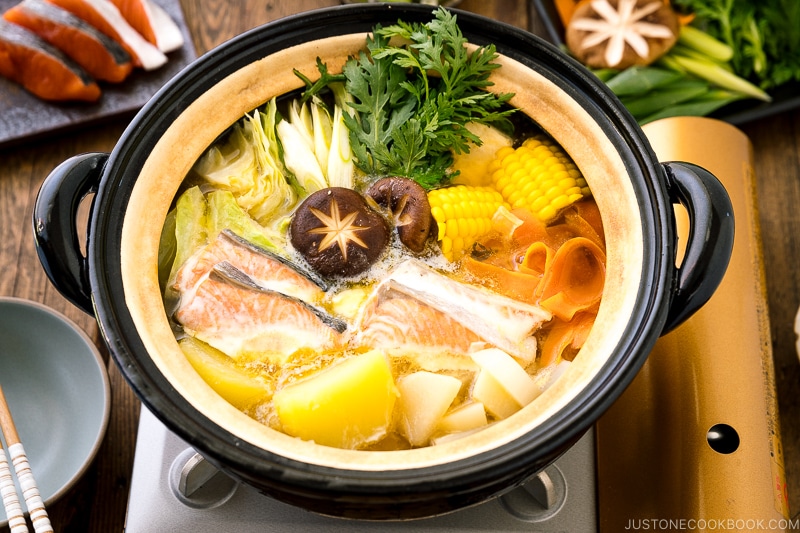 Wish to learn more about Japanese cooking? Sign up for our free newsletter to receive cooking tips & recipe updates! And stay in touch with me on Facebook, Pinterest, YouTube, and Instagram.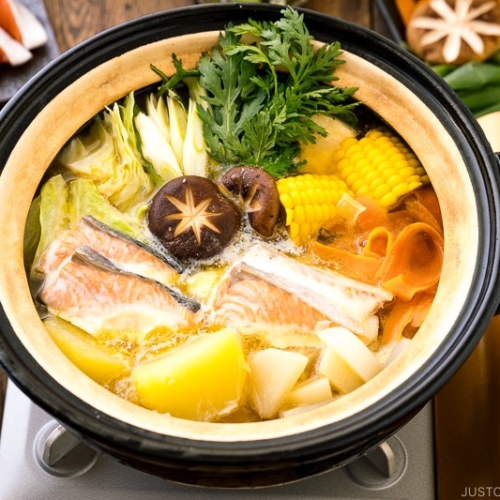 Hokkaido Salmon Hot Pot (Ishikari Nabe)
With salmon, potatoes, and corn cooked in a savory miso-based broth, this Salmon Hot Pot (Ishikari Nabe) is a popular nabe dish from Hokkaido.
Ingredients
Japanese Ingredient Substitution:
If you want substitutes for Japanese condiments and ingredients, click
here
.
Instructions
Gather all the ingredients.
To Make The Soup Broth
In a large pot (I use a donabe), soak

1 piece kombu (dried kelp)

in

4 cups water

and set it aside. To extract more flavor, you can do this step several hours in advance (up to overnight; but keep it cool or store it in the refrigerator if you live in a hot environment).
To Prepare the Hot Pot Ingredients
Check to see if there are any bones left in the

2 skin-on salmon fillets

. Remove if you find them (I use fish bone tweezers). Cut the fillets into 2-inch (5-cm) pieces and ½-inch thickness.

Season both sides of the salmon with

¼ tsp Diamond Crystal kosher salt

. Keep it refrigerated while you prepare other ingredients.

Peel

2 Yukon gold potatoes

and cut them into quarters. Then soak them in water to remove starch.

Cut

½ lb daikon radish

in quarters lengthwise, and then cut them into ⅜-inch (1-cm) slices.

Cut

½ onion

into wedges and set aside.

Cut

1 ear sweet corn

into

4

pieces and set aside.

Cut

½ head green cabbage

in half (so now it's

¼

of the whole cabbage) and discard the core by slicing it off. Then cut the cabbage into 2-inch (5-cm) pieces and set aside.

With a vegetable peeler, remove the outer skin of

1 carrot

. Then using the same peeler, continue to peel the carrot. Alternatively, you can slice the carrot into ½-inch (1.3-cm) thickness. Set aside.

Discard the bottom ends of

1 bunch shungiku (chrysanthemum greens)

. Cut them into 2-inch (5-cm) pieces and set them aside.

Cut

1 Tokyo negi (naga negi; long green onion)

diagonally into ½-inch (1.3-cm) thickness. Cut

1 medium-firm tofu (momen dofu)

into bite-size pieces.
To Make the Miso Sauce
In a small bowl, combine

5–6 Tbsp miso

,

4 Tbsp sake

,

2 Tbsp mirin

, and

1 tsp soy sauce

and mix it all together.
To Pre-Cook the Hot Pot in the Kitchen
The kombu in the donabe should be rehydrated in water (this is kombu dashi). Add the potatoes, daikon radish, and corn into the broth.

Cover the donabe and bring the broth to a gentle simmer over medium heat. Discard the kombu (you can repurpose the used kombu to make simmered kombu or homemade furikake rice seasoning).

Cover and continue to cook for 10–15 minutes until a wooden skewer goes through daikon radish.

Add two-thirds of the miso sauce into the hot pot broth and mix well. Set aside the rest of the miso sauce and add it to the broth after everything is cooked through.

Taste the broth. If you want a stronger miso flavor, add more miso. Instead of dropping the miso into the broth, take out a small portion of the broth into a bowl, add miso, and let it dissolve completely before returning back to the broth. Season the broth with

¼ tsp Diamond Crystal kosher salt

to your taste.
To Cook the Hot Pot at the Table
Set up the table with a portable stove, platters of ingredients, individual bowls, and cooking utensils (long chopsticks, a ladle, and a fine-mesh skimmer). Add some of the ingredients to the donabe and cover to cook for 10 minutes.

Once all the ingredients are cooked through, add the rest of the miso sauce and put

2 Tbsp unsalted butter

on top. Pick up the cooked ingredients and serve in individual bowls to enjoy. Sprinkle

Japanese sansho pepper

to your taste. Once the hot pot is almost empty, add the next batch of ingredients and continue cooking and eating.
To Store
You can keep the leftover salmon hot pot in an airtight container and store it in the refrigerator for 2 days.
Nutrition
Nutrition Facts
Hokkaido Salmon Hot Pot (Ishikari Nabe)
Amount per Serving
% Daily Value*
* Percent Daily Values are based on a 2000 calorie diet.
©JustOneCookbook.com Content and photographs are copyright protected. Sharing of this recipe is both encouraged and appreciated. Copying and/or pasting full recipes to any website or social media is strictly prohibited. Please view my photo use policy
here
.