Takoyaki, or Grilled Octopus Balls, originated in Osaka and are one of Japan's best-known street foods. Whether you make a traditional style with bits of octopus or choose creative alternatives, these ball-shaped dumplings are fun to make with your friends and family!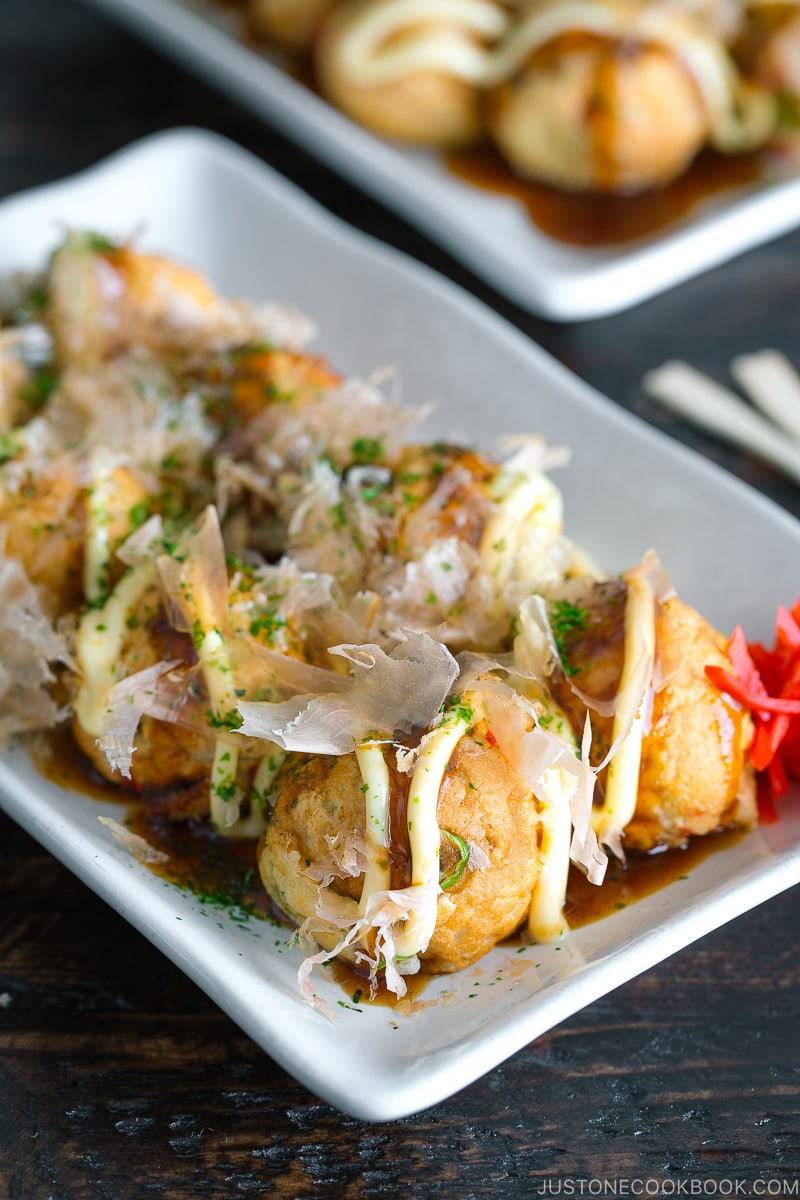 Takoyaki (たこ焼き) is a Japanese snack in the shape of little round balls containing pieces of octopus. Tako-yaki literally translates to "octopus-grilled/fried" and some people may call it "Grilled Octopus Balls" or "Octopus Dumplings".
What is Takoyaki
Here are some facts about takoyaki.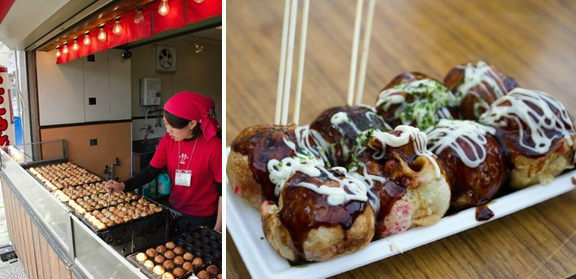 It originated and became popular in Osaka around 1935 (according to wiki) and then spread to greater south-central Japan and beyond.
It's one of the most popular Japanese street foods along with Okonomiyaki.
Takoyaki is usually sold by street vendors, convenience stores, supermarkets, food courts, and of course specialty restaurants. In Osaka, takoyaki stands can be easily found throughout the city.
It is usually served with slightly salty takoyaki sauce, which goes well with beer and other alcoholic drinks. Therefore, many Izakaya restaurants serve takoyaki on the menu.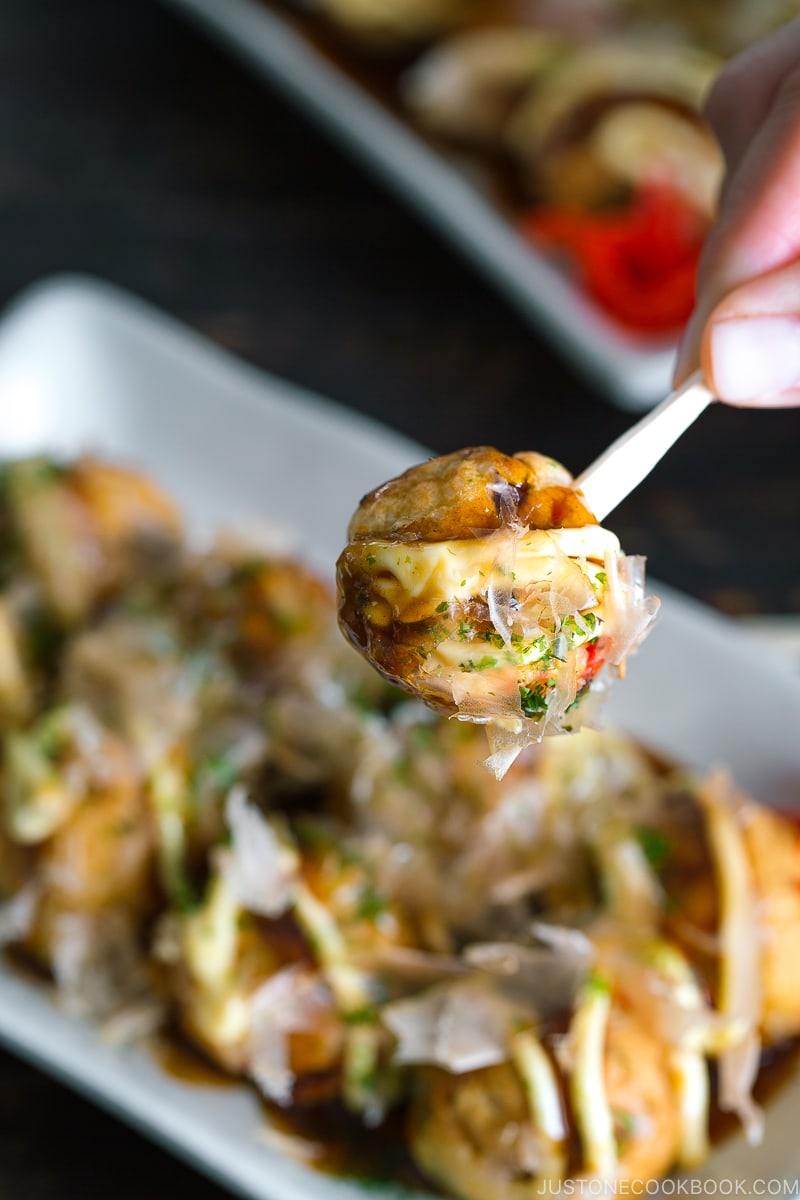 5 Ingredients for Authentic Takoyaki
There are so many variations of takoyaki throughout Japan. For example, the original Osaka-style does not include any cabbage, but many regional variations (Kyoto, Kobe, Nagoya, Tokyo areas) do. Even though I lived in the Tokyo area, I actually didn't know they sometimes contain cabbage till now.
Here are the ingredients for the classic takoyaki recipe.
1. Dashi-flavored batter
Very simple. It's a mixture of Japanese stock Dashi, all-purpose flour, baking powder, eggs, salt, and soy sauce. If you don't want to make the batter from scratch, you can find takoyaki mix in Japanese grocery stores or Amazon.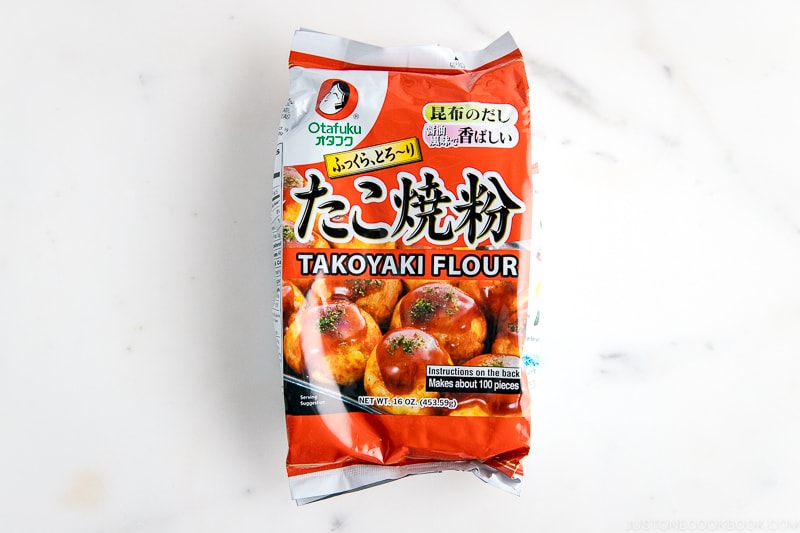 2. Octopus
You can purchase cooked (boiled) octopus (tako in Japanese) in Japanese grocery stores. If you are going to make this snack for a big party, you can purchase a whole cooked octopus at an online sashimi store like Catalina Offshore. When I buy a whole octopus, I use it for different dishes, including sashimi, carpaccio, octopus salad (Takosu), and of course, takoyaki.
3. Beni shoga (pickled red ginger)
Small bits of beni shoga (紅生姜), or red pickled ginger, give a nice pop on the color of takoyaki and a little spicy, pungent kick to the dish.
4. Green onion
The batter is yellow, octopus, and beni shoga are red… and now you need green color to make the dish look more appetizing (and delicious)!
5. Tenkasu or Agedama (Tempura scraps)
I often get questions about what Tenkasu does for the dish. We use tempura scraps for hot or cold Tanuki Udon Noodles and Okonomiyaki (even Hiroshima-style). The oil from Tenkasu adds richer and umami flavors, and additional crispness and creaminess inside takoyaki balls.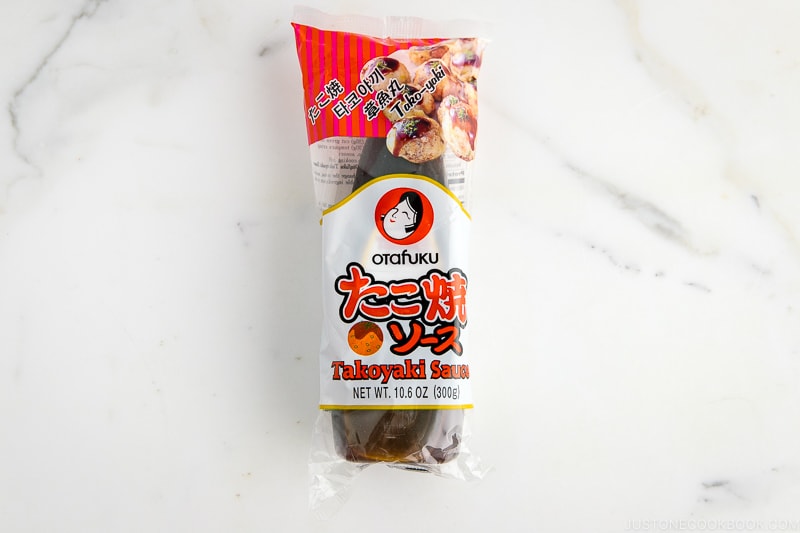 Takoyaki Sauce & Garnish
Takoyaki is served with Worcestershire sauce-like "takoyaki sauce", followed by some squirt of Japanese mayo. You can:
Then it's topped with a sprinkle of a few garnishes:
Aonori (dried green seaweed)
Katsuobushi (dried bonito flakes)

3 Tips to Make Perfect Takoyaki
I received many requests for this recipe from JOC Readers (thank you!). To make the recipe as authentic as possible, I asked my best friend Yukako who lives in Osaka. She makes delicious takoyaki at home and she and her husband shared their own recipe with me and JOC readers. Yay! I adapted the recipe a little bit so that some ingredients will be easier to measure.
Tip 1: Don't be stingy with the oil.
Apply generous oil everywhere (each hole in the takoyaki pan and surrounding flat area). How generous? You should see 1/4 inch (5 mm) oil in each hole. The oil helps takoyaki to have crispy skin and it'll be easier for you to flip without the batter being stuck.
Tip 2: Generously pour the batter.
When you see smoke coming out of the grill/plate, fill the hole with the batter. If it overflows, that's okay. Because the entire grill top should be covered with the batter after adding octopus and other ingredients in the hole. If you use a bigger chunk of octopus pieces, you might want to pour just enough to the top of the holes. As soon as the octopus goes in, it overflows naturally.
Tip 3: Flip 90 degrees and stuff in the extra batter.
Break the extra batter around the hole with skewers. Once the bottom of the takoyaki balls is crispy, rotate 90 degrees to let the uncooked batter pour out into the hole. Stuff and push in the extra surrounding dough inside the balls. This will help make a perfectly round shape.
For a home takoyaki grill, each hole doesn't provide the same amount of heat. Therefore, it's important to switch around the balls once they are in a ball shape so they're browned evenly.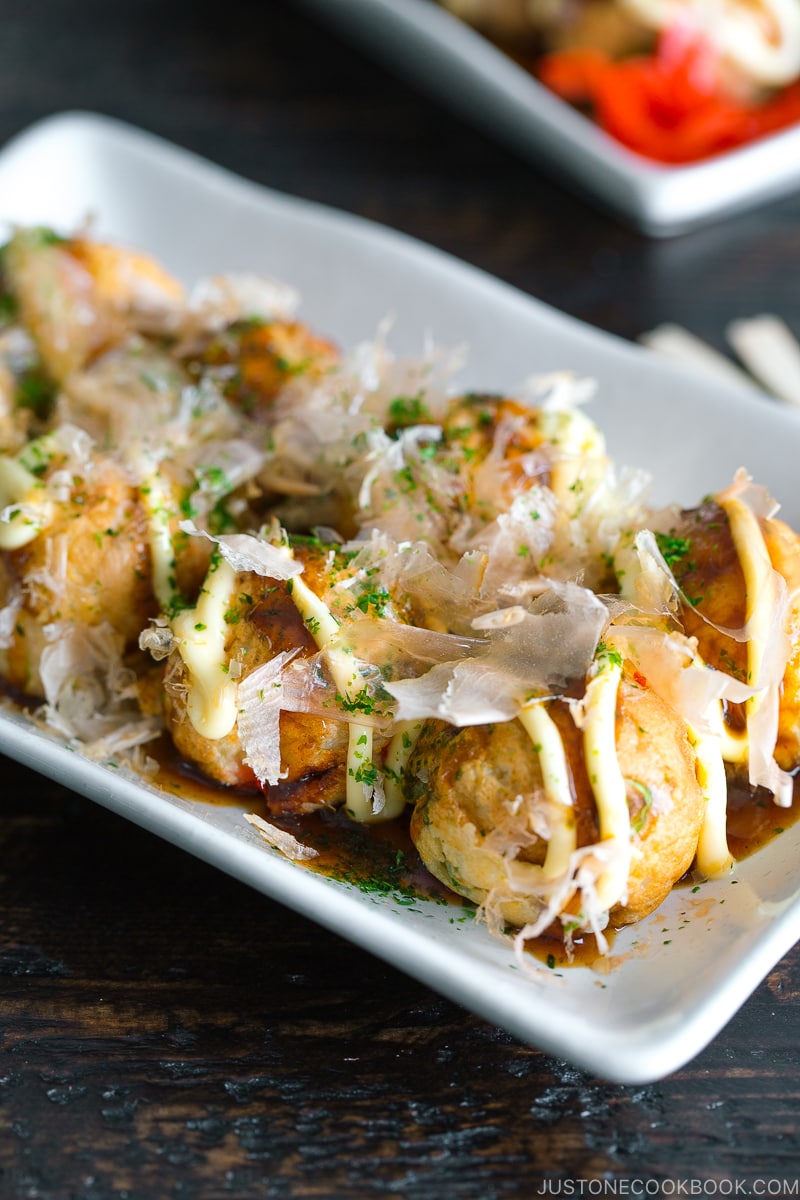 Don't Like Octopus? Here Are Substitutions!
No problem! A lot of Japanese children enjoy different fillings besides pieces of octopus. Here are my suggestions for other fillings.
Sausages / Bacon
Canned tuna / Mentaiko (Spicy cod/pollock roe)
Shrimp / Squid
Cheese
Mochi (rice cakes)
Fish cake (chikuwa/crab sticks)
Kimchi
Corn
Edamame
Green peas
Avocado
Various Takoyaki Grills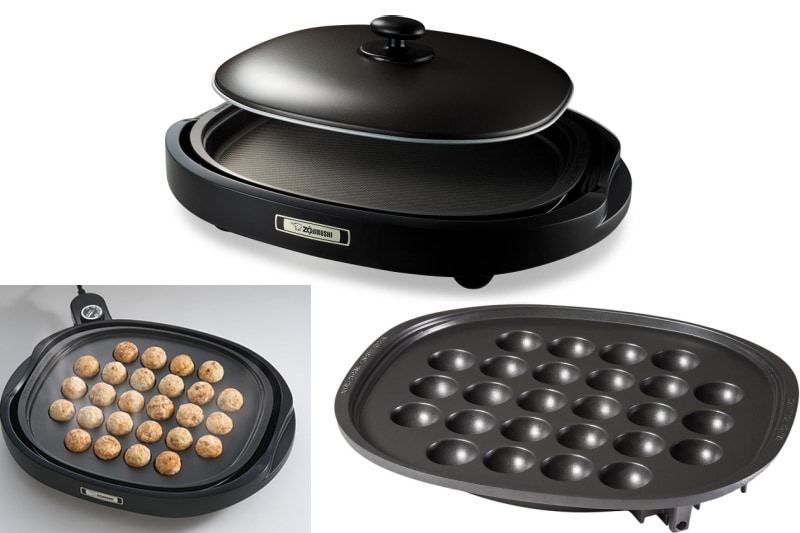 This is the takoyaki grill pan that I use. I use this electric griddle for Teppanyaki and Okonomiyaki. I switch the hot plate to the takoyaki plate when I make Takoyaki.
Do you have this Iwatani cassette feu butane stove already? I use this exact model for doing a hot pot at the table and sometimes filming my YouTube videos. If you have one already, then you can purchase this Iwatani accessory. The grill is non-stick and prevents food from sticking to the pan.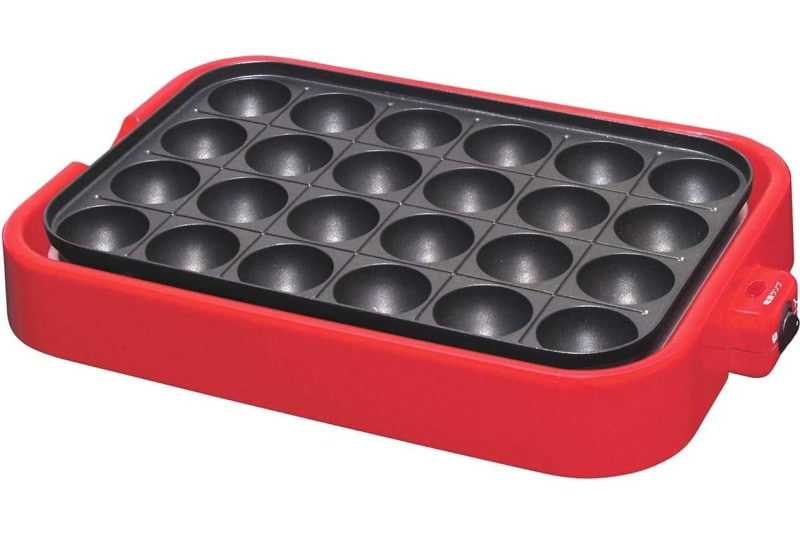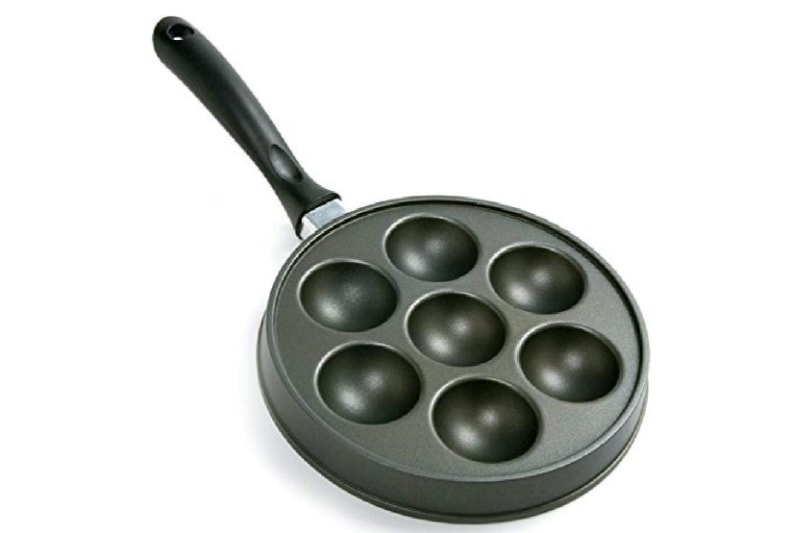 Many JOC readers told me they successfully made takoyaki with an Ebelskiver (Danish) pan or Appam Maker (Indian) as well.
Other Japanese Street Foods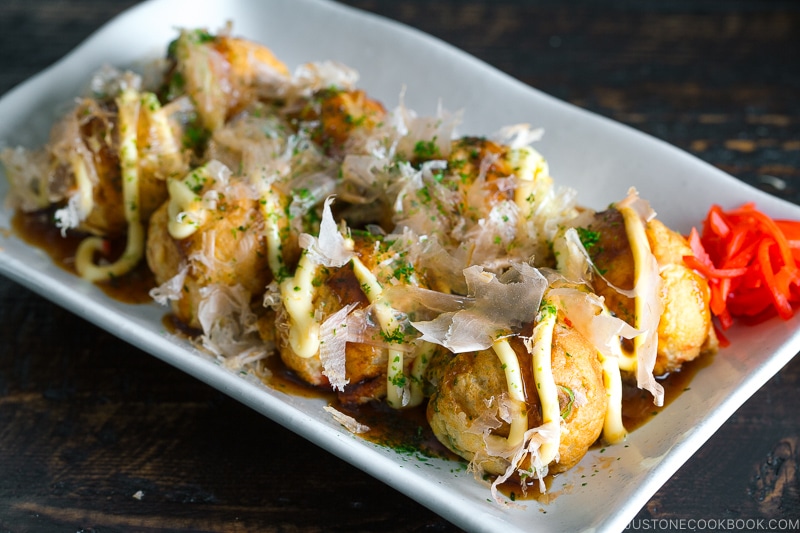 Wish to learn more about Japanese cooking? Sign up for our free newsletter to receive cooking tips & recipe updates! And stay in touch with me on Facebook, Pinterest, YouTube, and Instagram.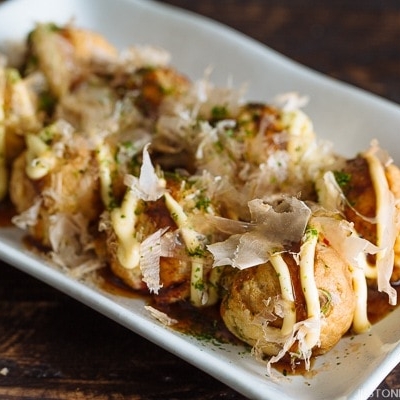 Takoyaki (Grilled Octopus Balls)
Takoyaki, or Grilled Octopus Balls, originated in Osaka and are one of Japan's best-known street foods. Whether you make the traditional style with bits of octopus or choose creative alternatives, these ball-shaped dumplings are fun to make with your friends and family!
Video
Ingredients
Japanese Ingredient Substitution:
If you want substitutes for Japanese condiments and ingredients, click
here
.
Instructions
Gather all the ingredients.

To Prepare the Filling
Grind

¼ cup katsuobushi (dried bonito flakes)

into a fine powder. Set aside; we'll use this powder when we're cooking the takoyaki.

Cut

2 green onions/scallions

into fine slices and mince

1 Tbsp pickled red ginger (beni shoga or kizami beni shoga)

.

Cut

4.2 oz octopus sashimi (boiled octopus)

into ½-inch (1.3-cm) bite-sized pieces; cut into smaller pieces for kids so they can chew it more easily. I use the rangiri cutting technique.
To Make the Batter
In a large mixing bowl, combine

1 cup all-purpose flour (plain flour)

,

2 tsp baking powder

, and

½ tsp Diamond Crystal kosher salt

and whisk it all together.

Add

2 large eggs (50 g each w/o shell)

,

1 tsp soy sauce

, and

1½ cups dashi (Japanese soup stock)

.

Whisk it all together until well blended and transfer the batter to a measuring cup with a handle (or any other pitcher with a spout for easy pouring.)
To Cook the Takoyaki
Heat the takoyaki pan to 400ºF (200ºC) over medium heat. Use a brush to generously grease the pan's rounded chambers and flat top surface with

2 Tbsp neutral oil

. When smoke starts to rise, pour the batter to fill the chambers. It's okay to slightly overfill the cavities. In the next steps, the batter will likely overflow as you add more ingredients to it.

Add 1–3 octopus pieces, depending on their size, to each chamber and sprinkle on top the katsuobushi powder that you ground earlier.

Sprinkle

⅓ cup tenkasu/agedama (tempura scraps)

, the green onion slices, and the chopped pickled red ginger on top. After 3 minutes or so, when the batter on the bottom has set and is slightly crisp, use skewers to break the connected batter between each chamber. Then, rotate each piece 90 degrees (a quarter turn) toward the bottom of the pan, stuffing the connected dough back into the ball as you turn it. The uncooked batter will flow out from inside to create another side of the ball. After you finish turning them, set a timer for 4 minutes.

After 4 minutes, rotate them again, starting with the first ball: Turn each takoyaki another 90 degrees toward the bottom of the pan so the remaining uncooked batter pours out into the chamber to complete the ball shape. Home takoyaki griddles don't distribute heat evenly, so it's a good idea to swap the balls around to different chambers so they brown evenly. After turning and cooking for another 4 minutes, they are done.
To Serve
Transfer them onto a plate and drizzle

½ cup takoyaki sauce

and

Japanese Kewpie mayonnaise

on top. Finish the dish with a sprinkling of

katsuobushi (dried bonito flakes)

and

aonori (dried green laver seaweed)

and a side of

pickled red ginger (beni shoga or kizami beni shoga)

. Serve immediately. (But, be careful—they're VERY hot inside!)
To Store
You can keep the leftovers in an airtight container and store in the refrigerator for 3 days or in the freezer for 2–3 weeks.
Nutrition
Nutrition Facts
Takoyaki (Grilled Octopus Balls)
Amount per Serving
% Daily Value*
* Percent Daily Values are based on a 2000 calorie diet.
©JustOneCookbook.com Content and photographs are copyright protected. Sharing of this recipe is both encouraged and appreciated. Copying and/or pasting full recipes to any website or social media is strictly prohibited. Please view my photo use policy
here
.
Editor's Note: The post was originally published on Oct 20, 2013.