Print Recipe
Jump To Recipe
Takoyaki (たこ焼き) is a Japanese snack in the shape of little round balls containing pieces of octopus. It literally translates to "octopus (tako) fried (yaki)" and some may call it "Octopus Balls" or "Octopus Dumplings".
Takoyaki was originated in Osaka around 1935 (according to wiki) and became popular in other areas of Japan. It's one of most popular street foods along with Okonomiyaki (お好み焼き) and can be found at the street vendors, convenience stores, supermarkets, food courts, and of course takoyaki specialty restaurants.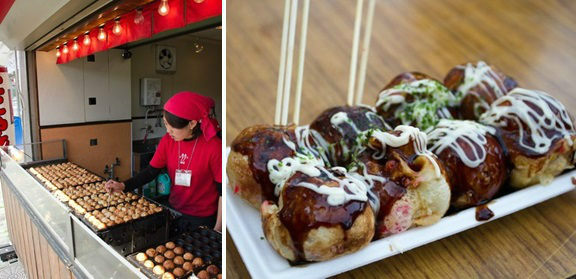 Takoyaki is made with dashi flavored batter filled with a few pieces of octopus, crispy scraps of tempura, green onions, and pickled red ginger. It's usually served with takoyaki sauce (similar to Worcestershire sauce) and Japanese mayo, topped with sprinkle of dried green seaweed and katsuobushi.
Takoyaki is always served piping hot. It's slightly crispy outside and gooey inside. Simply delicious!
I received many requests for this recipe from readers (thank you!). I knew you would love a delicious and authentic recipe so I turned my personal takoyaki experts, my best friend Yukako and her husband who are both from Osaka, for help.
I was so happy when they agreed to share their own takoyaki recipe with me and Just One Cookbook readers.  I adapted the recipe a little bit so that some ingredients will be easier to measure.
If you enjoy eating octopus, my online sashimi store, FishforSushi.com, sells a whole octopus (pre-boiled), so check it out.  We use the octopus for sashimi, carpaccio, octopus salad (takosu), and takoyaki… so delicious! 🙂
Not a fan of octopus? You can include veggies (my kids love corn), cheese, small mochi pieces… choices are endless!
Here's the video on Takoyaki on my YouTube Channel! I hope you enjoy this recipe!
Now It's Time For Giveaway!
Wait, you want to try making this delicious Takoyaki but don't have a takoyaki pan? I'm giving away THREE (3) takoyaki pans to Just One Cookbook readers who have U.S. addresses! I'm really sorry that I cannot include international readers this time.  Click HERE to enter Takoyaki Pan Giveaway!
You can find a cast iron takoyaki pan, electric takoyaki pan and takoyaki pick on Amazon.com or you could use an ebelskiver (Danish pancake) pan as well. 🙂
Don't want to miss a recipe? Sign up for the FREE Just One Cookbook newsletter delivered to your inbox! And stay in touch on Facebook, Google+, Pinterest, and Instagram for all the latest updates. Thank you so much for reading, and till next time!
Takoyaki
Instructions
Cut octopus into bite size pieces (for my kids I cut into smaller pieces so they can chew easily).

Grind katsuobushi (bonito flakes) into fine powder.

Add dry ingredients (flour, baking powder, and konbucha/salt) in a large mixing bowl. Whisk a few times to combine all together.

In a medium bowl, whisk eggs and soy sauce together.

Add egg mixture to the dry ingredients, and then slowly add dashi stock while you whisk all together.

Heat the takoyaki pan over medium to medium high heat (on my stove, it's medium high). Using a brush, generously oil the takoyaki pan including the raise parts in between bowls.

When you see smoke coming rising from the pan, pour the batter to fill the bowls. It's okay for the batter to slightly overflow the holes. If you have a measuring cup with a handle, pour the batter in the measuring cup first so that it's easier to pour. After you fill the holes, set timer for 3 minutes.

Add 1-3 octopus pieces (depends on the size of octopus – I put 2-3 pieces) in each hole and sprinkle on the green onion.

Then sprinkle tenkasu and powdered katsuobushi.

After 3 minutes or so, when the bottom of the balls has hardened, break the connected batter in between each bowl with takoyaki picks (or skewers). Then turn each piece a 180 degree, stuffing in the edges as you are turning. The batter flows out from the inside of each bowl and creates the other side of the takoyaki ball. After you finish flipping, set timer for 4 minutes.

Keep turning constantly so each piece will have nice round shape and will be evenly browned.

Transfer takoyaki balls onto a plate and pour takoyaki sauce, mayonnaise. Finish off with sprinkling green dried seaweed and katsuobushi. Serve immediately (but be careful – inside is VERY hot!).
Notes
* Not a fan of octopus? You can include veggies (my kids love corn), cheese, small mochi pieces... choices are endless!
Recipe by Namiko Chen of Just One Cookbook. All images and content on this site are copyright protected. Please do not use my images without my permission. If you'd like to share this recipe on your site, please re-write the recipe in your own words and link to this post as the original source. Thank you.