Experience the warmest communal dining at home with this incredibly flavorful Japanese Monkfish Hot Pot called Anko Nabe. You'll be blown away by the rich soup broth, and all the fun involved in cooking and eating together. It's one of our family's most favorite meals in the winter months!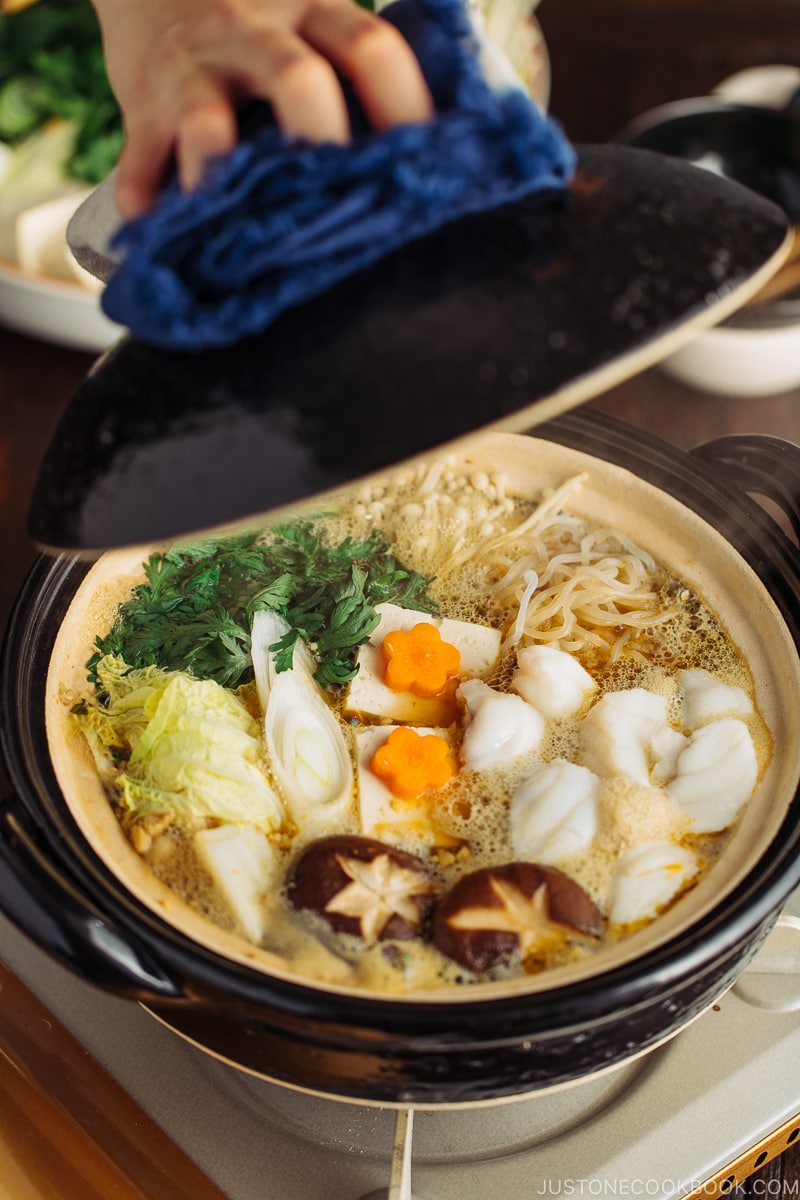 What do you enjoy eating during the cold winter months? In Japan, the winter season means one thing: it's time for hot pot. Families gather at one table to cook and eat together from a shared steamy pot. Surrounding the pot is smaller dishes of meat, seafood, and vegetables, all prepped and ready to be cooked in the broth and eaten in an intimate yet casual manner.
Depending on the regions, there are many different styles of hot pot dishes (Nabemono 鍋物) being enjoyed throughout Japan. What makes each hot pot different is what ingredients are used and how the soup broth is made. Today's recipe Monkfish Hot Pot or Anko Nabe (あんこう鍋) is an iconic winter hot pot, especially popular in the eastern part of Japan.
What is Monkfish?
Have you seen monkfish? If you're thinking of that scary-looking fish with a gigantic head and mouth, you're absolutely right. That is monkfish.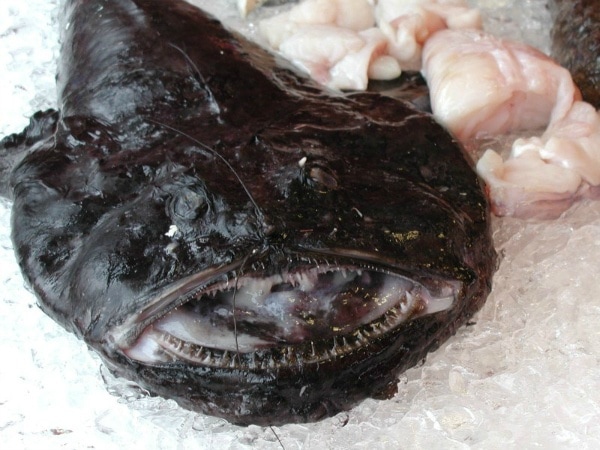 Monkfish (Lophius americanus) is sometimes called Anglerfish, Goosefish, Belly-fish, All-mouth, Bull-mouth, Fishing-frogs, Frog-fish, Devil-fish, sea-devils, and Poor Man's Lobster. Wow, this guy has many nicknames! In Japan, we call this fish Anko (アンコウ, 鮟鱇 – yep, it has the same name as red bean paste "anko" 餡子, but it is written differently in kanji).
Monkfish has firm, meaty white flesh that is mild and sweet, and it's often compared to lobster meat. Commonly eaten in French cuisine and Japanese cuisine, monkfish is gaining popularity in the U.S., especially amongst restaurant chefs.
In Japan, we have a saying "Blowfish (fugu) hot pot in the west [Osaka area], monkfish (anko) hot pot in the east [Tokyo area]." (西のふぐ鍋、東のあんこう鍋). It basically speaks of the specific popular winter hot pots in both regions.
Despite its unique and spooky appearance, monkfish is considered a fish that goes no waste in Japan, and it's regarded as an expensive high-quality fish. This versatile fish can be prepared using almost any cooking method because the flesh doesn't disintegrate easily. It can be grilled, stewed, pan-fried, roasted, and of course, cooked in a hot pot!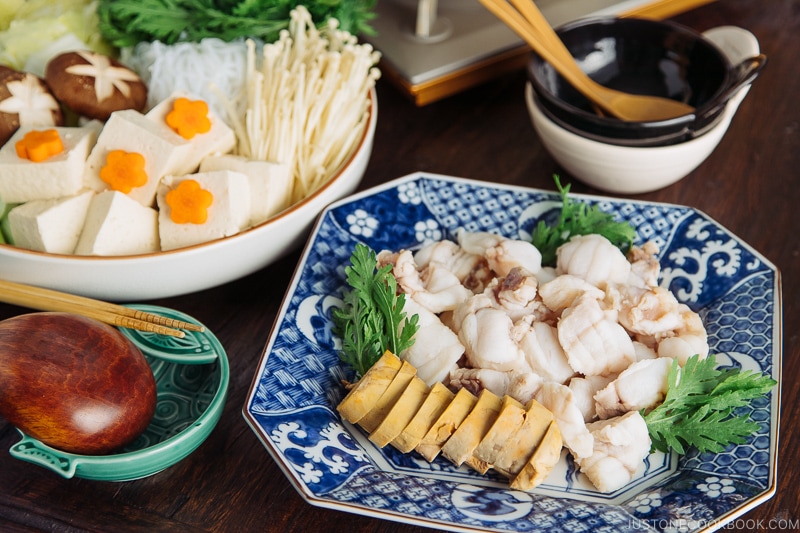 Best Season to Enjoy Monkfish
The best season for monkfish is from November to February; January and February are considered the most delicious months (right now!).
Where to Buy Monkfish
Look for monkfish in your local fishmongers, gourmet supermarkets, or Japanese grocery stores. If you're in the Bay Area (Peninsula), you can buy monkfish at Nijiya Market (but theirs is already cubed), Draeger's, Lunardi's, and Piazza's.
You'd be surprised how popular monkfish is. I've heard enough times from the fishmongers, "Ah! It's just sold out! Come back again tomorrow." You have to fight for it. 😉
Substitute for Monkfish
If you couldn't find monkfish in your area, you can still cook up this delicious hot pot with no issue. For similar texture and flavor, a good substitute would be grouper, halibut, mahi-mahi, sea bass, scallops, snapper, or swordfish.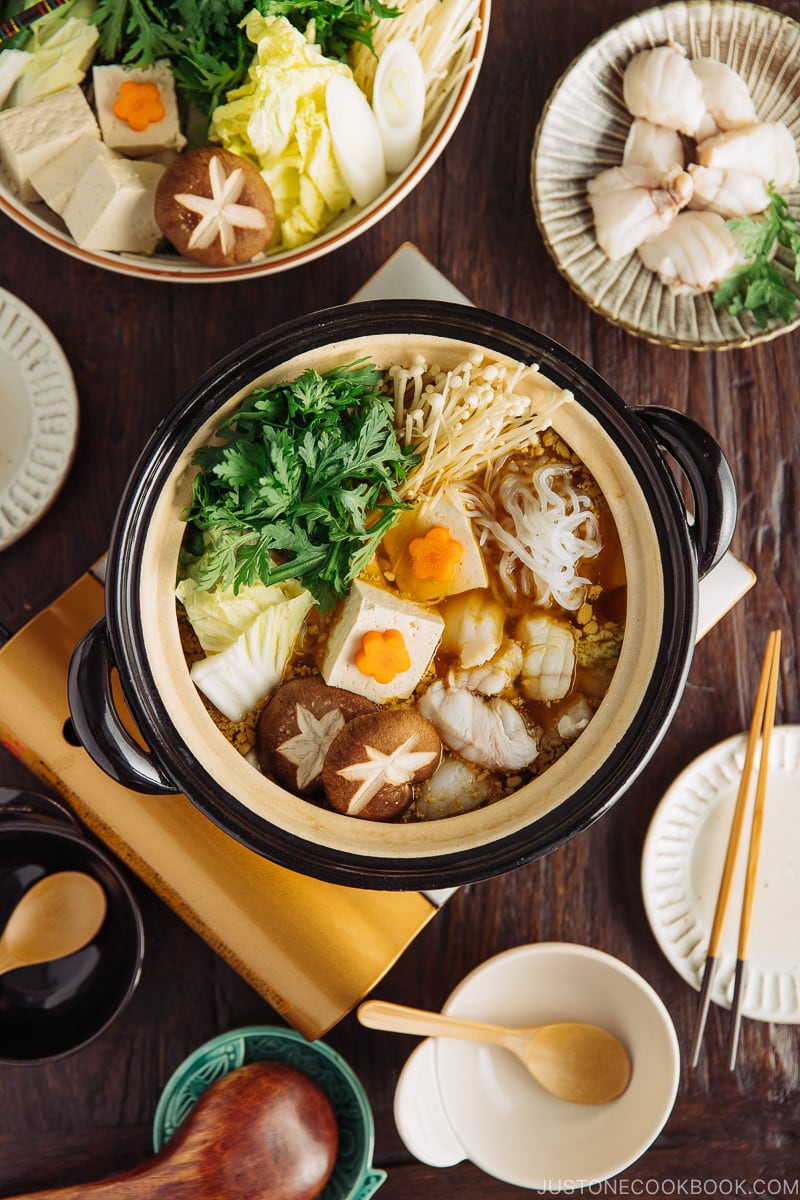 Monkfish Hot Pot (Anko Nabe)
My children and Mr. JOC have declared that this Monkfish Hot Pot is THE BEST hot pot they have eaten, and I couldn't agree more.
One of the key contributing flavors to the heavenly broth is the steamed monkfish liver. It is the secret ingredient that elevates the soup broth with its unbeatable complexity and depth; it's not at all something to be afraid of.
I did not tell the kids what goes into the broth initially. I'm pretty sure they didn't want to hear "fish liver" was used to make the broth. When I revealed the 'secret' a bit later, they already devoured the dish so much that they just raised their eyebrows and continued eating!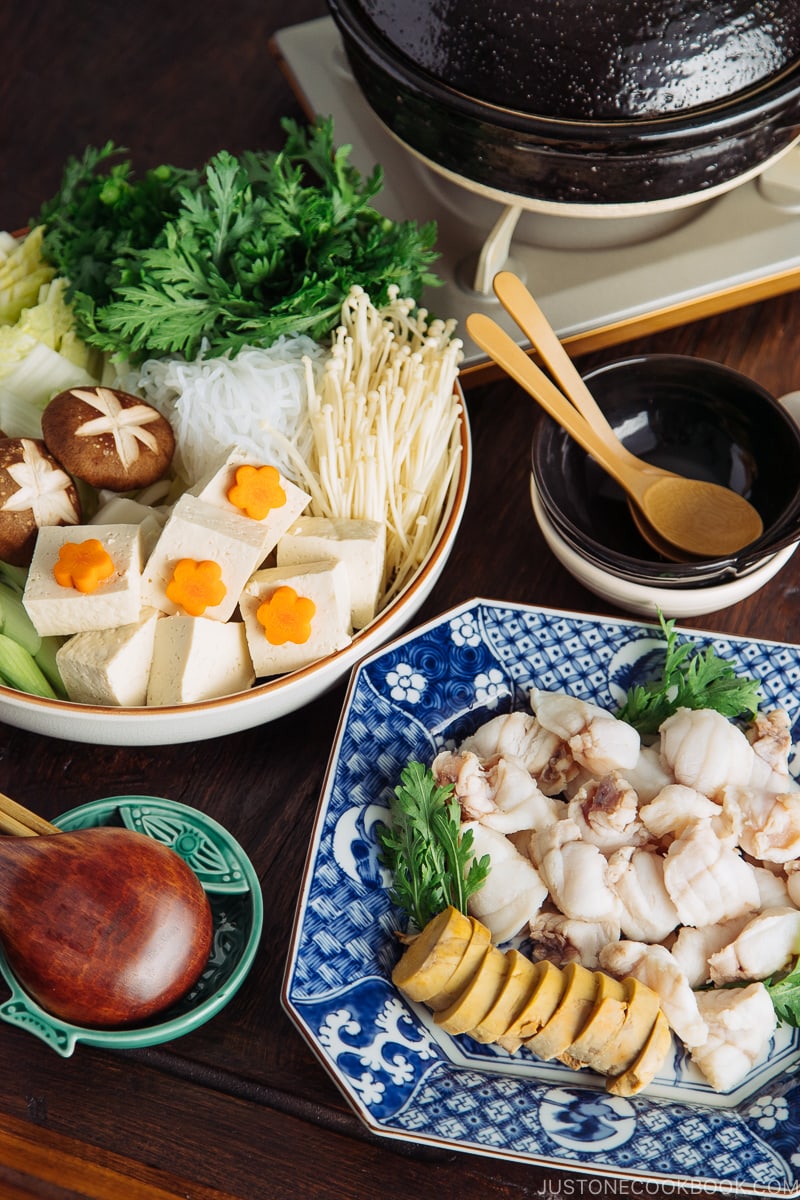 Monkfish Liver (Ankimo) for Monkfish Hot Pot
So now you must be wondering what steamed monkfish liver is. It's called Ankimo (あん肝) in Japanese.
The monkfish liver is salt-cured, then rolled tightly into a log, and vacuum-sealed in a plastic bag. It might not sound appetizing, but the liver is considered a gourmet food and you can usually find it served at expensive restaurants in Japan.
Ankimo is usually sliced and enjoyed with ponzu sauce. It's very rich, and the texture and flavor are similar to French foie gras.
Where to Find Steamed Monkfish Liver
If you live near Japanese grocery stores (Nijiya, Mitsuwa, and Marukai, for example), you can get find it pretty easily in the refrigerated section next to fish.
Another option is to purchase it from an online fish supplier. If you are in the US, you can get the monkfish liver shipped to your home (frozen). Just search "ankimo online" and you'll find some stores and information.
Substitute for Steamed Monkfish Liver
I really wish I can give you a good substitute. However, just like foie gras, the taste and texture of ankimo are incomparable.
You can definitely make a wonderful hot pot with just the monkfish, along with dashi, miso, and other seasonings, but without the steamed monkfish liver, the hot pot will be missing the rich, bold, and complex flavor.
Final note…
You may wonder why I'm sharing this recipe if the ingredients are so hard to find in other parts of the world…
The original purpose of my blog was not only to share easy and authentic Japanese recipes but also as a space to document my family's favorite meals (hence Just One Cookbook of my family recipes was born). As the blog grows and evolves, I continue to learn that many of you have a keen interest and genuine curiosity about Japanese home cooking. Therefore, one of my new missions is to share and talk about Japanese food that we eat in Japan, which is mostly not known outside of Japan.
I sincerely hope that you enjoy learning about this iconic winter Japanese hot pot dish. If you visit Japan during the winter months, you may encounter this wonderful dish. And when you're being offered the opportunity to try monkfish hot pot, don't turn it down! I may sound like a broken record, but it is truly one of the best hot pot dishes that one can experience.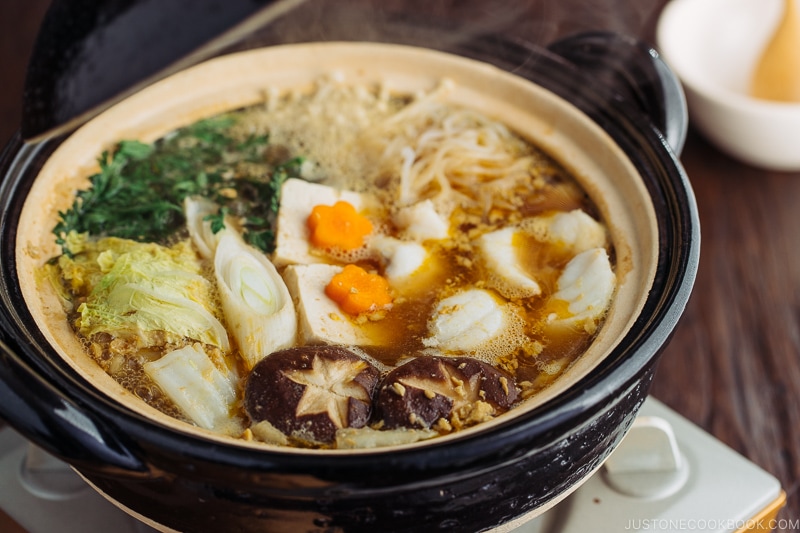 Wish to learn more about Japanese cooking? Sign up for our free newsletter to receive cooking tips & recipe updates! And stay in touch with me on Facebook, Pinterest, YouTube, and Instagram.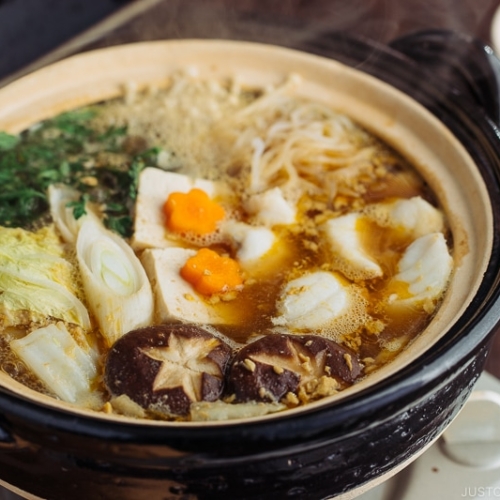 Monkfish Hot Pot (Anko Nabe)
Experience the warmest communal dining at home with this incredibly flavorful Japanese Monkfish Hot Pot called Anko Nabe. You'll be blown away by the rich soup broth, and all the fun involved in cooking and eating together. It's one of our family's most favorite meals in winter months!
Ingredients
For Kombu Dashi (See Notes)
Japanese Ingredient Substitution:
If you want substitutes for Japanese condiments and ingredients, click
here
.
Instructions
Gather all the ingredients first.

Make kombu dashi by soaking the kombu into 4 cups water. I used Kombu Dashi this time but I have made this hot pot with Awase Dashi (Kombu + Katsuobushi (dried bonito flakes)) and they both taste wonderful.

Cut the monkfish into larger bite-size pieces, about 1.5-2 inch pieces.

Cut the steamed monkfish liver into ½ inch rounds. If you have raw liver, you will need to steam it for 10 to 20 minutes first.

Bring a large pot of water to a boil. Once boiling, add the monkfish to blanch for 15 seconds.

Remove the fish from the pot and immediately transfer into a bowl of iced water. This will remove the fishy smell and help firm up the flesh of the fish. Once chilled, remove from the iced water and set aside.

Cut the negi diagonally (If you use leek, rinse well to get rid of the dirt between them).

Cut napa cabbage into bite-size pieces.

Cut shungiku into 2-inch pieces and tofu into cubes.

Discard the bottom part of enoki mushrooms and rinse quickly.

Discard the stem of shiitake mushrooms and add the decorative cut if you like (See How to Make Decorative Shiitake). Cut out carrot flower (See How to Make Flower Carrot).

Set a donabe (Japanese earthenware hot pot) over a portable stove at the table. You can also cook in a large pot on your stove top.

Add the monkfish liver in the donabe and cook on low heat. As soon as the liver starts releasing oil, use a wooden spatula/ spoon to smash it into a paste or ground-meat-like texture. It may burn a little bit, but that's okay as long as it's very mildly charred. It adds more flavors.


Once the liver gets pasty, add 5 Tbsp miso and combine well. Each miso brand/type has different saltiness and you just have to taste and decide if you need to add more (you will need at least 5 Tbsp).

Gradually add kombu dashi while mixing the miso mixture.

Add 4 Tbsp mirin, 2 Tbsp sake, and 4 Tbsp soy sauce, and mix well.

Add negi (leek/green onion), the bottom tough parts of napa cabbage and shungiku, shirataki, enoki mushrooms, and monkfish.

Let cook a little longer before you add in tofu and shiitake mushrooms.

Once boiling, add leafy parts of napa cabbage and shungiku. Cover, and continue to cook for another 7-10 minutes. Skim fat and scum using a fine mesh sieve.

Enjoy the hot pot and add more ingredients as you eat. When the broth is reduced, you may need to add more water (or dashi if you have extra).
Nutrition
Nutrition Facts
Monkfish Hot Pot (Anko Nabe)
Amount per Serving
% Daily Value*
* Percent Daily Values are based on a 2000 calorie diet.
©JustOneCookbook.com Content and photographs are copyright protected. Sharing of this recipe is both encouraged and appreciated. Copying and/or pasting full recipes to any website or social media is strictly prohibited. Please view my photo use policy
here
.