Print Recipe
Jump To Recipe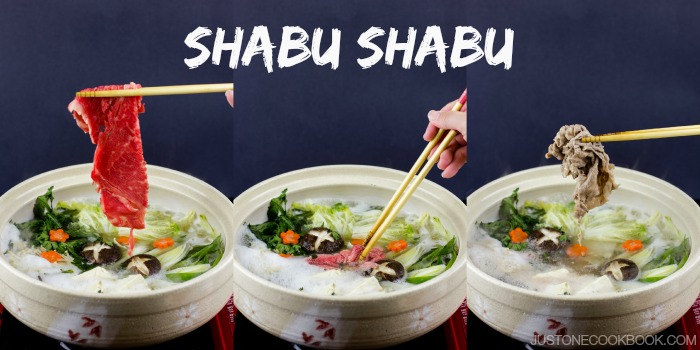 It's the holiday season and it's the time for friends and family to get together. What's the best Japanese meal for this occasion? It's Shabu Shabu!
Shabu shabu is one of Japan's most popular hot pot dishes along with Sukiyaki. It consists of raw assorted vegetables, tofu, and paper-thin slices of raw beef (or pork) cooked in kombu dashi (broth).
The name "Shabu Shabu" comes from the Japanese sound and action of the thinly sliced meat being swished with chopsticks in the hot pot.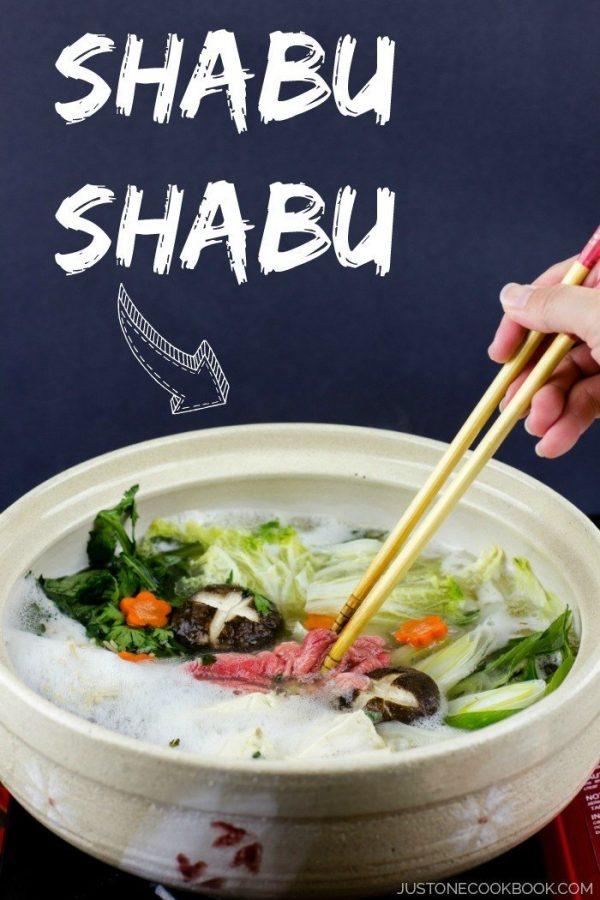 Typically Shabu Shabu is served with broth in a donabe (土鍋) earthenware/clay pot on a portal stove. The raw ingredients are served on two plates, one for the meat and one for all the veggies. It's a fun meal since everyone sits around the hot pot and cooks together.
As a busy mom, I love this dish because I don't have to cook – all I need to do is to chop vegetables 15 minutes before dinner and let everyone cook dinner together. It's a very low fat meal and great way to eat a lot of vegetables! Enjoy this quick and delicious Japanese winter meal!
Get Your Donabe (Earthenware Pot) Ready!
How To Season Donabe (Earthenware Pot)
I hope you enjoy making my Shabu Shabu recipe! If you make one of these recipes, snap a picture and hashtag it #JustOneCookbook. I love to see your creations on Instagram, Facebook, & Twitter! Thank you so much for reading and till next time!
Don't want to miss a recipe? Sign up for the FREE Just One Cookbook newsletter delivered to your inbox! And stay in touch with me on Facebook, Google+, Pinterest, and Instagram for all the latest updates.

Shabu Shabu
Ingredients
3 x 3 inch (7.5 x 7.5 cm) dried kombu seaweed
½ head of napa cabbage, washed and cut
½ bunch 'shungiku' (Tong Hao, Garland Chrysanthemum), washed and cut
1 pkg enoki mushrooms, stalks removed and pulled apart
8 shiitake mushrooms, stem removed
2 inch carrot, peeled and cut into thin round slices
1 pkg shimeji mushrooms, stalks removed and pulled apart
1 block medium/firm tofu, cut into 1.5 inch square
1 negi/Tokyo Negi, washed and cut diagonally into 2-inch pieces (can be substitute with leeks)
1 ½ - 2 lb (680 - 900g) ribeye or top sirloin beef (or pork loin), sliced very thinly, or buy pre-sliced 'shabu shabu' meat
1 package udon (I like Sanuki Udon)
Sesame Sauce* (homemade recipe)
Ponzu Sauce* (homemade recipe)
Grated Daikon
Shichimi Togarashi (Japanese seven flavor Chili pepper)
Instructions
Fill a clay pot or large pot (such as Le Creuset) two-thirds full with water. Add the dried seaweed and soak kombu in the water for at least 30 minutes.

Meanwhile make Sesame Sauce and Ponzu Sauce if you make homemade version.

Cut vegetables.

This is how my aunt taught me to cut and wash enoki.

You can decorate shiitake mushrooms and carrot like this. See Cutting Techniques.

Arrange all the ingredients on a serving plate. Set a portable gas burner and place ingredient plate on a table. Give each guest a bowl of rice and a bowl for cooked food, and a sauce dish for each ponzu sauce and sesame sauce.

Over the kitchen stove, simmer over a medium heat for about 10 minutes. Take out the kombu when the water starts to boil.

Bring the broth to the boil. Add stem part of napa cabbage and shungiku, Tokyo Negi, carrots, some mushrooms, and tofu. You want to start with the food that take the longest to cook.

Now bring the pot of boiling broth to the table. Each person cook their beef by dipping a slice of beef in the boiling broth with chopsticks. Swish it gently back and forth until the meat changes color (10-20 seconds).
Enjoy the meat by dipping in either sauce. You can add grated daikon and shichimi togarashi in Ponzu Sauce. Take out the cooked food from the pot as they are done and dip them in either sauce.
Add remaining ingredients as necessary in the boiling broth and simmer for a few minutes.
Skim off the scum and fat from the broth as you repeat cooking. We prepare a sieve and a bowl filled with water at the table for this purpose. Water will help you get rid of scum from the sieve.

End the meal with Udon noodle. When most or all of the ingredients are taken out from the broth, add Udon noodles in the pot and cook for a few minutes. Flavor udon with just bit of salt and white pepper or dip in Ponzu Sauce.
Notes
* You can purchase sesame sauce and ponzu sauce from Japanese/Asian supermarkets.
Recipe by Namiko Chen of Just One Cookbook. All images and content on this site are copyright protected. Please do not use my images without my permission. If you'd like to share this recipe on your site, please re-write the recipe and link to this post as the original source. Thank you.